3 Hiking Trails in the High Tatras, Between Poland and Slovakia (Easy – intermediate – difficult) – Info, maps, how to get there, and in-depth description of the trails
Tatra mountains are part of the Carpathian mountains and the highest range in Poland. They have always drawn hiking enthusiasts and still are one of the top hiking destinations in Poland.
The ever-growing popularity is a result of the fact that the Tatra National Park offers countless kilometers of hiking trails, difficulty from easy to very hard, hence everyone can find a trail suitable for themselves.
If you think of hiking in the Polish Tatra mountains this guide will help you to prepare your trip.
---
This post is contributed by our friends and colleagues Ela & Beata from Stunning Outdoors – Find their Bio and links at the bottom of this article
---
Interested in the area? Check also
Dunajec River Gorge – a natural marvel at the border between Poland and Slovakia
Osturna Tatranska, a gem traditional village of the Tatra Region
Want more hikes in the Tatras area? check also
6 beginners hikes in Tatra mountain
How to hike the Zawrat – an unforgettable experience in High Tatra mountains
Why not cycle there?
Cycling Slovakia, everything you need to know
Cycling routes across Poland – Tracks, GPS files, and advice
Disclosure: Some of our articles contain affiliate links. This comes at no additional cost for you and helps us keep this website up and running. (as Amazon Associates we earn commission from qualifying purchases)
Zakopane
Zakopane is the best base for hiking in Tatra mountains. The best way to get to Zakopane is a 2-hour bus journey from Krakow (Cracow).
I highly discourage you from taking a car to Zakopane for two main reasons. First, the town sees too many cars already and the second – public transport (mini-bus service) in Zakopane is easy, very reliable, and will take you to every trailhead and bring you back to Zakopane. Further, not being tied by a car will allow you to start and finish your hikes at two different locations.
Krupowki is the main street of Zakopane, so if you want to be in the center of it all, base yourself nearby. Another good location is between Krupowki and the bus station, as one of the main minibus hubs is located near the bus station.
I also like Koscieliska Street, as this is one of the oldest streets in town and you will find many old, traditional houses along that street. Having said that, please do not get too fixed on any specific location as Zakopane is not a big place and, to be honest, everything is within walking distance and every part of town is nice.
Check the Best Hotels in Zakopane
Costs of hiking in the Tatra Mountains
Let's talk about money now. On top of your accommodation and food, you need to budget for transportation to and from Tatrzanski Park Narodowy (Tatra National Park). The bus fares vary between 3zl to 10zl and at the moment are still CASH only.
You will also need to pay an entrance fee to the national park, which in 2018 was 5zl per person, per day. You may consider buying a weekly ticket if you're plan hiking on more than 3 days.
3 best hiking trails in the High Tatra National Park
I have walked almost all trails in Tatra National Park and have prepared a list of three hikes for you. It is always difficult to classify a hike as 'hard' or 'easy', because everybody's ability and fitness vary.
These three propositions are for someone who is not familiar with Tatra mountains. The first two trails do not require any scrambling experience, whereas the last one involves the use of security chains and lots of hands-on-rock.
For complete beginners, we recommend booking an easy hiking tour in Slovakia, accompanied by a guide and via a reliable company.
1. Hiking Sarnia Skala & Siklawica Waterfall
Difficulty – Easy
This hike is a low-level walk, and can easily be extended. It is a half-day hike – around 3 hours – with the main highlight being the view of the north face of Giewont and a visit to Siklawica waterfall.
During this hike, you will gain 570 meters. There are few variations of the route, but I will cover the trail which in my opinion is the most interesting.
So, start the hike in Dolina Strazyska (Strazyska Valley) and follow the RED trail up to Polana Strazyska. You will gain over 200 meters during a 1.5 hours hike before reaching Polana and a small mountain hut where you can buy refreshments and snacks.
Once you reach Polana keep an eye on the signposts to Siklawica – a two-step waterfall. Having visited the waterfall, retrace your steps to the BLACK trail. Please ensure you continue your hike along the black trail in the direction of Dolina Bialego.
After about half an hour the path will fork (at Czerwona Przelecz) and you'll take a small detour up to the top of Sarnia Skala. Once at the Skala a lucky hiker can enjoy the view of the north face of Giewont, The Sleeping Knight. Once you'll see it, you'll know the very reason for this nickname.
After getting back from Sarnia Skala to the Czerwona Przelacz, continue on the BLACK trail till Dolina Bialego, from where the YELLOW track takes you back to Zakopane. Dolina Bialego is a beautiful gorge-style valley with Bialy stream cascading along the way.
At the bottom of the valley, you can continue on BLACK trail back to Zakopane.
Map of the Easy Tatra Hike Trail – Sarnia Skala & Siklawica Waterfall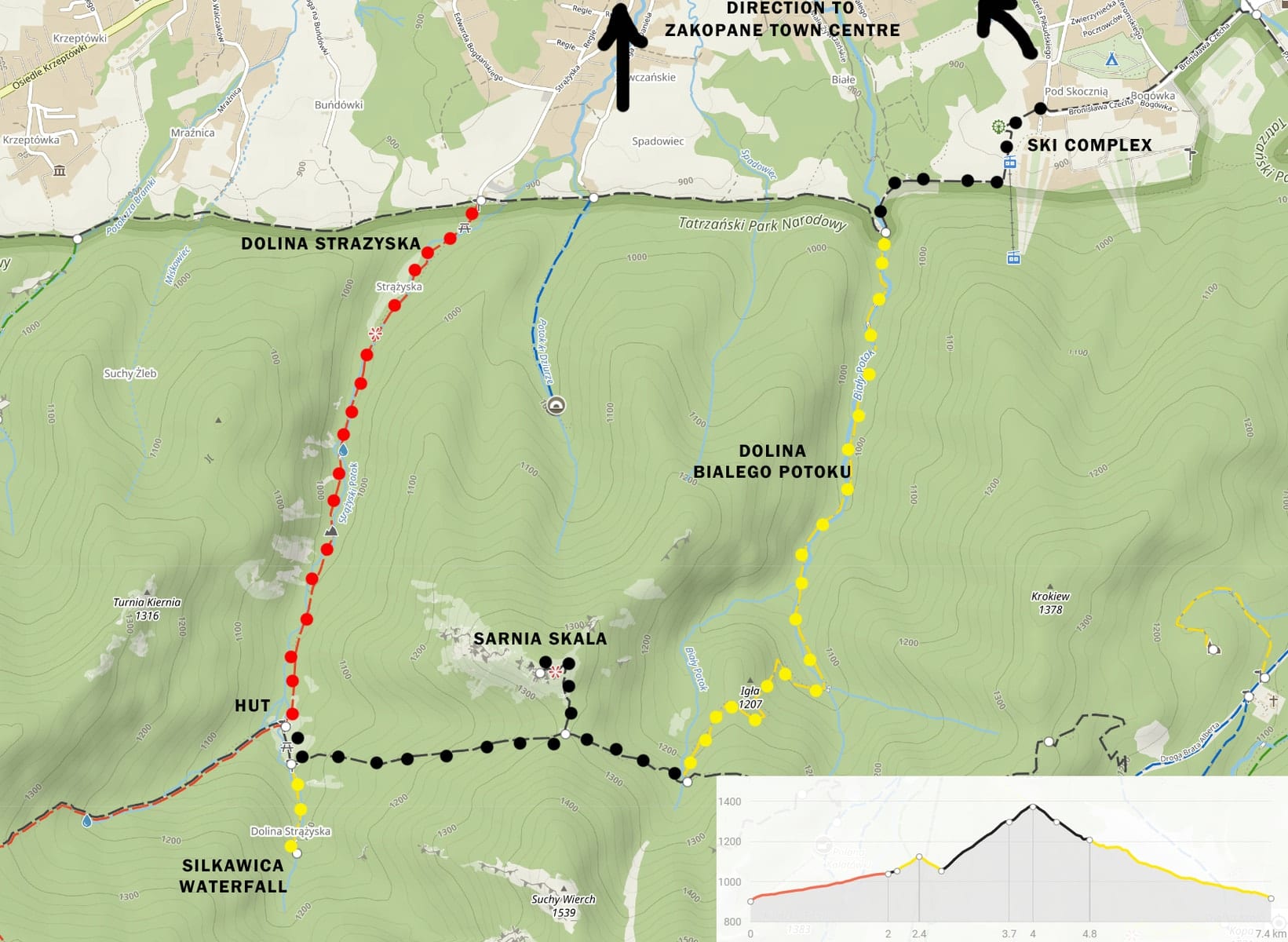 ---
2. Hiking the Czerwone Wierchy ridge and Kasprowy Wierch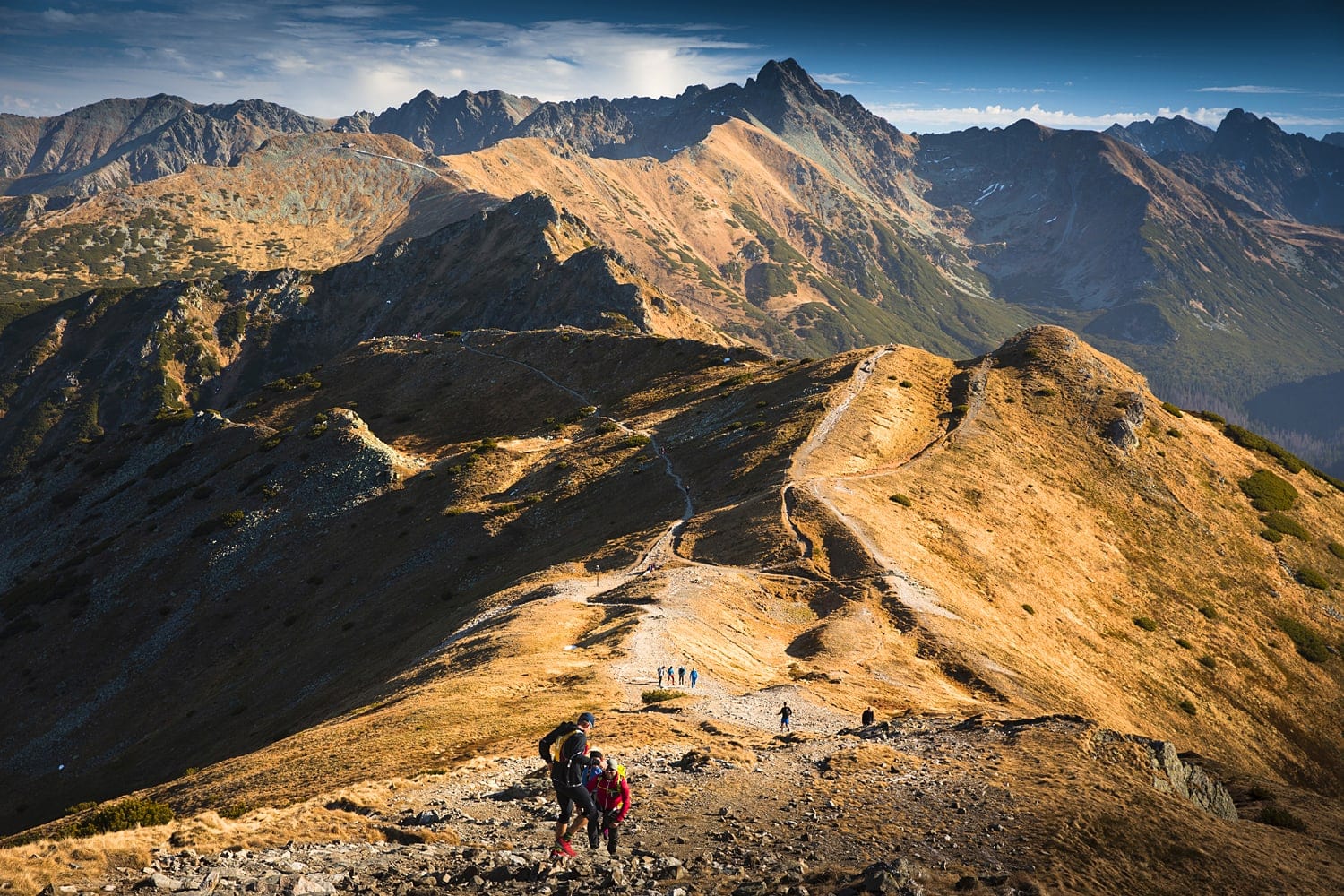 Difficulty – Medium
This hike is a classic ridge walk, with amazing views of Western and High Tatra mountains on both, Polish and Slovak sides of the border. It is not a technically difficult hike and there are only short sections where hands are needed. This is definitely one of the best hikes you can do in Poland.
Only on misty days, some care is needed as there are small side drops from time to time. The whole hike is over 19 km long, and takes around 10 hours to complete with a total ascent of 1769 meters. However, the walking time can be shortened by taking a cable car from Kasprowy Wierch rather than descending on foot.
To start the hike take a minibus to Kiry (Koscieliska Valley), where you start walking along a wide track for about 20 minutes. When you reach Kirowe Wody, take a RED trail on your left up to Ciemniak (2096 masl). This part is a long, about 3.5 hours uphill walk, but the views are getting better with every step, which is always a good excuse for a stop.
The good news is that, once you reach Ciemniak you will be walking on the ridge till Kasprowy Wierch and the views will definitely reward you for the climb. Continue on RED trail through Krzesanica (2122 masl) – this is the only peak, which is not signposted, but it is marked with many small cairns (small piles of stone).
From Krzesanica, the trail leads you to Malolaczniak (2096 masl) and then to Kopa Kondracka (2005 masl). The views are really stunning and the walk is very nice and enjoyable. There will be several rocky sections nearer Kasprowy Wierch (1987 masl).
From Kasprowy you can either take a GREEN trail, or as I mentioned earlier, take a cable car, which can be an attraction itself. Whatever you decide, the hike ends in Kuznice, where you can catch the mini-bus to centre of Zakopane. Alternatively, a walk back to town takes around 30 minutes.
Handy tips:
The hike can be shortened, by descending from Przelecz pod Kopa Kondracka to Kuznice (GREEN and then BLUE trail).
If you'd rather hike Giewont than Kasprowy Wierch, take the YELLOW trail from Kopa Kondracka
as the cable car to/from Kasprowy Wierch tends to be busy, there usually are hundreds of people wandering just around the top station, hence the summit of Kasprowy Wierch it is not the best place for a peaceful break
---
3. Zawrat mountain pass to Dolina Pieciu Stawow Polskich
Difficulty – Hard
This is a beautiful hike, and a very good introduction to hiking (and scrambling) in the High Tatra range. However, it is a long route, about 20 km; also it includes an exposed section where you'll climb using security chains – and it cannot be shortened. It will suit someone who is familiar with a rather rocky environment and has some scrambling experience.
The route starts in Kuznice, where you can take YELLOW or BLUE trail – both signposted to Hala Gasienicowa and Schronisko Murowaniec (Murowaniec mountain hut) at 1508 masl. Both trails merge at Przelecz Miedzy Kopami.
The yellow trail starts as a fairly flat walk in Jaworzynka Valley and then climbs steeply to the saddle.
Whereas the blue one is a steady steep climb through the forest at first, then it opens up and follows a gently rising ridge of Boczan hill, before merging with the yellow trail at the saddle.
Both trails then continue through beautiful Hala Gasienicowa to Murowaniec mountain hut. This part of the hike is fairly easy therefore allows you to enjoy the walk, soak the breathtaking views of high, rouged mountains of Orla Perc ridge (the most difficult hike in Tatra), the spike of Koscielec and Kasprowy Wierch.
Murowaniec hut serves food and drinks, so it is a good place for a morning break. From the hut continue on BLUE trail till the very Zawrat mountain pass. The well-made path from Murowaniec hut is almost flat at first, before reaching Czarny Staw Gasienicowy (Black Pond). This is a beautiful pond with emerald water, which mirrors surrounding rocky peaks.
Walk around the pond to start a final climb up to Zawrat. The path gets steeper and very rocky, the final ascent is surrounded by vertical rock walls. This part is secured with steel chains, which makes the climb much easier and safer.
From the pass, you will clearly see your path down to Dolina Pieciu Stawow Polskich. The walk down is rather long but the views do not disappoint. All five ponds present their beauty and Orla Perc peaks are now so close and majestic.
At the end of the valley, you will find a small and cozy mountain hut, where you can get various, traditional homemade meals as well as refreshing drinks.
The way back to the bus stop starts at the small bridge you passed on your way to the hut. The GREEN trail through Roztoka valley is steep at first but rewards a hiker with fresh air and stunning views of the highest Polish Tatra's waterfall – Siklawa.
Gradually it becomes gentler and leads through the forest till Wodogrzmoty Mickiewicza (another waterfall). The final 40 minutes of walk to the bus stop/car park at Palenica Bialczanska (where a minibus to Zakopane can be caught) is along a paved road with limited traffic.

Final points about hiking in the Tatra mountains
Although the trails are very well marked, I still recommend buying a map, just in case you need to rearrange your route should the weather conditions change (the maps are available in many shops in town)
I would recommend visiting Zakopane and Tatra National Park in early June or September to avoid crowds
There are no rubbish bins along the trails, please take a bag for your rubbish, to carry them back down
hiking is allowed on marked trails only
---
Authors' BIO
Ela & Beata from Stunning Outdoors
Stunning Outdoors is a website founded by Ela & Beata, two outdoor enthusiasts based in Scotland. They have hiked and climbed mountains since a young age, nowadays they have hundreds of summits on their account, explored in several European countries.
In 2018 Ela & Beata decided to take their love for the outdoors to the next level – they self-converted a van, both quit their jobs and drove into the unknown, beginning in Scandinavia
Stunning Outdoors on social media:
IG: @stunningoutdoorsblog
Map source mapa-turystyczna.pl
Stay in touch while we get lost! Follow us on Social Media