Whether you are a beginner or an expert, rest assured that you will find the perfect cycling routes in Scotland for you. From Hadrian's Wall to John o' Groats, there is a wide selection of awe-inspiring routes for all abilities and ages.
Whether you're an adventurous bikepacker, a competitive cyclist, or just a leisure bike rider, cycling in Scotland will give you epic memories.
If you are looking for something to inspire you to get on your bike this summer, here are some of the best cycle routes Scotland has to offer.
Check Also
Bikepacking the Isle of Skye – Route and GPX Track
The 6 best cycling routes in Scotland
1. Scotland Coast to Coast
Disclosure: Some of our articles contain affiliate links. This comes at no additional cost for you and helps us keep this website up and running. (as Amazon Associates we earn commission from qualifying purchases)
● Distance: 125 miles
● Start: Annan
● Finish: The Forth Bridge
Running through the beautiful countryside of southern Scotland, the Scottish C2C offers a mix of seaside promenades, high-quality cycle paths, and country lanes.
This relatively new route is the brainchild of the same cycling enthusiasts that created the coast-to-coast route across northern England.
Before it opens out onto a panoramic view of the Firth of Forth, Edinburgh Castle, and the Lothians, the route features two challenging climbs, through the Moorfoot Hills and over the classic Devil's Beef Tub.
You can tackle the route in 2 or 3 days if you are a fit and fast rider. But if you want to make the most of the beautiful vistas you'll come across, a leisurely 4-day itinerary may be more practical.
There's plenty of accommodation en route. The Scottish C2C will take you all the way to the Forth Bridge—a landmark achievement of civil engineering and a UNESCO World Heritage Site.
Check the Campings, Glampings and Guest Houses along the Way
2. North Coast 500
● Distance: 500 miles
● Start and finish: Inverness
If you were planning on cycling the Camino this year, but won't be able to due to travel
restrictions, the North Coast 500 route in Scotland may be the next best thing.
Like the Camino Frances, it is an epic 500-mile journey that allows you to explore the culture and scenery of a beautiful European country in a unique way.
Gorgeous bends along the Scottish coast, meandering country tracks, and never-ending back roads are just a few things you can expect along this scenic circular route.
Even though the North Coast 500 route was created just 6 years ago, it has gained a bit of a reputation for itself. Many like to compare it to Route 66 in America.
You can do the North Coast 500 clockwise or counterclockwise. If you want to get the majority of the climbing out of the way early on, while you have more energy, choose clockwise.
It's hard to get lost on the North Coast 500 since there's literally just one road on most sections.
The road conditions are pretty good and most of the route is quiet. However, you will need to watch for bikers and camper vans during some sections. Since this route is all about the weather, the best time for this adventure is high summer.
There are many hostels and BnBs along the route. You can camp pretty much everywhere, but make sure to familiarise yourself with the Scottish Outdoor Access Code before you go.
If you decide to camp, make sure to bring lightweight camping gear.
Here all the Hotels, B&B, Campsite along the North Coast 500 route
3. The Caledonia Way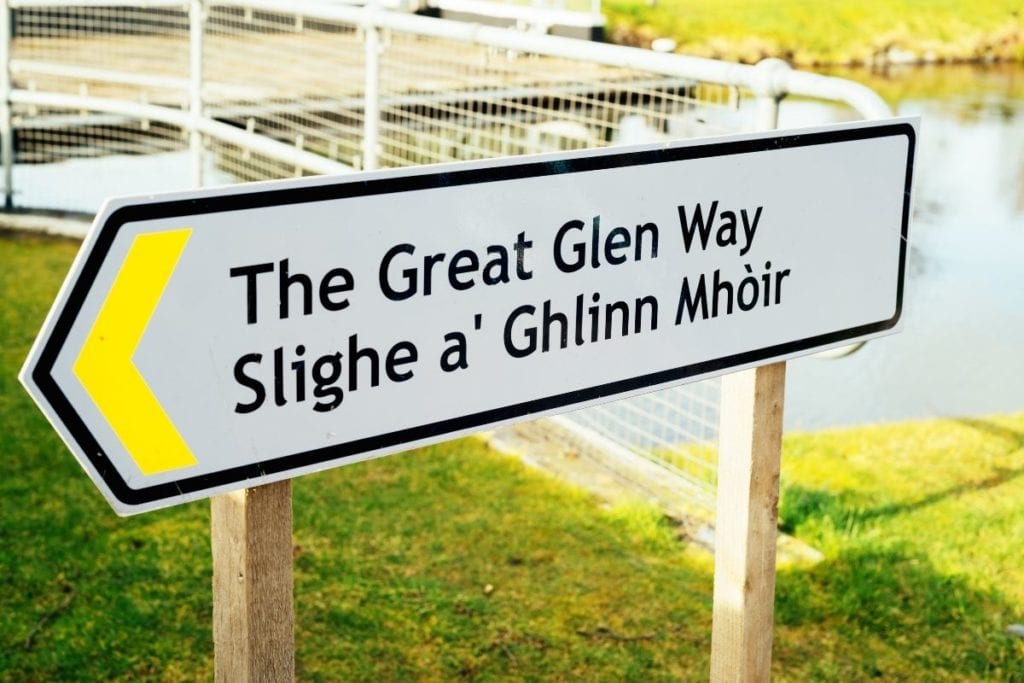 ● Distance: 237 miles
● Start: Campbeltown
● Finish: Inverness
The Caledonia Way is another scenic coast-to-coast cycle route in Scotland. It is the newest long-distance cycling adventure in the country. On your way to Inverness, the capital of the Scottish Highlands, you will pass breathtaking mountains and lochs.
Following both the Great Glen and the Kintyre Peninsula for their full lengths, the Caledonian Way is characterized by the iconic geography of Scotland.
Some of the many Scottish historical sites and landmarks you'll see include Ben Nevis and Loch Ness.
Check Also
> 11 best cycling routes in England
> 9 great bike rides from London

From the traffic-free paths through the extraordinary terrain of the west coast to challenging on-road hills, the Caledonia Way offers a variety of cycling. The route is very accessible, in spite of the remote rural cycling it offers.
If you want to, you can choose to complete only the shorter sections of the route. You don't need a map for the Caledonia Way as it's very well signposted.
You won't have trouble finding accommodation along the way. If you want to pitch a tent, there's the Loch Ness Shores campsite (pictures and reviews here) and a wild campsite near Aryhoulan.
However, eateries and shops are few and far between, so make sure to bring enough water and food.
The best seasons to ride the Caledonia Way are spring and fall. If you don't mind seeing crowds of tourists around popular nature spots, summer can also be a good time for your adventure.
Make sure to pack insect repellent and nets because midges can be a nuisance.
Have a look at the accommodations around the beautiful Loch Ness Lake
4. Four Abbeys, Scottish Borders
● Distance: 55 miles
● Start and finish: St Boswells, Melrose, Kelso, or Jedburgh
This difficult but relatively short loop links four main abbeys in the Scottish Borders at Jedburgh, Kelso, Dryburgh, and Melrose.
Full of history and architectural wonder, all four abbeys are evocative places. However, Melrose Abbey is the most impressive one in terms of scale.
Either on the route or close by, you will find many other historic interest points. The small Border towns are interesting too. You will also get to enjoy fine views of the Cheviot Hills and the River Tweed.
You can tackle this scenic circular route either way. It is best to give yourself at least two days if you want to make the most of your adventure.
There are numerous lodging options in the area, from small holiday cottages to affordable hotels, so you won't have a hard time finding a place to stay. There are also a few campsites around Jedburgh.
Here the Best Accommodations in Melrose
5. The John Muir Way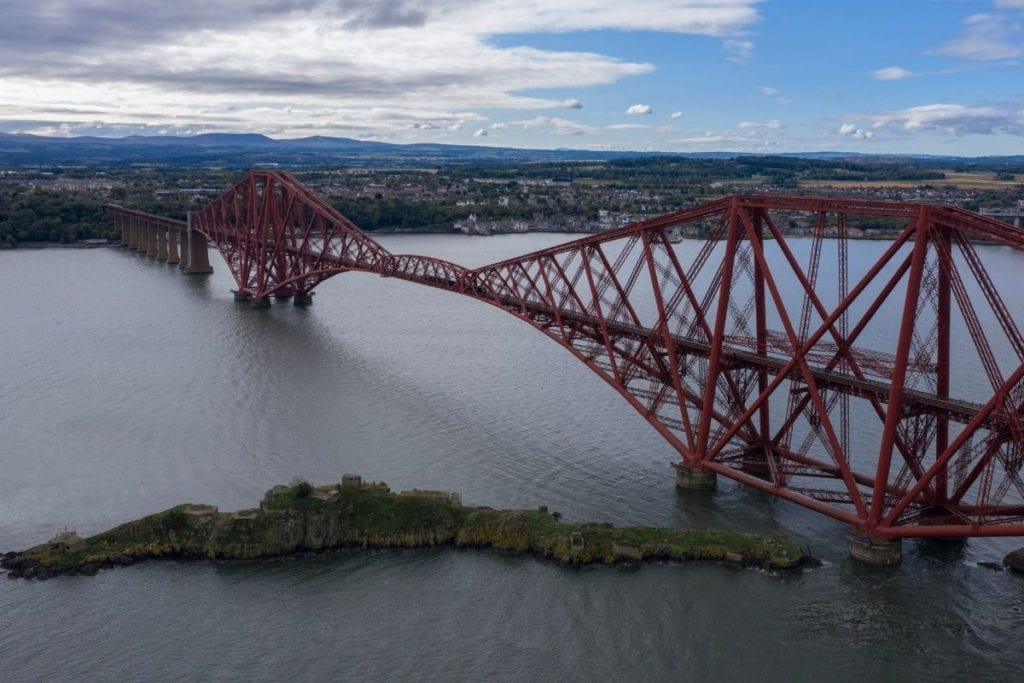 ● Distance: 133 miles
● Start: Helensburgh
● Finish: Dunbar
The John Muir Way is one of Scotland's Great Trails. It passes through several UNESCO World Heritage sites, small villages, various green spaces, and Scotland's first national park.
You will see iconic buildings such as the Forth Rail Bridge, the Avon Aqueduct, and the Falkirk Wheel.
The route offers a great balance between wilderness and civilization. It is popular among hikers and horseback riders as well as cyclists. Most of the trail is smooth and flat.
The John Muir Way is great for beginners as well as more experienced cyclists. It's best to start in Helensburgh since the wind blows from west to east.
It will give you that extra push when you need it the most. It takes about 4 to 5 days to complete the route. June through September is the best time to ride the John Muir Way.
As long as you bring your waterproof and warm layers, you can enjoy the route in spring or fall as well.
Since the John Muir Way runs through many villages and towns, you won't have any trouble finding a place to stay overnight or buy supplies.
If you want to plan your trip in advance, the official site of the John Muir Way can be of great help.
Have a look at the Accommodations near Forth Bridge
6. Ayrshire Coast Cycleway
● Distance: 19 miles
● Start: Irvine
● Finish: Air
If you want just a small taste of what Scotland has to offer to cyclists, the Ayrshire Coast
Cycleway may be the best option for you. Since it is a short coastal route, it makes for a great family weekend getaway.
Stretching across the glittering Ayrshire coastline, the route offers magnificent views of the Isle of Arran. The route also covers the thriving woodland and marshland of Shewalton Wood and Gailes March, two Scottish wildlife reserves.
If you feel like you want to cycle more or less, you can easily change the route to anything from 10 to 100 miles. Aside from fishing, the area offers great opportunities for angling, walking, and horse riding.
Here the Best Accommodations in Irvine
Stay in touch while we get lost! Follow us on Social Media