The Most Amazing Cycling Routes from London will Let you discover this beautiful city at your own pace
London is the official capital of the UK. It's also its cultural capital, the center of its trade and commerce, and a popular destination for tourists. The city is also home to more cyclists than any other part of the country.
This shouldn't be too much of a surprise. It boasts the largest population, has had a bicycle hire scheme for more than a decade, and has a number of initiatives designed to discourage driving. This makes folding bikes popular too as they can more easily be carried on public transport.
According to recent research, around 20 million people ride their bikes every month in the UK, with many of them doing so for fun and for exercise. However, very few of these would consider heading to London to go on a leisurely ride. Instead, cycling in the capital is seen as a method of commuting rather than something to do for fun. 
So either you're on a short visit to London or you're a resident here. you should consider riding those tracks, that we consider the best cycling routes around London.
Along the Thames – Battersea Park to Greenwich
Disclosure: Some of our articles contain affiliate links. This comes at no additional cost for you and helps us keep this website up and running. (as Amazon Associates we earn commission from qualifying purchases)
On the most easterly part of the National Cycle Route 4, this ride will take you from central London, past many of the most popular and famous sights in the capital, and over to Greenwich where the cycle route ends.
You have two options to start. You can either drive to Battersea Park and leave your car in the car park there or just ride there and continue your journey from that point.
The official National Cycle Route actually runs on the other side of the river, so you'll need to make your way across either the Albert Bridge or the Chelsea Bridge.
Once you're there, turn right and head along Grosvenor Road. You'll then bear left to head through Pimlico on Lupus Street towards Westminster. You can then cross the river on Lambeth Bridge or head past the Palace of Westminster and cross at the busier, but slightly more scenic, Westminster Bridge. Either way, you'll get great views of the parliament, Big Ben, and then the London Eye as you ride along Belvedere Road.
Keep following the road as it follows the meander of the river. As you pass through Bernie Spain Gardens on Upper Ground, you'll see the famous Oxo Tower on your left. Further round, you'll come to London Bridge before crossing over Greenland Dock and riding along the banks of the Thames; you will then head back inland at Pepys Park before returning to the water's edge as you near the National Maritime Museum.
The route ends at the Greenwich Foot Tunnel, but you could always cross the river again here and head back to your starting point on the opposite side.
Finsbury Park to Alexandra Palace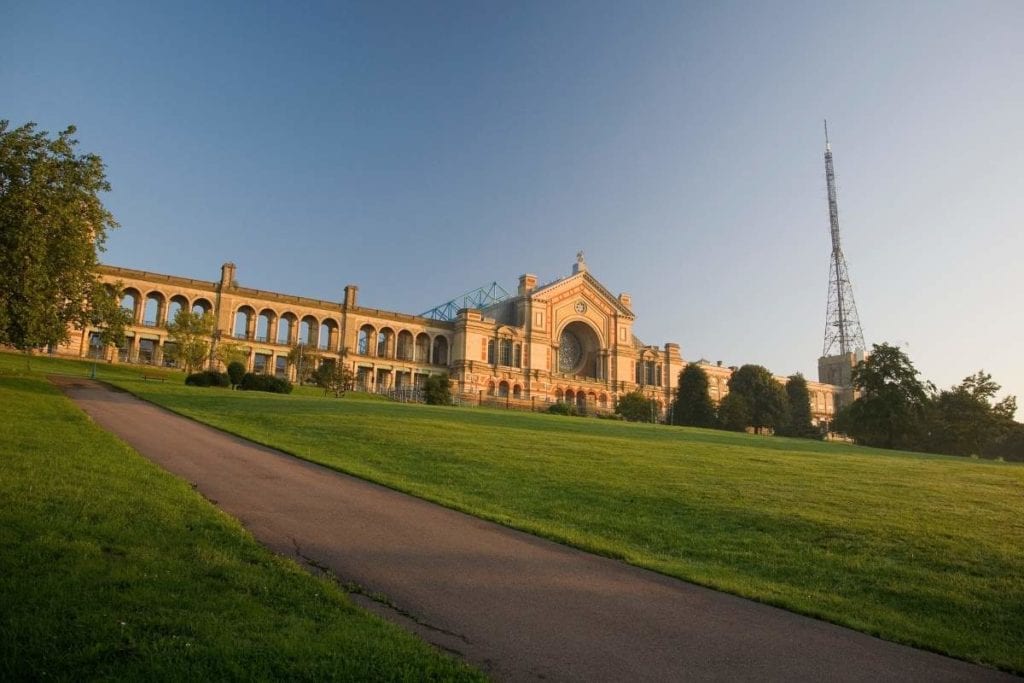 London was one of the first places to embrace the railway when trains were invented. However, as the city has evolved not all lines survived. One of these has been converted into the Parkland Walk (South) Local Nature Reserve, which offers a tranquil retreat from the hustle and bustle of the city without having to travel far.
Some of the old stations still retain their platforms, which really gives you some perspective of how big trains actually are.
The route offers something for everyone, with old relics of the railway, spectacular views of the city, and the chance to get up close and personal with wildlife.
The route starts in the southwest corner of Finsbury Park, with the Parkland Walk branching off from the remaining railway line at Oxford Road. Following the route is really simple, just keep going until you get to Highgate Station.
Once here, you have a couple of options: you can cross over the railway line and pass through Queens Wood, pass through Highgate and then flank the B550 through the edge of Highgate Wood, or take the long way around Highgate Wood.
All three options meet up with the Parkland Walk (North) Local Nature Reserve which continues northeast until you reach Alexandra Palace Gardens.
Once there, you can enjoy the scenery and admire the beautiful Alexandra Palace.
Regent's Park
Riding around Regent's Park outer circle is probably one of the easiest cycling routes you could ever find. This is great for when you just want a leisurely cruise while enjoying some nature but don't want to travel too far.
A single lap of the park is about 4 km (2.5 miles), so if you want to ride a longer distance, just keep circling a few more times.
It's a popular route for cyclists, so you will almost certainly find yourself in company.
The Tower of London to Big Ben
This is another route that flanks the River Thames but isn't too strenuous if you want a leisurely sightseeing tour on two wheels. National Cycle Route 19 runs right along the river from its source in the Cotswolds all the way to the Thames Barrier in Greenwich, but this route uses just a small 5km (3.1 miles) stretch.
Start at the Tower of London, admiring Tower Bridge, the Shard, and the Tower before heading west.
It is (mostly) as simple as following the river as it bends around. Shortly after setting off, you'll see Shakespeare's Globe Theatre on the left and St. Paul's Cathedral on the right.
As the Thames turns sharply 90 degrees, the London Eye and Palace of Westminster will come into view.
If you're hungry for more after this 18-minute ride, then extend it by turning right at Westminster Bridge and head along Birdcage Walk, past St James's Park until you reach Buckingham Palace.
Hyde Park Loop
Another loop route, this time around London's most famous green space, Hyde Park. It's easy to ride here, even if you don't have your own bike. Just pick up a Santander Cycle from one of the several nearby docking stations and take a leisurely ride through the park.
The loop around the park will see you travel 7km (4.3 miles), but again, if you want to ride further, you can do multiple laps.
Hyde Park offers some incredible sights too, including the Royal Albert Hall, Kensington Palace, the Princess Diana Memorial Fountain, Marble Arch, and several beautiful gardens.
There's also the giant lake where you can watch the ducks, swans, and geese swimming about.
London is full of great cycling routes that are fun and enjoyable while offering beautiful scenery and a mix of difficulty levels. So the next time you're in the city, why not give one a try.
Stay in touch while we get lost! Follow us on Social Media