Bicycle touring to Shirakawa-go, in the Alps of Japan
How to visit Japanese traditional houses. Kiritsuma-Gassho-Zukuri
Reaching Shirakawa is worth even just for the trip itself, and if you happen to cycle all the way up here you will appreciate the magic of this place even more.
We came to Shirakawa-Go as part of our Japanese three-month leg of a two-year Asian bicycle trip, planning our visit here according to the yearly Doburoku Matsuri, a Shinto festival about mountain gods and raw sake, read our full reportage here!
Set at the border between Gifu and Toyama prefectures, on the so-called Japanese Alps, in the lush green valley of the Shogawa river (an important source of freshwater and hydroelectric power with is many blue reservoirs) Shirakawa gives its best in Autumn when the temperature is good and the colors are astounding. Shirakawa-go really is a place not to be missed, be sure to include it in your itinerary when planning your trip to Japan.
Disclosure: Some of our articles contain affiliate links. This comes at no additional cost for you and helps us keep this website up and running. (as Amazon Associates we earn commission from qualifying purchases)
Shirakawa-Go
Today is October 20, Elena's Matsuri, also called birthday. We pay a visit to a local Onsen (hot spring) and for just around 3€, we get to do a nice relaxing bath in thermal waters, with a spectacular view over the valley and the river. We think about where to go after Japan: Philippines? Taiwan? Hong Kong? Who knows…
Released from the spa we go for a walk through the old town center of the wonderful Shirakawa-go.
Gassho-Zukuri Houses
Shirakawa-go has been declared UNESCO World Heritage Site in 1995 for its unique houses. They are called Kiritsuma-Gassho-Zukuri "prayer-hands construction", with their slanting thick straw roofs that resemble hands joint in prayer.
These houses are entirely built in wood and natural materials, without the use of nails, they are suspended on pillars resting on uncut stones.
The lower part of the pillars is modeled on the shape of the stones themselves so as to adhere perfectly, a simple antiseismic trick that allowed these buildings to survive the many earthquakes in the last 250 years (some of the hoses are that old).
The sloping roof, entirely made of twigs and straw, easily handle the massive winter snowfall.
The houses have several stories, designed to host large families. A reproduction of a Gassho house is visitable for free in the local small museum in the information center, where also interesting videos about the construction process are on display.
Walking through the fields adjoining the houses, on the wooden planks that make paths above the orchards, watching the beautiful and funny handmade scarecrows, is really a dive into the past of Japan.
There are several other smaller villages built in this style in the area, less touristy and with even older houses, we rode through them by bicycle while leaving Shirakawa behind, following the stream of the Shogawa river, in a dreamy state of mind that made us feel like if bicycle touring in a fairy tale.
For hints and trips about traveling in Japan on a very tight budget (less than 10USD per day) read our guide here. To have a panoramic of our
To have a panoramic of our Japanese bicycle touring project, check our itinerary in this other article. Please comment, like and share on social networks if you like!
Please comment, like and share on social networks if you like!
A little photo gallery of Shirakawa Go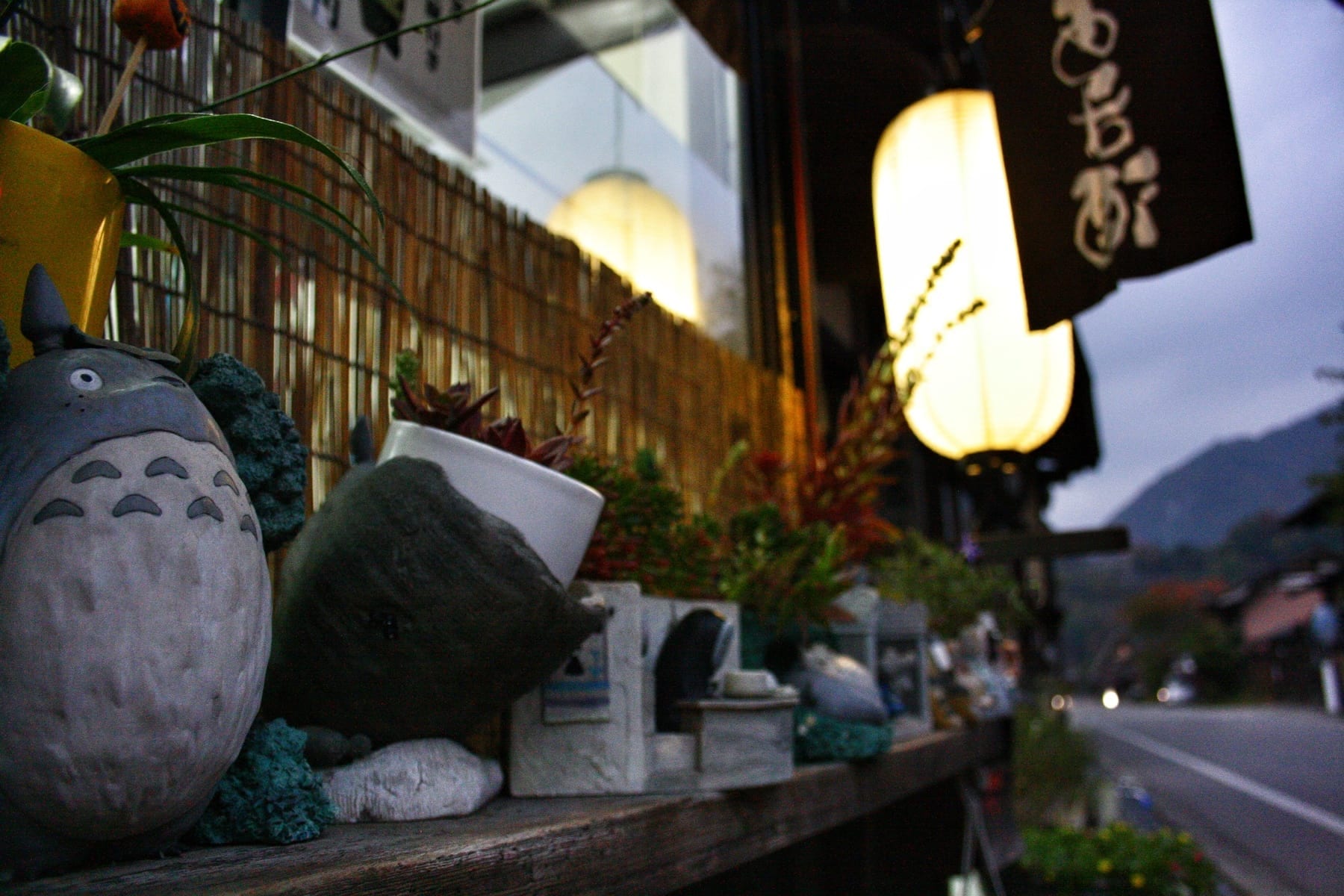 Follow Us
Stay in touch while we get lost! Follow us on Social Media