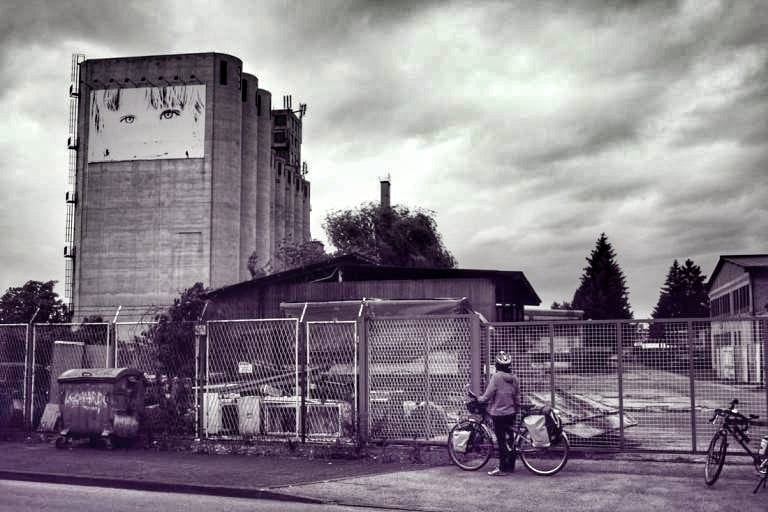 Bicycle touring and Cycling Holidays in Croatia. The Best Bike Routes and Advice about Cycling in Croatia.
Have you ever considered a cycling trip in Croatia? I guess you did, since you ended up here.
Either you're planning a longer cycle touring route across Europe, or just have a couple of weeks off for a cycling holiday, we'll try to give all the information needed to organize a bike trip in Croatia.
Croatia is the wealthiest among the former Yugoslavia countries, and probably the one with the highest concentration of tourist attractions.
Its long and spectacular coastline is dotted with thousands of islands, some of which make for great cycling destinations.
The Adriatic sea is crystal clear and always quiet here, and the costal cities are gems of history and architecture: Split, Zadar, Dubrovnik are all well worth visiting.
The north is mountainous in the west, with thick forests and the idyllic, fairy-tale spots of Krka (down south) and Plitvice.
Costs of a cycling trip in Croatia
Disclosure: Some of our articles contain affiliate links. This comes at no additional cost for you and helps us keep this website up and running. (as Amazon Associates we earn commission from qualifying purchases)
Despite being one of th most expensive countries in Eastern Europe, Croatia is still relatively cheap when compared to central and northern European nations.
Double room: from 20 €
Bed in Dorm: from 10 €
Campsite: from 10 to 20 € (x small tent)
Meal: from 2,5 to 15 € pp (inexpensive restaurant)
Beer: 2 €
Accommodation in Croatia
Campsites are ubiquitous along the coast, they are usually small and cozy and pleasant, although they might lack in infrastructures such as communal kitchen or laundry.
Camping is also possible in the mountains near Plitvice and Krka.
For the rest of the country, you'll have to rely on local guesthouses or occasional stealth camp, as wild camping is not permitted in Croatia.
Along the coast and in the tourist spots there are cheap hostels. Off the main touristic areas, it might become slightly more complicated to meet English speakers, learning some Croatian phrases will certainly earn you some smiles.
Choosing a bike route – Cycling itineraries in Croatia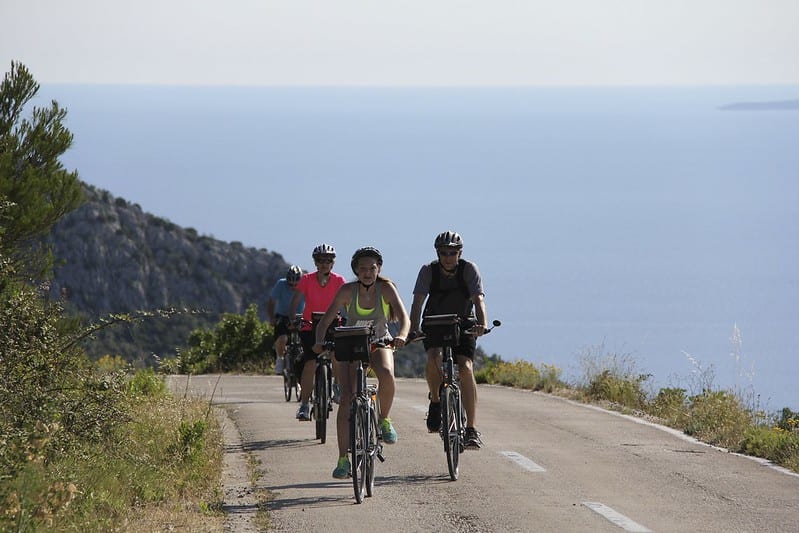 Croatia is not a big nation, it's most interesting parts can be thoroughly explored by bike in 2/3 weeks.
Here we propose two bike routes, those are definitely not the best for everyone and we invite you to research yourself and plan according to your taste.
You could also combine these two bike routes with sections of the so called Adriatic Crest, a gravel route suited for adventure bikepacking or mountain bikers.
Route 1. Bike touring the Coast of Croatia
Croatia is famous for its Islands, with over 1000 Islands in the Adriatic Sea it's not easy to decide what to visit.
Crystal water, good food, and wine, plenty of day and night activities. Here our suggested Islands to cycle in Southern Croatia.
Start in Dubrovnik
Dubrovnik is one of the most popular tourist destination in the Mediterranea Sea.
It was chosen as a filming location for Game of Thrones, the famous Cersei's walk of shame was filmed in the narrow alleys of the city and Dubrovnik Castle is in the fiction King's Landing.
This sudden fame had had a huge impact on tourism, with a 10% annual growth.
But the beauty of Dubrovnik was not a secret, it is listed in the UNESCO World Heritage Sites since 1979.
Pictures, Reviews and Things to Do in Dubrovnik
Stage 1. From Dubrovnik to Mljet Island
From Dubrovnik, it's possible to take a ferry to Mljet Island, the southernmost Croatian Island. It is considered to be the greenest Island and one of the most beautiful.
Typical Mediterranean vegetation, amazing local wine and cheese, and clear water made Mljet a perfect tourist destination.
The beautiful calm lakes are ideal for canoeing or kayaking.
Cycling around the lakes and into the National Park is the perfect way to explore the island, there aren't cycling paths but the road traffic is very low.
Avoid the midday heat during the hottest months (July and August). You can find more information about cycling on Mljet Island here.
Stage 2. From Mljet to Korcula
From Mljet, you can travel by ferry to Korcula Island. This is possible only during the peak season, from April to October.
Korcula Old Town is a medieval walled city with narrow streets that branch off the spine of the main street like the fishbone. Fishbone shape was used in Korcula Old Town design to reduce the effects of wind and sun.
Among the most important cultural spot to visit on Korcula Island St Mark's Cathedral, Bishop's treasury, Town Museum, Arneri Palace.
It is also believed that Marco Polo was born here.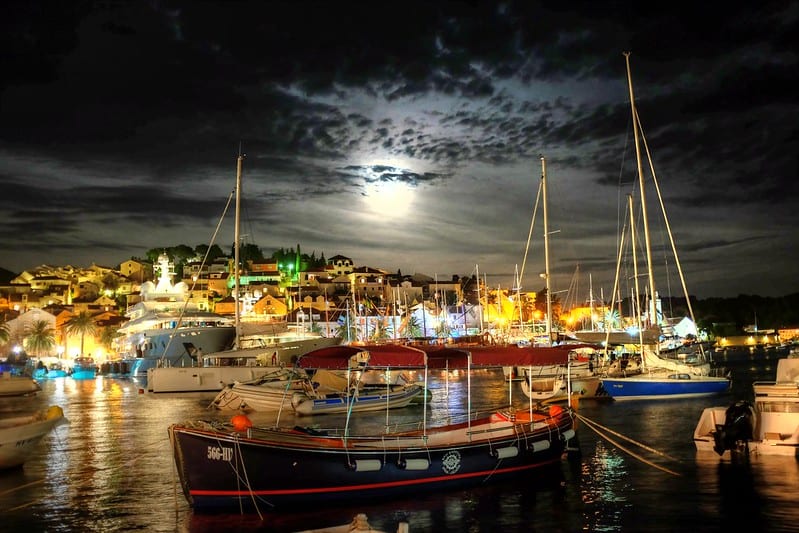 Stage 3. Korcula to Hvar
Hvar is another beautiful Croatian Island, but if you want to take a break from the beach life, this Island is ideal for those looking for nightlife.
Here a guide to the best bar and clubs hopping in Hvar.
Despite being very close to Split, one of the main city in Croatia, Brac is not very touristic, compared to the other Islands we mentioned.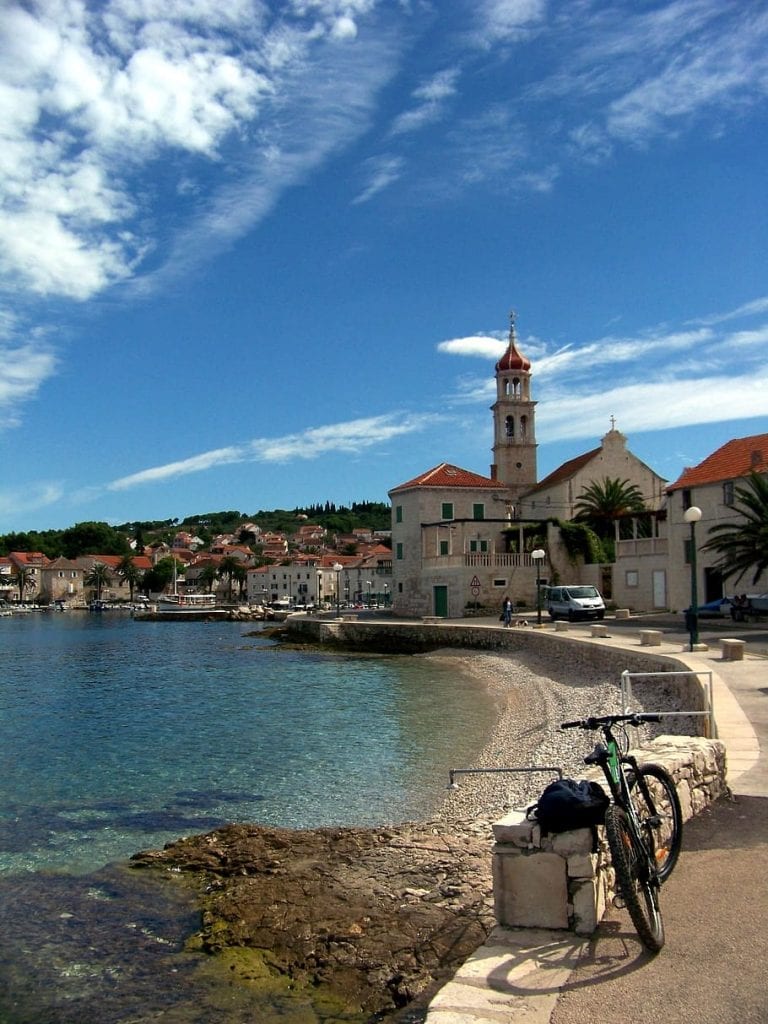 Stage 4. Hvar to Brac
If you are looking for some authentic island life cycle to the interior of Brac, climb Vidova Gora, 778m, to have a nice view.
Stage 5. Brac to Split or Makarska
From Brac you can take a ferry back to the mainland, in Split or to Makarska, 60 km south of Split. From here you can keep on cycling along the coast and going back to the starting point, Dubrovnik.
Route 2. The Central Mountains Loop and Plitvice
This is a short but challenging cycling route among the densely-forested Croatian mountains. With more than 4,500 meters of elevation gain in only 320 km, this is an itinerary for hill-lovers.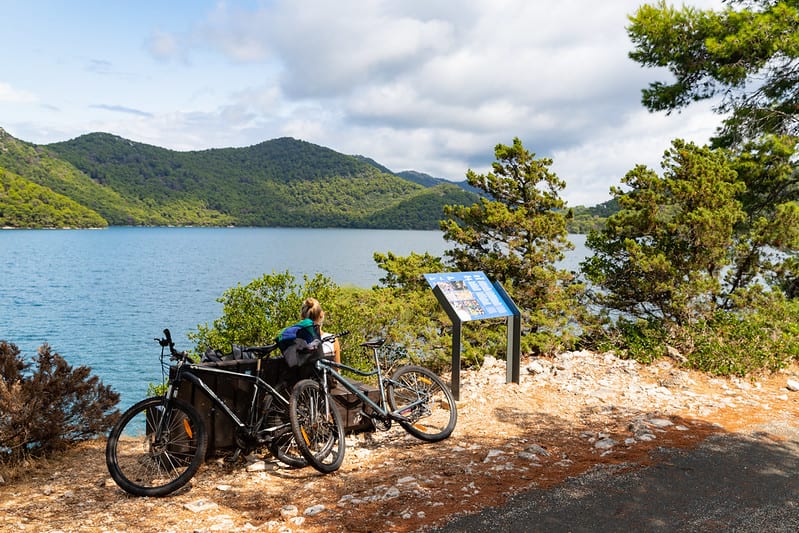 Start in Rijeka or in Pula?
Although our track starts in Rijeka, you could easily add the Istrian Peninsula to this loop, flat and nice landscapes worth adding a day or two.
Rijeka is maybe not the most charming in Croatia, but that's just because the competition is so harsh.
It is indeed a pleasant town with an interesting historical heritage. Check some cool things to do in Rijeka.
Plitvice
Plitvice Lakes National Park it's one of the most amazing places we have visited. Listed to the UNESCO World Heritage in 1979 is the oldest Croatian National Park (1949).
There are 16 lakes, created in thousand of years by natural dams. In the forest surrounding the lakes bears, wolves, and many rare bird species lives.
A very well make walking path will bring you around the park. To preserve the environment is now forbidden to swim in Plitvice.
Pictures, Reviews and Things to Do in Plitvice
Getting into Croatia
Northern Croatia cities like Rijeka and Zagreb are connected by train and bus to the neighboring countries.
Railway connections are more sporadic in the south, and totally absent south of Split. Coaches though are frequent (see FAQs at the bottom).
Most trains in Croatia do accept a maximum of 10 bicycles (unpacked), you will pay for the bicycle transport directly on the train, in the range of 10-35 kuna, depending on the distance.
Flying into Croatia
Croatia has plenty of international airports connected with major and minor hubs in Europe.
Ranked by traffic:
Zagreb
Split
Dubrovnik
Zadar
Pula
Rijeka
We always recommend Kiwi.com to plan your flights and get the best options.
Ferry connections between Croatia and Italy
There are 4 ferry companies with a combined offering of 15 Ferry Routes connecting
Pula to Venice & Pesaro,
Porec to Venice,
Rovinj to Venice & Cesenatico,
Umag to Venice,
Split to Ancona,
Zadar to Ancona,
Dubrovnik to Bari,
Mali Losinj to Cesenatico & Pesaro,
Rab to Pesaro & Cesenatico
Novalja to Pesaro & Cesenatico.
The fastest route between Croatia and Italy is Umag to Venice with a crossing duration of around 2 hours 30 minutes.
Is wild camping legal in Croatia?
Wild camping is officially forbidden in the whole nation of Croatia. In the more rural areas, however, it is tolerated (ask first or hide well). In tourist areas, on the coast, the islands, and in national parks, the ban on wild camping is regularly enforced.
What is the best season for a cycling holiday in Croatia?
Spring and early autumn are definitely the best times of the year for a bicycle trip in Croatia. Summer can be extremely hot and in winter you'll miss swimming in pristine waters.
Can you bring your bike on a bus in Croatia? 
There is no absolute answer to this question, the bus service in Croatia is operated by more than 40 different companies, which all have various policies about bike transportation. As a rule of thumb, during July and August most companies do not accept bikes, or will not guarantee you there is space on a certain departure, you will have to go to the bus station and ask the drivers. At other times of year it is normally possible to bring a bike if there is space on the bus.
Interested in Eastern Europe By Bicycle? Have a loot at our articles
Read also:
Stay in touch while we get lost! Follow us on Social Media