Cycling Austria's trails. Rivers, lakes, Alps. Plan a cycle touring or bikepacking trip:
Carinthia Region, Danube River, Vienna, Salzburg, and more bike trips
Exploring Austria on two wheels is a magnificent experience. Cycling Austria can rank from downhill biking and mountain biking to long-distance cycling. Austria has a lot of cycling trails along rivers and lakes. But you might wonder where in Austria you should go for your cycling vacation or bikepacking trip.
In this article, I want to introduce you to a very special region, it's my favorite place for cycling in Austria: Carinthia.
What makes this area so special is its mild climate, a very sunny province of Austria, and because it is located in the south of Austria, it is much warmer than in the Alpine valleys of the north. Its diverse landscape, which includes corn fields, flower meadows, woodlands, and horse plots with always-mountainous backgrounds, adds to its distinctive charm.
Not to mention the numerous lakes that serve as great refreshments during hot summer days and long bike rides. With the most famous Wörthersee, the warmest alpine lake that reminds of the sea with the clear turquoise color of the water.
New to cycle touring? Check our Bicycle Touring 101 directory!
The best season to cycle in Austria and Carinthia Region
Disclosure: Some of our articles contain affiliate links. This comes at no additional cost for you and helps us keep this website up and running. (as Amazon Associates we earn commission from qualifying purchases)
The best time to bikepacking Austria is between April and October. Winter is very cold and spring starts around March, April, or May.
The weather in this central European country is indeed very unpredictable. Within one week you can have 20°C degrees and sunshine but also 7°C degrees and heavy rain. Make sure you check the weather forecast!
Usually, you find pleasant temperatures for cycling trips in April, May, June, September, and October.
If you want to avoid the crowds or the heat, don't visit Carinthia in July and August. The best time would be around the end of May and the beginning of June. The flowers are in bloom, the nights are long, and it's not too crowded yet. Of course, also the autumn season is enjoyable.
Bike Trails and Accessibility in Carinthia, Austria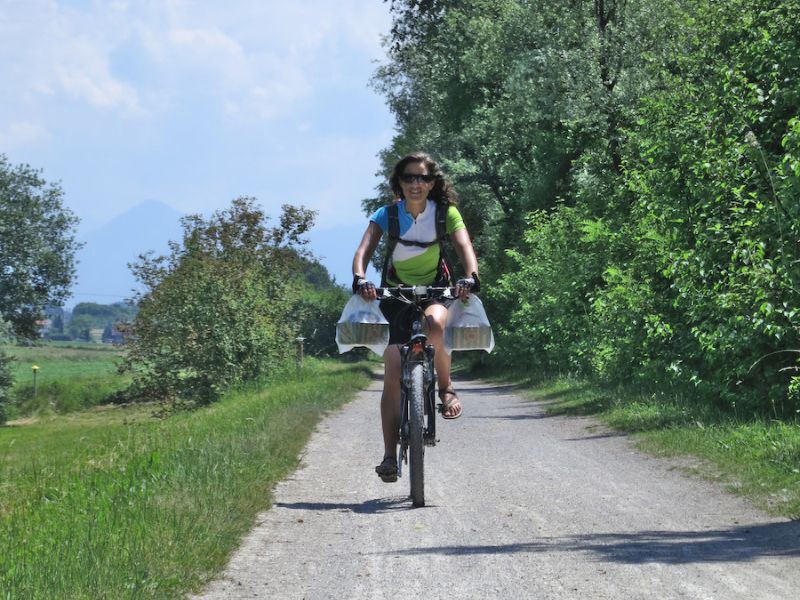 The bike paths and signage are very well developed in this Austrian lake area. At some parts of trails, you need to cycle on the road, but the majority of the cycling paths are separated from the roads. They have either asphalted trails along the roads or gravel routes away from the streets.
Major cities as well as smaller towns in this Austrian lake region have great infrastructure and are connected to the railway. You can transport your bike by train, and for that you in an extra ticket in the local traffic (Nahverkehr). For the long long-distance traffic (Fernverkehr) you need an extra ticket and a reservation for the bike. It's advisable to book your ticket online, there you can see all the info about the transport of bicycles.
Bike shops in Austria are usually closed on Sundays. You can find bike service stations with tools and an air pump along cycling paths for small preparations. Since this is a new infrastructure, there is not yet a map showing the exact location of the stations.
Where to stay in Carinthia during your cycling vacation
Carinthia has tons of accommodation options starting with camping, apartments, hotels, and hostels. Camping is strongly present in the Austrian lake region. However, wild camping is prohibited. Many campgrounds are located on the shores of lakes. You do not necessarily need your own camping equipment, because the campsites offer a wide range of accommodation options.
A similar option to camping but with fewer amenities is sleeping at farms and supporting their business with a purchase of a product. On the website for Schau aufs Land (look at the country) you can get more info.
Also, holiday apartment rentals are very common and great if you want more comfort and independence. Typical hostels are located in the cities of Villach and Klagenfurt, called Jugendherberge in German.
The best cycling routes in Austria's lake region
What would be cycling in this lake region without cycling around the most famous lakes? The following tours are recommended cycling tours in Carinthia.
You can look for tours at the following websites: bergfex, outdoor active, all trails, komoot, or touren kaernten. The latter has a tour planner.
There you can set points on the map, it plans your route and shows you how many kilometers you are cycling on an asphalted road, dirt road, forest trail, etc.
You can have an accommodation base for a few days and do day tours. Or you can do bikepacking and see all that Carinthia has to offer. The following three tours a day tours and at the end you find two bikepacking tours.
Lake Wörthersee round & refreshing swim – Day-trip options for all levels
Distance: 42 km
loop around the Wörthersee
44 km loop around the Wörthersee including Pirkerkogel,
50 km Loop including Keutschachersee & Pirkerkogel,
76 km Loop Wörthersee, and Rosental. Starting Point: Klagenfurt
A circular trip around the Wörthersee is a must! You can start anywhere around the lake and extend your trip variously. Either you take the trail directly on the shore of the Wörthersee, or you include the hill at the north, the Pirkerkogel.
Or you can extend your route to the south to pass Keutschachersee or even further south to pass the Rosental (rose valley). Or further towards the north to combine the Ossiacher See. As you can see there are various options to choose from.
Note that parts of the north shore of the Wörthersee are built up. Lake access is sometimes difficult but an ideal stop for cyclists is the Freibad Pritschitz. It is directly on the cycling path, therefore perfect for a quick stop and jump into the lake. There is even a public toilet, next to the railway.
Velden am Wörthersee is the most expensive town around the lake and dining there is expensive.
Hint: I highly recommend doing the Keutschacher Seental Weg, which is included in the Keutschachersee tour. The south side of the Wörthersee is not so pleasant to cycle, narrow roads shared with cars. But the landscape and the bike trail south of the Keutschachersee are magnificent.
Ossiacher Lake Round, Lake Faak, and visit the strawberry land
Distance: 64 km
including Ossiacher Lake Loop, Strawberry Land, Lake Faak Loop, and Finkenstein. Starting Point: Villach
The Ossiacher Lake Round starts at Villach, it is a flat path and the landscape around the Ossiacher Lake is mountainous. In the north is the peak of the Gerlitzen and the Finsterbach waterfall. You can hike up to the waterfall from Stattendorf.
It's a short but steep hike, passing by traditional Austrian houses. On the east side of the lake is a marshy area, where the bike path makes a larger loop, which can be shortened by riding on the road.
Strawberry Land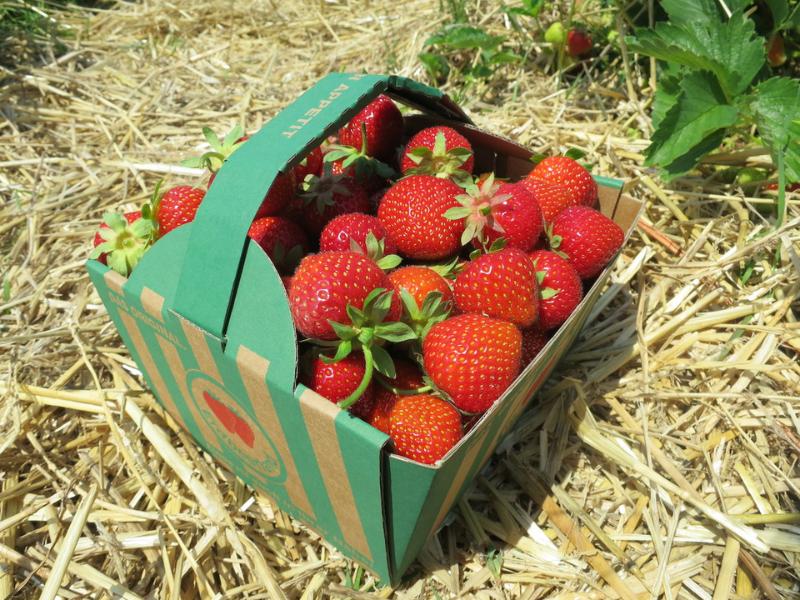 From the west shore of Ossiacher Lake, you can make your way to Lake Faak. But make sure you stop for a fruity refreshment at a so-called Strawberry Land.
What could be better than getting yourself a healthy summer snack? In a strawberry country in Austria, you can pick and eat as many strawberries as you want for free, everything you take away you have to pay for. Additionally, you can include the moor landscape, Finkenstein, next to Lake Faak.
Bike Tour Austria: Glan Cycling Path and Rosental Tour
Distance: 76 km
from Klagenfurt to Villach
Sometimes you need to create your own tour. This tour starts in Klagenfurt. At the Glanfurt, an outflow of water from the Wörthersee. Along the stream is a cycling path. You follow this path for a while and then cycle south towards the Rosental.
The cycling path next to the river Drau is flat and a bit more remote than the paths around the lake. You can include a little stop to see the Ebenthaler Waterfall or have a dip in the small Reissnig Lake. The tour finishes at Villach or you make a loop out of it and cycle back to Klagenfurt.
The Drau Bike Trail – An Ideal route for Bikepacking Austria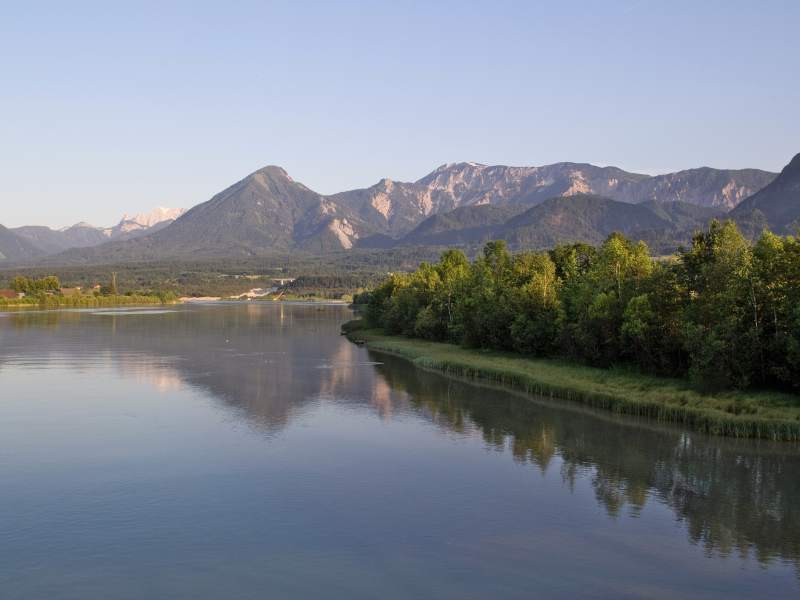 The Drau Cycling Path is a 510-kilometer-long cycling path along the river Drau. It starts in Toblach, Italy, and ends in Varazdin, Croatia. With a significant part of it leading through the landscape of Carinthia. The cycling path covers a variety of scenery, it starts with the Dolomites and leads to the Pannonian Plains.
Either complete the trail from start to finish or include the cycling path in one of your day trips while on your cycling holiday.
Carinthia Lakes Loop – A Multiple-Day Bike Tour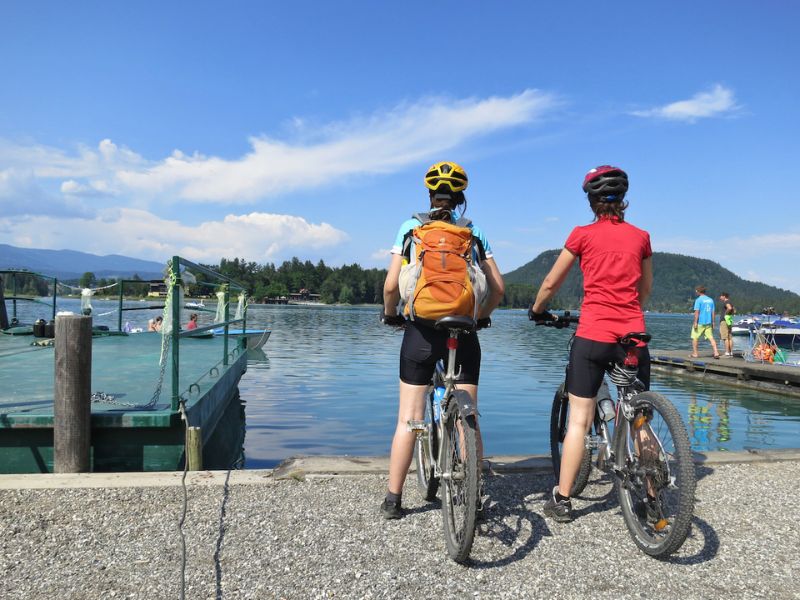 On that tour, you combine the north and south of the Austrian lake region. It is a 420-kilometer-long trail with 2.397 meters of ascent. At the beginning of the tour, you leave the altitude behind you while reaching Lake Weissensee and village Weissbriach.
You'll pass multiple lakes towns and villages. This tour includes the alpine lakes of the north, Lake Millstatt, and Lake Weissensee as well as the warmer lakes of the south, Lake Wörthersee, Lake Faak, and Lake Klopeiner. 
A large part of the tour leads along the Drau Bike Trail. This cycling loop is ideal for you if you want to experience the various landscapes of the region and if you love bikepacking.
Where to eat while bikepacking Austria
Sure, you need to stay fed on your trip. In every bigger village on the cycling path, you can find Supermarkets, mostly likely Spar, M-Preis, Billa, or Hofer. You can also find restaurants, so-called Gasthäuser, almost everywhere along the route. Please note that outside the city it is difficult to get food for a certain diet.
If you want to support the local economy, you can also find farmers' markets and stands. There is Schmankerl Theke in Keutschach. This is a stand without employees and based on trust in the customers. You can find stands like that all over Austria. The weekly farmers market in Villach is held every Wednesday and Saturday morning. Klagenfurt has various markets but for instance, the Benediktinermarket is every Thursday and Saturday morning.
Another option is ultra-light camping food, for instance, Real Turmat or Trek'n Eat, which I used during my hiking trip to Sweden.
Benches and picnic areas along the trails invite you to enjoy your meal with magnificent views and the tranquility of nature.
Other Cycling Itineraries in Austria
Cycle the Danube all the Way North to Germany or Down into Slovakia
Part of the beauty of Austria is that it shares borders with no less than nine other countries, meaning that there is nothing stopping you from hopping from one country to another whenever you feel like it.
A great way to do this is by following the Danube River north to Germany or south to Slovakia.
Along the way to the north, there are also some major highlights to point out, such as the stunning towns and villages that dot the Wachau region.
Purpose-built cycle paths perfectly complement regular roads here, to produce the ideal destination for a day or two's worth of touring.
Check Also

.Danube Cycle Trail: the ultimate guide
.Cycling in Slovakia: everything you need to know
Cycling in Salzburg – Visit the Home of Mozart
Salzburg is one place that any Austrian cycle tour should take in, with its fairy-tale style architecture, lavish concert halls, and all the history that comes with being the home of legendary composer Wolfgang Amadeus Mozart.
As well as going to see the very house that the great man grew up in, you should also pay a visit to the cathedral, Hellbrunn Castle, and check out the views from Hohensalzburg Castle which keeps an eye on the Old Town streets below. Salzburg is definitely one of the most beautiful cities in Austria!
Treat Your Aching Muscles to an Austrian Spa
When your tour is done and you can cycle no more, it really is worth checking into one of Austria's world-renowned spa complexes, which will pamper your group to the core.
Although 5-star spa hotels and complexes can be found hidden away in virtually all corners of the country, perhaps the biggest grouping of them is near the towns of Villach and Klagenfurt.
Establishments like Hotel Die Post and Das Ronacher offer everything from hot stone massages to soothing saltwater soaks and mud baths.
Wrap Up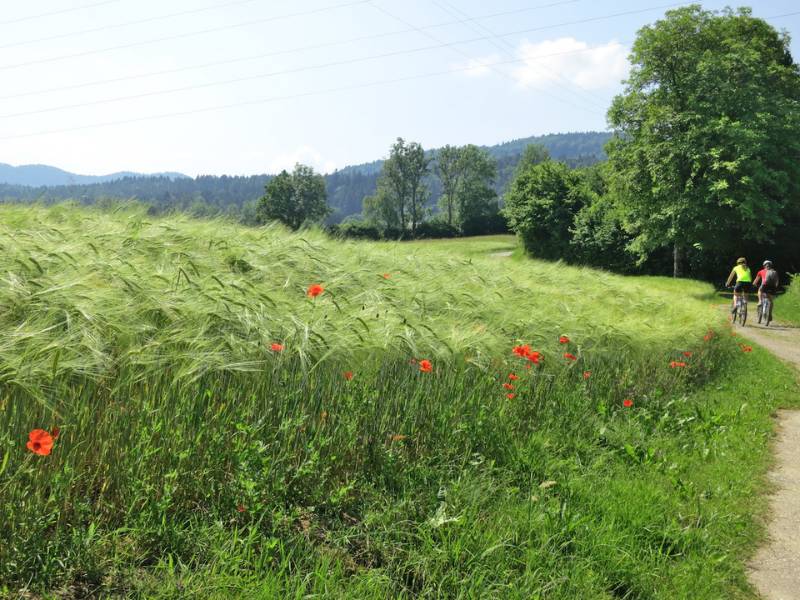 Pack your cycling equipment and swimsuits and off you go to the amazing Austrian lake region. With multiple cycling paths and various difficulty levels, there is nothing in your way for your cycling adventure in Carinthia. You can combine multiple trails and emerge yourself in the beauty of the region.
Austria is really a gem of a country, not just for its mesmerizing alpine landscapes, but also for its great food, gorgeous architectural heritage, and very friendly people.
About The Author
Lisi is an adventurous, mostly solo traveler from Austria. She likes to travel slowly, discover underrated countries/regions, and of course, learn about cultures. She has been traveling the world and creating travel content since 2016. With a degree in tourism management and a passion for travel and cultures, she wants to tell stories that inspire people and help them travel more consciously.
Webpage link: escapingworlds.com
Check Also
Cross Alps Bike Route for Intermediate
Advanced Mountain Passes to Ride in Austria
Timmelsjoch
Rettenbachferner
Großglockner
Kitzbüheler Horn
Stay in touch while we get lost! Follow us on Social Media