Cycling in Latvia on the Eurovelo 13
a complete first-hand guide of the Iron Curtain Trail.
Map, GPX track, routes, and all the info about Latvia on a bike
The Eurovelo13 (EV13) cycling route, also known as the Iron Curtain Trail, stretches for 7650km from North Finland to the coast of the Black Sea in Bulgaria. It follows a symbolic line that kept two different worlds isolated from each other for half a century. By riding this route, you will be able to learn more about each country's history during the Cold War.
If you are specifically interested in military heritage, the best option is to travel in Latvia. Here you will find one of the calmest parts of the trail, with easily located points of interest from Soviet Union times. Below, you can find some tips and recommendations for your perfect experience of traveling in Latvia.
EV13 follows the Latvian seacoast. Aside from Latvia's capital, Riga, which is included in the route, the areas are sparsely populated but not forgotten. You can enjoy fresh air and roads with little traffic and plan refreshments or touristy stops every several hours.
Compared with the western European routes, this one is pretty well developed, but at the same time untouched. That is one of the reasons why, even if we are still far from the popularity of other routes like Eurovelo 17, more and more visitors are making the decision to cycle in Latvia.
This post is contributed by our friend Robertas Fullnorth.
---
Interested in cycling Northern Europe? Have a look at
Estonia on a bike, everything you need to know
Cycling and Camping in Finland – a bicycle trip in the wilderness
Routes and advice about cycle touring in Poland
Climate
Disclosure: Some of our articles contain affiliate links. This comes at no additional cost for you and helps us keep this website up and running. (as Amazon Associates we earn commission from qualifying purchases)
Latvia is located in the temperate climate zone, so it has four pronounced seasons. Starting in December, temperatures often drop below 0°C and snow is pretty common. Winter lasts through the middle of March, and around the beginning of April spring slowly kicks in.
The warmest months in the region are June, July, and August, with average high temperatures of +19°C. Even though September marks the beginning of autumn, it usually still brings bright sunny days but cooler nights. October and November typically are windy and cloudy months with huge amounts of precipitation.
Route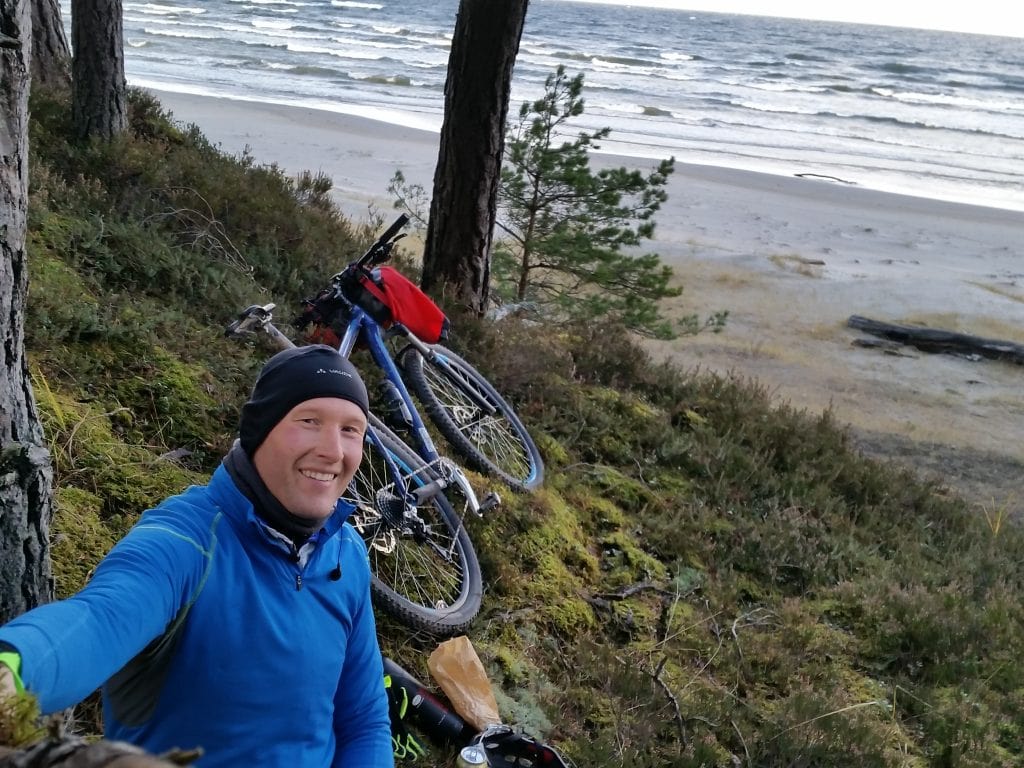 There are three popular options to ride EV13. You can enter it from the Lithuanian side at Rucava and cycle north or enter from the Estonian border at Ainaži and cycle south. Some folks choose to start their trip in Riga, which is easily reachable by plane or ferry.
There are four big Latvian towns along the route—Riga, Ventspils, Liepaja, and Jūrmala. The rest are significantly smaller villages, but all have food, drinks, and accommodations available. The distance between towns is less than 50 kilometers in most cases. By following EV13, you will get to know two historical and cultural regions of Latvia—Vidzeme and Kurzeme.
The trail follows low-traffic roads along the coast of the Baltic Sea. Sometimes it turns into gravel, and near Jūrmala, Riga and Carnikava you can expect to have a bicycle path. Closer to Ainaži, a new experience is offered—cycling the seacoast on a hard sand surface.
Overall EV13 is a very convenient route for travellers who are interested in having a cycling vacation or exploring the Baltic region.
---
Cycle route map and GPX track of Eurovelo 13 "Iron Curtain Trail"
Best time to ride the Euro Velo 13 in Latvia and Beyond

Based on the climate conditions described before, the best time of the year to ride EV13 is from May through September. This is the so-called "high season", when many tourists visit Latvia. During this time of the year, you can expect reasonably warm weather and most places of business are open.
Official high season in Latvia: May 1st – September 30rd
---
Accommodations
The high season offers many options for overnight stays. The most popular is camping. All camping areas offer green grass fields and outdoor facilities. Usually you can find wood and a grill for food preparation. Better sites have playgrounds for the kids.
Best of all is that the camping areas are located close to the sea—typically 50–100 meters from the beach! Follow the road signs to find the right place.
Be aware that wild camping is allowed only in designated places which are marked with special signs. There are not many of these sites, and they can be crowded during the high season (especially on weekends). You can try stealth camping, but if you do, please be sure to follow the "leave no trace" principles to keep nature clean and pristine.
For travelers without a tent, cottages and homesteads can be attractive options. There, you can expect some of the same benefits as camping (sometimes the same owners can offer both) with additional amenities—a clean bed, a hot shower or even a sauna.
In the larger towns, the simplest option is to rent a room or apartment. All of the towns offer a huge variety with various price ranges, sizes and style options.
For those who are looking for an exceptional experience, check out the following options: try living on water, overnight in a barrel house or the Karosta prison.
Keep in mind, one of the biggest annual celebrations in Latvia, called Jani, is in midsummer. During that weekend, people traditionally go to the countryside for celebrations. If you are planning to be in Latvia at this time, it is better to make lodging reservations in advance.

Food
A significantly large number of food options are available in Riga and Jūrmala. You can choose from a wide variety of world cuisines and enjoy tasty food. Fewer but still many options can be found in Liepaja and Ventspils. In the remaining towns, check for tavernas (Krogs in Latvian) that serve traditional Latvian cuisine.
If you would like to taste something traditional from the Courland Peninsula region, in Ragaciems, Lapmežciems, Engure or Mersrags you can buy smoked fish made by local fishermen.
If you decide to prepare your own food, you can take advantage of Latvia's well-developed shop network. Check for top!, LaT and Elvi shops on the road.

Places of Interest in Latvia
This is the largest museum of old bicycles in Latvia. You can see more than 70 bicycles that were produced and used in Latvia during various periods. In addition, you can see a collection of more than 800 bicycle insignias from all over the world.
Located far away from Ventspils, Irbene used to be a secret army town (Zvaigznite) in Soviet times. Nowadays, it is best known for its 32-meter radio telescope, RT-32, which is currently the eighth-largest in the world. RT-32 and a smaller telescope, RT-16, were both refurbished in 2015 and are now available for scientific research purposes and tourist visits.>
Riga is the capital of Latvia and the largest city in the Baltic countries, there are many tours to do in Riga. Its old town is best known for Art Nouveau architecture and interesting neighborhoods to walk around. Depending on your interests, you can jump onto a hop-on-hop-off bus and take a tour around the most visited places, or take a ferry and have an hour-long boat trip in Daugava and the city channel. Food lovers will love Riga due to its wide variety of eating options. Check here for more things to do in Riga.
Ventspils is the second largest port and a popular resort in Latvia. Being a relatively small town, Ventspils is known for its very well developed touristic infrastructure, clean beaches, and entertainment options. It is definitely recommended to stay here for one or two days and explore it more.
Cape Kolka is the most northwest point in Curoland and the horn where the open Baltic Sea meets the waves from the Gulf of Riga. The place is also worth visiting because of Slitere National Park which starts in the village of Kolka. During the Soviet era, this territory was kept secret and went undisturbed for more than 50 years. Therefore, even today you can enjoy rare fauna and flora which can be found only in certain places.
Liepaja is the largest city in western Latvia. It is best known for its clean beach, timber houses and cultural life (especially music). Every summer, its population doubles since many music festivals take place here and many visitors from neighboring Lithuania come to spend their days off.
You can explore military heritage everywhere in Latvia. Partially preserved military premises can be found in the Carnikava region. In Riga, you can find hidden bunkers and fortifications. In the city centre, there is an Occupation museum. Ruins of fortifications and batteries can be seen closer to Liepaja. While you are in Liepaja, take a tour of Karosta district, which served as a base for the Soviet Baltic Fleet.
Cost of a Cycling Trip in Latvia
Despite the fact that Latvia's economy has been growing fast for the last number of years, cycling here is still affordably cheap. An overnight room costs 20 euros on average. Camping with a tent is 5 euros on average. A second-meal in a restaurant costs 7 euros and a pint of beer ~2.5 euros.
The exceptions might be only in Riga and Jūrmala, where prices might be higher by up to 50% compared to those mentioned above.
Food stores can be found in every small village and you can easily prepare yourself dinner spending no more than 7 euros for two persons.
Transportation along the Eurovelo 13
Coach network is very well developed. You can get a bus in any town and travel for 2-15 euros depending on the route. For bike transportation, you should always ask if there is space available in the trunk. Otherwise, they cannot take it, because buses are not equipped with bicycle racks.
There are two train lines available near the EV13 route. Riga-Skulte, and Riga-Tukums. Like with buses, it goes almost every hour including weekends. Wagons are equipped with special places for bicycles. This is an even cheaper option, since ticket usually costs not more than 5 euros including bicycle.
The last option, might be pricey compared with the first two mentioned above, but fastest – domestic flight Riga – Liepaja. Check here for specific schedule and prices.
For more adventures of traveling in North Europe, check Rob's website Fullnorth.com