Cycling the Pyrenees
888 Km bike touring route [Sainte Marie La Mer to La Arena]
GPX track & Map + Where to Sleep (lodges/camping), road & climbs
Bikepacking with Peter Baumeister
Looking for a true wilderness experience in raw and thrilling mountains? Check out my remote bikepacking route across the entire Pyrenees from the Mediterranean Sea to the Atlantic Ocean. A true cycling adventure awaits you with some of the most beautiful landscapes you can ever imagine.
DISTANCE
888 Km/ 552 Miles
SURFACE
40% paved;
50% dirt road;
10% single track
BIKE
Cube CPMT – national team edition
Essentials
warm sleeping bag, warm down jacket, rain pants, helmet

challenges
Solitude, strong and freezing winds

Disclosure: Some of our articles contain affiliate links. This comes at no additional cost for you and helps us keep this website up and running. (as Amazon Associates we earn commission from qualifying purchases)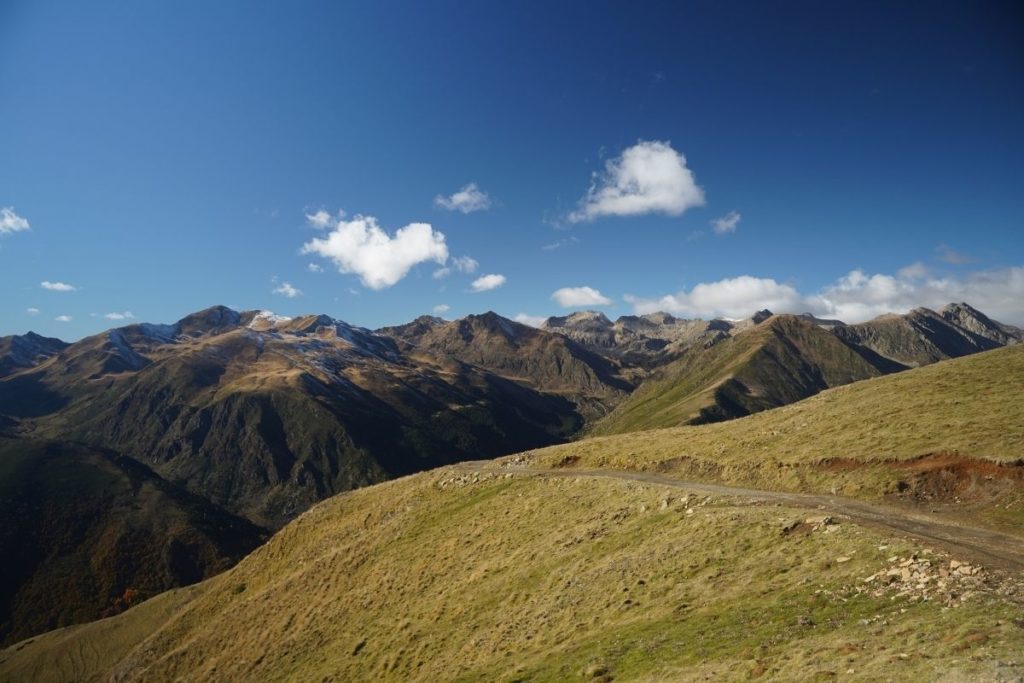 You will normally get down to the valley every day to stock up food supplies in little shops (be aware, that most supermarkets are closed in the afternoon from 1-5 pm) freshwater can be found everywhere in the mountains.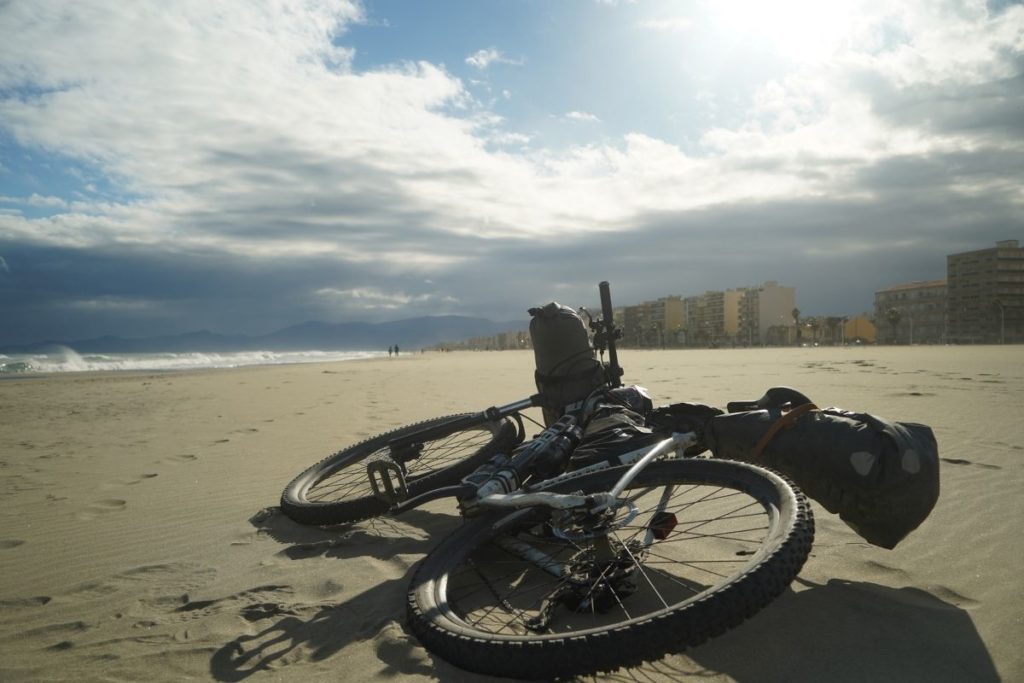 Many little self supplied refuges along the way. Don't rely on that they are open – carry a backup tent with you to be safe. Some villages have little hotels to stay at.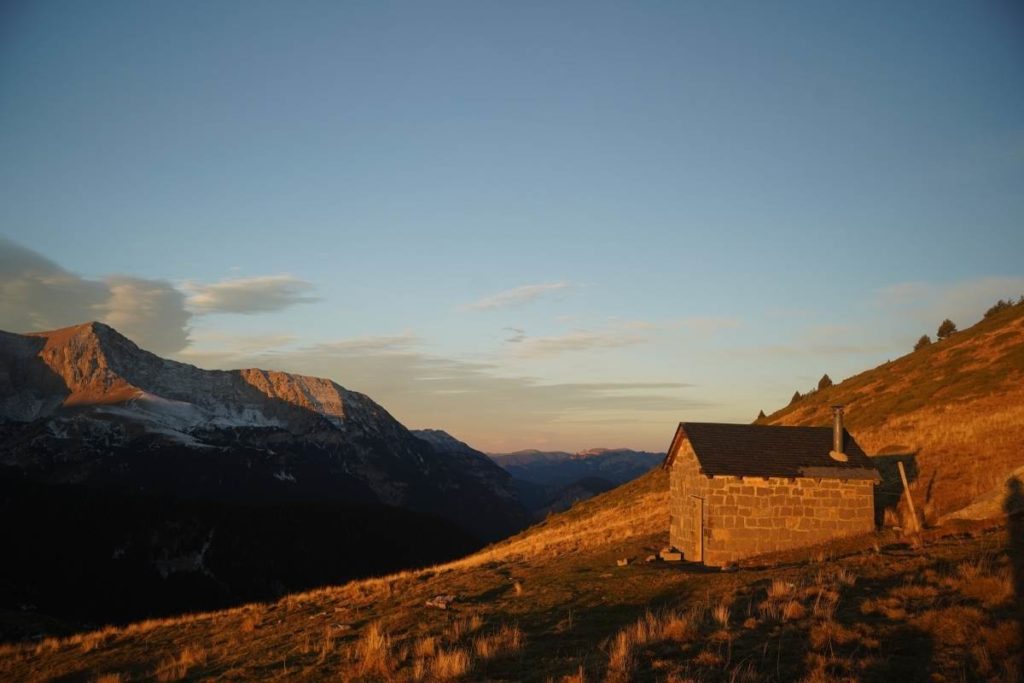 When I go on routes like this, i like to sleep as high up as possible and as remote as possible – I guess you can also replan this route and sleep in Hotels in the valley and do the mountain sections during the day. Be aware that some advanced mountain and outdoor experience is required and a solid level of fitness (>2000vm – max 2500vm per day).
THINGS TO SEE ALONG THE ROUTE
Stunning mountain wildlife (if lucky) – I saw lots of deer, wild boars, marmots, and many big raptors
raw and beautiful nature
lots of solitude (if you go off-season)
MY EXPERIENCE
Crossing the Pyrenees by bike (especially in November) was a very rare and unique adventure, that probably not many people would do this time of the year. Therefore I was able to witness a great wilderness experience – not meeting any people up in the mountains – which was exactly what I was looking for.
Starting my cycling route from the Mediterranean Sea I had no idea which way to go, so I did it like always: I simply started.
Firstly I wanted to see Andorra. A lovely state in the mountains, with really friendly people living there. But to be fair: it is quite a developed country. So the roads are paved high up and it's full of skiing resorts. Not exactly what I was looking for. Luckily it is super small, so it takes you only a day on the bike to completely cross it.
Crossing the border to Spain on a high mountain pass changed the circumstances immediately: mountain roads are all gravel from now on and the valleys are rarely settled with only very small villages and just a very few people living there permanently.
Since I was looking to cycle through the remotest and wildest places here, I wanted to sleep high up in the mountains. And luckily there are a lot of little self-supported rifugios everywhere in the Pyrenees, that gave me shelter from the long, cold nights and strong winds.
I always carry my tent with me when bikepacking, which you should do too. You don't wanna rely on these shelters to be open or even exist. This way I could create my own individual route through some of the most beautiful mountains, I ever visited.
The 8-day bikepacking route from the border of Andorra until I left the high Pyrenees was absolutely spectacular. I fell in love, especially with the mornings. Waking up in these rifugios with no human being even close to me, was such a fulfilling and intense experience.
In Episode Four of my video series from Munich to Lisbon, I show you how I planned my routes and how I found these little shelters. So if you are interested, you can check that out.
My cycle touring days would normally start in solitude in the mountains, before coming into the valley around midday. That's the only time I would meet other people when having a coffee and stocking up food in the little supermarkets.
As soon as you leave these villages it is solitude again until next midday.
I don't wanna lie: The mountain biking was super challenging at times – you will not find a lot of flat areas to ride in the Pyrenees, quite as hard as mountain biking in the French Alps
So in order to always sleep up high, I pulled off more than 2000vm nearly every day – considering that days were already super short, that was really exhausting. But I also love the physical challenge in the mountains, so for me, that was great too.
If this report sounds appealing to you and you also love the combination of physical challenge, solitude, and beautiful nature, I can honestly recommend going bikepacking the Pyrenees yourself.
If you wanna watch more spectacular projects by Peter, you should check out his YouTube Channel.
Want to know more about bikepacking? How to go bicycle camping with your MTB? If gravel bikes are good for travel? What's the best type of bike for touring? All the basics to go long distance cycle touring? What about folding bike adventures?
Cycloscope got you covered! Just follow the links above and get lost through the encyclopedic amount of bike travel content on cycloscope.net.
More bikes
> Kona Rove LTD 2022 – Review! – A Gravel Classic for Bikepacking
> Review! Surly Disc Trucker 2021: shall I buy it or not?
> Bombtrack Beyond – Review! Non-Plus Ultra Bikepacking Machine
> 6 Best Bikes for Plus Size Ladies – Road, Commuting, MTB, Utility, Electric
Stay in touch while we get lost! Follow us on Social Media