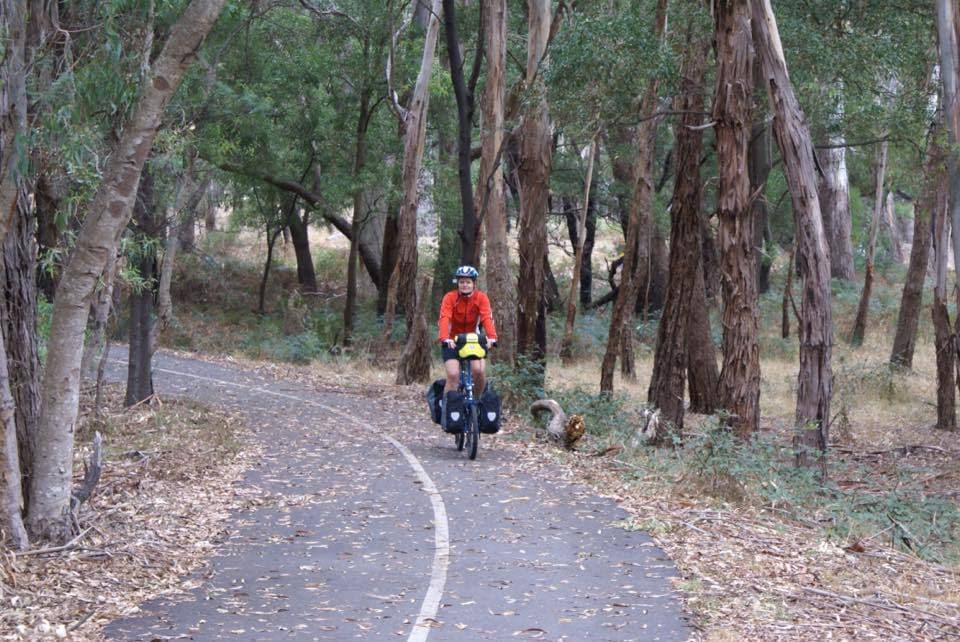 Beginner's bike trip itineraries in Australia. 5 easy bike tours to get started with bicycle touring in Australia
Some time ago, following our post about the best countries for bike touring first-timers, we got such a creat in-depth comment about easy bike rides in Australia by Carolyn Lister on the Facebook group Bicycle Touring & Bikepacking, that we decided to make a post out of it.
Here's what Carolyn has to suggest for all those who are planning their first bike trip:
Pick a destination that has more interesting things along it than just riding your bike. That way you have distractions if you get frustrated or discouraged along the way. I find cycle touring to be either the best of times or the worst of times with very little "middle of the road" stuff. Don't think you have to do everything all at once either.
You can bite of different challenges after you have mastered others. I jumped right into foreign solo touring when I was younger but broke my son in gradually. He still isn't as passionate about cycling as I am but he does enjoy meeting people along the way which is actually the best part of touring. The key thing to keep in mind is everybody is different so structure your trips to suit your preferences. All the suggestions are just great info to mull over. Have fun!
1. Victoria Region
Disclosure: Some of our articles contain affiliate links. This comes at no additional cost for you and helps us keep this website up and running. (as Amazon Associates we earn commission from qualifying purchases)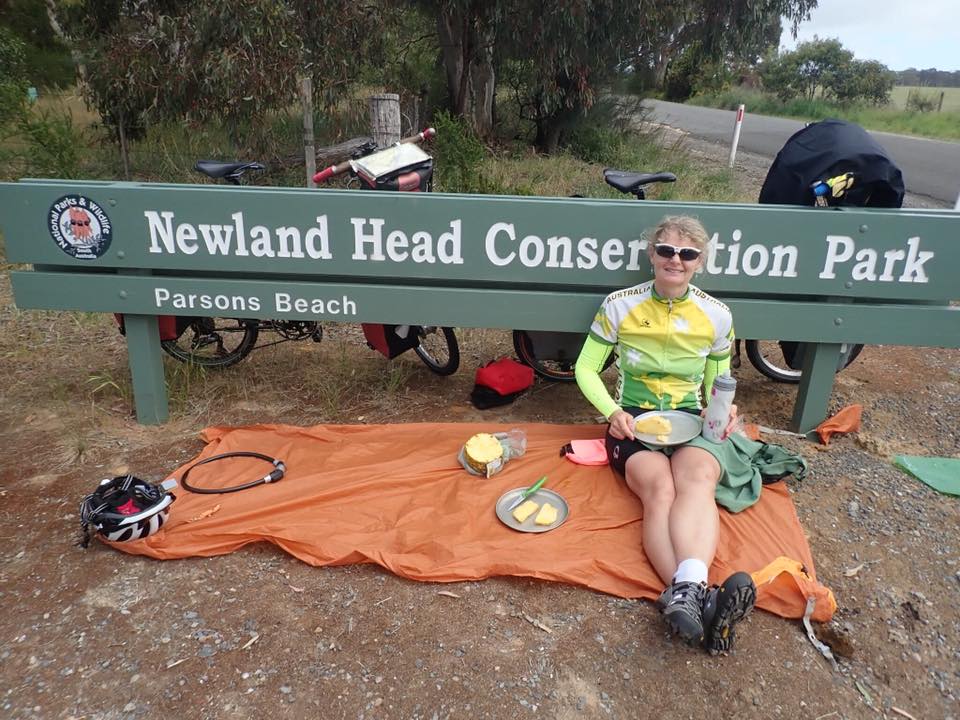 By train from Melbourne to Bendigo and ride a circuit of the Goldfields region of Victoria, taking a week. Take a train Melbourne to Albury/Wodonga and ride to Beechworth. Here at Beechworth, a lovely rail trail to Bright begins. It is all downhill and through forest, farmland, and vineyards.
A bus to Seymour links you to the train to return to Melbourne if you fold or box/bag your bike. Alternatively, you can return to Albury/Wodonga by the same route. The best time for this ride is in summer.
Bright is a good base for further day rides on road or mountain bikes to the Australian Alps. Again allow a week for this ride. Strong riders could ride through the mountains to the coast at Bairnsdale and take a train back to Melbourne.
2. The Grampians National Park
From Melbourne take a train to Stawell and do a loop ride through the Grampians National Park, enjoy the nature by bushwalking or rock climb if you like. Some short flat bike paths meander through the Grampians village to many features and are suitable for children. The viewing points are uphill but short and optional.
3. From Canberra
From the capital city of Canberra heading south to Dalgety, and then east to Bermagui on the coast, or west to Jindabyne and Charlottes Pass in the Kosciusko National Park where there are great camping opportunities and few people in summer. Buses can bring you back to Canberra if you fold or box your bike.
4. From Adelaide

Adelaide is flat and has lots of tarmac bike paths and off-road bikeways, sealed though along the beaches and the Torrens River. Following the Torrens River from Henley Beach or the city center for many kilometers through the cities suburbs is easy and enjoyable.
The path is on both sides of the river for many kilometers and well signed. Allow 2-3 days for Adelaide beaches and river tour. There are no circuit routes just rides there and back. Eating and shopping at the Adelaide City Market is an experience I recommend.
5. Barossa Valley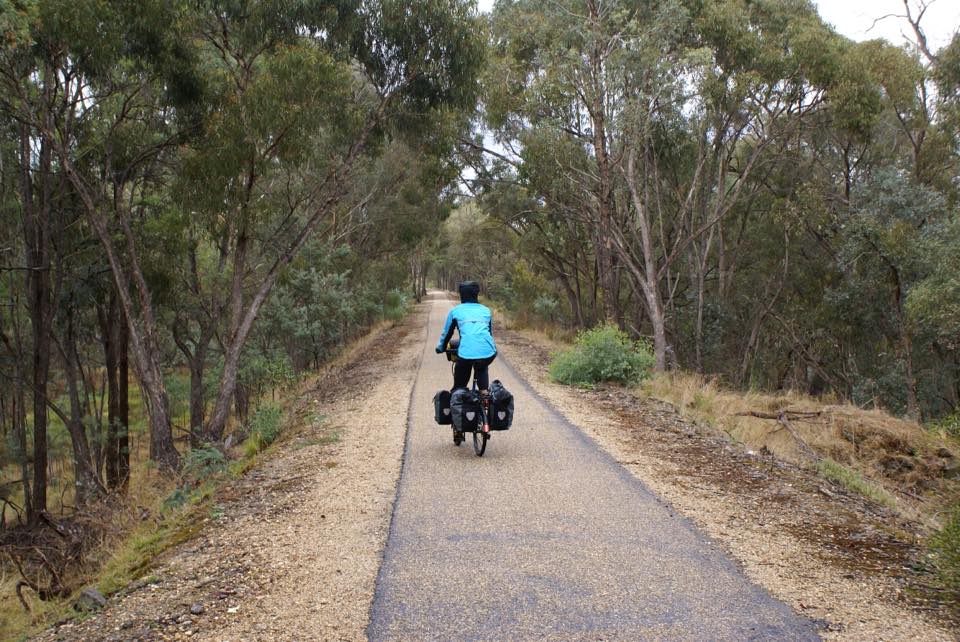 For a Barossa Valley wineries tour, from Adelaide take a suburban train to Gawler. Bikes are allowed ready to ride. Cycle to Tanunda and Nuriootpa via cellar doors of many Barossa Valley wineries and enjoy wine tasting using a dedicated bike path.
The wine is good and I found my limit was just 2-3 wineries before I could not ride anymore! A good problem to have on a cycle tour, and don't worry the tastings are free. Allow a week, November, in spring, is the best time for a Barossa Valley tour.
3 Self Guided and Guided Bike Tours in Australia
Self-Guided Clare Valley Vineyards Trail Bike Tour
This tour is self guided. Following the Riesling Rail Trail, you'll have the chance to visit the local cellar doors and taste wine and other gourmet products. The bike tour includes 2 nights in comfortable hotels.
Highlights of this bike tour:
2-Night Murray to Mountain Trail Bike Tour from Beechworth
Starting from Beechworth, the MTB tour will bring you on a countryside exploration along north-east Victoria's Murray to Mountains Trail. It includes wine and food tasting, dinner and accommodation. This MTB bike tour is guided, and extremely organised, you don't have to worry about anything, you can choose an E-bike instead. The tour ends in Bright.
Highlights of this MTB tour:
4 Day Derby & St Helens MTB Experience
Starting from Launceston you will be guided along amazing trails, crossing the mountains of the Blue Tier Forest Reserve to the spectacular Bay of Fires. Accommodation, transport, dinners and breakfasts are included.
Highlights of this bike tour
If you are new to bike touring, you might also like
Thanks again to Carolyn Lister for her contribution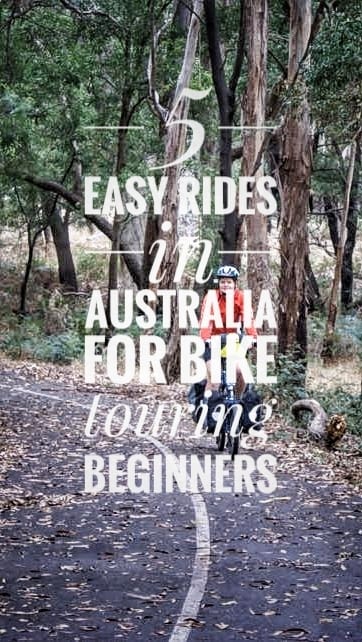 Stay in touch while we get lost! Follow us on Social Media