How to stay safe when traveling to these so-called dangerous countries of Asia
Some of these places are considered among the most dangerous in the world
Before going into details and our direct experience, these are the most dangerous countries in Asia where you can still travel with a good dose of safety:
Pakistan
Iran
Afghanistan
Kashmir
India
Israel
Turkey
The Philippines (Mindanao)
North Korea
South Korea
Asia is the biggest continent in the world, comprising of 50 countries among which you can find some of the safest places to be (Japan ranks 10th in the Global Peace Index). Anyway, the three most dangerous countries in the world are in Asia: Siria, Afghanistan, and Iraq (again according to the GPI).
So, what should we do? Should we mind this kind of ranking when we travel?
According to the media, we should stay at home. Even our governments, on their official pages, advise not to travel to a great number of countries. We are bombarded every day by news of wars, murders, and violence.
Looks like all the world is conspiring to harm you. When most of the media mention "developing countries" is mostly to depict them as dangerous places.
Although it's undeniably true that there is a lot of bad stuff going on on this planet, the world is still a fairly safe place to visit. If we take a look at the numbers, the amount of people intentionally harmed during their travels is ridiculously low.
From our personal experience, people from every country I was in, mentioned their neighboring nations as dangerous. Well, that's the sad fruit of ignorance and sometimes racism.
When I said to my friends and family I was going to Asia, many were concerned about my safety, names like Kazakhstan, Cambodia, and Azerbaijan, raised perplexity among many: was I crazy going to do free camping in places like this?
About this post
This article is a collaborative effort, a bunch of travelers share their experiences in some of the so-called most dangerous countries in Asia.
Our aim is not to say there is absolutely no risk involved in traveling to those Asian countries, some are really dangerous indeed, like Afghanistan, and some require a big dose of awareness, like North Korea, but yet some are among the safest places you can be, like South Korea.
Some Advice on how to stay safe when traveling
Be prudent, attentive, smart, trust your guts, don't get drunk, don't get high (or at least do that only if you really really trust the people you're with and the place you're in). Study the place you're going to travel, gather as much information as you can, be careful of sensitive topics, and respect local customs.
Just exerting these precautions will make you safe almost everywhere, things can happen of course, but they can happen even if you're not traveling.
12 Countries Perceived as the Most Dangerous in Asia
Pakistan
Disclosure: Some of our articles contain affiliate links. This comes at no additional cost for you and helps us keep this website up and running. (as Amazon Associates we earn commission from qualifying purchases)
Is Pakistan one of the most dangerous countries to travel?
By Joan Torres from Against The Compass – instagram.com/againstthecompass
From driving the Karakoram Highway, one of the most epic road trips on Earth; to trekking 8,000-meter-high mountain base camps and the most stunning mountain scenery; Pakistan is, definitely, the ultimate adventurous destination.
But this is not all. Besides being the ideal destination for mountain lovers, traveling to Pakistan is a deep, personal experience, as here you will discover the real, worldwide famous Pakistani hospitality, meaning that, you will be continuously blessed with tea, food, and house invitations; several times a day.
Unlike what most people think, Pakistan can be a safe destination. Sure there are areas that should be avoided but, the cities and provinces marked as ''safe'' are considered even safer than many places in Europe, as the crime rate is practically non-existent.
Just avoid provinces such as Baluchistan, Tribal Areas, and be careful in Khyber Pakhtunkhwa, since it used to be a Taliban area a couple of years ago, even though now it's completely safe.
The rest of the country, especially north Pakistan, home to most of the country's beauty, is perfectly safe.
Pakistan ranks 12th in the GPI index of the most dangerous countries in the world, the 5th most dangerous in Asia
Iran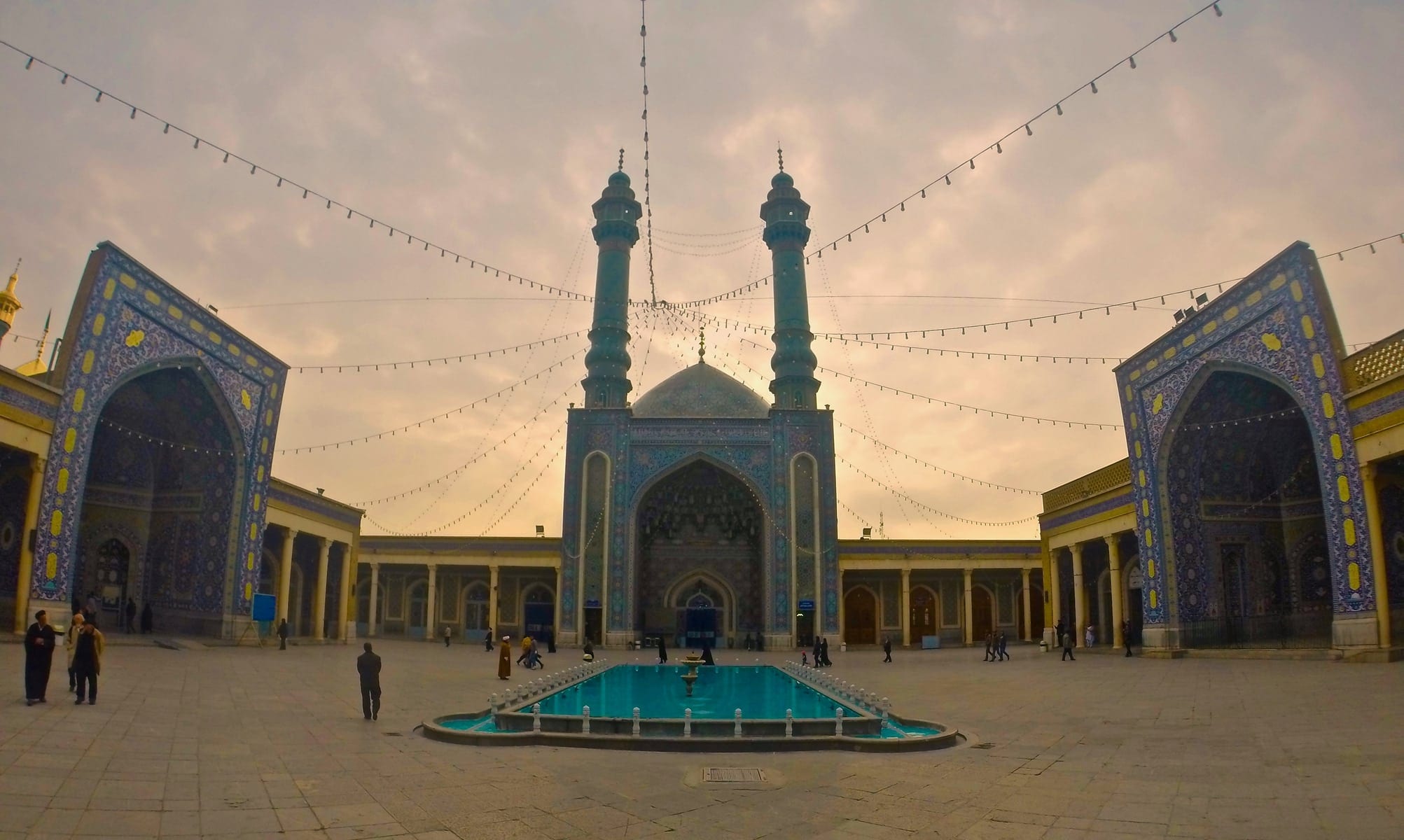 Is Iran safe to travel?
By Tom Grond from TravelTomTom – instagram.com/againstthecompass
When people asked me: Why are you going to Iran, isn't that dangerous? It made me laugh, cause when I asked them for an explanation, no one could ever give me a decent answer. And exactly that is one of the reasons why I wanted to travel to Iran.
When people tell me not to go somewhere, I am doing the opposite. I wanted to see the real Iran and not what the media is showing us. The only things they talk about are the issues on government levels, but do you think the people in the streets in Iran really care about the diplomatic disputes?
I have actually never met such lovely and inviting people as in Iran. Iranians are in fact all willing to show you how safe and warm their country is. While traveling around in Iran total strangers invited me to have dinner at their house, a more authentic travel experience is hard to find.
Try to find someone in Europe who randomly invites you to have dinner at their place, good luck!
There is no need to be concerned about any safety issues in Iran, theft is very rare and the place where you will be most vulnerable to accidents is the crazy traffic, which is an experience in itself. Being a tourist in Iran is an incredibly authentic travel experience with so many beautiful places to discover.
Iran ranks 35th in the GPI index of the most dangerous countries in the world
Afghanistan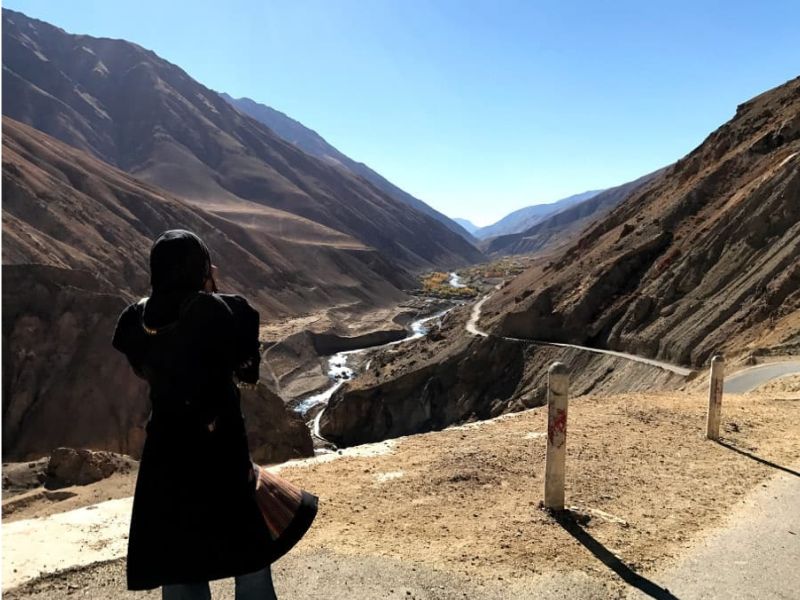 Is it possible to travel to Afghanistan? The world 2nd most dangerous country
By Angela Corrias – Chasing the Unexpected – pinterest.com/angelacorrias
Hardly like any other country, Afghanistan is a dream destination for many people. Part of the former Great Persian Empire, there countless are reasons why you would want to visit Afghanistan, from the old traditions proudly kept alive, a breathtaking mountainous landscape, and what remains of the ancient buildings after decades of war.
With the return of the Taliban, I don't feel I can currently suggest Afghanistan as a travel destination, but as the popularity grows, I feel somehow compelled to give travelers the necessary advice on how to make the most out of their trip should they decide to embark on it.
First of all, it's crucial for foreigners to know where they can or cannot go. At present, the cities where foreigners are safer are Herat, Mazar-e-Sharif, Bamiyan, the Panjshir Valley, and to some extent Kabul.
This is if they land in Kabul, while, if they are coming to Afghanistan by land from Tajikistan, they can only visit the Wakhan Corridor in the Badakhshan region, the only one the government has kept for tourists, but from where you can't go to other regions or take a road trip as it's too dangerous.
Travelers need also to keep in mind that foreigners need to stay in the city, as the outskirts and surrounding villages are not safe, and if they want to travel from one province to another, it's always better to go by plane, except maybe from Kabul to the Panjshir Valley, where it's possible to go by car with a trustworthy driver.
In the cities, too, there are specific security measures to adopt: try to blend in, especially by dressing like locals as much as possible, especially women, choose a hotel with a good level of security, don't go out every day at the same time, don't go always to same places or follow every day the same routine or take the same road, and don't stay out late at night.
Traveling to Afghanistan is risky, it would be pointless and wrong to say the opposite, but it's unquestionable that it will make for a truly unforgettable trip.
Kashmir (India)
Kashmir: the most militarized place on Earth
By Dante Harker – instagram.com/danteharker
"Sadly our insurance will not cover you" – said the insurance company we've been working with for years. They went on to tell us that for Kashmir in India, we would need specialist 'War Insurance.' Scary stuff, or it would be if you believed the hype. Usually, though, the hype about any country comes from outside the country and is told by people with very little idea.
We've wanted to visit Kashmir for many years, the pictures of the area always look stunning, and as a huge fan of followers, going to see the tulip fields there was an absolute must.
We stayed in Srinagar, a lovely little city surrounded by stunning scenery, most notably Lake Dal. A lot of the accommodation has a Swizz chalet feel to it, and we stayed in the lovely Hotel Mirage.
As lovely as the place is, don't get me wrong, you'll know as soon as you land that you're not on the beaten track anymore. There is a large army presence and manned gunpoints scattered across the town. We did buy war insurance, and it wasn't so expensive, Google around for the best deals – it never hurts to make sure you're covered with these things.
We talked to a lot of locals who are very keen to see tourists come to the area. Everyone we talked to assured us that we were perfectly safe, and everyone we met was super nice. The area clearly has issues, but where doesn't these days so I wouldn't let that put you off – go for the flowers, food, and friendly people."
Many Western media depict Kashmir as "the most dangerous place on Earth", because of the high degree of militarization involving two nuclear superpowers (India and China)
India
Is India one of the most dangerous Asian countries for a solo female traveler?
By Steffi S – Beach Bum Adventures – instagram.com/beachbumsteffi
Ever since I was a teenager I have wanted to visit India. I've read numerous books about but I was always waiting for someone to come with me. Finally this year I had a month's holiday from work and decided that the place I most wanted to go was India and I was going alone.
So many friends, family members, and the media told me that I couldn't travel solo as a female in India. I started to get freaked out myself so I thought I would join a group tour for the first 20 days and then do the next 10 solo which is exactly what I did.
I am not saying that India is an easy place to travel and I do think it is important to be extremely aware of safety, especially as a woman. But a couple of negative things that happened to me in India also happened to me in Thailand, a destination that is deemed very safe for solo travelers.
I loved the tour but as soon as I started to travel alone I had much more of an Indian experience, met loads of Indian friends, and had an incredible time exploring Rishikesh and the surrounding area. I can't wait for my next solo trip to India again in the future.
India ranks 27th in the GPI index of the most dangerous countries in the world
According to these statistics, rapes per capita are far less in India, than in many first-world countries.
98% of the rapes are committed by relatives or persons known to the victim.
Israel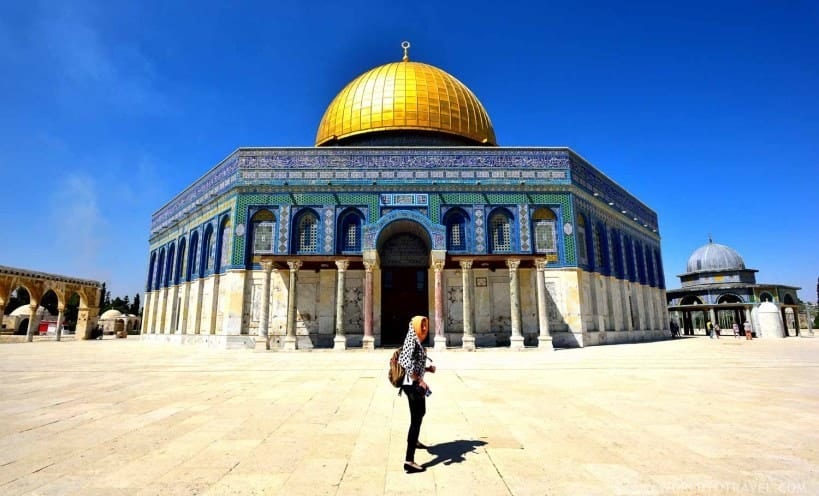 Is Israel a dangerous country for travelers?
By Inma Gregorio – a World to Travel – facebook.com/aworldtotravel
Poor knowledge of a destination and the fact media does often more harm than good can make you fear places you have never been to. That's what usually happens with Israel.
As with many other countries, I visited lately, stating that I was heading to Israel provoked a few strong reactions from my family, friends, and the social media acquaintances I engage with.
Naysayers will always try to stop you, but you soon learn to recognize them. And so last year I visited the country twice. And I am still alive and kicking!
Even before taking your plane to Israel, the paranoia begins. There is extra security for flights to Tel Aviv and gunmen can be seen already at your departure airport. You need double or triple the time you'd need to catch any other plane and chances are you'll be screened to death.
But that's alright. Once you get used to the safety checks everywhere (mainly at airports and near the Palestine border) you will be fine.
I felt safe all the time and was able to experience awesomeness all along without worries. I went to Tel Aviv, a Kibbutz, to the West Bank and Jerusalem, to Ein Gedi and the Dead Sea… spending around 2 weeks in a country that truly knows how to welcome visitors and make you feel at home.
I learned a few things in Israel, but there's still a lot more I need to experience there so it's just a matter of time before I will be back for a third visit!
---
Israel ranks 10th in the GPI index of the most dangerous countries in Asia and 20th in the world. Just a few points separate it from Palestine, does this index look reliable to you?
Turkey
How dangerous is traveling in Turkey
By Scott Newman – instagram.com/scottminewman – flikr.com/scott_newman
I recently wandered around the ruins of Ephesus, this is normally ground zero of one of the world's biggest tourism industries, but that day it was virtually deserted.
In the summer of 2016 I spent the night of the coup attempt cowering on the floor with my neighbor as jets roared over ahead, cautiously checking to see whether that 'bang' was a sonic boom or a bomb, and oh, yes, ISIS took out both Istanbul's airport and an up-end nightclub.
I can understand why tourists are staying away. I understand why people are risk-averse, but you also need to be risk-smart. These extreme events grab the headlines but the odds of getting caught in one are like getting struck by lightning, the biggest risks are earthquakes and traffic accidents, and over the years I have had those too but I lived to tell.
Cold, hard analysis and years of experience I believe that the day-to-day risks of things like crime are less in Turkey than in major Western countries, statistically, you're probably safer in Istanbul than in London or New York.
Your chances of being overcharged by a taxi driver or conned out of a few lira by a shoeshine guy are much higher than actually being robbed, assaulted, or murdered. A Turkish friend put it "Trust a Turk with your life, but not your wallet".
Factor in the real but low risk of getting caught up in a terrorist attack it still balances out as pretty much normal. And what that means is that now, the masses are staying away, it's the best time to come. The queues are shorter, the tour buses rare, the crowds are gone and the dropping lira even means it's cheaper.
And if you come you realize why the masses used to come, from big City fun in Istanbul to Mediterranean beaches and the lunar landscape of Cappadocia the A-list attractions are obvious.
But Turkey's treat is the incredible variety it offers and the sheer amount to see means there are wonderful places where you can feel like an explorer.
There are so many ruins and the tour buses only visit a handful, there are incredible places, from the stadium of Magnesia down the road from Ephesus to the hilltop Uzuncaburç above Silifke on the eastern Med coast, that almost no one visits.
The landscape is frequently stunning and you can hike trails that would be full anywhere else.
You can explore olive and pine tree-clad mountains overhanging the perfect blue seas on the Lycian and Carian Ways, or head up the Kaçkar Mountains which are pure Switzerland without the price tag or the chocolate. And getting out and exploring, you can discover the small towns and villages that are the soul of the country.
Turkey ranks 18th in the GPI index of the most dangerous countries in the world
The Philippines – Mindanao
Is it possible to travel to Mindanao?
By Katherine and Hali Relevant – Tara Lets Anywhere – facebook.com/taraletsanywhere
Among Southeast Asian countries, the Philippines is visited by fewer tourists. One of the reasons is the stigma around Mindanao. It has a history of civil unrest and kidnappings, and this 2017, martial law was declared in the whole of Mindanao due to the attack in Marawi City.
This has prompted governments to declare travel warnings to the country, specifically Mindanao. While this is a good safety precaution, what most people are not aware of is that Mindanao is huge — it's the 2nd largest island in the Philippines, with 22 provinces and over 20 million people. While there are areas unfit for traveling, the rest are safe and with friendly and welcoming locals.
Moreover, Mindanao has some of the best (and untouched) nature attractions in the country, as well as authentic culture. In the Cotabato provinces alone, for instance, you can see the grand Asik-Asik Falls and then head south to Lake Holon to camp and mingle with the T'boli ethnic race.
Other places to visit include Siargao in Surigao del Norte, the country's surfing capital; Camiguin featuring White Island; CDO with its whitewater rafting adventure; Iligan City and the numerous waterfalls surrounding it; Zamboanga with its seafood and pristine beaches; and the rest, which are waiting to be discovered.
My advice is to listen to travel warnings and get to know which places are safe to visit. If in doubt, coordinate with local authorities for advice.
According to the GPI, the Philippines are just a bit more dangerous than India
North Korea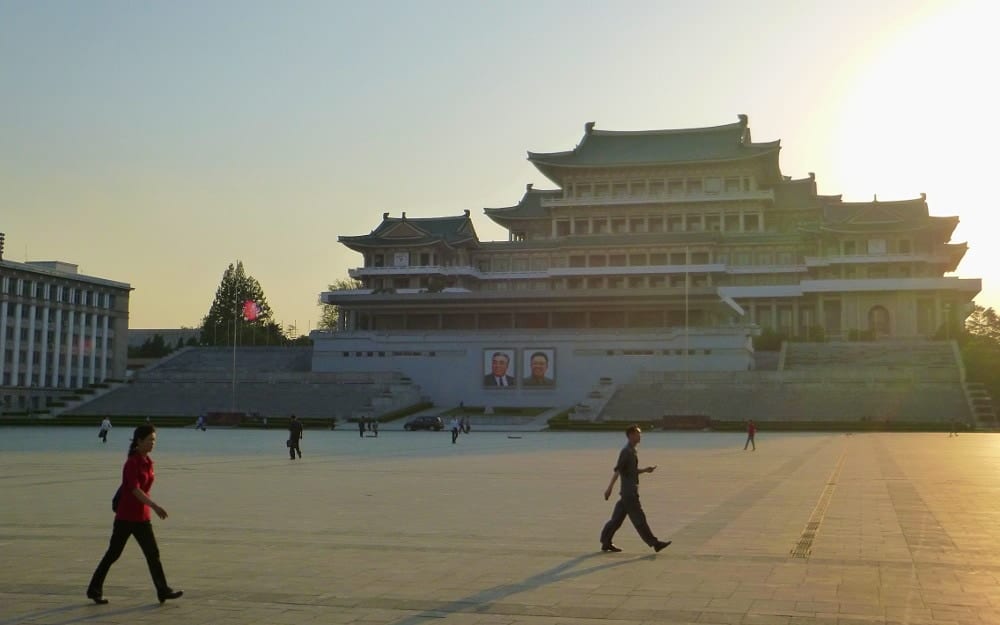 What's it like to travel to North Korea?
By Arimo Kerkela – Arimo Travels – facebook.com/arimotravels
When people hear I've traveled to North Korea, I often get the same two questions:
1) Is it possible?
2) Is it safe?
Unless you're from South Korea, traveling to North Korea is not difficult. You can't explore the country on your own or use Couchsurfing with local hosts, but almost anybody can join a guided tour.
For some reason, people also think that traveling to North Korea is dangerous. Of course, there's the sad case of American citizen Otto Warmbier who was imprisoned in the country and who died afterward. Still, I'd say that traveling to North Korea is not dangerous. In fact, I believe my visit to North Korea was the safest trip I've ever done.
Because all the tours in North Korea are so tightly controlled, there's basically no risk of crime. Nobody will try to mug or pickpocket you. You don't need to worry about criminals because you won't get a chance to meet them.
North Korea wants to leave the best possible impression on visitors, so they make sure their guests won't encounter any trouble. The biggest risk might be if another country decides to bomb down North Korea while you're there as a tourist, but we just need to hope that won't happen.
---
North Korea ranks 6th in the GPI index of the most dangerous countries in Asia, 10th in the world
It's also the worst country on Earth for human rights, according to the Human Rights Index
---
South Korea

Should you be afraid of traveling to South Korea?
By Mike Still – Live Travel Teach
---
South Korea isn't usually perceived as a dangerous place but the truth is the armistice between their northern cousins meaning they just agreed to stop shooting but never actually ended the war.
The last few decades have all seen warning shots fired across the border occasionally killing military or civilians unfortunate enough to be there. But in spite of these regular military exchanges, South Korea was an extremely safe place for me to live and travel around.
One of the most popular places for tourists to visit is DMZ, aka Demilitarized Zone. This is the only place where you can get a chance to glimpse North Korean guards who are perpetually staring down their South Korean and American counterparts.
You can even take a tour of Panmunjom, the blue negotiation buildings that are exactly on the border, half in each country.
In contrast to the always looming threat of the North Korean arsenal, which has between 800 and 20,000 artillery within range of Seoul, the country has almost no crime or violence. In fact, it might be the safest destination you can visit.
You'll find some of the amazing hikes in South Korea with a number of national parks just a short drive from Seoul. Don't forget to check out one of the unique festivals, beautiful royal palaces, and stunning Buddhist temples too.
The only time I ever heard of things going missing or getting stolen in South Korea, there was one common theme, alcohol. Koreans love their drinking culture, games, and especially noraebangs (small group karaoke rooms). The only thing should worry about when in South Korea is to take extra care when you sample the rice wine
Qatar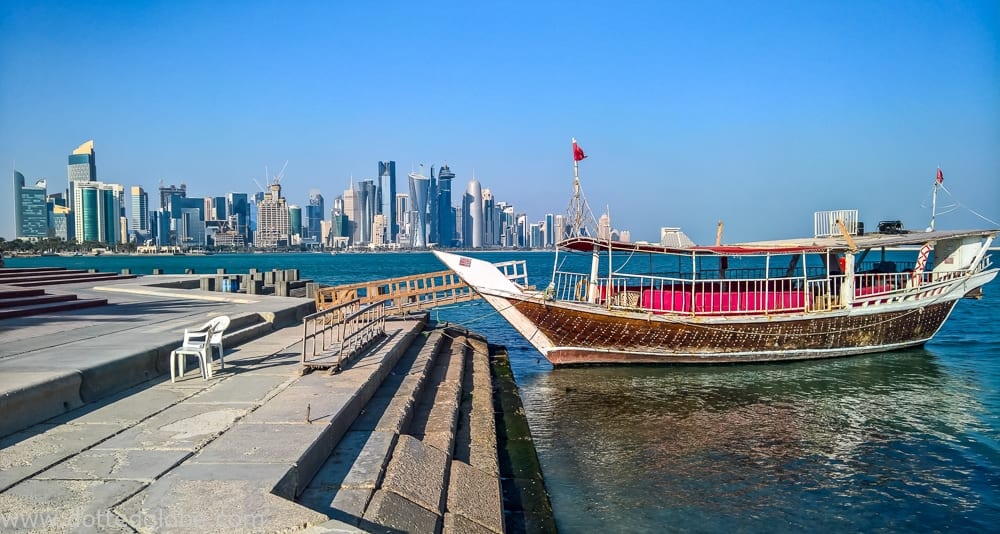 Is Qatar a dangerous destination in the Middle East?
By Ketki Sharangpani – DottedGlobe – instagram.com/_dottedglobe
I recently read about visitors canceling Doha trip since Saudi Arabia and a few other countries severed ties with Qatar, and I was surprised. Qatar is one of the safest countries in the world despite the diplomatic crisis and the severe summer sun is still Doha's worst threat.
I visited Qatar early this year and had a great time during my stay in Doha. As a tourist, I was fascinated by Doha's beautiful skyline and exclusive shopping malls.
The Museum of Islamic Arts, Doha's premier tourist attraction, has beautiful architecture and an extensive art collection. Reconstructed Souq Waqif is a delight to shop and explore; I found a beautiful hand-crafted teapot and other treasures in its many alleys.
Adjacent Falcon Souq is fascinating to understand the ancient sport of falconry. Katara Cultural Village is one of the highlights of Doha with its beautiful patterns and mosaics of Islamic architecture. Doha has an abundance of luxury hotels and spa resorts and some of the world's most ultra-luxury massages can be found in Doha.
For adventurous travelers, Doha offers dune bashing, sand sledding, and camping in the desert. Qatar is a conservative Middle-Eastern country and tourists should dress appropriately and follow local customs regarding no alcohol consumption, respecting the royal family, and other Sharia laws. Other tips to stay safe include carrying enough water in the desert and avoiding being alone in deserted places at night.
---
Qatar ranks 29thth in the GPI index of the safest countries in the world, 3rd safest in Asia after Malaysia and Buthan
China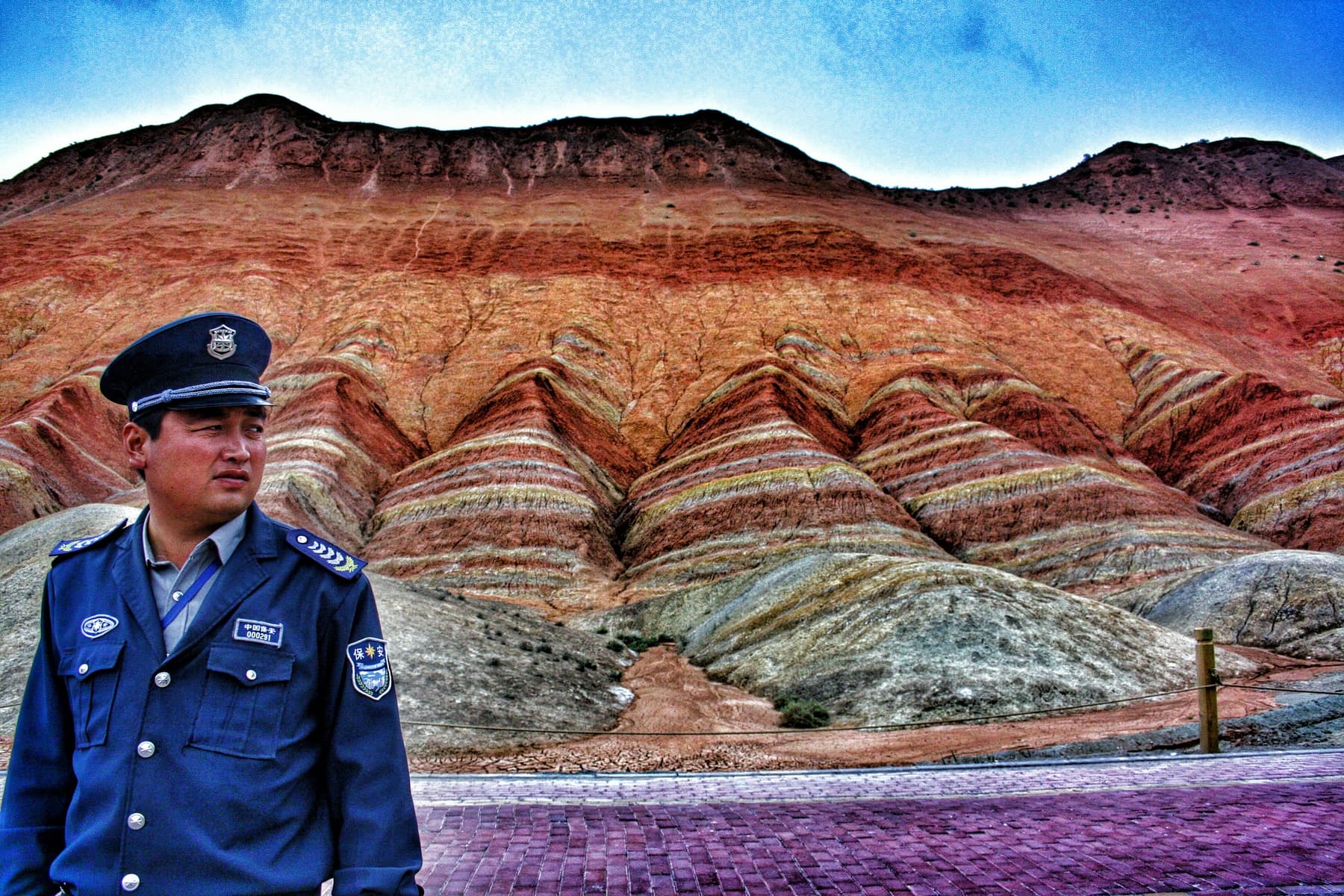 How dangerous is it to travel to China?
By Daniele Giannotta – Cycloscope – Instagram.com/cycloscope_globecycling
Some people are freaked out about the degree of government control in China, many have the idea of a militarized country where tourists are under strict observation. Well, that's true.
The Chinese Communist Party wants to know where everybody is all the time, you're due to show an identification document anytime you board a train or a bus, independent travel is discouraged in favor of organized groups, and driving your own car or motorcycle is almost impossible.
China's western provinces, Xinjiang especially, are highly militarized, there are checkpoints and metal detectors everywhere, and some areas are off-limits to the tourists (like most of Tibet and parts of Qinghai).
We have personally been arrested and questioned for being in one of these forbidden areas… just that nobody knew it was forbidden, not even the police officers. They seized our passports and electronic gear and we couldn't leave the city of Xining for one week, waiting for them to allegedly check all our pictures.
That said, you might be surprised to hear that China is one of the safest countries we've ever been to. Petty crimes are rare and almost inexistent toward tourists, Chinese people never scam you, even when they easily could. Even when we were in police custody, the worst that could have happened to us was to be kicked out and banned from getting back.
Not only tourist areas are safe, but also off-the-beaten-path zones, free camping is tolerated and nobody bothers you. You can travel on your own if you figure out how, and there's even the possibility of using your own means of transport that is a bicycle or an electric scooter.
We traveled to China for 2 months by bicycle, visiting the beautiful alpine lake of Sayram in Xinjiang, the Mogao Caves, and the Colorful mountains of Gansu, the desert oasis of Turpan. Then we moved to China for work, living in the beautiful eastern province of Zhejiang for 18 months.
During this whole period, we only felt worried about our safety that one time we were brought into the creepy interrogation room by the police. Be sure to gather all the information you can about forbidden areas if you travel the west on your own.
China ranks 50th in the GPI index of the most dangerous countries in the world, just next to the USA (49th)
Check Also
8 supposedly dangerous countries in Africa where you could travel safely
Most Dangerous Countries in Europe
Most Dangerous Country in North, Central and South America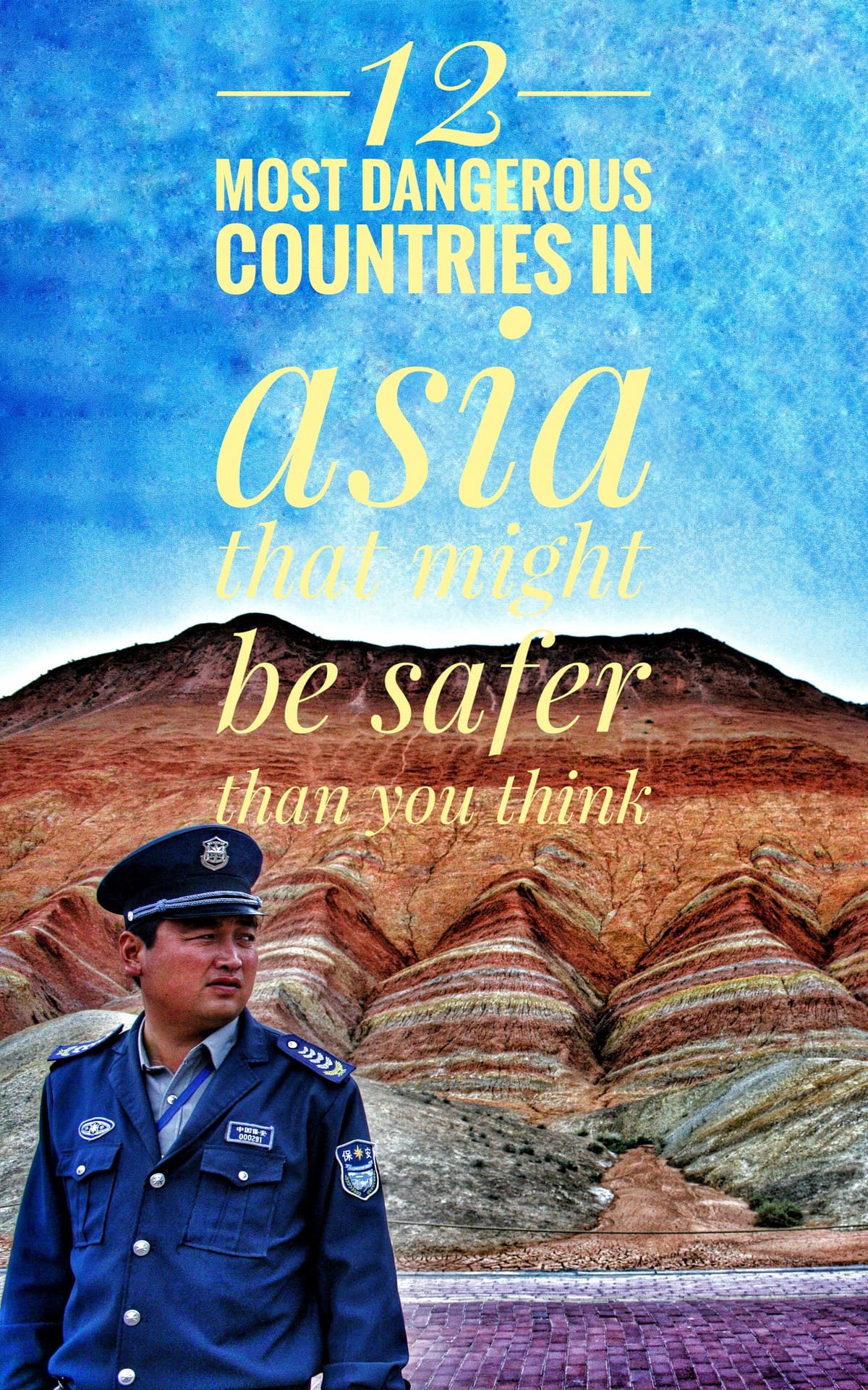 Follow us on Social Networks and subscribe to our Newsletter
Stay in touch while we get lost! Follow us on Social Media