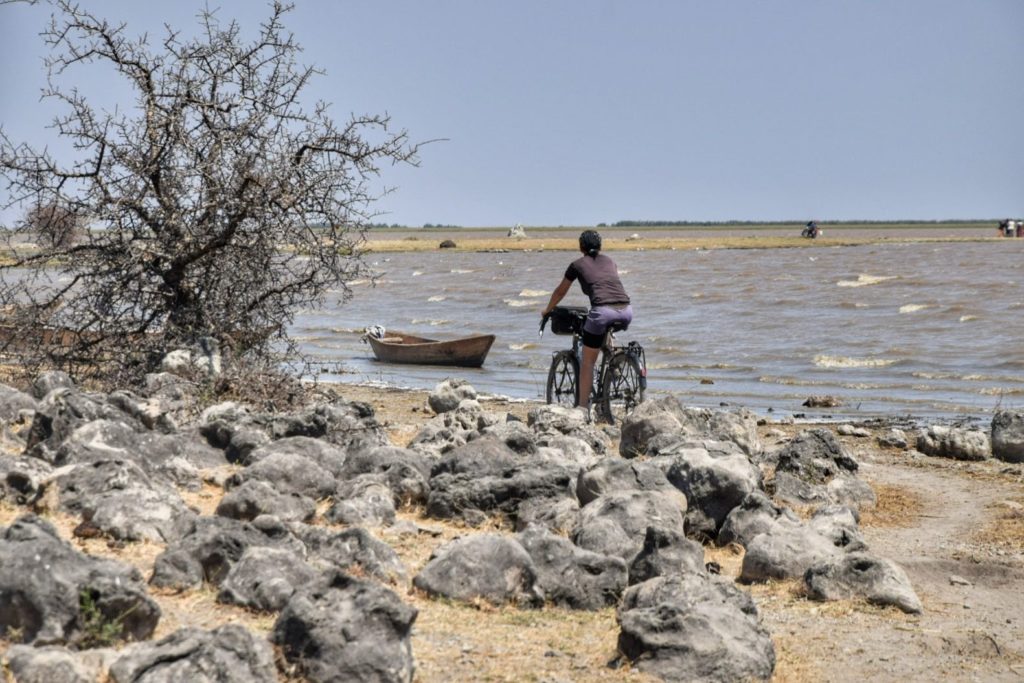 The best bike tours, cycling holidays, and bicycle trips around the world! 13 guided and self-guided bike vacations within and outside the US – Mountain Bike / Road Cycling / Gravel
Looking for the best bike tours in the world? You landed on the right strip! In this article, we'll go through 13 incredibly scenic bicycle tours in some of the most beautiful locations in the world, within and outside the USA.
If you're a frequent reader of Cycloscope, you pro
Guided and self-guided cycling holidays, MTB vacations, supported trips, and rides, 2023
Culture, traditional villages, alien landscapes, and breathtaking views. We have selected the best bucket-list bike trips of 2023.
Disclosure: Some of our articles contain affiliate links. This comes at no additional cost for you and helps us keep this website up and running. (as Amazon Associates we earn commission from qualifying purchases)
6 best bike tours in the US
3-Days DEATH VALLEY Cycling Tour – [California]
An epic cycling weekend in the iconic Death Valley National Park. This 3-days bike holiday will lead you through dramatic landscapes – including the Ubehebe crater – fascinating ghost towns, stunning sunsets above the sand dunes, and the lowest point in North America, the Badwater Basin.
The riding is accessible to anyone who's got a minimum level of fitness, about 4 or 5 hours on the saddle per day, for daily distances between 31 and 46 miles. Yes, quite some intense cycling, but it is only for three days, and you'll get to stay in a premium hotel inside the National Park.
6-Days ZION & BRYCE CANYON Bike Tour – [Utah]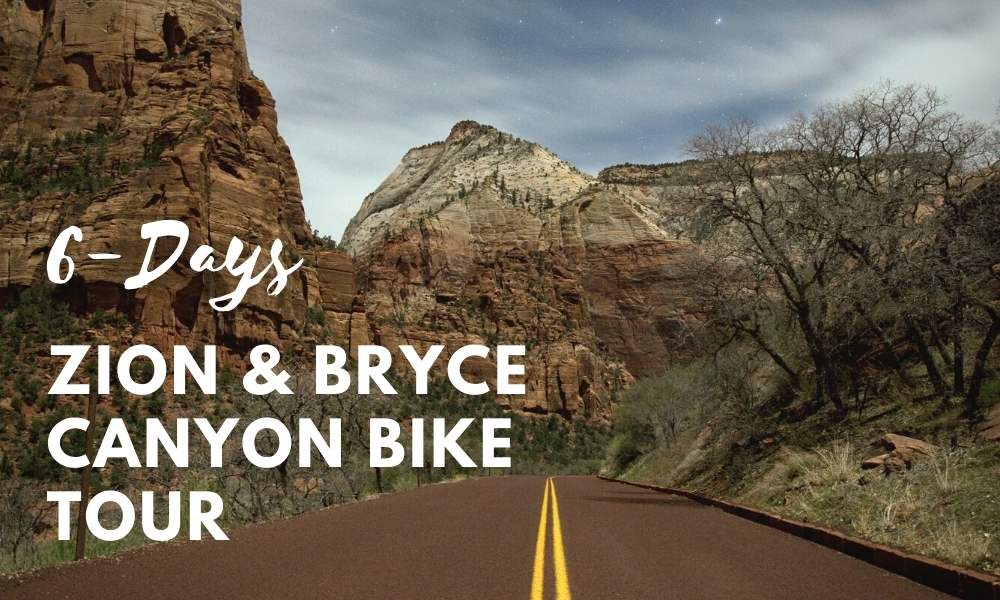 In this epic 6 Days Bicycle Tour in Zion and Bryce Canyon National Parks, you'll not only enjoy cycling but also hiking in this amazing scenery on a guided adventure in southern Utah.
When the desert calls, consider answering. Because it's awesome, every morning after a nice camping night you'll see new places, from regal canyons of Navajo sandstone to amphitheaters of squiggly, alien-looking hoodoos. You will also visit less famous spots like Cedar Breaks and Kodachrome Basin.
Consider that you'll be riding for 4-7 hours per day (20–40+ miles). High-quality bikes and a support vehicle are provided to make your life easier. However, a minimum level of fitness and hiking experience is required.
Highlights of this bicycle tour:
Red Rock Bike Trail
Tunnel Climb
Kodachrome Basin
Bryce Canyon's Fairyland
Cedar Breaks
10-Days YELLOWSTONE TO GLACIER Bike Trip – [Montana]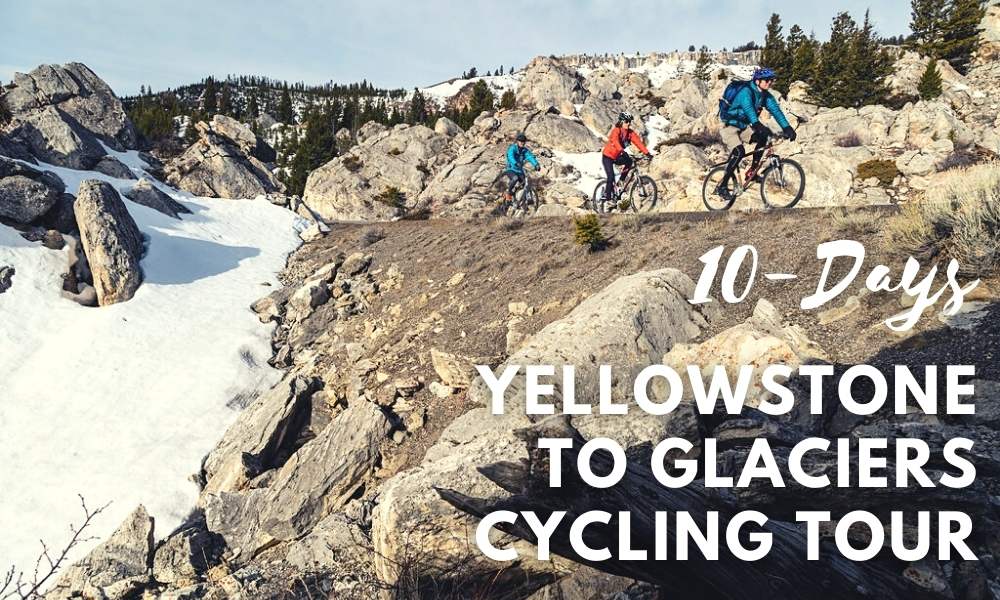 This 10-day Montana odyssey that includes Yellowstone and Glacier National Parks is a bit more demanding compared to the previous tours on this list. But don't worry, you will be in a small group of cyclists guided by experts from the area.
The itinerary is well planned, downhill into Paradise Valley, then hike to the Grand Canyon of Yellowstone National Park; hike to the iconic geysers, and cross the Great Divide via Pipestone Pass. Surrounded by amazing wildlife: bison, wolves, and mountain goats, just to mention a few.
Professionally fitted high-end rental road bikes are provided but you are welcome to bring your own bicycle if you prefer. During the night, you'll camp under the stars or stay at comfy hotels. For this tour you need to be well-fitted; you'll be riding 6 to 8 hours per day (40–80 miles).
Highlights of this bicycle tour:
Glacier National Park's world-famous Going-to-the-Sun Road
Grand Canyon of Yellowstone National Park
Great Divide
Paradise Valley
Absaroka Range
4-Days SONORAN DESERT Mountain Bike Tour – [Arizona]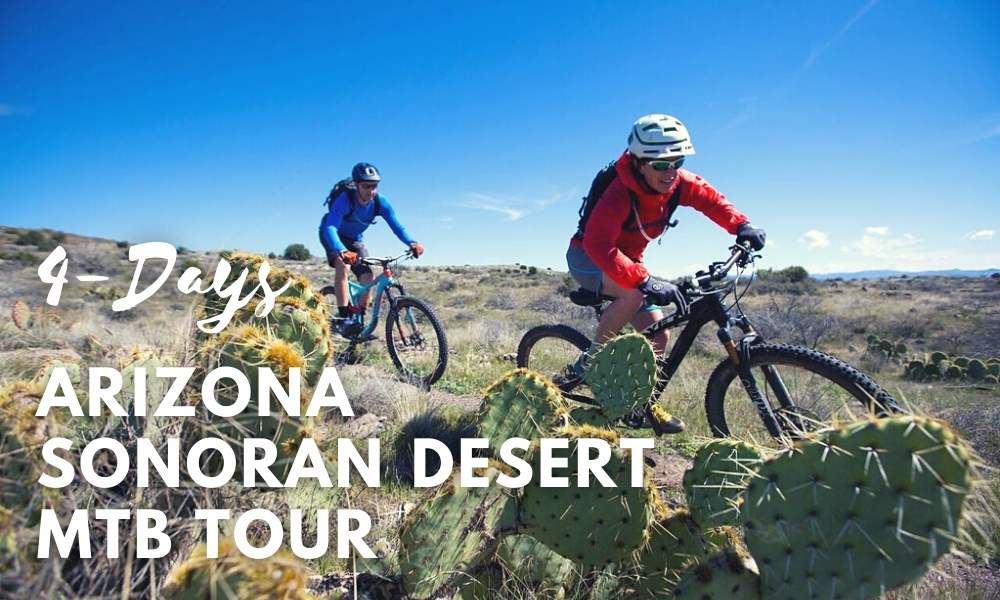 If you're up for a mountain bike camping trip, spend four days mountain biking the Arizona Sonoran Desert on outstanding singletrack mountain bike trails built for novices with previous basic mountain biking skills, and intermediate and advanced riders. The single track can be very narrow at times.
You'll be guided by experts in this area, able to add interesting knowledge about the features of the desert, one of the great National Parks of Arizona. Each night you'll be staying in a private desert camp, under the stars and surrounded by unique desert vegetation.
You'll be in your saddle for 3 to 7 hours per day (12–43 miles); consider that some rides have an elevation gain of 1200′. The terrain has sandy sections (or muddy after the rains) as well as rocky ones. This trip is a must-do for all mountain bikers!
Highlights of this bicycle tour:
Sonoran Desert
Pemberton Trail
McDowell Mountain Regional Park
4-Days San Juan Islands Weekend Cycling – [Washington]
This 4-day camping weekend on Washington's San Juan Islands is for experienced riders; you'll be riding only 25-35 miles per day (4-6 hours) but the elevation gain is between 1700′-3800′ each day. E-bikes are provided, but you need to check availability first.
The roads are paved and quiet; there is not much traffic on the island. Each night you'll be camping under the stars, relaxing around a campfire. And during the day you'll ride among snowcapped peaks, and you can spot marine mammals like whales and dolphins feeding in the protected waters.
Highlights of this bicycle tour:
San Juan, Lopez and Orcas islands
Mount Constitution
Scenic villages
Marine life
3-Days JOSHUA TREE Cycle Tour – [California]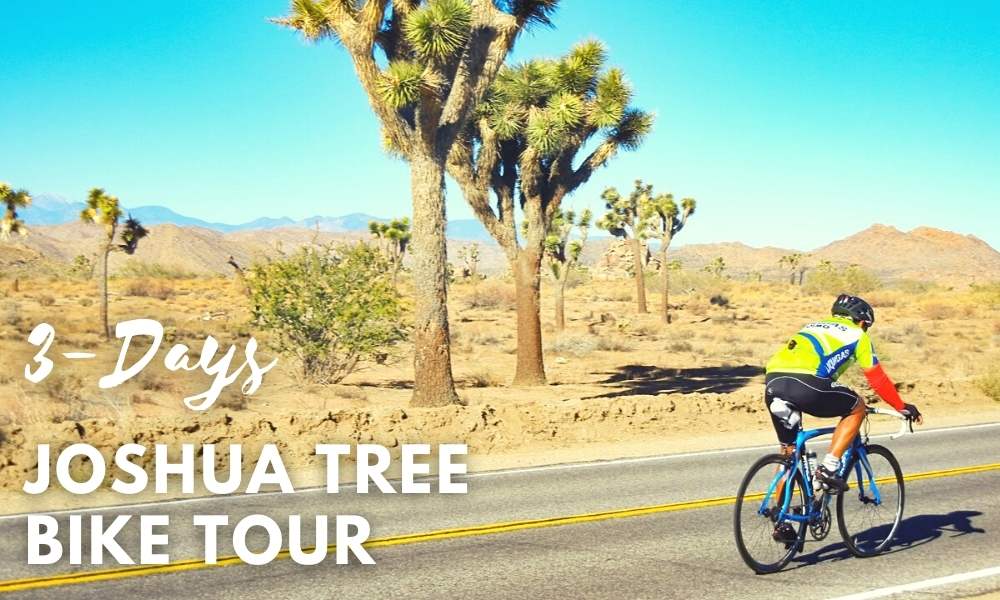 Joshua Tree National Park is located in Southern California; it's one of the few Dark Sky Parks in the world, meaning that it possesses an exceptional quality of starry nights. You'll have the most spectacular views of the Milky Way.
For this tour, it is advisable to be in moderately good shape; you'll be riding for 31–42 miles per day (4-5 hours). Bicycles are provided, you can choose a flat bar or a drop bar. Of course, you are welcome to bring your own bicycle.
Highlights of this bicycle tour:
Salton Sea, San Jacinto, and San Gorgonio Peaks
Camping under the stars in a Dark Sky Park
Visit historic Pioneertown, the set of more than 50 old western movie and TV shows
7 Best bike tours in the world (outside the US)
7-Days BURGUNDY WINE REGION Bike Tour [France]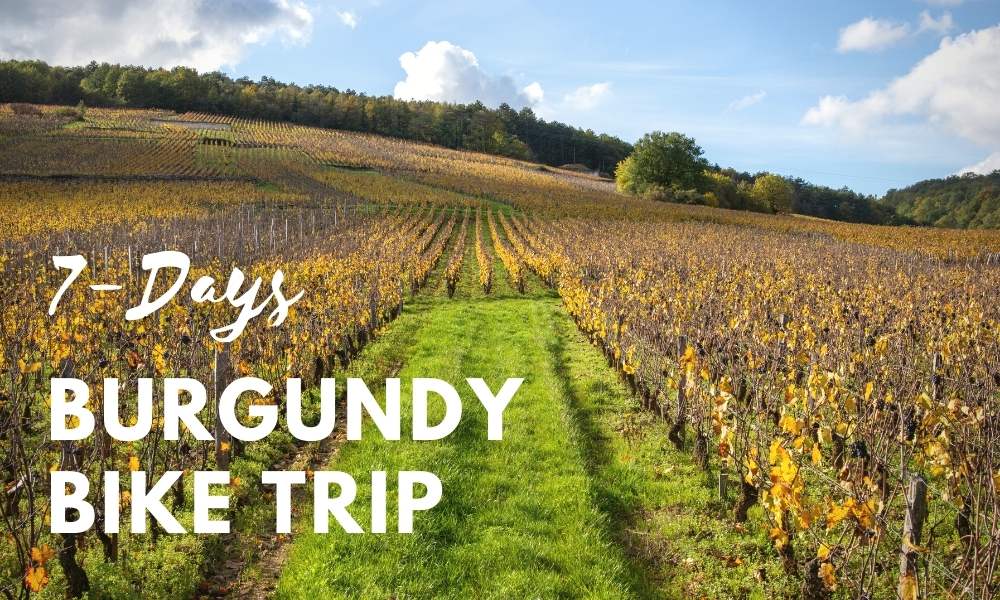 If you love cycling and wine, this is the perfect tour for you. Burgundy vineyards are famous all over the world. From Dijon, you will cycle to Cote de Beaune and Cote de Nuits, following the vineyard Grand Crus route.
A premium hybrid bike and helmet are provided by the organizers. Every night, 3 or 4 stars B&B in characteristic villages will welcome you, 4 lunches and 3 dinners are included, as well as 3 wine tastings at local wine estates.
Highlights of this bicycle tour:
Gevrey Chambertin
Vougeot
Pommard
Meursault
Dijon
Cote de Beaune
Cote de Nuits
5-Days CONGO-NILE TRAIL Hiking & Biking Tour – [Rwanda]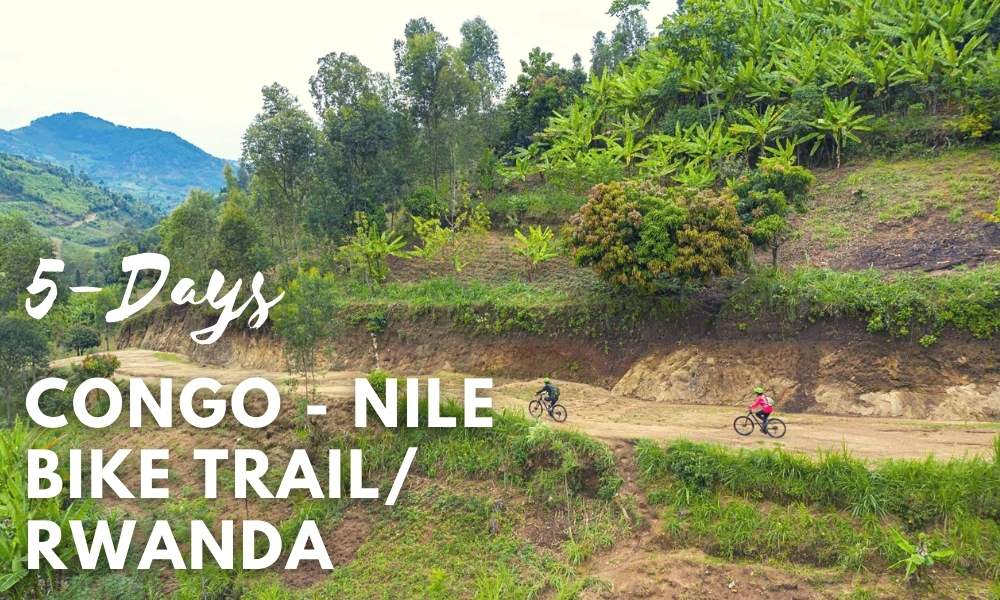 The Congo Nile Trail is a trail along Lake Kivu that extends from Rubavu, continues through Rutsiro via the Karongi, and Nyamasheke districts, and ends at Rusizi District. The name comes from the fact that this route goes along the divide from the Nile to the Congo rivers.
A pretty strong physical fitness level is required, but you can also decide to join a part of the tour and not the entire trail.
The total length is 227 km (or 141 miles), and it will take 5 days of cycling. Amazing views, green scenery, and unforgettable cultural experience. 75% of the trail is unpaved with a total ascent of 19,100′. The only requirement is a bit of spirit of adventure.
Highlights of this bicycle tour:
Lake Kivu
Coffee, banana, and tea plantation
Nyungwe Forest National Park
Wildlife and sightseeing
6-Days GIRONA MEDIEVAL VILLAGES Cycling Tour [Catalunia, Spain]
This bike tour is easy and relaxing, starting from the Baix Emporda Cycle Network and ending in the fascinating medieval village of Monells.
Every night you'll be sleeping in comfortable hotels, with no luggage to carry on your bicycle. Each day you'll cycle only around 40 km, mostly flat.
Highlights of this bicycle tour:
Girona
Costa Brava
Tamariu, Calella de Parafrugell and Llafranc
Baix Emporda medieval villages
Els Angels
6/7-Days KHANGAI Mountain Biking Tour – [Mongolia]
Remote and unrivaled scenery, nomadic life, lakes, river crossings, ancient cities, and sand dunes. The Khangai Mountain Range is the second-highest range in the country. You need a moderate physical fitness level and a spirit of adventure.
Food and bicycles are included, and you will also have a professional photographer with your group and a traditional Mongolian national performance.
Highlights of this bicycle tour:
Taikhar rock
Chuulut valley
Terk lake
Erdenezuu
Tasarkhai sand dunes
Ulaanbaatar
3-Days MATERA Bike Tour – [Italy]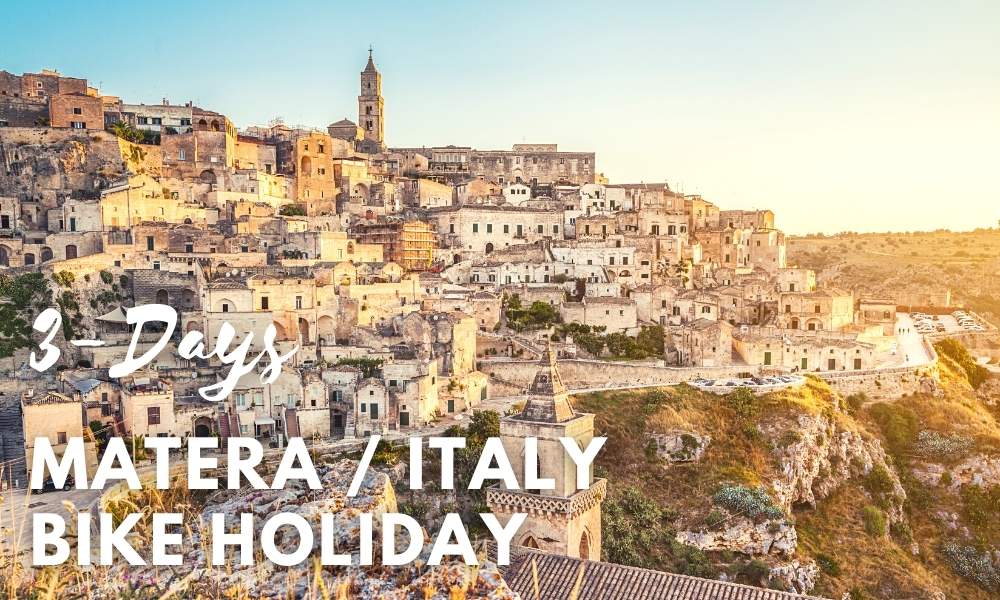 This tour starts from Matera, in the Southern Region of Basilicata, still uncontaminated and off the beaten path.
The scenery will never be boring, and wild nature and historical places coexist in a beautiful and harmonious way. Not less importantly, there is almost no traffic along these roads and, as you can imagine, the food is fantastic. It is possible to rent electric bicycles for this tour, but it is not included in the price.
Highlights of this bicycle tour:
5-Days KATHMANDU Biking Tour [Nepal]
This 5 days bike tour around Kathmandu Ride is hilly but not impossible, everyone with decent fitness can do it. Amazing views, forest, rice fields, traditional villages, and small villages.
You will be guided by expert guides; bicycles, park entrance fees, and accommodation are included.
Highlights of this bicycle tour:
Bhaktapur
Patan
NamoBuddha and Dhulikhel
Timal Danda
3-Days MT. FUJI-HAKONE-IZU Bike Tour [Japan]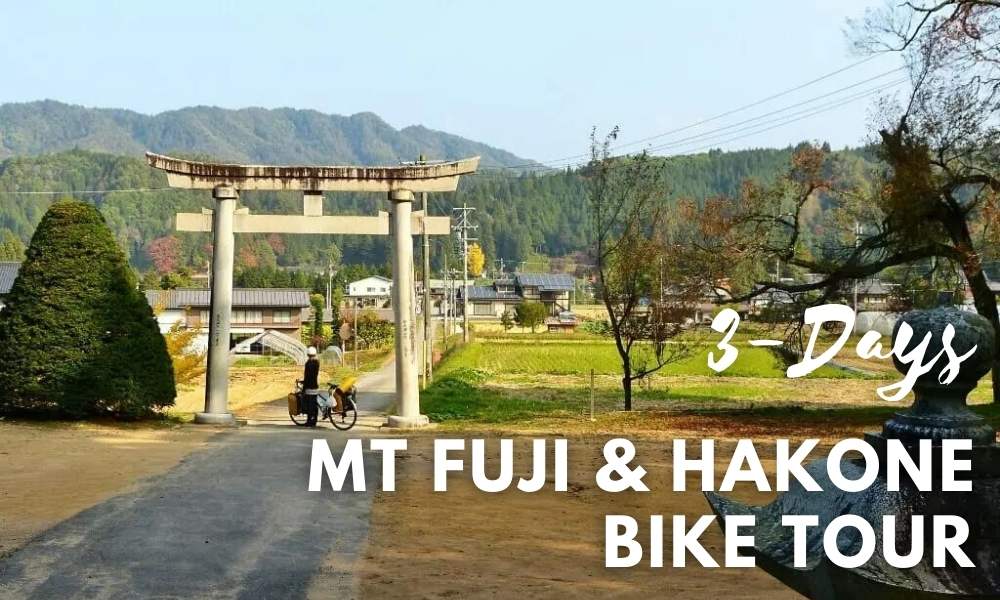 Mt Fuji is the symbol of Japan, standing at 3,776.24 m (12,389.2 ft), and is the highest mountain in Japan. Biking down the mountain, around three lakes in its foothills, traditional villages, and red gates temple is an unforgettable experience.
Plus, Japan is the country of hot springs, where you can really relax after one day on the saddle, one hot spring bathhouse entrance fee is included.
Use of bicycle, helmet, and 2 lunches are included, accommodation is not included.
Highlights of this bicycle tour:
Old Tokaido Road
Izu Peninsula
Hakone
Mt Fuji
More Bike Trips Idea in Europe?
Around the World?
Read Also
Stay in touch while we get lost! Follow us on Social Media