Bike camping and MTB. Pros & cons of Mountain Bike Touring
/Long-distance hardtail conversions
/multi-day full suspension trips
/ the best MTB for bikepacking
Ever thought of an MTB camping overnighter? Or a multi-day bikepacking trip on your full suspension? And what about long-distance touring on a mountain bike?
Mountain bikes are a lot of fun, they can go where no other bike can, but somehow they are rarely considered for bike-camping trips, or at least they were. With the rise of bikepacking and the great variety of bike bags available nowadays, MTBs can be great rigs for cycle holidays and even bike touring.
Let's start by saying that hardtail MTB has been used for touring since the 90s, there's no novelty in this, a hardtail mountain bike can double as a touring bike with just a few minimal adjustments.
In this article, we'll go through all the different nuances of touring vs bikepacking on a mountain bike, we'll see the fundamentals of bike camping and the essential packing list.
The second section will be dedicated to the 3 best MTB for touring, bike camping, and bikepacking and we'll even find out how to convert an old MTB for touring if you're on a budget.
In the last part, we'll answer some common questions about mountain bike touring and camping adventures.
Mountain Bike Camping
[everything you need to know]
Disclosure: Some of our articles contain affiliate links. This comes at no additional cost for you and helps us keep this website up and running. (as Amazon Associates we earn commission from qualifying purchases)
How we compile our gear guides: during the almost 10 years of cycloscope.net our team personally tested dozens of similar pieces of gear. For what we can't test personally, we involve other people in the cycling community to give their feedback and opinion about gear they have used. Our decade-long experience in bicycle touring enables us to find the key cons and pros of every product we mention.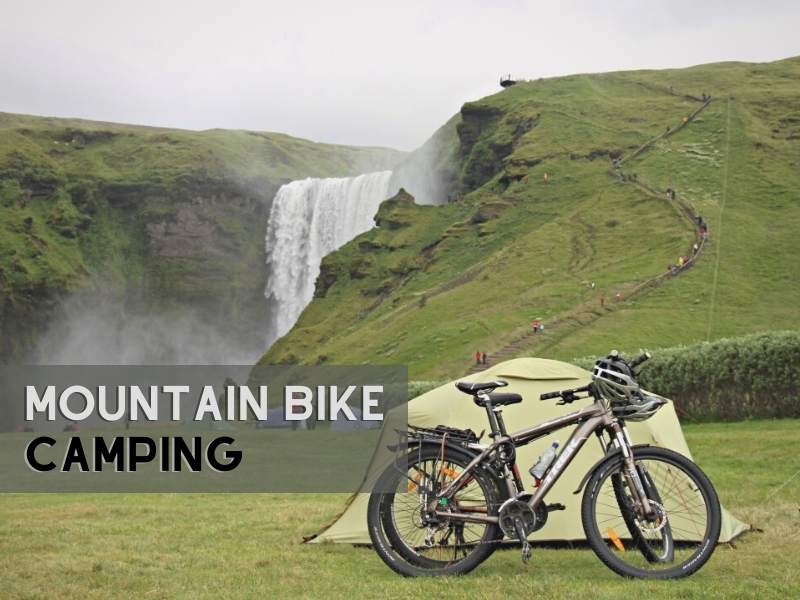 If you're a camping lover, someone who loves getting lost in the wilderness (like us), you're gonna love mountain bike camping.
On a bike camping trip, you will wake up totally immersed in nature, make your coffee, and hit the trail straight away.
MTB camping has its basic rules, which you should never fail to oblige:
Leave the trail better than you find it
leave no trace
bury your shit
camp at safe distance from landslides or flood-risk areas
The first three two are more or less the same – just don't be a jerk – for the third one, you might want to learn how to pee and poo outdoors properly – the fourth one is a fundamental safety rule that can save your life.
So as we have seen, even just the basic gear for a camping overnighter is already quite a lot of stuff.
Although some practice bike-camping by hauling their gear in a cycling backpack, we don't really recommend doing so.
Sure the MTB hydration pack is a great solution to carry extra water, but the rest of the gear should be weighing on the frame of your bike, not on your shoulder… otherwise, believe me, you'll ride will be miserable.
Luckily, nowadays the options are innumerable either for traditional bike bags or bikepacking bags.
Mountain Bike Bikepacking
Even though MTBs can be used also for long-distance touring (as we'll see soon), the real deal of using a mountain bike for multi-day trips is to get lost in the woods, to really roam free in the nature, the trail is all you need on an MTB, that's why we love it.
This kind of trail camping trip are for its own innate nature:
You'll be away from civilization. So most likely not for more than a few weeks, although some do stay years.
Circumscribed to a limited area
Covering distance on offroad trails takes much longer time than on tarmac
By carrying just the basic essentials (mentioned above) you'll be riding light and enjoying nature.
Mountain bike camping touring can nowadays be easily achieved with a bikepacking setup. Let's have a look at bikepacking bags for MTB
Saddle Packs

Attached to saddle and seat post [up to 20l]

Handlebar Packs

Mounted on the front hand of the handlebars [up to 15l]

Top Tube Packs

Locked on top of the top tube, near the stem or the seat post, can mount 2 [up to 5l x 2]

Frame bags

Inserted in the diamond of the frame [up to 14l]

Fork Cages and Bags

Attached to the front or rear fork eyelets [up to 16l x 2]

Stem Bags

On the inner side of the handlebar, often used for water [up to 2l x 2]

Backpacks

On your shoulders [up to 20l]
I invite you to explore all these different types of bags through our links, to find what's good for you.
While hard tails offer more space for gear and handle the load better, full-suspension MTB is a great option for short but adventurous bikepacking trips.
Full-suspension MTB bikepacking is actually becoming more and more popular, indeed frame bags for full-suspension MTB are also manufactured.
Full-Suspension though are very delicate machines, so don't trust them on long expeditions.
Long Distance Mountain Bike Touring
For "long distance touring" we mean two or plus months, at least cross country, often across a continent, sometimes around the world.
So, are MTB suited for this kind of bike touring?
The answer is of course yes, with a few warnings. Let's see what factors you should be taking care of some for successful expedition mountain bike trip.
Characteristics of MTBs for Touring
let go of carbon – use a steel or aluminum frame
strong wheels, with at least 32 spokes (better 36)
relaxed, less aggressive geometry
front suspension fork with travel <20mm
longer wheelbase
a frame with plenty eyelets and mounting points
Some MTBs will already come with this characteristics, we'll see some plus bikes that are basically mountain bikes for touring.
But if you already have a mountain bike and want to travel with it you'll need to do some tweaks.
MTB to touring bike conversion?
Mountain bikes have a long history in bicycle touring. 80s and 90s rigid have been used for decades by budget bike travelers, and refurbishing an old mountain bike is still the way to go if you can't afford a fancy bike.
We have written before about my conversion of a 1936 randonneur, and how to convert an old mountain bike into a touring bike, so check these posts out if you are planning a long distance bike trip.
That said, in a nutshell, here's what you should look at when converting a modern hardtail MTB for bike touring.
get stronger wheels, with more spokes and possibly double walled rims
replace handlebars to add more positions
get a front fork with a travel <10mm
change to a more comfortable saddle
Optional
replace hydraulic brakes with disk brakes
If you're familiar with bikes, you could do this with your toolkit and bike workstand in your garage, but if you don't have practice with bicycle mechanics, let a pro handle the conversion – just tell them what you want .
Check also
> The best travel insurance for bicycle touring and bikepacking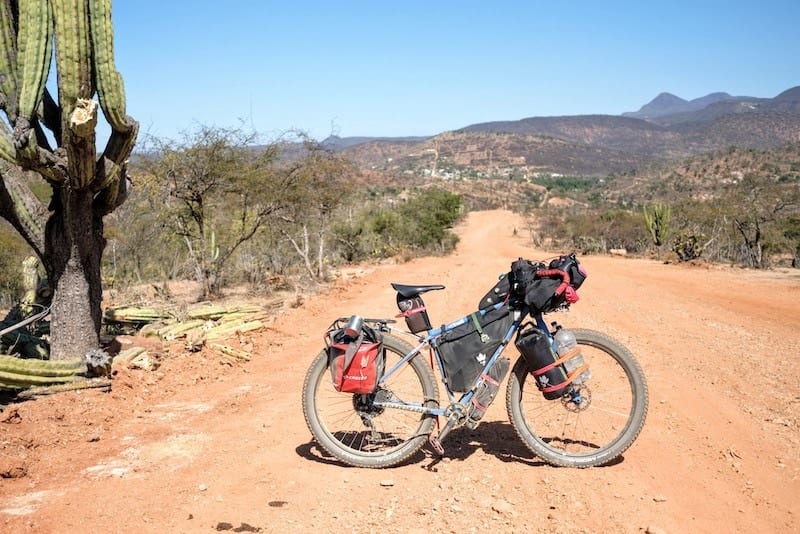 What's The Best MTB for Touring, Bikepacking and Bike Camping?
Here we are going to analyse what kind of touring each type of MTB is suited for, and pick our best mountain bikes for bikepacking for each category.
Check Also
> Gravel Bike Touring – How To & the 7 Best Bikes
Hardtail MTBs for touring
As we've already seen hardtail MTBs are great for bikepacking and although not the best bikes for touring, some are better than others.
Some aluminum Hardtail perform great even on month-long expeditions, and if you really wanna get lost in the trails, what's better than a mountain bike?
Hardtail MTB nowadays would prefer to be loaded in a bikepacking style vs a lateral panniers setup, but a proper MTB designed for multi'day adventures shouldn't have no problems handling two small rear panniers.
Our favourite hardtail MTB for touring
Salsa Timberjack
The Timberjack by Salsa is one of the most touring/bikepacking friendly harteil MTB on the market.
Well-versed in singletrack and trail exploration, this rig also blinks an eye to the bikepackers out there with its many braze-ons mounting points and sturdy construction with 32 holes rims.
The geometry is comfy for a trail monster as this: a long top tube and wheelbase, low bottom bracket, slack head tube angle, and steep seat tube angle.
A complete builds can be purchased for as low as $1,699.
| | |
| --- | --- |
| max tire clearance | 27.5 X 2.8" / 29 X 2.6″ |
| gearing | 32T x 12-Speed, 10-51T |
| weight | 13 kg (size M) |
Full Suspension MTB for Bikepacking
While hard tail are certainly more suited for traveling, full Suspension MTBs can still be used for extreme weekend bikepacking adventures. Frame bags for full suspension MTB are also manufactured.
Full suspension MTB bikepacking is actually becoming more and more popular, indeed frame bags for full suspension MTB are also manufactured.
Full-Suspension though, with their many moving parts, are sadly prone to failure. They are also quite hard to pack and don't handle eccessive load – you'll really have to go minimalistic when bike camping on a full-sus.
Our favourite full suspension MTB for bikepacking
Kona Hei Hei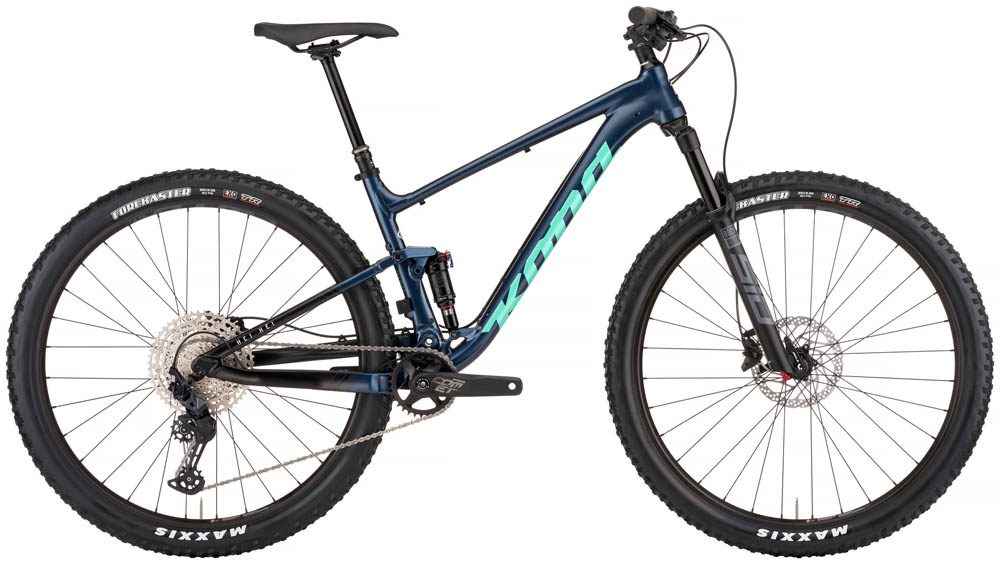 The Kona Hei Hei a superbe alloy full-suspension MTB that has proven itself bikepacking worthy.
It features a durable and light-weight Race Light Aluminium frame, a RockShox suspension fork and hydraulic disc brakes.
Fork travel is 120mm in the front and 100mm rear, just right for bikepacking. The drive train is a Shimano Deore 1×12-Speed group set with a 10-51T cassette.
This bike offers stable all-terrain control, smooth gear shifting, and powerful all-weather disc brake power.
Lightweight and Durable Cross Country Full-Suspension Trail Bike for Bikepacking
| | |
| --- | --- |
| max tire clearance | 29 x 2.5″ |
| gearing | 1 X 30T / 10-51T 12-Speed |
| weight | 11.8 kg (size M) |
Plus Rigid Fork Bikes
Plus bikes are kind of a novelty. Their main characteristics are a sloped geometry and more importantly a huge tire clearance, not quite like a fat bike but up to 3″ or more.
Plus bikes also often feature simplified gearing and transmission, often 1×11 or 2×10. They are somehow rigid-fork steel mountain bikes with drop bars (although a few flat bar options are around).
Plus bikes are meant to be adventure bikes and are really catered towards the bikepacking fanbase.
They perform at their best with bikepacking bags but can also be loaded with lateral panniers and trunk bags… touring vs bikepacking style, you can do both on a plus bike.
Characteristics of Plus Bikes
.wide tire clearance
.mountain bike geometry
.reduced gearing

Plus bikes are real adventure bikes, the ideal choice when touring for an extended period of time on difficult mountain roads
Check also
> Ribble Adventure 725 Review
> Cinelli Hobootleg Geo
Our favourite Plus Bike:

Bombtrack Beyond – 29er Touring Expedition Bicycle (+/- $1,800)
This expedition machine has been one of our favorite since it was introduced in 2016.
The new 2021 Beyond by Bombtrack has seen some interesting modifications from the previous models.
A single-speed chainring (30T) and a 12 speed 10-52T is the new drive train of choice, a great set of gears capable of bringing you up the steepest and roughest hills. The carbon fork reduces the weight but still offers triple cage mounts.
Another novelty of the 2021 Beyond is the Jones Loop Bar, although Bombtrack still offers different handlebar options, this will be the standard now. The Jones might seem a little weird, but they offer more hand positions, helping the shoulders and upper body stay relaxed for hours in the saddle.
Designed as a bike packers dream, the Beyond features mounting options for front and rear racks as well as up to five bottle cages.
The Bombtrack Beyond is just what I would use for extreme off-road bikepacking expeditions
| | |
| --- | --- |
| max tire clearance | 29" x 2.1" |
| fork | BOMBTRACK BPC full carbon, TA, 1.1/2" – 1.1/8", triple cage mounts, internal hub dynamo cable routing |
| gearing | 1 x 30 T / 12-speed, 10 – 52 T |
| weight | 12.9 kg (size M) |
Vintage MTBs
Old MTBs from the 80s and 90s have been repurposed for touring since they exist, carrying thousand of budget adventurers around the world in the most remote places of our beautiful Earth.
Bicycle touring is not just for those with a decent bank account and a powerful passport.
Although there is no doubt that, as a rule of thumb, you get what you pay for, I like to say that every bike is a touring bike, as long as you tour with it.
In this article we wrote extensively about
how to turn a free or cheap piece of junk into your next touring bicycle
FAQs about Mountain Bike Touring
Can you use a mountain bike for touring?
Hardtail and rigid fork MTB can be converted for long distance touring. Full suspension MTB should be avoided .
Are mountain bikes good for long-distance?
If supplied with durable parts, mountain bikes are good enough for long distance. Avoid performance oriented components and stick to reliable stuff.
How do you turn a mountain bike into a touring bike?
By mounting stronger wheels, comfortable handlebars and saddle, and high quality tires. Eventually replace hydraulic brakes with mechanic brakes.
What is the difference between a mountain bike and a touring bike?
Touring bikes are meant to carry loads and handle all kinds of terrains. Mountain bikes are meant for off-road use, and usually not to carry gear.
Can you use a mountain bike for bikepacking?
Absolutely! MTBs are fantastic for lightweight off-road bikepacking.
How do I pack my bike for camping?
By using bikepacking bags and packs you'll be able to fit everything you need for bike camping without the need of a pannier rack.
What skills are required for MTB touring?
The only skill required is the ability to ride a bicycle (but you could also tour on a tandem if you can't).
Check Also
> 41 great gifts for any kind of cyclist
Stay in touch while we get lost! Follow us on Social Media