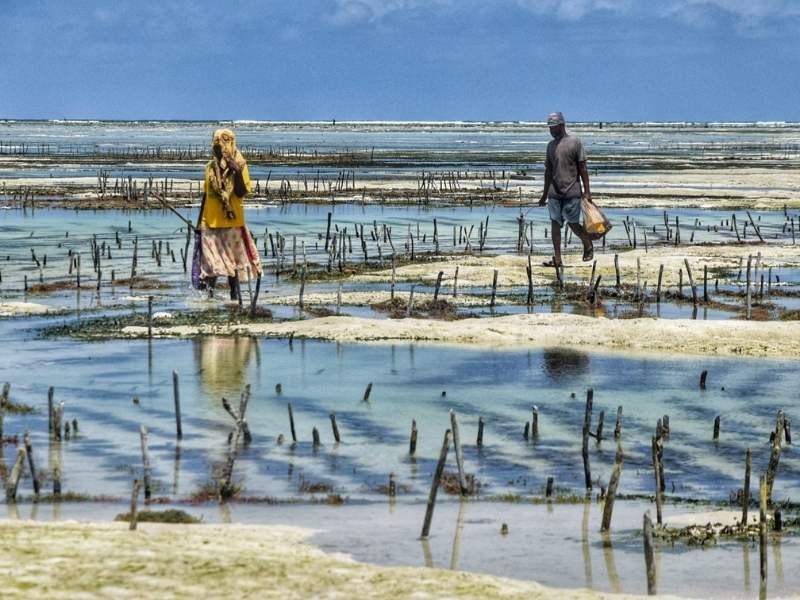 Africa Backpacking Guide: Destinations, Highlights, & Tips! Budget overlanding travel itineraries and routes in Southern, West, and East Africa
Welcome to this epic blog article about backpacking Africa! We've been living on the continent for 4+ years and have explored quite a lot.
Here you will find all information you might need about backpacking in Africa and links to more in-depth articles about each African country.
Find out about the best destinations in Africa for safari lovers, beach addicts, or adventure seekers as well as lots useful travel tips to help you prepare for your Africa backpacking trip.
Disclosure: Some of our articles contain affiliate links. This comes at no additional cost for you and helps us keep this website up and running. (as Amazon Associates we earn commission from qualifying purchases)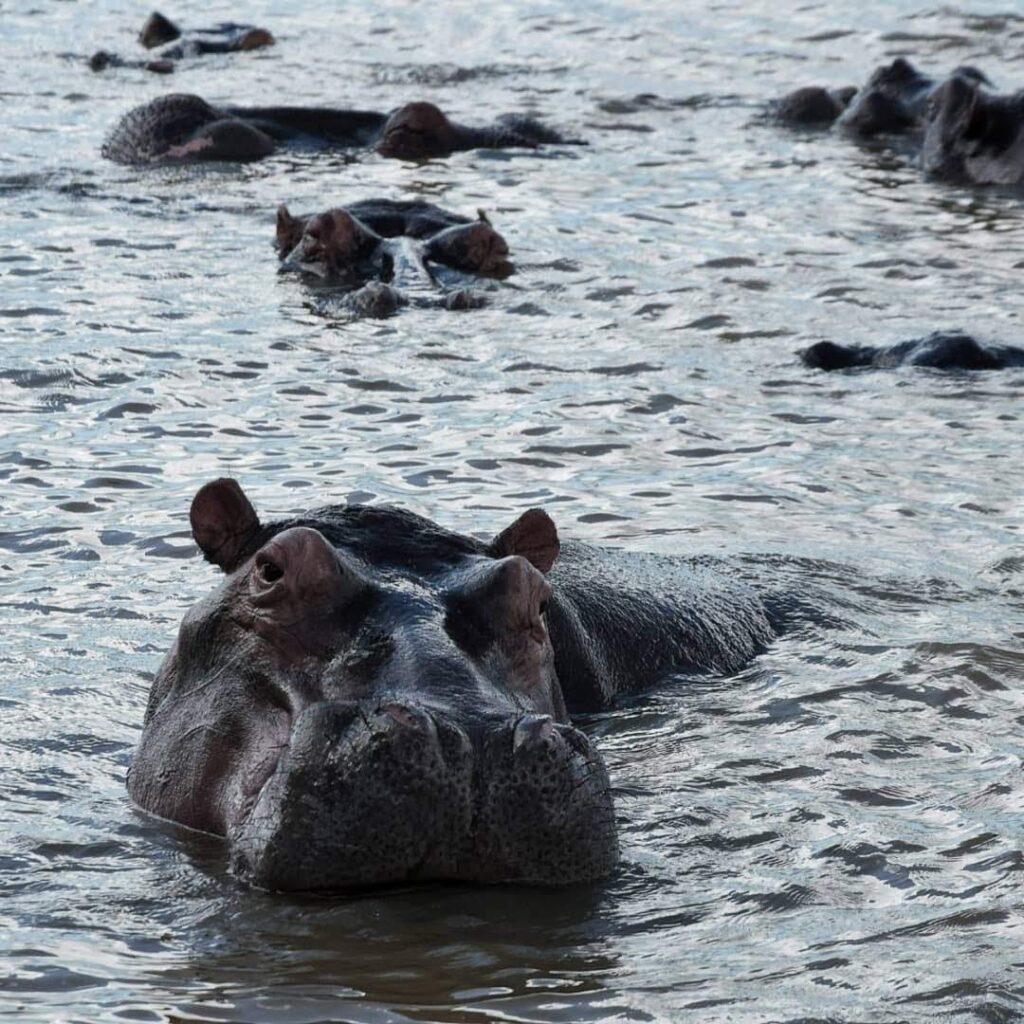 Where are the best safaris destinations?
If wildlife is one of the main reasons you're planning your backpacking trip in Africa, here are the best countries for safari experiences and their best parks:
Tanzania: Ruaha, Serengeti, Ngorongoro, Tarangire – Price tag: Expensive
Kenya: Amboseli, Tsavo – Price tag: moderately expensive
Uganda: Queen Elizabeth, Semuliki – Price tag: Expensive
Zambia: South Luangwa, Kafue, Lower Zambesi – Price tag: affordable
Namibia: Etosha – Price tag: cheap
Botswana: Okavango Delta, Chobe – Price tag: very expensive
South Africa: Kruger, Addo – Price tag: affordable
Transportations
Getting around the African continent is not a piece of cake, forget about the railway networks of Europe, or the cheap international flights of South East Asia. Hopping from one destination to another may require multiple combinations of mixed means of transportation, get ready for wild rides and stressful bargains… but that's part of the adventure.
Domestic and Continental Flights
Flights are more expensive in Africa when compared to the rest of the world, even domestic flights can go above a couple of hundred dollars. International flights are also not easy, most of the time you can expect layovers in South Africa, Kenya, or Ethiopia (where the biggest airlines are from), which makes flight connections slow and not really convenient.
Our favorite platform to look for flights is Kiwi.com, which gives you great flexibility of research through multiple location and date options. Check it out here.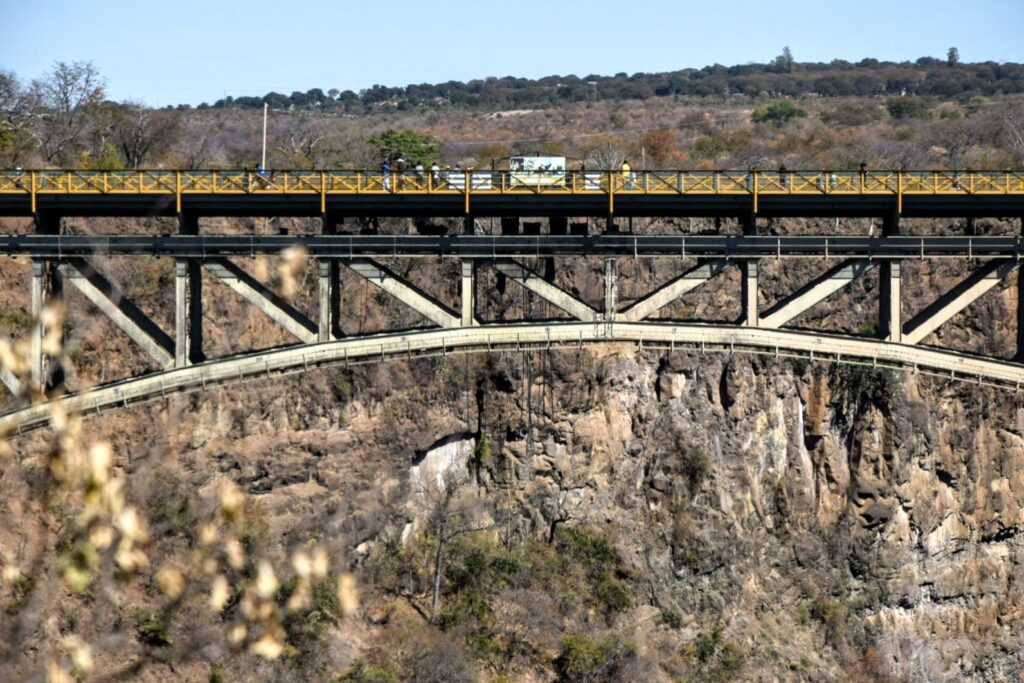 Trains in Africa
There are very few operational passenger railways in Southern Africa, the most notable and only international one being the TaZaRa, connecting Zambia and Tanzania. It's quite a slow trip but a very interesting one for those backpacking Africa. The train indeed goes through several wildlife reserves and it's possible to spot animals from your train sit, quite unique.
In North Africa the situation is different, with Morocco, Algeria, and Egypt having quite decent and nationwide train connections.
Coaches and Minibuses
The most common means of transport for passengers in most of Africa are long-distance coaches and mini-buses.
Long-distance coaches are often the best means of transportation available when going from one major city or town to another, sometimes even across borders. There are a plethora of companies in every country, but very few of them have proper websites.
Often the best way to figure out coaches' schedules is to get phone numbers through your accommodation and call, or directly go at the coach station if there's one. Coaches are better booked in advance as they fill up quickly.
Don't expect luxury standards, seats are often worn out and narrow and buses can get noisy with crying babies and preachers. They often break the speed limits and are not the safest way to get around, but still better than minibusses.
Tip: don't put anything too valuable in the luggage compartment. Although not common, baggage theft can occur.
Mini-buses are called different names in each country, but they look, feel, and behave exactly in the same way… a wild way.
Mini-buses are privately owned, don't run by a schedule, don't have fixed stops. In major centers, you'll find sorts of "depots" where they usually wait to fill up before starting off. If there's no depot, you'll have to stand by the road and waive them as they pass, hoping they'll have a free seat. But don't worry, there's always a free seat, even if it's on the lap of someone else… mini-buses are indeed always overloaded with too many people and too many goods.
In most cases, mini-buses run relatively short distances, so if your destination is far or off the route you'll probably have to change a few to get there. They also stop all the time and a journey of less than a hundred kilometers can easily take hours.
Tip: to avoid getting overcharged, ask a fellow passenger what is the real fee to your destination.
A very popular option is joining overlanding track tours such as Dragoman, these are organized group trips on specially adapted trucks – check them out here!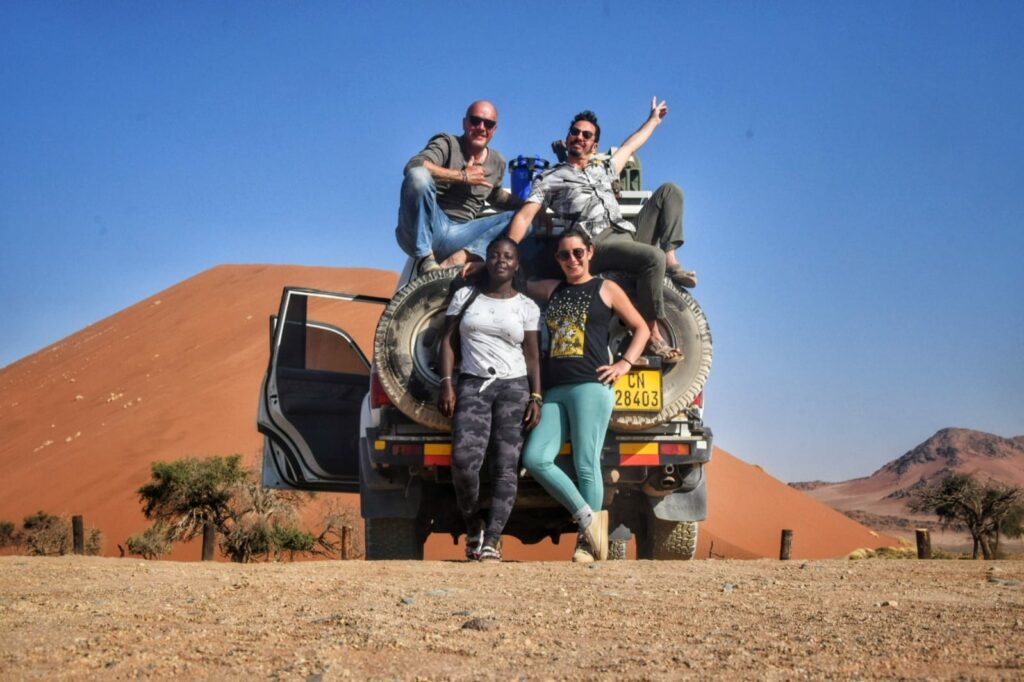 Renting (or buying) a car (or a motorbike)
Renting a car can be a game changer for those backpacking in Africa, if you have a budget for it. In countries like Namibia or South Africa you can rent a fully equipped 4×4 with a rooftop tent for around 70/80$ a day, not bad if you can share the costs with some fellow travelers.
A local car can also give you discounts when accessing national parks, and you won't have to spend in a Safari (although self-driving in wildlife parks can be dangerous, and you'll never see the same level of wildlife without a guide)
Smaller 2-wheel-drive cars can be rented for something between 25/50$ per day, depending on the country. Don't tackle challenging dirt roads with this kind of vehicles.
Tip: check the conditions of the car prior to renting to avoid being charged for damage you haven't caused. Renting from reputable companies like Discover Cars is more expensive but can be safer.
If you're in for a long trip, buying a vehicle (and then selling it) can also be an option, although certainly not an easy one. It's not difficult to find a decent second-hand 4×4 for something between 4,000$ and 12,000$, especially in South Africa, Tanzania, Namibia, Kenya. These 90s vehicles have a stable reselling value on the African market.
The problem here is the paperwork required for crossing borders, which can be quite a headache… so complicated that we'll promise to write a separate article about it (we ourselves bought a vehicle in Tanzania thus we have first-hand experience), in the meanwhile, feel free to get in touch through our contact page.
A great idea, if your journey doesn't cover extreme distances, is to buy a local motorbike. These Chinese/Indian heavy-duty 150cc light motorcycles are quite the beasts of burden around here.
You can get a brand new one for around 1,000/1,500$ and resell it for a few hundred less, an optimal solution when traveling around one country only.
Hitchhiking Africa
Hitchhiking is not as popular as it used to be, but I still think it's a great way to travel, get to know people, and make interesting experiences. We did it pretty often on our trips and still do it nowadays.
Hitchhiking is actually quite easy in most of Africa, but many will expect at least a contribution for gasoline and agree in advance before getting in the vehicle. Truck drivers are the best for hitchhikers, they often are looking for company and are up for good chats, they are also less interested in money. Solo women travelers should be more careful when hitchhiking.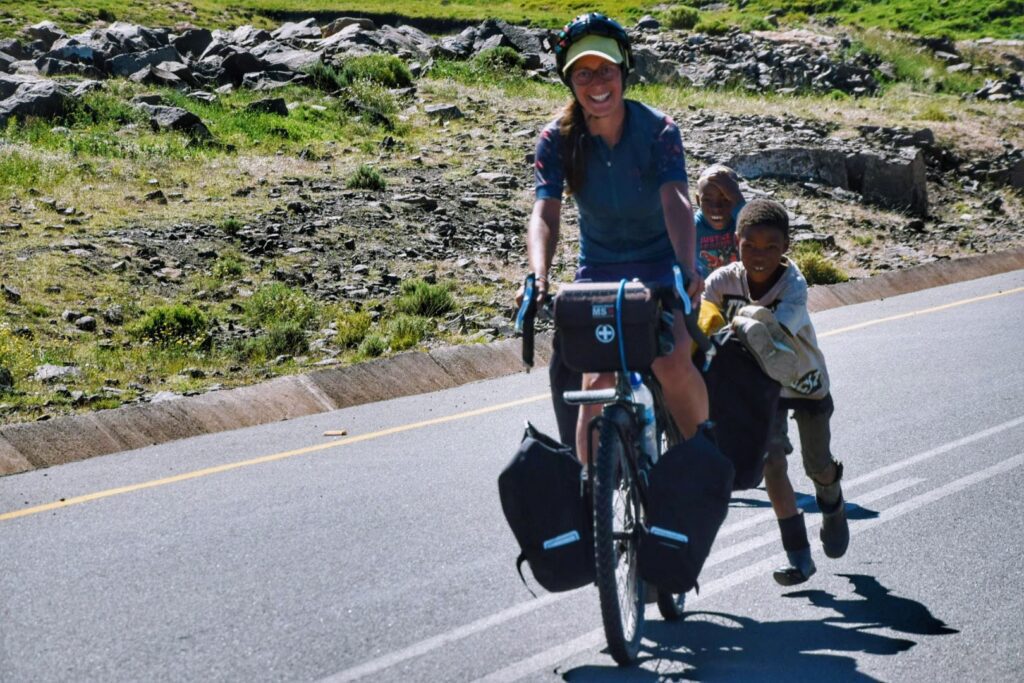 Cycling
If you know this site you probably know that cycling is our favorite way of traveling. Cycling Africa might be not for everyone but it's also not as challenging as you might think at first.
read our dedicated article
> Cycling Africa: Bicycle Touring & Bikepacking
Ferries and boats
With the dismissal of the MV Liemba of Lake Tanganyika, the last legendary ferry in Africa remains the Ilala Ferry, sailing Lake Malawi. Local boats navigate most of the African lakes but are difficult to catch and quite unsafe.
Check Also:
> 8 of the Most Dangerous Countries in Africa Where You Could Travel Safely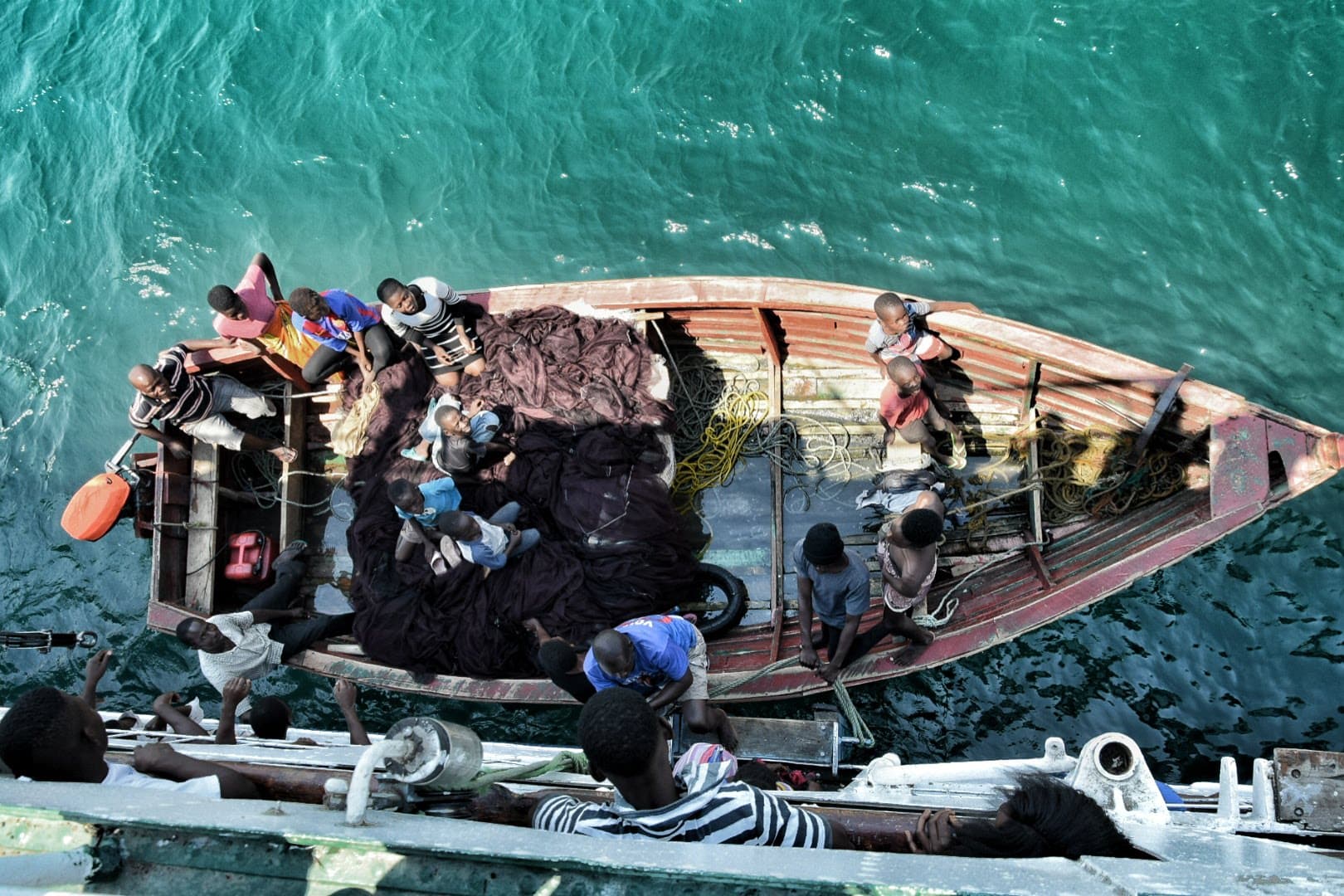 Duration of a backpacking trip in Africa
Travel distances and especially times are quite long in Africa. Even when two destinations are only a few hundred kilometers apart, it might take the whole day to travel from one to the other with public transport.
If you only have one week or 10 days, we recommend planning your bikepacking trip within a single country, or even in a small area of one country if that is a big one with many attractions (like Tanzania or Mozambique i.e.). Of course, you can take domestic flights to move speedily from one place to another, but listen to this advice: don't pack too many things in a short time, Africa has other rhythm than what you're used to.
Unless you want a beach holiday, we advise taking at least 3-weeks/1-month off for a backpacking trip to any Southern African country.
Of course, the longer the time at your disposal, the more things you can experience, we planned for a 9 months trip and ended up staying 4+ years…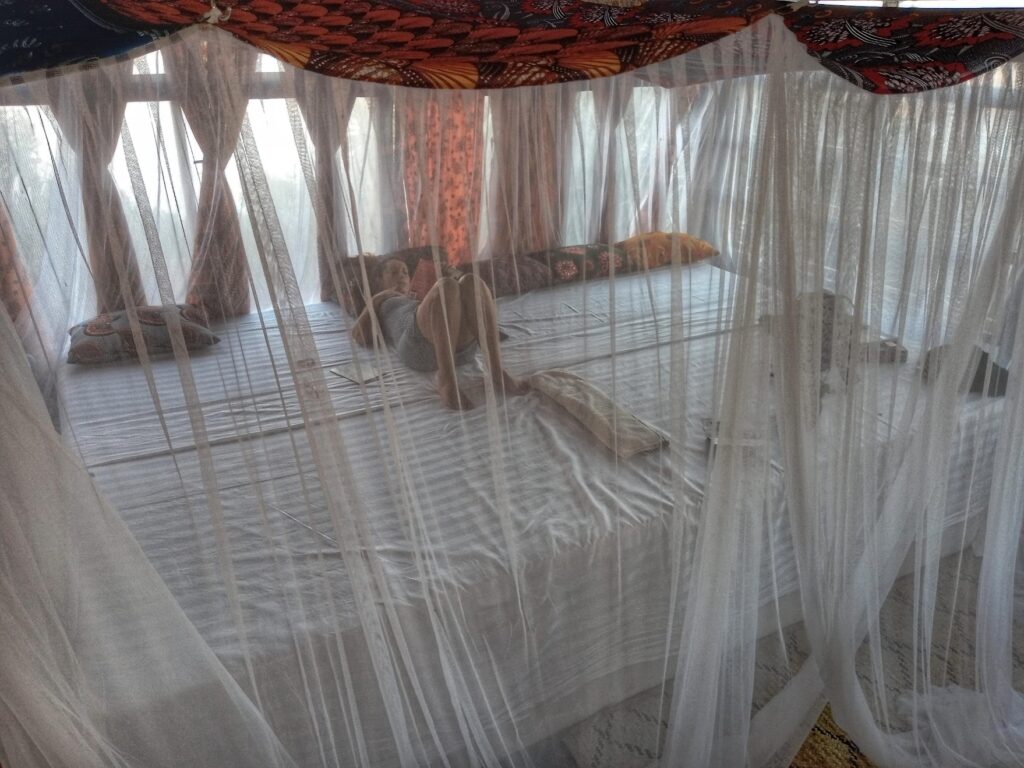 Vaccines, prophilaxis, and medicaments: how to avoid Malaria and other deseases
Of course, you should consult your tropical disease physician before undergoing any sort of vaccines or prophylactic treatments, they will know what's best for you.
We'll just give our two cents here, as people who have lived around the continent for 4+ years.
Yellow Fever
yellow fever has become rarer and rarer throughout the African continent, recently though, there have been epidemics in areas of DRC and Angola. Even if you're traveling through areas not affected by yellow fever disease, the vaccination is still mandatory in many countries, which won't allow you across their border if not in posses of the "yellow card". If you're backpacking Africa, you should get your yellow fever vaccine before the start of the trip.
Malaria
malaria prophylaxis is devastating to the body and doesn't prevent 100% from getting malaria. We absolutely recommend not taking any for an extended period of time. Bring instead malaria treatment meds, get tested immediately at the very first symptoms, don't trust self-tests but go to a proper clinic.
Is it good to be covered against tetanus and hepatitis, while cholera and meningitis depend more on the areas you're going.
What medicines should you bring with you when backpacking Africa?
When we packed our stuff and came cycling in Africa we packed a ton of medicines. That was quite stupid. Unless you have a condition that requires specific meds, you'll find most of the medicines needed to treat common African diseases everywhere in Africa.
The only medications I recommend bringing are:
strong painkillers
malaria treatment
antidiahorrohic
cortisone
nonsteroidal anti-inflammatory gel (NSAID)
From our direct experience, we also recommend taking deworming pills every 3/4 months to get rid of unwanted parasites, which unfortunately are pretty common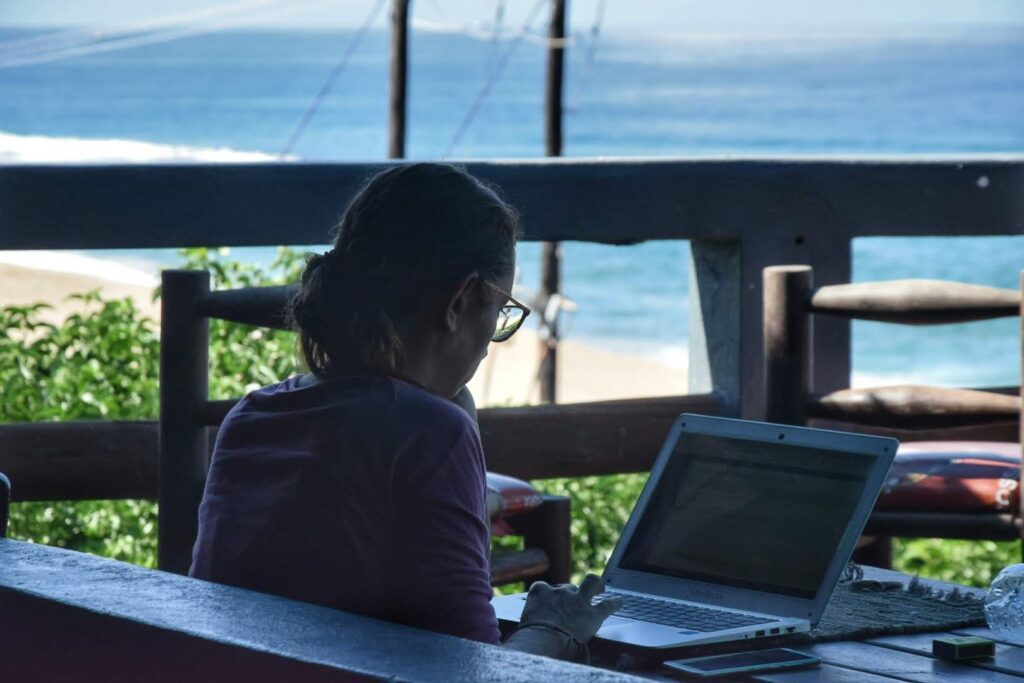 Connectivity: WiFi and Internet in Africa
As many other topics in this article, it's difficult to give generic info, as every country has its own peculiarities.
Generally speaking, WiFi is mostly available at lodges and hostel catering to western tourists. Don't count to much on that though, as bandwidth is often narrow and with a lot of people connected you might struggle even to update your social media.
We recommend getting a local SIM card for every country where you're going to spend some time. Buying a SIM card is usually quite easy and data bundles work always better than WiFI connections.
Some countries though don't have great coverage outside the main towns or cities so it's not uncommon to find yourself off-line during long transfers.
Pro Tip: download offline maps, articles, and books to be sure to have something to do while sitting on local transport for several hours.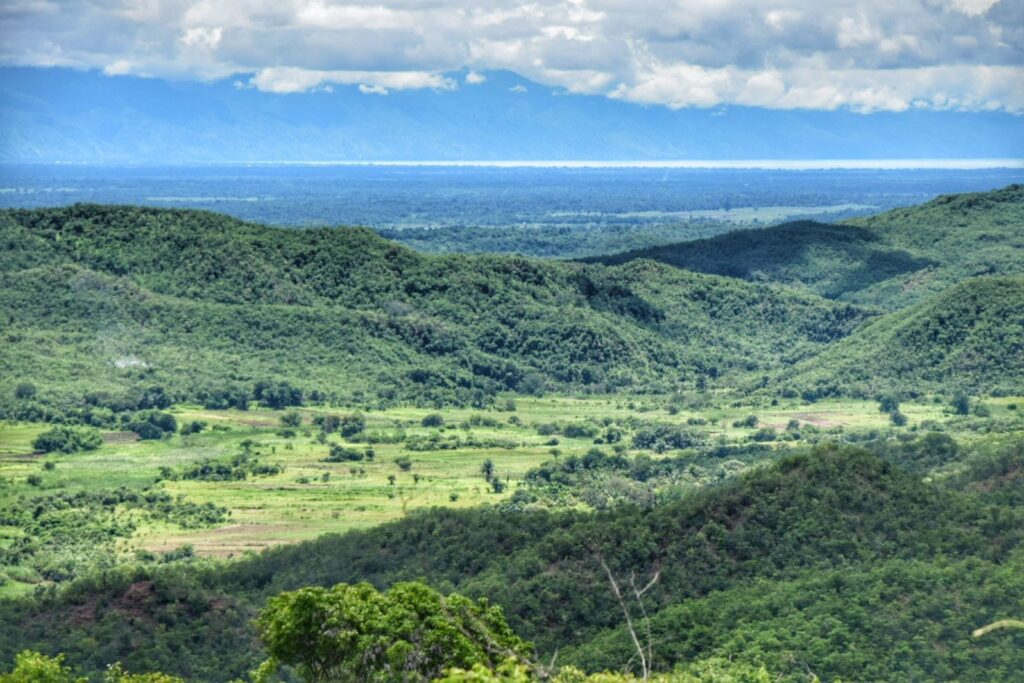 Best time for a backpacking trip in Africa
Of course, it depends. Africa is crossed by the Equator line, meaning that seasons are inverted in the South compared to the North. When it's summer in North Africa it's winter in Southern Africa, and vice versa.
North African countries should be avoided at the peak of Boreal summer, the heat can be unbearable and sunstrokes are a common occurrence among inexperienced tourists.
The rainy season in Northern Africa occurs between September and May, rainfall is usually heavy and brief and not always a disturbance. Water makes everything greener and the skies can be epic, casting photogenic colour tones.
The best seasons to visit North Africa are spring (March to May) and fall (September and October).
In Southern and Central Africa, rainy seasons can be extremely wet at their peaks, with several days of uninterrupted downpours being not uncommon.
If you're planning to stick to coasts and lowlands, Austral Winter (June to August) is a great time to visit, as temperatures are milder but still warm enough to enjoy the beach.
Remember anyway that many African top attractions are located at relatively high altitudes. Temperatures can get quite low above 1,500 msl so pack some warm clothes if you're traveling in winter.
Rainy seasons vary throughout Southern Africa, even within the same nation. Check the climate historicals for the specific areas you intend to travel to determine the best time to visit.
Pro Tip: check the altitude and weather forecast of your next destination to ensure you're well equipped for the local weather.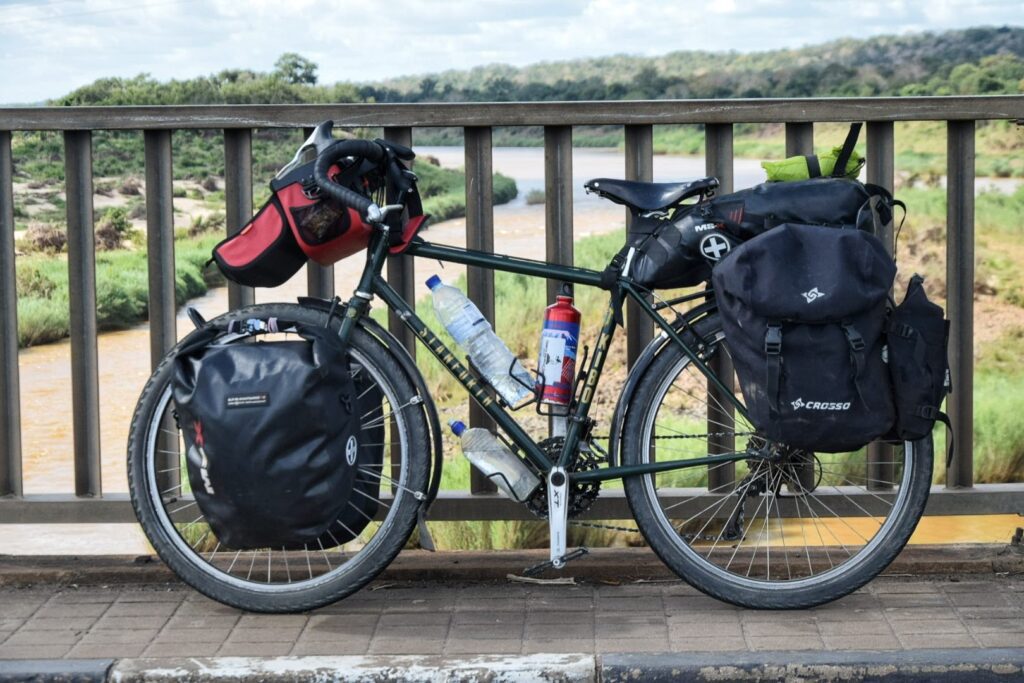 Packing List
Toiletries
Wet wipes
Mosquito repellent (buy it in Africa)
Sunscreen
Lip balm
Travel towel
Generic toiletries
Accessories
Sunglasses
Camera (+ extra batteries and SD cards)
First aid kit & regular medication
optional: binoculars, zoom lens, travel guide
Clothing
Sturdy shoes

Beach shoes
Day pack
Swimwear
T-shirts (avoid black, blue, and white for safari)
Shorts (not too short, especially for ladies)
Long trousers
Loose-fitting clothes for Muslim countries
Wide hat
Rain jacket or backpacking poncho
For high altitudes:

Thermal

layers

Warm jumpers

Beanie
Woolen socks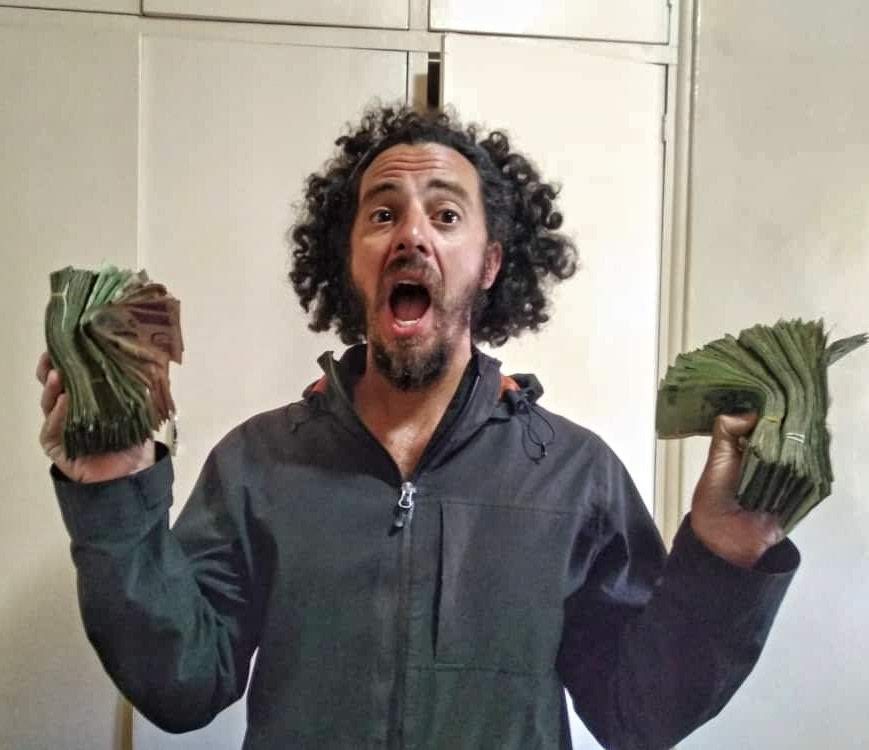 Getting Cash or Bringing Cash
ATMs are present in all the major towns and most of the time will work with all Visa and Mastercard cards. The fees are often quite high, and maximum withdrawal amounts quite small, another thing that adds up to the overall cost of backpacking Africa.
Wise (former Transferwise) is our go-to solution. It allows you to instantly open virtual bank accounts in almost any currency, when you do that you'll be charged local fees instead of international, quite a bargain.
Carrying some US Dollars is a good idea, some visas can only be paid in USD and sometimes you might find yourself stranded if ATMs are not working or there's a lack of cash in the country (see Zimbabwe). Keep your backup cash hidden but always on you, never leave it in any kind of luggage going into a vehicle trunk or such.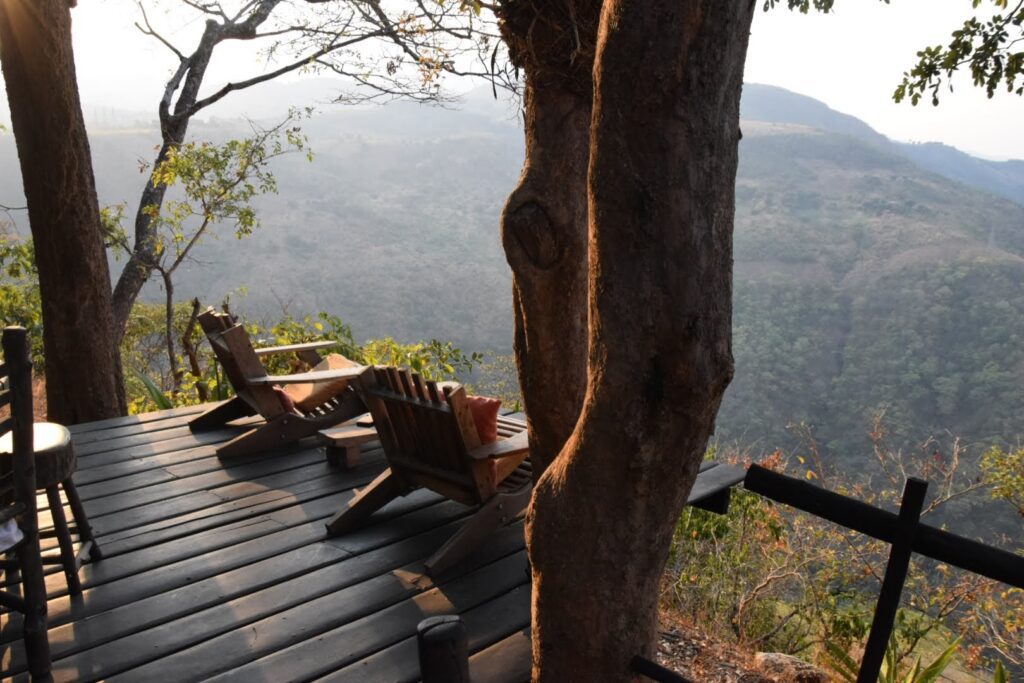 Backpacking Accommodation in Africa
Lodges and budget backpacking accommodations can be found everywhere near touristic areas, one night in an upscale lodge costs between 50$ and 100$, while in backpacking accommodations it's easy to find rooms from 15 to 40$. Dorms are not as common as in Europe but are usually available near the main attractions (8/15$ per bed).
Besides that, any small town will have at least one local guesthouse, these can be either dirty and rundown or clean, decent, and great value for money. Expect to pay anything between 2$ and 30$ for a local guesthouse.
Campsites are common but they are often located outside the central areas of towns and cities, catering more to overlanders than backpackers. The average price for campsites goes from 5$ to 10$ per person.
Airbnb is also getting more and more widespread, optimal to find great deals when traveling in small groups.
The budget. How much does backpacking Africa cost?
Africa is seen as the poorest continent in the world, and that is true when it comes to the living conditions of the general population.
That doesn't mean though that the whole of Africa is cheap. Some countries have rampant inflation that makes prices of basic goods extremely high, even by western standards.
Accommodation is often catered towards wealthy tourists, not much backpackers culture here, that is reflected in luxury-grade prices.
Attractions are also often overpriced, climbing Kilimanjaro starts at 1600$ per person, and when it comes to Safari prices can really get crazy, especially in some countries (Tanzania, Kenya, Uganda, Botswana).
Add to this the price of the visa, often around 50$ per country and you'll see why backpacking in Africa is much more expensive than in Asia.
Food instead is relatively cheap, if you can get used to local restaurants you can eat 3 meals for around 10$ in most of Southern Africa. International food is, of course, more expensive, between 5$ and 15$ for a meal.
In my opinion, the minimum budget for a comfortable backpacking trip in Africa is 30/60$ per day, including emergencies.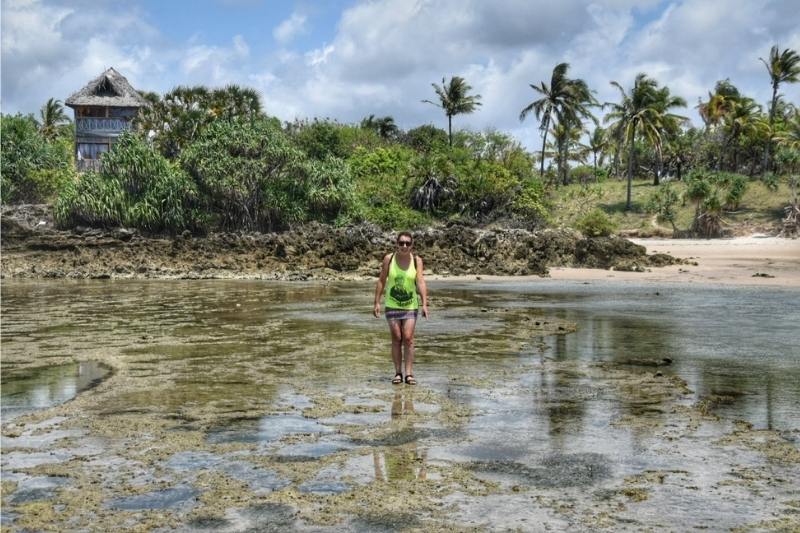 Backpacking Itineraries in Africa
In a continent as big as Africa there are infinite possible travel itineraries. When planning your backpacking itinerary in Africa the first question you should ask yourself is: how much time do I have? Of course, a 10-day itinerary will look very different from a 3-months one.
If the duration of your backpacking trip in Africa is inferior to two weeks, we advise sticking to a single country of destination. For a single country itinerary we refer you to our country-specific articles down here:
For longer trips, we propose here 3 multi-country itineraries. We also invite you to do your own research and modify them according to your preference and available time.
3-week: South Africa + Namibia Itinerary
4 days – Cape Town and Table Mountain
2 days – Hermanus and Cape L'Agulhas
1 day – Transfer to Langebaan
2 days – Langebaan and Paternoster
1 day – Transfer to Namibia
1 day – Fish River Canyon
1 day – Aus
2 days – Sossusvlei
2 days – Swakopmund and Moon Landscape
1 day – Spitzkoppe
1 day – Cape Cross seal colony
2 days – Etosha National Park
2 days – Windhoek and fly out
3-week: Mozambique + Zimbabwe itinerary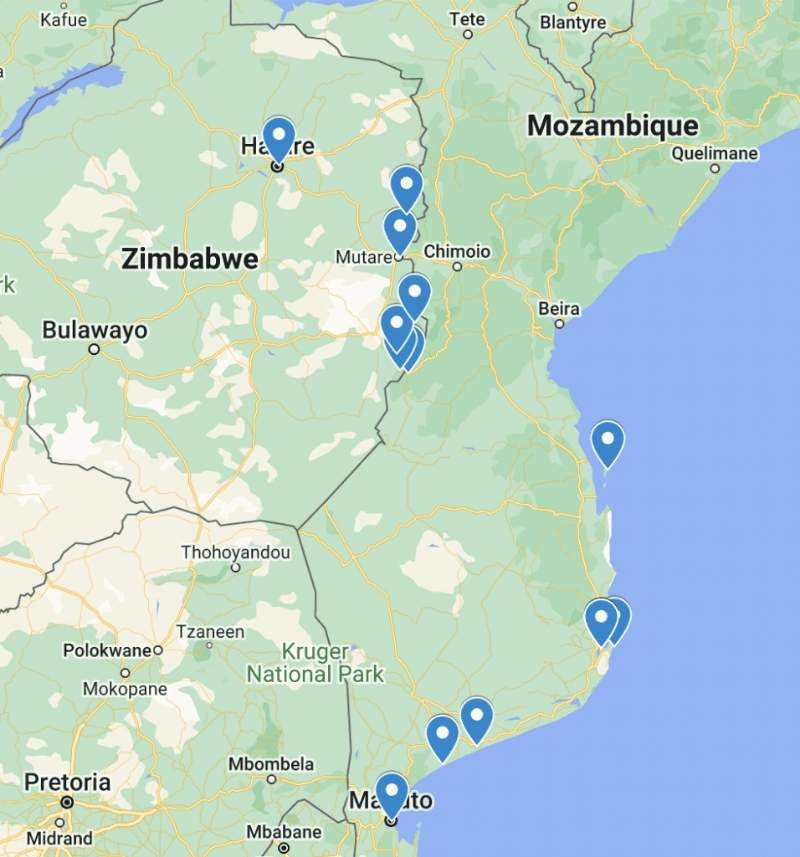 3 days – arrive in Maputo and explore the city
2 days – Praia do Bilene
1 day – Xai Xai
4 days – Tofo and Inhambane
2 days – Vilanculos and Bazaruto Archipelago
1 day – transport to Espungabera
1 day – cross into Zimbabwe, Chirinda Forest, and sleep in Chipinge
3 days – Chimanimani NP
1 day – Mutare
2 days – Nyanga NP
2 days – arrive in Harare and fly out
4-week: Zambia + Malawi backpacking itinerary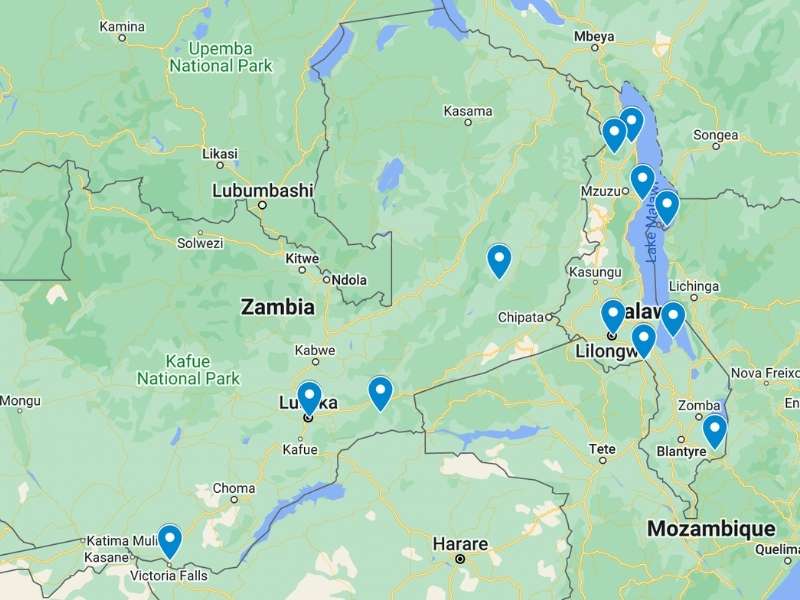 2 days – arrive in Livingston and visit Victoria Falls
2 days – arrive in Lusaka & visit Lower Zambezi NP
3 days – South Luangwa National Park
2 days – cross into Malawi and visit Dezda rock art
3 days – hike Mulanjie mountain in the south
4 days – reach Cape Maclear and rest by the shores of Lake Malawi
5 days – take the Ilala Ferry and spend some days on Likoma Island
2 days – Nkhata Bay
2 days – Livingstonia or Nyika National Park
2 days – travel to Lilongwe and fly out
Visas
Visas in East Africa used to be quite straightforward, most nationalities could obtain visas on arrival almost everywhere, pay at the border and off you go.
Nowadays, after the pandemic, many nations have resorted to online visa applications. This has complicated things a bit, as these websites are often glitchy and might require quite some time to get the application through. Response times also vary a lot from case to case, and it's not rare to be stuck at a border while waiting for your online visa.
West Africa though is much more complicated, crossing all of these tiny countries often means being stuck in capitals for days waiting for a visa, and some borders are still closed to foreigners due to the aftermath of the pandemic. Visas also contribute quite a bit to raising the overall cost of the trip.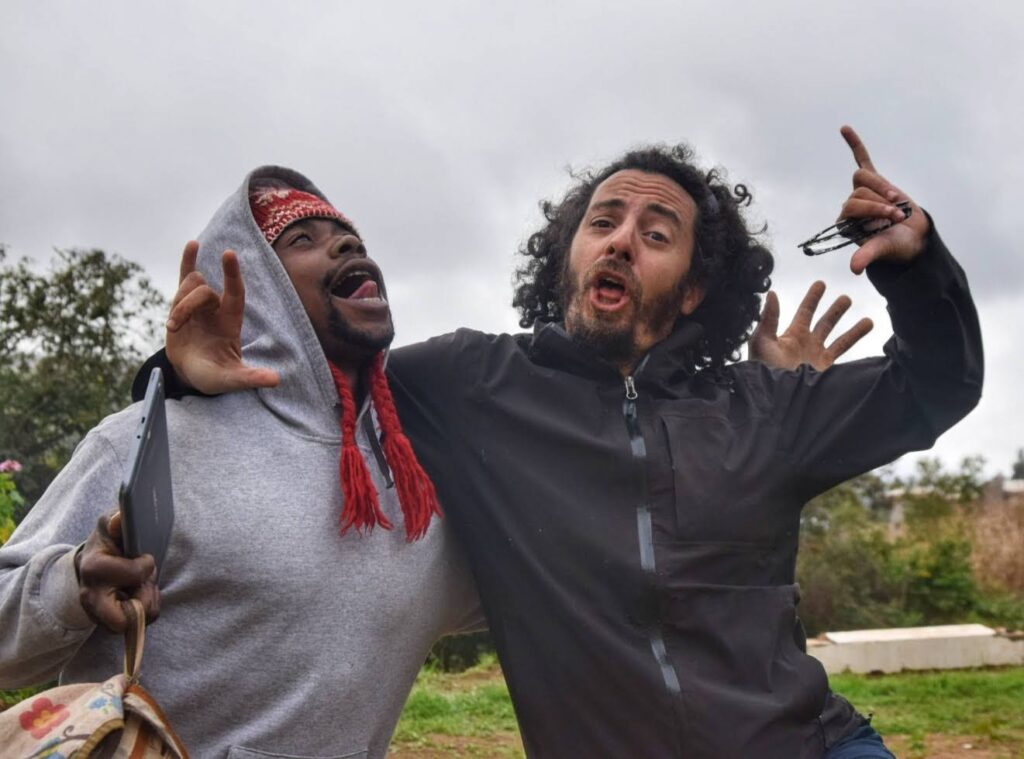 Languages
Africa is home to thousands of languages, dozens and sometimes hundreds can be found within a single country.
As a rule of thumb though, former colonial languages are quite widespread. That means English is common in former British colonies, French in former French colonies, and Portuguese in former Portuguese colonies (namely Mozambique and Angola). German is not really used anymore while Dutch will help you with Afrikaaner people in Namibia and South Africa.
So if you plan on cycling in West Africa, definitely up your French game a bit, otherwise you'll find yourself lost in translation.
In the Swahili-speaking countries of Kenya and Tanzania, despite the colonial past, English is less common, as the role of "lingua franca" has been assumed by indeed Swahili.
Backpacking Travel Insurance for Africa
Do you need travel insurance when on a backpacking trip in Africa? Well, it's of course a good idea to be covered when traveling, our choice always goes to World Nomads as one of the most versatile travel insurances on the market.
That said, to find a recognized partner of your travel insurance you'll most likely have to travel to a major city, don't expect to be covered when you're in remote areas.
Private clinics in Africa range from cheap to pricey and from poor quality to western standards. For minor accidents or problems, you'll probably spend less money by just paying the fees than what your insurance will cost you.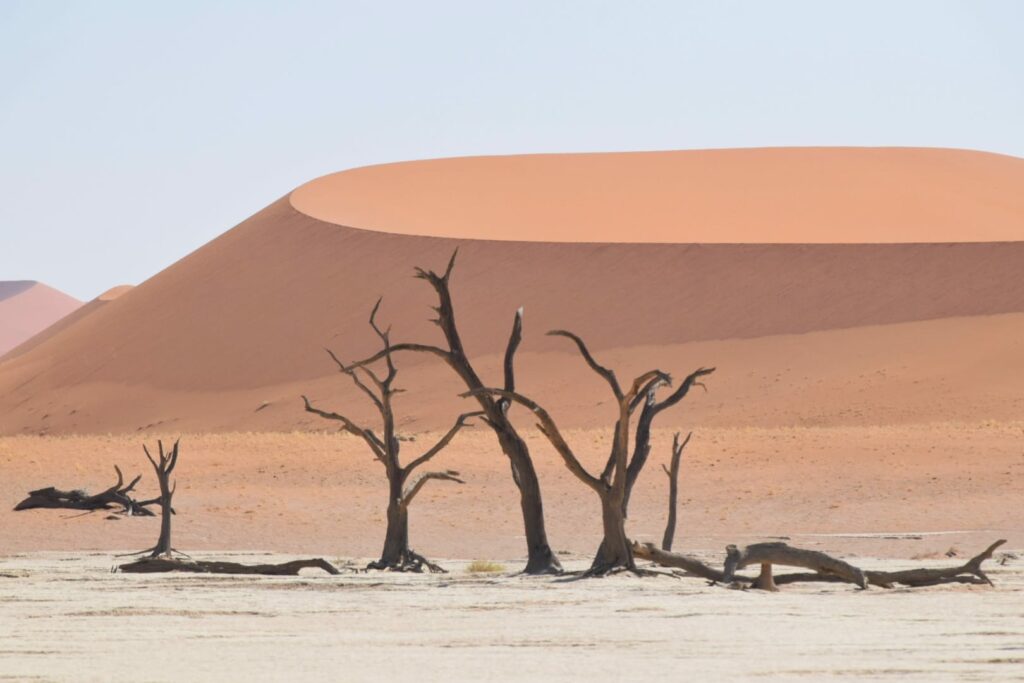 What are the highlights of Africa?
It's a hard endeavor to pack all the best attractions of the African continent in just one paragraph. We'll give it a try, knowing that a lot of incredible highlights will be left out (material for other posts). Another thing to keep in mind is that "beauty is in the eye of the beholder", some places may be more or less special for different people.
We'll order this list from south to north and then east to west
South Africa
Cape Town and Table Mountain
Garden Route
Wild Coast
Kruger National Park
we wrote a lot about South Africa, get more points of interest by reading
> All of our articles about South Africa
Lesotho
Namibia
Fish River Canyon
Sossusvlei
Namib Naukluft NP
Spitzkoppe
Etosha NP
Upupa Falls
Almost all of the roads in the West of the country
Botswana
Makgadikgadi Pans
Okavango Delta
Chobe National Park
Zimbabwe
Victoria Falls
Mana Pools NP
Eastern Highlands
Zambia
South Luangwa NP
Lower Zambesi NP
Victoria Falls
Mozambique
Praia do Bilene
Tofo
Vilanculos and Bazaruto Archipelago
Ilha de Mozambique
Qurimbas Archipelago.
Malawi
Lake Malawi (Cape Maclear, Nkhata Bay, Chinteche)
Nyika NP
Likoma Island
Mulanje Massif
We wrote a lot about Malawi, we live here!
> Check all our articles about Malawi
Tanzania
Zanzibar
Serengeti NP
Ngorongoro Crater
Kilimanjaro
Ruaha NP
So much to see in Tanzania! Check our:
> Backpacking Tanzania: 1, 2, or 3 Weeks Itinerary On a Budget
Rwanda
Gorilla trekking
Volcanoes NP
Nyungwe Forest NP
Lake Kivu
Uganda
Gorilla Trekking (Bwindi National Park)
Chimpanzees Trekking (Kibale Forest NP or Queen Elizabeth NP)
Lake Victoria (Entebbe, Ngamba Island)
Nile Sources
Kenya
Masai Mara NP
Mount Kenya
Amboseli NP
the coast (Kilifi, Malindi, Lamu)
Hells Gate NP
Democratic Republic of Congo
Gorilla trekking
Virunga National Park
Nyiragongo Lava Lake
note: exert maximum caution when traveling DRC. Collect up-to-date information and consider the dangers of the trip. Oftentimes some of the main attractions might be closed to the public because of guerrilla warfare.
Ethiopia
Lalibela
Simien Mountains NP
Erta Ale, Dallol
Sof Omar Cave
note: exert maximum caution when traveling Ethiopia. Collect up-to-date information and consider the dangers of the trip. Some areas might be restricted to tourists because of civil unrest.
Sudan
Meroe Pyramids
Old Dongola
Sahara landscapes
Egypt
West Africa
Togo
Senegal
The Gambia
Ivory Coast
We promise to expand the West African section as soon as possible.
Frequently Asked Questions about Backpacking Africa
Is Africa suitable for a backpacking trip?
Although not as backpacking friendly as Asia, Africa is definitely suitable for a backpacking trip. Moving from destination to destination can take a long time with public transports but it's totally worth exploring Africa with a backpack.
Is it possible to travel Africa on a low budget?
Well, it depends on what you want to do. Many attractions in Africa are quite costly, especially wildlife reserves. If you stick to one or two safaris and avoid the most expensive attractions, hotels, and restaurants, then it's possible to travel around Africa on a budget.
Are flights in Africa cheap?
Not so cheap as in Europe or Asia. Domestic flights rarely cost less than 100$ one-way.
Is Africa safe for white tourists?
Some African countries are safer than others, some are dangerous. The most touristic countries are quite safe but you should always exert caution: do not flash money or expensive goods, avoid sketchy areas, don't travel in war zones.
What African countries are the best for backpacking?
Tanzania, Malawi, Kenya, Uganda, and South Africa are among the easiest countries for backpackers in the African continent.
Is Africa good for solo travelers?
If you travel solo in the hope of meeting other travelers on the way, be aware that this is not so common in most of Africa. The African continent is much less traveled compared to all the others, so the chance of meeting people is limited to the main touristic spots (Zanzibar, Kilifi… for example).
Metting locals anyway, is very easy. People are friendly in most African countries and are always curious to know about foreigners.
Can I take photos of people in Africa?
You should always ask permission when taking photos of people, especially kids. Don't walk around and snap pictures like it's your right, it's not. Politely ask and you'll rarely be denied. Actually, it often happens to us that people come and ask for a picture when seeing us walking with a camera.
Stay in touch while we get lost! Follow us on Social Media