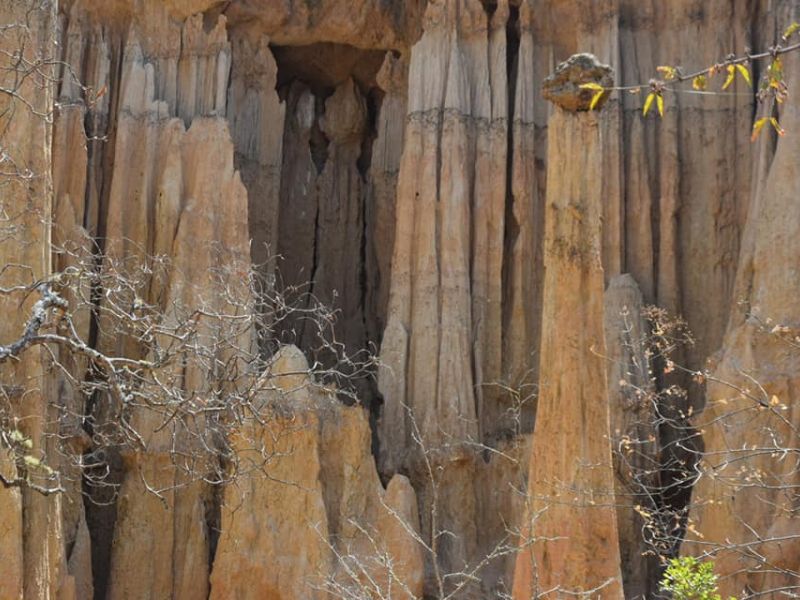 One of the most important Stone Age Sites in the World. How and Why to Visit the Fascinating Isimila Stone Age and Natural Pillars in Southern Tanzania
The stone age of Isimila, a few kilometers from Iringa, is one of the most significant Stone Age Sites in the world from an archaeological point of view.
The tools found in this place and kept in the small museum next to the ticket office date back to 100,000 years ago but some of them are 300,000 years old. In addition to the tools, the bones of various animals were found, giving us an idea of ​​what this area looked like to our ancestors. A long-time extinct type of hippo, short-necked giraffe, elephants.
In the past, there was a lake here, that naturally brought animals to come to drink. At the same time, this was the perfect location for the home Erectus who was here to hunt. The Stone age is, indeed, the period when men started making tools such as knives and hammer stones, to hunt, eat and build other tools.
Here at Isimila many of these tools have been found, they might look like simple rocks but with a bit of explanation from the local guide will understand that what looks like a pile of stones is actually a pile of fundamental tools for the evolution of our species.
The home Erectus has communication skills, there is evidence they hunt in groups and they had musical tools, they also buried their dead, as you can see in the rock painting found north of Iringa at Igeleke Rock Art.
The site of Isimila is reputed to have been inhabited by human beings since 300.000 to 400.000 years ago. The erosion that has occurred in the area over time has enabled to show ample remains of stone tools, animals, plants and exposure to a geological sequence which have all contributed to the understanding of pre history of this area.
How to reach Isimila Stone Age
Disclosure: Some of our articles contain affiliate links. This comes at no additional cost for you and helps us keep this website up and running. (as Amazon Associates we earn commission from qualifying purchases)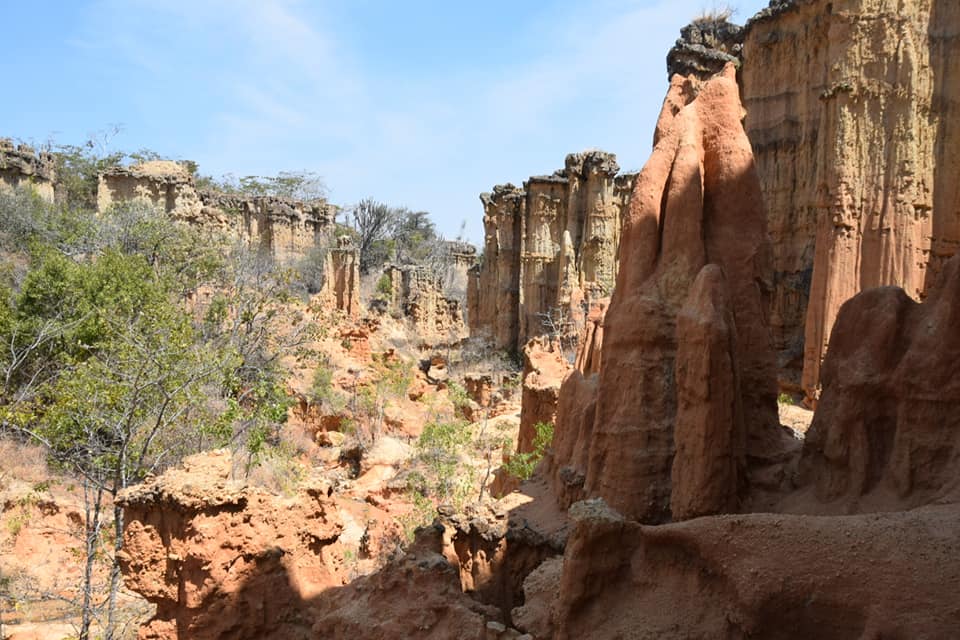 Isimila is located about 22 kilometers south of the town of Iringa. You can easily reach it by bicycle or by public transport by asking the driver to drop you off at the turning point.
There are also many private taxis in Iringa (car or motorbike), you will have to bargain for the price, the driver will wait for you at the site and will take you back to the city at the end of the visit. The latter solution is the most expensive, since it is a few kilometers away, we suggest you go by bike or by public transport.
Isimila Stone Age: Opening Hours and Entrance Fee
The entrance fee is 25000 Tanzanian Shillings for international tourists and 2000 for Tanzanian and East African citizens and it is open from 8 am to 6 pm.
The walk through the natural pillars is very beautiful, we suggest you go early in the morning or at sunset. The visit takes about one hour or more if you take a lot of pictures, a guide has to come with you.
Iringa Heritage And Its People
Iringa Region in the Southern highlands is dominated by a series of mountains namely Udzungwa on the East and Kipengere and Livingstone on the South West. The height of these mountains ranges from 2000m to 4,000m. The favorable rains have made this region a key producer of food and cash crop. The area is occupied by Wahehe, Wabena, Wakinga, Wawanji, Wamanda, Wakisii and Wapangwa.
The people of Iringa for a long time succeeded living in this area through strong technological advancement, agriculture production and political and military organization. Chief Mkwawa of the Wahehe is notable for establishing a very strong and extensive empire. During the time of German penetration he strongly resisted and defeated the Germany army under their Commander Zelewisk who was killed in the battle, which occurred at Lugalo on 17-8-1891.
Oral traditional sources in Ubena country confirm that from 16th-century people moved constantly from the coast up to Rufiji valley through Kilombero River to Ubena country. Likewise, studies from Iringa especially the area of Mtera and Kihansi indicate the existence of settlements in the area from around 200,000 years to as late as the Iron Age period.
Upper Kihansi has produced stone tools of the Neolithic period, potsherds and remains of iron working. Other pieces of evidence involve Iron Age Settlement in Iringa District and rock paintings at Kombanguru in Kilolo District.
Isimila Tools and Fossils
The Isimila exhibition shows evidence of an early Stone Age settlement known as Acheulian (called so because of the similarity of tools found in this site to St. Acheal, Suburb France where similar tools have been found.
The tools found in this site represent one of the latest known Acheulian traditions. The date is not clearly known but according to Phillipson the artifacts preserved at Isimila in southern Tanzania is probably of comparable antiquity to that of Kalambo, which is between 300,000 to 400,000 years ago. A large part of the tradition worldwide is known to date back to 1.5 million years ago.
The galley erosion on this site exposes amazing layers of soil and rocks of different types, which also mark the different periods. At the bed of this erosion many stone tools are found around the area.
Tools found on this site belong to the late stage of the 'Acheulian' hand-ax culture. Other common objects include Cleaver, hammers and scrapers. The tools are made from a variety of rocks namely granite, quartzite etc. Fossils found in the area suggest the existence of elephants, a variety of extinct pigs, giraffes and Hippo Gorgops.
The continuity of this society has depended on the reproduction and the production of material wealth for survival. This rich heritage can be revealed through observation of their household equipment, agricultural tools, arms, decorations, costumes, industry and technological advancement. Indeed, the region's climate, landscape, history and cultural heritage are potential for the tourism industry.
Where to Sleep in Isimila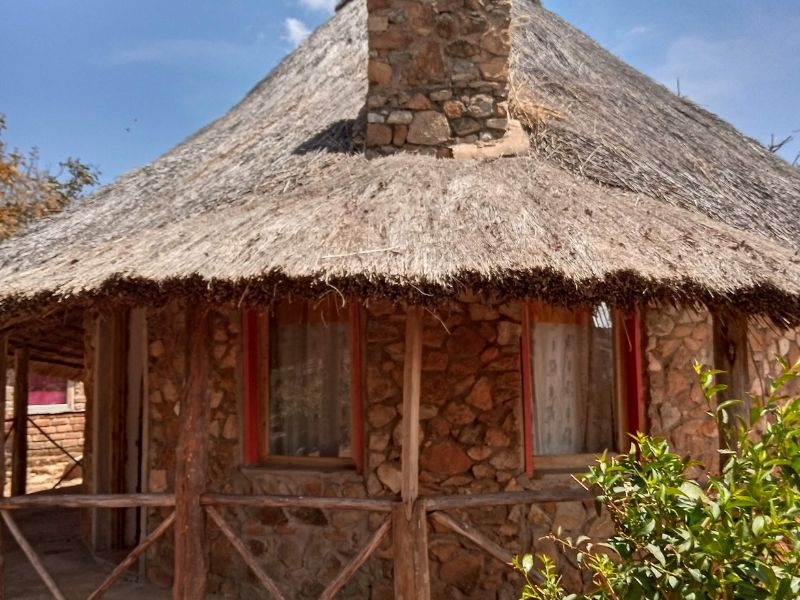 If you want to sleep next to the Isimila Natural Pillars there is a nice and cheap place very close to the entrance called Isimila African Garden. They have basic rooms, a campsite and a nice bar and restaurant area.
More about Tanzania?
Stay in touch while we get lost! Follow us on Social Media