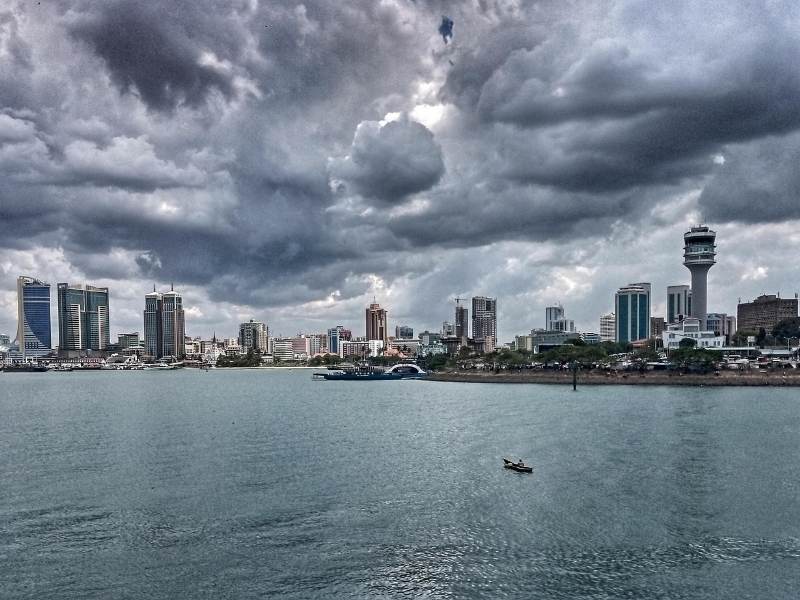 We spent 10 months Backpacking Tanzania, exploring it by bicycle, by car, and taking a few buses. Here will give you different itinerary ideas depending on the time you have available. One, two, or three weeks.
Tanzania is a large country, which offers different landscapes and cultures for all tastes, from the crystal clear waters of Zanzibar to the lush Usambara mountains, the climb in the clouds of Mount Kilimanjaro, the savannah of the immense Serengeti, the Ngorongoro crater, and lakes Eyasi, Tanganyika and Malawi.
Backpacking Tanzania is easy and cheap, and a wonderful way to really experience the Country.
Backpacking Tanzania: Self Drive vs. Public Transport
Disclosure: Some of our articles contain affiliate links. This comes at no additional cost for you and helps us keep this website up and running. (as Amazon Associates we earn commission from qualifying purchases)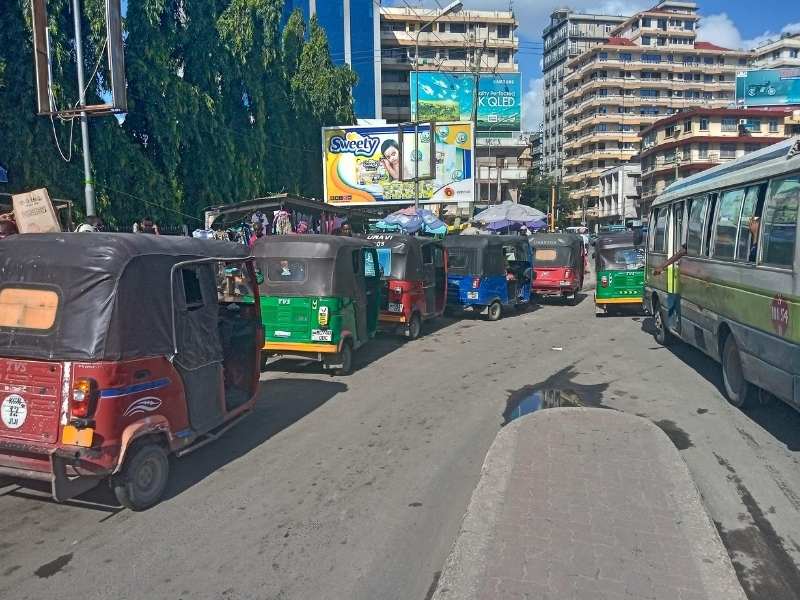 The short answer is: rent a car, especially if you don't have much time. We have traveled for a couple of months by bicycle from Malawi to Moshi, passing by the coast and the islands of Zanzibar and Pemba and it remains our preferred means of transport.
After that, we bought a second-hand Toyota Rav 4 and went around Tanzania, including the amazing Self Drive Safari. Of course, to travel by bike you will need more time but renting a car and bringing a bike with you to explore some areas around your base is a great solution.
We are not big fans of public transport and below we explain why. If you already have a means of transport in mind, skip this part and go directly to the itineraries. All the itineraries we suggest can be done by car, public transport or hitchhiking.
Backpacking Tanzania on a Rented Car + Self-Drive Safari
Public transport is not too bad and is always a good way to observe local life, but if you don't have too much time, the best option is to rent a car. Bear in mind that the speed limit is often 50km / h and checkpoints are everywhere, especially hidden behind the sign indicating the speed limit.
However, by hiring a car on-site, you will have a Tanzania license plate and you will be stopped much less often than foreign cars. There are many companies that offer rental cars, even with the option of dropping off the car in a different location. An interesting option if you want, for example, to rent a car in Dar and fly from Arusha.
The cost is around $ 30 per day for a midsize car and $ 50 for an SUV. We had an old Rav 4 and it is possible to access almost all national parks in Tanzania except Serengeti and Ngorongoro where it is necessary to have a Land Cruiser or similar. In our case, we would still have chosen to go with an organized tour of the Serengeti and Ngorongoro, not being really skilled in driving under certain conditions.
Also, you will not have the stress of driving and more chances of spotting animals. But we did several self-drives that are very fine even with a small car (Tarangire NP, Ruaha Np, etc). Another advantage is that in national parks Tanzanian cars pay a much lower rate than foreign ones, making your safari cheaper and giving you the chance to see more parks if you are on a budget.
Of course, it is also possible to rent a 4×4 with all the accessories to be self-sufficient (refrigerator, rooftop tent, and so on), here is one of the companies offering this service. This option is more expensive, not only for the cost of the rental, but for the consumption of gasoline, and we guarantee you from personal experience that a rooftop attracts the attention of the police who will notice you hundreds of meters away and it will almost certainly stop you.
We have just returned from a trip on a Land Cruiser in Namibia and we can say that 2/3 of the trip cost went on petrol. In our humble opinion, a smaller car is better where you can safely transport your camping gear. The roads in Tanzania are certainly not like those in Namibia.
Of course, if you are traveling alone, renting a car will be more expensive than using public transport. If you meet other travellers on the way, a good idea might be to rent a car together to explore some national parks or the wonderful Tanzanian coastline.
Tanzania Public Transport – Dala Dala/Tuk Tuk/Boda Boda
Most of the public transport in Tanzania is guaranteed by private companies that own the Dala Dala, small minibusses that are always overloaded and not very comfortable. Often knowing the duration of the journey is impossible, the driver will tell you that you will arrive in two hours but you will find yourself staying on the minibus for 4 hours because of all the stops along the way.
If you have bulky luggage you will have to pay extra. It happens that the ticket price for white people is higher than the real price. A good strategy is to get in line and see how much the locals pay and give the conductor the same amount. The ticket is paid directly to a driver's assistant.
As you may have guessed, we are not big fans of Dala Dala. There are also larger buses but usually only for connections between large cities. Of course, the Dala Dala are not expensive but if you are a group of 4, renting a car is not much more expensive and you will have the possibility to take alternative routes, to stop when you want and above all to take your time.
To this you must add that for any park you want to visit you will have to go on an organized tour, completely canceling the savings given by public transport. The dala dala will not leave you at your destination but at the bus station, and you will have to add the cost of a taxi or tuk-tuk or a boda-boda (motorbike taxi) to reach the campsite or guest house where you will spend the night. We met some guys who are crossing Africa with two Tuk Tuks, take a look at their project if you are looking for some original way to travel
Cost of Backpacking Tanzania
Local Guest House: From 8000 Tsh
Local Beer: 2,500.00 Tsh (try Ndovu, our favorite)
Standard Dala Dala ride in the cities: 400 Tsh
Bus Fare: 30 Km 850 Tsh, 40 km 1100 Tsh, and Tsh 56.88/km for big buses
Gasoline 1 litre: 3,410 Tsh
Entrance Fee National Park: 50 USD
Meal at a local restaurant: 4,500 USD
The price of public transport is increasing due to the raise in the petrol price, these are the prices as of the moment we write, August 2022.
One Week Backpacking Tanzania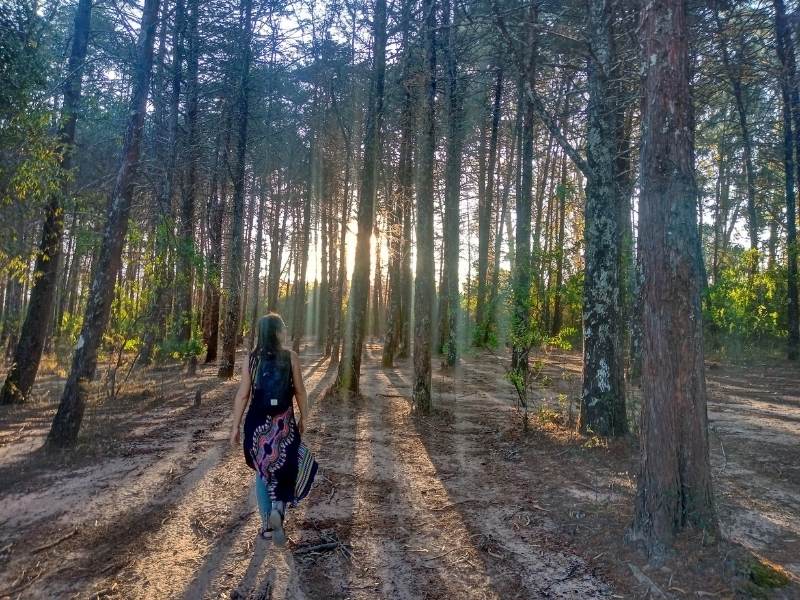 We have planned two itineraries for those who have very little time. The first one is done by flying to Arusha and Flying back from Zanzibar or Dar (or the opposite) while the other one is starting and finishing in Dar or Zanzibar. If you have more time jump to the 2 weeks backpacking Tanzania itineraries below.
One Week Backpacking Tanzania: National Parks + Zanzibar – Self Drive
Day one: Arusha to Mto Wa Mbu: 107 km – Visit Ngorongoro
Day two: Mto Wa Mbu to Tarangire National Park: 216 km – Visit the Park + Camp inside the Park
Day Three: Tarangire to Kondoa Irangi Rock Painting: 357 km – Visit the Caves
Day Four: Kondoa to Dodoma + Flight to Dar es Salam (around 150 USD)
Day Five: Dar es Salam to Zanzibar
Day Six: Paje Beach or Nungwi
Day 7: Flight from Zanzibar or Dar
This is a very concentrated itinerary if you really have little time available. We have not included the Serengeti in this itinerary because it will require at least a couple of days but you can decide to do Serengeti and Ngorongoro, go back to Arusha and fly to Zanzibar.
The details about the places in this 7 days itinerary can be found later in this article, in the 2 weeks itineraries.
One week on the beach – Mafia Island and Zanzibar – Public Transport Itinerary
Day one: Dar es Salam Airport to Nyasamati
Day two: Ferry to Mafia Island (the ferry to Mafia was very unsafe but as far as we know there is now a new ferry)
Day Three: Mafia Island
Day Four: Fly from Mafia Island to Dar es Salam or Zanzibar (flights are not every day so check the schedule in advance)
Day Five: Zanzibar
Day Six: Back to Dar and Visit Kimbiji Beach Lagoon
Day Seven: Back to Dar
This will be an adventurous week. You can catch a bus from Dar es Salaam Bagala bus station. It takes about 4 hours to reach Nyasamati, from where the ferry to Mafia Island leaves. Or you can fly from Dar to Mafia Island. It's only a 30 minutes flight and the price online is now 300 USD (it was much cheaper before Covid) while the ferry is 16.000 shillings (7 USD).
When we were in Dar we were told that if you go directly to the airport to buy the ticket they give you the local rate for the ticket, half the price, so give it a try.
The ferry ride, on the other hand, can be quite bumpy, especially in the rainy season so take all this info into consideration and make your decision. On this website, the ferry schedule should be up to date, send an email or call them to be sure. You can check the complete guide about how to get to Mafia Island on this website.
Mafia Island is famous for whale sharks, during peak season, October to March, you can see them just snorkeling close to shore and even from the plane.
Two Weeks Backpacking Tanzania – 3 Itineraries
Two Week Backpacking Tanzania: Off the Beaten Path National Parks + the Usambara Mountains + The Crystallin Sea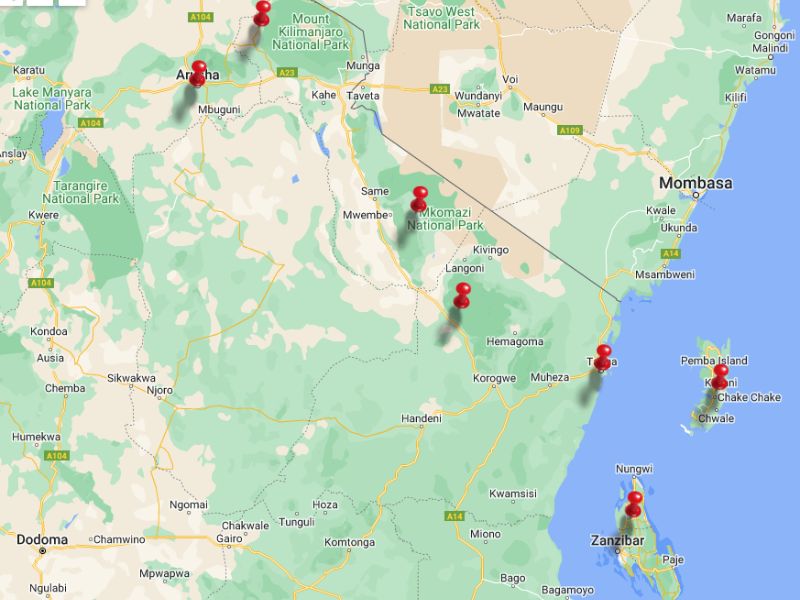 Day One: Zanzibar
Day Two: Zanzibar
Day Three: Zanzibar to Pemba Island
Day Four: Pemba Island
Day Five: Pemba to Tanga/Fish Eagle Point
Day Six: Tanga to Lushoto
Day Seven: Lushoto, Usambara Mountain, and Irente View Point
Day Eight: Lushoto
Day Nine: Lushoto to Mkomazi National Park
Day Ten: Mkomazi National Park
Day Eleven: Mkomazi National Park to Simba Farm
Day Twelve: Visit Enduimet Wildlife Park
Day Thirteen: Simba Farm to Arusha
Day Fourteen: Visit Arusha National Park and/or the amazing Cultural Heritage Centre
Itinerary Details and Tips
Pemba Island Ferry and Where to Stay
From Zanzibar you can take the ferry to Pemba Island, it leaves twice a week and it is operated by Azam Marine, there are also other unchartered ferry services but the schedule is not clear. We took the Azam ferry and it was pretty comfortable, the boat is big and there is a VIP room with air conditioning and a bar serving coffee, tea, and snacks. It is also possible to fly from Zanzibar to Pemba Island at around 75 USD for non-residents, only 20 minutes flight, you can check the schedule here.
Pemba Island is very different from Zanzibar, the population is Muslim and they are not used to mass tourism so dress appropriately. There is a simple but nice lodge called Lala Lodge close to the ferry dock, in the village of Mkoani, the cheapest we could find. The owner was very friendly and was providing cold beer, an item almost impossible to find on the Island. The island is known for the Manta Resort, they have floating underwater rooms at 1800 USD per night (minimum stay of 3 nights).
We rented a motorbike and went around the Island. Compared to Zanzibar, Pemba is wilder, it is greener and the villages are more authentic. Most of the beaches are mangrove, very fascinating but far from the white beaches of Zanzibar if that is what you are looking for. What is amazing is the underwater life, there are a few places offering diving trips at reasonable prices. If you want more information, read our complete guide about diving on Pemba Island.
Pemba to Tanga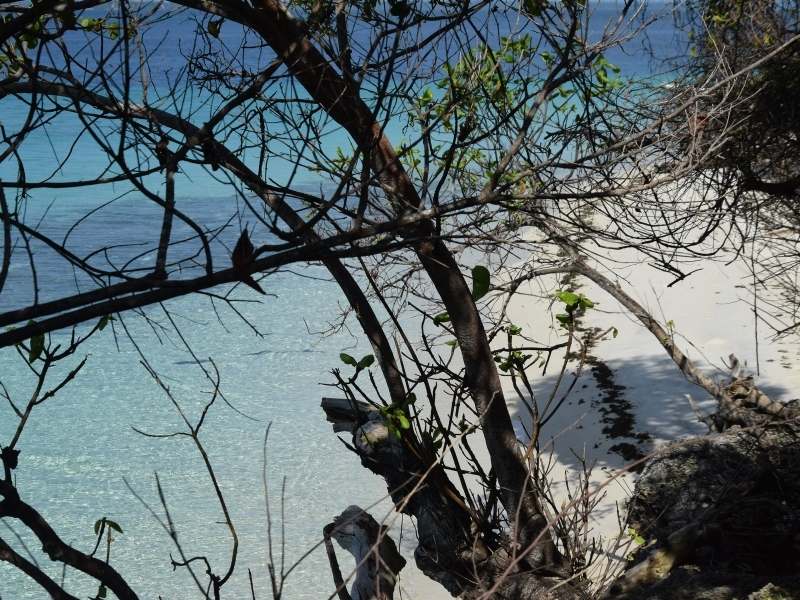 From Pemba there is a ferry, operated by Azam, connecting the island to the town of Tanga on the mainland. Tanga is a nice town with some nice restaurants, you can spend a night there if the ferry arrives in the evening, otherwise, we suggest you to go to Fish Eagle Point, about 50 km north of Tanga. They offer rooms or camping in an amazing location, with crystal clear water immersed in well-preserved nature. If you decide to stay in Tanga, go visit the Amboni Caves.
Lushoto and the Usambara Mountains
From Tanga to Lushoto is about 3 hours drive, if you travel by public transport, you'll have to take a bus and get off at the junction for Lushoto, in the village of Mombo (ask the driver), and then take another transport or hitchhike to climb to Lushoto.
The roads that go up are very scenic. We stayed at Lawns Hotel, you can camp or rent a room, there are braai facilities and a sauna for the guests. It can be pretty cold in the evening and you'll appreciate the sauna. There are many beautiful hikes and waterfalls around Lushoto, according to the time you have available you can decide to visit:
Irente View Point
Kisana Water Falls
Mambo View Point
Magamba
Ask to the hotel, they are very knowledgeable and they can find a motorbike to rent or a local guide to bring you around.
Mkomazi National Park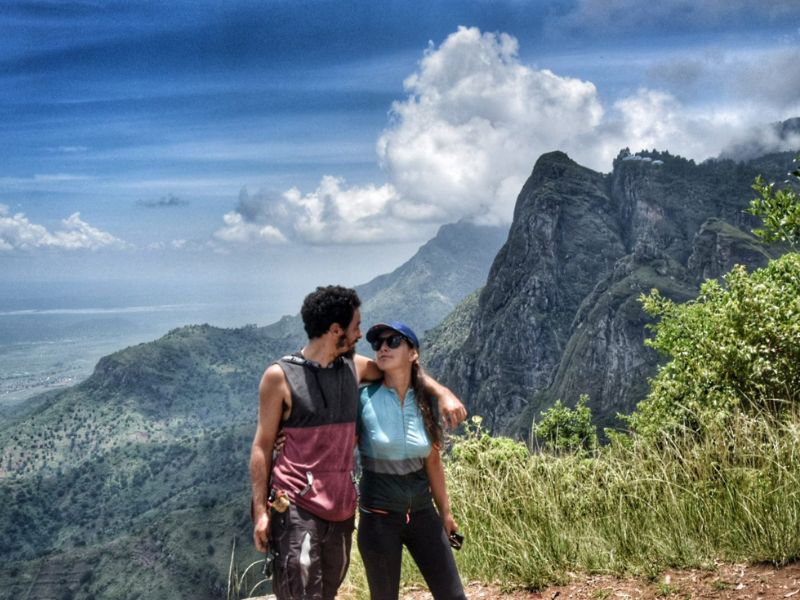 Back to the village of Mombo, keep driving to Same, from there you can take the road leading to Mkomazi National Park. You can decide to sleep in Same village and do a day drive in the park or sleep in one of the camping inside the park.
The highlights of the park include the rhino sanctuary, the walking safaris, the rare wild dogs, and, of course, elephants, giraffes, lions, leopards, cheetah, buffalos, and a population of 450 species of birds.
Mkomazi National Park to Simba Farm and Enduimet Wildlife Park
From Mkomazi you can reach Simba Farm, around Kiliminjaro, in about 5 hours. The Farm is very beautiful, they offer rooms, camping, and a swimming pool. The food is amazing, all locally produced on the farm, we suggest treating yourself to at least one dinner.
From the farm, you can visit the Enduimet Wildlife Park, the road that leads to the entrance of the park is around Kilimanjaro, very fascinating even tho in our experience it was cloudy and we have never seen the mountain…
The Park is managed by the local Masaai People, it is home to the biggest and oldest elephants in East Africa. There are no predators in the park, so the old elephants decide to retire in this peaceful place, south of the Amboseli National Park in Kenya.
There is no fence or border so be careful not to end up in Kenya by mistake. A local guide showed us a tree and told us that that was the border. The fascinating thing about Enduimet is that Masaai people live there, so you'll see shepards alongside giraffes. It is really off the beaten path, not many tourists go here but it was one of our favorite spots around Kilimanjaro.
Arusha – Wildlife, Mount Meru, Cultural Heritage Centre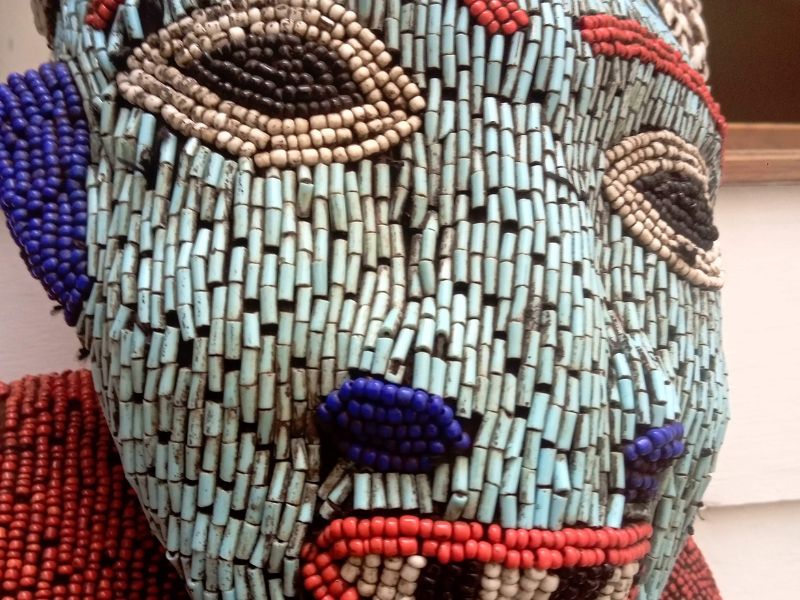 If you didn't have enough of wildlife you can spend a day at the Arusha National Park, it covers Mount Meru (4566 m). Mount Meru is also a cheapest alternative to climb compare to the crazy fee of the Kilimanjaro (around 2000 Usd).
If, instead, you want to relax, we highly suggest you to visit Cultural Heritage Centre, the first of this kind in Africa. Entrance is free, the architecture is fantastic and the art collection is immense. Modern art, artifacts, masks from all over Africa, you can really stay here for hours. The interesting thing is that you can buy what is on display.
Two Weeks Backpacking Tanzania: National Park, Lakes, and People
Day One: Arusha
Day Two: Arusha National Park + Cultural Heritage
Day Three: Arusha to Mto Wa Mbu
Day Four: Visit Ngorongoro Crater + Lake Manyara National Park
Day Five: Visit Tarangire National Park
Day Six: Serengeti NP
Day Seven: Serengeti
Day Eight: Serengeti to Eyasi Lake
Day Nine: Visit Hadza Tribe
Day Ten: Eyasi Lake to Lake Natron
Day Eleven: Lake Natron
Day Twelve: Lake Natron to Mto Wa Mbu
Day Thirteen: Visit the Masaai Villages on the other side of the Manyara National Park
Day Fourteen: Mto Wa Mbu to Arusha
Itinerary Details
Arusha
We have talked about Arusha in the previous itinerary.
Mto Wa Mbu – Visit Ngorongoro Crater + Lake Manyara National Park
The small town of Mto Wa Mbu is the ideal place to explore the magnificent parks around. You can choose from the many camping, lodges, and backpackers in town and use it as a base. The closest parks are Lake Manyara National Park and Ngorongoro Crater.
If you are on a tight schedule you can visit both of them on the same day, one in the morning and one in the afternoon. As far as we know you need a 4×4 to visit Ngorongoro on your own, also the permit for the car is quite expensive and people usually choose to go with an organized safari.
The view from the top of the crater is fantastic, and once down it is like a natural huge zoo. Because of the steep crater walls, most animals concentrate inside and you don't need to drive for a long time to spot them. We immediately encounter a lioness, elephants, herds of gnu and antelopes, a rhino, and a jackal. All of this in about one hour. The maximum elevation at the top of the crater is 2,286 meters, it can be pretty cold.
The Lake Manyara National Park, very close to Ngorongoro, is a completely different scenery. The road inside the park passes through quite a dense forest and spotting animals is not easy, they can be very close to you but you'll be unable to see them. When we were there, during the rainy season, most of the small roads going on the lake shore were flooded and not accessible.
We were told that in that season there are not many birds, one of the famous features of the park, or hippos because the water level was too high. Another interesting aspect of Lake Manyara Park is the presence of the so-called tree climbing lions, so look up to spot them sleeping on the acacia tree branches.
Lions are known to be climbers only here and in the Queen Elisabeth Park in Southern Uganda. There are many theories on the way they adopted this unusual behavior only in these two places but nobody knows for certain the reasons.
During our visit in August, the park was full of tse the fly. They are attracted by dark colors, especially blue and black (the color of our car) so don't wear those colors and try not to open the windows until you are in a "safe" place.
All the Lake Manyara National Park Fees can be found here. And here are Ngorongoro Park Fees.
Tarangire National Park
Tarangire is a beautiful park, full of wild animals. Every year, from June to November, the dry season, a big migration happens in the park. It is not as big as the famous one in the Serengeti but it is still impressive.
During those months, the only source of water in the park is the Tarangire River. We can define Tarangire as a seasonal park, if you travel during the rainy season, you can decide to skip Tarangire and spend more time in Manyara, where the animals move when the rain arrives.
Besides self-guided drives in the park, it is also possible to organize night drives, walking safaris, and a magic hot air balloon ride over the park. There are several options to sleep in Tarangire, one of the most popular is the Tarangire Treetops, located on a property next to the park and not for those on a budget, $750 to $1200 per person.
There are budget options, camping, and tented lodges or, probably the cheapest is to sleep in one of the local guest houses outside the park, we stayed in the village of Kwa Kuchinia.
All the Tarangire National Park Fees can be found here.
Serengeti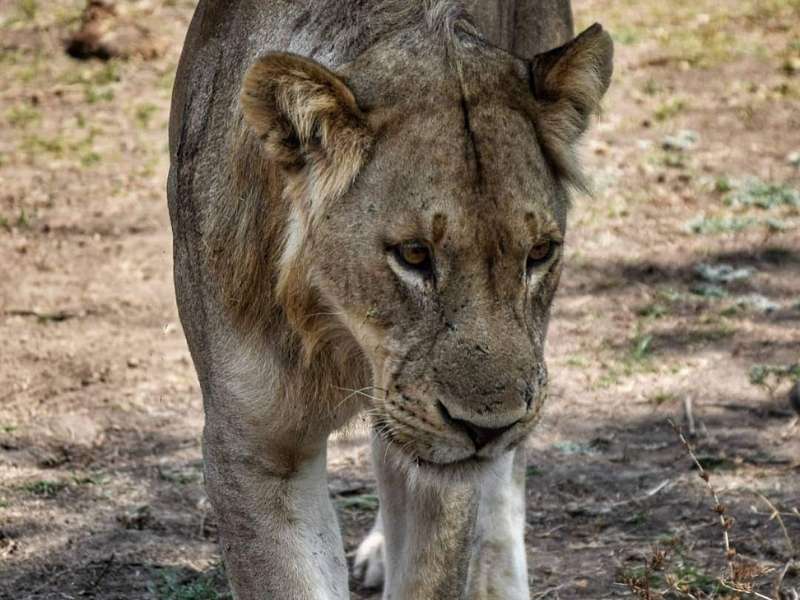 The Serengeti is probably the most famous National Park in Africa, and for a reason. The number of animals here is impressive. If you are lucky enough to be in the park during the great migration you'll know what we are talking about.
You cannot go on a self-drive if you don't have a proper car. We suggest spending at least 2 nights in the park, especially if you are there during the migration between January and March.
There are literally hundreds of companies organizing tours in the Serengeti, for different budgets and lengths. We don't have a particular tour operator to suggest to you, here you can check the park's official website to have all the information.
Eyasi Lake and Hadza Tribe
Lake Eyasi is a really off-the-beaten-track landmark in Tanzania. Although located in the most visited region of the country, bordering Ngorongoro Conservation Area and pretty close to Lake Manyara, this fascinating place is rarely visited, if not by those interested in visiting the Hadzaba "bushmen" community. the other one going along the Lake to the road Singida-Mwaza might probably be tackled by real adventure seekers with the proper vehicles.
About 8km from Mangola, there's a tourist office where you're supposed to register and pay a fee of 20$ x car. If you are planning to engage in any cultural activity, meaning usually a visit to the local Hadza tribe, the fee skyrockets to a steep 110$ per car.
What we've understood talking with locals, this fee should only be paid if you plan to overnight on the Lake's Shore. The fee allegedly goes to the community but we hardly believe that given the conditions in which the local communities live – among the poorest we've seen in Tanzania (and not just the Hazda, who basically don't know money).
Genetically, the Hadza are not closely related to any other people. They grow no food, raise no livestock, know no calendars, and don't have words for counting past 4.
They are a living hunter-gatherer tribe whose lifestyle is almost unchanged for 10,000 years.
Their language resembles those of the once Khoisan of the Kalahari, for the use of the distinctive clicks, the Hadza language (Hadzane) though, has been proved to be an isolate, unrelated to any other.
According to the Tanzanian Government, only about 1,200/1,300 Hadza people are still around, with just about 400 still surviving exclusively through their traditional means of foraging. much of the money from tourism is allocated by government offices and tourism companies rather than going to the Hadzabe.
Read our Complete Guide about Eyasi Lake
Lake Natron
This is the only place listed in this article where we have not been, and we regret it. Lake Natron is a spectacular alkaline lake. Read this travel blog to have more info about the area.
Masaai Villages around Mto Wa Mbu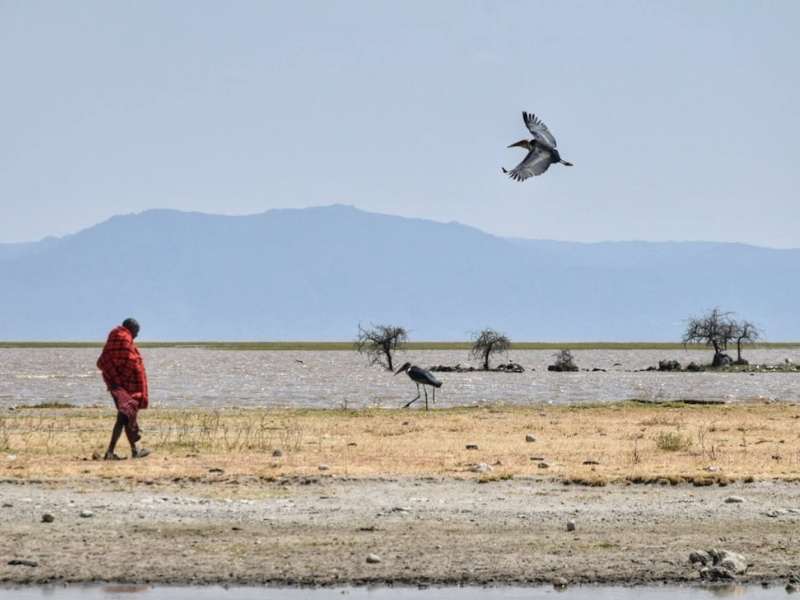 This was one of our highlights during our time in this area. From the village of Mto Wa Mbu we cycled (there are bicycle rental shops in town) for a few km on the main road going south until on your right you'll see a sign indicating "Rift Valley".
We took that dirt road, it will bring you to the shore on the Manyara on the other side of the park (for free), passing through authentic Masaai villages, it is very common to see the cows together with zebras and wildebeest. Cycling there is pretty easy and we really suggest you go visit that area, to detox from the super touristic safari world and meet the real inhabitant of the area.
Two Weeks Backpacking Tanzania: From the Sea to the hilly Southern Tanzania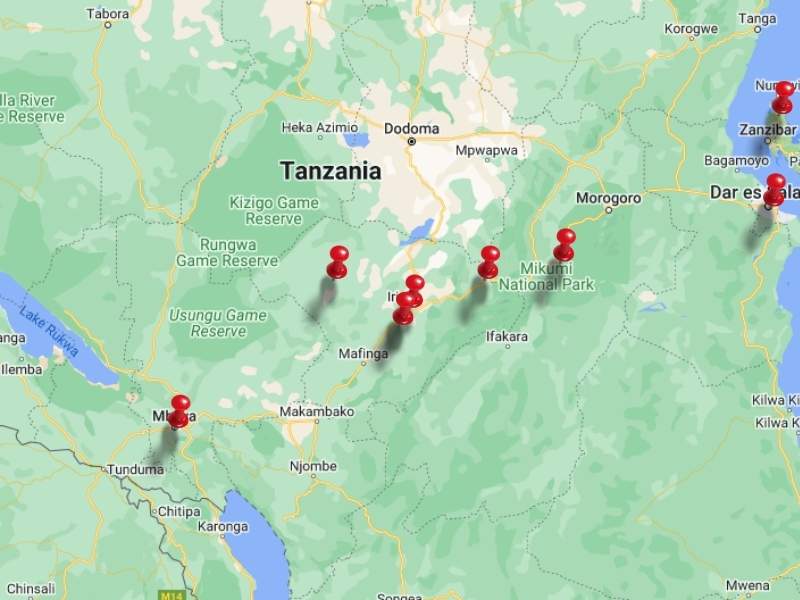 Day One: Dar es Salaam
Day Two: Zanzibar
Day Three: Zanzibar
Day Four: Zanzibar
Day Five: Dar es Salaam to Mikuni National Park
Day Six: Visit Mikuni
Day Seven: Mikuni to Udzungwa Mountains National Park
Day Eight: Udzungwa Mountains National Park
Day Nine: Udzungwa Mountains National Park to Iringa
Day Ten: Iringa rock painting + Stone Age Site
Day Eleven: Iringa to Ruaha National Park
Day Twelve: Ruaha National Park
Day Thirteen: Ruaha Np to Iringa
Day Fourteen: From Iringa to Mbeya + Fly out from Mbeya
Itinerary Details
Dar es Salaam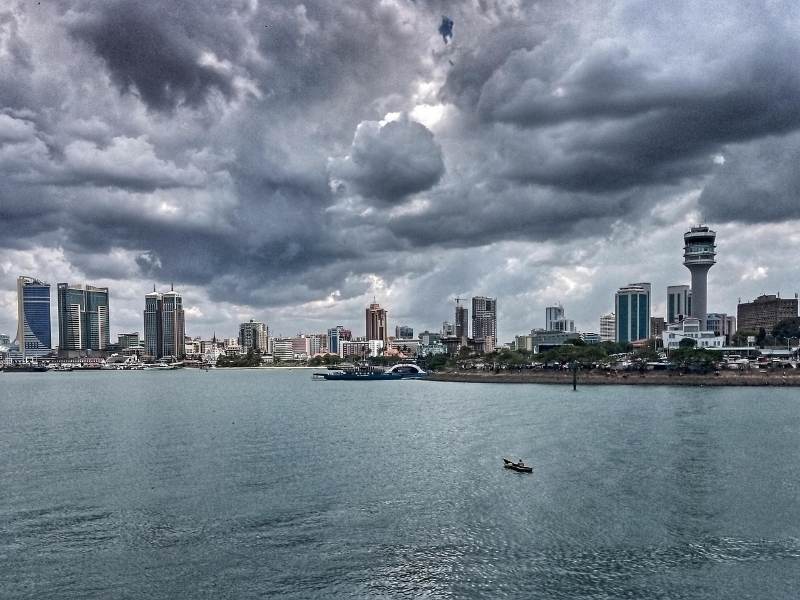 Dar Es Salaam is the de facto capital of Tanzania, with a population of 4.3 million inhabitants. For most tourists, Dar Es Salaam is the de facto capital of Tanzania, with a population of 4.3 million inhabitants.
For most tourists, Dar is just the city of arrival or departure. But we believe that a visit to the city is more than necessary. With large markets, clubs, and restaurants for all tastes, Dar is a great way to get in touch with all the country's differences and its people.
Walk around Kariakoo Market or go to see the Kikuvoni Fish Market when the fisherman arrives to sell their catch, try the street food, and go drink a beer at Coco Beach, a very popular spot among the locals.
Around Dar, crossing the impressive Kigamboni Bridge you can reach beautiful beaches, very busy during the weekend, and going a bit farther, you'll reach the amazing Kimbiji Beach Lagoon. From Dar, you can also visit some islands close by such as Mbudya and Bongoyo. You can just enjoy swimming and snorkeling or organize a diving trip.
Zanzibar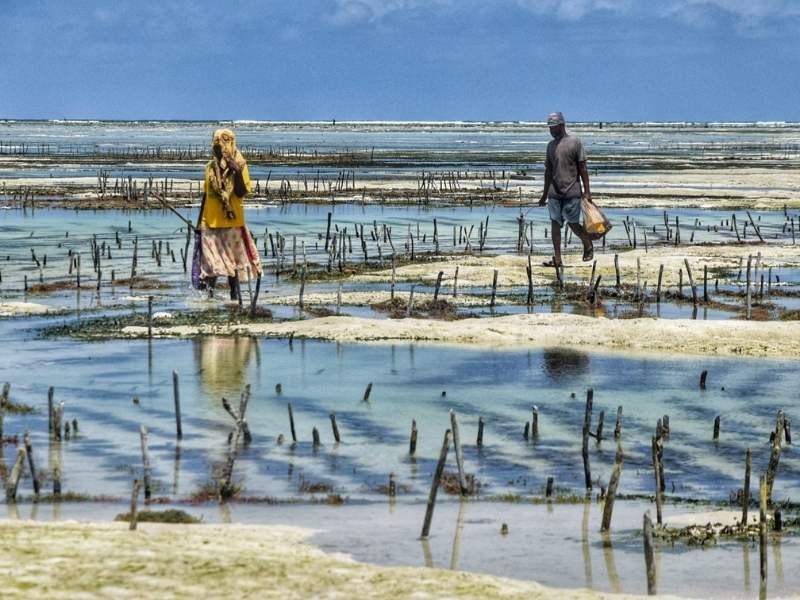 We were not sure if we wanted to visit Zanzibar, we thought it was just too touristic but in reality, if you stay away from the tourist traps it is very pleasant. Stone Town, the main city is beautiful and rich in history, and there are many bars and nice restaurants to hang out.
We spent our time on the East Coast, in Paje and our absolute favorite is Mustapha's Place, a mid-range accommodation in Paje. The place is really worth more than the 40$ they charge for a double room. The garden is stunning and the pool is one of the best I've seen on the island – big and shaded. The rooms are made with local materials, some are really pretty, some a bit less.
There's a huge restaurant terrace but the food is a bit overpriced and quality depends a bit "on luck". Many activities are available on the island, we wrote a guide about diving in Zanzibar and Pemba if you are interested.
Mikuni National Park
Mikumi National Park is a park near the city of Morogoro. It is very popular among the locals because of its vicinity to Dar and also perfect for people who don't have much time to go to other parks far away.
You can organize a day tour or spend a night inside the park. The main road from Morogoro to Dar passes through the park and it is actually possible, and very luckily, to see animals from the road (the picture above was taken from the road).
Udzungwa Mountains National Park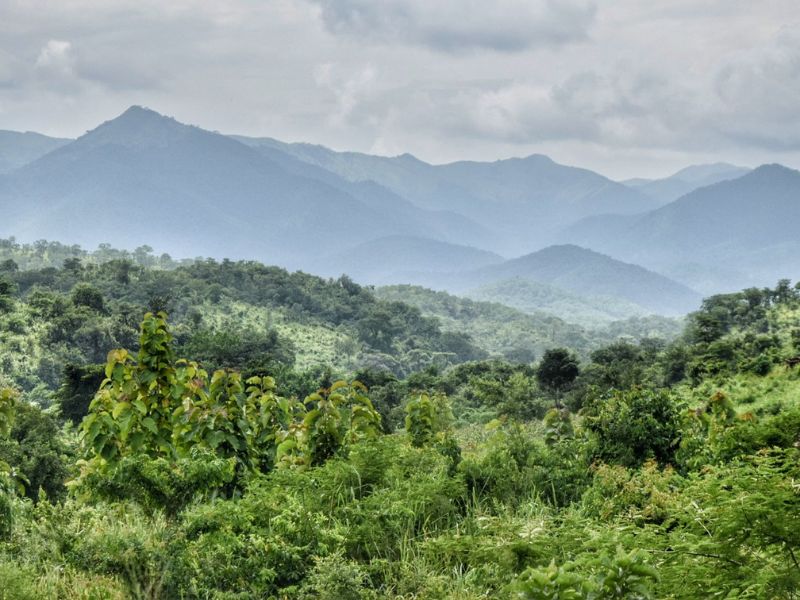 Udzungwa Mountains National Park is a wonderful park, you can hike through the tropical rainforest and many waterfalls. The park is also home to the red colobus monkeys. A guide is mandatory. We slept at Crocodile Camp, where we actually spotted a croc, they can organize a guided hike to the park. There are several companies organizing tours to the Udzungwa Mountains, including day trips from Mikumi National Park.
Iringa rock painting + Stone Age Site
Iringa is a very nice and relaxed town with perfect weather, it is never too old. Tourists often stop here on their way to Malawi or use the town as a base for visiting Ruaha National Park and other attractions nearby.
We visited the Isimila Stone Age Site and Natural Pillars, which is only 20 km from Iringa and is one of the most significant Stone Age Sites in the world from an archaeological point of view. Read our complete guide about Isimila to have all the information. Another interesting spot close to Iringa is the Igeleke Rock art site, similar to Kondoa but much smaller. You can visit both sites in one day.
Ruaha National Park
Ruaha National Park is Tanzania's second largest Np (after Nyerere NP). We did a self-drive tour in the park and slept inside, in one of the old tourist bandas for 30 USD, the room was nice and clean. You can book your room at the entrance of the park.
The entrance ticket is valid for 24 hours so we suggest entering around 4 pm to enjoy the sunset, you've most of the next day available and then you can sleep in one of the many nice accommodations outside the park if you don't want to drive back to Iringa at night, we stayed at Tungamalenga Lodge, 15 km from the park, basic, cheap and clean. Restaurant and bar on site.
It is officially possible to pay with a credit card but because of the remoteness of the area, sometimes you have to wait to get signal. The park is immense and there are not many tourists there, which creates a magic atmosphere, the real feel of being in the wild by yourself. Another thing we liked about this park is that, close to the bandas where we slept there is a village/headquarters with a gas station, a car mechanic, a school and a soccer field for the workers' kids and a local bar and restaurant.
The prices were just like those of a normal local bar outside the park, the lady was preparing rice and beans, no other choice, but we could hang out with the park workers who came here after work for a beer or to watch TV. A very different vibe compared to other Tanzanian Parks. We have seen many animals, we followed a group of 60 elephants on their way to the pond at sunset. Spectacular.
The road from Iringa to Ruaha is a dirt road called "Neverending road" but well maintained, it will take about 2 hours to drive the 120 km distance. If you don't have a car available you can organize a private transport from Iringa or join a budget safari.
All the Ruaha National Park Fees can be found here.
Mbeya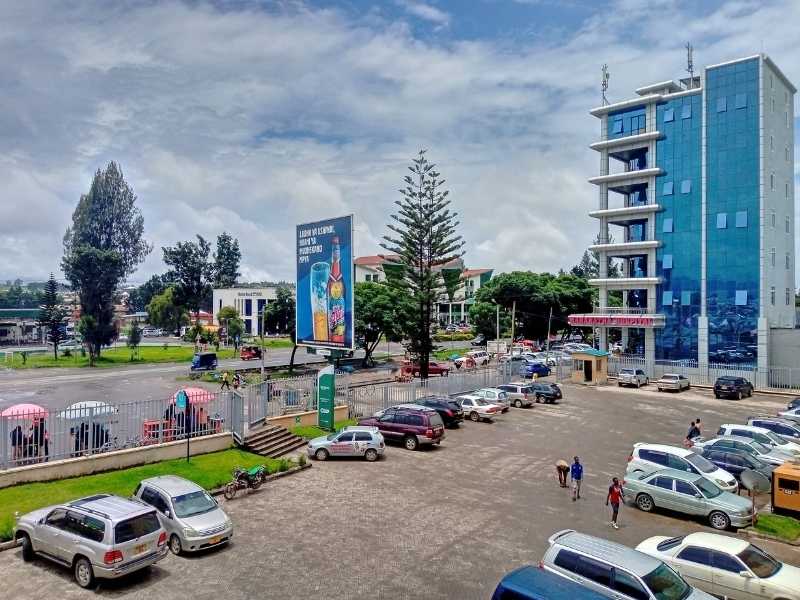 There is not much to say about Mbeya, it is a stop on the way to Malawi or to fly back to Dar or other Tanzanian cities. The city is chaotic and not so nice but we spent a couple of days at Utengele Cofee Farm, a fantastic farm to immerse in nature, with a swimming pool, a tennis court, a nice restaurant, and very cheap full contained apartments.
Three Weeks Backpacking Tanzania
If you have more than two weeks you can combine the one and two weeks itineraries or simply spend more time in places you like.
Some Useful Phrases for Backpacking in Tanzania
Hello: Jambo/Habari
Thank You: Asante
Where is…?: Ni wapi…?
Yes: Ndiyo
No: Hapana
How much is it: Nibei Gani
Room: Chumba
Vegetarian: Mla Mboga
Numbers: moja (1), mbili (2), tatu (3), nne (4), tano (5)
Is Dar es Salaam worth visiting?
Dar Es Salaam is the de facto capital of Tanzania, with a population of 4.3 million inhabitants. For most tourists, Dar is just the city of arrival or departure. But we believe that a visit to the city is more than necessary. With large markets, clubs, and restaurants for all tastes, Dar is a great way to get in touch with all the country's differences and its people. Walk around Kariakoo Market or go to see the Kikuvoni Fish Market when the fisherman arrives to sell their catch, try the street food, and go drink a beer at Coco Beach, a very popular spot among the locals.
Is Tanzania expensive to travel?
No, Tanzania is not expensive. Of course, you can spend a fortune if you like but if you are on a budget, Tanzania is a perfect destination. Accommodations are cheap and clean, food and drinks are cheap and it is very easy to move around with public transport or hitchhiking.
Is it safe to travel to Tanzania alone?
No country is 100% safe but we can say that backpacking Tanzania is pretty safe, especially far from the big cities. While in Dar, it is better to move around by taxi and not walk alone at night.
What is the best time to go on a safari in Tanzania?
The best season to visit the Serengeti and other parks in Tanzania is from January to March and from late June to October.
How can I spend 2 weeks in Tanzania?
Day One: Arusha
Day Two: Arusha National Park + Cultural Heritage
Day Three: Arusha to Mto Wa Mbu
Day Four: Visit Ngorongoro Crater + Lake Manyara National Park
Day Five: Visit Tarangire National Park
Day Six: Serengeti NP
Day Seven: Serengeti
Day Eight: Serengeti to Eyasi Lake
Day Nine: Visit Hadza Tribe
Day Ten: Eyasi Lake to Lake Natron
Day Eleven: Lake Natron
Day Twelve: Lake Natron to Mto Wa Mbu
Day Thirteen: Visit the Masaai Villages on the other side of the Manyara National Park
Day Fourteen: Mto Wa Mbu to Arusha
Check our articles for more itineraries ideas
How many days is enough for Tanzania?
If you want to visit the parks and Zanzibar you'll need around 10 days, doing everything in a bit of a rush. We suggest at least 2 or 3 weeks to have a good and more relaxed experience.
Stay in touch while we get lost! Follow us on Social Media