Cycling South India! Karnataka, Tamil Nadu, Goa… 7 Epic bikepacking & road cycling trips
With 3 bicycle touring routes + 4 exciting 1-day bike trips
Cradle of the millenary Dravidian civilization that still reverberates in stunning architectural wonders, evocative landscapes, and mesmerizing cultural expressions – South India is hard to beat as a travel destination.
Let us reveal you a little secret: South India is also a great place to be explored by bicycle.
Beware, travelling South India by bike isn't tailored for the solitary cyclist seeking out the monochromatic silence of the desert emptiness. Cycling South India is an immersive experience crammed with striking colours, pungent smells and heartbreaking encounters.
Do you feel enticed, yet? This guide will provide some insights to help you plan the perfect itinerary, avoid the most common annoyances and get ready for a rewarding and unforgettable bike trip in Southern India.
check also
> Cycling Sri Lanka – Our 30-day Bikepacking Tour
Table of Contents
Disclosure: Some of our articles contain affiliate links. This comes at no additional cost for you and helps us keep this website up and running. (as Amazon Associates we earn commission from qualifying purchases)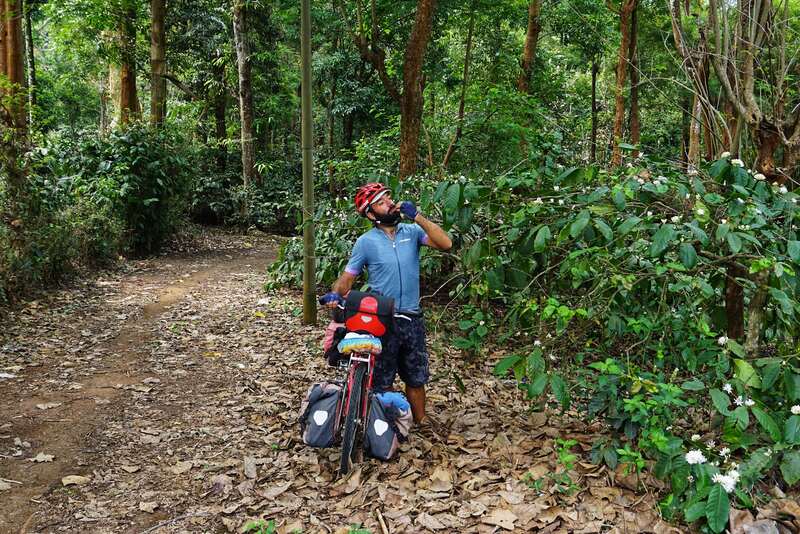 Best season to cycle in South India
South India has a tropical climate and is interested in two monsoon periods. The southwest monsoon from June to September sweeps all southern states with daily heavy rainfall that affects roads condition and travel practicability. The northeast monsoon in October and November is a less impactful affair that hits especially Tamil Nadu.
December, January and February are the driest and coolest months, while temperatures and humidity steadily build up throughout March and April to reach their smothering peak in May.
The winter season from December to February is the ideal period for travelling and cycling in South India. Kerala, Tamil Nadu and Karnataka plains are best visited during this time.
In the traveller enclaves of Goa and Hampi you can avoid the biggest crowds and get better deals in shoulder seasons (November or March).
The mountain area of Kodagu (Coorg) in Karnataka is most gorgeous in March and April, when the air is heavenly scented by the coffee flowers in full bloom.
During spring's hottest months, Indian tourists swarm the hill stations of the Western Ghats to get some respite from the city's sultriness, and weekends can get pretty busy.
The same happens in holy sites during religious festivals; if you want to witness these spellbinding visual feasts, be ready to shop around for lodgings as accommodations get packed with pilgrims flocking in colourful hordes to otherwise slumbering towns.
What to pack for a bike trip in South India
Even if we travelled South India on a fully loaded touring bicycle without any problem, we'd advise choosing a lighter setup. Bikepacking is probably the best option.
Since cheap eateries and affordable lodgings are available at every street junction, camping gear and stove are totally superfluous.
Useful items to carry include:
Essential spares (including tubes) as bicycle parts are hard to find outside big cities
Smartphone with a map or GPS to navigate the best roads
Battery pack for long rides
Helmet for busy urban stretches
Thermos water bottle to keep your water cool or your chai hot
Sweat-resistant sunscreen
Electrolytes if you sweat heavily
Baggy clothes to avoid disapproving stares or offending local customs
Slip-on sandals handy to remove when visiting holy sites
For the rest, refer to our articles:
> Bikepacking Gear List! The Ultimate Cycle Touring Packing List
> Essential Gear for Bicycle Touring and Bikepacking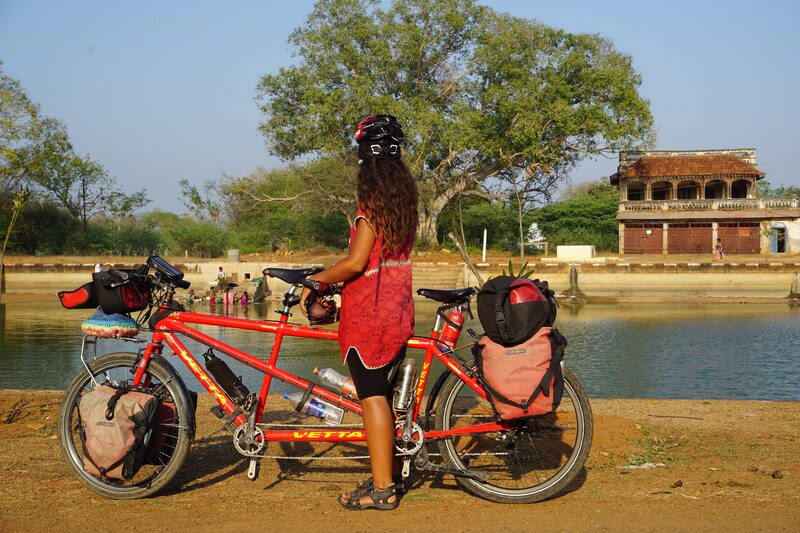 Best bike to cycle South India
Road conditions are surprisingly good in all Southern India states. You'll likely be riding on smooth tar roads most of the time. Now and then, some short stretches might be unpaved, but the surface is generally hard, compact and even, at least outside rainy seasons. 
Potentially, any bicycle would do, as long as it's comfortable to ride on tarmac and you keep your luggage reasonably light. You can't go wrong with a gravel bike with a bikepacking setup. 
Mind your gears if you venture on the Western Ghats, as the climb can get strenuous.
Proper off-road trails are rare; to get your mtb adrenaline fix, try your luck around the mountain areas of Munnar, Coorg, and Goa interiors, or directly head to Himachal Pradesh.
It's preferable to get any mechanical issues fixed before arriving in South India, since bike shops are hard to come by, and their scarce supplies are extremely low quality.
check this!
> What's the Best Type of Bike For Touring and Adventure Cycling?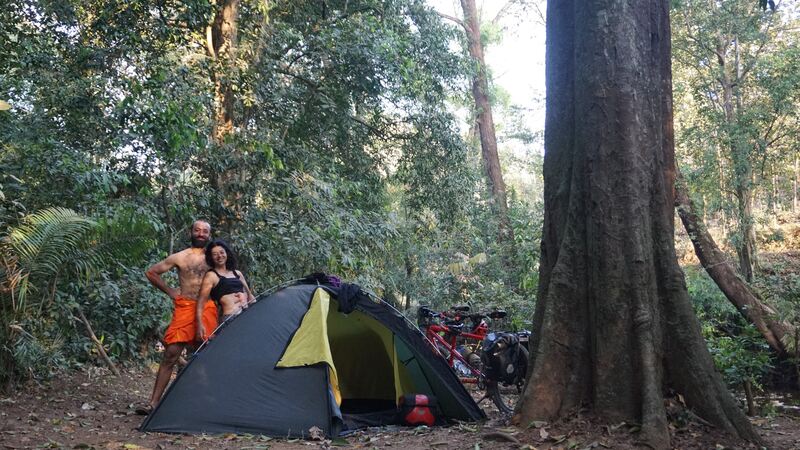 Wild camping in Southern India
Wild camping in South India is not impossible, but challenging in most places, and not advisable in some cases.
We camped only in the Western Ghats, and in a Jainist cave not far from Madurai. We saw other potentially suitable camping spots in small patches of forest between cultivated fields, but we didn't feel comfortable putting our tent there.
Reason being that it's impossible to get unnoticed. People's attention is inevitable, ubiquitous, and constantly demands a relaxed attitude, the patience of a saint (or rather a sadhu), and an unassailable willingness to give up personal space.
While it would be generally safe to set up camp in or nearby a village, don't expect a quiet night of restorative sleep. In all probability, your tent will become the main attraction of an impromptu and crowded village gathering.
We strongly advise against stealth camping near cities or bigger towns. The incidence of intoxicated men is high and many people hold misconceptions about women travelling alone. That's why we wouldn't recommend wild camping in South India to a solo female cyclist.
Accommodation options when cycling South India
There is plenty of affordable lodging in every town. Standards vary widely, and price is not always a reliable indicator of quality. The rate for a double room (no AC) is typically 9-15 $. It's easy to find cheaper deals in tourist hotspots or pilgrimage sites.
Most places will let you store your bicycle in your room or in a parking lot diligently guarded by an unfailingly toothless centenarian watchman. Our take on this peculiar South Indian phenomenon: the most inoffensive the custodian looks, the safest the place must be.
You'll learn soon enough that the word "hotel" indicates local eateries that don't offer accommodation. Restaurants, on the other hand, are often located on the main floor of a lodging building, with the counter doubling as a reception desk.
A word of warning: in some towns outside the tourist map, finding a hotel that is allowed to host foreigners can be a quite frustrating affair. Most receptionists will indulge in small talks, show you various rooms, double-check your passport, scrupulously register your data and make few phone calls before they realize or admit they can't give you a room, often with the hilarious excuse that the multistorey deserted hotel is fully booked.
Don't lose your temper, mama India is just training your tolerance buoy once again. There's surely a better lodge that will take you in, most probably around the corner, just ask around and exercise your irony.
If you feel the need to, you can find the local police office and ask them to help you with the check-in (we never experienced that, but a solo female cyclist gives out this tip – cyclingcindy.com).
Using booking services (booking.com, Oyo) is a bit of a hit-and-miss option, since the following occurrences – obviously all experienced first-hand – are possibly going to happen:
hotel employees often have no clue about the online booking system;
hotel policy regarding foreign guests is never clearly stated and you may be refused upon check-in;
locations and room conditions are rarely as advertised.
Warmshowers and Couchsurfing are worth checking. We were hosted a few times and always had positive experiences (and some remarkable ones). Be alerted that in India, like elsewhere, some people use hosting websites as dating apps.
Safety and dangers of Southern India
The main problem when cycling India is traffic. Travelling by bike across the most populated country in the world may sound like a crazy idea – and granted, it gets crazy!
However, as the land is huge, so are regional differences. Traffic in South India is nowhere comparable with the hectic honking mess encountered in the northern Indo-Gangetic plains of the country.
Southern states, moreover, are the wealthiest of all India, and that reflects on the quality of infrastructure. The road network is vast, articulated, well-maintained, and mostly paved. Hence, there's a wide choice of good secondary tarmac roads where to pedal in all tranquillity soaking in the beauty of the landscape.
In any case, general planning of the itinerary is recommendable to avoid main busy roads and possibly escape altogether big cities traffic.
Pro tip! A strategy we used in major urban settlements (i.e. Chennai, Trivandrum and Madurai) was to find accommodation in a quiet suburb on the city outskirts and take public transport or a rickshaw to visit the bustling centre.
The train ride on an open overcrowded carriage in Chennai was a quintessential Indian experience itself.
We've left our tandem bicycle unattended several times in towns and villages in front of restaurants or temples without any trouble.
Your bike will be touched by a myriad of curious hands, its brakes squeezed, its wheels spun, its pedals stepped on (that's why we kept it unlocked, to avoid our heavy lock damaging the spokes).
Apply the golden rule for any Indian situation: be patient, be confident, and learn how to wobble your head like Indians do. It will soothe your mood, relax your facial expression, and dance your thoughts in a positive groove. As a local would put it: it will attract good karma.
During the three months we spent cycling through South India, we were never overcharged or approached with mischievous intentions. None of the plentiful drunks we met ever bothered us, and we felt perfectly safe wandering around towns at night, of course avoiding places where only intoxicated men were to be seen.
Female cyclists should expect constant staring, countless clumsy attempts to close contact during the daily selfies photo sessions, more or less explicit sex and marriage proposals.
Avoiding eye contact and wearing loose-fitting clothes are some basic advice given by women traveling alone to discourage male attention.
Stefania found herself comfortable enough cycling in calf-long leggings and a wide t-shirt, changing when off the bike in a bottom-covering kurta (local informal mid-sleeve garment).
Bikes on trains and other transports in India
If the heat strikes and the distances become suddenly overwhelming, you can simply take advantage of the efficient Indian railway system. Arranging a ticket is easy, even if time-consuming, as you'll need to bring your bicycle to the luggage office at least one hour before departure (check out the office opening hours before buying your ticket).
Remember the golden rule and follow our tips!
First, check out scheduled days and times on the Indian Railways website.
Then, buy your ticket at the station counter.
Now, you can go to the luggage office to drop off your bicycle and any bulking bags you don't want to carry on your train journey.
You will be asked if you want your bicycle to be packed; we've always accepted as the workers seem to greatly appreciate the extra-tip and to handle the bike with a bit more care (ok, maybe we are easily impressionable – anyway, they would just tape some plastic tarp around the saddle).
They will weigh your bike, charge you accordingly, and give you a receipt. You will have to show this receipt at the luggage office of your arriving train station to get your bike back.
It may happen the office is closed or your bike is still not there upon your arrival: don't get desperate, since not every time your bike will be traveling on your same train and it could get delayed even for some days.
And don't panic if you see a teenager riding your bicycle in the middle of the night across the deserted station square: he's just doing his job safely delivering your beloved two-wheeler to the right carriage (yeah, we've witnessed that happening!).
With busses and minibuses everything is much more straight-forward, just load your bike on the vehicle as safely as you can (often not easy). Sometimes the driver might ask for a fee, you can bergain on that.
Costs of a bike trip in Southern India
Here are some tips and examples of average prices to help you plan your daily budget.
Rates for a double room:
(no AC) with western toilet: 9-15$ in nondescript towns;
6-12$ in tourist hubs.
Sometimes you can save some dollars if they have shared bathrooms.
Worth splurging on AC when needed (and when it's effectively working).
Vegetarian Food
South Indian thali: 0,50-2$
Thali is the perfect meal for cyclists. Strictly vegetarian, served for lunch on a banana leaf or steel platter, it consists in a generous portion of steamed rice accompanied by a diluted and fiercely spiced lentil soup (sambar), vegetables, curd and a colourful selection of equally fiery chutneys.
You'll get free refill until your stomach is full and your taste buds forever burnt.
For breakfast, rice is substituted by
idli (spongy steamed cakes)
dosa (crispy pancakes)
both are made of rice and lentils flour.
If you fancy a non-vegetarian meal, look out for a Muslim stall; they usually serve roasted chicken or less frequently Chettinadu chicken curry. Prices are a bit higher (3-5$).
Inexpensive snacks are available all day long from street stalls. Our favourite were Jigarthanda (South Indian sweet cold smoothy) and Parippu Vada (lentil fritters).
More prices:
Large bottle of Kingfisher beer: 3$.

Alcoholic beverages are only sold in upmarket restaurants or dodgy liquor shops. Beer is cheap only in Goa, while elsewhere the inebriating drink of choice is Desi Daaru, Indian whiskey, or palm toddy.

Train from Vasco da Gama (Goa) to Hospet (Hampi) – 8 hours – Sleeper class: 3$ per person + 3$ for a 30 kg bicycle.

On Indian trains there are ticket options for every pocket. Sleeper class (SL) features the cheapest bed and is cooled with fans, while the upper class (3A) offers AC. Seats (2S) are less expensive but very uncomfortable for long journeys.

Cultural sights: free.

Holy sites in South India are generally free to visit. Rarely, a small fee (0,10-1$) is requested to store your shoes or bring your camera inside. In some temples, you won't be allowed to visit the inner sanctum if you are recognized as non-Hindu.
While the spellbinding ruins of Hampi are free to visit, the equally impressive World Heritage site of Mamallapuram charges 6$ to access the main archaeological ground.
Bikepacking South India – The Routes (with GPX track)
We crossed South India by bicycle in two separate trips. The first time we started in Kochi and cycled about 2500km through the states of Kerala, Tamil Nadu, Karnataka and Goa, before taking a train to Rajasthan to continue cycling in the north of India. The second time we cycled around 1300 km from Chennai in Tamil Nadu to the state capital of Kerala, Trivandrum, where we flew out of the country.
Each state of South India has different administration and cultural style that affect the overall cycling experience.
Kerala is the most populated and therefore traffic there is more intense, while Tamil Nadu is the easiest region to cycle and our personal favourite.
Endowed with long flat stretches of picturesque landscape interspersed with flamboyantly decorated temples, Tamil Nadu is a treasure grove that never ends to surprise. The profusion of sights combined with good quiet roads considerably shortens the time one needs (or wants) to spend on the saddle, inducing a highly pleasurable fast-riding pace that inspires a relaxed exploration.
We offer here the full tracks of our cycling routes in Southern India, use them as you please but research beforehand in case some things have changed. The two itineraries we cycled can be followed, recombined or split in shorter trips.
For the bike tourers who enjoy some challenges, Western Ghats offer scenic hairpin bends routes that climb up through lush forests and spices plantations to refreshing hill stations.
+/- 30 days | 4-5h/day | 2,183 km | gain 18,320 m | loss 18,350 m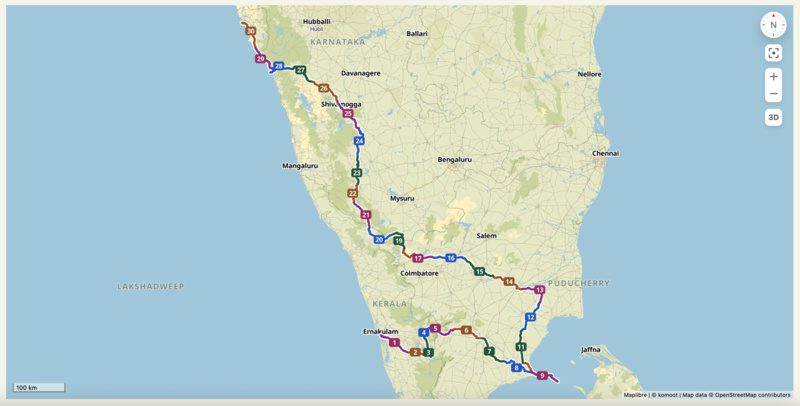 Highlights Route 1 
Kochi – Breezy lanes and bazaar alleys of historical Fort Cochin are pleasurably visited by bicycle. Kochi is a convenient getaway to picturesque Kerala backwaters.

Cardamom Hills – The hilly ride between Kumily and Munnar is a sensorial journey through lush pockets of tropical forest, purple clouds of Jacaranda trees and curvy geometries of tea plantations framed by the towering pinnacles of the Western Ghats.

Madurai – Lively city revolving around the grand Sri Meenakashi Temple. Perennially animated by fervent worshippers performing puja, its largest mandapam (Hall of Thousand Pillars) is considered the greatest achievement of Dravidian sculpture. Don't forget to try jigarthanda, the local delicacy.

Rameswaram – Holy site that marks one of Southern India extreme fringes. Cycling the thin stripe of land that stretches across the mighty ocean till a stone's throw from Sri Lanka gives an end-of-the-world mystical feeling.

Chettinadu region – Quaint countryside of serene beauty where to discover charming villages, temples, paddy fields, bathing ghats, teak mansions at every turn of the wheel.

Thanjavur – Tanjore awe-inspiring temple complex represents the height of Chola
architecture. The sight of bright green parrots marauding the ghee-anointed ochre idols is bewildering. To escape the chaotic urban sprawl, cycle just a little north along the Cauvery River for a glimpse of authentic South Indian rural life.

Nilgiri Hills – The mountain area around Coonoor, Kodaikanal and Ooty hill stations rewards the inclined climber with pleasing and for once cooling cycling among the misty and lush greenery of gum trees and pine forests.

Wayanad and Kodagu regions – Cyclist paradise: rolling hills of verdant forest, high chance to spot wild elephants, chitals, langurs and sloth bears, and the inebriating smell of coffee plants. 

Belur and Halebid – Outstanding Hoysala temples notable for their finely chiselled sensual sculptures.

Gokarna – Backpackers enclave where to chill out, breathing the peculiar blend of sea breeze and incense-scented smoke pervading the ancient holy sites scattered across town. The descent from Karnataka's interior to the coast is a spectacular succession of breathtaking views, luxuriant jungle, and pristine waterfalls.

Goa coastline – Take the time to explore and pick your beach, options are countless and cater to every kind of traveler. In April we had most places all to ourselves, but the heat made cycling the coastal hills a very sticky challenge.
Some warnings on this first itinerary: 
1. After the hill station of Munnar (on the Western Ghats east of Kochi) we took a shortcut going south from the Top Station to the village of Kurangani. This roughly 10 km stretch is a hiking path that it's much more suitable for a steep trek than the exhausting fatigue we endured with our loaded bicycle. Consider cycling the long way to Kodaikanal instead.
2. In the Wayanad Wild Life Sanctuary we were not allowed to cycle the few kilometers between Tholpetty and Kutta. Several checkpoints were present since the road crosses the border between Kerala and Karnataka. We arranged a lift on a private jeep as the public bus was too small and crowded to take us in. The ride was stunning, the driver enthusiastically pointing out wildlife, and we spotted a wild elephant facing us through the shrubs: a quite cheap albeit short safari!
15-20 days | 4-5h/day | 1,281 km | gain 17,816 m |
Mamallapuram – Long established favourite among travellers, attracted by the magnificent Descent of the Ganges relief. During the dance festival you'll find Indian dancing troupes performing on the main temple grounds on weekends and the beach mobbed by joyful crowds of red-dressed pilgrims.

Gingee – Impressive fortress ruins surrounded by atmospheric rural landscape ideal to be wandered aimlessly by bike.

Hindu temples – Whatever your taste might be, you will be spoiled for choice: majestic masterpieces of monumental architecture and fine carvings such as Madurai, Thanjavur and Kumbakonam; vibrant ritual centres at their liveliest during local celebrations, like Tiruvannamalai, at the foot of an extinct volcano, where Shiva is represented by a flaming lingam as the incarnation of fire, or Chidambaram, where Shiva is worshipped as Lord of Dance and celebrated in a spectacular chariots festival; secluded little shrines concealing sublime art, like peaceful Iranikkovil and astounding Sathyagiriswarar, carved into a rock under Tirumayan fort.

Jainist holy sites – One of the perks of cycling in Tamil Nadu is to stumble upon those hidden gems. Invariably set on the top of a hill, it's worth climbing up to admire the panorama, hunt for rock-cut Jain images and, if you're lucky, witness a suggestive procession of naked Jain devotees. Just to name a few: Chithanavasal, Keelavalavu, Thiruparankundram, Kalugumalai.

Courtallam – Join the queues of pilgrims and monkeys who shower under this holy waterfall at the foot of the Western Ghats.

Konni Achankovil road – Cycling under the dense canopy of lush jungle along this section is pure bliss. There are lovely camping spots on the Konni riverbanks. 

Varkala – Arguably the best beach of Kerala, it's worth checking out to indulge in some tourist-oriented treats (read coconut shakes) while observing the curious mix of Hindu pilgrims, Rajasthani touts, and Western backpackers.

Neyyar Sanctuary –  Forested area around the Neyyar basin that offers pleasantly shaded, tranquil rides and panoramic vistas of the Western Ghats. There's a famous ashram where to follow yoga and Ayurvedic treatment courses; we can't vouch for the quality, but the setting inspires lingering.
4 Great Cycling Day-Trips in South India
If you are up for a day bike ride, or a weekend cycling holiday, our suggestions would be:
the stunning boulders-dotted countryside around Gingee Fort and the mountain fire temple of Tiruvannamalai (northern Tamil);
the Chettinadu region between Pudukkottai and Karaikudi, disseminated with rock-cut Jainist temples, sophisticated Chettiar mansions and pretty clay-and-hay villages (southern Tamil);
Kollam or Alappuzha backwaters, to be combined with a canoe excursion (Kerala);
the surroundings of Hampi and Badami to explore the glorious sandstone carvings, caves and architecture at your leisure (Karnataka).
4/5-days | 3-4 h/day | 350 km | gain 1,150 m | loss 1,090 m
Hampi – Jaw-dropping UNESCO World Heritage archaeological wonders scattered across an iconic landscape of scenic boulders and palm groves; extremely satisfying to explore by bicycle. 

Badami – This town epitomizes the magic soul of India: a sparkling open-air bazaar where chatty women weave exuberant garlands of jasmines, chillum-puffing sadhus imperturbably gaze at life mysteries and cheerful piglets roam among your legs – all against the majestic backdrop of red sandstone rock-cut cave temples.
A quick note about this itinerary
We took a train from Goa to Hampi mostly to have a small rest from the scorching heat of late April. Cycling from Hampi to Maharashtra was bearable since the interior is dry and the temperature feels less uncomfortable than in humid Goa.
One day riding the busy and uneven roads of Maharashtra was enough to be convinced to take a train to quieter Rajasthan.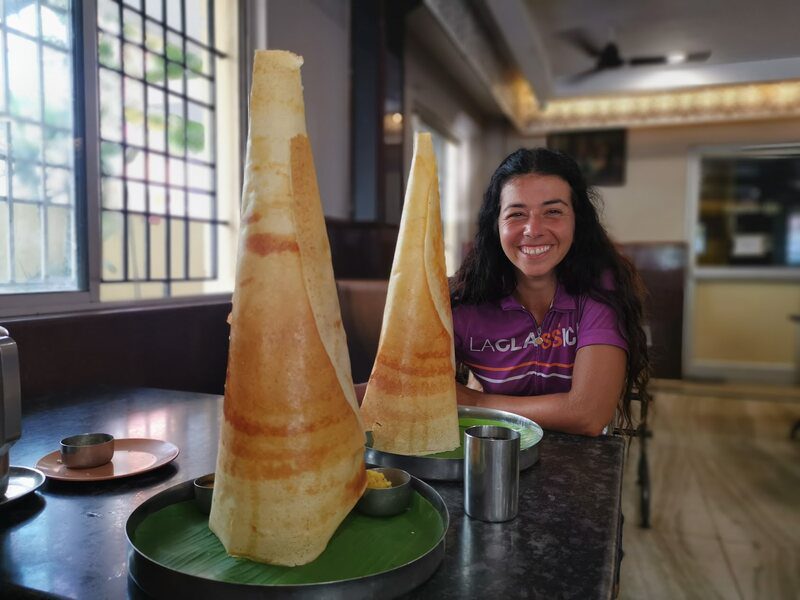 More things to know (Atm, sim cards, drinking water)
Atm: There are ATM machines in every reasonably sized town, but they are not always working. Better stock up cash in major cities before to venture in rural areas. Withdrawal limits are usually low and ATMs often run out of money, requiring multiple trips to different locations. While some banks won't charge any fees, most do; the teller will state the amount before confirming the operation.
Sim card: Pre-paid sim cards are the most efficient way to have internet access. They are quite easy to obtain and include very cheap options. We got the Airtel package – 1,5 GB per day for three months – and paid in total 6$ the first time and 15$ the second. Offers always vary, ask locals for the latest best deals.
Drinking water: Filtered drinkable water is available in every place serving food. Passers-by freely get in to swig fresh water directly from the serving pots placed on every table, accurately avoiding lips contact with the container.
You can refill your water bottles whenever you stop for a meal. Bottled water is sold in all little shops and eateries. Omnipresent buzzing chai joints and fruit juice stalls are excellent places to quench your thirst and observe local life.
Stay in touch while we get lost! Follow us on Social Media