The best beaches in South East Asia
Unspoiled, Off-radar, Untouristy, and Away from the Crowds
Southeast Asia has indubitably some of the best beaches in the world, and finding tropical beach paradises is certainly one of the main reasons that drive so many tourists in this area of the world every year.
Unfortunately, or maybe not, there's a mainstream idea of which the best beaches in Southeast Asia are, that makes some beautiful places, like Boracay or Phuket, spoiled by the tourist masses. Many of these vacationers often come back home disappointed by the crowds of people, without seeming to understand that they are a part of that.
There's certainly not a lack of astonishing beaches in South East Asia which are still off-radar, and this article aims to give our readers some hints on where to find the best Southeast Asian beaches away from the crowds.
To find the best solitary, unspoiled, often deserted beaches, we joined hands with some great travel bloggers, putting together this list, which includes a map of the top beaches we selected, to help you plan your next tour of the paradise.
Map of the best beaches in Southeast Asia
Disclosure: Some of our articles contain affiliate links. This comes at no additional cost for you and helps us keep this website up and running. (as Amazon Associates we earn commission from qualifying purchases)
---
Best beaches in Southeast Asia
[Indonesia]
---
1. Weekuri Lake, Sumba, Indonesia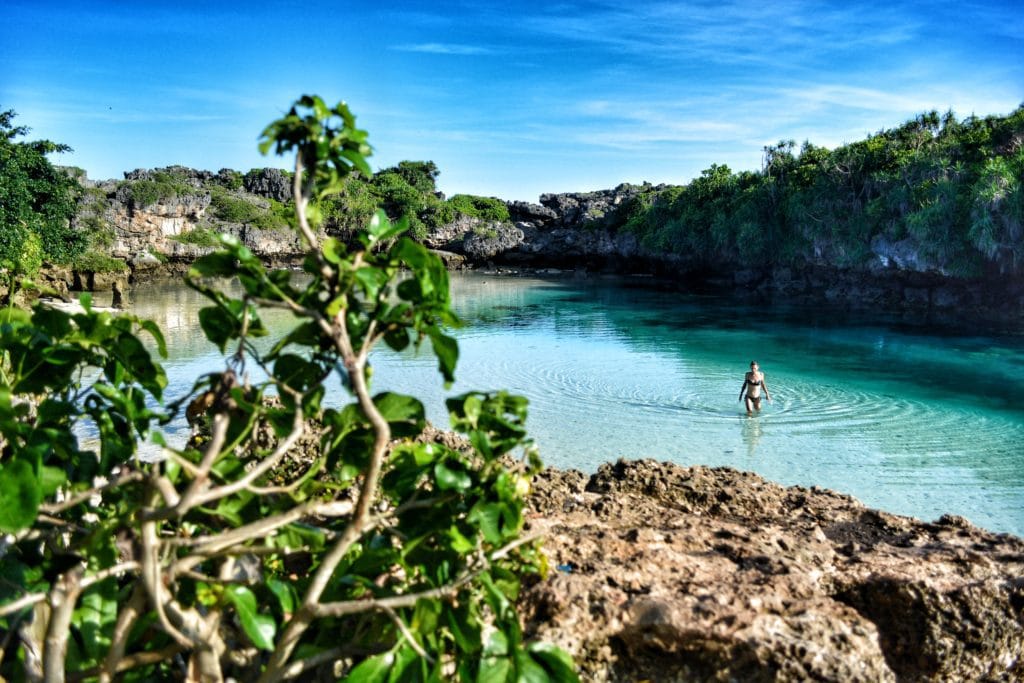 Suggested by Us!
The often overlooked island of Sumba, in the East Nusa Tenggara Archipelago, is one of the most beautiful and intense places we've ever seen. It's basically completely surrounded by white sand beaches, interrupted only by jagged cliffs, making the scenery more dramatic.
It's really hard to tell which beach is the best in Sumba, many don't even have names, and even when you happen to visit the most famous ones, you're more likely to be the only human there, or just meet some fishermen.
The Weekuri lake, though, stands out for its peculiarity. It's a seawater lagoon, whose water is so clear you can basically see all the bustling underwater life from just above the water. It gives that sense of unreal, like being in a dream, but honestly the whole island gives that.
Sumba is also home to an ancestral megalithic culture, whose architecture and rites bring the rare visitors straight into another time and state of consciousness.
Find your dream resort or a more adventurous accommodation in Sumba!
---
2. Gili Laba, Flores, Indonesia
Suggested by No Real Plan | Instagram @norealplan
Gili Laba, Flores, Indonesia is one of my favorite beach areas that is off the radar in South East Asia. The small island is near Komodo Island and is uninhabited so you're guaranteed a quiet beach, apart from the few boats that turn up with tourists. Snorkelling here is simply wonderful with many fish and interesting coral to be seen, and after a quick swim, you have a glorious beach to lay on and work on your tan.
However what really makes this place spectacular, is the view from the top of the island. Yes, you will have to walk around 30-40 minutes, but the view of Flores from here is simply breathtaking and you will feel as though you have landed in paradise!
Getting to Gili Laba is an adventure in itself. You can get a boat here from Labuan Bajo that is 4 hours long, or alternatively, you can look for boat trips organized from Lombok, Indonesia. These are often 4 days long and take you to various islands including Komodo Island, and give you the chance to swim with manta rays if in season too. 4 days may sound excessive, but trust me, when you're in paradise like Gili Laba, 4 days is barely enough!
Find your dream resort or a more adventurous accommodation in Komodo!
---
3. Koka Beach, Flores, Indonesia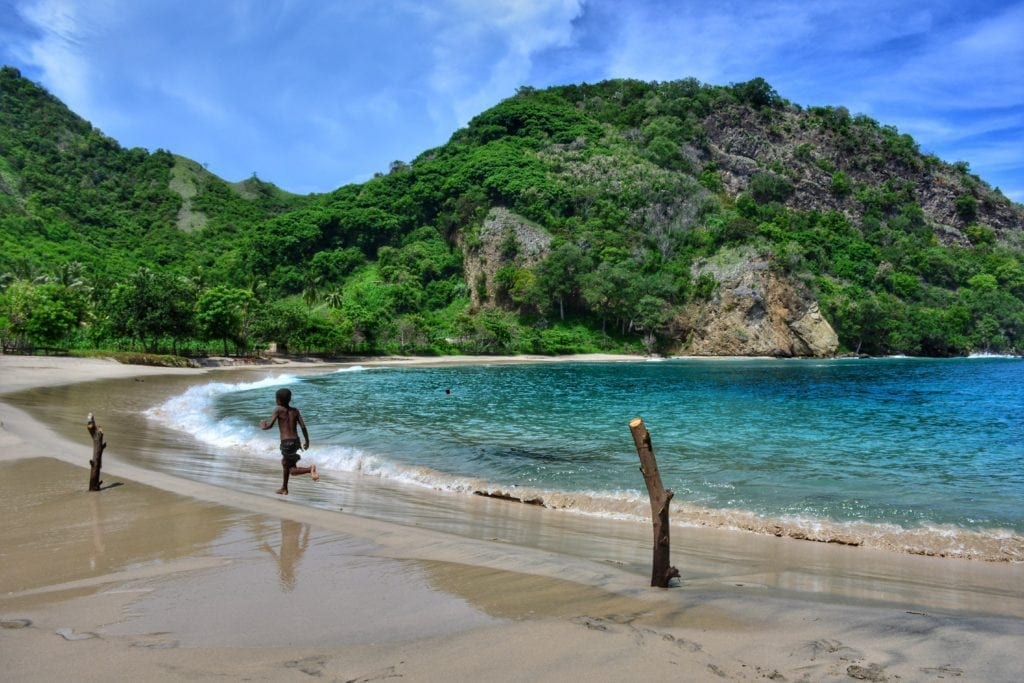 Suggested by Us!
Koka Beach is one of the most magnificent beaches in Flores Island, and, to our experience, one of the best beaches in Southeast Asia. It's formed by two bays, separated by a cliff. The sand is snow-white and the water is slightly different in each of the bays. The cool thing is that the sea is usually wavy in one bay and calm in the other.
We are welcomed by Ricky, a nice guy who deals with beach management and a tiny home stay, which consists of a single bamboo/palm-tree hut, very cute. There is a small solar panel to power a light bulb, the bed has the mosquito net and we can have as many coconuts as we want for free! Costs 5$ for couples, 3 for singles. He is planning to build more lodges for tourists. (UPDATE: Ricky has recently upgraded the bungalows, check it out).
Ricky has a leather jacket, a cowboy hat, and rides a vintage motorbike. Meeting him is part of the experience of visiting this gorgeous place.
During the night, we are left completely alone on the beach, watching the tide rise, large waves breaking on the rocks, the silence is overwhelming, the stars glitter in the sky in this corner of heaven.
Get more info about Koka Beach and Maumere area, or get an overview of the whole island to plan your itinerary in Flores.
Find your dream resort or a more adventurous accommodation in Est Flores!
---
4. Kelingking, Nusa Penida, Bali, Indonesia

Suggested by Us! Check our guide if you plan to visit Nusa Penida
Kelingking – also known as T-Rex viewpoint, is the most "instagramable" place in Nusa Penida and one of the main reason why this island is getting more and more under the radar lately.
While the shape of this bluff resembles more a whale to us (or a hand with a pinky finger for the locals, since Kelingking means indeed pinky finger), doesn't really matter where it brings your fantasy to wander, it's just undeniably astonishing.
There's a sort of a path to get down to the beach that is honestly quite dangerous, so watch out if you want to venture down. We didn't because we found it too scary and we heard the waves and current don't allow to swim down there.
Find your dream resort or a more adventurous accommodation in Nusa Penida!
---
5. Gili Sudak, Nanggu, and Kedis, Lombok, Indonesia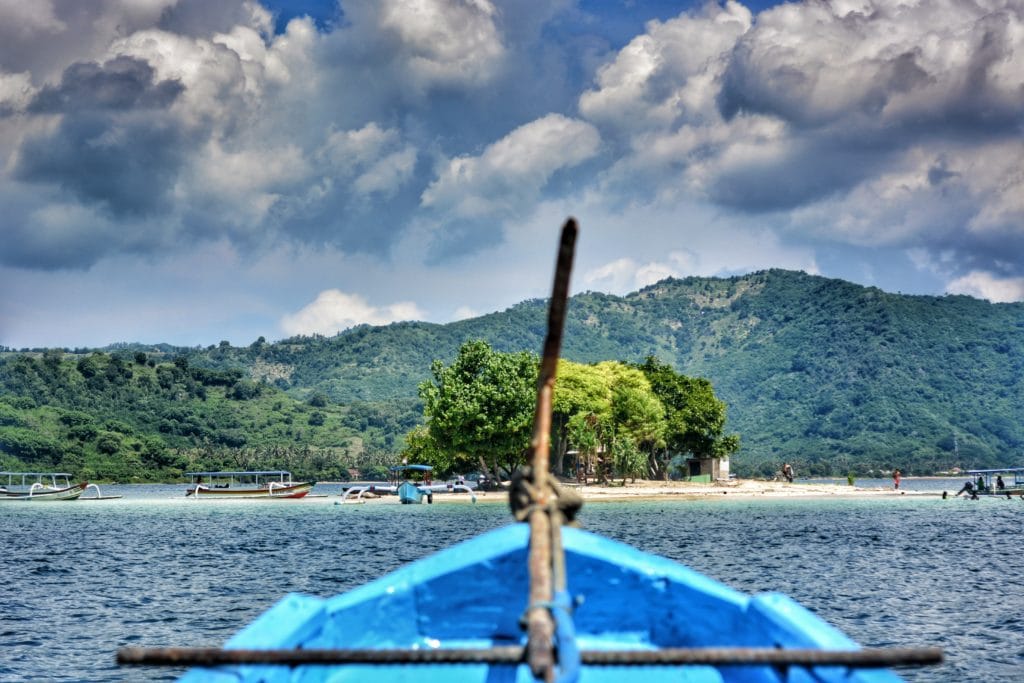 Suggested by us. Learn More about the secret Gili Islands of Lombok
The three famous Gili Islands of Lombok, Gili Meno, Gili T (Trawangan), and Gili Air, are probably the biggest South East Asia tourist sensation of these last years. From the harbors of Padangbai (in Bali) and Pamenang (in north-western Lombok), dozens of boats depart every day, loaded with all kinds of backpackers, luxury seekers, families, and all kind of tourists. Definitively not our cup of tea.
Not many know yet that there are other Gili islands, in the south west of Lombok near the Sekotong peninsula, that are still untouched by mass tourism, and have nothing to envy from the most famous Gili in term of natural beauty.
Gili just means small island in Sasak, Lombok's local language, so the expression Gili Island is a misnomer. There are about 50 "Gili" around Lombok, and more around Sumbawa (where Sasak is also Spoken).
There are three small groups of Gili offshore the northern coast of Sekotong, the easternmost are Gili Nanggu, Sudak, and Kedis, and these are the ones we visited, then there are Gili Gede, Anyaran, Asahan, Rengit, and the small Gili Goleng, before the village of Labuhanpon, and three more small islands, near Pantai Elak Elak, whose names Google maps ignores.
First, we visit Gili Sudak, the best for snorkeling. Just a few meters from the perfect white sand beach we are already submerged by many colorful fish. They are setting up some metal structures underwater to make the corals prosper here. There's also a resort if you want to spend a night on the island, it's called Nirvana Gili Sudak and its really luxurious.
Then we sail to Gili Nanggu, maybe the most interesting, where there are a small fishing village and some restaurants. Walking the small island interior among the fishermen houses gives you an insight of the local life on a small tropical island.
The third island, Gili Kedis, is a mini island, you can walk around in three minutes, it is microscopic. A couple of trees on a white sand beach, just like a little kid could draw an island. Also here the underwater life is colorful and bustling.
Have a look at the most interesting hotels in Lombok!
6. Rambak Beach, Sungailiat (Bangka, Indonesia)
Suggested by The BeauTraveler | instagram.com/thebeautraveler
It takes only an hour flight from the capital city of Jakarta, Bangka is probably one of the most underrated places in Indonesia. It has a lot to offer, yet not so many people are even interested in visiting the region. Hence, not so many people know that there are a number of beautiful beaches in Bangka alone.
One of them would be Rambak Beach, a beach located in Sungailiat, which takes around an hour drive from Pangkalpinang, the city center of Bangka.
I think the reason why I love Rambak Beach is because it was probably the most serene beach that I've ever visited. I know a lot of people like to go to the beach just so they could mingle with other people, if not some random hot surfers, but Rambak Beach provides the serenity that you need the most when you need solitude. And that was the thing I needed the most the first time I went there.
By the time I got to the beach, there was literally nobody except for my and my friends, plus a woman who runs a small business by the beach. We've bought fresh coconut as well as rented a gazebo for ourselves for only IDR 50,000 (around 3.5 USD) and the beach was just a perfect place for us to just sit back and relax. If I knew it, I'd totally bring a book just to chill by the beach reading something.
If you're looking for a place to run away, or you need a place to clear your mind while probably just play around with sand and water… Rambak Beach is the answer for you!
Have a peek inside these cozy resorts in Bangka!
---
Best beaches in Southeast Asia
[Philippines]
---
7. Parola Island, Camarines Norte, Philippines
Suggested by Charlotte Anne of charlotteanne.net | Instagram: @heycharchar
Heaven on earth might just be the isolated shores of this hidden gem in the Philippines. The Parola Island is strung in the pristine aquamarine sea waters of Camarines Norte. This small but picturesque tropical island beach is only accessible by a forty-five minutes rigger boat ride from the mainland Bicol.
It boasts a beguiling panorama of green-blue sea, guiltless golden sand, and perfectly-lined crayola green palms. The magic happens as the golden sand turns salmon pink when the sea salt water kisses its shores, mostly evident when the sun sets during its final hours — it is one of those "pinch-me" moments.
This laid-back untouched paradise has a certain energy that you can't help but fall for. You can't find any other structure here except for the rustic lighthouse and a shabby cabana. Think of a smaller Boracay on its raw and pure beauty a long long time ago. You'll find yourself in a hypnotic state as you listen to the waves crashing on its long stretch of sand. Undoubtedly among the best beaches in South East Asia.
Get inspired by these sexy properties in Camarines Norte
---
8. Las Cabanas, El Nido, Palawan, Philippines
Suggested by The Travelling Tom
If you want to visit a beach that isn't too well-known in Southeast Asia, Las Cabanas in El Nido in the Philippines is one of the best! El Nido is a beautiful destination on the island of Palawan, and a remote tropical paradise. There are plenty of beaches around El Nido, but Las Cabanas is, arguably, the best. It's a five-minute drive out of the town to get to the beach, and you need to walk down a small path off the road, but it's completely worth it.
As the beach is not so well-known, it's not full of people. This helps you to appreciate the incredible views even more. The scenery around the beach is incredible, with palm trees lining the beach, and rock outcrops out into the bay ahead. It's a truly beautiful beach.
Las Cabanas beach is without a doubt one of the best off-radar beaches in Southeast Asia, and one you should definitely visit if you travel to the Philippines.
So many charming hotels in El Nido!
---
9. Nacpan Beach, El Nido, Philippines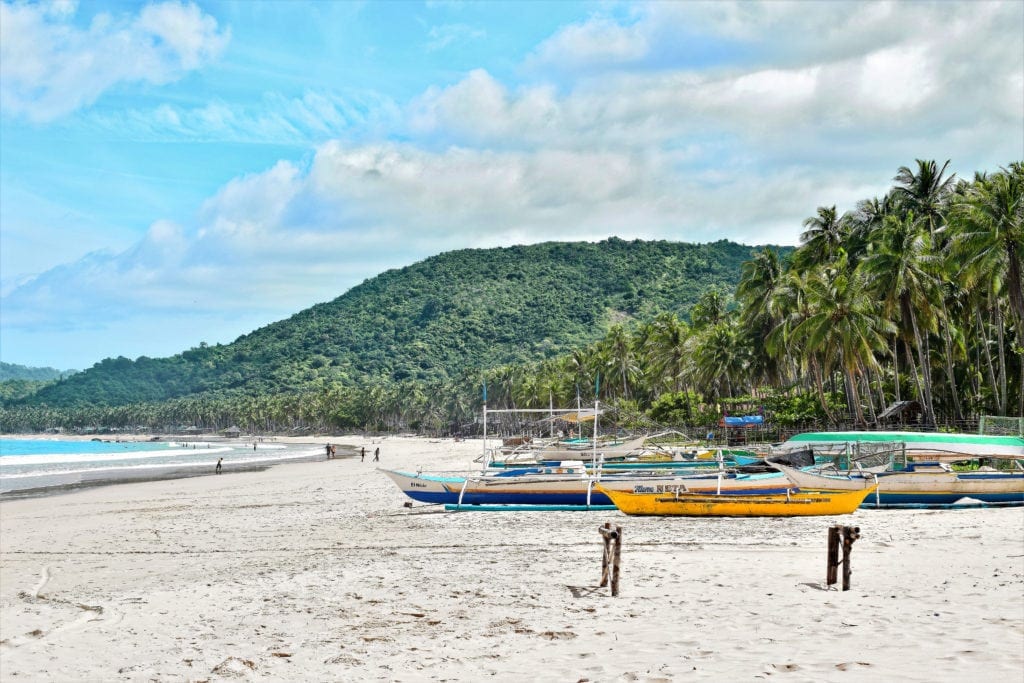 Suggested by Whisper Wanderlust | facebook.com/whisperwanderlust
El Nido, Palawan is one of the most beautiful places I have visited so far, thanks to the amazing landscapes, warm and smiling people, but especially due to the spectacular and numerous beaches.
One of them, perhaps the most beautiful, is Nacpan Beach, situated only 15 kilometers distance away from the city. You can go there by renting a scooter or a tricycle. I prefer the scooter version because it is cheaper, faster, and it has given me the freedom to explore the place for a whole day.
The road to the beach is an adventure by itself. You will cross colorful villages, admire huge green rice fields, and feel the breeze of the ocean from your left side.
I promise you will fell in love with Nacpan Beach! The sand is white, the beach is very wide and very long, surrounded by a palm tree forest and is not crowded at all. Lately, a few small terraces have been opened, but it is still quite a secluded place. I recommend you to book a full day for Nacpan Beach when you are in El Nido, Philippines.
So many charming hotels in El Nido!
---
10. Long Beach, San Vincente, Palawan, Philippines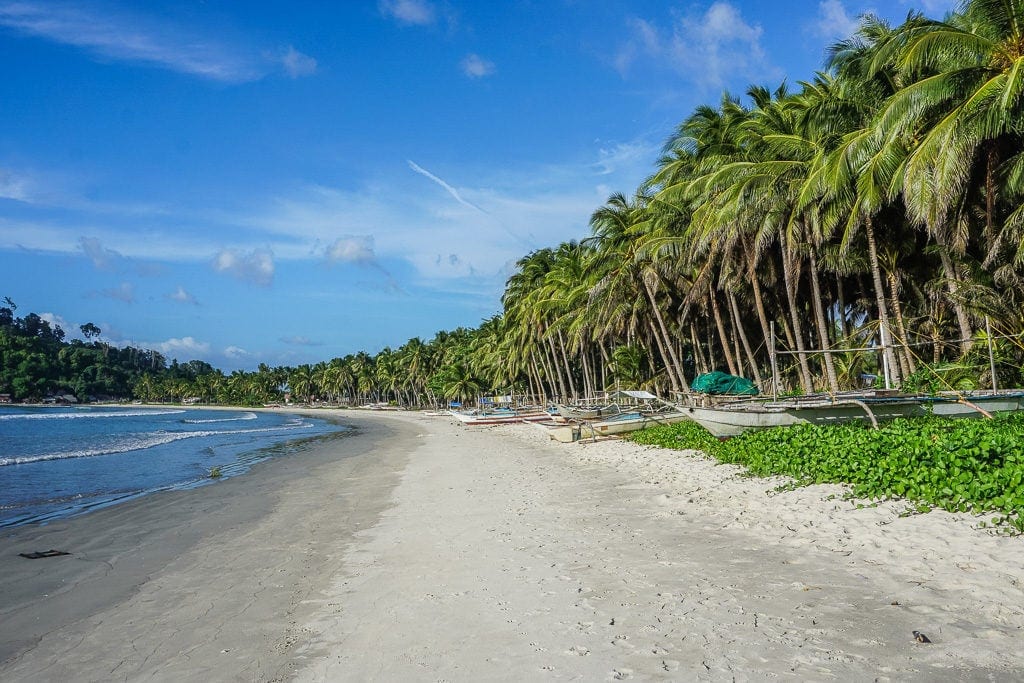 Suggested by Finding Beyond | facebook.com/findingbeyond
Long Beach in San Vicente is being touted by officials as being the longest white beach in the whole of the Philippines. Although being situated on the East coast of popular Palawan, this awesome stretch of coastline is still very much off the beaten path.
While most travelers stick to the North (El Nido) and South (Peurto Princesa) of the island there are a few yet to be discovered beaches to enjoy, some of which may fairly be considered among the best beaches in Southeast Asia.
While Long Beach might be 14KM in length, it is, in fact, broken up into 6 undeveloped beaches separated by small rocky headlands. We enjoyed a few days on the most Northern of these beaches, Alimanguan. Alimanguan is a beautiful long beach offering nothing more than white sand, palm trees, colorful fishing boats and a friendly local village with waving schoolchildren and smiling fishermen.
At the time of our 2017 visit, there was only one place to stay on Alimanguan Beach, Victoria Beach House. Situated right in the middle of the beach, Victoria Beach House is basic but had a charm and laidback vibe that can keep you there for longer than planned.
The food was amazing too! Awesome sunsets, romantic strolls, and interaction with real Filipinos are what makes this area so special. To get here it's easiest to arrange a transfer from either El Nido or Peurto Princesa through Victoria Beach House.
Have a look at the only place to stay in San Vincente!
---
11. Cabgan Island, Surigao del Norte, Philippines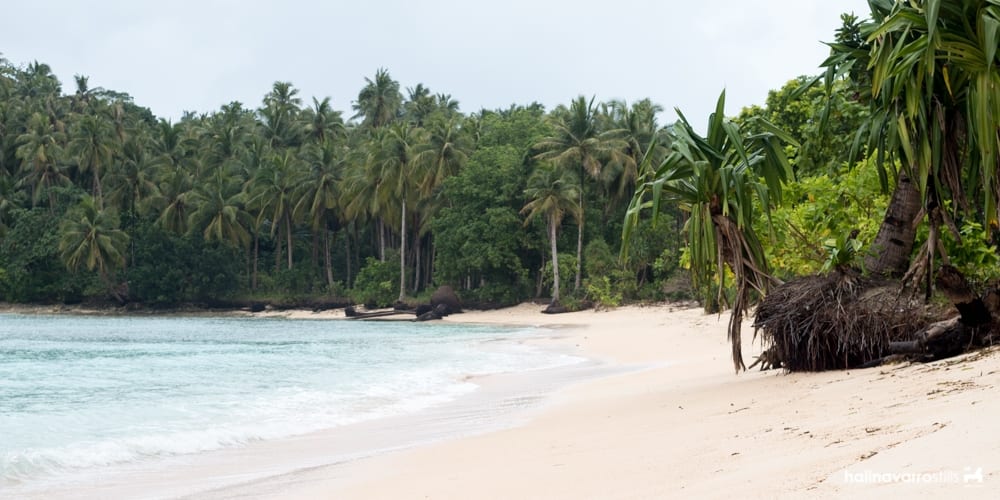 Suggested by Tara Lets Anywhere | facebook.com/taraletsanywhere
Cabgan Island is an uninhabited island located in the sleepy town of Barobo, Surigao del Norte, Philippines. It features a long white-sand beach, surrounded by coconut and other indigenous trees. As there is no establishment in this area, the only thing to do here is beach bum and get a tan.
Cabgan Island is so pristine that you can still see a lot of seashells (the full ones that eventually get diminished from being collected by tourists in commercial beaches), as well as fruits getting washed to the shore.
To get to Cabgan Island, you need to take charter a private boat in Barobo. There are no tours going here so you will probably have to talk to a fisherman. It's recommended to bring food and water, as well as insect repellent. It is 20-30 minutes away from the town. You can also island hop to the nearby Turtle Island and Vanishing Island.
A few stunning accommodations near Cabgan
---
12. Siargao Island, Surigao del Norte, Philippines
Suggested by Backpacker Banter | Instagram @stokedfortravel
If you're looking for some epic beaches in South East Asia you're spoilt for choice in the Philippines – there are just so many islands to explore!
But for me, the best of the best are nestled away on the surf island of Siargao in the south of the Philippines – just a short flight from Cebu airport
Here you'll find gorgeous stretches of sand, palm trees, blue skies and of course a cold cocktail or two!
But to make the most of Siargao it's all about the waves and there is plenty of pumping surf to be explored – and even if you don't surf, head to the boardwalk at the famous Cloud 9 and watch the pros at work. Island perfection!
Some dream resorts in Siargao Island
---
13. Sugar Beach, Sipalay, Negros, Philippines
Suggested by us from Cycloscope, check more things to do in Negros Island | Instagram.com/cycloscope_globecycling
Sipalay is the most touristic town in Negros, don't expect many foreigners though. The town itself is small and with a pleasant beachfront, many seafood restaurants and a pair of perfect beaches just around the corner.
We really advise going to Sugar Beach, about 6km north of the Sipalay town. There's a short river-crossing to be done by boat, for a small tip to be given to the local kids. The beach itself is huge, with beautiful rocks, golden brown thin sand and emerald green water, a paradise.
Here are a few more expensive resorts and most of the western tourists. If you find it wavy (can happen in the afternoon) just walk to the end, there's a nice bay where the water is usually calmer.
From best to budget! Hotels in Sipalay
---
14. Anda, Bohol, Philippines
Suggest by us. Check more things to do in Bohol.
Anda is a municipality in the southeastern part of Bohol island, in the Visayas Archipelago. It is one of the best beach areas we ever saw.
There are a few resorts privatizing most of the shoreline but is not as hard as Panglao to find public beaches. These are just perfect, crystal-clear water and snow-white sand, often it's possible to swim to private beaches, water is so calm here.
The beaches of Anda are not yet under the tourists' radar, and their tranquillity and pristine atmosphere makes them among the best beaches in Southeast Asia.
Get inspired by these sexy properties in Anda, Bohol
15. Pungtod Beach, Panglao, Bohol, Philippines
Suggested by Southeast Asia Time Traveler
The Philippines' sandbars are an ideal antidote to crowded, polluted beaches. Located some distance away from populated areas – requiring motorized boats to get there – sandbars give you everything you've ever wanted in a beach (except ease of transport and easy access to a pina colada).
Pontod Island is a perfect example. This island to the west of Panglao Island near Bohol in the Philippines stands around six kilometers from Panglao's more popular Alona Beach.
To get there, you'll need to hire a boat to get to Pungtod during low tide. Boats also need to navigate a path through netting and seaweed in the shallows to get to the sandbar itself.
Because Pungtod plays so hard to get, wisecracking locals have taken to calling it the "Virgin Island" (and is sold that way in many boat-hopping packages from Panglao).
With only a few boats gaining access at any given time, Pungtod's sandbar feels gorgeous and considerably detached from civilization.
Spend a few hours' frolicking in the clean, clear waters and the white sand, and the effort and expense to get to Pongtod will definitely be worth it!
Get inspired by these sexy properties in Panglao, Bohol
---
16. Malalison Island, Panay, Philippines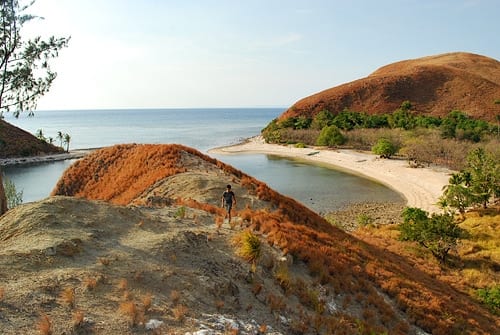 Suggested by us. Check more things to do in Panay.
Malalison island, just off the coast from Tibiao, Antique province, Panay Island, is a small and wild place. Its main beach has nothing to envy to Boracay, it's white coral sand and crystal clear water, make it one of the best beaches in Southeast Asia, with the advantage (at least for our tastes) to be away from the crowds, basically deserted, all to yourself.
There is a fishermen village with a basic homestay if you want to spend the night there. Just a few hours a day of electricity, perfect for a real break.
This small island is also a hiking paradise, with a short but gorgeous trail that leads to the other side of it, where a colorful pebble beach and a cute islet await.
So many charming hotels in El Nido!
---
Best beaches in Southeast Asia [Thailand]
---
17. Sunrise Beach, Koh Lipe, Thailand
Suggested by Hannah & Adam Lukaszewicz GettingStamped |Instagram.com/GettingStamped
We've spent over 2 years in Southeast Asia and as total beach lovers we've spent our fair share shopping out some of the best beaches and islands. Our personal favorite beach is Sunrise Beach on the island of Koh Lipe Thailand.
Koh Lipe has no airport and until 2015 didn't even have ATM's so it's been off the radar due to its location and lack of amenities. It's a gorgeous white sandy beach with stunning turquoise waters. You can always find a spot to lay your towel and soak up the sun. If you go to the tip of sunrise beach you can also catch an epic sunset.
We suggest renting a private longtail boat for the day, you can have the whole boat to yourself for 8 hours, wherever you want to go, for usually 1,500 baht/$45USD.
We first visited in 2014 where we took the ferry over from Langkawi Malaysia which is a 1.5-hour boat ride away, check here for some great hotels there https://www.hotelsinlangkawi.org/.
If you are island hopping in Thailand you can take the ferry from Phuket or Koh Phi Phi or Krabi but it will take you a better half of the day.
Such gorgeous resorts in Koh Lipe!
---
18. Koh Tarutao, Thailand
Suggested by nomadicboys.com
One of our favourite remote beaches in Southeast Asia is Ao Son on Koh Tarutao in Thailand. One of the many hidden gems of Thailand, Koh Tarutao is the largest island in the Tarutao National Marine Park and a former concentration camp for political prisoners. It's heavily protected by the Thai government with very few facilities.
You can reach Koh Tarutao via a 1-hour speed boat from Pakbara, which costs around 450 bahts per person each way. The entry point is at Ao Phante Malacca in the north of the island, which is where the camping ground base is.
Ao Son is located around 6km away. We rented mountain bikes and visited as a day trip. When we got here we were so surprised. We had it entirely to ourselves. It was completely isolated, so raw – simply stunning. Just behind it lies the island's dense jungle which you can easily get lost in.
It was fun to hang out here together for the day, especially watching the sunset in the evening. Funnily enough, when it starts to get dark and the tide comes in, the beach almost disappears, reappearing in the morning when the tide goes out. It truly is a hidden gem worth seeking out.
Best off-radar beaches in Southeast Asia
[Malaysia]
---
19. Perhentian Kecil Island, Malayisia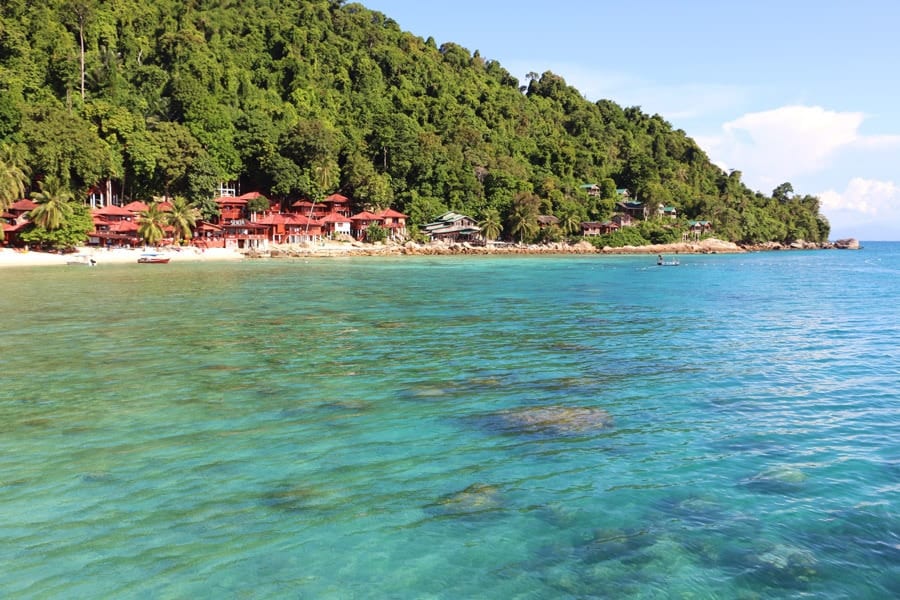 Suggested by Stingy Nomads
Perhentian Kecil island in Malaysia is one of our favourite islands in South East Asia. There are two main beaches on the island; Long Beach – the main bar and party beach, and Coral Bay beach – the quiet one more opt for a romantic stay rather than party. Both beaches are connected by a forest trail; it takes 10 minutes to walk.
Long Beach is a beautiful sandy beach ideal for swimming and snorkeling or relaxing with a cocktail on a beach chair. There are no cars on the island, the only way of getting around is by boat. There are several accommodation options on both beaches from luxury guest houses to budget camping options.
There is beautiful coral reef around the island, if you like snorkeling or diving you'll enjoy staying here. It's a great place to do your dive course, crystal clear warm water, beautiful corals, a lot of fish and nice island vibe.
Among other activities you can do on Perhentian are kayaking, supping, hiking – there is a trail that goes around the island. The easiest way of getting to the Perhentian Kecil is to take a boat from Kuala Besut, a small town on the coast. There are buses heading this way from many Malaysian cities and towns.
Check some dream resorts on Perhentian Islands
---
20. Tusan Beach, Sarawak, Borneo, Malaysia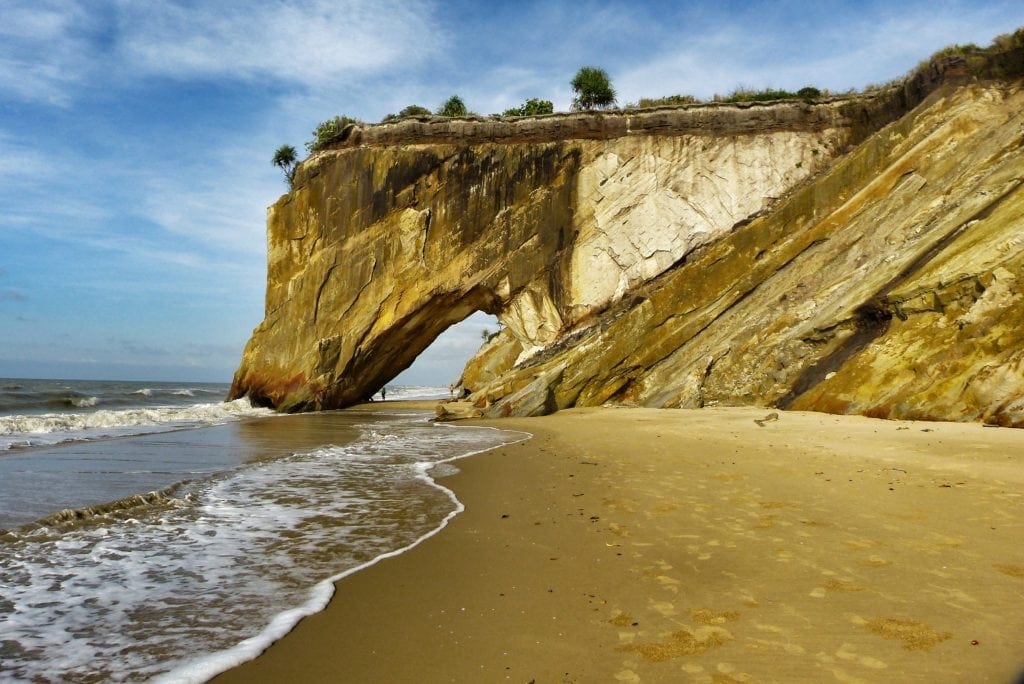 Suggested by Us! Read more about Tusan Beach and more things to do in Miri
Tusan Beach is a hidden gem of the Miri province, a place still unknown to most guidebooks and therefore ignored by the tourist, not even all the people of Miri know about it. And yet it is an incredible place, maybe the best thing to see around here, and one of the most scenic beaches in Southeast Asia.
Tusan Beach is a stretch of golden sand, lined at its back by a spectacular tuff cliff, forming some astounding natural features. Moreover, a rare phenomenon can be witnessed here, although unfortunately we missed it. During the nigh a blue luminescence appears in the water, a marvelous azure glowing caused by certain algae called 'Dinoflagellates' (according to the Borneo Post).
Around the parking area, on the top of the cliff, there are some vendors' stall selling fruit shakes, skewers and coconuts, we try the roasted coconut, grilled on a bonfire, basically it just has hot water inside. These stalls though are only open during the weekends.
Tusan Beach is just 40km south of Miri along the coastal road (Q642), there's a small sign that leads to a short cul-de-sac to the parking lot. We describe this road in details in the article about Niah caves national park.
Some Gorgeous properties in Miri
---
21. Teluk Pako, Bako National Park, Sarawak, Borneo, Malaysia

Suggested by us. See more about Bako National Park
The trek to Teluk Pako is one of the shortest hike (1.2km) in Bako National Park. It leads to a beautiful beach where a big group of proboscis monkey lives. And indeed we saw them, they are many, males, females and cubs of different ages.
Across the planet these monkeys can only be found here in Borneo, it is exciting. They are reddish, have long arms and big bellies, when the people of Borneo first saw the Dutch people they immediately associated them with those monkeys.
Males are particularly funny, with this huge nose, curious facial expressions, and long, thin pendulous penis. We got very lucky since many people never get to see them, we are told that sunset is the right moment, the air is cooler and monkeys go out to feed.
The beach itself is very scenic, surrounded by gorgeous rocks and lush jungle. Swimming here tough, is not advised, because of the presence of many sea crocodiles in the area. Still, it's an absolutely unmissable spot to visit if you're traveling in Borneo.
Have a Look at the best hotels near Bako National Park
The 21 Best Beaches in Southeast Asia in a Nutshell
[Indonesia]
[Philippines]
[Thailand]
[Malaysia]
Stay in touch while we get lost! Follow us on Social Media