Lahic – Traveling the Best of Caucasus in Azerbaijan
Lahic is a pearl of the Caucasus, a really must-visit place if you're traveling in Azerbaijan. It's history dates back at least 2000 years, here people speak a different language, spoken only in this village.
Lahic was for centuries the place of excellence for copper crafts all over the world, kings, and sultans from all over the region prided themselves with artistic items manufactured here.
Lahic is also famous for its peculiar architecture, a mix of wood and stone drywalls that makes the houses here completely anti-seismic. The village stands here, on the canyon of the river Girdimanchai, at the foot of the Greater Caucasus, since the 5th century B.C.
The village is small, but very beautiful, set in a territory that has gained recognition as a cultural reserve. Although being an off-the-beaten-path destination, Lahic is one of the most popular tourist places in Azerbaijan, part of the Great Silk Road.
We got here during our bicycle trip in Azerbaijan, stayed two days exploring the village and the surrounding area. Here's our trip report.
Check Also
Where to Stay in Lahic
There are quite a few guesthouses in Lahic, booking in advance is recommended but not necessary, you will be almost assaulted by people trying to get you to stay at their place. Bargaining is not just possible but advisable.
If you want to wild camp you are allowed to do it, we advise crossing the riverbed and looking for a spot in the nearby grove. You'll be woken up by the sound of the morning prayers resonating from the mosques.
If you prefer to be sure, you can use this link to book a guesthouse in Lahic through booking.com
How to get to Lahic
To reach Lahic from Baku you need to first get to Ismayilli by bus (1 bus each hour from Baku bus station). From Ismayilli you'll need to find private transportation. Beware of scams, always discuss the price in advance.
You can also reach Ismayilli and Lahic by private transportation through Viator, click on the button below!
Disclosure: Some of our articles contain affiliate links. This comes at no additional cost for you and helps us keep this website up and running. (as Amazon Associates we earn commission from qualifying purchases)
How we slowly got to Lahic – adventures with local drivers
Yesterday, during our hitchhiking trip to Ivanovka, we met Akif, a weird man that offered to accompany us to Lahic today for a small fee (10$), he comes to pick up us, usual 4-speed Lada, and here we go… so to speak… we stop every five minutes, we stop to buy tomatoes, then vodka, then in the Ismayilli Bazar (a real mess) for bread, potatoes, and I don't remember what else.
Finally, we leave the city. Along the road to Lahic, he stops another couple of times in places where, according to him, we have to take pictures. Then he says he wants to take a tea, we're almost there and we would like to get to the point, but we have no choice. Like all restaurants in Azerbaijan, tables are scattered within the grove, and each table is inside a gazebo.
Akif asks us if we want to eat. We say no, that we just want him to take us to Lahic but he ignores us completely. After a while, indeed, they bring us the usual menu, salad, cheese, and kebab. And tea of course.
We eat and drink the wine from Ivanovka. Akif doesn't like wine, he prefers vodka. And in fact, he drinks a bottle himself. And we wait. In the meantime, we are surrounded by other men who work at the restaurant, who bomb us with questions in Russian, the usual questions.
Finally, we force our driver to come unstuck from the chair and do the last three kilometers to Lahic. We would have done it quickly on foot. We arrive at Lahic at 7 pm. We left around 1 pm, should be about forty kilometers.
We park in the square just at the beginning of the village. We want to take our bags and say goodbye but can't do what we wish this time either. The trunk will not open (by the will of Akif) and we must follow him. He wants us to take a picture with traditional clothes on! I refuse! Everything has a limit.
We cross the main street of the village, which looks very nice, but we don't have time to look around. He stops at a military barracks and there enters. And we wait out for him. When he finally comes out we are pretty miffed. He tells us that we can sleep in the barracks for I don't remember how much money.
We confirm that we have the tent and, if willing, we would like to take it out from his car's trunk. And we'll never sleep in some military barracks!
Finally, he surrenders his constant attempt to help and we finally get our things. We walk quickly toward the exit of the village where a road leads to the river below.
We cross the wide river-bed and wade what remains of the river, a rivulet. We find a beautiful meadow where to sleep, shady and quiet. We fall asleep shortly after the call to prayer that comes from the three mosques in town.
The Traditional Village of Lahic
We wake up fresh and rested. Here we are at 1200 meters and the air is cooler. We leave the tent in the small grove and we move to the village, today is Monday and there seem to be fewer tourists than yesterday.
Lahic is a very old village, at least 2000 years-old, the inhabitants of Lahic descended indeed from one of the 26 "Albanians" tribes of the Caucasus and have preserved ancient traditions and their peculiar language due to the remote location of the village. The main street of the village is astounding, made of stones, as well as the houses.
These then are composed of a layer of stones and then a wooden part, then stone again. They seem to be built this way because of the frequent earthquakes. Even new homes are built the same way, a very old anti-seismic system, that appears to work.
Along the street, there are many shops selling tea, dried chamomile and other herbs, carpets, and copper objects (from jewelry to teapots) for which Lahic is famous all over the world.
We stop at a shop where we buy a couple of things, the salesman is a 12-year-old boy who is learning the job and also English language, because of the tourists. There are really nice things, various pots for the tea, bells for livestock and many other artifacts.
Then we walk towards the upper part of the town, composed only of houses, there are no shops, just people walking around or on strolling on horseback.
Lahic History Museum
On the way we stumble upon the museum, next to the information desk where we would like to ask if there is a path to reach Xinaliq on foot, it's only 40 km as the crow flies but we have to go back and take another route from Baku, in short, 400 km.
The information desk is closed but a guy comes out of the museum and invites us to visit it, it's free. Inside there is nothing but pictures of soldiers died in Nagorno Karabach, portraits of other famous people from Lahic, an old frame, old copper tools to work with copper. 
Nothing interesting apart from a huge bellow in wood and leather. The beautiful objects made by local craftsmen were once popular gifts for princes and kings, and today can be found in museums around the world, but here it doesn't seem to be anything left.
The guy in the museum then, he had a quite absurd tic. As he spoke every now and then he stopped, stuck out his tongue and made a snaky sound! Incredible! Reptilians are where you least expect them.
We continue our tour to the village, which has preserved a pure and ancient atmosphere despite the tourism. In a carpet shop, a woman explains in Russian how well done the sewers of the city are, seems to be at least a thousand years old and still work perfectly. We go back to the tent and tomorrow we will return to Kurdamashi and then back to Baku.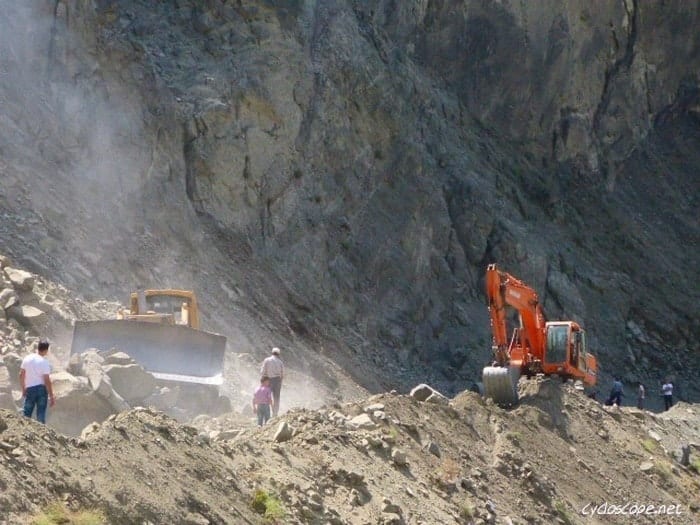 5-6 August 2014 – Hitchhiking back
We hitch-hike just in perfect time to meet a landslide just before us. Ten minutes earlier and we could be under it. We wait almost one hour for the excavator to clean the road. We are back to our adoptive family in the evening. They ask us to make a pizza tomorrow. Not an easy task as they lack almost all basic ingredients, except the yeast. But we'll try.
Our video from Lahic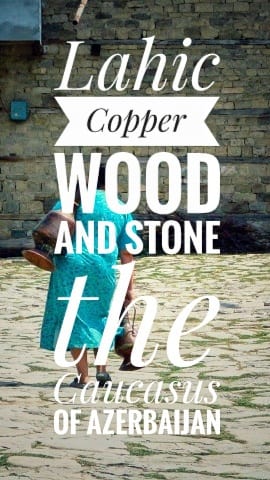 Stay in touch while we get lost! Follow us on Social Media