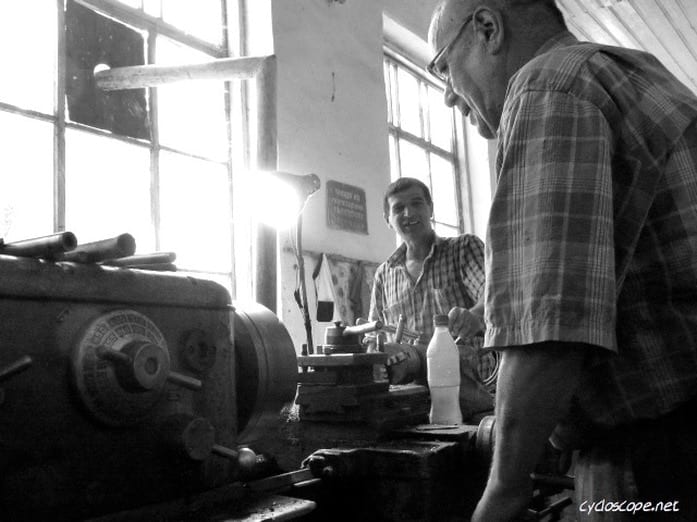 Adventure Travel in Azerbaijan: Ivanovka, the last Kolkhoz
While looking for interesting things to see and do in Azerbaijan, we found out about Ivanovka, the last kolkhoz in Azerbaijan, and possibly in the whole former Soviet Union.
A kolkhoz is a form of collective farming, where all the villagers are workers and share the profit of their work in equal parts, you can learn more about this on Wikipedia.
Here in Ivanovka, this collective farming is still practiced by the local ethnic groups of the Molokans, a sect of ethnic Russians deported at the time of Tsar for their refusal to adhere to the Orthodox rite.
It's weird to see that those keeping on with communism are the more religious in the country.
We traveled to Ivanovka during our bicycle trip in Azerbaijan, take also a look at our articles about
Khinalug, the highest village in Europe
Baku, where the stinky wind blows
Lahic: copper wood and stone
The Unforgiving Sun: Bicycle Touring the deserts of Azerbaijan
How we get to Ivanovka from Baku
We go to the Baku bus station, ou host Ismail tells us to take two urban buses to get there. While stuck in the traffic jam for almost one hour we realize that by feet we would be already there, be aware when taking a bus in Baku.
To reach Ivanovka we first have to go to Ismailli the bus will leave in about an hour, it is a big coach with air conditioning. It takes about three and a half hours for less than 200 kilometers.
The road is up and down, and the landscape is completely desert but with fascinating dunes. We arrive in Ismailli at 7 pm, the cousin of our Baku host will give us shelter here, but he can't come to pick us up, he's at work. So we hitchhike.
Pretty easy, there stops the first car we see! It just goes to Kurdmashi, the village where our new host lives, his name is Rovshan.
The driver that picked us up asks us who's guests we are, they know Rovshan and they give him a phone call. We arrive in front of the market and wait there.
After a few minutes in fact (while all the villagers stare curiously) comes a white Lada with five people on board, a lady says "hello", it seems that she is our host (is Rovshan's mother we realize later).
In some way we go, me and Daniele in the front seat and all the others (four persons) behind. All of them have gold teeth, except Rovshan's mother. I don't know if I had already mentioned this, but here everybody has gold teeth.
The house is beautiful, all made of wood and with lots of windows. But in the summertime, life goes on outside, where there is a huge porch furnished with a kitchen, sofa and a big carpet. There's also a big and nice garden full of flowers and vegetables.
We are immediately fed with some kind of bucatini, cooked for 30 minutes. Here, however, any type of pasta is called macaroni. The dressing on the side, so the pasta is, shall we say, stuck (maybe this would sound normal for non-Italians).
There are also the children of Rovshan, one of about a year and a half which is called Ismail (again), and another of about 7 years-old. Then there is the wife.
And finally, around 10 pm also comes Rovshan from work, as far as we understand (his English is a bit "fancy"), he's an inspector for the municipality of Ismailli.
His job description was "the call, telephone (and ask): how are you?". Our room is large, with a wooden floor and a lot of medicines. The mother is a doctor.
In Ivanovka: the last kolkhoz
Disclosure: Some of our articles contain affiliate links. This comes at no additional cost for you and helps us keep this website up and running. (as Amazon Associates we earn commission from qualifying purchases)
The next day, we go to Ivanovka, the last kolkhoz in Azerbaijan and possibly in the whole former Soviet Union. Here live the Molokans, a sect of ethnic Russians deported at the time of Tsar for their refusal to adhere to the Orthodox rite.
80% of the population is composed of Molokan, there are some "mixed" marriage but is not well received by the community. There are people who do not even know a word of Azerbaijani even if they live here for a few centuries.
Agriculture and farming are still practiced in a collective manner. The kolkhoz is divided into departments, each of which focuses on a particular sector (tractors, vines, animals).
At the end of the year, they sell products on the market (but no longer with the Soviet Union's rules) and share the profits. It's weird to see that those keeping on with communism are the more religious in the country.
The operation of the kolkhoz is explained by Tanya, a Russian lady who lives for six years in Ivanovka with her husband Jhon, a British man, and runs a guest house. She offers us tea and gave us a bit of the wine produced there, then tell us where to go to buy the cheese, the "blue gate No. 2."
Let's go for a walk around the fields, and here we find ourselves in the tractors department, a big yard where these old fossils are parked, but they seem to work still. Then there is the workshop for repairs.
While we're out there, the manager (who looks like the guy from CSI Miami, but with gold teeth) takes us for a "tour" of the factory. It seems to make a leap in time. Then he takes us into his office and prepares tea again.
Meanwhile, there are always workers who come to show him their work, he gives them some notes, we do not understand what they are.
After the visit to the tractors we walk through the fields, there are vineyards and then a "roadblock". In practice a small house where the men are drinking tea.
They tell us we can not proceed further because there are buffalos. And they again offer us tea. Then we go to buy cheese where Tanya recommended and get back to hitchhike for Kurdmashi.
One of the guys who drives us offers a ride to Lahic for tomorrow. It 'a funny fat man and, needless to say, with gold teeth. Rovshan's mom and wife prepared dinner.
---
Stay in touch while we get lost! Follow us on Social Media