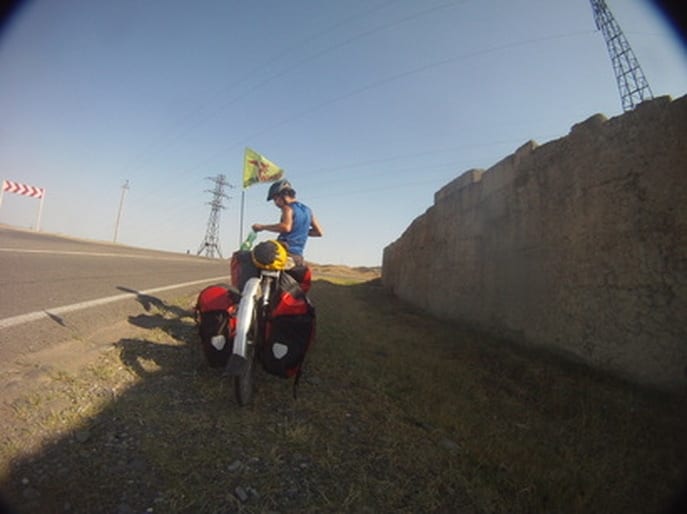 Bicycle Touring in Azerbaijan
Azerbaijan is not a prime tourist destination, anyway, many bicycle travelers end up crossing it on their way east, following the so-called Silk Road. The country is a huge leap in customs and open-mindedness compared to the neighboring Georgia (which is not the most "modern" country either).
Take also a look at our articles about Azerbaijan
Khinalug, the highest village in Europe
Baku, where the stinky wind blows
Lahic: copper wood and stone
Ivanovka, the last Kolkhoz
The Territory of Azerbaijan
Azerbaijan is a Caucasian State, enclosed between the Greater Caucasus to the north and the Lesser Caucasus to the South.
What's in the middle is basically a flat desert-like steppe, where all the "major" cities are, and that's where we rode during our bicycle trip in Azerbaijan, although we also visited some parts of the Greater Caucasus, namely Lahic, Ivanovka, and Kinaliq.
The central lowlands are pretty dry, not easy to find clean water, even less to find any shade, if you look hard anyway, there are both.
The Culture of Azerbaijan
Among the Former Soviet Republics, Azerbaijan is one of those who didn't really benefit from the sexual equality ideology pushed by the Soviet Union, the country is still tied to a very machistic culture, thus making it not the most enjoyable place to travel for women, especially when traveling solo.
Some may blame this on the Muslim religion, but we really don't believe so. Although a huge majority of Azeri people would call themselves Muslims, you'll encounter very few mosques in the whole country, while is not uncommon to see people drinking vodka (that yes was left by the Soviet Union), even during Ramadan.
It's extremely rare to see women driving here, they mostly sit in the back of the cars, you'll never see any woman drinking or smoking, except maybe for a few ethnic Russians in Baku.
Cycling especially is considered inconvenient for girls, the saddle is seen as some auto-erotic stimulator (the same was true in some part of Europe until maybe the WWII).
Things to Know about Azerbaijan
Be careful when drinking water given by locals, we got sick because of that, Azerbaijan is indeed the only country where we used our MSR water filter.
Azeri people are generally friendly but sometimes kind of weird when it comes to manners with western ladies, more than once they asked me the price of one night with Elena, stay calm (I almost lose my temper honestly).
One more very important things to know: never mention you like Armenia or Armenians. The dictatorship of Azerbaijan did a great job brainwashing its citizens, making them believe Armenia is their natural enemy, if you don't know why do some research about the Nagorno Karabakh ongoing struggle.
Try not to get involved in political discussions about this topic, especially if you support the Armenian cause, it can seriously cause you troubles.
Having an Armenian stamp on your passport can make each police check painfully slow, while having visited the Nagorno Karabakh area will make it impossible to enter in Azerbaijan until you don't get a new passport.
Free Camping in Azerbaijan
Camping in the wilderness of Azerbaijan, despite all the bad we mentioned so far, is very easy and safe. The country is sparsely populated, camping is not usual but not illegal, or at least nobody bothered us while we where free camping.
Our map: click on the track to get the elevation profile
Disclosure: Some of our articles contain affiliate links. This comes at no additional cost for you and helps us keep this website up and running. (as Amazon Associates we earn commission from qualifying purchases)
Traveling by Bicycle in Azerbaijan: Our Travel Journal
This is the account of our 530km cycling trip from Rustavi (Georgia) to Baku.
We set off a little late, after a deep bicycle cleaning. The road is quiet, fairly flat. Arrived at Rustavi, the landscape changes completely and turns into desert. Rustavi is a quite weird city, there are only car-dealers and big Soviet-style apartments. Then we approach our last climb (at least for a while).
The desert hills around us are beautiful. Then the plain. It's really absurd how the landscape can change so fast in Georgia, after only twenty kilometers from Tbilisi it seems to be in another continent.
After some more flat kilometers, we spot a creek near which there is a nice grove of olive trees, it is a nice place for our tent.
We are about 6 kilometers from the border but it's already 8 pm and we risk losing too much time at the border, thus having to find a camping spot in the dark. Better take this one.
After more than a month we have to say goodbye to Georgia. Before the border we stop to buy food, no one speaks Georgian already and we see the first mosque.
After a few kilometers, we arrive at the border, we make it quick, as usual when border officials see us on bikes they make us jump the queue. The last sign we see in Georgia wishes us good luck in Azerbaijan! We hope so…
We ask where we can find an ATM to withdraw Azerbaijani manat and find out that the first one is 40 kilometers away! Keep this in mind if you cross this border, get some Manat in Tbilisi if you can.
Anyway, This would be no problem if not for the fact that we have to eat, we are starving! Some local men want to offer us Vodka, it's Ramadan period (until July 29) but they don't seem to mind this at all.
Fortunately, in the second attempt, we find a restaurant where we can pay with debit cards. The menu does not exist, we quickly realize we are no longer in Georgia. They bring me into the kitchen to have a look at what's there.
Then they bring everything they have, which basically consists of the usual salad of tomatoes and cucumbers, cheese, bread, meat with boiled potatoes, and a kebab (which is a sort of grilled lamb sausage).
And the tea, bringing it into the teapot along with the classic little glasses. After lunch we meet two Spanish guys hitchhiking to Baku, they will take the ship to Kazakhstan like us.
We set off, it's very hot, the road is flat, with a little up and down but nothing challenging. Everyone greets us, even more than in Georgia.
Eventually, we cross the village of Qazakh/Agstafa, where there is a cash machine, we drink the worst coffee ever (ok, we are no longer in Georgia, we must realize it and start drinking only tea).
After this pleasant town, I think about twenty kilometers, we reach another small river, take the dirt road that runs along and find another grove of olive trees.
Just what we were hoping for, the shade along this road is a very rare thing indeed. We cook a pasta, giving some to a cat that meows for a good half an hour, and we go to bed.
While dismantling the camp a gentleman appears, we deduce he's the owner of the olive trees. He says, I think, that we did good to sleep here, that this is a nice shady spot.
Then he grabs Daniele and brings him to his house (which is right above us), he gives me at least 5 kilos of apples, tomatoes, and nuts. He tried to refuse, doing his best to explain that we already have too much weight on the bicycles, but there was nothing to do.
Well, we'll try to get rid of them just back on the highway. We decide to leave the bag at a bus stop, hoping that someone will take it.
After about thirty kilometers we stop at a gas station to get a bit of water and I take the opportunity to ask if they can inflate my back wheel. Just leave and I get a puncture, or so it seems.
Daniele is in front and cannot hear my screams! My wheel is completely on the ground and the pump is on Daniele's bike! Basically, I can't do anything else than screaming until Daniele becomes a tiny dot in the distance.
Then providentially a man stops, Russian plate, asking the usual things (where I come from, etc…) but I immediately commission him to go stop my "husband" and tell him to wait for me. He goes, and I hope he understood!
He had got it right!
In the end, the problem of the bike was the following: the genius of the service station had unscrewed the valve, inflated the wheel, but didn't screw it back. Probably he never inflated the wheel of a bike before.
However, it's ok, just need to inflate the tube again. Meanwhile, Vasil (the one with the Russian car) invites us for a tea a few kilometers further.
In some way, we manage to communicate (with the help of our dictionary) and then he invites us to have dinner at his house, he says it's about ten kilometers from here. We follow him, the kilometers are 15, then 20, and then we no longer see the car.
Shamkir and Russian lunch
After 25 kilometers we think he abandoned us, well, doesn't matter. But at the 30th kilometer, close to Shemkir, he reappears. As always, motorists do not have the slightest perception of distances.
We cross the city, just 16,000 inhabitants, but it is the capital of the region. To our left is a large park, with lots of bike paths. Everything is well-kept, the lawn is perfect.
Here, as everywhere in this country, huge photos of the former president (Heydar Aliyev the father of the actual dictator Ilham Aliyev) died in 2003, loom over the citizens, always accompanied by a few words that should be a quote. I'd be curious to know what these say.
Along the way, we often saw these photos, placed in gardens in the desert, always with someone cutting the grass around, or giving water to trees that otherwise would never survive there. They are in perfect populist dictatorship style.
After crossing the city, we finally arrive at Vasil's home, where we meet the mother, the wife, four children, and another girl. But above all, we meet dinner.
Thanks to the dictionary we can talk a lot. Vasil lived in Moscow for two decades, he comes back to this house on holiday. After dinner, we have a shower, amazing. We pitch the tent in the garden.
The mother of Vasil wants to make us sleep in the house but we are afraid of morning surprises, we don't want to be asked for money tomorrow… you never know… and we stand firm on our decision to mount the Palatka (tent in Russian).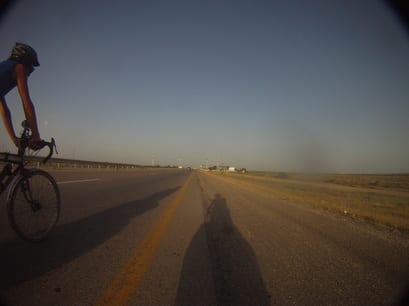 Our hosts make us a nice breakfast. Vasil wants to take us for a car ride on the mountains around Shemkir. Let's go. The mountains are completely devoid of vegetation. Nobody lives here.
We met only a few cows, we don't understand what they're doing there, there is almost nothing to eat for them. Vasil says that further on the landscape is beautiful, but we should enter the Nagorno Karabaq area which is not possible. Then we go home, we greet everybody and we leave.
It's the usual infernal heat. My bike makes a tremendous noise, we find a man who gives us some 'grease for the chain, which is almost dry.
We stop to eat in one most absurd "restaurant" in the world. It's a pretty big place with lots of giant sign with colorful pictures of the dishes, they are always those three mentioned above (boiled meat, kebab, and salad).
There comes a guy who only speaks Azerbaijani, not even a bit of Russian, we try to ask for the menu, which of course does not exist (the dishes are always those three in all the restaurants so it makes no sense to write them down), but here there are not even those!
The boy brings us to a sort of showcase and lets us see what's inside, basically nothing. We see cheese and sausage, we ask that and a salad. We don't have time to return to the table that lunch is served!
He brought the dish with those hot dogs, raw, straight from the fridge and with a lot of films on. Same for the cheese. The cheese stinks, pretty much. And even the sausage doesn't look good.
We eat the salad and yogurt while the guy shoots some loud music into our ears. Let's run away. Perplexity.
We arrive in Ganja, we eat ice cream and keep on pedaling.
The temperature is always about 46°. It's late, we'd like to get on the Kura river but can't make it. At the hundredth kilometer, we stop to sleep in the middle of a group of trees along the road. The heat is still unaffordable, at least up to 11 pm, falling asleep is not easy.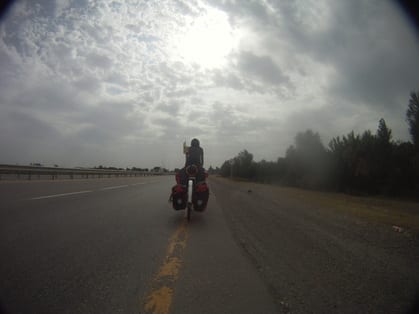 Today there is some small cloud that covers the sun, the degrees are "only" 40. After ten kilometers we arrive at the Kura river. Near the stairs leading to the river, there's a little police guardhouse.
There comes a policeman who tells us where we can swim, we leave the bikes there and go down. I can't have a bath, monthly issues always at the wrong time.
The policeman is watching us from above, and I'm watching him, I do not have a lot of confidence. Daniele gets a little swim and we go up, the cop boasts us an Eddie Murphy smile and invites us for a tea. It seems that we can not refuse. I have a phobia of certain uniforms.
Before leaving to make tea and offers us a glass of water which tastes a bit like sewer… and then tomatoes, cucumbers, and hot dogs, stolen from his colleague's bag.
After an hour we're finally able to conclude the preparation of tea but a call comes in, it seems that the boss is coming and he basically kicks us out of there.
It was really funny, he talked for an hour in Azerbaijani, the only thing clear was that he hated Armenia and that he's native from Nagorno Karabakh. However, thanks to the arrival of the boss we can leave. We lost a rare moment of cloudy sky.
We would like to get one day in advance to Baku, July 28. Above all, we would like to get to the Caspian sea as soon as possible. Therefore, we should do at least 110 kilometers a day. But the heat is deadly, even if the road is flat.
After eighty kilometers we stop for a drink, I get a Fanta, that just makes me a strange effect. After five kilometers I feel bad, my head is spinning and I feel sick.

Just before I spotted in the distance a group of trees and a dirt road that seemed to lead right there. Let's get there. We are on a nice pitch of pomegranates, shaded, perfect. It's like magic.
Nearby is a useful spring to wash my face, where Daniele meets a wandering bull, he also wants to wash his face but it is an educated bull and, seeing that at that time the spring is occupied, he goes away and come back later.
But I have nausea and cannot eat. Daniele tempts me with the noodles… but just can't make it. I crash into the tent and try to sleep.
Sleepless night with vomiting attached. I just can't pedal. We reach the freeway and luckily just a few hundred meters away there is a restaurant where all the marshrutka passing by stop for a break, which looks a little mafioso. We drink tea and I can eat some watermelon. We wait for some bus with destination Baku.
I'm sick, the road is flat and there is not much to see. After fifteen minutes comes the first minibus to Baku, we ask the driver if he can load our bikes and panniers. He tells us he will check after eating (boiled meat cannot wait).
After lunch, he says okay, we load everything and we go.
Desert to the right, desert to the left. Along the way some watermelons and melons sellers trying to shelter themselves from the sun in the small shade of a few trees, more and more rare.
Then comes the Caspian sea, it is at our right but we barely see it, there are often long walls between the road and the shore. Probably the private property of a few oligarchs. But from what we can see the color of the water tends to a pea green.
We arrive at the bus station in Baku, ask a taxi driver how much he wants to take us to the house of the guy who will host us and he shoot us a ridiculous amount of money, something like 30 euro. Besides, he doesn't even know where the address is.
We check on the GPS, the house is less than two kilometers from here. We'll bike, I'm not as sick as having to pay a 30 euro taxi. There are other gentlemen who tell us that the taxi drivers are crazy and give us directions.
We immediately find the street, but the house-number is a problem, the path is a string of Soviet apartment blocks without house numbers and without bells.
Fortunately, while we wander back and forth Ismail (fiction name) appears before us.
The father was playing chess in there somewhere, he saw us passing and warned the son. He lives on the 9th floor, luckily there's an elevator and in a few trips we can bring all our things. We've been together for an hour, then he and his wife go out and I go almost immediately to sleep.
Stay in touch while we get lost! Follow us on Social Media