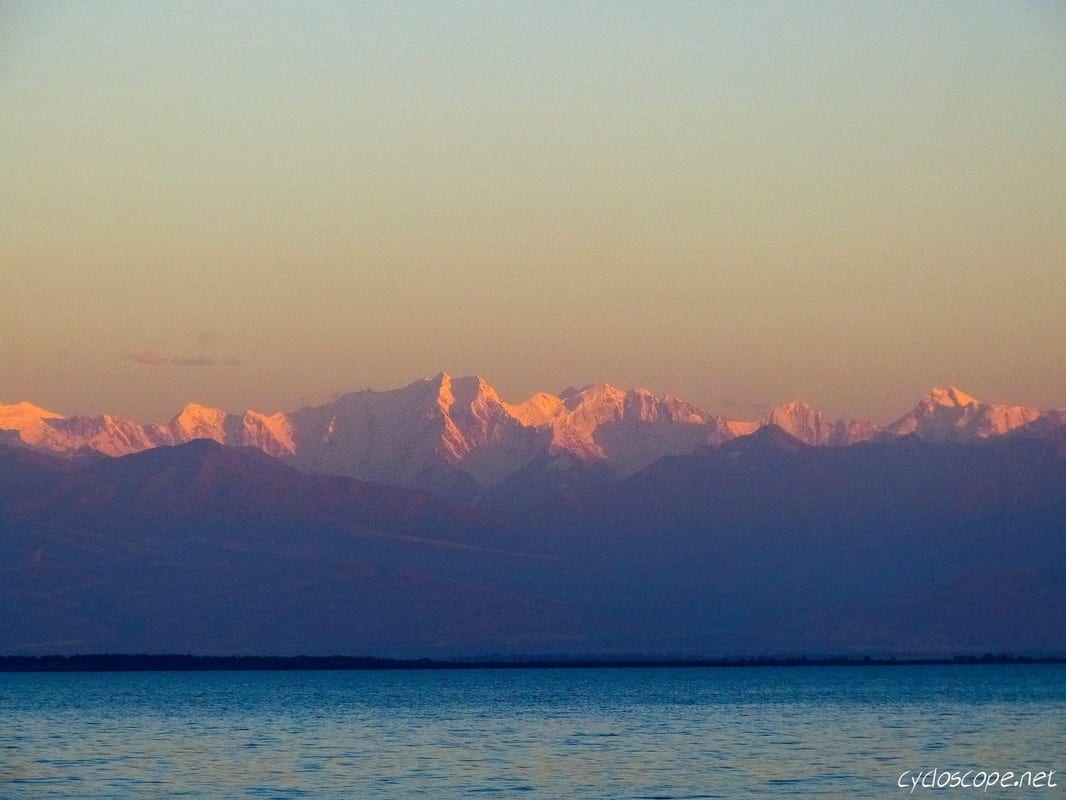 Cycling Kyrgyzstan: Bikepacking Itinerary, Advice, and Highlight
Cycling Kyrgyzstan – Direction: lake Issyk Kul, 1600 meters above sea level, surrounded by much higher mountains (up around 7000msl), the Ala-Too range, Kungoy (sunny) Ala-Too in the north and Terskey (Shady) Ala-Too in the south, part of the Northern Tien Shan. It's called "the eye of the world" for its peculiar shape.
Issyk Kul is the tenth largest lake in the world by volume (though not in surface area), and the second-largest saline lake after the Caspian Sea. The lake is a cradle of Central Asia civilization with a lot of mysteries around it yet unsolved.
But besides his historical and cultural interest, Issyk Kul is the beach resort of Central Asia. The water, being slightly saline, resembles that of a sea, and it's crystalline moreless anywhere, especially down the south coast.
Which coast is the best one?
We went all around the lake, 450km in about one week (excluding the time we spent in Cholpon Ata, watching the World Nomad Games).
But if you have time, or just want, to do only one of the shores, we absolutely advise to cycle (or travel however you please) the south coast of the Issyk Kol. The road is often very close to the lake, and the best beaches on the Issyk-Kul are to be found here.
Despite that, this side of the coast is inexplicably undeveloped, with very few touristic facilities. A lack of restaurants, hotels and even decent sized settlements, makes it a great, adventurous route for bicycle touring and wild camping, although maybe not ideal for complete camping beginners.
The north shore of the lake instead, is much more developed. There are a few medium-sized towns and the road condition is better. This route though is often far from the Issyk Kul, which is thus not in sight for the most of it.
The only good beach we found on the north side is in Cholpon Ata*, a resort town where all the local tourist seems to go. Good if you're looking for guesthouses and restaurants. Less so if you're looking for peace.
Planning a bike trip around Central Asia? Check also
Bike touring beginner? Have a look at
Bathing in the cold cold water of Issyk kol lake! So nice to be in a beach after so much desert
How to get from Bishkek to the Issyk Kul
We set off around 1 pm from AThouse. For the first 50km, the road is busy, in the distance, you can see the mountains approaching. But still, the landscape around us remains bleak. There aren't plenty of good places to camp, there are neither trees nor grass.
On our left, should be the Chui River, which is also the border with Kazakhstan. There is barbed wire marking the border, but of the river, only the bed remains. The water was channeled and is locked in a concrete pipe, across the road to our right.
Towards evening, after about seventy kilometers, we go to sleep close to what used to be the river, a few meters from the border. The border patrol stares at us perplexed.
When we assemble the tent they stop making the case to us. I think there is a lot of people trying to enter illegally in Kazakhstan.
Disclosure: Some of our articles contain affiliate links. This comes at no additional cost for you and helps us keep this website up and running. (as Amazon Associates we earn commission from qualifying purchases)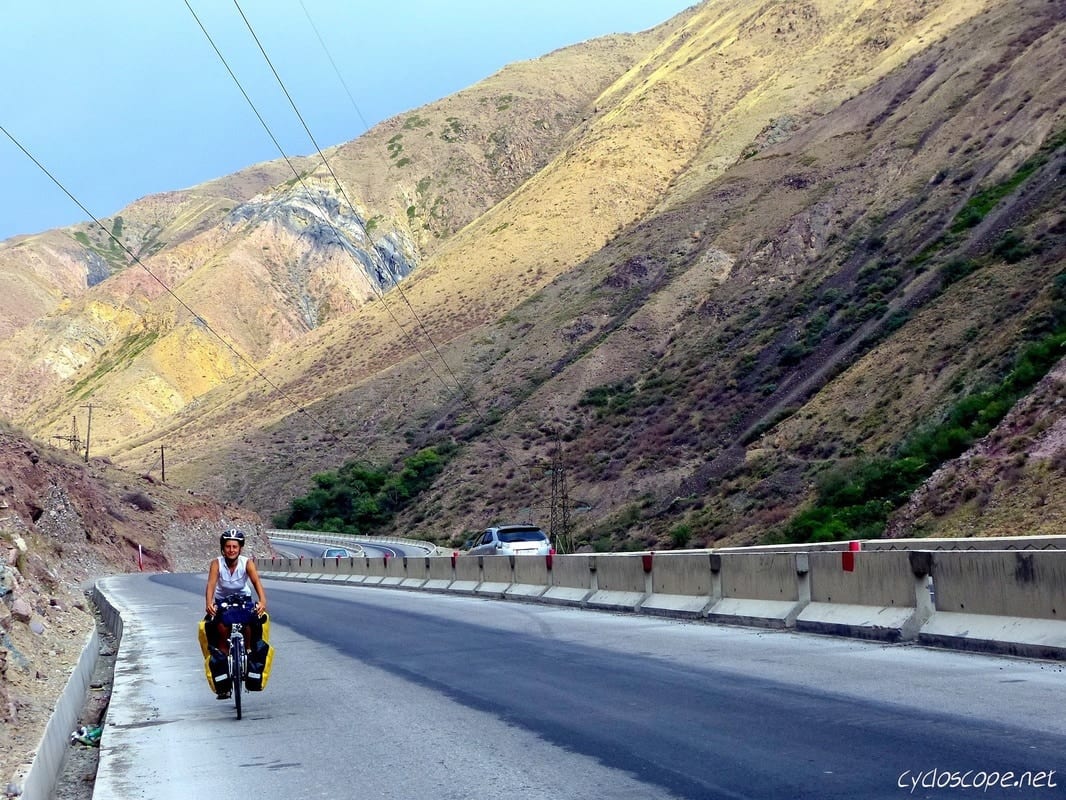 The road is slightly uphill. The landscape becomes more mountainous. And there is less traffic, we meet some Chinese workers who are building the new lane. Apparently the Chinese know how to build smooth roads.
So this is what they're doing more less all over the world in the less developed country, building infrastructures and exploiting the natural resources in exchange, new colonialism we may call it, quite better than the old style one anyway. Less bloody at least.
To our left, the railway. Yes, there's a train from Bishkek to Balykchy, on the shores of Issyk Kol, but it's active for passengers only during the summer months of June, July and August.
Here finally the Chui river sets itself free from the concrete cage, it's now a beautiful placid river streaming through the valley. We sleep under a tree beside the river, an apple tree, but all the apples are full of holes…
We cook a pasta and go to sleep as soon as it gets dark. Now our rhythms are those of the sun, at least in the evening… it's beginning to get chilly after sunset.
Cycling the South shore of Issyk Kul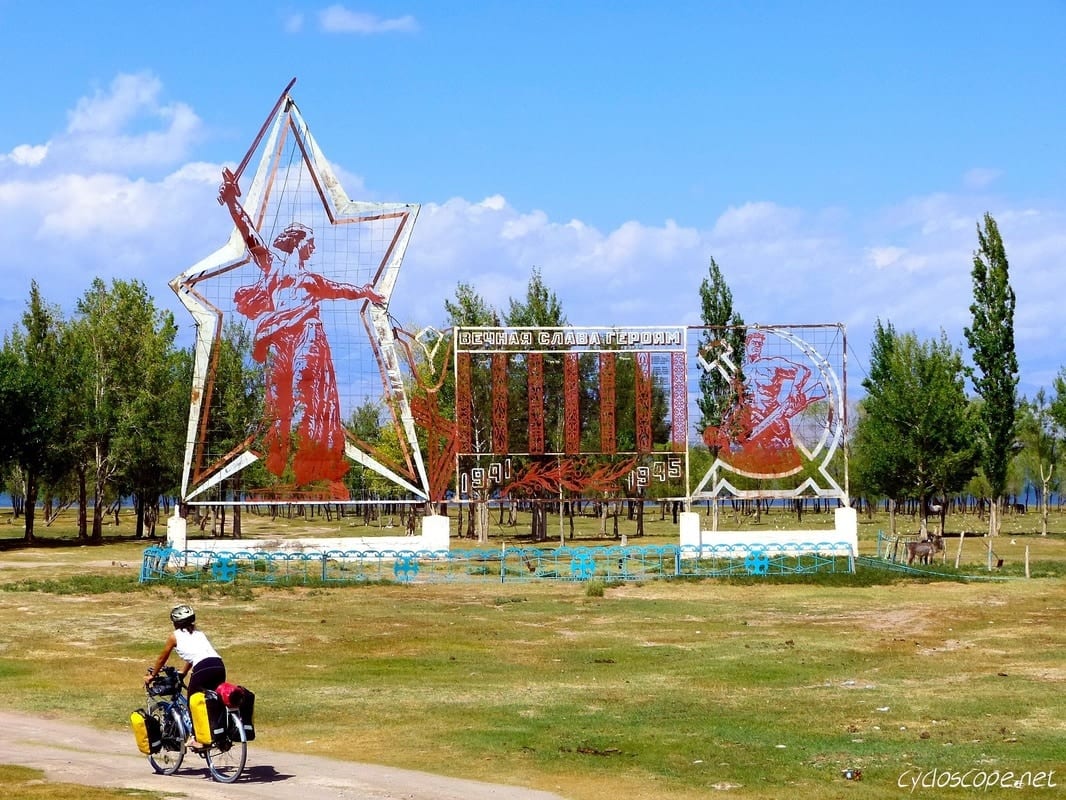 It's raining since last night. It's indeed chilly and I don't want to get out from the "bed". But you have to get out of your tent in this unpitiful life so, we put on all we have, we are waterproof, moreless.
And as soon as we are ready, the rain stops! So we have to undress again! As soon as we start even the sun cames out. We're back in shorts and T-shirt!
After twenty kilometers we arrive at Balichky, at 1600msl, on the shores of the lake. We skip the town because the road to the south of the lake splits before it.
Obviously this road hasn't been build by Chinese people, maybe for the cars is fine but for the bike is a disaster. The Kyrgyz method of building roads is: throw rocks, pass over them with a large roller, fine. So we are continually shaken.
We wanted to stop and eat outside Balichky, where plenty of small restaurants were, but it was early. This must be a touristic spot, isn't it? We shall find a lot of restaurants, no? No.
No way, regret it, there is almost nothing for 40 kilometers, not even a mini-market. But the scenery is beautiful, the lake looks like a sea, with gren calm water, surrounded by high mountains, some snow capes them.
The beach of Ottuk – best beaches on the Issyk-Kul anyone?
Finally, we find a village, Ottuk, and stop there looking for food. But in the three markets in town they only sell beer, eggs and candies. Moreover, this village is full of the most annoying children ever. We buy eggs and decide to cook on the beach next to the village.
The beach of Ottuk is beautiful, one of the best beaches on the Issyk-Kul, in our opinion. Basically, it is a huge meadow of soft grass, the water is calm and crystal clear.
There are so many horses and some donkey but very few people. The horses often have the front legs tied together by a rope, so they will not run, but they also struggle to walk. Seeing them like this is a pain.
Almost at the beach we break the eggs! Back to the market, we're followed by the always troublesome children, to prevent them from throwing stones at us we throw stones at them, so we learned in Azerbaijan and so we do, and it works. No worries, nobody got hurt.
Bought back the eggs, back to the beach. We cook, the result is a pimp, but it's edible. In the meantime, it starts to rain and then hail, we are under a tree waiting for it to stop.
There comes a donkey trying to eat up the eggs, and so we find out that the donkeys like eggs. You never finish to learn in this life.
The hail is over and the sun comes out, let's go on the beach and pitch the tent. We only cycled 40 km today, but the lunch break lasted much longer than expected and this place is really amazing. And after ten eggs in our stomach, we can go to sleep.
We keep riding the south coast. The scenery is as beautiful as much as the road is awful. We stop here and there to drink from our water bottles and take pictures. There's a climb to 2000 meters, and as soon as the descent begins a dreamy landscape opens before us.
The descent is long, about 10 kilometers and takes us back to the lake, Caribbean beaches. Who could expect that in Central Asia. It's midday and it's hot so we go to swim. There's a bunch of young guys preparing a barbecue, they're sympathetic and we chat a little.
While there, a minbus comes, it's full of women, aged 50 to 60 we guess. They get down the marshrutka, and get naked, yes naked, and go to swim laughing loudly and playing with the water.
We stare in misbelive, togheter with the young guys. This is what Soviet times did to a Muslim nation, not bad should I say, at least in this aspect.
In this side of the lake, there is no tourism neither, we have seen just one hotel.
The only "touristic" village we encounter is Kaji-Say, where there's an abandoned Soviets-times sanatoria, and a few new buildings.
We stop to sleep on the beach shortly after the town, there is another tent, a couple of Kyrgyz in their fifties who just cooked a fish soup. They offer some to Daniele (I'm vegetarian, remember?) and give us some apples. We cook the instant noodles but they are spicy hot!
Eagle hunting, stone bullets and huge horses
There's a tourist bus parked beside a cliff and a lot of western tourist taking pictures all togheter, we go to see what's going on and we realize there was an eagle hunting show.
It's over now and the hunter is feeding the eagle with the hare she cuaght, a sacrifical hare, brought there to be gutted for the tourist cameras.
Eagle hunting is a strong tradition in Kyrgyzstan and the hunter seems to know how to handle and treat the eagle, anyway it's wierd to see this practice acted as a performance for tourist.
The road continues along the lake and then goes away through the fields, this must be one of the few flat and cultivated areas in Kirghiztan.
After about 90 kilometers the weather turns bad and seems it's going to rain. A stratch of the road consists only of stones, not yet crushed, when cars pass the stones become bullets.
We find a small road that leads through meadows to a small field, we ask if we can sleep there and of course they say yes. We pitch the tent among the curious eyes of children shepards, one of them, maybe 9 years old, is riding a horse so huge it doesn't seem real.
Karakol and nuclear submarines testing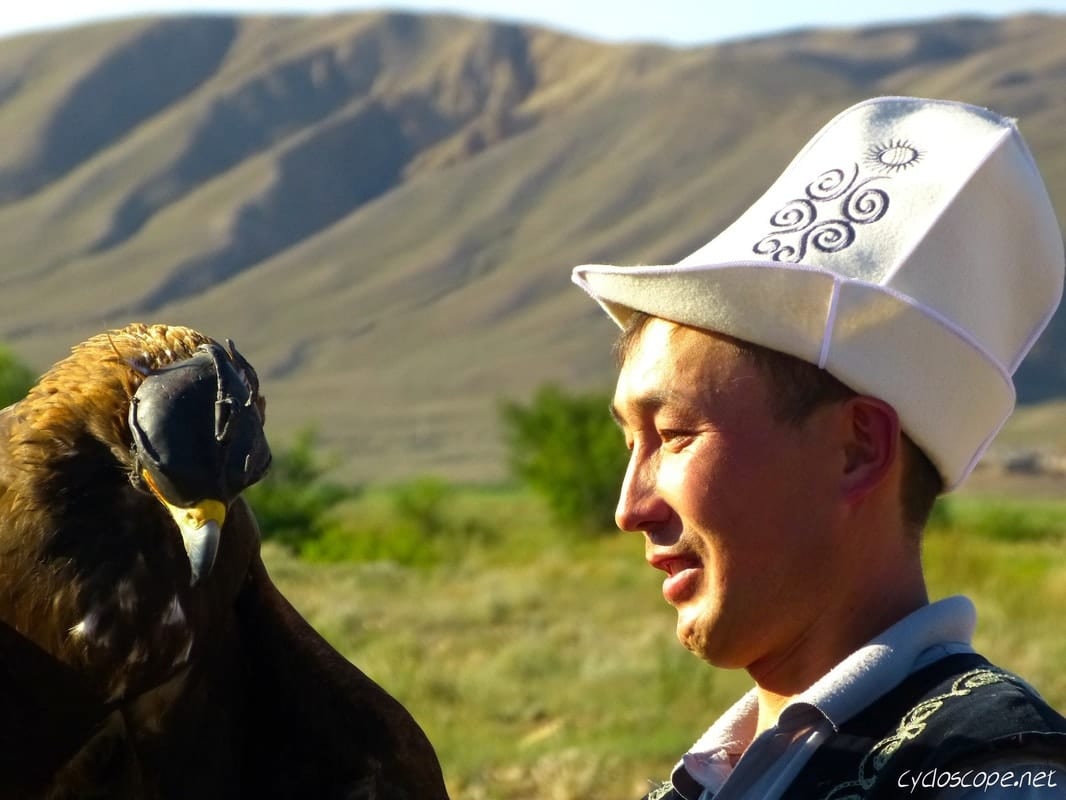 We pass the old Soviet Sanatorium of Jeti Oguz and arrive in Karakol, a large town (70,000 inhabitants), starting point for many of the most famous high mountain hikes, among the most attractive things to do around the Issyk Kul lake. 
Karakol is the trekking Mecca of Central Asia, some of the best hikes in Kyrgyzstan begin here, unfortunately we have no money, and no proper gear for that.
Being probably the most touristic place in Kyrgyzstan, there are even a sports goods stores. I buy a jacket and Daniele a pair of trousers, winter gear for the next cycling to Lake Song-Kul (3000msl).
We're on the easternmost part of the lake, this is where the Russians used to test their torpedos and submarines.
In March 2008, Kyrgyz newspapers reported that 866 hectares around the Karabulan peninsula on the lake would be leased for an indefinite period to the Russian Navy, which is planning to establish new naval testing facilities as part of the 2007 bilateral Agreement on Friendship, Cooperation, Mutual Help, and Protection of Secret Materials.
The Russian military will pay $4.5 million annually to lease the area. Seems India is interested in testing military submarine technology there too. No peace for Issyk Kul (source).
The scary story of the psycho-baron
We are halfway on our full tour of the Issyk Kul, up to get our turn back west, along the north coast of the lake. Here the road is always a few kilometers from the shore.
Around evening we take a small road between the fields that leads us inside a beautiful park on the lake, about 3km from the road. It's really beautiful and lonely. Even if there is garbage from some Sunday picnic, of maybe three months ago.
After bread and cheese we go to sleep, or rather, we would have liked. Around midnight, a guy appears in front of the tent, it seems quite drunk. Daniele goes out and understand that he got stuck with the car as he was going fishing (?) and wants us to help pushing the car.
Daniele goes to help but there is nothing to do. Back in the tent, the guy continues to babble, begging for another attempt. To get rid of him Daniele tries again but the engine wouldn't start. After a while comes another guy who claims to be the Baron (?) owner of the land (?) and takes away the crazy n°1. We think we can finally sleep…
But after a while the Baron is back and reveals his real crazy nature! Keep talking and talking, he does not go away. We understand he wants to sleep with us in the tent (?) or with me or with Daniele (he's confused). We think he's drunk and we tell him, but to demonstrate he's not, he does some strange acrobatic move. Now we are scared, if he's not drunk then he's a psychopath.
After more than one hour trying to get rid of him, Daniele takes the trusty TigrLock to show him we could be a tough cookie, but he's not threatining, just very creepy, and a bit slimy.
At the end I say that I will call the politia (police), (lie… who knows the number? And then how should I talk to them and explain where I'm?), but at the sound of the word politia he's gone! If only had we know it was so easy…
Anyway we cannot sleep after these two hours of stress, we understood that, to "disconnect yourself" too much from civilization is not always safe.
This story is included in our top 10 bike touring stories
An hallucinating dream and a petty theft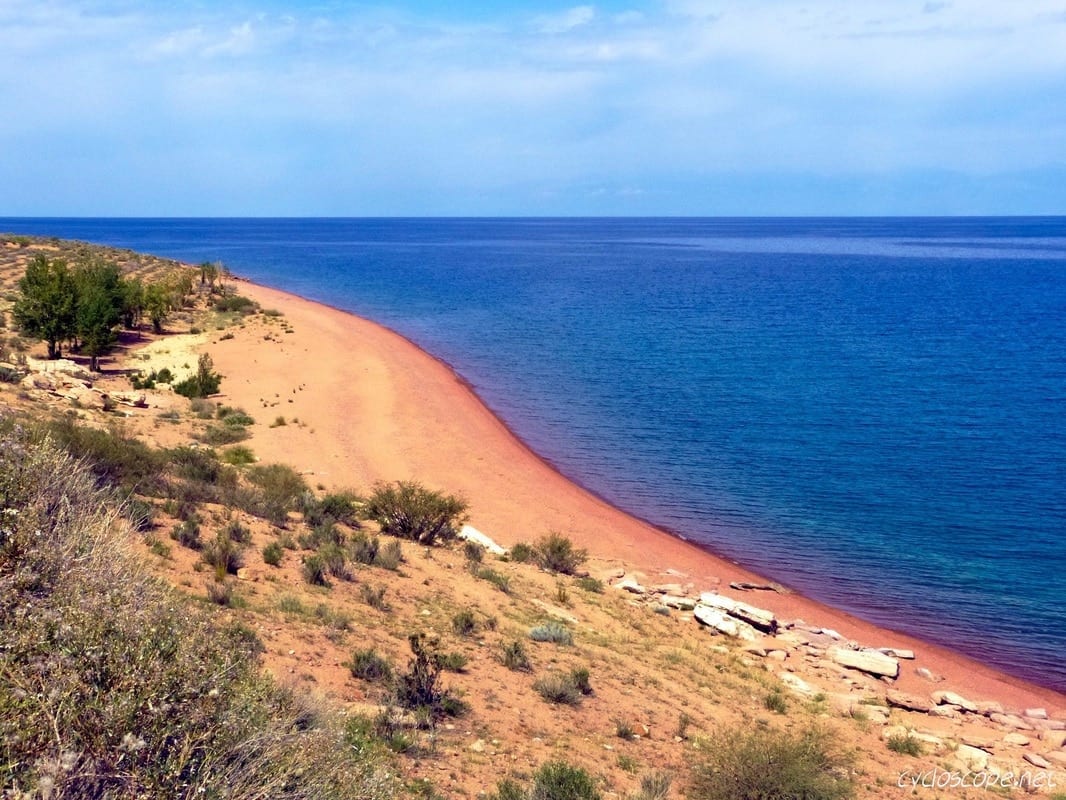 We wake up after a night of wierd dreams, the Baron was a tiny gnome and was sleeping at our feet inside the tent, while outside there was a party going on…
We find out that a Crosso dry bag is missing, it was empty and I used to cover the connector for the GoPro in case of rain. Probably it was taken by the crazy baron.
Among other things, the car with the crazy number 1 and the Baron is still there, and there is also another guy. It seems pointless to try to go to talk to them… we don't want to cope no more with those mad assholes, and we are still in the middle of nowhere.
We dismantle everything quickly and we leave. The road in this part of the lake is not very interesting, is far from the shore for the most part (so if you have to chose une side chose the south one), but we still manage to find a beach and take a bath, probably the last of the year.
Around 6pm we arrive at Cholpon-Ata and we get to the hippodrome, a couple kilometers before the village. Here will be held the first World Nomad Games which will begin tomorrow. Today there is a ceremony for the athletes in the presence of the Kyrgyz prime minister and some other authorities, so the racecourse is closed to the public.
Daniele goes to the press office to ask if we can have the Press Pass and I'm blocked by an array of military that not even a footbal derby would have seen.
I cannot move and I cannot call Daniele, who, who knows how, just passed without being stopped by anyone! After an hour he's back thankfully! He was interviewd by the BBC while trying to understand something about the program of the games.
There's no fixed program yet, nobody even knows what time would the opening ceremony be. Soviet style, you really understand Kafka when your around those places.
Setting up the tent here is not an option, to follow the games we need a place to store our things and this town is full of people.
So we go to the village, we meet a franch guy also looking for a Guesthouse, we find a room for 1200 som (17 euro).
The French says it's a normal price in Kygyzstan, we always slept in the tent so we do not know if the price is in the average but it seems a bit expensive.
However, the room is nice and we can take a shower, for tonight's okay! And then right in front there is a nice little place where they make good Laghman (bigoli – thick noodles) handmade of course.
Travel Insurance for Cycling in Kyrgystan
It doesn't matter how safe a country is, things can always happen – accidents, thefts, injuries, etc are unfortunately very common in the real world. We recommend ALWAYS getting a TRAVEL INSURANCE

The most versatile and best value-for-money is undoubtedly WORLD NOMADS, have a look a their website to get a quote.
What to pack for a cycling holiday in Kyrgyzstan
Bike Gear
Pro Tip!
You don't need an expensive bike to cycle here. You can easily ride on a refurbished bike that you can get for free (or almost free) – learn how here!
---
Cycle Clothing
Pro Tip!
Use common running shorts to cover your cycling shorts in conservative countries!
---
Accessories
Bicycle touring Kyrgyzstan – Issyk Kul: our video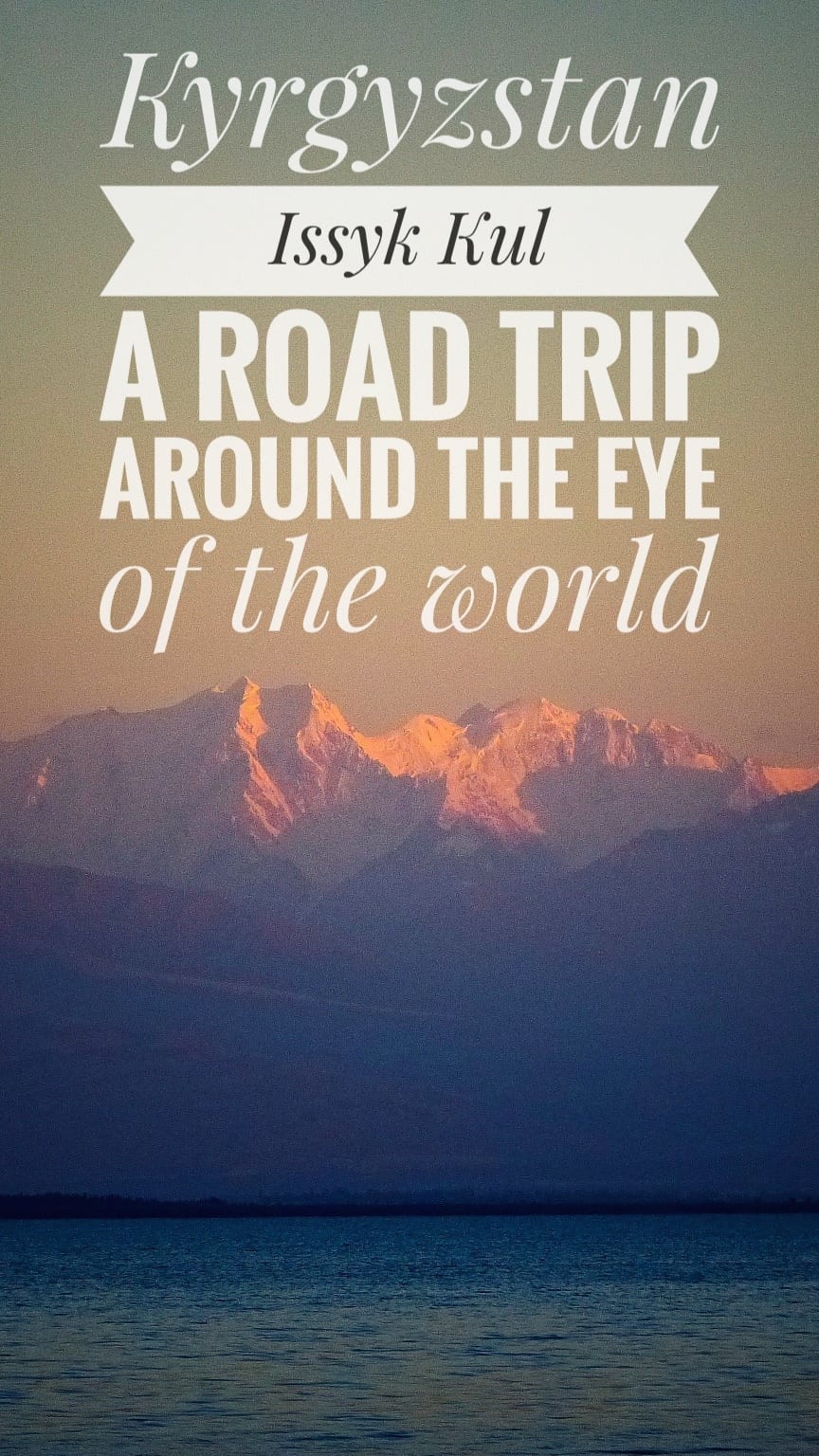 Follow us while we get lost
Stay in touch while we get lost! Follow us on Social Media