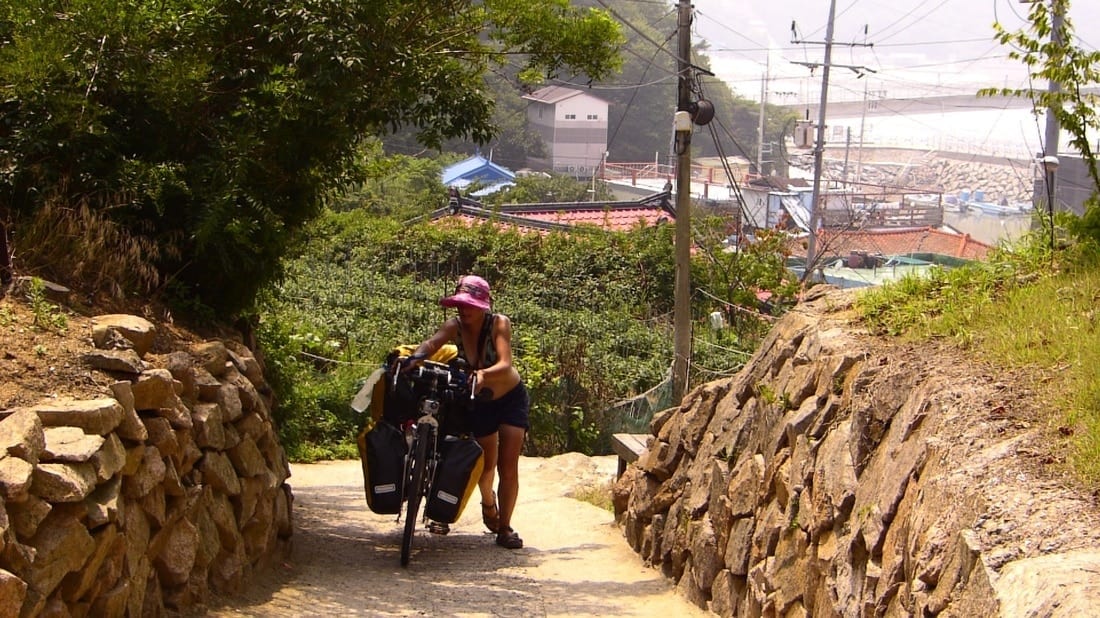 3 great islands to visit near Seoul & Incheon. Great beach day-trips or weekend destinations from the capital of South Korea.
South Korea has 3358 islands, of which more than 100 belonging to Incheon area. We visited only three: Yeongjong-do, Muui-do and Somuui-do (do means island), easily accessible on day trips from Incheon or Seoul.
Since we were bicycle touring we took it really easy, as usually do, and spent three days and two nights there, wild camping in Somuui and Yeaongjong islands. South Korea is very camping friendly, so if you like this style and have a tent with you, there's really no need to waste money on expensive accommodations.
We would like to say these are the best islands in Incheon/Seoul area, but how can we? If you explored other islands please contribute with your experience in the comments. We think tough that those 3 islands are really worth being included in your Seoul itinerary, we'll tell our experience to let you understand why.
Check our hints on how to travel South Korea for less than 10$ a day
Have a look also at the best off-the-beaten-path destinations in South Korea
If you plan to explore the country on a bike don't miss our article about Cycling South Korea
Yeongjong-do
Disclosure: Some of our articles contain affiliate links. This comes at no additional cost for you and helps us keep this website up and running. (as Amazon Associates we earn commission from qualifying purchases)
To reach the airport island, Yeongjong, there is a bridge, the 24km impressive Incheon Bridge but it's a highway, and this is not China, you can not go on the highway by bicycle (really you couldn't even in China but this is another matter). So let's take a boat.
From the port of Incheon there's a boat every hour. Once we get there we are told that the ship does not sail from here but instead from "there" (pointing far away)… communication problems. So we lose the one of 3 pm and take the one at 4 pm, it's a very short ride, about five kilometers.
To save you time, check our route map at the bottom of this article for all the directions.
The airport island is large and ghosty, there are streets with brand new traffic lights but no cars, and a perfect bike path. Many tower blocks numbered in Chinese style without inhabitants… no traffic, no people. Strange atmosphere. We meet only some Korean "Sunday" cyclists.
The island is flat, there are neither climbs nor old villages. It seems that before the construction of the airport there was nothing but a swamp. There is low tide and the sea has retreated hundreds of meters, making the atmosphere even more surreal. It's an expanse of mud with many herons and other birds. The view of the Incheon bridge is impressive.
We cross the island and stop to free camp in a seaside park. Here the sea is enclosed by a dam. Nearby there is a large hotel and we also have WIFI connection in the tent.
Struggling for some crappy food
Along the way, we bought instant noodles and boiled eggs for dinner. When we wake up, everything is shrouded in fog. Let's refuel by the boiled eggs lady, which are not so cheap, 1 egg: 500 won (40 cents). Need protein, you cannot always eat instant noodles. Just about noodles, our Miss shoot us a 2,000 won per pack, almost 2 Euros, far too much, seems a trick for foreigners.
So we do not take any eggs or noodles and go to a competitor's booth where, instead of a lady with the perm (all the women here after getting married and giving birth comb their hair in perm, a sign they are old) there is a little man. From him the same noodles cost 1,000 won, the eggs always 500 each, and he also gives us two cans of cold coffee for free, not bad. Korean men beats Korean old ladies 2 to 0.
We cross the little island (which is a rock no more than 300 meters long) from where ferries depart for Muui-do, one kilometer further. The islet-rock port is connected to the airport island by a road in the shallow sea, a fascinating road, shrouded in fog.
Both right and left, where there should be the sea, due to low tide, there is a large expanse of mud inhabited by herons, webbed birds and people who dig in the mud in search of something we did not understand. Rake and shovel, perhaps they look for mudfish.
Muui-do
The small ferry for Muuido costs 1500 won  (1 euro and something) round trip. A budget-travel-friendly option. Arrived on the island of Muui, we note the first Korean gazebo, wooden, raised from the ground and with a nice roof in traditional style. It looks like a lovely place to host our little portable house.
It's hot and the slope of the road is quite vertical. The island is small and mountainous, so apparently, there were no other ways to build a road here.
Lush green, with so much forest and loud cicadas, tiny village of cozy houses dotting the landscape now and then, cycling Muuido is anyway a very nice ride.
We take the road that leads to what appears to be the only beach on the island. A few hundred meters from the beach we find that you have to pay admission, 2,000 won, each. No beach then, we are still on a very tight budget (we have 90€ for 15 days at the moment).
Somuui-do
Let's go to another small island, connected by a pedestrian bridge to Muuido. It's really very small. Again to enter the islet we should pay 2,000 won per head but luckily the conductor let us in for free. The power of fully loaded bicycles.
There is a small village which begins at the harbor and climbs on the only road of the islet, I think like a 30% slope. We deserve a bath in the tiny but nice shell beach near the port, nestled between rugged yellowish rocks. First real bath after the Caspian Sea. The tide is low but now we see it rise visibly, soon there will be no more beach, at least until the next low tide. Definitely not the place for the tent.
We climb across the islet. While I push the bicycle up, a little old lady takes me by the arm and tells me something, I don't know what but it was related to my muscles. Another stops me and tells me that I have to cover from head to toe (like them) otherwise I could get a tan! The skin should be white… The absurdity of beauty standards, to think that we have people getting sun-lamps…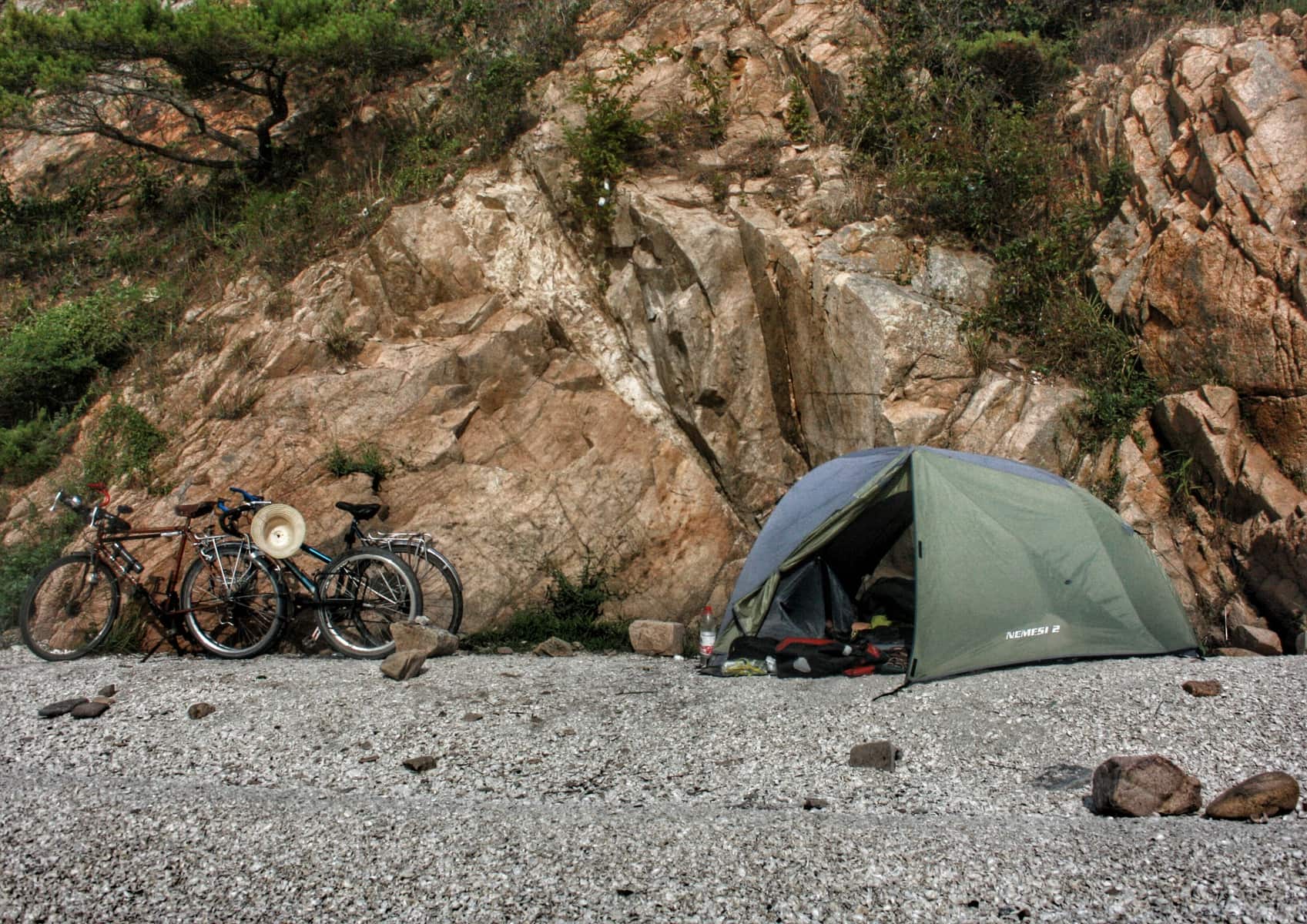 Korean pic-nic on Seoul's area best beach (maybe)
After climbing the small rock island to our surprise we come to a beautiful beach, also made of tiny shells. There are Koreans with a lot of stuff to eat and drink. They invite us to have lunch together. Kimchi (fermented vegetables), raw garlic, slices of grilled pork, omelet, noodles, boiled potatoes. And beer, Soju (a distilled liquor around 18 degrees) and Makgeolli, a rice wine that is about 5 degrees. Not bad.
After the serious lunch and drink the Koreans bath with clothes and lifesaver on. We, however, as we were told by our mothers in our childhood, wait to digest. Pitched the tent down the beach we go for a walk along the path that climbs on the island. It's a nice walk up the small hill, with a good view and some shade. On our return, within an hour, the tide had risen fast. We go to a restaurant/fishmonger to ask for a bit of boiling water to cook the noodles.
Almost flooded
The night runs fine until 4 am when the sound of the sea wake us up. Yesterday we were told that our campsite was ok but the sea is close and the noisy rising tide makes a bit of a scary impression. There's an early riser fisherman who says not to worry. Eventually, the tide stops two meters from the tent, cannot go back to sleep, never mind, we enjoy the sunrise.
Getting back to Seoul
Today we have to get to the center of Seoul where we found hospitality, we hope to explore the city in-depth during the next days. On one of the steep climbs of Muui-do, Daniele breaks the chain – seems like we'll be a bit late at our host, the fix takes almost one hour.
Back on the island-airport, we try to take the highway that would save us twenty kilometers. We had almost done it but, a few kilometers from the bridge that would take us to the mainland, we are intercepted by the police. Let's try the trick "we are foreigners and we do not understand anything". It works, but we do get out of the highway anyway. We have to take the ferry again. It's getting very late.
At the end of the day, we had made 80 kilometers in the traffic, an infinite city. Incheon, Bucheon and Seoul are in fact a single urban area, 23 million people packed into 2,250 square km. We meet often bicycle lanes but we are still in the jam. Traffic lights seem endless.
We arrive at the home of Justin, our new host, when it's dark, find addresses in Korea is not easy at all, house numbers seem to be placed randomly, ten neighboring streets all have the same name.
Best islands in Seoul/Incheon area – photo gallery
Follow our bicycle touring adventures
Stay in touch while we get lost! Follow us on Social Media