The best BMX grips reviewed
10 top BMX bike grips for street, park, vert, trails, and flatland
Lock-on, slide-on, comfortably padded. No more sore hands!
What are the best BMX grips? How do they differ for each discipline? Street, parks, vert, trails, flatland? What do you really need?
Grips can be one of the cheapest component to replace, but they are one of the most important contact points on your bike, transferring all the vibration to your upper body.
Grips directly affect your comfort and control while riding, not much less important than proper BMX tires, as your hands are always resting or holding onto the grips (well, unless you're doing some park tricks…).
It is very important to have a BMX grip you are comfortable using, which will cause no pain or injury.
There is a couple of reason to invest in the best BMX grips: the most important is that a good pair of handlebar grips keep your hands in place and reduces the effect of vibration.
The stock grips that came with your BMX are likely to wear out fast and not to be the top quality in the first place.
There are many models of BMX grips available nowadays, and they are often interchangeable with MTB grips (more about this in the FAQ section below).
We wrote this article to help you decide which grips are best for your riding style.
Disclosure: Some of our articles contain affiliate links. This comes at no additional cost for you and helps us keep this website up and running. (as Amazon Associates we earn commission from qualifying purchases)
How we compile our gear guides: during the almost 10 years of cycloscope.net our team personally tested dozens of similar pieces of gear. For what we can't test personally, we involve other people in the cycling community to give their feedback and opinion about gear they have used. Our decade-long experience in bicycle touring enables us to find the key cons and pros of every product we mention.
The best grips for BMX in a nutshell
10 Best BMX Grips Reviewed
Here are our carefully selected picks, we sincerely hope you'll find what you're looking for. If you own some great BMX grips that are not on this list, please let us know in the comments.
1. Oury Original Mountain grips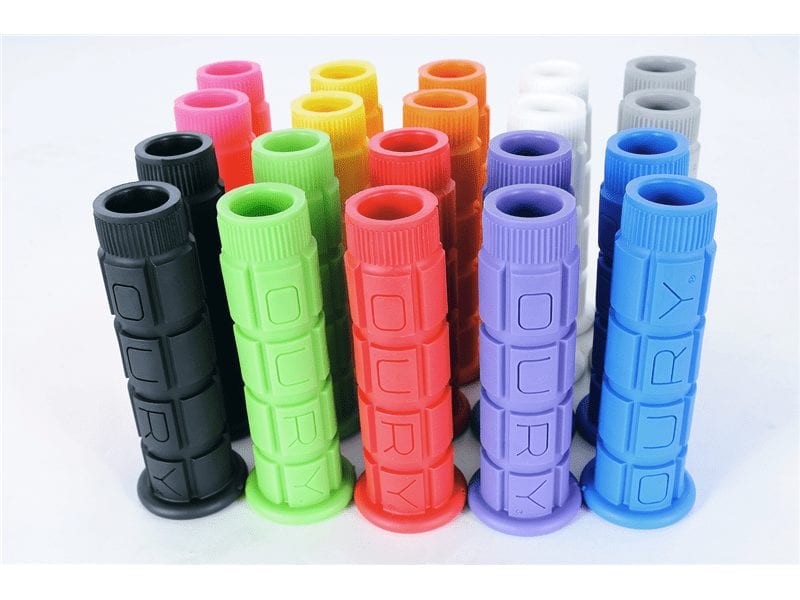 SPECS
LENGTH: 127 mm – 7 x 4 x 2 inches
STYLE: Slide on
The Oury Mountain Grips have been a standard in the amateur BMX world for a while. If you're in the market for cool-looking grips and care for a variety of colors then that is the best choice for you.
Regardless of their ridicolusly cheap price, the Oury MTN ensure maximum grip power. They are made from an extremely soft single rubber compound that absorbs bumps in an efficient manner.
Pros
Great grip power.
Good-looking.
Cheap.
Wide selection of colors.
Cons
2. Ergon GE1 Evo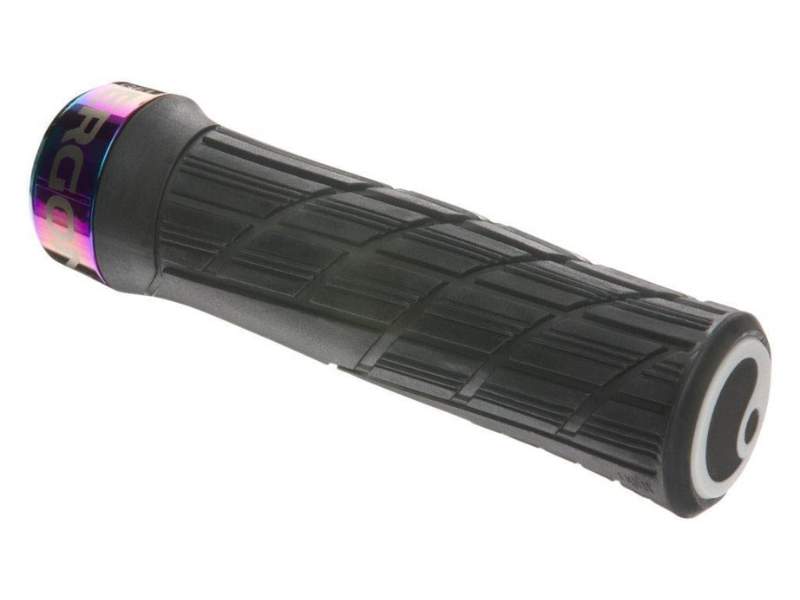 SPECS
LENGTH: 135 mm – 2 sizes: Regular (32mm) and Slim (30mm)
STYLE: Single clamp
The GE1 grips by Ergon have an ergonomic design, a cut-out skeleton that makes their shape unique and noticeably less radical than other grips. The ergonomics take some of the stress off the muscle used for grips to reduce arm pump, while creating a wide contact area for your hands.
The Ergon GE1 Evo grips are an intelligent way of turning your riding position and you can change your hand position about the handlebar because the cushioning is counterbalanced to the central sleeve that slides the bar. The Ergon G1 directs you to ride with your elbows out while creating a better riding position for aggressive trail and enduro riding.
Pros
Ergonomic design
Available in a slim version
Provide good riding techniques
Cons
Limited color options
A bit expensive
3. ESI Chunky BMX Grips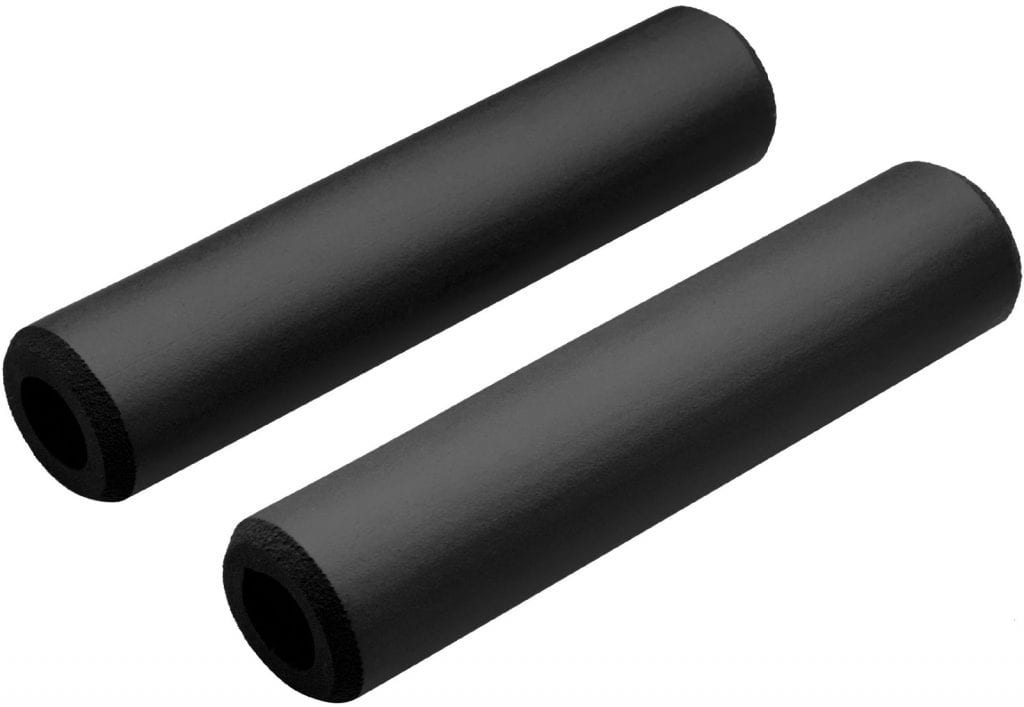 SPECS
LENGTH: 130 mm
STYLE: Slide On
The Chunky BMX grip by ESI is a lightweight silicone tube; it offers plenty of vibration dampening, cushioning, providing traction and shock absorption for the most challenging park tricks, even when wet.
The structure is designed in such a way that material thickness is distributed to ensure maximum grip, making them also a great choice for street and trail.
The cons of LSI Chunky grips are that it doesn't feature lock-ring to secure them around the handlebars, so they need to be glued and that doesn't last very long, besides leaving marks on your handlebars.
Pros
Covered on the bottom end.
Large diameter of 32mm.
Cheap.
Lightweight.
Cons
4. ODI Elite pro
SPECS
LENGTH: 130mm
STYLE: Lock On
Developed with the help of Pro Enduro rider Curtis Keene the ODI elite is an incredibly effective handlebar grip for BMX; it puts more rubber in the palm of your hands compared to the underside of the grips where the fingertips rest.
It also has a raised rubber end cap, typical of BMX grips, that helps visualize the right hands position while doing a jump for example.
They're super-grippy and the tactile feel and cushioning is in the right place. An excellent combination of comfort and control.
Easy to clamp on and take off, the ODI Elite pro grips are available in four color options.
Pros
More rubber in the palm
Raised rubber end cap
Friendly price
Cons
5. Race Face Half Nelson
SPECS
LENGTH: 133mm
STYLE: Single clamp
Despite having a diameter of only 28mm, the Half Nelson Grips are pretty cushioned and superbly grippy. These grips by Half Nelson, designed for MTB, are perfectly suited for trail, vert, and flatland BMX riding.
An interesting feature is the design in the inner part, which makes them hold their firm grasps, even under rain or sweat the grips hold their amazing footing. Race Face Half Nelson grips are structurally designed to perform well in any climate conditions.
The Race Face Half Nelson grip is the best to make your BMX riding even more enjoyable, but they are the most expensive on this list.
Pros
Lightweight
Excellent shock absorption
The grips retain their holds regardless of rain and wetness
Cons
6. Ergon GA2 FAT
SPECS
LENGTH: 136mm
STYLE: Single clamp
Designed in collaboration with former DH World Champion, Fabien Barel, this is really one of the best bike grips for all disciplines.
The soft texture given by the UV stable silicon rubber material makes them comfortable and capable of providing excellent traction.
They are ultra-lightweight and equipped with inward clamps to have a firm hold of your handlebars. An extremely durable product that will satisfy the needs of the most hardcore BMX riders.
Pros
More efficient
Soft feel on palm
Lightweight unit
Excellent fit
Cons
A bit pricey compared to others
7. KINK SAMURAI GRIPS
SPECS
LENGTH: 150mm
DIAMETER: 29mm
The Kink Samurai grips take their cue from the incredible workmanship seen in Japanese Samurai swords. They've got a stunning design, top-notch craftsmanship, and are made from the best materials.
ODI in the USA is behind the manufacturing of these grips, using their special rubber formula. The grip pattern itself is inspired by Samurai sword handles, making for an awesome grip. You'll also get a perfect pair of plug-style bar ends in the package.
PRO
Beautiful design.
Material.
Durable.
Cheap.
CONS
8. CULT VANS WAFFLE FLANGELESS GRIPS
SPECS
LENGTH: 150mm
DIAMETER: 31mm
The distinctive waffle pattern caught the eye, and the subtle "Vans" & "Cult" embossing adds a touch of understated class. The installation is a breeze using the zip tie method or, if you have, an air compressor.
Choosing the flangeless version maintains a clean look for the bars and comes in handy if your execution of bar-spins or no-handers tends to be a bit on the sloppy side.
PRO
Elegant.
Amazing soft rubber compound.
CONS
They can be a bit hard to install.
9. Fifty-Fifty BMX grips
SPECS
LENGTH: 135mm
STYLE: Single clamp
Fifty-fifty grips are excellent handling grips for extreme BMX riders.
They are reliable, firm, and securely held, thanks to the strong lock-on system. The high fraction rubber provides enough grips in all weather. This means that grips remain tightly fixed regardless of how bumpy the trial becomes.
They are available in five different colors; red, black, yellow, purple, or orange.
Pros
Tightly attached to handlebars
Vibration damping rubber feature
All-weather-ready
Cons
The padding is not the most cushioned around
10. BV Mountain Bike Handlebars Grips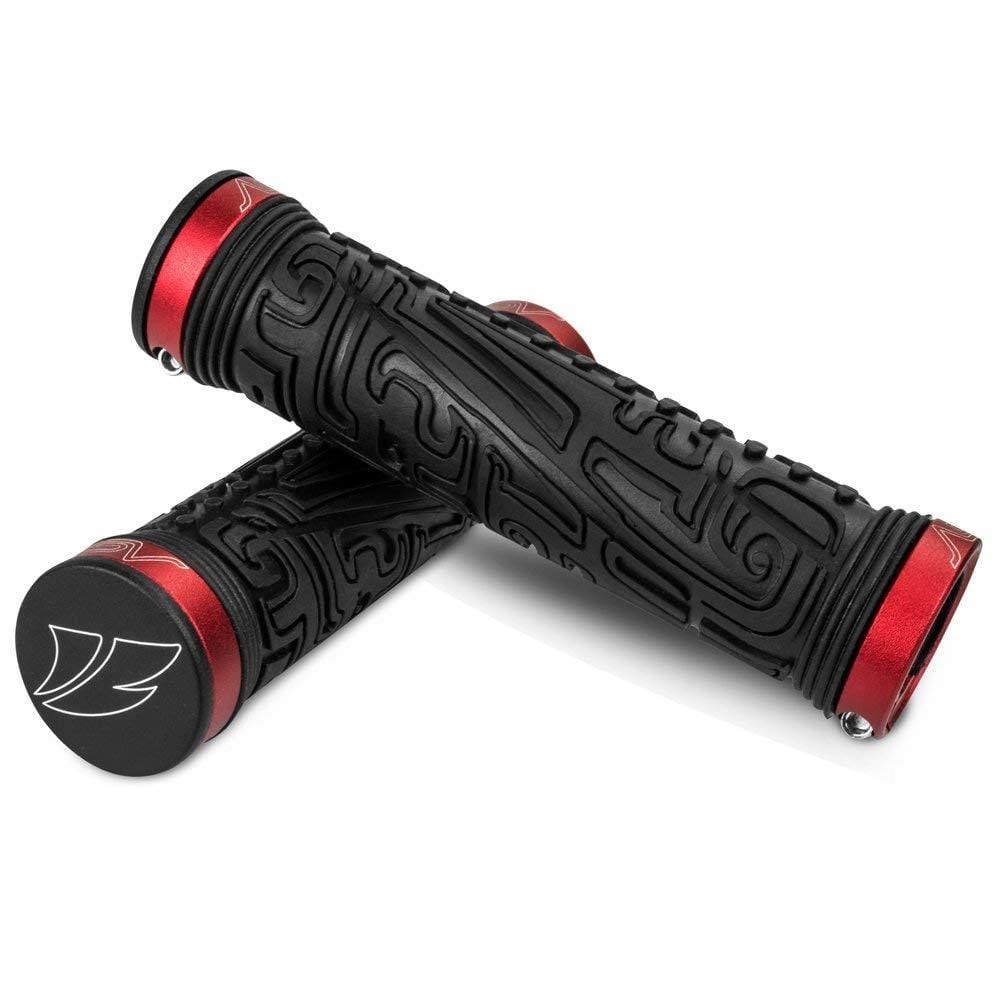 LENGTH: 133mm
STYLE: Double clamp
BV bike handlebar grips have an aesthetic look and attractive design while fitting any standard bicycle handlebar.
The double clamp design of these grips is easy to install and firmly held in place without twisting. This makes them also among the best grips for BMX.
These grips are manufactured with a TPR material that is soft enough to isolate your hands from shock and vibration. BV bike grips are available in five different colors: black, yellow, green, red, blue.
Pros
Secured by a double clamp
Work for most handlebars
Cheap
Cons
The design might not be attractive to every one
MTB vs BMX grips, what's the difference
Mountain bike and BMX grips have the same internal diameter, this means that most MTB grips can be used on BMX and vice versa.
One of the differences might be in the length, BMX grips can be longer than MTB ones because BMX doesn't have shifters.
Another characteristic of BMX is that they often have a flange on the inside, which is not especially useful, indeed many modern BMX grips don't have it.
Padding is another difference, MTB grips need to be more padded to absorb vibration, anyway a good cushioning is not bad also when landing after a trick or jump.
Basically, all the grips listed here could be installed either on a mountain bike or a BMX.
Check Also

> The 8 Best BMX Tires for a Smooth and Controlled Ride
> 7 Best Flat Pedal Bike Shoes
> The Best Insurance Plans for Cycling
> 41 Gifts for Bike Lovers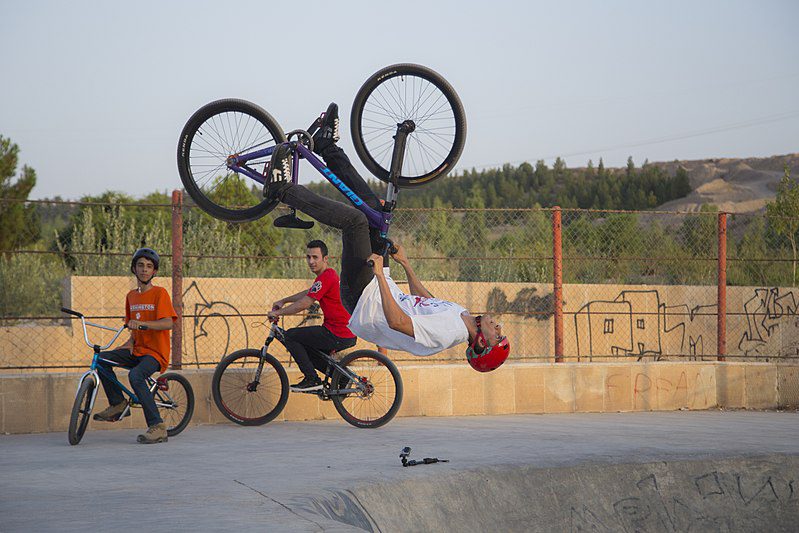 Frequently Asked Questions about BMX Grips
Are all BMX grips the same size?
Yes and No. While the internal diameter has been standardized to 22mm to fit almost any type of handlebar for mountain bike handlebar, the length and external diameter varies a lot. Short grips might be about 12cm long, while longer ones can go up to 14cm. There's no better or worse length and external diameter, totally up to the rider's choice.
Are lock on grips better?
Lock grips are locked into place by a gripping system. This allows them not to slide away when wet or deformed.
Stay in touch while we get lost! Follow us on Social Media