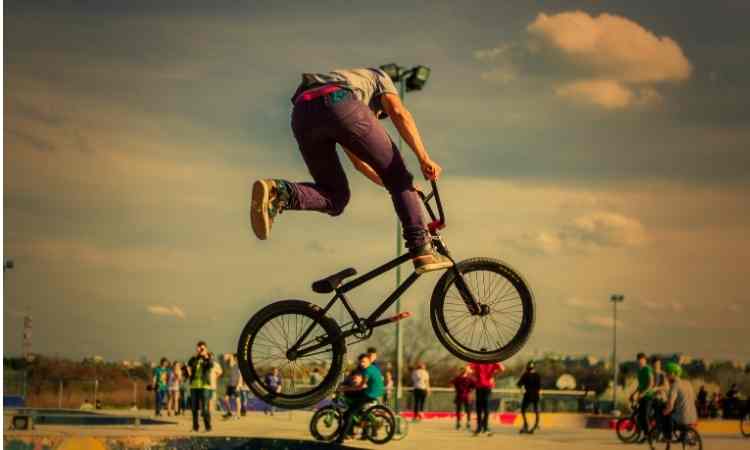 The best BMX tires reviewed. The lightest BMX tires for street, freestyle, and park compared
Plus a guide to the ideal BMX tire pressure for each discipline
Bicycle Motocross Riding is an awesome, adrenaline-pumping action sport. If you are a BMX rider, you must be aware of how important it is to have a premium quality tire for a smooth yet safe ride. Moreover, you must be very cautious while buying a new one for your bike, especially when you are buying online.
Though the professionals have a nice experience of judging the tire by looking at only a few of its features. If you are a newbie in this, you are required to take extra care while making your final pick.
There are many features of freestyle BMX tires that will highly affect your riding in the future, so it is crucial to check all of them.
Here in this article, we will brief out all those features that you need to verify while making your purchase. Besides that, we will also look at some of the best BMX Tires in the market right now.
This will help you analyze every little aspect of the tire carefully and make the best purchase. After all, it is a matter of your safety while riding and doing your freestyle tricks. So, let's just jump into the best BMX tires for street, park, and freestyle!
Check also
The best handlebar grips for BMX: Street/Park/Trail
Disclosure: Some of our articles contain affiliate links. This comes at no additional cost for you and helps us keep this website up and running. (as Amazon Associates we earn commission from qualifying purchases)
How we compile our gear guides: during the almost 10 years of cycloscope.net our team personally tested dozens of similar pieces of gear. For what we can't test personally, we involve other people in the cycling community to give their feedback and opinion about gear they have used. Our decade-long experience in bicycle touring enables us to find the key cons and pros of every product we mention.
Top 8 BMX Tires to Choose From
Let's take a brief look at all the best BMX Tires one by one. Please study the product features carefully as they can affect your overall experience.
Schwinn BMX Bike Tire
If you are a die-hard mountain rider, then nothing will suit you more than this tire. Yeah, the tire will not only make your ride smooth but also prevent itself from damage.
It is one of the 20 inch BMX tires that features a Kevlar belt under the center of the tread. This prevents the tire from punctures. Moreover, the tire will never let you slip as it has beep wide spaced knobs for a superior grip.
Specifications
Material: Rubber
Size: 20 x 2.125 inches
Style: Mountain
Bike Type: BMX
Pressure: 50 PSI
Pros
Great product at this price
Excellent traction
Durable design
Best for freestyle BMX
Cons
It could feel a bit heavy
Odyssey Pro Slick D-Ply Tire
BMXs are all about tricks and fun, they're great bikes for wheelies and other silly stuff that keeps your inner child alive.
This tire is for those who love to do stunts on the turns of their track. The core reason behind this is the knurled side blocks with the center tread of the tire that maintains awesome traction with the ground while turning.
The maximum BMX tire pressure of this tire is 100 PSI which means a secure and smooth landing after a wheelie.
Specifications
Tire Size: 20 x 2.4 inches
Material: Rubber
Intended for: BMX
Tire Type: Bead Wire
Pressure: 100 PSI
Pros
Non-slippery on turns
100 PSI pressure makes the ride smooth
Multiple sizes
Cons
The tire may cause issues in the beginning
Kenda MX K50 BMX Tire
This tire may look like a traditional one, but it is one of the Best BMX tires to choose from. The factor that makes it demanding is its type.
The clincher tire can be easily repaired if, in any way, it gets punctured. Moreover, it is crafted in a way that can slice mud in an instant with more weight on it.
Specifications
Tire Size: 20 x 1.75 inches
Material: Rubber
Intended for: BMX
Tire Type: Clincher
Pressure: 40-65 PSI
Pros
The thick tread provides a slipless, smooth ride
Easy to install
Affordable price
Best for dirt track racing
Cons
Maxxis Hookworm BMX Bike Tire
The tread pattern of the tire makes Maxxis Hookworm one of the best tires for the street and flatland. It is actually best for freestyle races due to its 70a black compound.
Moreover, the rated pressure for this tire is 110 PSI that keeps it safe from pinch flats. The treads and grooves on the tire are made such that they firmly grip the road while you ride.
Specifications
Tire Size: 20 x 1.95 inches
Material: Rubber
Intended for: BMX
Available Sizes: 2
Rated Pressure: 110 PSI
Pros
It features a rim to rim tread protected sidewall.
Superior durability
Fit for both pros and amateurs
Best for jump riding
Cons
Tioga Powerblock Tire
If you are more concerned about the sidewall in the tire, then this is the best BMX street tire for you. It has a thick sidewall with a slick center profile that maintains absolute balance while riding.
Moreover, the finely ribbed treads on edge maintain absolute traction with the street while turning in speed.
Specifications
Material: UTP rubber compound
Tire Bead: Steel
Tire Type: Clincher
Weight: 10 oz
Pressure: 100 PSI
Pros
One of the lightest BMX tires
Steel bead ensures durability
Value for money
Cons
Bell BMX Tire
Do you like biking on rough terrains? If you do, then this Bell BMX tire is one of the best BMX tires for you.
Its knobby and aggressive treads can easily handle mud and other rough elements in your path. Moreover, the tire is totally protected from punctures via flat defense technology (protective layer).
Specifications
Max pressure range: 35-40 PSI
Tire style: Flat Defense
Tire dimensions: 20 x 1.75-2.25 inches
Tire Color: Black
Variants: 2
Pros
Foldable carbon steel bead structure
Durable design
Best for dirt biking
Cons
It may collect a lot of mud between the treads
Maxxis DTH Wire BMX Tire
The distinguishing feature of this tire is the ability to provide a safe ride while you are riding at speed. All that makes this possible is the dual-compound tread corners that maintain remarkable traction with the road.
Along with this, the maximum pressure required by the tire is 65 PSI. Moreover, the aspect that makes it one of the best BMX tires is its lightweight design.
Specifications
Size: 24 inches
Tire variants: 2
Max. pressure: 65 PSI
Tire Type: Clincher
Tire Weight: 435 grams
Pros
It is best for high-speed races
Low treads provide a smooth ride
Lightweight design
Cons
The tire may wither easily
Kenda Comp III BMX Tire
The last on the list is also one of the best BMX tires. The Kenda Comp III has tough treads that put themself tightly along the road to provide your cycle a smooth handling and overall grip. As per its aggressive treads, the tire is best for mountain biking as well as street riding.
As compared to other tires on the list, the Kenda tire has a small size. However, the maximum pressure of 60 PSI makes your ride jerk free.
Specifications
Tire size: 16 x 2.125 inches
Wire Bead: Yes
Pressure: 60 PSI
Material: Premium quality Kenda rubber
Pros
Excellent quality
Fits easily to the BMX bike
Works perfectly for a long time
Cons
It does not come with a rubber tube
Things to know while buying the best BMX tire
It is crucial to check all the necessary aspects of the tire before making your final pick. Here are some of those crucial factors:
Pressure: Check the maximum tire pressure as it will help you in its maintenance and use. The pressure rating also describes the life of the tire.
Treads: Make sure that the tire has deep and wide treads if you are interested in riding on rough terrains. However, go for thin and slick treads if you are a street rider. The treads will provide grip and balance.
Rim: The longevity of the tire is highly dependent on the rim. Hence, make sure that you opt for a tire that comes with a sturdily constructed rim.
Material: It is also mandatory to check the quality of rubber used in making the tire. Go for premium quality rubber tires as they will not wear off easily.
What is the best tire pressure for BMX bikes?
Well, to be very clear, tire pressure (PSI) is the most crucial aspect of riding. The right tire pressure will help you in riding smoothly no matter what kind of surface it is. However, the BMX tire pressure can vary based on the type of path or terrain and, of course, the type of tire.
There are a number of tire pressure values based on the type of terrains and tires. Here are the tire pressure values that you need to strictly stick for a buttery ride:
Tire Type
Street Tires: 40-70 PSI
Dirt Tires: 40-65 PSI
Freestyle Tires: At least 70 PSI
Racing Tires: Over 80 PSI
Terrain Type
Mountain Tires: 25-35 PSI
Road Tires: 80-130 PSI
Hybrid Tires: 40-70 PSI
Is there an ideal tire width in BMX?
Yes, definitely, the tire width of the BMX matters a lot in riding as it offers the rider control and balance over the bike. The width of the tire decides the grip of it over the road and hence the balance.
If you are concerned about the balance factor, you need to take a look at these tire width values:
Freestyle BMX: 2.125 inches wide
Dirt track racing: 1.5 to 1.75 inches wide
Jump riding: 1.9 to 2 inches wide
The accurate will be the tire width, the better and controlled will be your bike riding experience.
Final Words
Here we are after knowing everything about the best BMX tires. Now, whether you are an amateur or a professional, this guide will help you choose the right tire for your respective BMX bike. Do check all the necessary features and things that you need to know before opting for the best product. Happy Shopping!
Check also
The best tyres for bicycle touring
Stay in touch while we get lost! Follow us on Social Media