Cycling to Bishkek in Kyrgyzstan
Bishkek, capital of Kyrgyzstan is a small Central Asian capital, which features both the Silk Road atmosphere and the Soviet time austere fascination.
It's almost a mandatory stopover for those touring Asia for long distances, for its 60 days visa-free regime, the possibility to get almost every visa you may need, and the cheap beer and vodka.
After crossing the Kazakh steppe in a rush, we're finally entering a country where we could relax a bit. Just a hundred kilometers from the border, we met some people who told us we were going to see the unexpected. Wild weed growing along the road, next to the border… yes, that type of weed.
Cycling into Kyrgyzstan
And it's true. Mnoga marijuana iest.
Everywhere along the road, in front of the mini-market, or the hair salon. It seems nobody cares.
After sixty kilometers, we arrive in Merke, here's the border with Kyrgyzstan. We get a last meal with manti (ravioli filled with minced meat and onion, steamed and then fried). Finally, we can stop our rush against the clock, in Kyrgyzstan we'll have 60 days visa freedom.
Merke: border crossing between Kazakhstan and Kyrgyzstan
At the border crossing between Kazakhstan and Kyrgyzstan, there's a lot of people, mostly Kyrgyz and Kazakhs who go back and forth, the slowness is chronic, it takes an hour to get through.
We hope to get some rest beyond the border, but no way, the first ATM is located in Kara Balta, 30 kilometers from here, we have no cash so let's ride there.
Kara Balta and uranium mines
We arrive at Kara Balta when it's almost dark, nothing to say about the city, negligible, but for the fact of being the home of the Kara-Balta Ore Mining Combine, the biggest uranium mine in Central Asia.
The mine was closed in the 90s, but on the site, they kept on processing raw material from Kazakhstan until 2005, the massive amount of tailings stored here it's still a serious threat, but not as dangerous as Mailuu Suu.
We find a stinking Soviet-era gastiniza (guesthouse), double room for 400 som (less than six euro). It seems that the room didn't get a decent clean up since the time of the Union, a giant cockroach welcomes us into our room. We just have to stay covered up in our sleeping bags and hope not to get bites by strange insects.
Making local friends in Ak-Suu
Disclosure: Some of our articles contain affiliate links. This comes at no additional cost for you and helps us keep this website up and running. (as Amazon Associates we earn commission from qualifying purchases)
We wake up with some scattered itches… We get on our bikes and ride for about 25km, stop for something to eat in a café, where we are greeted by a guy who is playing guitar.
The place is very nice, inside the courtyard are two dining areas, closed by curtains. Inside there's a large table, where you eat sitting on colourful carpets, this is the Central Asia style. But I, as usual, eat fried eggs.
Daniele instead gets a dish of lamb meat and peppers served on a hot iron plate (I think).After eating we get to chat with the managers: the guitarist, a girl and a lady of about fifty.
The usual questions about our trip and then we have vodka. The lady says she is Muslim, but definitely will be burnt out by Allah because she loves to drink. Now with our deep knowledge of Russian, we can even speak of serious stuff!
The two young are cousins and the lady is the mother of the girl. They're half Siberian and half Uyghurs (Muslim from western China).
The girl, to whom Daniele falls in love at first sight, dress on with a traditional costume and dance for us! In a few days, there will be the Kyrgyz Independence Day and she will dance at the local celebrations.
At the banya, a Russian/Kyrgyz public bath
They tell us that we can stay the night there, and we accept, yesterday we did not get much rest. It's still early and we go into the town of Ak-Suu, where there is an internet point and, most importantly, a public bath (banya in Russian). There is a room with hot water of three different temperatures, and next door there is a small room with a sauna. After days in the steppes seems like paradise. And we can stay here alone for one hour for 100 som (1.50 euro)!
Back "home" we get more food, this time no eggs, but a very good sort of dumplings stuffed with vegetables (oromo I think). We have fun with our hosts, playing music and chatting until late (for our standards). We sleep in a beautiful room, and tomorrow we will be in the Kyrgyz capital.
Riding into Bishkek
Upon waking we have breakfast together. Fried eggs. We say goodbye, we pay 700 som, 10 euros for 4 meals and a nice bed, not bad.
We ride to Bishkek, the road is quite busy but flat, and it's only about forty kilometers. We take it easy and arrive at about 6 pm in the city.
Bishkek doesn't feel like a capital city, there are a lot of small independent houses, apartment blocks are not big. The only thing that makes it look like a big city (it only has 800 thousand inhabitants) are the cars.
We ride to the place where, according to our Garmin, a campsite should be. Out of curiosity, I stop to ask the price to a hotel, and they shoot an absurd $120! Ok, this makes it a capital.
While I get back to the bike, two foreign guys passing by ask us if we are looking for a famous guest house for cyclists. We never heard of it, they say it is nearby, they sleep there, we can put the tent in the garden for $6 each. We are lucky.
AThouse: the legendary bicycle touring guesthouse in Bishkek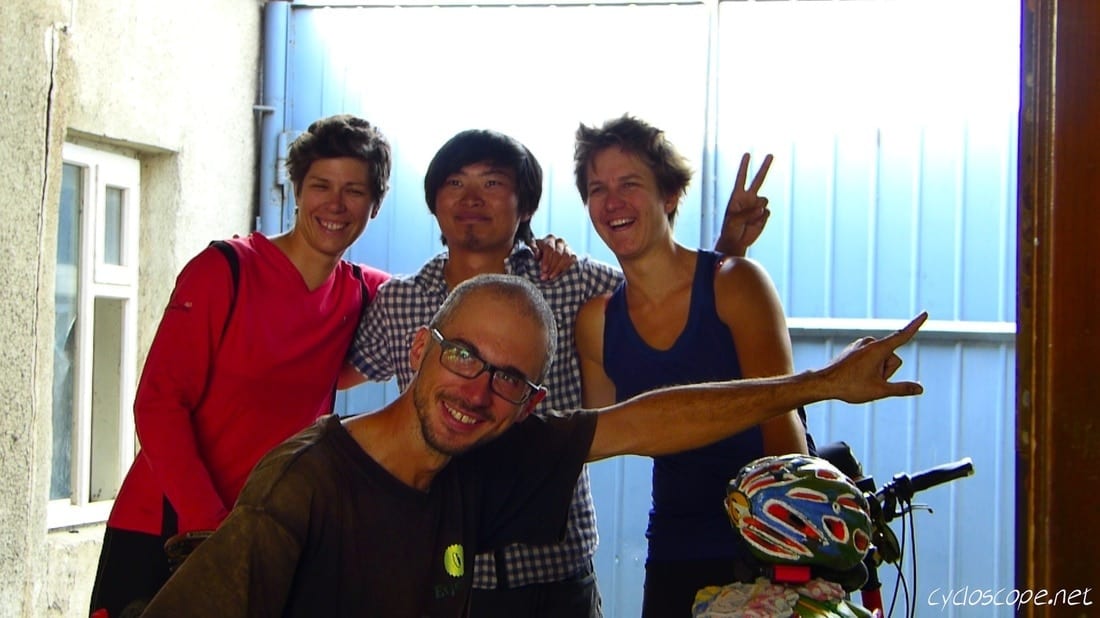 And so we get to the legendary AThouse (now closed), owners are not there and they left the house management to some guest. It's a bit crowded, but we can find a place for the tent. We are close to downtown, shower, washing machine, kitchen, and even a workspace to maintain the bikes, with tools and spare parts, everything you need!
There are those bicycle tourers going to China or Pamir, and those coming back from there, Bishkek is a popular rest location for touring cyclist, because of it's a strategic position, two-month visa-free deal, and the presence of all the foreign embassies you may need for your next visas.
There are two other Italians: Alessandro Gallo, who's returning to Italy, and Mauro, slowly heading to the edges of the world.
There is Chi Yong Xin, a crazy Chinese adventurer with no fears, Bettina and Claudia coming from the Pamirs, the Swiss guys who made us find the house, who are about to go to India, and two other Swiss guys. And then there's Chad and his wife, 10-year experience on the road.
We spend the evening talking about various travel experiences. It's great to meet so many bicycle travelers at once!
Kyrgyzstan Independence Day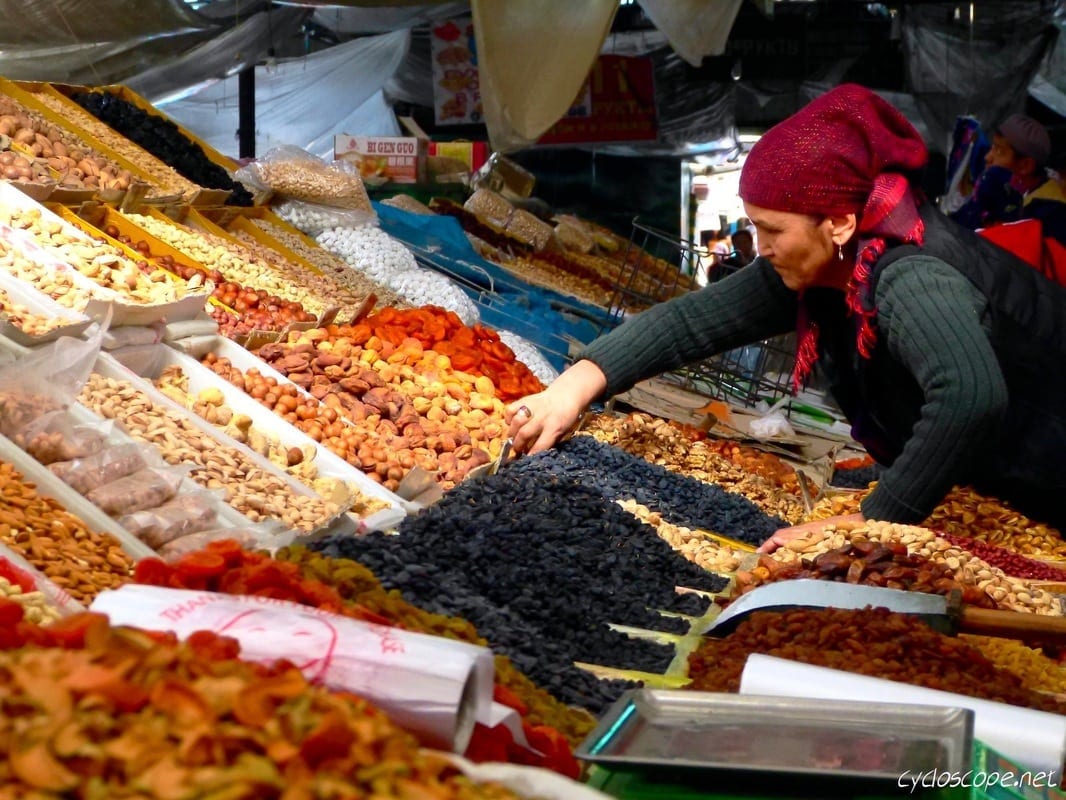 Today is the Independence Day of Kyrgyzstan, we go downtown with Alessandro to see the celebrations.
Kyrgyzstan is a nation of very tough people, they made two revolutions in the last 10 years (the Tulip Revolution in 2005 and the Kyrgyz Second revolution in 2010) and their national pride is quite high.
The Ala-Too square is big and beautiful, but above all, there are the people. Bishkek it's a city with a very mixed population, a lot of ethnic groups from all over Central Asia and Siberia here.
We are taken by a desire to photograph whoever steps ahead of our face, and we pretty much do it. Then today everybody is wearing their best clothes, and this makes them all perfect subjects.
On stage we see a couple of bands performing traditional and pop music, then nothing, maybe there is a break. Eventually, someone tells us that the music will resume this evening. We go to the hippodrome where there should be a match of Kok Boru, people on horseback trying to throw a dead goat into a large "basket".
But upon our arrival, the game has just ended, and we fret. There we meet the other guys from the guest house which, however, were able to watch the game. No one knew the starting time so it was just luck… and we are the losers.
The racecourse is a large field of sand with huge mountains towering in the background. However, on the other hand, we find that from 9 to 14 September, there will be the first edition of the World Nomad Games in Cholpon Ata, Issik Kul lake, just where we're going. So we hope to see a few games there.
Osh bazaar – a typical Silk Road market
Osh Bazaar is a huge market made of narrow streets (streets that are no real roads but consist of the stalls) in which it is easy to get lost. There are tons of spices, dried fruit, dubious fish and meat, everything you expect from a Central Asia market.
This is also a great place to buy souvenirs, like Kalpak (Kyrgyz hat), Shirdak (felt "carpets"), Kyrgyz traditional clothes, and musical instruments, such as Komuz (small 3-strings lute) and Temir-Komuz (jew harp or mouth harp).
Plus there are also normal clothes, bags, and all the made-in-China goods you may need. Bishkek is unpretentious but very peaceful and quiet, it seems a very livable city. Perhaps it would not be so bad to spend the winter here.
Bishkek it's a great base to explore this nation, whether you're bicycle touring Kyrgyzstan or backpacking, from here you can find a way to reach all the destinations you may wish to visit in Kyrgyzstan.
We cycled around the Issyk Kul and up to Song Kul and reached Arslanbob by taxi.
Check more pictures about Osh Bazar in Bishkek on our photo gallery
Follow us while we get lost
Stay in touch while we get lost! Follow us on Social Media