Sangnagwol-ri/Hanakwol-ri, the best off-the-beaten-path islands of South Korea's west coast
There are 3,358 islands in South Korea, mostly situated along the west and the south coasts. Of these, only a few are exploited by tourism, some being very popular also in other countries, (like the biggest and most famous Jeju).
If you've been following this blog you know we're more the kind of off-the-beaten-path travelers. We love to explore unknown places, avoid the crowds, experience the local lifestyles.
During our two months bicycle trip in Korea, we visited around 20 islands, some connected by bridges, some by ferries, none of them famous. But Sangnagwol-ri/Hanakwol-ri are the ones who really got stuck deep in our hearts (everything but the names -_-).
Random ferry hopping – a new way to travel
Disclosure: Some of our articles contain affiliate links. This comes at no additional cost for you and helps us keep this website up and running. (as Amazon Associates we earn commission from qualifying purchases)
With the amazing marvels of Byonsan peninsula behind our backs, we resume bicycle touring South Korea west coast, always heading south. We just crossed from the Jeonllabuk region into Jeollanam.
Rice paddies as far as the eye can see. While we are still choosing which way to take, a car carrying father and child stops to give us two ice creams. While we eat those another guy comes out from the nearby house and invites us to eat.
He's from Seoul, where he has a clothing store and is building a house here in the countryside. It is a red prefabricated, is in honor of one of his lady dogs that recently died hit by a car. Her name was Alice and now he is founding Alice Town along with his other dog (or at least that's what he says).
We eat noodles, he says ours are not good and gives us his (to us that seem more or less the same, just more spicy) and then the inevitable kimchi, one pork shank for Daniel and for me boiled cob. Beer and soju for all of us. Then he gives me a bracelet that can also be used as anklets pointing out that it's made in Korea. I like the Koreans!
After leaving Alice Town we arrive at a small port, without any sign or boat schedule, there is a ferry that is about to leave.
We just take it, without knowing where it goes.
Living on a rock
There are too many islands in South Korea, more than 3000 as just said. It's just too difficult to choose which one to go, so we leave it to fate.
The boat is a small Ro-Ro (car ferry), there are few people on board. We pay a small fee (around 5USD each), it seems we're not going that far.
I (Elena) sleep inside its common room, an area provided with tatami and cushions where you can lie down and take a nap. Daniele instead, plays with a nice little girl who does a lot of funny faces.
After an hour of sailing, 20 km far from the coast, we land on a small island which on our GPS maps (OpenStreetMap) doesn't even have a name.
It looks like not much more than a rock in the ocean. We'll discover later that the name is Sangnagwol-ri.
The people look at us amazed, we seem to be the first foreigners in a long while, let alone bicycle tourists.
We buy instant noodles at the little shop of the port (the only one on the island), which then is the living room of the lady who lives there, and we discover that the little girl that played with Daniel on the ferry is the granddaughter of the market lady.
Hanagwol-ri: a tiny paradise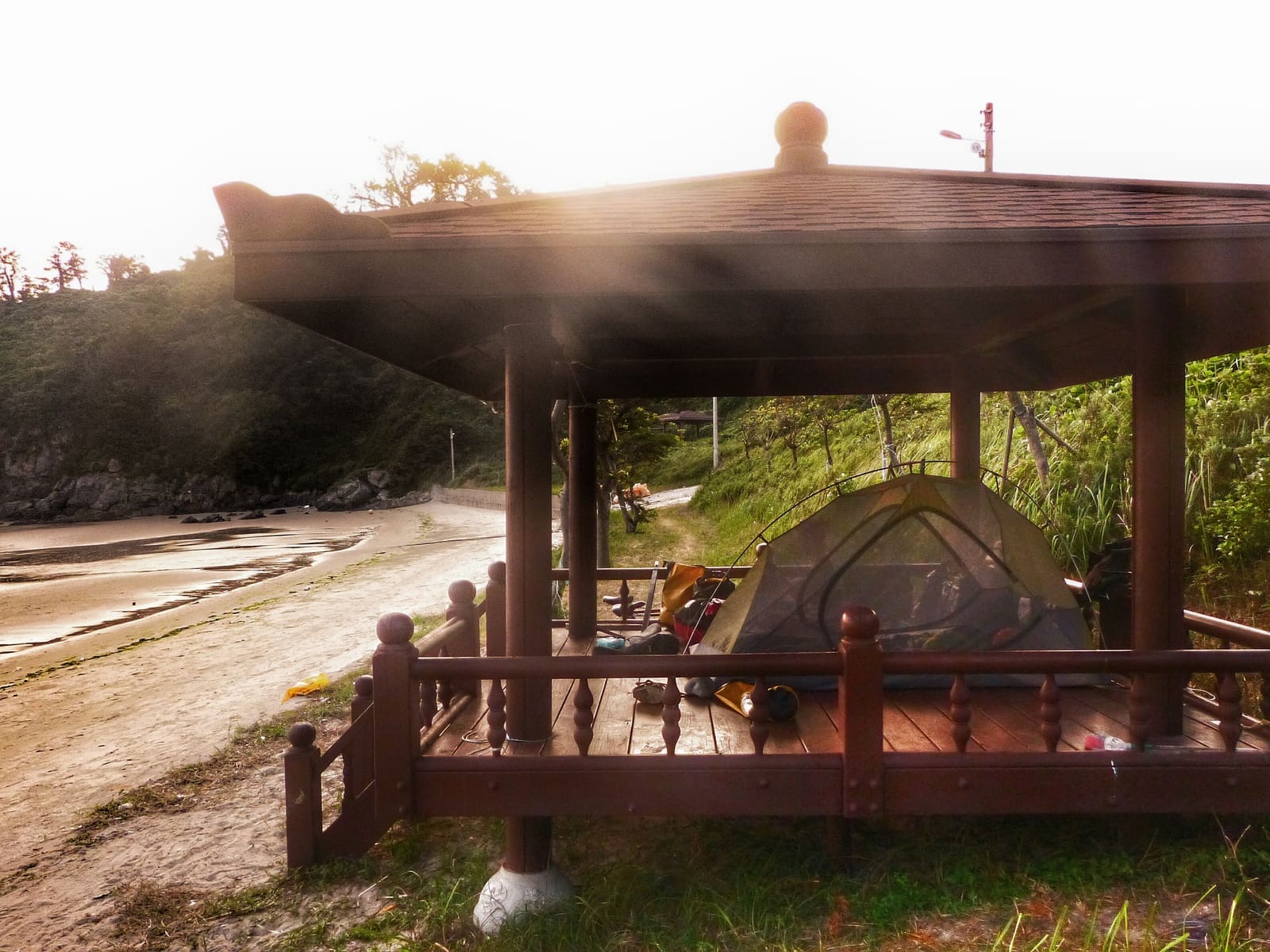 We start riding Do Nakwol, the main (and only) road on the island. There are gazebos (pavilions) everywhere, it will not be a problem finding a place to sleep.
The faces of the people are different here, islanders from small islands always have peculiar faces. After only one kilometer, we cross the causeway that links the island where we disembarked with another islet nearby, Hanagwol -ri (Hanakwol-ri).
We ride a little further, where the road ends in a square. The total length of this bicycle ride been I think one kilometer and a half, the full extent of these two islands.
In the square, there is a gazebo with a lot of people, and a guy, who seems to us the mayor, tells us where to put the tent.
So far we haven't seen any beach, but taking the road that he points us, going to the other side of the island (it's wide no more than 300 meters) we are in a beautiful sandy bay with a typical gazebo overlooking the sea, bathrooms, and showers for free.
It's the end of the world.
Someone from the village comes to clean the beach and tries to fix the lights in the shower's building. I like the Koreans, and especially the islanders.
The beach is all for us, the inhabitants arrive at sunset with nets to catch some fish for dinner.
We wake up in paradise. Let's take a bath, the water is a little muddy like everywhere on this side of Korea. The tide is low and Daniele takes a mud bath, way better than the fountain of mud for tourists at Mud Festival.
We find colored golf balls that we use to play bowls.
Whales and jellyfish for lunch
Around lunchtime, we go "downtown" to look for food. In the gazebo in front of the little market sits a chubby man, short guy, with a bulbous nose. He asks us if we want to eat and then says something to the market lady.
He treats us a couple of beers and after a while, the usual instant noodles came, cooked with an onion broth a spicy sauce inside, it seems almost a true meal.
But lunch is not finished, in no time other fishermen from the village came to join us, asking us all over again if we are Indonesians (?). It has already happened in Korea, yet we don't think we look Indonesian…
Meanwhile, cans of beer keep coming, our friend fetches them from its house stocks (the house is next to the market). Then comes a plate of dried baby shrimps and one with dry whale meat. For vegetarians tomatoes and cucumbers.
Daniele tells me the whale tastes fat, to them he says it is very good.
They invite us to eat again at 7 pm (now it is 4 pm). There are also two Chinese who work here as fishermen, in particular, they are into the dried jellyfish and octopuses business.
Let's go for a walk with them close to the harbor where they work. They show us the pools where the jellyfish are, they are almost dry.
Sangnagwol-ri, on the other side of heaven
When we come back to take the bicycles, in the gazebo there is no longer anyone. We take a bike ride around the island, it's beautiful, and so it is the landscape that can be seen from here, dozens of small islands.
In the face of those who said that the west coast of Korea there was nothing to see… beware of tour guides and books. On the other side of the island, there is another beach with a small campground. It's as nice as ours but more crowded (maybe three-man.)
We take a bath and go back from the footpath around the island stopping to do some exercises in the street gym always present even in the most remote corners of Korea.
This is a bit abandoned, it seems that the fishermen do not come here often to exercise. Going over to the gazebo of the market, our friend is back there to drink and eat together with the police officer, we do not stop for dinner, and he is surely a bit disappointed.
Let's go back to the tent and play boules at sunset with golf balls. At the end of the world.
Road map: how to get to Sanagwolli
Follow our weird adventures
Stay in touch while we get lost! Follow us on Social Media