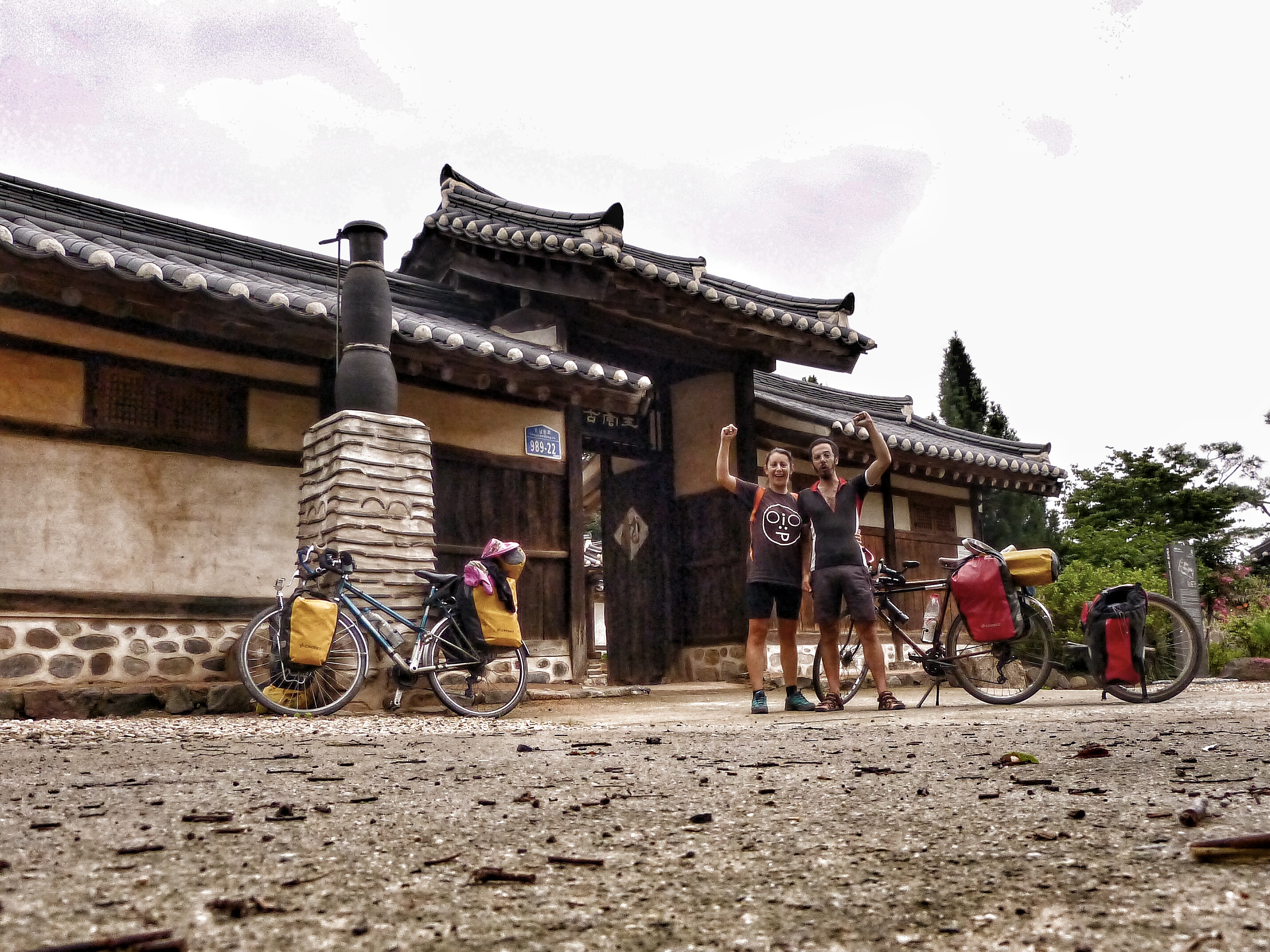 Bicycle touring South Korea from Seoul to Boryeong. The many small lakes, free campgrounds, and public gyms. Cycling off-the-beaten-path
After spending some time in Incheon, the islands offshore, and Seoul, we finally start bicycle touring South Korea. Having heard that there is nothing to see along the west coast we decided to go there and check if this is true.
This article is part of our South Korea travel log series, it describes the 200km bike ride from Seoul to Boryeong.
We spent two months bicycle touring Korea off-the-beaten-path and we loved it. Check here if you want to learn some tricks on how to travel South Korea on a budget (less than 10$ per day).
Cycling out of Seoul (49.6km)
Finally, after having enjoyed the capital and visited all the Royal Palaces of Seoul, we are ready to explore this tiny but super-interesting peninsula!
We were fed up with having to run for trains and ferries. A three-month visa to see a state as big as Beijing and province is wonderful! We take the bicycle path along the Han river that leads to the city of Suwon.
We're quickly out of Seoul without even having to struggle with traffic. This path looks like a parallel world, along the river, with its inhabitants and its rhythms.
About ten kilometers before Suwon we meet a Korean cyclist, cycling in Korea seems to go very fashionable, also because of the opportunity to practice in the city.
He speaks English and asks a lot of questions, brings us under a bridge where there are other cyclists who give us cookies. One of them is going to Suwon and "escort" us to the city.
Once there we stopped to eat something, our new friend buys us cookies, ice cream, and coffee and then gives us 10,000 won (10 euros). I like the Koreans!
Disclosure: Some of our articles contain affiliate links. This comes at no additional cost for you and helps us keep this website up and running. (as Amazon Associates we earn commission from qualifying purchases)
He shows us pictures of his youth with his racing bike. Images look quite old but he doesn't. Probably he has many more years than he shows.
From Seoul to here we were never out of the urban area, some sixty kilometers, the city seems endless. We see the first fields of chili, but we are still in town.
The chili is everywhere, they grow it everywhere, on the terrace, in the atrium of the buildings, beside the highway in town.
In Korean cuisine, chili is so ubiquitous so they need a lot.
We are looking for a place to sleep, our GPS says that in ten kilometers there is a pond. We get there, we are close to a small village. The pond is a little creepy and its shore fairly desolate. There is a lot of dead fish, who knows for what reason.
We decide to try to go to the other side of the pond to see if the situation is better. By sticking between the houses we find a narrow alley that leads to a path around the lake, we pitch the tent in the small wood, with a view of the lake. Dead fishes are out of sight, from here it looks like a beautiful place.
The bath that we dreamed of so much though, is not an option. So says a man who is walking his dog close to the shore… of course, it was not very inviting anyway. While we eat our noodles, tiger mosquitoes eat us, we'll soon buy some fumigators.
Tight splitters and free camping (53.2km)
Today it's raining, finally we are in the countryside. The road is up and down but never too tough. Chili and soy fields and rice paddies. Around 6 pm is still raining and getting stronger, we retreat to sleep in one of the many wooden gazeboes.
There is again another lake view and, in a little park with exercise equipment, for the first time we try the "thighs splitter" tool and we fall in love with it. A gentleman that was there on a bus (we are near a parking lot) gives us one fumigator that saves us the evening. I like the Koreans!
Free meals, free campgrounds (42.6km)
Still raining. We are still in the gazebo lounging until noon listening to Korean radio. Just set off and a guy in a car stopped us and takes us to lunch. I like Koreans.
Roasted pork, soup with tofu and octopus, salad, and rice. He writes our names in Korean, he says he's often in Italy for holidays. He is a farmer, he says, but he doesn't look like, his hands look more like those of a bank employee. Perhaps it is the owner of the land.
We hit the road, again a big avenue, always heading south. We arrive on the shore of a lake again, we buy hard-boiled eggs and fill bottles with water from an old lady with the usual perm, surprised to see two wacky Westerners in her store.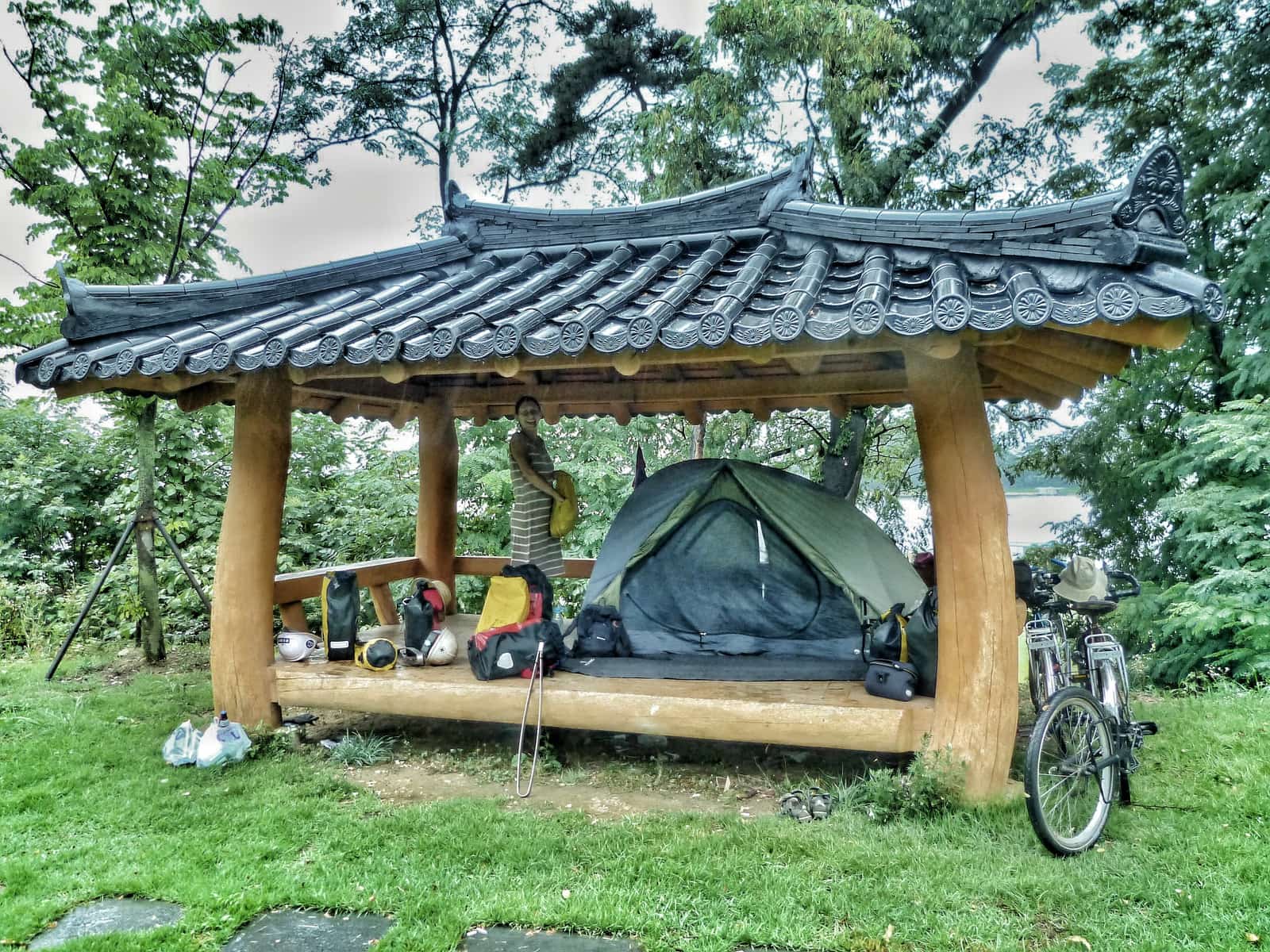 A few kilometers later we see the sign "campsite", it's an area equipped for tents. There is a shelter, tables, bathrooms and also the wifi… all for free! I like Koreans.
Just arrived then the rain becomes more intense so to have shelter is super nice. And of course, the guys from the next tent readily offer us dinner. I like Koreans! Kimchi, funny grilled mushrooms, rice with barbecued pork, rice with kimchi, soju, and beer.
The lake is called Yedang Reservoir and those are the GPS coordinates: 36.635998, 126.799498
On this lake, and also those encountered previously, there are pretty floating houses used for fishing, if you ever saw the Kim Ki Duk movie, the Isle you know what those are.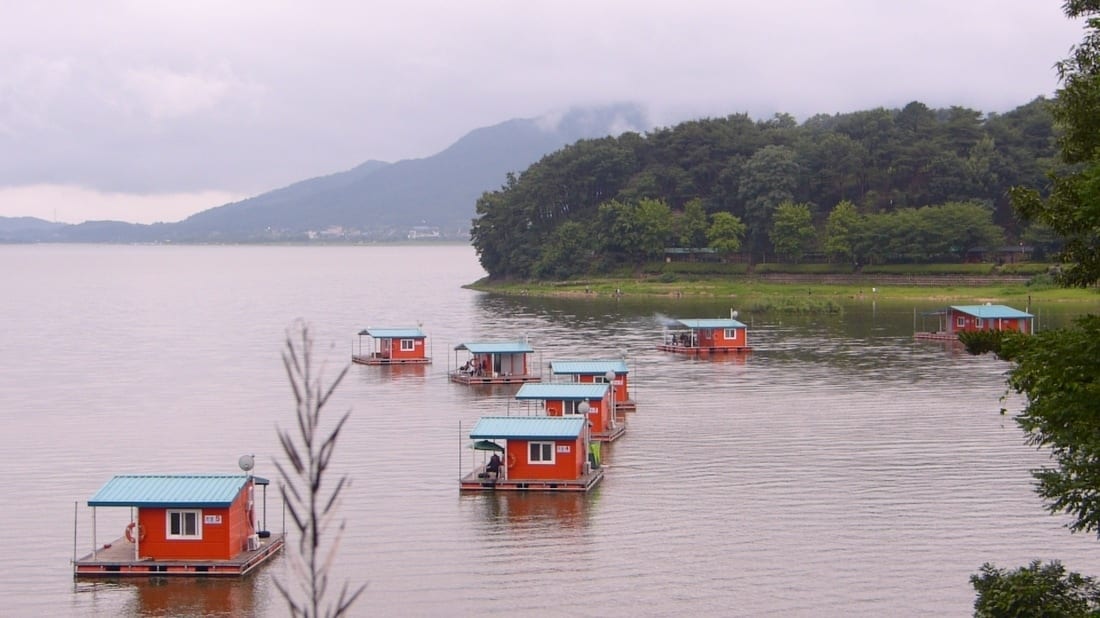 We sleep well, wake up to go to the bathroom, and met a long earthworm at least half a meter. Good morning.
In the men's room, there is a pipe which is used to rinse the floor and we use it to take a shower. The only thing missing here.We keep on heading south, 54km more to Boryeong, for the last day of Boryeong Mud Festival. A festival held every year on the beach where there is mud and the people cover themselves with it and also do stupid games like mud wrestling.
Bicycle touring from Seoul to Boryeong – gpx track with elevation profile
Click on the Map to Navigate
Follow our bicycle adventures
Stay in touch while we get lost! Follow us on Social Media