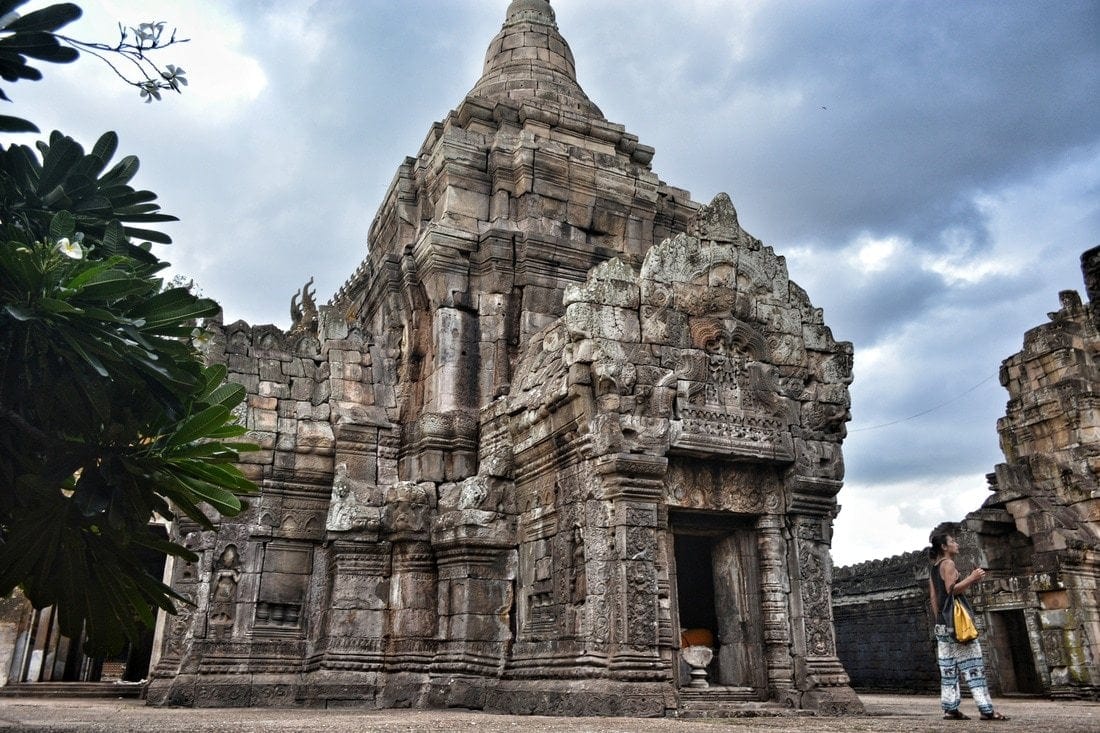 Our suggested 1 week to 10 days backpacking itinerary of Cambodia
+7 first-Hand Budget Tips
What to see and do in the beautiful, emotional and friendly Cambodia.
Southeast Asia is the typical backpacking destination, and Cambodia can't be certainly overlooked when traveling this area of the world. Its millenarian culture, the landscapes, the beaches and the islands of Cambodia, and last but not least its ultra-cheap prices, should be enough to get you straight into planning your backpacking itinerary in Cambodia. That's exactly what this blog article has been written for.
We traveled Cambodia for about a month, we didn't expect a lot but Cambodia's laid-back atmosphere, the eagerness to rise again after so much struggle and the dramatic Mekong shores really made it one of our favorite destinations, probably the most interesting in continental Southeast Asia.
Cambodia doesn't have the epic mountainous landscape of Laos or Vietnam, but it is maybe the country that can give the most in terms of emotions, culture and the feeling of happiness, the happiness of the people who survived one of the darkest periods in history and are now full of energy and creativity for the future.
Cambodia is, in general, is a very cheap country in this article you'll find suggestions to make your Cambodia backpacking adventure even cheaper.
Check Also
Cycling in Cambodia: why you should explore Cambodia on a bike
Our One-Week Off-The-Beaten-Track Itinerary of Cambodia [in a Nutshell]
Since we entered Cambodia overland from Thailand, and since this is very common among backpackers in Southeast Asia, we'll describe our itinerary as starting from the Thai/Cambodia border at Koh Khong. If you're flying into Phnom Phen just change the order of the destinations.
This 1-week (to 10 days) itinerary ends in Kratie, from there you can go back to Phnom Penh to fly out, or easily proceed to Laos by bus. The listed itinerary is detailed further down in the article.
1/2 nights in Koh Khong – visit Cardamom Mountains/Botum Sokor
1/2 nights in Kampot – visit Kep/Bokor NP
1/2 nights in Phnom Penh
2 nights in Siem Reap
1 night in Kampong Cham
1 night in Kratie
If you're on a 3-months long SEA trip, you can easily spend more time in Cambodia by visiting Mondulkiri, Virachey NP, the stunning island of Koh Rong, or the busy Sihanoukville.
---
Visa Policy in Cambodia
The procedure to get the Cambodian Visa is pretty easy. It is possible to obtain the Visa for Cambodia at the border or at the main airports but it can take a long wait, especially if you travel in a big group.
An efficient alternative is to apply for the Visa online, you'll pay online and receive the visa by email. Holders of eVisas have to enter via specifics entry points.
Where to sleep
Camping in Cambodia
Wild camping in Cambodia is not that easy, and not for lack ness of good camping spot, nut because of the presence of unexploded landmines, which makes stealth camping not the best of the ideas.
If you still want to camp in Cambodia, the better option is to ask some locals, you could easily pitch your portable house under one of those stilted homes. Leaving a couple of bucks to the family may be polite.
We haven't seen any campsite during our trip but, probably, it is possible to camp in some hostels in the more touristic places.
---
Backpacking Accommodation in Cambodia
Outside the main touristic routes you'll find accommodation every 40 or 50km, more or less in every village. Prices are pretty even, ranging from 5USD to 12USD for a double room with fan and usually 5/7 dollars more for A/C.
If you have any choice, ask to see the room first, check the pillows, the mattress and, most important, the fan. Bargaining is worth a try, mostly works in tourist areas.
Especially in not touristic areas guesthouses are usually love-motel style, ground floor, which is nice if you have heavy baggage. Some rooms have water kettle but if there isn't any just ask the owner to provide some boiled water if you need it.
Many guesthouses, even the one you wouldn't say, have free WiFi.
CouchSurfing? Or Workaway, Helpx, and Woofing?
Disclosure: Some of our articles contain affiliate links. This comes at no additional cost for you and helps us keep this website up and running. (as Amazon Associates we earn commission from qualifying purchases)
Phnom Penh, Siem Reap and maybe Kampot and Sihanoukville are the only places where you could have a chance to find couchsurfers hosts.
Volunteering instead is pretty easy, with a lot of associations, some a little shady, some with plenty of good feedback, to whom you can lend your skills and time in exchange for shelter, food, and experience.
Some of this ask you a fee to volunteer, I feel I wouldn't trust them, unless you really know where does your money end up, moreover, this article is about budget travel so I assume you don't want to pay to volunteer.
Check our articles about the best work exchange websites and about Couchsurfing and its alternatives.
Where to Eat in Cambodia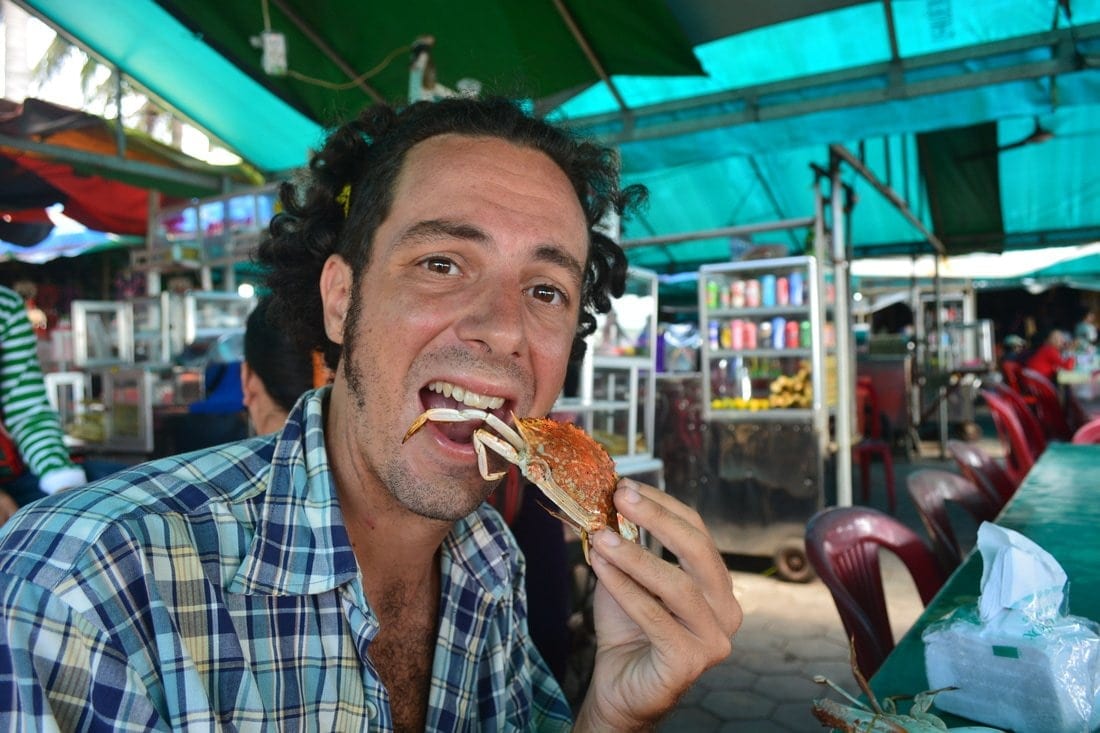 Western food can be found in every touristic town, usually in guesthouses, being a mix of fake Italian spaghetti and American style stuff such as hamburgers, tacos, and ribs. Prices are not cheap, from 4 to 6USD for a burger that may not fill your hungry backpacker's belly. Try the crabs in Kep, that is cheap and very tasty, and the Italian food stall in Kampot.
Cambodian food is honestly not great, in the traditional eateries in the contryside the choice is usually fried rice or noodle soup. In the coastal towns (Kep being the best) there are seefood market, crab is the most popular dish.
In the bigger villages and towns, markets are a good cheap option but better to go in the morning, in the afternoon the food has been already some hours in the unforgiving heat.
Oh, I almost forgot the most important of the hints! Almost all Cambodian beers can give a price, look under the tab of the can when opening it, if there's the symbol of a can you won one free beer! It's surprisingly common to win free beers, almost one on three or four cans is a lucky one!
Safety Concerns in Cambodia
Cambodia is an overall safe country. Still, apply some caution, the bulk of the "criminal activity" (theft and scams mostly) is of course where the bulk of the tourist is, bus stations and major touristic attractions.
Respect the basic rules: money on you, passport on you (travel jackets with hidden pockets are great), do not leave anything valuable or important in your luggage when loading it in the trunk of a bus or taxi, don't pay stuff in advance, trust your instinct, don't make rushed choices, use an anti-theft backpack, don't be drunk or high if you have valuable stuff with you.
---
How much does a backpacking trip to Cambodia costs?
Cambodia is still a very cheap Asian country, although activities and entry fees to the major tourist attractions are becoming pretty pricey. You can expect to spend between 100$ and 600$ excluding flights for one-week in Cambodia, which makes 14$ to 85$ per day, so divided:
5/15$ x day for accommodation
5/10$ x day for transportation
4/20$ x day in food
0/40$ x day in activities
Of course, to really stay on a budget you'll have to give up all paid activities and occasionally resort to hitchhiking or free hospitality network.
We sencerely think it is definitely still worth and enjoyable visiting Cambodia with a low budget. The experience will be different, but could even be more intense and interesting
---
Our 1-week to 10 days Cambodia itinerary in detail

1. Koh Khong: Cardamom Mountains and Tatai Waterfall
Koh Khong is a nice town, popular with local tourists, a good start to get into the Cambodian atmosphere. Going East you'll have the Cardamom mountains ("Krâvanh" in Khmer) on your left and Botum Sakor National Park on your right.
This is probably the longest stretch of the untouched jungle we ever saw in more than ten months around South East Asia. You can explore the Cardamons and Botum Sokor as day trips from Koh Khong.
On the way to Kampot you can stop in the tiny village of Tatai, which has a guest house, two food stalls, and a big waterfall. The next village, Trapeang Rung (this is actually the name of the river, on some maps the village is called Phumi Chrang Khpos), is where a community-based tourism association can be found, a great chance to get in touch with the local lifestyle.
We advise spending 1/2 nights in Koh Khong and visiting the Cardamon Mountains or Botum Sakor
2. Kampot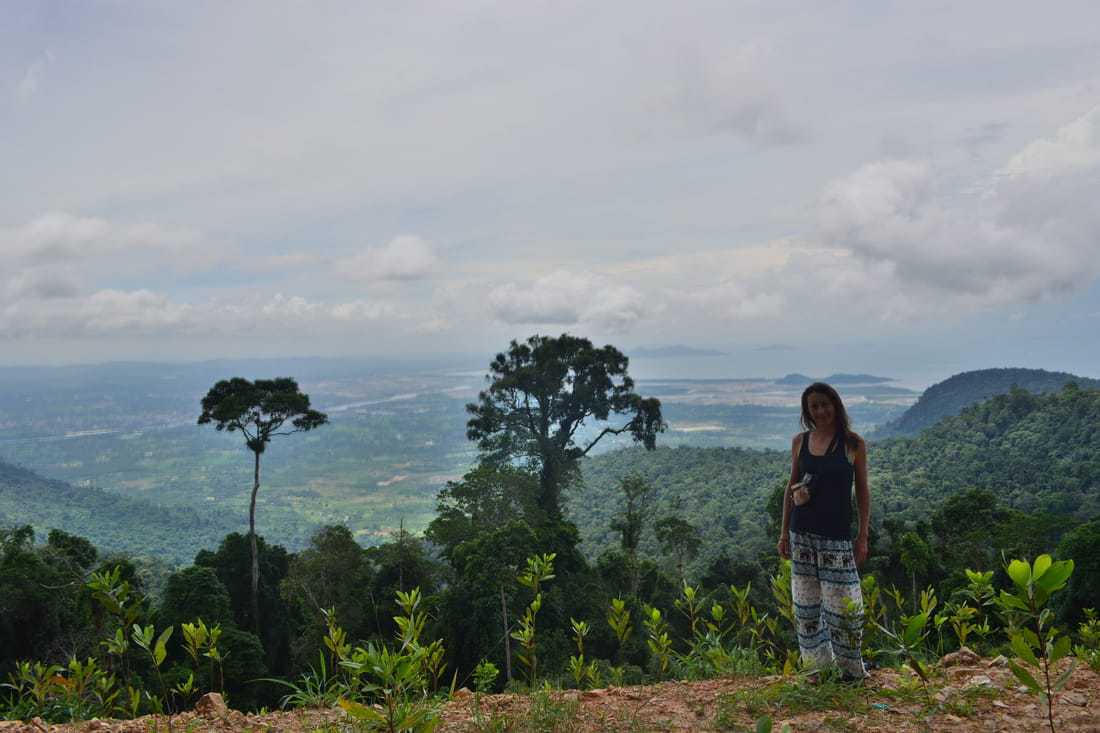 Decadent French colonial architecture, riverside, plenty of restaurants and bars, pizza everywhere, happy pizza too (yes, also called marijuana pizza): Kampot is the first touristy destination we ended up visiting during our Cambodian tour.
With around 40.000 inhabitants, Kampot is to be considered a medium-sized town, even big for Cambodian standards. Capital of Kampot province, is mainly famous for its incredibly tasty pepper, fame well deserved indeed. It's a good base to explore the southern coastal area, the historically interesting town of Kep and Bokor National Park.
The atmosphere in town is laid back and relaxed, this place seems to attract western expats and indeed many restaurants are run by foreigners.
To our taste, the best place to eat here is doubtless "Ciao!", an Italian restaurant which looks much more like a local food stall. Just a metal roof on wooden pillars, standing on the sidewalk next to local noodle soup restaurants, two big tables that can accommodate a maximum of 8 people each.
Besides eating and drinking and relaxing, there aren't many things to do in Kampot. Tasting local durian is another must, if you can endure the smell, indeed there's a very cool durian statue in the middle of a roundabout. We took a day of rest drinking beer and 1$ Gin Tonic, getting ready to explore the surroundings before heading to Phnom Phen.
We advise spending 1/2 nights in Kampot – maybe the best backpackers vibe in Cambodia
3. Bokor National Park
The main attraction in Bokor National Park is the old French hill station at 1,080m which can be visited as a day trip from Kep, Kampot or Sihanoukville.
There are several interesting ruins, the Old Catholic Church built by the French in the 1920s, Le Bokor Palace Hotel and Casino is a historic hotel built by colonial French and opened in 1925, now laying abandoned as a relic from a lost fancy past.
Bokor National Park has also been theater of a long battle during the Cambodian Civil War, the two struggling parties where using the old hotel and the church as forts, you can still see the bullet-riddled walls and some soldiers' mural.
Besides these buildings and the fascinating history, the view and the landscape of the park are really stunning. We rented a motorbike and went by ourselves and visited the park as a day trip from Kampot, it is also possible to join an organized tour, here all the activities available.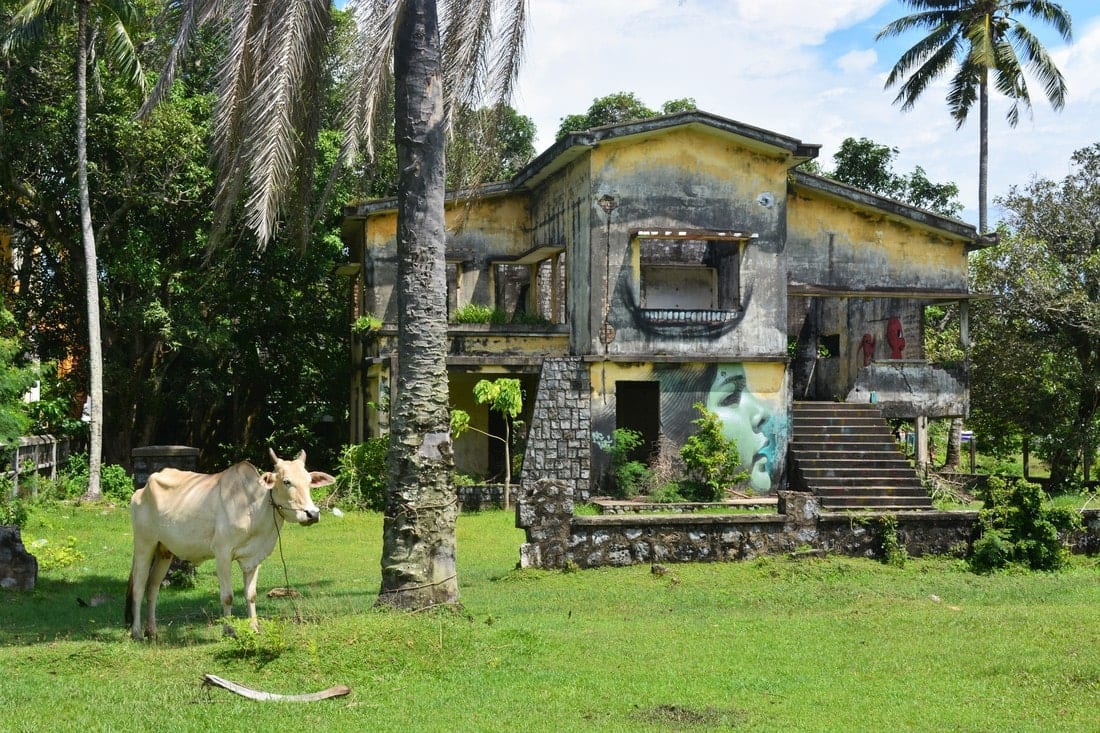 4. Kep and his Ghost Villas
Kep is famous for two things, the crab and its unique architecture. As the tropical dream of a French wealthy class, Kep-Sur-Mer was founded in 1908 as a resort town where once were a few fishermen huts.
Kep was a daring experiment, the vanguard of a new Cambodia, the display of the avant-garde of the most modern (or modernist) country in South East Asia.
During the Khmer Rouge years, havoc fell upon Kep, a symbol of everything the Cambodian communists were fighting against; wealth, literacy, western influence, leisure.
Like everywhere in Cambodia, people were forced out of their houses and driven to labor camps in the countryside. Few of these villas were taken over by Khmer Rouge cadres, setting up their headquarters, but most lay abandoned, for years that became decades, and still, they are.
Kep can be easily visited as a day trip from Kampot but it also has some nice hotels if you want to spend a night there.
5. Phnom Penh
Phnom Penh is a very hot city with a lot of traffic, it is better to explore it when the sun is down. The Phnom Penh Night Market is a good start, for authentic Cambodian street food. Another beautiful market is Phsar Thmei, the Central Market, was built in 1937 and is one of the biggest markets in Asia.
Wat Ounalom and Wat Phnom are the most important temples in town, remember to dress properly while visiting them. Same goes for the cool but pricey Imperial Palace.
A lot of nice bars are in town, one of the most famous is the Elephant Bar, where the famous Raffles afternoon tea is served. The bar has a full range of wines, beers, and spirits including one of Asia's largest selection of gin with over 30 different gins. The signature cocktail is the Femme Fatale, first concocted for Jacqueline Kennedy during her visit to Cambodia in 1967.
S-21 Prison, now the Tuol Sleng Genocide Museum, one of the most intense testimonies of the Khmer Rouge regime and the 2 million people, or more, killed. It is also possible to visit the actual Killing Fields, both ar musts go destinations for dark tourism lovers.
We recommend spending 1/2 nights in Phnom Penh, according to your schedule and feelings. Here are some activities you could try if staying longer.
6. Angkor Wat & Siem Reap
Angkor Was is one of the most famous temples in the world, something not to be missed in any Cambodian itinerary, the entrance fee is expensive but you can use the same ticket for 2 days. In fact, the complex is so big that one day might not be enough.
Angkor Wat is the largest religious complex in the world, with a dimension of about 162.6 hectares. Of course, this popularity means that you can find yourself surrounded by tourist, even if the place is very big, this can ruin a bit the atmosphere but we think is anyway worth to visit this wonder.
The Angkor grounds are so vast that it just takes a little spirit of adventure to suddenly find yourself alone amidst these maarvels of the world.
Those are the 2019/2020 Entrance Fees to the Angkor Wat Complex: Single day (1-day) pass – $37.00. Three day (3-day) pass – $62.00. Seven day (7-day) pass – $72.00.
We advise staying 2 nights in Siem Reap – accommodation options are available for all budgets.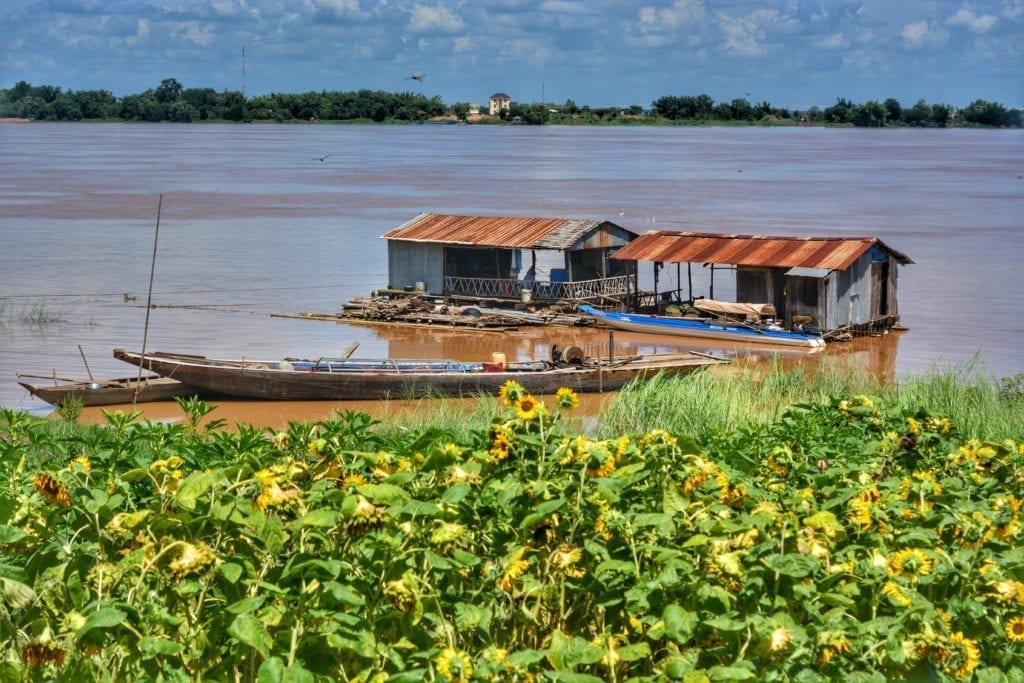 7. Kampong Cham
Cham is the name of a Cambodian ethnic minority, mostly following Islam, which indeed concentrates most of the 217,000 individuals around this province. The area also played a key role during the Khmer Rouge uprise and seize of power: from here the Cambodian communist launched their assault to Phnom Penh.
Besides the laid-back riverside atmosphere, there are a few things to see around Kampong Cham, the best being probably the famous bamboo bridge to Koh Paen, an island inside the Mekong.
What we really enjoyed is Nokor Wat (coordinates 12°00'00.3″N 105°26'20.6″E, less than 5km from the city center), an 11th century Angkorian temple laying in disrepair but completely tourist-free.
On the same site, there's an NGO, named BSDA who trains disadvantaged kids in Apsara Traditional Dances, performances are on request so maybe contact them before.
By hiring a tuk-tuk or renting a motorbile it is possible to visit one of the nearby traditional Cham villages, built on stilts on the Mekong River.
We recommend spending 1 night in Kampong Cham during your off-the-beaten-path Cambodian Itinerary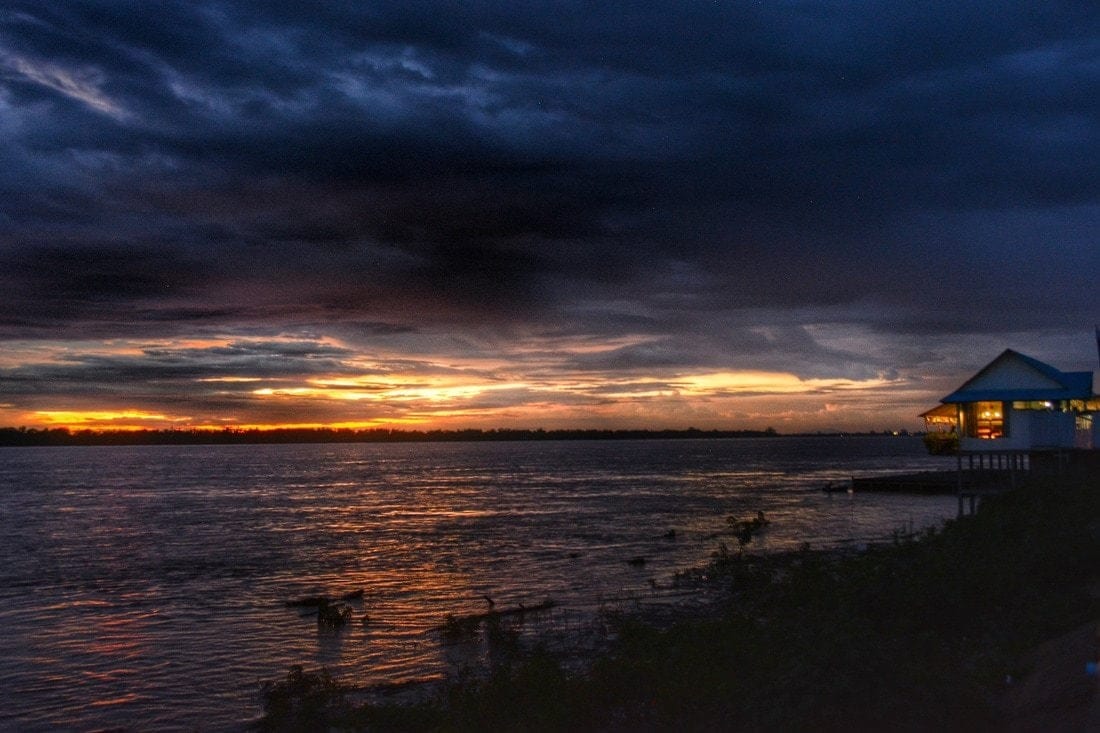 8. Kratie
Kratie (Krong Kracheh) is mostly famous for being one of the few places in the world where the endangered Irrawaddy dolphins live. The view spot itself is actually in the village of Kampi, around 20 nice kilometers northward, on a mixed concrete/dirt road.
The town of Kratie itself is basically all about guesthouses and tourist restaurants, serving some mixed Western/Cambodian backpacking favorites.
Cute colonial architecture, nice for a stroll on the riverside and a hamburger or tofu-burger, for the greenies. Apparently the small island facing the town is lovely and with a cycling path that goes around it, this and the dolphin view require a fee.
One night in Kratie should be enough, from here you can go back to Phnom Penh to fly out, or easily proceed to Laos by bus.
Find the cheapest place to stay in Kratie
Stay in touch while we get lost! Follow us on Social Media