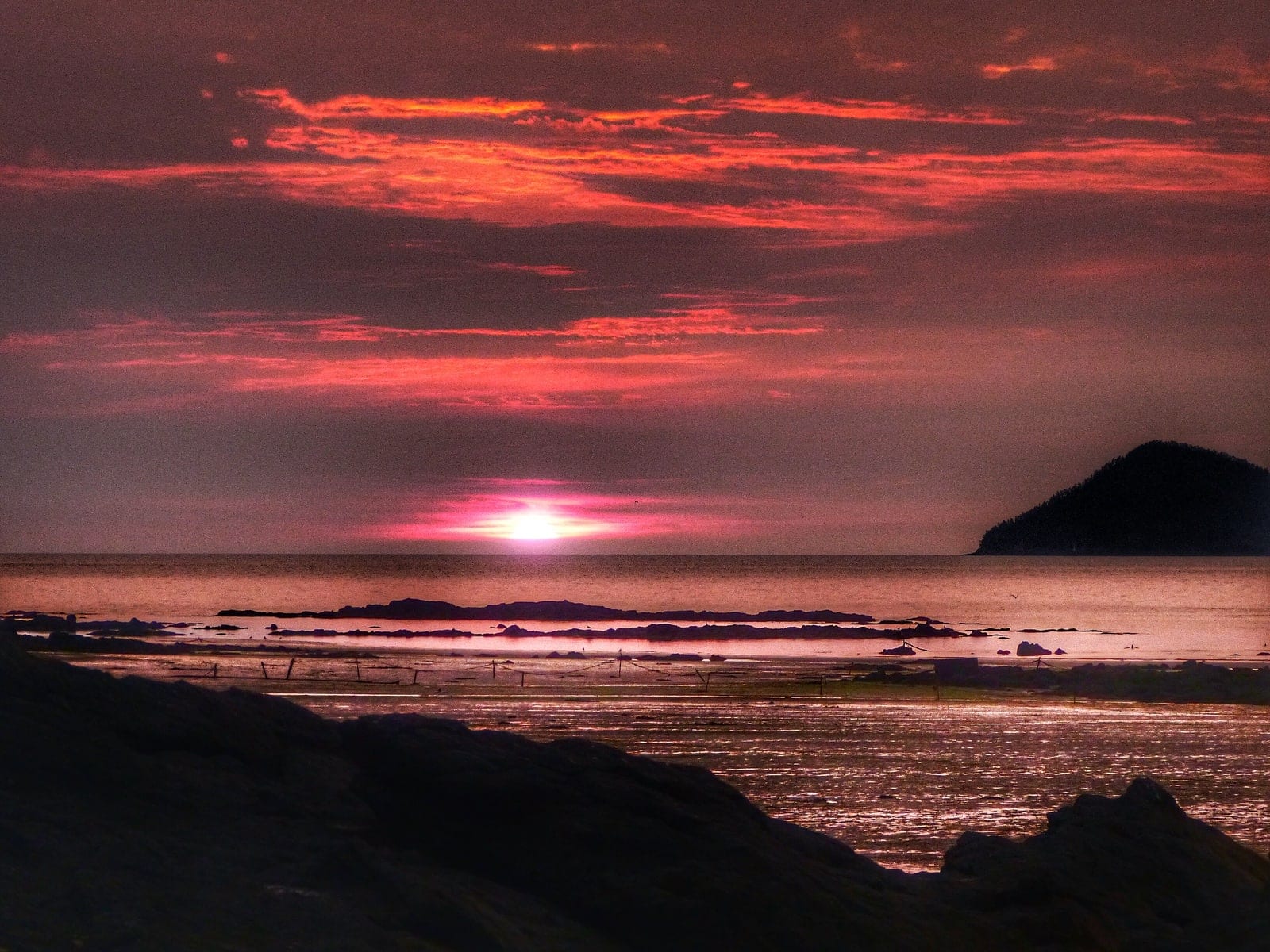 Byeonsan peninsula and National Park. Naesosa Temple, Hanok village, Gyeokpo, Shamans, cemetery camping and ball-washing
Bicycle touring South Korea can be surprisingly awesome, as it will be exploring its off-the-beaten-path areas by any other means that could give you a certain freedom of movement.
When arrived in Seoul and Incheon areas, we were told to do the 6 rivers bike path, a long cycling highway that connects Seoul to Busan through the interiors. People come from all around the globe to do that.
But this idea didn't suit us, following a signposted path all the way to Busan didn't sound really adventurous. Instead, we were attracted by the rough profile of South Korea's west coast, dotted with hundreds of islands.
When we inquired locals about that coast, all of them told us that was nothing to see there. That made us finally decide to explore there.
Byeonsan peninsula was one of the (many) highlights of our bicycle trip in South Korea, we spent almost 6 days in the area and never got bored, so we feel to really recommend it.
There's a surprisingly high number of things to do and see in Byeonsan, here are some, the ones we have done.
Check the map at the bottom for geographical references.
Getting to Byeonsan peninsula, Buan-Gun
Disclosure: Some of our articles contain affiliate links. This comes at no additional cost for you and helps us keep this website up and running. (as Amazon Associates we earn commission from qualifying purchases)
We leave Yondo beach and Boryeong province early in the morning. We are heading to the Byeonsan Peninsula, in Buan-gun County. In the afternoon it rains hard and we find no suitable gazebo to pitch our tent in.
0.5 – Camping in a Korean cemetery
Near a small lake, there is a cemetery with big trees that could shelter us from the rain. The cemeteries here are not concrete boxes as in Italy.
They are usually in the woods or in the countryside. Above each tomb, there is a large mound of earth in the shape of a hemisphere, where the grass grows. Often there is no tombstone.
They are usually in couples, and never more than four or five tombs nearby. Thanks to the trees we can cook the noodles and eat them outside the tent*.
Upon awakening, we cross the village near the lake (so many lakes here), very nice with many traditional Korean houses. Then again peaceful and verdant countryside, until we finally reach the peninsula of Byeonsan (Buan Gun County).
We stop to sleep in a nice little beach, the tide is low and we are unable to swim because the water is far away and there is a lot of mud. As usual, we are welcomed and treated like stars, managers of a bar/restaurant closed today offer us water and food. I like Koreans.
1 – Byeonsan beach
The purpose of today is to find a base camp where to leave bags and tent behind and explore the peninsula in a lighter fashion.
We come to a beautiful big beach backed by a pine grove full of tents (Byeonsan beach). This time it is a true camping however, costs 8€ each and the noodles cost twice the normal price. The beach though is really amazing, and we do a nice bath.
We keep on following the sea, we must climb a steep hill, we reach the top and on our right, there is a path leading into the forest. We find a clearing in the woods that looks perfect for the tent, but there's an exaggerated density of mosquitoes. Those are a plague in summer in Korea.
2 – Gyokpo and Chaeseonkgang cliff
We are armed with fumigators found around, people go on a picnic on Sunday and then forget coils in the gazebos. Here we are trying to save on everything. We assemble the tent and geared only with our bikes, naked and graceful, we go look for food in the nearby village (Gyeokpo), about 5 km.
Here, in addition to food, there is a beautiful reef (Chaeseokgang cliff) from which you can see a scenic sunset, or take pictures in silly poses. One of the most instagrammable places in South Korea, if you ask me.
The town is full of shops selling dried fish and fish sauces, it's a typical Korean seaside village, very tranquil atmosphere, nice boardwalk and fish restaurants.
The road along the sea is beautiful, there are so many small islands in this area, a very scenic bicycle ride. There is low tide now and we can walk to an islet in front of us. At sunset, it looks like a romantic thing.
We're back to the tent when it's almost dark. A sign informs us that here lives a red crab with blue eyes. Daniele spots one in the forest, but what's it doing here? Aren't the crabs usually found in the sea or on the beach?
3 – Walking to an Island (after getting drunk at early morning)
When we wake up we go to eat breakfast at the beach in front of the small island accessible at low tide. Our tent is impossible due to mosquitoes, the beach is full of all kinds of insect but no mosquitoes. They like the woods.
The tide is low and we have to walk a lot to be able to get the water at least to the thighs. During the walk, we see a lot of flying fish that seem to have so much fun. And even those fish who dig their burrow in the sand by spitting.
Meanwhile, there are Koreans on the beach who offer us rice wine, cherry tomatoes, peppers, watermelon (a watermelon cost 20€…), all together: tomatoes and peppers are fruits for them. But I like Koreans.
4 – cycling (or riding or walking) along the coast
After breakfast we go for a swim at Byeonsan beach, the big beach we have seen yesterday, then let's go around the peninsula following the sea. There are many coves and we take a bath at every opportunity. The area is amazing, verdant vegetation, clear water, cliffs, reefs, and islets everywhere. A true hidden jewel, barely mentioned in the tourist guides.
5 – The Temple of the Fishermen
We arrive at the head of the peninsula and see a sign who says "Temple of the fishermen". Intrigued we go check what it is.
The temple is a small shed. Outside sits a man (the "priest") with his feet painted blue and white, playing the drum and a woman (the "priestess") who jumps like Totoro playing bells. Then there are two faithful that jump too, one is holding a tray with the offers and is encouraged by the priestess.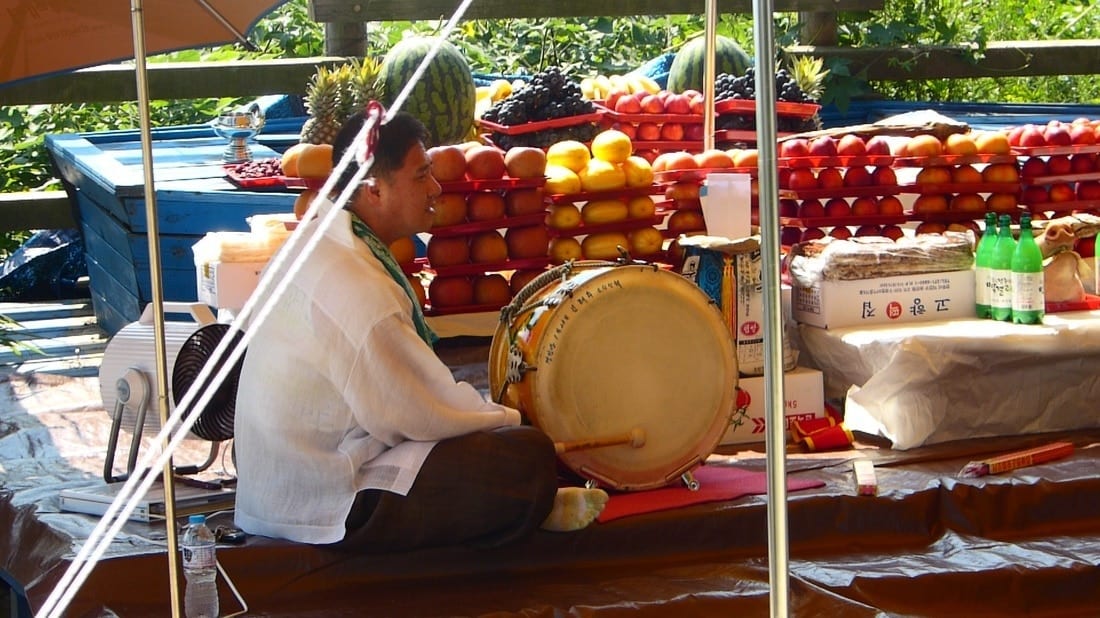 We infer this is a Shamanic temple. Korean Shamanism is the original religion of Koreans, almost forgotten nowadays, crushed by the many Christian sects coming from the USA.
6 – Fake Hanok village
After the temple of fishermen come to a reconstruction of an old traditional Korean village, fake but still very nice. It is famous because it was the shooting location of a popular historical Korean drama.
Hanok is the name of the Korean traditional houses, here there are many, some also have the old-style thatched roof.
It's beside the sea, before the entry there is a car park with fountain to which is attached the providential hose, and so also tonight we can wash our dirty selfs.
Going back to our house in the woods go through the village and this time we identify a real supermarket, there isn't written "supermarket" but "NH bank", bank and supermarket are the same things, olften.
A Chinese man who works as a laborer here treats us a coffee and a Korean gives us red cobs. Let's go back to the tent when is almost dark again, there is a beautiful full moon.
7 – Byeonsan national park (where we didn't go)
Upon awakening, on the other side of the tent, a crab looks at me with bulging eyes. Korean crabs do prefer the mountains. At breakfast we eat the corn given us yesterday, some are yellow and others have black and white grains.
Let's go to the Byeonsan National Park, the most famous tourist attraction in the area. But there comes a path accessible only on foot, 9 km. At the entrance there is a map showing also the slopes, reaching 25%.
We could do that but then we would need to come back here to pick up the bikes, the path ends on the other side of the peninsula. So we get rinsed in a nearby stream and ride our bikes along an alternative internal road that also brings us to the south of the peninsula. It's scenic and there are steep slopes, we're happy anyway.
8 – Silkworm museum (where we only get a shower)
We run into the insect museum, it costs 3000 won. Not much but we really are on a budget at the moment. The area is famous for the silkworm that Koreans do eat, they are sold in cans everywhere, but I have never seen anybody eating or buying them.
Everything is in the shape of a bug in this museum, even the bathrooms are in a big caterpillar. Inside there is classical music, I will not explain how, but sometimes it helps. And we even do a nice shampoo in the sink. No bugs, but we are clean and fragrant. I like Korea.
9 – Naesosa Temple
Once in the south of the peninsula, there is the road to Naesosa Temple. Before going in, we stop to eat some instant noodles, an old lady asks us 4000 won each despite the price written on the box is 2000, because she is convinced to have cooked those (she added the Water). Watch out for Korean old ladies! Every now and then they try to cheat you, men do never do that (in our experience).
The entrance to the Naesosa Temple (Naesosa Temple) has a 3,000 won fee. It is not much but we cannot pay, the conductor sees us thinking about what to do, and so at the end lets us in for free. While we waited outside people gave us cookies, coffee and fruit juice and one told us "FAITO" or "Fight". I like the Koreans.
The temple is nice but nothing exceptional. The wooden ceiling and paper lanterns are the only really nice thing. The latter has some prayers or wishes written on small pieces of paper tied below the lanterns.
There are tourists dressed as monks, baggy trousers, and a gray shirt. You can pay to sleep here and do what the monks do (₩40,000 t0 ₩60,000). Your cup of tea if you like temple-stays.
From inside the garden of the temple, there is also a trail that leads to the waterfall, connecting to the Byeonsan National Park trail.
9.5 Experience the "ballwasher"
We take the bicycles, it's hot. We spot a SO-CALLED "ball-washer". I know it is not the fancy name but gives the idea. Basically, a fresh stream of water channeled into concrete for irrigation. Like a vision when bicycle touring.
We dive with all the clothes, a permed old lady see us from the window of her house and get out to offer us frozen homemade mulberry juice so redeeming the honor of the perm old ladies. Not only men do offer something.
10 – Udongje reservoir
We ride up to a beautiful little artificial lake, enclosed between small mountains, Udongje reservoir. Nearby there's another temple, which is not touristic and therefore is free, but is even more beautiful than the other.
We wanted to ask the monks to put the tent in the garden but there are three watch dogs barking all the time and then we opt for the gazebo seen just before the lake, wonderful. Tonight the moon is at the peak of its fullness and is really huge.
No more things to do in Byeonsan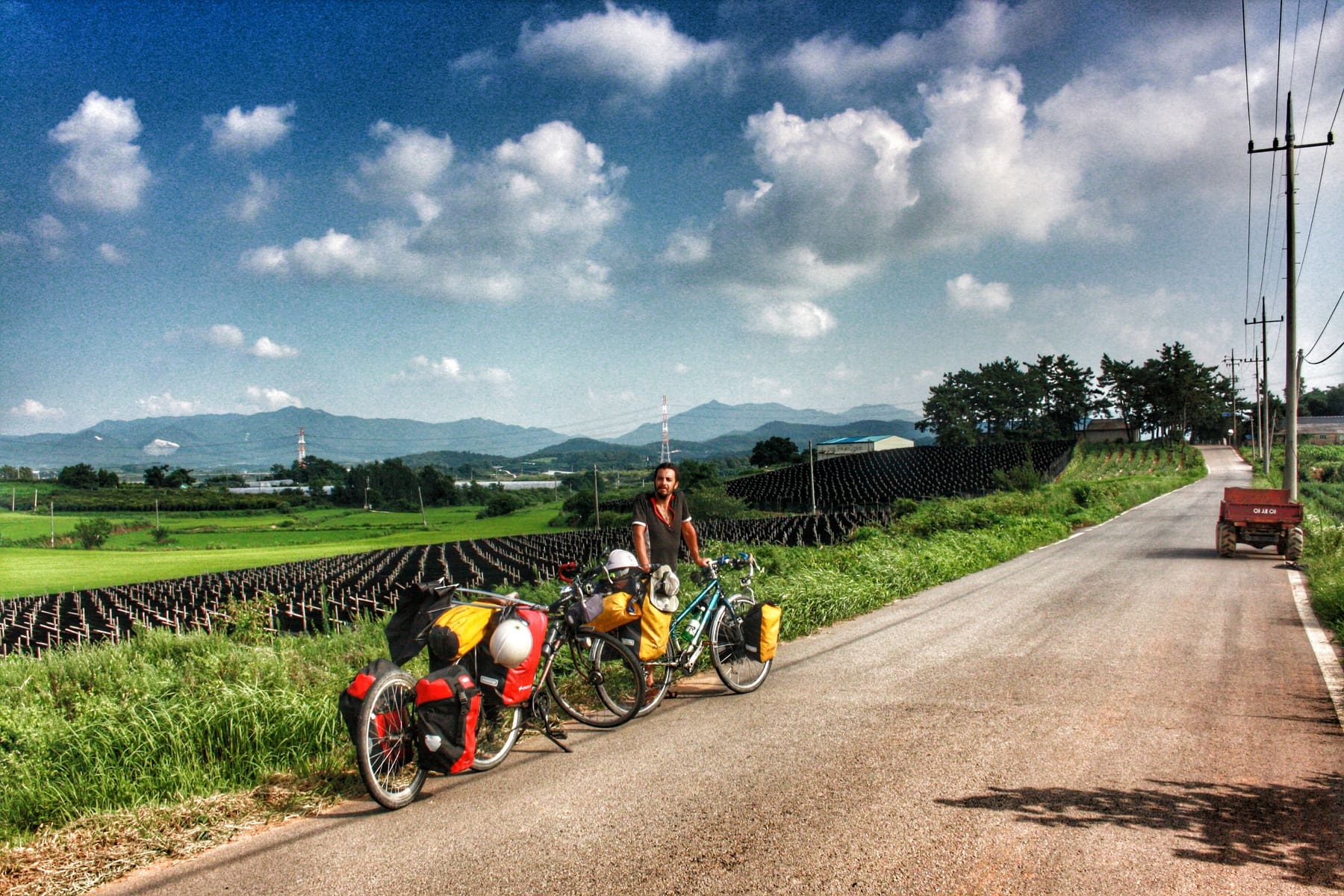 We cycle happily in the rural Korea. Bicycle touring in Byeonsan peninsula have been unforgettable. Now we leave it behind and head south.
The road is always an up and down, the true plain does not exist in Korea. Hot hot. We stop for lunch in a very nice little town full of traditional houses. Many seem sadly abandoned. We stopped to eat in one of these under its large wooden porch: Tofu with peas and soy sauce for me tofu with tuna for Daniele. For second course bread with paprika flavored sauce.
The house is closed, only a room on the left side is open and inside there are books and incense. It seems someone uses it, there is also a mattress. Not far from the house there is an old Confucian school, about a hundred years old, also abandoned.
It's weird because usually, it's all very nice here, we have never seen anything abandoned or unfinished in South Korea before this.
We continue in our up and down the hills that make Korean countryside so nice, with its rice fields always surrounded by mountains covered with lushing trees.
Korea is really green and luxuriant, much more than we imagined.
Tonight we face several options for sleep:
Gazebo in the rice fields that I like a lot but is rejected because in the nearby canal there is a motor that pulls on the water and makes noise.
A traditional house uninhabited. I guess is someone's house. Daniele says I'm paranoid.
A beautiful grove: awarded.
And tomorrow we go to some island, not yet we know which one.some island, not yet we know which one.
This article is part of our South Korea travel log series.
We spent two months bicycle touring Korea off-the-beaten-path and we loved it. Check here if you want to learn some tricks on how to travel South Korea on a budget (less than 10$ per day).
Gpx track and map of Byeonsan peninsula
Follow our bicycle touring adventures
Stay in touch while we get lost! Follow us on Social Media