What you see in this picture used to be the legendary Kwikfiets: a bicycle repair shop and small "museum" of Amsterdam branded bicycles right in front of Amsterdam Central Station.
But I want to start this story from the beginning:
Disclosure: Some of our articles contain affiliate links. This comes at no additional cost for you and helps us keep this website up and running. (as Amazon Associates we earn commission from qualifying purchases)
in June 2012 my trio of experimental music Fannullare has been selected to play at the prestigious Kernel Festival in Desio (Milan).
Among the many artists present, one project in particular struck for its originality and for how cool it sounded us, it was the sound bicycles duo from Amsterdam Good Cop / Naughty Cop.
Yes, you read that right, the guys play the bikes!
---
Good Cop/Naughty Cop
A short note to explain how the matter works:
A bicycle is placed at the center of the stage, upside-down so that the wheels can rotate freely. Two guitars, are connected to a laptop, and their sound is affected by the rotation of the wheels, I'll try to explain how.
Four magnets are placed on each wheel, orthogonal to one another, attached to the spokes with adhesive
tape. A further magnet is placed on the two forks, front, and rear. By turning the wheel the magnets placed on the spokes meets the one on the fork, closing a circuit, with a frequency related to the rotation speed of the wheel.
The closing of the circuit sends a signal to an Arduino, which in turn sends a command to the laptop.
The command in question is of two types: if at that time the guitar connected to the wheel in question is emitting sound this sound is sampled, in the interval of time that elapses between a magnet and the other (the faster the rotation, the shorter the sample), else, if the guitar is not outputting any sound, the last sampled sound is repeated endlessly, following the speed of rotation, clear right? If not, check this video.
---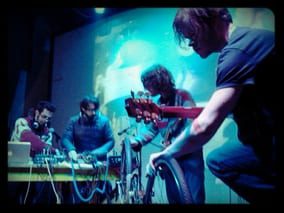 Well, we fell in love with each other and decided to tour together, first in Italy and then in the Netherlands.
Unfortunately one of the members of our band was too busy with his job, so we toured with another lineup, the electro-acoustic duo Space Chicks In Trouble.
We did ten amazing gigs in Lazio and Emilia-Romagna in November 2012, improving our interplay and becoming really good friends.
We arrived in Amsterdam on the 30th of March 2013, for eight gigs between Amsterdam, Utrecht, and Den Hag and it's here that I got to know the legendary Kwikfiets.
---
Moving to Amsterdam
I was quite fed up with Bologna, so I decided to try an adventure in Amsterdam, taking no return ticket and beginning to look for a job and a room right after the tour.
I found a shitty job quite quickly, but the room was way more difficult. After a few misadventures, I got a proposal that I could not refuse: to live in the Kwikfiets for free!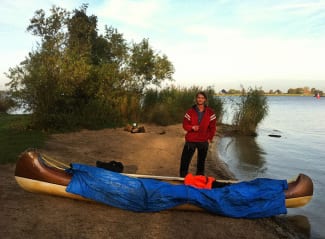 This shop was the place where Good Cop / Naughty Cop project was born, as well as many other amazing projects like Volleband (I will dedicate a future post to this) and is former owner Willem Scholte, is a rough and ready guy with clear ideas about the world and the way to experience human relationship.
He saw something good in me and offered me the opportunity to live in the shop without any condition and time limit, else than the one I chose: to buy one of his astonishing vintage custom bicycles.
---
I was fired from my shitty job after almost two months and I started reconsidering my targets.I have to say that getting to know Willem and his ideas had a strong influence on my change of mentality.
My first goal was to find a good job related to my professional studies (Audio Engineering and Acoustics), find a nice house, and keep on studying music composition, but then I began asking myself if this was what I really wanted.
The answer was: NO. I realized that my youth dream of endless travels is what I really wanted to pursue and that I was caging myself in rules made by society, ignoring my real hunger.
This was the moment where I started conceiving this project.
In the meanwhile, I and Willem gave life to another crazy idea. The principle was, why don't we work together in this amazing place we got, having no boss, and doing our own?
Then, I'm a true beginner in bicycle mechanics but I can cook great Sicilian food, and I've plenty of musician friends.
So that's how we gave birth to Ristorante l'Ultimo Bastardo.
The Last Bastard
---
That wasn't really a restaurant, but a place for food, bicycle and music lovers, where you could enjoy traditional non-conformist Italian food, as well as crazy performances in a super-cozy bicycle environment.
The experience was great, we get to know a lot of nice people, and we had a lot of fun making our living.
Unfortunately, beauty often has a short life, and nothing of this exists anymore.
Yes, unbridled dutch capitalism defeated us and we were evicted from the Kwikfiets on the 1st of October 2013. The place was rented out to somebody that could pay double the rent we use to pay.
This looks like a sad ending but is not: now myself and Willem are both into our real desire, adventure.
Willem is exploring the Netherlands with his canoe, planning to build a bigger one with a sail to reach the Mediterranean Sea trough France next summer.
I'm back in Bologna, for now, reaching Elena again, she got graduated in the meanwhile and now we're both free and unemployed.
Ready to ride east, maybe forever.
---