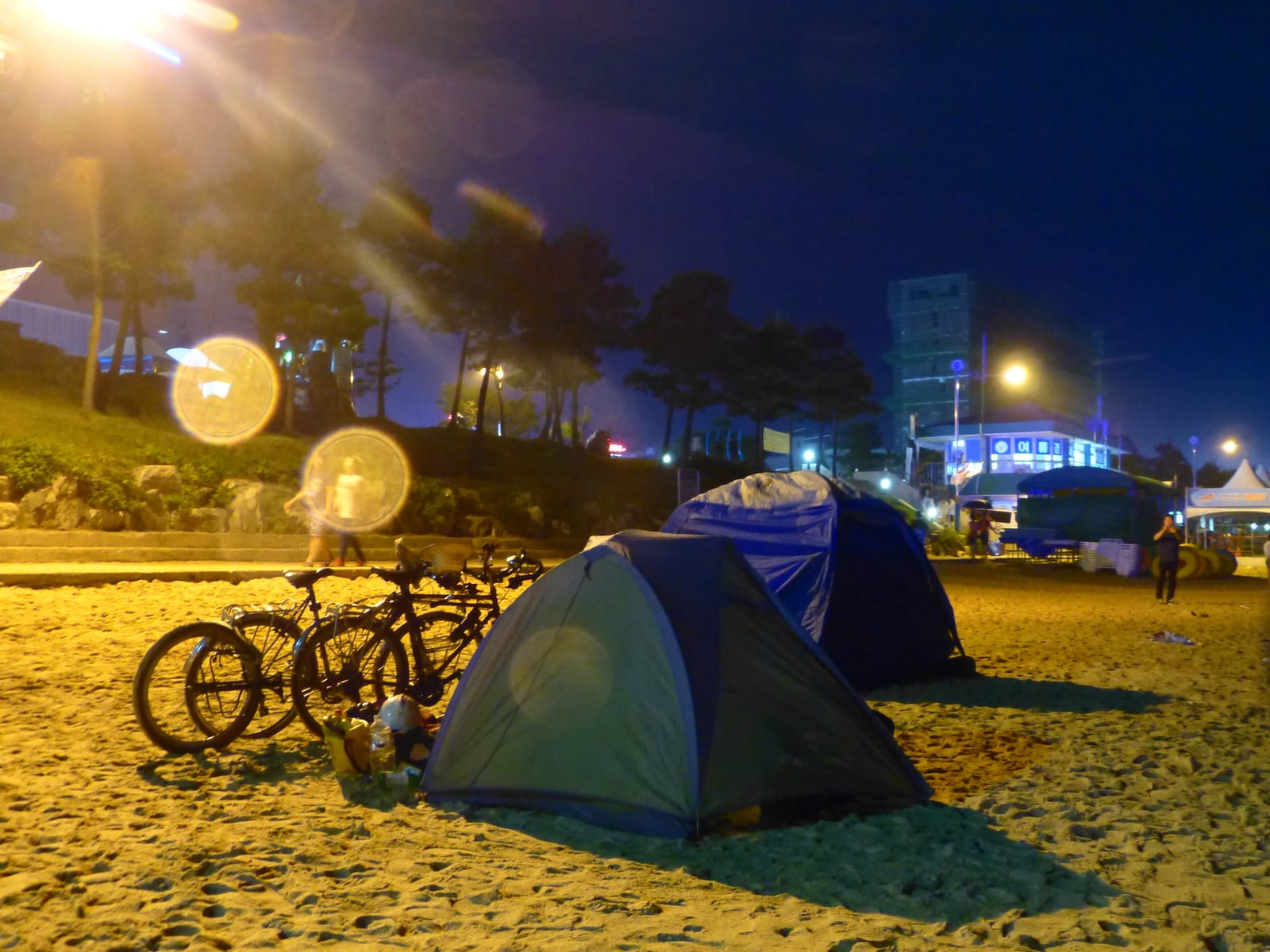 South Korea Mud Fest and
the best beaches around Boryeong – [Daecheon and Yongdu]
After some almost two weeks in the Seoul/Incheon area, visiting some nice islands, we rode our bicycles to the resort town of Boryeong, to cast a glimpse over the famous South Korea's Mud Fest, a festival where Koreans and foreigners basically get muddy and drunk.
This area is also said to host the best beaches of South Korea's west coast, we'll see if this fame is deserved.
This article is part of our South Korea travels log series.
We spent two months bicycle touring Korea off-the-beaten-path and we loved it.
Check here if you want to learn some tricks on how to travel South Korea on a budget (less than 10$ per day).
Daecheon Beach
It's raining and there's a headwind but ultimately we can get to Boryeong at 6 pm and pitch our tent* on the beach. It's named Daecheon beach and is one of the most popular beaches in the Korean west coast. Indeed it is very nice, a couple of kilometers long and very wide.
Immediately after having set up the tent we see the beautiful small grass spot just beside us, but we're too lazy to move so we'll cope with the sand tonight.
So here we are: the famous Mud Festival. There are lots of people on the beach and a big stage, in the evening there is a concert of Korean pop music followed by some young rap idols. In addition to Korean, there are American soldiers on vacation, characterized by their sobriety.
Some of them resemble gorillas, keeping on jumping drunk into the water, while the poor lifeguard (that does not put even one foot in the water and is covered like Michael Jackson) tries to stop them…
Tonight we don't get much sleep because the beach was full of people making noise, especially our neighboring tents screaming at regular intervals purposely. The reason is not known.
This morning is sunny and warm and at the beach there are still more people than last night, you cannot move, we can get to the water to take a quick bath and then we go for a tour in town.
Disclosure: Some of our articles contain affiliate links. This comes at no additional cost for you and helps us keep this website up and running. (as Amazon Associates we earn commission from qualifying purchases)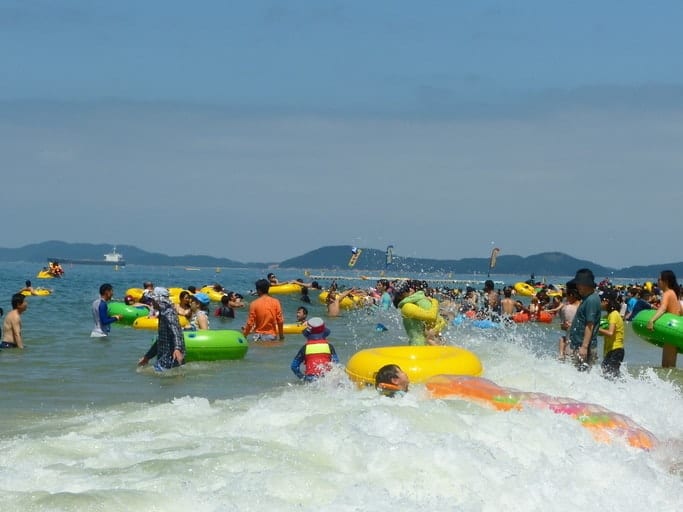 In town there's a cheering atmosphere, with a Korean marching band playing percussion and a lot of people dancing. In the main square and pedestrian road, there are fountains of mud that you can sprinkle on yourself for free.
Then there is a fenced area where you pay $10 to do things like mudslides, a wading pool of mud wrestling, playing football in the mud. This area is very small and the cue to get in is infinite.
After getting doused with the free mud we decide to move somewhere else. A night of partying is enough, we are getting old I think.
Yongdu Beach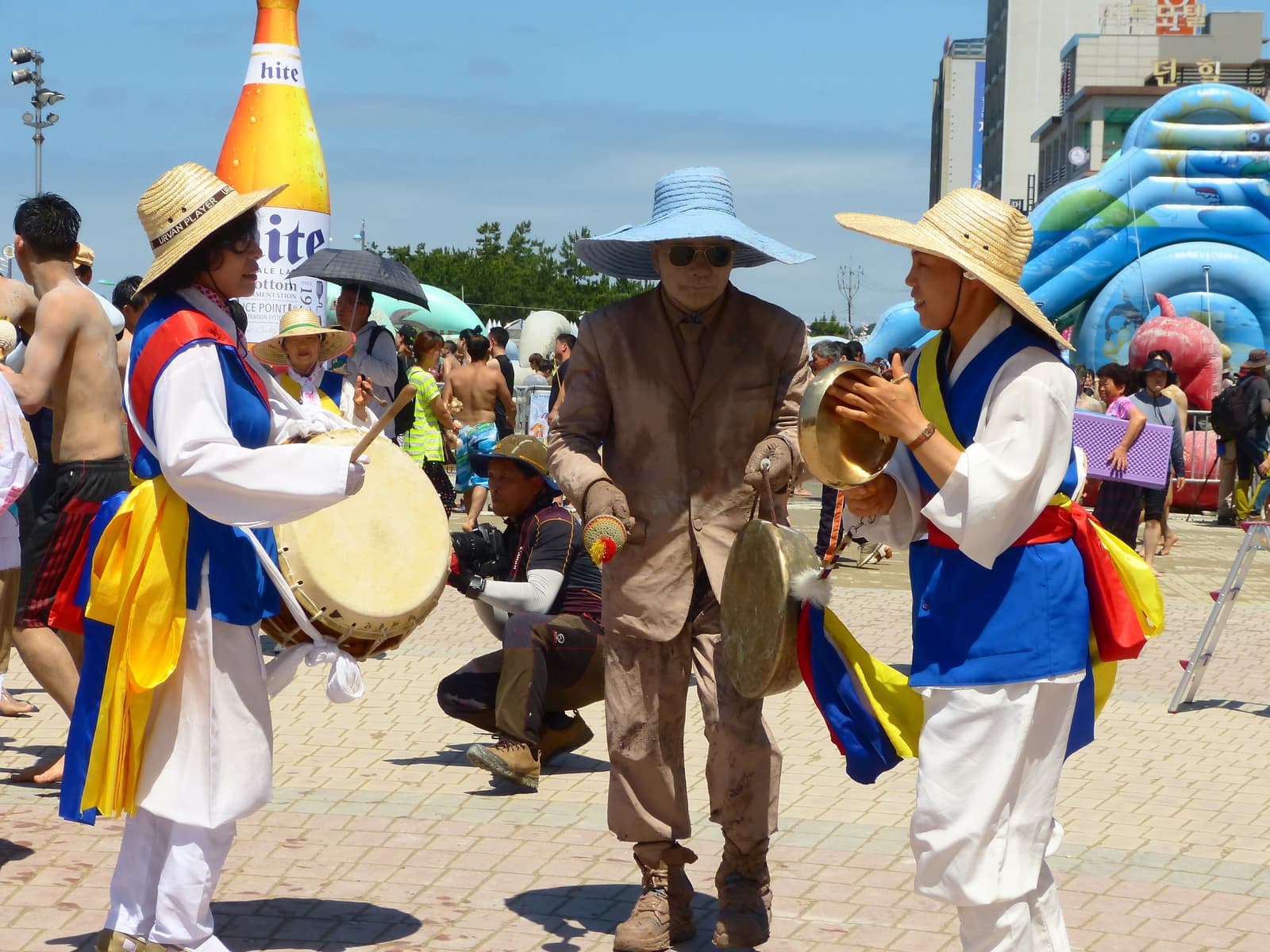 We follow a bike path that runs through the dam and we come to another small beach with an adjacent pine forest. Here too there are some tents, but few people, the place seems so quiet after Boryeong.
We assemble the tent between the trees and after several relaxing baths, we discover that this place is not free. By now it is almost dark, nowhere to go, it is $4 each, so we pay. A lady offers us two big gimbap so we save for tomorrow's breakfast. We cook pasta with pesto.
This place is much more enjoyable than the crowded Daecheon beach, it's called Yongdu beach and those are the GPS coordinates: 36.262942, 126.548031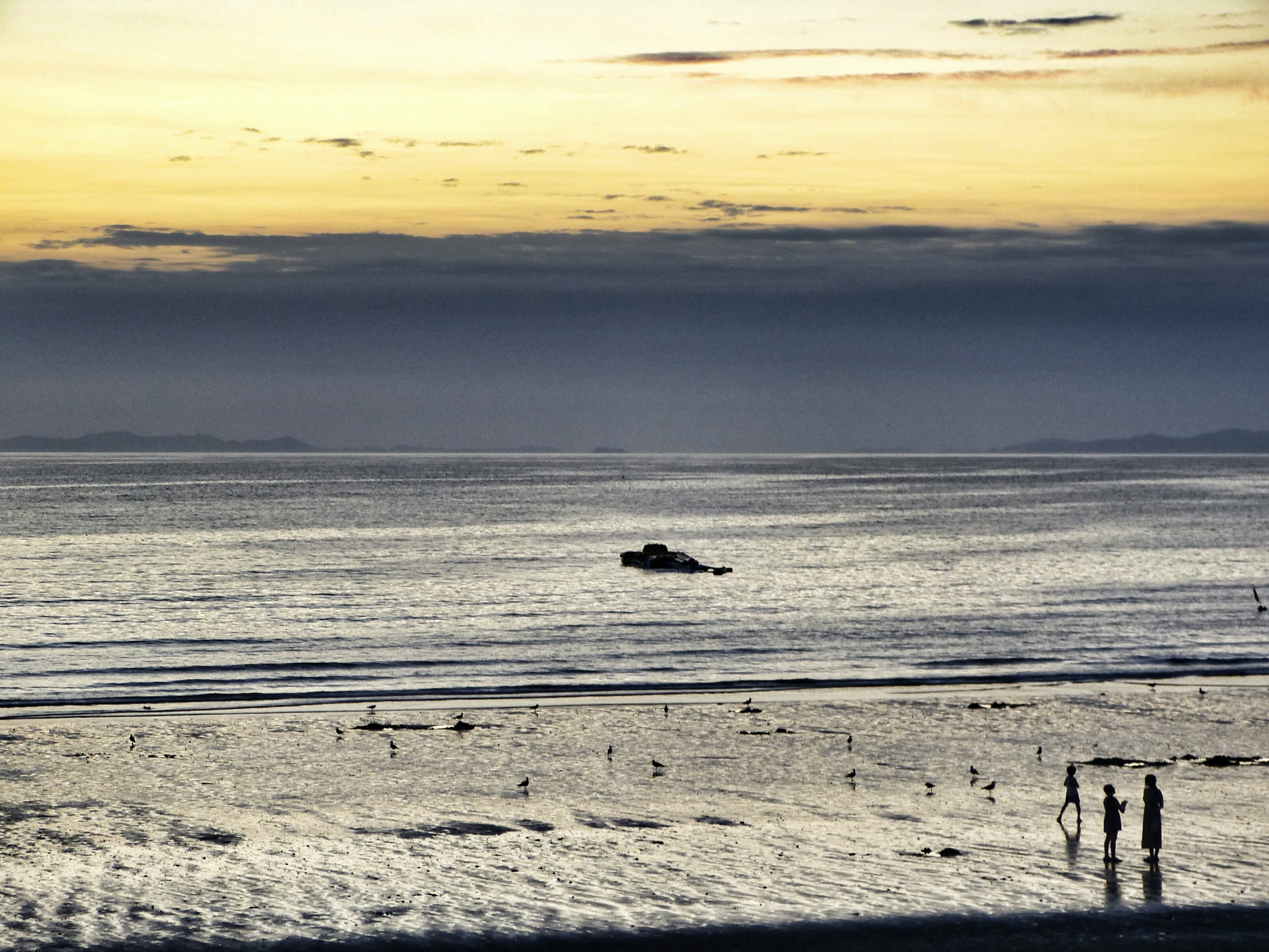 Follow our adventures
Stay in touch while we get lost! Follow us on Social Media