The 9 best bike racks for electric bikes, from 2 to 4 bicycle capacity, for trucks, sedans, SUVs, & RVs
Explore the top brands and best hitch mount options for your eBike
Are you an avid electric bike enthusiast looking for the perfect solution to transport your prized possessions? Look no further!
In this comprehensive guide, we've compiled a list of the 9 best bike racks for electric bikes, covering options for 2 bikes, 3 bikes, and 4 bikes.
Whether you own a sleek sedan, a rugged SUV, a spacious RV, or even a truck, we've got you covered.
Join us as we explore top brands, review hitch mounts, and electric bicycle compatibility, and help you find the ideal bike rack to make your journeys hassle-free and enjoyable.
Check also
> The 11 Best Ebikes for Hunting!
> eBikes for Big Guys! 11 Best Electric Bikes for Tall / Heavy Riders
Disclosure: Some of our articles contain affiliate links. This comes at no additional cost for you and helps us keep this website up and running. (as Amazon Associates we earn commission from qualifying purchases)
7 Things You Should Look For When Buying Racks For E-bikes
When purchasing bike racks for electric bikes, it's crucial to prioritize weight capacity. E-bikes, given their integrated motors and batteries, are notably heavier than their traditional counterparts.
I've been involved in selecting racks in the past, and I can't emphasize enough the importance of verifying compatibility with your e-bike's unique frame geometry and dimensions.
In my experience, racks crafted from industrial-grade materials like aluminum or stainless steel not only stand the test of time but also resist harsh environmental challenges. That's why I call it a 'must-have' feature.
I've observed situations where riders struggled to access their bike's battery compartment due to poorly designed racks. Hence, a thoughtfully designed rack should allow effortless battery access, eliminating the need to detach the bike.
Adjustable securing arms, in my opinion, offer flexibility to accommodate various bike designs, and integrated anti-theft mechanisms provide an additional layer of security.
Verifying the hitch bike rack's compatibility with your vehicle's specifications is also paramount, keeping in mind the additional torque implications from the e-bike's weight.
Lastly, I always advise tapping into user reviews and testimonials; they offer a treasure trove of insights on the rack's performance and ease of use.
Interesting Read:
> Revolutionize Your Commute: 7 Best electric tricycle for adults
9 Best Bike Racks For E-Bikes
Electric bikes, with their added weight and unique frame designs, demand specialized racks for safe and efficient transport. Whether you're hitting the trails or simply taking your e-bike on a weekend getaway, choosing the right bike rack is crucial.
Dive into my list of the 9 best bike racks specifically designed for electric bikes to find the perfect fit for your needs.
best overall value rack for electric bikes
The Thule T2 Pro XTR 2-Bike Hitch Rack was an absolute game-changer and the best 2-bike hitch rack for a cycling enthusiast like me.
Designed to fit a diverse range of wheel sizes, from 20 to 29 inches, this rack seamlessly accommodated bikes from sleek carbon frames to chunky fat tires, e-bikes, and even kids' bikes. I had been particularly drawn to its versatility, holding any bike style up to 60 lbs without ever touching the frame.
What was truly revolutionary was the AutoAttach system. No more did I fumble with tools; installing and removing the rack had become a simple, tool-free affair.
Maneuvering this rack was almost effortless, thanks to the integrated wheels, making it easy to affix or remove from my vehicle.
The design was not only functional but also thoughtful. When it wasn't in use, I could fold it up, and if I needed to access the trunk, the HitchSwitch lever allowed it to tilt away conveniently.
But it wasn't just about functionality; it was about security too. The integrated cable lock ensured my bikes were safe, while the lock knob secured the rack firmly.
With the ability to expand to a 4-bike carrier using the Thule T2 Pro XT Add-On, this rack was perfect for family trips or group rides. Weighing 52 pounds, it was sturdy yet manageable. It truly was an investment in convenience, security, and peace of mind for any avid cyclist.
best 4-bike hitch rack for SUV
My brother recently got a Saris SuperClamp EX, from the moment I set eyes on it, I was impressed by its compact, innovative design, allowing two bikes to rest on a single horizontal bar.
Having tested it out on quite a few trips already, I can confidently say that its robustness is unmatched, a testimony to its rigorous testing in the harsh Wisconsin tundra.
Weighing a mere 63 lbs, I was taken aback by its lightness. Yet, despite being 40% lighter than its competitors, it's as durable as they come, thanks to its steel build.
From mountain bikes to e-bikes and kids' bikes, loading various bike types was a breeze. And it securely held them all, courtesy of the rock-solid dual hooks that ensured our bikes' frames remained untouched.
My favorite feature? The tilting mechanism. Even when fully loaded, accessing my car's rear was effortless. Plus, when not in use, it is conveniently folded up.
Aesthetically, its sleek design, complete with integrated locks, reflectors, and a handy bottle opener, caught the attention of many.
In all, the SuperClamp EX was a perfect blend of style, functionality, and security, making every journey an absolute pleasure.
The Kuat NV Base 2.0 is a high-end hitch rack priced at $749; it offers a combination of style and functionality, with a sleek design and solid build quality.
This rack can accommodate two bikes, and with an add-on, it can carry up to four. I love this modular design since it allows me all the configurations I need for rides with either my husband or when we bring the kids with us.
One of the standout features of the Kuat NV Base 2.0 is its ease of use. Setting it up is a relatively quick and straightforward process, taking about 20 minutes. The included hardware and instructions simplify the assembly. While it's manageable for one person, having a second set of hands can make it even easier.
When it comes to loading bikes onto the rack, the process is user-friendly. You lift the bike onto the rack, swing the ratcheting arm over the front wheel, and secure it over the tire.
The Kuat NV Base 2.0 is primarily designed for adult road, gravel, and standard mountain bikes. It can handle wheel sizes ranging from 20 to 29 inches. However, for smaller tires (20 to 24 inches) or fat bikes, you may need to purchase separate wheel adapters, which is an additional cost. In comparison, some competing racks, like the Thule T2 Pro XTR, offer more versatility without the need for extra accessories.
In terms of weight capacity, the Kuat NV Base 2.0 can carry bikes weighing up to 60 pounds each. While this should be sufficient for most users, it's worth noting that electric bikes can approach this weight limit, so it's essential to check your bike's weight before loading it onto the rack. Additionally, lifting heavier bikes onto a platform rack like this one can be a two-person job.
Build quality and durability are crucial factors for any bike rack, especially a premium one. The Kuat NV Base 2.0 impresses with its sturdy construction and black powder coat finish, designed to withstand years of use.
The attachment system is a critical aspect of any bike rack, and the Kuat NV Base 2.0 performs admirably in this regard. The ratcheting arms securely fasten the bikes to the rack, minimizing side-to-side movement. The adjustable front tire cradle system allows for fine-tuning to prevent contact between two bikes.
The Kuat NV Base 2.0 includes cable locks to secure your bikes and a locking hitch pin to prevent theft of the rack itself.
best 4-bike vertical hitch rack for ebikes
This unique design supports each bike by the handlebars using fully padded cradles, which I found extremely thoughtful, especially since some of our bikes have delicate carbon bars. And I can declare that it is undoubtedly the best vertical bike rack for cars.
Another feature that genuinely impressed me was the rotating rear wheel cup. One of my mates has a bike with a longer wheelbase, but the HangTight accommodated it just fine. Plus, its capacity to handle bikes weighing up to 37.5 lbs and tires ranging from 20″-29″ was a lifesaver for our varied collection.
But it wasn't just the functionality; the thoughtful touches also caught my eye. The foot-operated tilt mechanism was super handy when I needed to grab something from the car's trunk. And at the end of a hard ride, the built-in bottle opener was the hero we didn't know we needed.
The hitch lock was a reassuring addition, and I loved the fact that I could add my own bike lock for added security. Weighing 73 lbs, it's robust yet user-friendly. If your biking group is as diverse as mine, the HangTight 4 is a no-brainer!
Top-quality hitch rack for 2 e-bikes
During a recent cycling adventure, I decided to give the Kuat's Piston Pro Hitch Rack a spin, and boy, was I impressed with this 2-bike hitch rack!
While it might look more streamlined than some of the brand's other models, it in no way skimps on functionality. The robust all-metal construction instantly instilled confidence as I navigated both freeways and rugged trails, ensuring that my bikes were snug and secure.
The OneTap Piston arms were a standout feature. Thanks to their hydro-pneumatic technology, I could open and close the arms seamlessly with just a light touch. Even better, the design ensured that the rack never made contact with my bikes, avoiding any potential scuffs or dents.
With its ability to hold two bikes, accommodating wide tires and extended wheelbases, I never had to second-guess its capacity.
The inclusion of a hitch cam and lock was the cherry on top, ensuring my bikes' safety throughout our journey. If you're in the market for a durable yet sleek bike rack, and budget is not really a concern, the Kuat's Piston Pro should be on your radar.
best budget hitch rack for 3 bikes
On a recent cross-country road trip, I put the Allen Sports Premier Locking Tray Rack to the test, and it surpassed my expectations.
Right off the bat, the black and red design was aesthetically pleasing and matched well with my car. Made of a mix of aluminum, alloy steel, and plastic, it felt durable yet was surprisingly light at just around 35 pounds and with a carrying capacity of 40 lbs per bicycle.
Installation was a breeze, and the locking mechanism provided an added sense of security, ensuring my bikes were safely attached to the vehicle.
I loaded three bikes, each varying in size and weight, and was pleased to see it accommodating wheels from 26-29″ and tire width up to 3.5″ effortlessly.
The tilt-back feature was a game-changer for me, allowing easy access to my car's trunk without the need to remove the bikes.
Another bonus? Its foldable design. When not in use, it folds up snugly against my vehicle. A word of caution though: remember it's not meant for trailers. Overall, the Allen Sports Premier Rack is a solid choice and an affordable bike rack for SUVs for longer travels.
It also comes in a 1-bike and 2-bike versions. Highly recommended!
best cheap hitch rack for two e-bikes
When people ask me for a cheap but reliable bike rack, the Hollywood Racks Sport Rider often comes to my mind as it truly fits the bill.
This rack, designed to hold heavy e-bikes, does not disappoint. Its capacity to safely transport two bikes, each weighing up to 80 lbs, is quite impressive. 
The alloy+steel construction, combined with its sleek black finish, not only assures durability but also gives it a modern look that complements my SUV perfectly.
Setting it up is hassle-free. The "No tool- No wobble" hitch stem is a brilliant feature, ensuring the rack remained stable during my drives. The heavy-duty universal wheel holders managed to snugly fit my fat tires, which are just under 5″ wide.
What I especially appreciate is the smart tilting feature, granting me swift access to my trunk, a boon during those picnic stops. When not in use, it folds up neatly, barely noticeable.
The added security features, like the locking hitch pin and frame hooks, provided an extra layer of assurance. And as a cherry on top, its design is seamless, blending effortlessly with most vehicles. For anyone who values both value-for-money and substance, I'd wholeheartedly recommend this rack.
cheapest e-bike hitch mount rack for cars, trucks, SUVs
Less than $250 for a hitch bike rack seems too good to be true. So a few months ago, I took a leap of faith and invested in the Retrospec Endeavor 2-E-Bike Hitch Mount Rack as a gift for my cousin and ride-mate, and I couldn't have been more satisfied.
The Endeavor, with its robust reinforced steel design, had lived up to its promise, handling the e-bikes (each weighing close to 80 lbs) with complete ease.
The adjustable nature of the rack was a standout feature for me. Whether it was the frame's shape or the size of the wheels, which ranged between 20″ to the kids to 29", the rack adjusted beautifully. The largest fat e-bike, with its 4.8" wide tires, sat snugly without any hitches.
Speaking of hitches, the compatibility with 2" (Class III) hitches was spot on. Loading the bikes had been simpler than I anticipated, thanks to the Endeavor's low lift-height trays.
Its anti-rattle feature had been such a relief, ensuring the bikes remained steady during drives, safeguarding both them and the car from potential damages.
The tilt-away feature had been a welcomed feature, allowing easy trunk access without the hassle of removing the rack.
The matte black finish gave it a sleek look, blending seamlessly with the SUV. For anyone who needs a budget-friendly but reliable hitch bike carrier, the Retrospec Endeavor is a worthy option.
This summer (2023), I had the pleasure of testing the GuideRail 2-Bike Hitch Rack from RockyMounts, and let me tell you, it was an experience like no other.
I've always been apprehensive about transporting my precious bikes, especially when taking the car on long journeys. But the GuideRail, with its ingenious design, put all my concerns to rest.
The first thing I noticed was its thoughtful construction. By securing the bikes by their tires, it brilliantly eliminated any direct contact with the frames and forks. Gone were the days of cringing at every bump, worried about potential scratches or damages.
Another standout feature was the asymmetric loading style, which meant no more handlebar clashes – something I've battled with in the past using other racks.
I took both my rugged mountain bike and my weighty e-bike on this trip, and the GuideRail effortlessly accommodated them, supporting up to 120 pounds. As I drove, the premium 3-axis anti-wobble technology ensured my bikes remained steady, further reducing my anxiety. The rack's adaptability was commendable too; with the GuideRail Adapter Sleeve, I could fit it on both my vehicles' hitch sizes.
All in all, for those on the lookout for a reliable, intuitive bike rack for their car journeys, the RockyMounts GuideRail is a top contender. It's a blend of innovation and practicality, making bike transportation a breeze.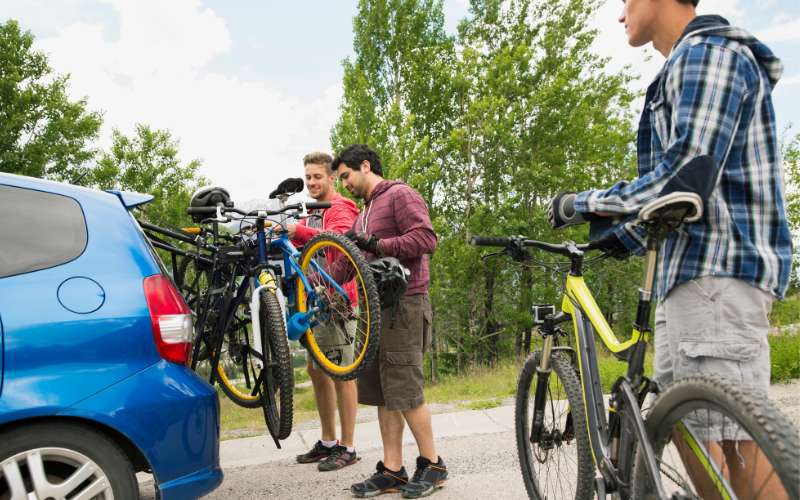 Wrap up
Brands like Kuat, Yakima, Allen Sports, Hollywood Racks, Retrospec, and RockyMounts have set high standards in bike rack solutions, each presenting unique features tailored to a diverse range of requirements.
From maximizing bike capacity to ensuring minimal contact for frame protection, these brands have demonstrated a deep understanding of cyclists' needs.
If you're in the market for the perfect e-bike rack, it's crucial to prioritize durability, weight capacity, and anti-wobble technology, especially given the heft of e-bikes.
Remember, the ideal rack should not only secure your prized possession but also offer ease of use and peace of mind during transit. Choose wisely!
Stay in touch while we get lost! Follow us on Social Media