What's the best exercise bike to lose weight in 2022?
5 categories and 11 models of exercise bikes compared!
Upright – recumbent – air bikes – spin & desk.
For athletes, seniors, and overweight persons
Biking is a great way to improve cardio, burn calories, and aid in weight loss – and for these purposes, it doesn't really matter if the cycling is done outdoors or indoors – on your road bike or on an exercise bike, on rollers or trainers.
In this article, we'll try to investigate the different types of stationary bikes to find out what's the best exercise bike to lose weight.
Also known as a stationary bike, an exercise bike is a piece of convenient home-gym equipment that offers immense cardio benefits to athletes and those looking to achieve or maintain a healthy body.
Although it's usually overlooked, a stationary bike is very convenient as it allows you to exercise right in the comfort of your home. Just like bike rollers, or indoor turbo trainers, but without the need of using your bike.
Now, some people might prefer to do the actual cycling outside. However, we'll see in this buying guide review how a stationary bike is an incredible tool to get serious and committed on your weight loss journey, how easy is to exercise daily while watching a tv show or even at work! Burning calories, increasing muscle tone, strengthening the lower body, and ultimately also training for a real bike ride outdoors.
With so many options already on the market, picking the best exercise bike for your weight loss journey could be quite overwhelming. For that reason, this guide has come to your rescue to discuss the five different categories of exercise bikes and for each category give you a few of the best models of this year for you to choose from.
Check Also
> 6 Best Bikes for Plus Size Ladies – Road, Commuting, MTB, Utility, Electric
> 11 Best Road Bikes for Ladies [from Cheap to Top, from Beginner to Pro]
> 11+1 Best Gravel Bikes for Women – Gravel Grinding for All Budgets
Disclosure: Some of our articles contain affiliate links. This comes at no additional cost for you and helps us keep this website up and running. (as Amazon Associates we earn commission from qualifying purchases)
How we compile our gear guides: during the almost 10 years of cycloscope.net our team personally tested dozens of similar pieces of gear. For what we can't test personally, we involve other people in the cycling community to give their feedback and opinion about gear they have used. Our decade-long experience in bicycle touring enables us to find the key cons and pros of every product we mention.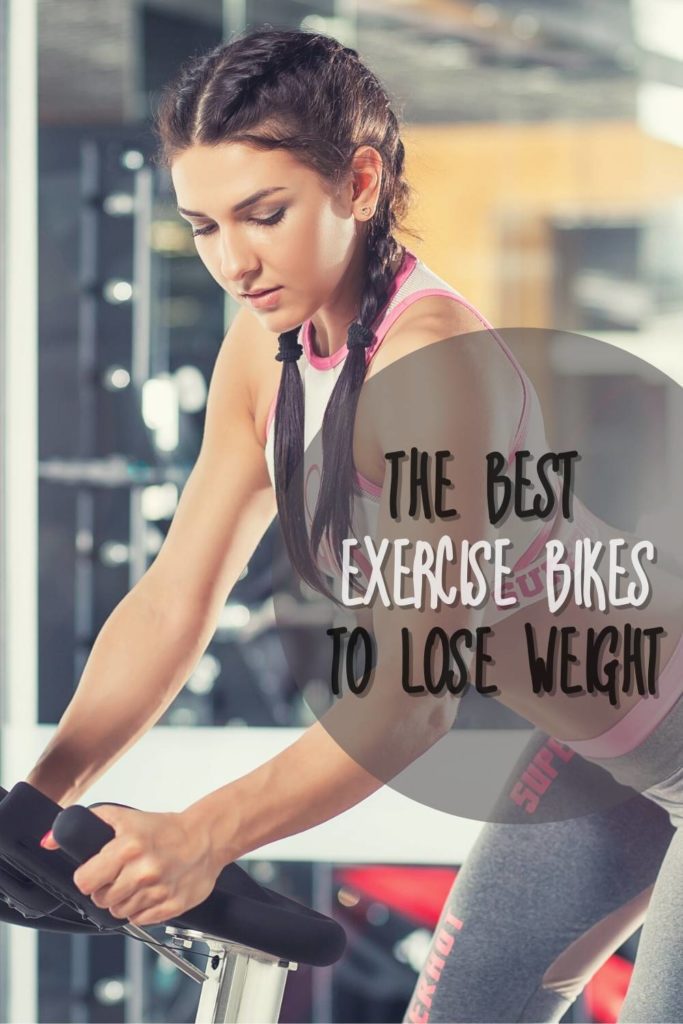 The Best Exercise Bikes in a Nutshell
A. Upright Stationary Bikes

1. Schwinn 130 Upright
2. Sunny Health & Fitness Upright

B. Recumbent Exercise Bikes

3. Marcy Magnetic – Under $200!
4. Nautilus Recumbent Bike Series

C. Air Bikes

5. Schwinn Airdyne – $650
6. Assaul AirBike Classic

D. Spin Bikes

7. NordicTrack Commercial Studio Cycle – $2,000!
8. YOSUDA Indoor Cycling Bike

E. Desk Bikes

1. Fit Desk – under $300
2. Flexispot Bicycle Desk
3. DeskCycle 2 – Under Desk Bike Pedal Exerciser – Under $200!
The Best Exercise Bikes to Lose Weight in 2022
A. Upright Stationary Bikes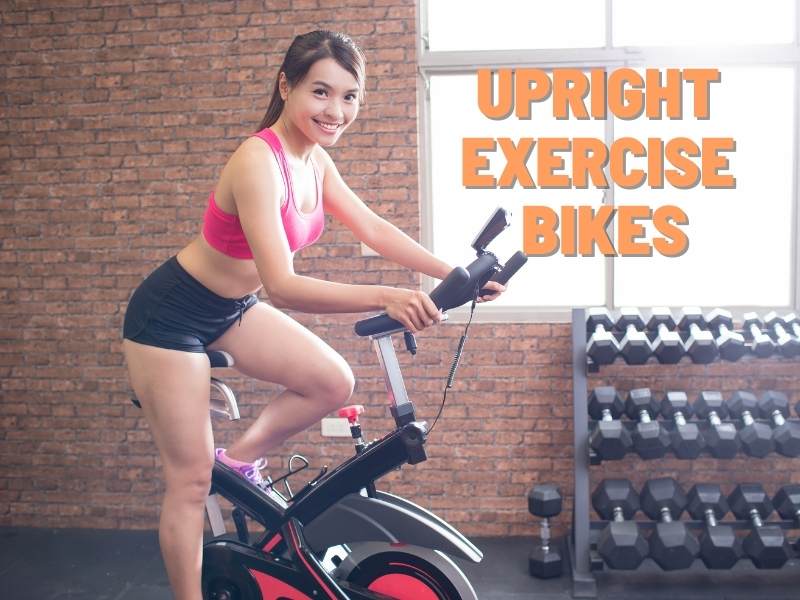 The first exercise bike you can consider for your daily workouts is an upright bike. These stationary bikes are common in most homes and gyms as they offer an affordable way of exercising your body. These stationary bikes are similar to regular bikes with seats and pedals positioned under the body.
The best thing about upright bikes is that they're excellent low-impact options that help you lose weight, strengthen your legs and improve muscle tone in the lower body.
Upright bikes give you a riding position similar to that of a relaxed hybrid bicycle – not as aggressive as a road bike (mimicked better by spin bikes), but you can stand on the petal to make your workout more intense.
Good examples of upright bikes are the Schwinn 130 Upright Series Bike and the Sunny Health & Fitness SF-B1714.
The best thing about these two stationary bikes is that they're made using a durable steel frame that supports a higher weight limit. They also have fully adjustable seats and handlebars that make them usable for anyone.
Our Favourite Upright Stationary Bikes:
1. Schwinn 130 Upright – about $500
Great value for money
The Schwinn 130 Upright is a comfortable mid-range upright exercise bike that is great to lose weight.
It's compatible with the popular Zwift cycling app to make your workout fun and social, while it also has a large display and command board which ensure ease of use also for seniors.
The large seat makes it friendly for overweight folks, although it could be use a bit more cushioning, the 20+ workout plans get any level of user covered.
It's fairly easy to assemble and has a small footprint, while the weight is substantial enough to keep it stable. It features a USB portand a power port for a phone, iPod, or the likes.
Good quality for the price
20 levels of resistance
Goal Track function to set individual goals
Zwift App Connectivity
DualTrack LCD screen displays
22 workout programs
High speed, high inertia drive system for easy start-up and smooth, quiet workouts
Can accommodate any bicycle saddle

User height range for this bike is 4'6″ to 6'6″.

Price: $515
2. Sunny Health & Fitness Upright – about $600
The magnetic resistance system is very effective, able to get you to the equivalent effort of climbing an alpine pass, with a smooth change and a huge range of possible resistance – all while keeping the bike extremely quiet.
It's compatible with the popular cycling app, Peloton (a digital subscription is $19.49 x month) which offer classes and training programs.
The only thing missing is a device to measure speed and cadence. There are many out there, like the CAT EYE Strada Wireless that is pretty easy to install and calibrate.
This is a solid exercise bike that can satisfy any user's need, from weight loss to easy spin for seniors, to hardcore workouts for indoor cycling addicts.
20 kg heavy-duty flywheel for stability
Steel frame
Maintenance-free and hyper-silent Magnetic Resistance system
No-Oil Belt Drive
150 KG MAX user weight
Seat adjustable on 2 axis
B. Recumbent Exercise Bikes
A recumbent bike is very different from an upright bike in so many ways. First, the seat is reclined in a position that supports your back when exercising. The handlebars are right next to your arms while the pedals sit right in front of you.
This means recumbent bikes work on different muscle groups, but with equal resistance, the number of calories burned is the same. So there's really no difference when it comes to weight loss – the hours and effort you'll invest and the intensity of your workouts will be the only important parameter.
Built to offer ample comfort, recumbent bikes are best suited to those people recovering from joints, upper body, and lower body injuries – but also for seniors and overweight persons.
Among the best recumbent bikes you can consider for low-impact exercises are the Marcy Magnetic Recumbent Bike NS-716R and the MaxKare Recumbent Exercise Bike.
The best thing about these two exercise bikes is that they have ergonomic handles, wide seats, and comfortable backrests that support seniors and injured people exercising on a bike.
Our Best Recumbent Exercise Bikes:
3. Marcy Magnetic – Under $200!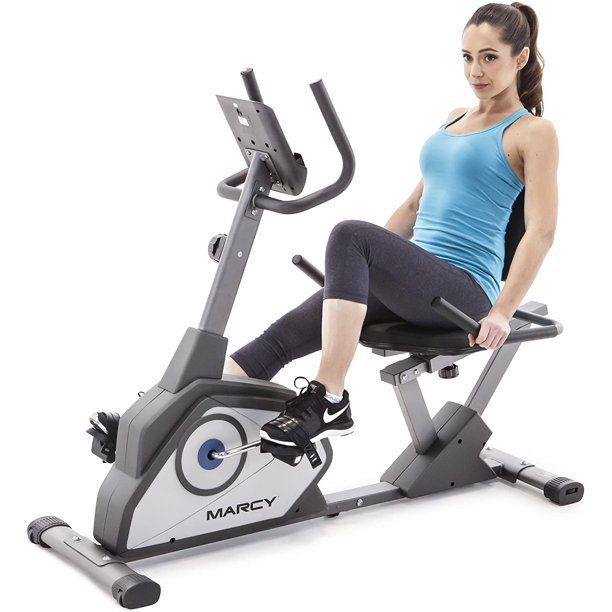 The Marcy Magnetic is a real bang for the buck! One of the cheapest exercise bikes to lose weight in this review article.
Of course, you won't have all the nicer features of the upscale models, but this recumbent bike can be a great partner in your weight loss journey or when recovering from an injury.
The bike has 8 levels of resistance which are good for beginners, although the general tension should be tightened for more serious users.
The data recorder is very basic, no workout goals can be set while the display is not backlit so hard to see in low light conditions.
The seat and backrest are wide although pretty hard with little padding. The maximum weight load is 300 Lb but the bike will not fit people taller than 6.2″.
If you're on a budget this is a great exercise bike to consider for beginners.
Durable steel frame
8 Magnetic-Resistance levels
Large odometer showing time, speed, distance, and calories
Great value for money
4. Nautilus R616 Recumbent Bike – less than $600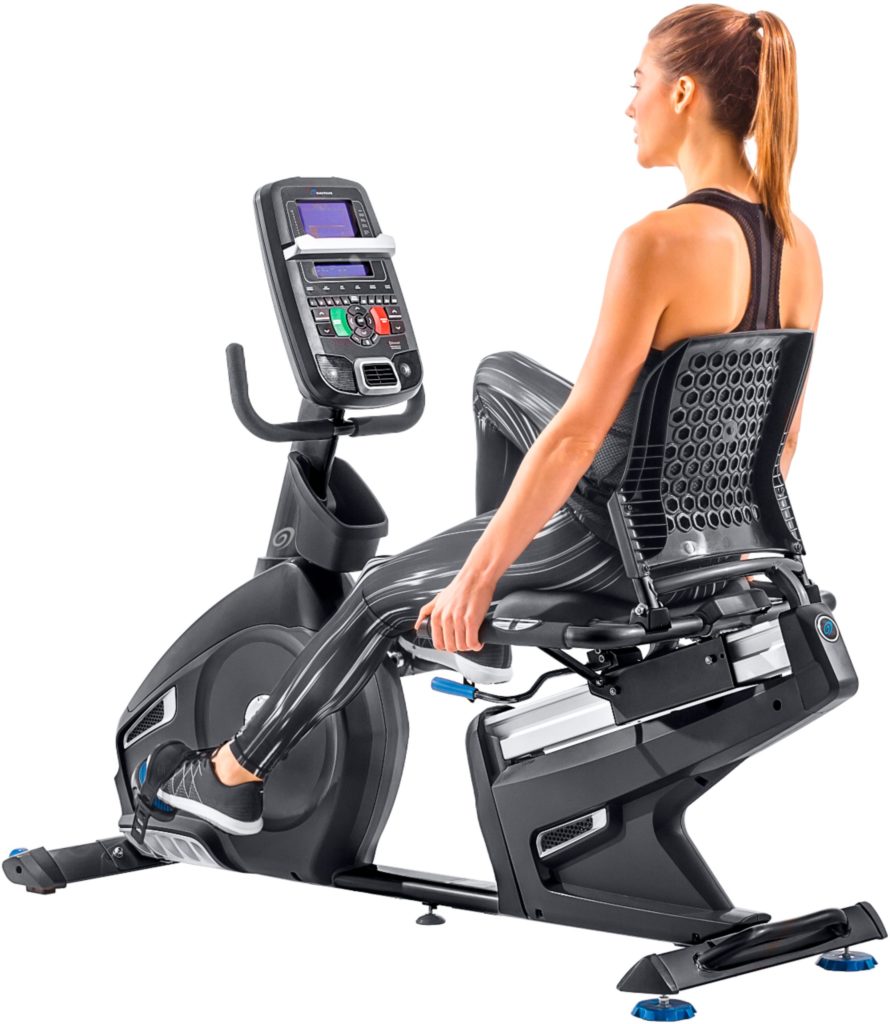 The Nautilus R616 is a great recumbent bike to lose weight with all the nuts and bolts of a high-tech stationary bike for an affordable price.
With 25 levels of resistance the range of options for the workout intensity are enormous, the backrest is adjustable and ventilated and the seat is comfortable enough, although maybe a little too deep.
A large DualTrack backlit LCD screen displays 29 customizable workout programs, while the Bluetooth connectivity, allows you to use a tablet or phone to set, track and monitor progress with all the popular app-based tracking tools.
Among these, Explore the World comes with the bike as a 3-routes free plan, while an affordable paid subscription allows you to virtually explore 50+ global routes that auto-adjust in real-time to your speed.
The Nautilus Recumbent also features an MP3 player jack and a built-in USB charging port to keep your devices fully juiced during your workout..
The R616 has a solid design that will last for years if properly assembled and used. The seat can wobble after heavy use but the customer service is known to be of quick assistance in replacing worn parts.
Bluetooth connectivity
Explore the World app – 3 free courses available
Large DualTrack blue backlit LCD console
25 levels of resistance
Padded seat with ventilated back on sliding seat rail for adjustable comfort
MP3 player jack and built-in charging port
High speed, high inertia drive system with a perimeter weighted flywheel for easy start up and smooth, consistent workouts
C. Air Bikes – Editor's Pick!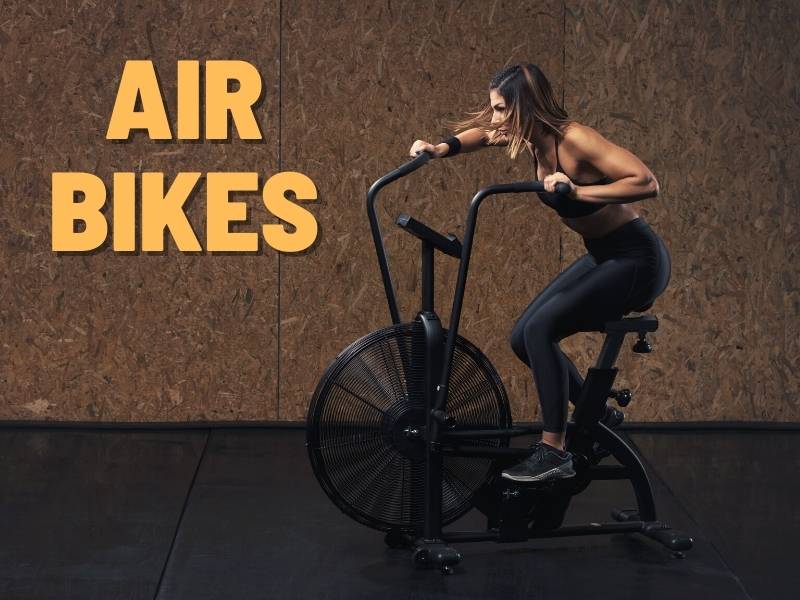 If you're looking to challenge your body with more intense workouts, perhaps you can consider the convenience offered by an air bike. Unlike regular bikes, the air bike consists of two upright handles that protrude right up to your chest, the handles in air bikes move independently making it easier to work out your entire body.
Another notable difference with air bikes is the oversized wheel at the center that resembles an electric fan. The purpose of this wheel is actually to offer resistance when peddling. So, the faster you peddle, the harder you'll have to work to overcome the challenge.
Air bikes are definitely the best type of exercise bike to lose weight, they offer full-body workouts both on the upper and lower body. They also help to build muscles and burn calories thus making them the best for HIIT (High-Intensity Interval Training).
If this is what you're looking for, then you can consider the Schwinn Fitness Airdyne AD6 Exercise Bike and the Assault Airbike Classic.
Top 2 Airt Bikes in 2022:
5. Schwinn Airdyne AD6 – around $650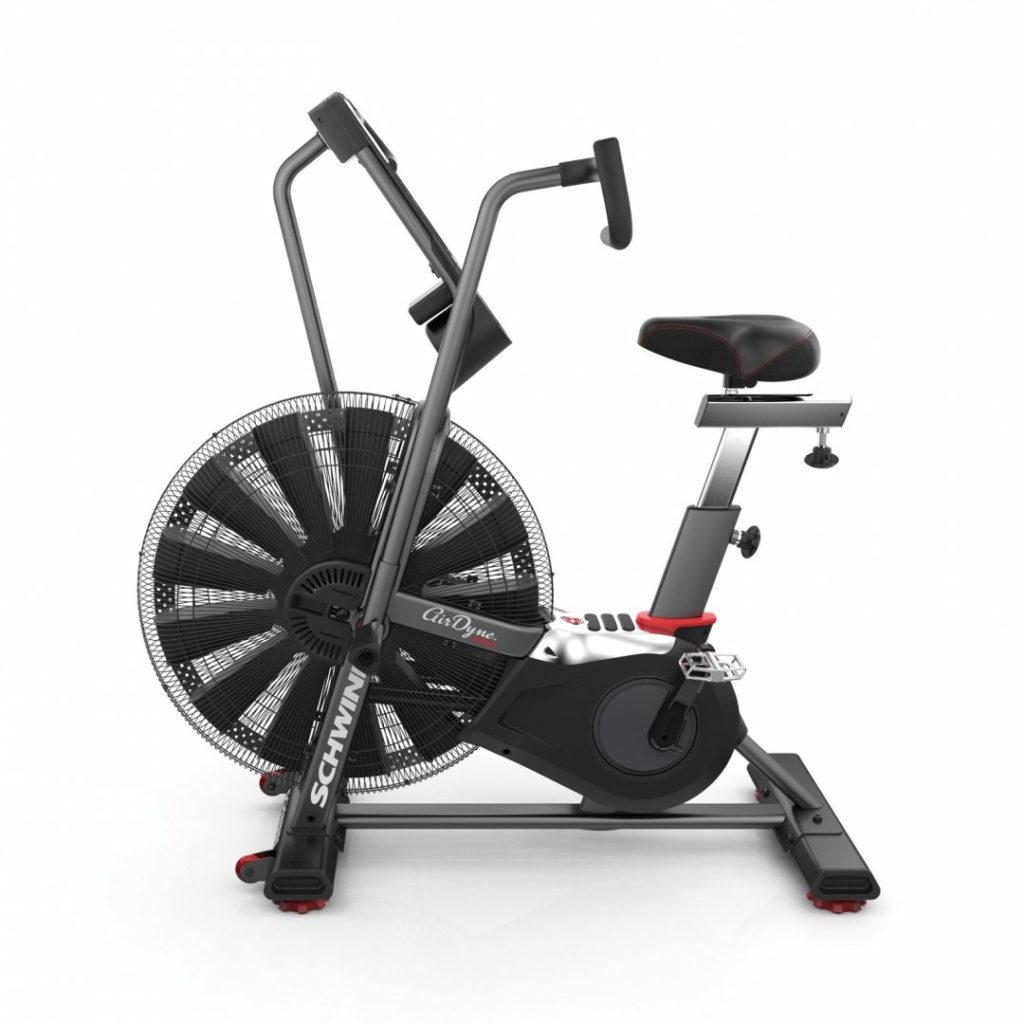 For an intense, full-body cardio workout that builds strength and blasts calories, the Airdyne AD6 is the machine for you. This Airbike is very popular among gyms and rehabs across the US, as they are incredibly effective, for both fit persons looking to boost their workouts and for the not-so-fit, like seniors or overweight folks.
Thanks to its wind-resistance technology, the Schwinn Airdyne AD6 allows you to control your workout intensity – so the more you give, the more you get… no pain no gain.
This reasonably priced air bike is all mechanical and doesn't need to be plugged in. It has a simple display that is battery powered.
Single-stage belt drive makes the ride quiet
Progressive wind resistance system for infinite levels of workout
RevMeter RPM gage for interval training
Quiet, frictionless fan that keeps you cool
6. Assaul AirBike Classic – less than $900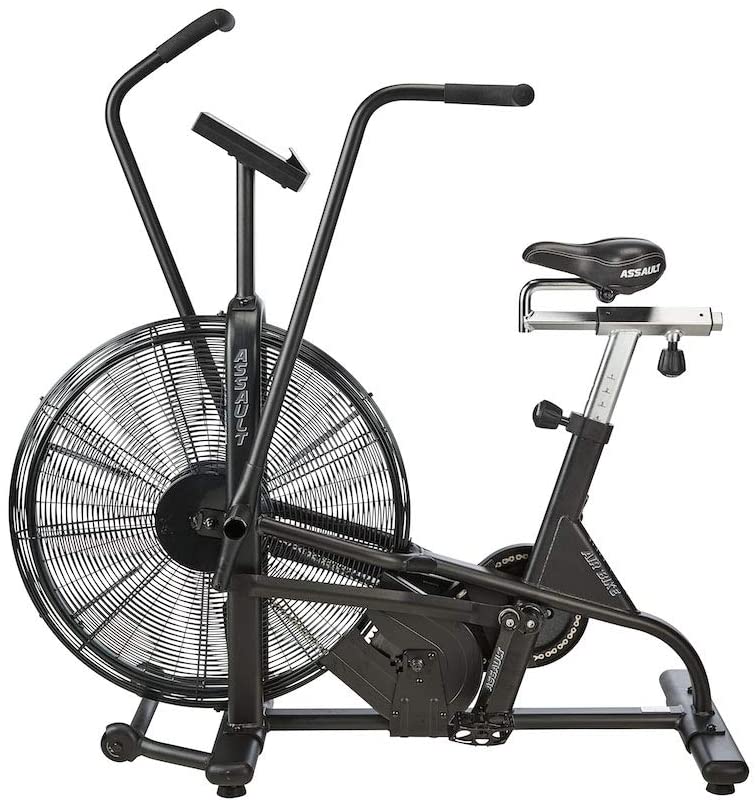 The new biggest competitor to the AD6 by Schwinn can now be found everywhere in the gym industry, cross-fit gyms, military, police departments, universities, NFL sidelines, hotels, rehab clinics, etc.
This happens because Assault AirBike Classic is a great and reliable airbike, able to withstand the wear that constant use bears to any gym equipment.
The integration of sealed cartridge bearings in every pivot and moving part is a great feature, everything moves smoothly and reliably.
The levels of resistance are unlimited, thanks to the Air-Resistance technology, the Assault ramps up resistance automatically as you push, pull and pedal with greater speed and force.
Pedals and saddle mounts are standardized, so you can swap them out for the ones of your choice. You can even mount SPD pedals to use with bike shoes.
Unlimited Resistance based on Air Resistance
Workout programs (Tabata, Intervals, Watts, Heart Rate)
25″ inch diameter steel fan
Goal Setting functionality
Maximum user weight: 350 pounds
D. Spin Bikes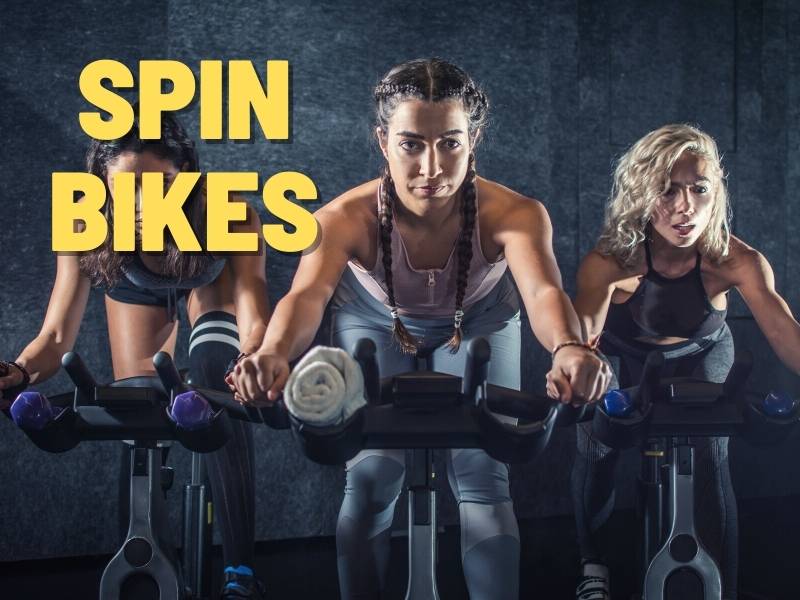 One thing about stationary bikes is that they look pretty much the same. However, some unique qualities set them apart. In the case of spin bikes, the stationary flywheel is what makes the big difference.
In most cases, the large flywheel is set at the front while the pedals sit at the back to resemble a regular bike. The flywheel is usually heavy and it's responsible for providing the resistance that mimics the experience of riding a bicycle outdoors.
Spin bikes give an experience that is the closest to riding an actual road bike, the position is forward-centered and aggressive – you can stand on the pedal and simulate the effort of an actual climb.
So, if you're intending to lose weight, burn calories, or work out the lower body, then perhaps you can consider the YOSUDA Indoor Spin Bike or the NordicTrack S22i Spin Bike.
Our Favourite Spin Bikes:
7. NordicTrack Commercial Studio Cycle – Under $2,000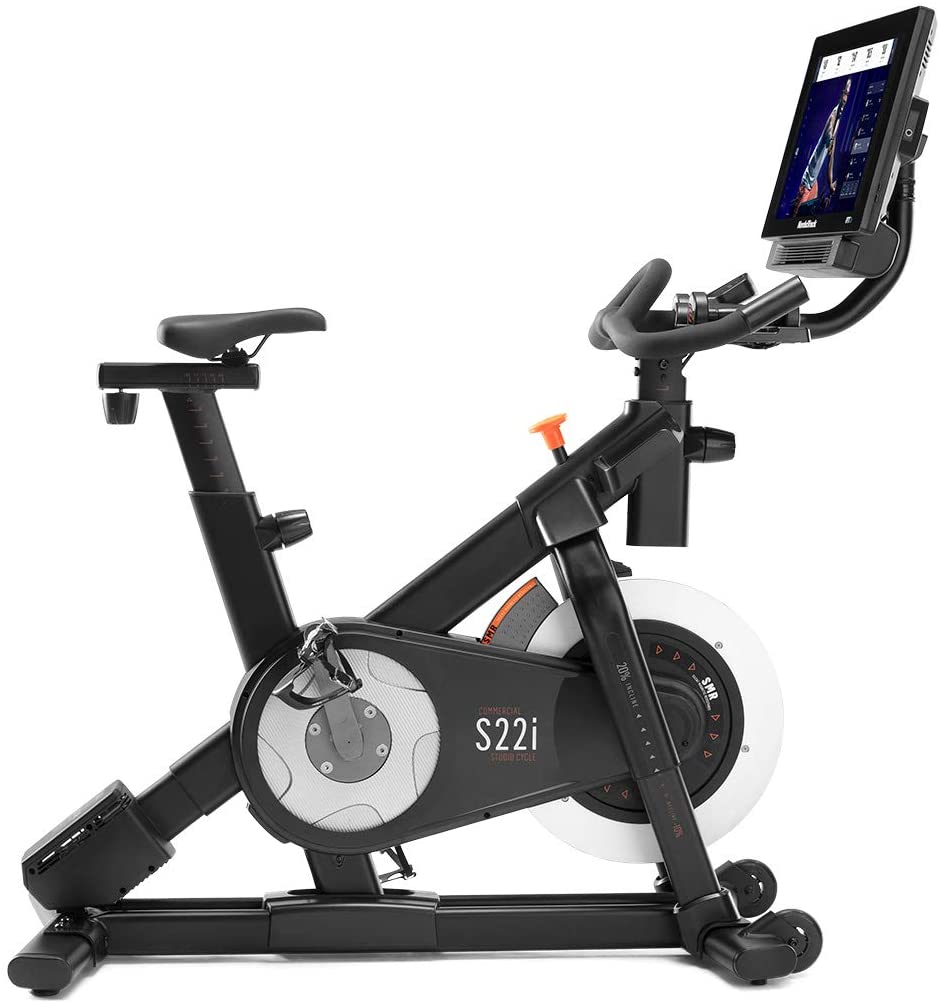 If you have a bit of a budget and are looking for a full immersion experience and a hands-free exercise bike for your weight loss journey, then the NordicTrack Commercial Studio Cycle should be on top of your wishlist.
With it's 15" Interactive Coaching Touchscreen you can get on-demand studio workouts from one of the best apps out there: iFit.
iFit is not like other training apps, you get real elite leading trainers streaming high-energy sessions from exciting global destinations and LIVE controlling your machine's decline, incline, and resistance in real time. The NordicTrack Commercial Studio comes with a 1-month subscription, from then on you'll have to pay.
The 15″ HD screen though, it's a proper computer, you can use any app on it and even stream your favorite movies and TV shows from services like Netflix or Amazon Prime as you ride.
All the controls are digital, so no clumsy handle adjustments, just enjoy the workout to the fullest!
A great bike for those really committed in their fitness/weight-loss mission
30-Day iFIT Family Membership Included
15 inches Interactive HD Touchscreen Display
Easy stats tracking
360-degree screen rotation
Automatic Trainer Control
-10% to 20% incline simulation
24 digital resistance levels
Silent Magnetic Resistance
3 Lb. dumbbells for cross-training included
350-pound user weight capacity
10-year frame/ 2-year parts/ 1-year labor warranty
8. YOSUDA Indoor Cycling Bike – under $300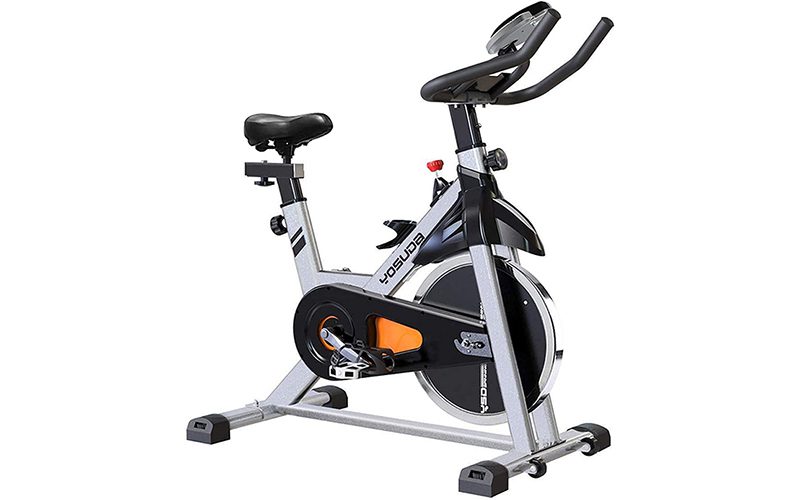 If you like the riding style of a spin bike but don't want too break your bank, the Yosuda spin bike is a great value for money option. To workout your muscles, lose weight, and enhance heart and lung function you don't need the best exercise bike on the market.
The Yosuda features a simple LCD monitor to track your time, speed, distance, and calories burned and an Ipad holder to enjoy some music or TV while you're working out.
35lbs flywheel guarantees stability
Mechanical continuous infinite resistance
Belt Drive
2-ways adjustable non-slip handlebar
4-ways adjustable seat (inseam height 25-35in)
270 lbs weight capacity.
E. Desk Bikes
Last but not least, we have desk bikes. These types of stationary bikes offer a convenient way of studying, working, or watching TV while exercising your body. While most of these exercise bikes come in the form of under-desk bikes, there are times when you might get a bike and chair plus desk combination.
But, regardless of what you get, the best thing about desk bikes is that they offer immense health benefits such as burning calories, improving blood flow, preventing diabetes, and lowering the sparks of arthritis.
Desk bikes are a great addition to your regular workout, exercising even when sitting doing your desk chores can signify many more hours spent on your weight loss efforts, burning calories without really noticing.
So, if you're a student or an office worker looking for a desk bike, then you can consider the FitDesk Under-Desk Bike, the Flexispot Desk Bike, or the ExerpeuticExerWork 1000 Desk Station.
Our Favourite Desk Bikes:
9. Fit Desk – under $300
If you want to get the maximum outcome with the minimum time investment the FitDesk Bike Desk 3.0 is a great option, and a great bang for the buck.
This desk bike is equipped with a decent quality gearbox, a quiet twin belt drive, and a high-velocity flywheel.
The desktop surface is large enough at 16" x 19", covered with a soft-grip, non-slip rubber that safely secures your laptop while you spin and work. A tilt-top tablet/cell phone holder is also included.
A nice addition is the adjustable forearm supports that act as arm massage rollers and prevent arm joint injuries.
The heavy-duty powder-coated steel frame has a strong base and can carry up to 300 pounds of weight.
Adjustable forearm support

fit for riders from 4'10" to over 6' with adjustable bike seat, backrest
Semi-recumbent design
8-level magnetic resistance
LCD meter to track your exercise cycling mileage, calories, and distance.
16" x 19" soft-grip, no-slip desktop surface that safely secures laptops or tablets
Tilt-top tablet or cell phone holder
Max rider weight 300lbs
10. Flexispot Bicycle Desk – about $400
Here's another very flexible product, part exercise bike, part standing desk and boosting a tabletop surface large enough to accommodate your biggest laptop and a mouse pad.
Fitting people in the 5'1" to 6'2" height range, its upright position can be somehow hard on the sit bones when used for an extended period of time.
As opposite as many exercise bikes in this price range, the adjustments are user-friendly, with a pneumatic lever that moves the seat up or down with just a gentle press – no pins or knobs here, and that's a relief – the transition from sitting to standing desk is painless.
A great tool for light cardio, it will not make you lose weight by itself, but it's a great addition to a weight-loss workout program.
8 resistance levels
Compact sleek design.
Quiet also at high settings
Can be used as a standing desk
Desk big enough for 15″ laptop and mouse
3. DeskCycle 2 – Under Desk Bike Pedal Exerciser – Under $200!
Editors pick!
If you want to work out straight from your beloved desk, the desk-cycle 2 is a super convenient option to commit to your weight loss journey literally anywhere you are.
This little marvel machine makes not a single annoying squeak, doesn't slide or move, and has 8 quite intense resistance levels.
With a DeskCycle 2, you can easily pedal for 3 to 5 hours per day while working from your favorite chair and burn a ton of calories without even noticing!
Compact and portable, it's so silent and light that could even be brought to your office workspace. It also comes with a wireless 5-function LCD display that tracks speed, distance & more of the usual stuff. You can now log your activity to Fitbit and other apps for a more social workout experience.
At under 200 dollars, it also makes a great gift for cycling lovers, as leg exercise bikes for seniors or anyone who wants to get more active.
Works with desks as low as 27″
Adaptable to any body size
8 resistance settings
Wireless 5-function LCD display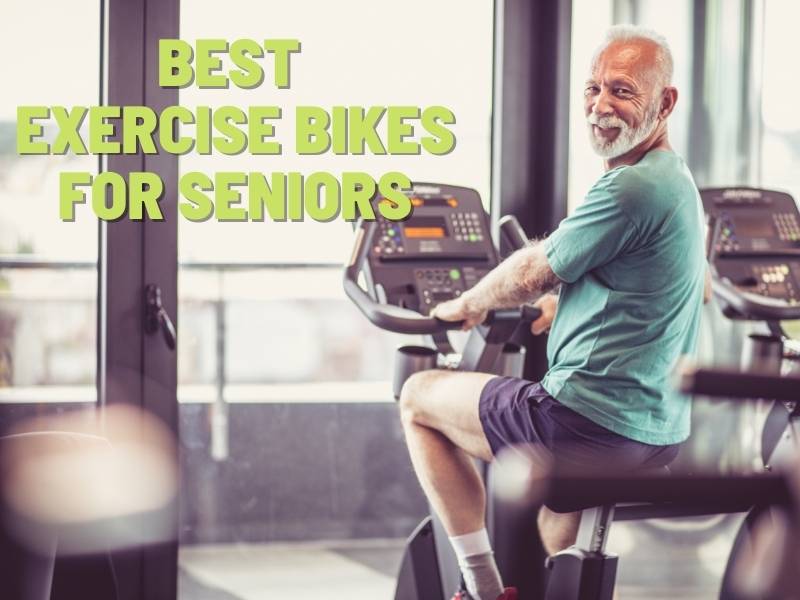 But First, What are Some Benefits of Exercise Bikes?
Boosts Cardio Fitness: Cycling is an effective way of strengthening your cardiovascular system. It helps to improve blood and oxygen circulation and also improves the supply of energy around the body. As a result, you'll enjoy better sleep, better mood, reduced stress, and low chances of getting high blood pressure.
Weight Loss: Depending on your workout routine, a stationary bike, especially an air bike, can help you burn more calories, which is essential in losing weight.
Low Impact Workout: If you're a senior, or maybe you're recovering from an injury such as a fracture, a stationary bike can offer a low-impact workout that can allow you to exercise without putting too much strain on the affected parts.
Strengthening Body Muscles: The last benefit of a stationary bike is that it helps you to build strength, especially in the lower body. This includes the calves, hamstrings, glutes, and hip flexors.
Conclusion
So, which is the best stationary bike to lose weight? Well, the answer simply depends on your personal preference and fitness goals. As you can see, there are so many variations of exercise bikes on the market. From foldable designs, and under-desk variants to upright and recumbent bikes, your choice is highly influenced by what you need to achieve.
In our humble opinion, if you want to achieve quick results and are not scared of a hard work-out, the best type of exercise bike to lose weight is definitely an Air bike, exercising upper and lower body together will lead to burning double the number of calories than with any other bike.
In this guide, we've managed to narrow down our options by discussing five common types of exercise bikes. In each category, we've highlighted at least two bikes you can consider. At least with this type of information, picking a specific bike that will meet your exact fitness goals will be easier than ever.
Interested in Indoor Cycling? Check also:
Stay in touch while we get lost! Follow us on Social Media