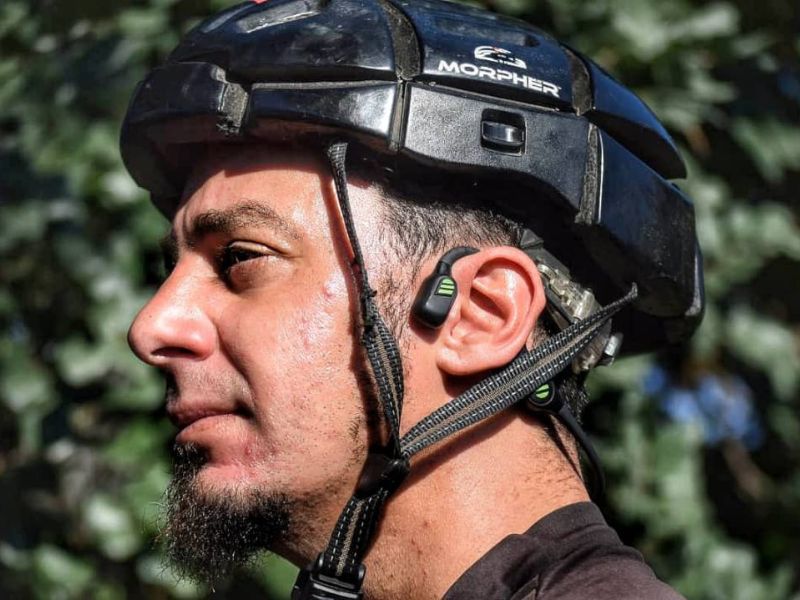 Enhance biking safety with the best bone-conduction headphones for cycling
Open ear design for ultimate cycling awareness. Discover the top options!
Bone conduction technology is revolutionizing the way cyclists experience sound while riding. These innovative headphones allow cyclists to enjoy their favorite audio content while staying aware of their surroundings.
In this article, we will delve into the technology behind bone conduction headphones, explore the different types available, discuss their strengths and weaknesses, and examine what types of audio are best suited for this unique listening experience.
Bone Conduction Technology
Bone conduction headphones work on a fascinating principle: rather than delivering sound directly into the ear canal like traditional headphones or earbuds, they send vibrations through the bones of the skull to the inner ear.
This technology bypasses the eardrum, leaving the ear canal open, and allows the listener to perceive sound while still hearing ambient noise.
The key components of bone conduction headphones include transducers, which convert electrical signals into vibrations, and the bone conduction pads that make contact with the skin near the temples.
check also:
> Best Earbuds For Cycling: Bluetooth/Wireless Biking Earbuds
>The 15 Best Headphones to Stay Safe while Cycling
Disclosure: Some of our articles contain affiliate links. This comes at no additional cost for you and helps us keep this website up and running. (as Amazon Associates we earn commission from qualifying purchases)
How we compile our gear guides: during the almost 10 years of cycloscope.net our team personally tested dozens of similar pieces of gear. For what we can't test personally, we involve other people in the cycling community to give their feedback and opinion about gear they have used. Our decade-long experience in bicycle touring enables us to find the key cons and pros of every product we mention.
The Best Open Ear Bone Conduction Earphones in a Nutshell
Strengths and Weaknesses of Bone Conduction Headphones for Cycling
Strengths:
Enhanced Safety: The most significant advantage of bone conduction headphones for cyclists is safety. By leaving the ears open, these headphones allow riders to remain aware of their surroundings, reducing the risk of accidents.
Comfort: Bone conduction headphones are often lightweight and comfortable, making them suitable for long rides. The absence of earbuds or ear cups means less heat buildup and reduced discomfort during extended use.
Stability: Most bone conduction headphones are designed to stay in place during vigorous physical activities, such as cycling, thanks to secure fits and stable headbands.
Weaknesses:
Sound Quality: Bone conduction technology inherently sacrifices some sound quality. Audiophiles may find the audio experience lacking in depth and richness, especially in the bass frequencies.
Limited Bass: As mentioned, bone conduction headphones struggle to reproduce deep bass sounds effectively. If you enjoy music genres with heavy bass elements, you may not get the desired experience.
Noise Isolation: While the open-ear design is excellent for situational awareness, it means less noise isolation. In noisy environments, such as crowded streets or windy conditions, audio clarity may suffer.
5 Best Bone Conduction Headphones for Cycling
Unlike traditional headphones, which send sound through the ear canals, bone conduction technology delivers audio through the cheekbones.
With nothing inside or over your ears, you can enjoy total awareness of your surroundings while you listen to your podcasts, or audiobooks. Don't expect the same experience as traditional earphones though.
1. Shokz OpenRun Bone Conduction Headphones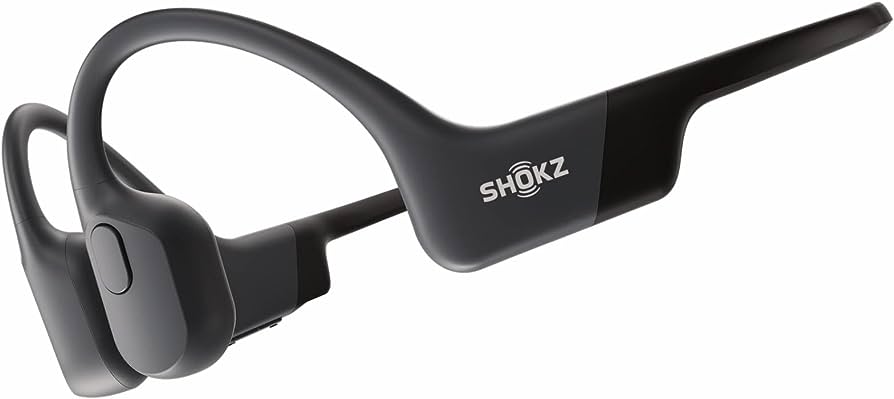 Best Bone Conduction Headphones for Cycling
Under 200$ [Check The Latest Price]
Shokz, formerly known as Aftershokz, proudly leads the way in bone conduction headphone technology, setting a new standard for competitors to follow. Among their lineup, the OpenRun (formerly Aeropex) stands out, making a strong case as the ultimate choice for cycling headphones.
These open-ear headphones prioritize situational awareness, allowing you to stay in tune with your surroundings while enjoying your favorite tunes, though, as expected with bone conduction technology, there is a compromise on sound quality. The Aeropex, a flagship model in the Aftershokz collection, delivers unrivaled performance – a distinction reflected in its price. Undoubtedly, these are the finest bone conduction headphones available today.
Sweat and waterproof, the AfterShotz Aeropex cycling bone conduction headphones are designed for tough workouts and adventures in the most extreme weather conditions.
Although they are not suitable for swimming, some people still use them for that and never had problems, for sure they'll withstand a shower. A moisture detection sensor alerts you if the charging port gets too wet to be safe when charging.
Weighing less than 1 ounce (26g), they feature dynamic bass, higher volume, and less vibration (a slight tickle common to bone conduction) compared to other bone conduction models.
They can connect with two devices at the same time, which might not be important for cycling but makes them versatile for work.
As we already said, bone conduction headphones can't replicate the amazing bass of an expensive pair of earbuds or headphones. That said, when wearing earplugs these things easily sound at least as good as a "decent" pair of headphones (like $20-40 range, more than adequate unless you are an audiophile). They are still the best-sounding bone conduction cycling headphones up to date (2021).
Without the earplugs in, with open ears alert to your surroundings, the Shokz OpenRun sound similar to stock Apple iPhone earbuds, maybe with a bit less bass.
The purchase includes two magnetic charging cables (very solid) a handy sports belt and 2 years warranty.
Specifications
Listening Time: 8h (10 days of standby time)
Charging Time: Full Charge – 120 min
Controls: Voice control plus 1-button
Wireless Range: 40 feet (12 m)
IPX Rating: IPX67
Pros:
Great for awareness
High waterproofness
Longest battery life among bone-conduction sport headphones
Best sound quality among bone conduction
Stays firmly in place
Cons:
Pricey
Loud beep sounds are not adjustable
What's in the box: AfterShotz Aeropex sport headphones – 2 x Magnetic charging cables – User manual – Earplugs – Rubber case – Sports belt.
2. Vidonn F1 Titanium
Under 50$ [Check The Latest Price]
Slightly more budget-friendly than the AfterShotz Aeropex (keep an eye out for special offers on Amazon where they can be found for around 60/120 dollars), the Vidonn F1 offers a compelling alternative in terms of cycling headphones.
Constructed from a blend of titanium, alloy, and TPU materials, these headphones are durable and cost-effective. While they may be a tad heavier than the Aeropex at 38g, they boast excellent comfort. If they feel snug, adjusting the backbone upward can enhance both comfort and sound quality.
Similar to the Aftershokz headphones, the Vidonn F1 includes earplugs that allow you to close your ears and enjoy the pure bone conduction audio experience.
One of their previous drawbacks was unreliable connectivity, but the Bluetooth has recently been upgraded from v4.1 to 5.0, promising a more stable connection.
Specifications
Listening Time: 5h (7 days of standby time)
Charging Time: Full Charge – 120 min
Controls: Voice control plus 1-button
Wireless Range: 33 feet (10 m)
IPX Rating: IPX55
Pros:
Great for awareness
Ultralight
Comfortable (the band in the back is not really intrusive)
Cons:
Poor battery life
Unreliable connectivity
Prone to interference
What's in the box: Vidonn F1 headphones – USB charging cable – User manual – Noise-proof earplugs.
Durability: 7 | Sound Quality: 8 | Battery Life: 7.5
3. Klatre LS1 – New Entry 2023!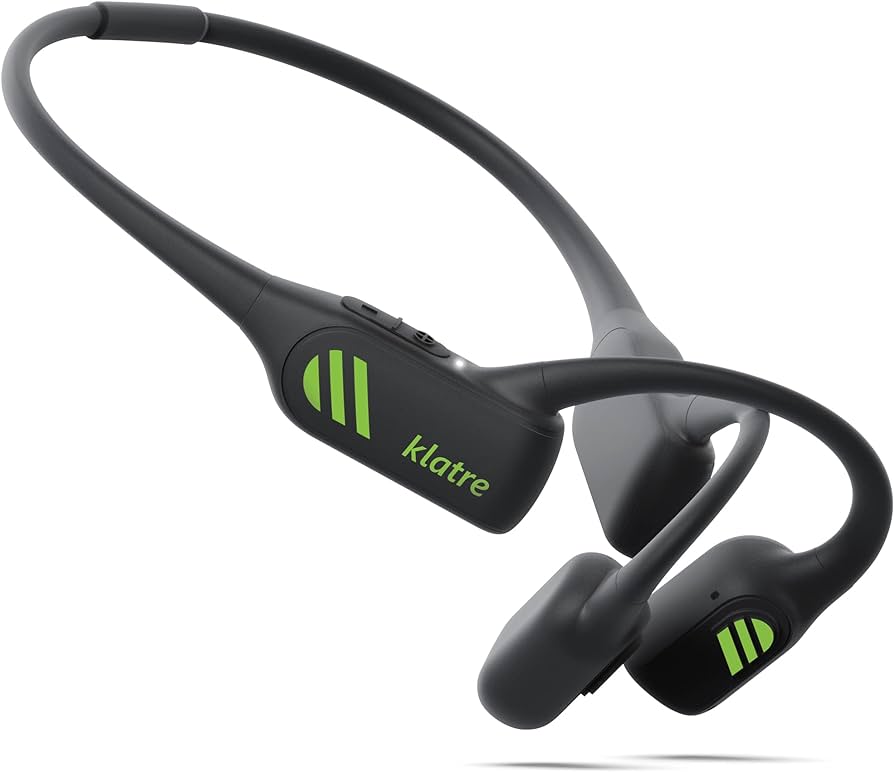 Under 100$ [Check The Latest Price]
Klatre is a fresh contender in the realm of bone conduction headphones, and their LS1 model offers excellent value for money.
Weighing in at less than 31g and featuring a sleek design, these headphones are incredibly lightweight and virtually imperceptible once you put them on – all while securely staying in place.
One of their standout features is the impressive battery life, boasting 8 hours of playback time and a quick 1-hour full charge. Furthermore, their wireless range is surprisingly extensive. While the official specification claims a range of only 10 meters (33 ft), real-world use has demonstrated a clear signal even at distances exceeding 20 meters, even with obstacles in the way.
In terms of sound quality, they align with the standards of other bone conduction headphones. If you're an audiophile seeking to dissect every nuance and dynamic in your music, these might not be your top choice for home use.
However, these headphones shine when it comes to outdoor activities like cycling and running, where environmental awareness is crucial. They excel in allowing outside noise to come through clearly, even at maximum volume. For podcast enthusiasts, they are a fantastic purchase and can find utility both indoors and outdoors. Additionally, they offer convenient voice control by simply pressing and holding the large multifunction button.
On the downside, intense bass-heavy music can sometimes generate a bothersome vibration around the temples. This issue is common among all bone conduction headphones, but it can be mitigated by using an equalizer to lower the bass frequencies' volume.
Read our full review of the Klatre LS1 bone conduction headphones
Specifications
Listening Time: 8-Hours
Charging Time: Full Charge – 60 min
Controls: Voice control plus 1-button
Wireless Range: 66 feet (20 m)
IPX Rating: IPX55
Pros:
Great battery life
Lightweight and almost unnoticeable
Pouch included
Quick charging time
Cons:
Bass vibration can be annoying at loud volumes
What's in the box: Klatre LS1 headphones – 2x USB to Pogo Pin charging cables – Noise-proof earplugs – Headphones pouch – User manual.
Durability: 7 | Sound Quality: 8 | Battery Life: 7.5
4. Shokz OpenMove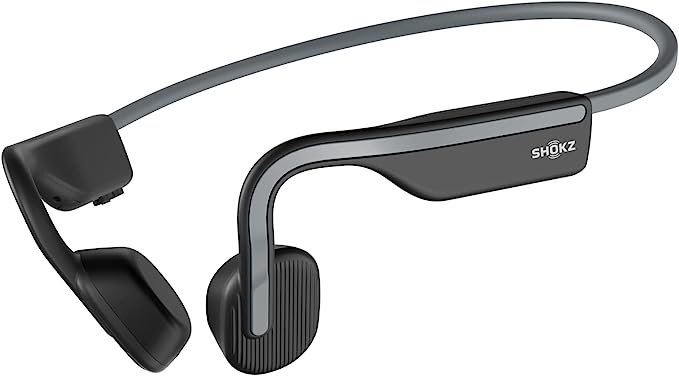 Under 90$ [Check The Latest Price]
The Shokz OpenMove, the younger sibling of the OpenRun, offers a more budget-friendly option that sacrifices some of the top-tier features found in its counterpart.
While these earbuds maintain a wireless Bluetooth connection, their connectivity can be a bit finicky. Their IPX55 waterproof rating makes them suitable for handling sweat and light rain, but they are not designed to withstand full immersion or shower use.
In terms of sound performance, the OpenMove still delivers a commendable experience for bone conduction headphones. However, it falls short of matching the exceptional quality of the OpenRun, although this can be improved somewhat using the app's EQ presets.
The construction features a titanium band that combines durability with flexibility, and the LeakSlayer™ technology minimizes sound leakage. Furthermore, the inclusion of dual noise-canceling microphones enhances call quality, ensuring that you're heard clearly during conversations.
It's essential to note that these earbuds are tailored for smaller head sizes. If you have a larger head, you may want to explore the AfterShokz Trek Titanium, which boasts the same specifications but comes with a larger headband for a more comfortable fit.
Specifications
Listening Time: 6h (10 days of standby time)
Charging Time: Full Charge – 90 min / 15-minute charge gives 1 hour of playback
Controls: Volume & track controls on each earbud, voice capability, auto Play/pause
Wireless Range: 33 feet (10 m)
IPX Rating: IPX55
Pros:
Great for awareness
Ultralight
Very small and comfortable
Cons:
Only fits small heads
Connectivity issues (Bluetooth v4.1)
Poorer sound compared to the Aeropex
What's in the box: AfterShokz Trekz Titanium Mini headphones – USB charging cable – Earplugs (for blocking ambient noise) – Soft carrying bag.
Durability 9 | Battery life 8.5 | Sound quality 7 | Comfort 7.5 | Value for money 7.5
5. PURERINA Bone Conduction
Under 30$ [Check The Latest Price]
Best cheap bone conduction headphones for cycling
Purerina offers budget-friendly bone conduction headphones that cater to cyclists looking for a simple way to enjoy podcasts or audiobooks during their rides. These headphones are equipped with a built-in 230mAh lithium battery, providing impressive battery life, including up to 10 days of standby time, 8 hours of phone call usage, and 6 hours of music playback.
With an IP55 waterproof rating, you can confidently use these headphones in sweaty conditions or light rain without worrying about damage. Their connectivity shines thanks to advanced Bluetooth 5.0 technology, offering faster and more stable connections compared to older Bluetooth 4.2 models. You can stay connected up to 10 meters away from your device and even connect to two devices simultaneously.
One drawback worth noting is the relatively low maximum playback volume. This limitation may make it challenging to hear audio clearly in noisy environments. Additionally, like many budget products, these headphones may have a somewhat shorter lifespan due to compromises made in quality control to maintain affordability.
Fortunately, Purerina provides peace of mind with a 30-day free replacement policy and a 12-month warranty service. All in all, these headphones offer great value for their price point, making them a solid choice for budget-conscious cyclists.
Specs:
Listening Time: 6h
Charging Time: Full Charge – 2h / 5-minute charge gives 1. 5 hours of playback
Controls: Volume & track controls on each earbud, voice capability, auto Play/pause
Wireless Range: 33 feet (10 m)
IPX Rating: IPX54
Pros:
Great for awareness
Good quality cheap bone conduction headphone
Cons:
Not really adjustable, might not fit your head
Muffled sound
What's in the box: EKEN Bone Conduction Headphones – USB charging cable – Case
5. SHOKZ OpenFit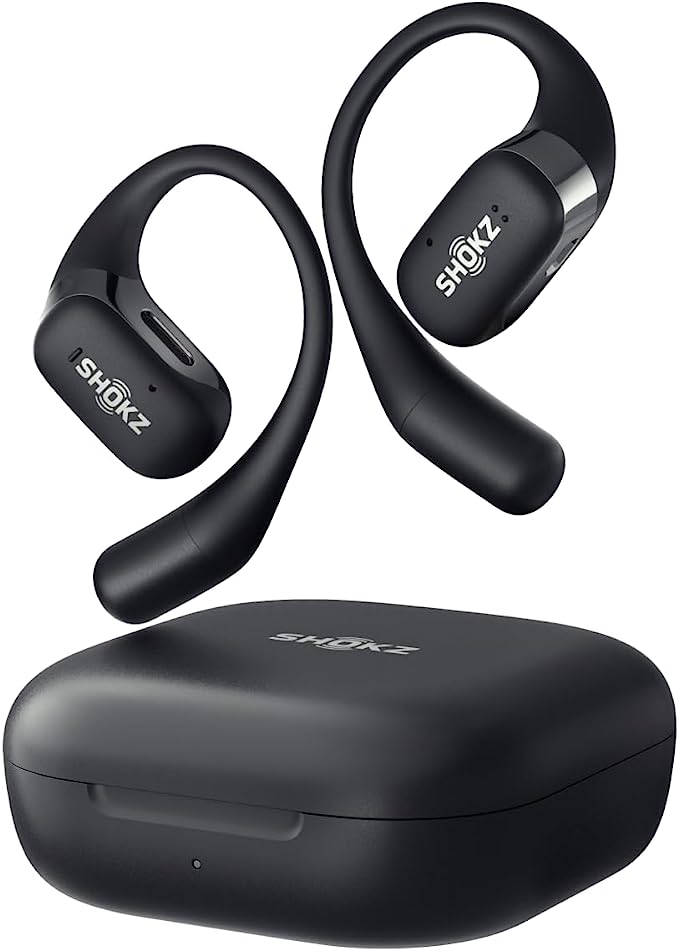 Best Open-Ear Bone Conduction Cycling Earbuds
Under 180$ [Check The Latest Price]
The Shokz OpenFit wireless earbuds are designed with a unique listening experience in mind, making them an appealing choice, especially for cyclists.
In terms of their design and comfort, these earbuds are carefully crafted to feature an over-ear fit that ensures they stay securely in place, even during the bumpiest rides. Their lightweight build adds to the comfort, making them suitable for extended hours on the saddle.
With an IP54 rating, these earbuds offer protection against dust and sweat, a crucial feature for cyclists who frequently encounter challenging outdoor conditions.
The sound quality is influenced by their open-ear design, which allows ambient sounds to seamlessly blend with your audio. While the bass and mids may not be as prominent, the treble frequencies stand out more. This unique design is a significant advantage for cyclists as it enhances situational awareness, allowing you to remain attuned to traffic and potential hazards while enjoying your music or following navigation instructions. However, it's worth noting that these earbuds may not meet the expectations of audiophiles, as bone-conduction technology has its limitations.
The touchpad controls, conveniently located on the earbuds' logos, are user-friendly and enable you to adjust music playback or take calls without interrupting your ride. However, the absence of volume controls on the earbuds themselves may be a minor inconvenience, requiring you to adjust the volume on your connected device.
Thanks to Bluetooth 5.2 connectivity, these earbuds offer a stable connection to your cycling devices, ensuring seamless music playback or GPS instructions. The straightforward pairing process allows for quick setup.
When it comes to battery life, these earbuds deliver adequacy for long rides, providing approximately 7 hours and 13 minutes of playback on a single charge, closely aligning with the manufacturer's rating. Additionally, the included charging case offers an extra 21 hours of battery life.
One standout feature of these earbuds is their exceptional microphone performance. The built-in microphones capture your voice with fidelity, even in noisy outdoor environments. This feature proves invaluable if you need to take calls or communicate while cycling, ensuring clear and reliable communication.
Specs:
Listening Time: Approximately 7 hours and 13 minutes on a single charge
Charging Time: Not specified
Controls: Touch control for call/listen switch (no volume)
IPX Rating: IP54 (Dust and sweat resistant)
Pros:
Open-ear design enhances situational awareness
Lightweight and comfortable
Exceptional microphone performance
Good software
Cons:
Limited bass and mids due to open-ear design
Lack of volume control on the earbuds
What's in the box:
Shokz OpenFit wireless earbuds, Charging case, USB-A to USB-C charging cable, User manual and documentation
check also
> The 11 Best Cycling Camera – Helmet or Handlebar – Cheap/Top/360
> Best Dynamo Hub for Bikepacking: Schmidt SON, Shimano & more
> 8 Best Gifts For BIKE COMMUTERS! Cool & Practical Present Ideas
What to Listen to and What to Avoid Listening on Bone Conduction Headphones
Bone conduction headphones are well-suited for listening to spoken content, such as podcasts, audiobooks, and phone calls, during your cycling adventures. They also perform admirably with genres that prioritize mid and high frequencies, like classical music or spoken-word recordings.
However, if you're an avid fan of bass-heavy music genres like EDM, hip-hop, or dubstep, bone conduction headphones may not provide the depth and punch you desire. The technology's limitations in reproducing low-frequency vibrations can result in a somewhat lackluster experience for these music genres.
In conclusion, bone conduction headphones offer cyclists a unique blend of awareness and audio, making them an excellent choice for riders prioritizing safety during their journeys. While they may not satisfy audiophiles or bass enthusiasts, their comfort and situational awareness benefits make them an invaluable companion for any cyclist looking to enjoy music or take calls while staying in tune with their surroundings.
As technology continues to advance, we can anticipate further improvements in sound quality and versatility, making bone conduction headphones an even more compelling choice for cyclists in the future.
Stay in touch while we get lost! Follow us on Social Media