Cycling Earbuds. The best earbuds for biking reviewed from cheap to top
Safe, open-ear, transparency mode, good mic, true wireless, bluetooth
Picture this: you're out on your bike, the wind in your hair, the world whizzing by, and your favorite tunes or podcasts playing in your ears. That's the magic of cycling earbuds, a nifty piece of gear that's become a favorite among cyclists everywhere. But is it safe to ride with earbuds on?
Now, here's the scoop: there's no one-size-fits-all when it comes to the best cycling earbud. Your choice of the best earbuds for cycling depends on where you're pedaling. Are you navigating noisy city streets, tackling rugged trails, or cruising along serene country roads? Each setting calls for a different set of characteristics from your earbuds.
For those of us weaving through city traffic, you'll need to stay completely aware of the traffic around you, so you'll need an open-ear design (bone-conduction anyone?) or transparency technology (an external mic blends the outside sounds with your digital audio).
If you're more of an outdoor explorer, hitting the trails and taking in the wild beauty, a more immersive earphone could be a good option to keep you boosted and focused. For the indoor cyclists, noise cancelling is the way to go.
In our quest to provide you with the most suitable audio gear for your cycling needs, we've carefully examined a variety of headphones and earbuds. When compared to other kids of headphones, earbuds eliminate any kind of cable, those with transparency mode make you able to listen to your surroundings, and some have great battery lives. On the downside, they can fall off and are easy to lose – that's when the tracking function comes in handy.
Over the course of our 9-year global bike journey, traversing the most diverse terrains, from serene and quiet stretches to bustling city streets we learned how crucial it is to remain aware of your surroundings while cycling, but we've also recognized the desire to enjoy music or podcasts during those long, less eventful sections of the journey.
This prompted us to explore the market for audio solutions that can seamlessly integrate with the cycling experience.
It's essential to note that there isn't a dedicated category of "cycling earbuds" in the market. Instead, we've identified the best sports earbuds that, in our judgment, are well-suited for cycling. These earphones are chosen with the understanding that they will be worn with a helmet, often in conditions where wind noise is a constant companion.
Our objective is to provide you with the tools to make an informed choice. Join us as we delve into the world of sports headphones that strike a balance between audio enjoyment and situational awareness, ensuring that your cycling experience remains safe and enjoyable.
looking for different styles of headphones?
> The 15 Best Headphones to Stay Safe while Cycling in 2023
7 Best Wireless Earbuds for Cycling
1. Powerbeats Pro
Disclosure: Some of our articles contain affiliate links. This comes at no additional cost for you and helps us keep this website up and running. (as Amazon Associates we earn commission from qualifying purchases)
How we compile our gear guides: during the almost 10 years of cycloscope.net our team personally tested dozens of similar pieces of gear. For what we can't test personally, we involve other people in the cycling community to give their feedback and opinion about gear they have used. Our decade-long experience in bicycle touring enables us to find the key cons and pros of every product we mention.
Battery life 9.5 | Sound quality 8 | Sweat Resistance 8 | Comfort 8
Under 250$ [Check The Latest Price]
Let's dive into the world of sports earbuds and see how well they team up with cycling. The Powerbeats Pro earbuds have some nifty features that can make them a cyclist's best friend.
First off, those adjustable, secure-fit ear hooks ensure these earbuds stay put, so you won't have to worry about them taking a tumble while you ride. Plus, they come with four sizes of interchangeable ear-tips, making it a cinch to find your perfect fit. You can even tinker with these tips to dial in just the right level of noise isolation.
Here's a cool twist: one of those ear-tips is cone-shaped, and it's designed to let in more of the outside world's sounds. That's handy when you're cycling on roads where you need to stay aware of your surroundings.
Now, let's talk sound. These earbuds pack a punch with powerful, balanced audio and an impressive dynamic range. Though they do lack a bit in the midrange, they more than make up for it in overall sound quality.
Call quality is top-notch too. What's interesting is that these Powerbeats Pro earbuds aren't all about noise cancellation; they actually let some ambient noise in. That's a plus for cyclists who want to stay safe while enjoying their tunes. And if you ever feel extra cautious, you can just wear one earbud since they work independently.
However, there's one small hiccup—the size. These earbuds are a tad on the big and heavy side, which might be a smidge annoying when you've got your helmet and sunglasses on during your cycling escapades.
Specifications:
Listening Time: 9h (24h with charging case)
Charging Time: Full Charge – 90 min / 5-minute charge gives 1. 5 hours of playback
Controls: Volume & track controls on each earbud, voice capability, auto Play/Pause
IPX Rating: IPX4
Pros:
Cons:
Big and Uncomfortable
Not totally waterproof
lacks midrange
What's in the box: Power Beats Pro totally wireless earphones, charging case, ear tips with four size options, Lightning to USB-A charging cable, quick start guide, warranty card.
2. Jaybird Vista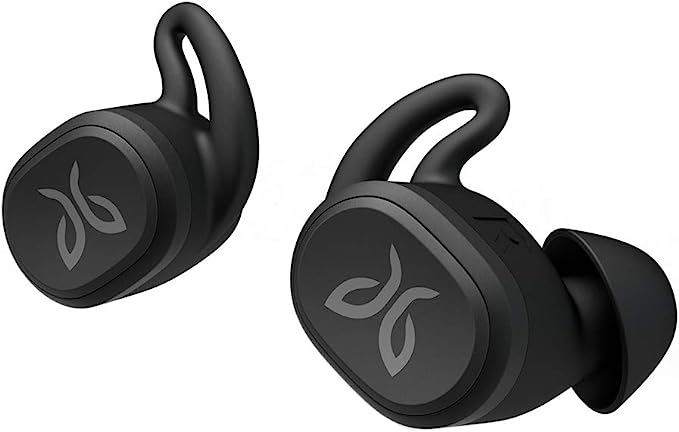 Sound: 8.5 |Fit & Comfort: 8 |Connectivity: 10 | Weight: 10 | Durability: 9
Best Headphones for MTB
Under 200$ [Check The Latest Price]
Let's move on to our second pair of cycling earbuds in this review. How do they stack up? Well, these little guys are quite different from the Powerbeats Pro. They're petite, lightweight, and offer a higher level of comfort. Plus, they come with an IPX7 rating, making them fully waterproof. You could even take a shower with them (although we wouldn't recommend swimming).
To ensure a secure fit, they provide three sizes of interchangeable ear gels. These little wonders stay snugly in place, even when you're taking off your t-shirt – no risk of your earbuds making a daring escape.
Now, here's the catch for our cycling friends: these are in-ear-canal phones with excellent passive noise canceling. While this can be fantastic for blocking out unwanted noise, it means they don't have a transparency mode. So, hearing the outside world can be a bit challenging, especially if your music is cranked up.
Speaking of sound quality, the Jaybird Vista doesn't disappoint. You have the option to fine-tune your audio experience with the equalizer. They also boast a decent microphone for calls in typical outdoor settings. However, like most earbuds, it's pretty obvious to the person on the other end that you're using a headset.
Here's an interesting twist: these earbuds don't follow the Master/Slave design. Both of them can connect independently to your device, ensuring a consistent audio connection. Just be wary of potential interference in crowded wireless environments. One minor drawback is that they offer only one function with a single button – no options for going back to the previous track.
Lastly, the "Find My buds" feature is worth noting. It helps you keep tabs on your earbuds through the Jaybird app. The case is compact and lightweight, making it easy to carry along on your cycling adventures.
Specs:
Listening Time: 6 h (16 hours with case)
Charging Time: Full in 2h / 5-minute charge gives 1 hour of playback
Controls: Limited to single function button on each earbud
IPX Rating: IPX7
Pros:
Ultralight
Cheaper than most direct competitors
Cons:
What's in the box: Vista Wireless Sport Headphones – Secure – Fit Eargels(3 sizes) – 1/2/3 – Charge Case – USB C Charging Cable.
3. Apple AirPods Pro
Under 250$ [Check The Latest Price]
Now, let's talk about Apple's take on sport earbuds. Naturally, when it's Apple, you can anticipate a blend of cool features along with, well, a somewhat extravagant price tag and the occasional compatibility quirk.
One standout feature that places these earbuds in the realm of the best for cycling is the transparency mode. The Apple Airpods Pro boasts active noise cancellation for that immersive audio experience, but with transparency mode, you're in control. It lets in as much ambient sound as you desire, allowing you to stay connected with the world around you.
When it comes to sound, it's good, though not the absolute best. An adaptive EQ claims to fine-tune the music to the unique shape of your ear – at least that's the pitch. Where these earbuds truly shine is in call and microphone quality, setting a high bar for the competition.
With three sizes of soft, tapered silicone tips, you have the flexibility to achieve a snug, customized fit. However, here's a caveat: these Apple Airpods Pro have a penchant for slipping off sweaty ears. Not something you'd want to happen to a pair of earbuds that dent your wallet by 250 bucks.
In the sweat and water resistance department, they earn an IPX4 rating, which means they're not completely waterproof. The battery life falls into the "average" category, but the case has ample charging capacity, and they juice up rapidly.
Setting them up with your Apple devices is a breeze, and you can summon Siri in a flash with a simple "Hey Siri" command. While they can be paired with Android devices, it's not quite as seamless as with iOS. And yes, there's that Apple proprietary connector for the charging cable, which has earned its fair share of eye rolls.
Specs:
Listening Time: 4.5h (24h with charging case)
Charging Time: Full Charge – 40 min / 5-minute charge gives 1 hour of playback
Controls: Custom force sensors in each stem
IPX Rating: IPX4
Pros:
Transparency mode
Easy to connect
Easy to switch devices
They stay in your ear really good as long as you're not sweaty or greasy
Can use Siri
Can be used as a hearing aid
Cons:
Not totally waterproof
They can fall out of your ear if sweaty
Noise cancellation is minimal
Apple proprietary cable only
What's in the box: AirPods Pro – Wireless Charging Case – Silicone ear tips (three sizes) – Lightning to USB-C Cable – Documentation.
4. Sony WF-SP700N/L
Best Quality Earbuds for Bike Commuting
Under 50$ [Check The Latest Price]
Now, let's dive into another major player in the world of sports earbuds that demands a spot in this comprehensive guide. With a jaw-dropping 75% price cut, the Sony WF-SP700N has emerged as a strong contender for the title of the ultimate cycling headphones, particularly tailored for navigating the urban jungle.
What truly sets these earbuds apart is their nifty ambient sound mode – like a symphony conductor blending your music with the world around you, creating a harmonious auditory experience. This feature ensures you stay safe while cycling through the bustling city streets.
On the flip side, if you're yearning for complete musical immersion, the active noise cancellation here is not just on par with the competition; it might just outperform the likes of Airpods and Powerbeats.
However, there's a catch that may deter long-distance cyclists—the somewhat lackluster battery life. With only 3 hours of playback on a single charge and a total of 9 hours with the charging case, it's a definite buzzkill.
Now, let's talk about the elephant in the room: wind noise. When a Aeoulus decides to make an appearance, the wind noise can get a tad loud. But fear not, under normal wind conditions, it's a minor inconvenience.
The sound stage is another feather in their cap. It feels like your music isn't just confined to your ears; it spills out and fills your surroundings.
These earbuds sport an IPX4 rating, meaning they can handle a bit of sweat and rain splashes, though you might want to skip taking them into the shower.
When it comes to phone calls, they might not be your top pick. Calls are restricted to mono audio from the left earbud, and the microphone tends to pick up more background noise than you'd like.
One thing to keep in mind is that the left earbud takes charge as the master, which means they can't function independently (except for the left one). However, you can easily summon voice assistants like Siri to help you out.
What's truly impressive are the earbud pad options. They offer a fantastic fit, trumping even the Apple AirPods in terms of security. Plus, the Bluetooth connection stays rock-solid, even when you're up to 10 meters (that's about 30 feet) away from your paired device.
Specifications:
Listening Time: 3h (9h w. case).
Charging Time: Full Charge – 2.5h / 15-minute charge gives 1 hour of playback.
Controls: Single customizable button + App.
IPX Rating: IPX4.
Pros:
Good noise cancellation/ambient mode options.
Sound great. Nice clear highs, good powerful bass.
Low-profile design/Stays put in the ear.
The Bluetooth connection seems pretty stable.
10m (30 feet) Bluetooth range.
Cons:
Wind noise.
Equalizer options can't be manually tweaked.
The Mic picks up a lot of background noise.
Phone calls are mono only.
Sucky battery life.
What's in the box: Charging case – 2 x Arc Supporter (M/L) – 4 x Hybrid Earbuds Long (SS/S/M/L) – Micro USB cable.
5. SHOKZ OpenFit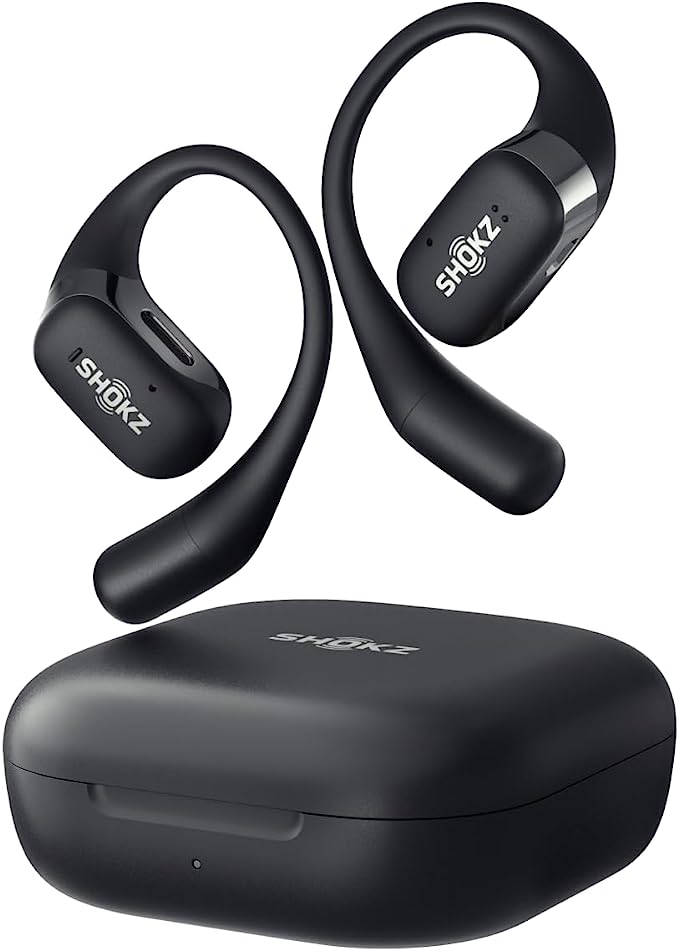 Best Open-Ear Bone Conduction Cycling Earbuds
Under 180$ [Check The Latest Price]
The Shokz OpenFit wireless earbuds are tailored for users seeking a distinctive listening experience that keeps them connected to their surroundings, making them particularly attractive for cyclists.
In terms of design and comfort, these earbuds are thoughtfully crafted with an over-ear fit that ensures they stay in place even on the bumpiest rides. Their lightweight build adds to the comfort, making them suitable for long hours on the saddle.
The IP54 rating provides protection against dust and sweat, an essential feature for cyclists who often face challenging outdoor conditions.
Sound quality is influenced by the open-ear design, allowing ambient sounds to blend with your audio. The bass and mids are not as prominent, and treble frequencies stand out more, this design is a significant advantage for cyclists. It enhances situational awareness, allowing you to stay attuned to traffic and potential hazards while enjoying your music or navigation instructions – of course, it will disappoint audiophiles, which should stay clear from bone-conduction technology.
The touchpad controls, situated on the earbuds' logos, is easy to use, allowing you to adjust music playback or take calls without disrupting your ride. However, the absence of volume requires adjusting the volume on your device, quite a turn-off.
Connectivity via Bluetooth 5.2 ensures a stable connection with your cycling devices, delivering music or GPS instructions seamlessly. The straightforward pairing process allows for quick setup.
Battery life is adequate for long rides, offering around 7 hours and 13 minutes of playback on a single charge, closely aligning with the manufacturer's rating. The charging case provides an additional 21 hours of battery life.
One standout feature is the excellent microphone performance. The microphones capture your voice with fidelity, even in noisy outdoor environments. This feature is invaluable if you need to take calls or communicate while cycling.
Specs:
Listening Time: Approximately 7 hours and 13 minutes on a single charge
Charging Time: Not specified
Controls: Touch control for call/listen switch (no volume)
IPX Rating: IP54 (Dust and sweat resistant)
Pros:
Open-ear design enhances situational awareness
Lightweight and comfortable
Exceptional microphone performance
Good software
Cons:
Limited bass and mids due to open-ear design
Lack of volume control on the earbuds
What's in the box:
Shokz OpenFit wireless earbuds, Charging case, USB-A to USB-C charging cable, User manual and documentation
6. Boltune True Wireless Waterproof Earbuds
Best Budget Earbuds for Cycling Long Rides
Under 40$ [Check The Latest Price]
Let's hit the brakes for a moment and take a closer look at these remarkable earbuds. Outstanding sound, impressive battery life, and complete waterproofing for less than 40 bucks? It might sound like a fantasy, but the Boltune earbuds are here to shatter those doubts. In fact, they might just be the ultimate budget-friendly wireless earbuds for cycling and all kinds of sports.
Equipped with Bluetooth V5.0, these earbuds ensure lightning-fast pairing and transmission speeds. You'll experience rock-solid connectivity with no signal losses or irritating music dropouts, even if you wander up to 50 feet away from your device, obstacles like walls notwithstanding.
Let's talk about the music quality—you'll be left utterly speechless considering the price. The sound signature is engineered to provide an immersive auditory experience, as if you're at the heart of a live concert.
The Boltune earbuds are power-sipping champs, thanks to their Bluetooth V5.0 technology. You can enjoy a generous 6 hours of playtime on a single charge. When combined with the 34 hours of backup power stored in the compact and lightweight magnetic charging case, you're looking at a jaw-dropping 40 hours of playtime. Charging is a breeze with the Type-C USB 3.1 connector, boasting speeds of up to 10 Gbps and fully replenishing the battery in just 90 minutes.
Worried about a little water? Fear not. These earbuds carry an IPX7 waterproof rating, which means they can handle the shower and a good rinse without a hitch.
Now, here's the deal with fit—they stay snug in your ears once you've got them in place. You can jump around, shake your head, and tackle some serious mountain biking without worrying about them coming loose.
But let's address the inevitable downsides – the phone call quality isn't their strong suit. Additionally, these earbuds lack an ambient mode that allows you to tune into your surroundings. The safest bet is to use just one earbud at a time or keep the volume dialed way down if you want to stay alert while cycling – though they do shine when it comes to indoor cycling sessions.
Specs:
Listening Time: 6h (40h w. case!).
Charging Time: Full Charge – 90 min / 5-minute charge gives 1 hour of playback.
Controls: Touch control on each earbud.
IPX Rating: IPX7.
Pros:
Best battery life ever.
Bang for the buck.
Fully waterproof.
Cons:
not ideal for phone calls.
No ambient-mode.
What's in the box: Boltune wireless sport earbuds – 3 sizes interchangeable tips – Charging case.
2. Anker Soundcore 10X
Budget Cycling Earbuds with Transparency Mode
Under 70$ [Check The Latest Price]
Last but not least, the Anker Soundcore Sport X10 earbuds, loaded with features that'll tickle your fancy if you're a workout enthusiast. But, as with anything, there are pros and cons to consider.
One standout feature is their rotatable ear hooks, designed to keep these buds securely in your ears even during the most intense exercise. But here's the twist – the ear loops are a tad short. If you've got larger ears, you might need a bit of elbow grease to get them comfortably in place.
When it comes to audio, the Sport X10 aims to impress. They boast a dynamic acoustic system that promises a bass boost without sacrificing the clarity of mids and trebles. They've even thrown in BassUp technology, which delivers that extra punch of bass in real-time – perfect for powering through those grueling workouts.
Now, let's talk durability. With an IPX7 waterproof rating, these earbuds can handle sweat and light rain, making them suitable for outdoor activities like cycling. But remember, they're not built for a deep-sea expedition, and the effectiveness of their waterproofing may decrease over time.
Battery life is a strong suit here, offering a generous 8 hours of playback on a single charge, with an extra 32 hours tucked away in the charging case. You won't run out of juice during those long rides.
But here's a nifty feature – transparency mode. It allows you to stay aware of your surroundings without removing the earbuds, which is essential for safe cycling. And if you're in a hurry, a quick 10-minute charge gets you 2 hours of listening.
Bottom line? The Anker Soundcore Sport X10 earbuds are a solid choice if you're all about that bass during your bike rides. Just watch out for the fit, especially if you've got larger ears, and keep an eye on their long-term durability in sweaty conditions. They're a mixed bag, but with the right fit, they could be your workout companion.
Specs:
Listening Time: 12h.
Charging Time: Full Charge – 90 min / 5-minute charge gives 1 hour of playback.
Controls: Volume/Play/Pause on the cable.
IPX Rating: IPX7.
Pros:
Impressive battery life.
Adjustable cable clip.
Great sound.
Friendly customer service.
Cons:
Can't connect two devices at the same time.
Bad mic for calls.
What's in the box: Sound Core Spirit X, x-Small REMPTY/S/M/L/x-Large ear tips, S/M/L ear wings, 2 x cable clips, shirt clip, Micro USB cable, Travel Pouch, Carabiner, 18-month Warranty.
Stay in touch while we get lost! Follow us on Social Media