All about Anse Major beach, one of the best beaches in Mahe, Seychelles. A detailed description of the hiking trail, boat trip, what to pack, snorkeling
Anse Majore is a sort of paradise alcove beach situated on the north-western coast of Mahe island, the main island of the Seychelles archipelago.
There's no road leading to this little piece of heaven so you'll have two options: hiking to Anse Major or taking a boat trip from Beau Vallon or Bel Ombre.
This small white sand beach is sheltered inside a tiny bay, surrounded by lush tropical forest and massive granite peaks. It has a tranquil atmosphere and some interesting wildlife, both in the sea and on land.
Among the many things to do in Mahe, the hike to Anse Major is totally amongst the worthiest ones, with some stunning views along the coastal path, while taking a boat trip from Anse Major back to Beau Vallon could be a relaxing alternative to hiking the trail back.
Beau Vallon is the best place to stay in Mahe, check all the accommodation options here
Hiking the Anse Major Trail
The trail officially begins at the Bel Ombre bus terminal, where you'll find the sign telling you the distance, difficulty level, and a bit of other info about the Anse Major trail. It's a relatively easy hiking trail, you can even walk it with a sling bag if you don't have a backpack.
The first 500 meters are on a very steep paved road, with jungle on your left and houses on your right. This section is certainly not exciting, although there is some shade if you don't walk it at midday.
There is also a very welcomed public shower along this road, great stuff, especially on your way back. At the top of this hill, before the descent starts, there's an unofficial viewpoint that requires a bit of easy rock-hopping to be reached.
If you have a car you can try your luck finding a parking spot further up the road, be careful because you might miss the turn into the real trail.
Indeed this is the trickiest part of the trail to Anse Major, there's no proper sign pointing to the small stairs on your left, check the picture below to be sure not to miss it.
Once there, you'll be immediately greeted by epic views of the granite peaks above, huge bats, and colorful birds flying around you. The narrow path surrounded by diverse vegetation leads to a water pump, from where you'll start walking along the rocky escarpment with the sea on your right. You'll have a stunning view of Silhouette Island for the whole trail.
Silhouette Island is one of the most exclusive places to stay in Seychelles for your African Honeymoon, have a look at these luxurious hotels!
After a fork (no matter if you go left or right, the paths join a few dozen meters ahead) the real beauty unveils. The path is rocky and narrow but very easy and flat, it can be done by everyone, even kids (maybe above 5 years old is better). You'll pass between granite monoliths, clear water streams, and even though a small cave.
It is easy to spot many endemic birds (can't be found anywhere else in the world), such as the Seychelles Kestrel, Seychelles Bulbul, and the very common and colorful Seychelles Sunbird.
The whole trail is so nice that you won't even realize how much time has passed when you'll reach the official viewpoint, a gazebo with two benches overlooking the gorgeous beach of Anse Major, a very romantic spot where you'll want to spend a few minutes in contemplation
Besides a few steps, that could be muddy in wet weather, the Anse Major hiking trail is very easy. The only parts which could be difficult for someone are at the very end. There is a boulder after the official viewpoint that could be slippery, then you'll have a tricky passage just to get to the white sand of the beach, here the water comes in from the sea into a little pond at high tide – you might need to get wet here.
How to get to Anse Major hiking trailhead
If you decided on hiking Anse Major you won't regret it. The trailhead is located next to the last bus stop of the Bel Ombre line. You can get on the Bel Ombre bus from the Victoria bus terminal or any other stop of the line.
This bus rides the mountain road connecting Beau Vallon to Victoria. It is also possible to catch it near the Beau Vallon police station if you're in the area. Here you can find the bus schedule for Mahe.
Walking from Beau Vallon to the Anse Major hiking trail is about two km, you can do it if you feel sporty, this road is pleasant but not exciting.
Alternatively, you can grab a taxi to bring you there, if you're sick and tired of the shaky Seychelloise buses.
If you have your own car, rental or whatever, be very careful because there's no parking there. Only a few spots, reserved for the nearby restaurant.
Getting to Anse Major on a boat trip
Although an easy trail, accessible to almost anyone, If hiking is not your thing you can easily catch a boat to Anse Major.
The Anse Majore boat trip starts from Beau Vallon or Bel Ombre and costs 200 rupees per person each way (about 13€). There's one operator which has a shack base on Anse Major beach, they are called "Happiness", they can be reached at +248 254 04 54. 
Of course, there are many tour companies that can bring you there and further, just stroll the Beau Vallon beachfront and you'll see.
It's a nice 20-minute boat ride that follows the rugged coastline, offering some scenic views of cliffs and granite mountains.
Many operators combine Anse Major with Cap Ternay on half-day boat trips which include snorkeling.
Taking the boat can be convenient to avoid backtracking the trail. That would actually be my advice, hike one way and get back by boat. Approaching the golden hours before sunset, the colors became very vibrant, do not miss that.
The Beach of Anse Major
Anse Major is a tiny beach, maybe 150 meters in length. It is also a bit narrow so that at high tide it can almost disappear, or at least not leave any space for you to lay dry.
Fear not though, there's always space in the back among the trees, two big gazebos sit there free for everyone to use. Shade is never a problem, with many trees providing shelter from the sun (or the rain).
The sand of Anse Major is a mix of grinded corals, quartz grains, and thin white sand. Very peculiar and beautiful, one of the best beaches in Seychelles.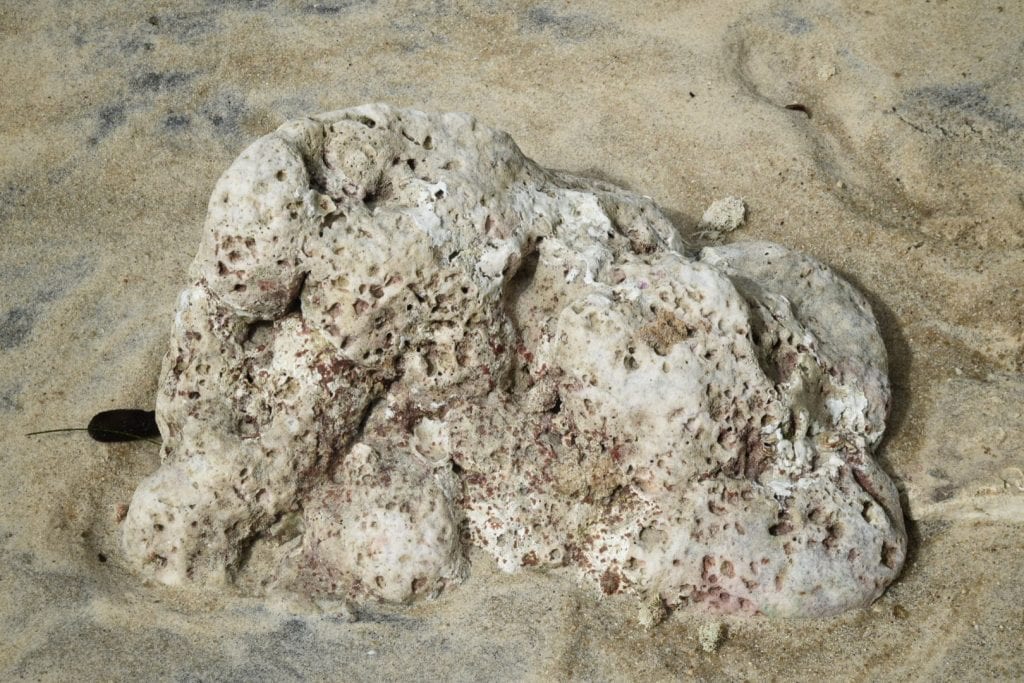 Snorkeling at Anse Major
Anse Major is mentioned by several websites as a good snorkeling spot but unfortunately my expectations were frustrated.
I did my best to explore the bay and got to the recommended area (the western cape of the bay). Here the sea was quite deep and the visibility scarce, needless to say, I saw nothing.
The inner part of the bay gives you an idea of how this waters should have looked years ago, unfortunately all the coral is dead here… Not just bleached but definitely dead, like so many places in Seychelles, sadly.
Looking for good snorkeling?
check our full itinerary of Flores Island, Indonesia or the specific article about Maumere and Koka Beach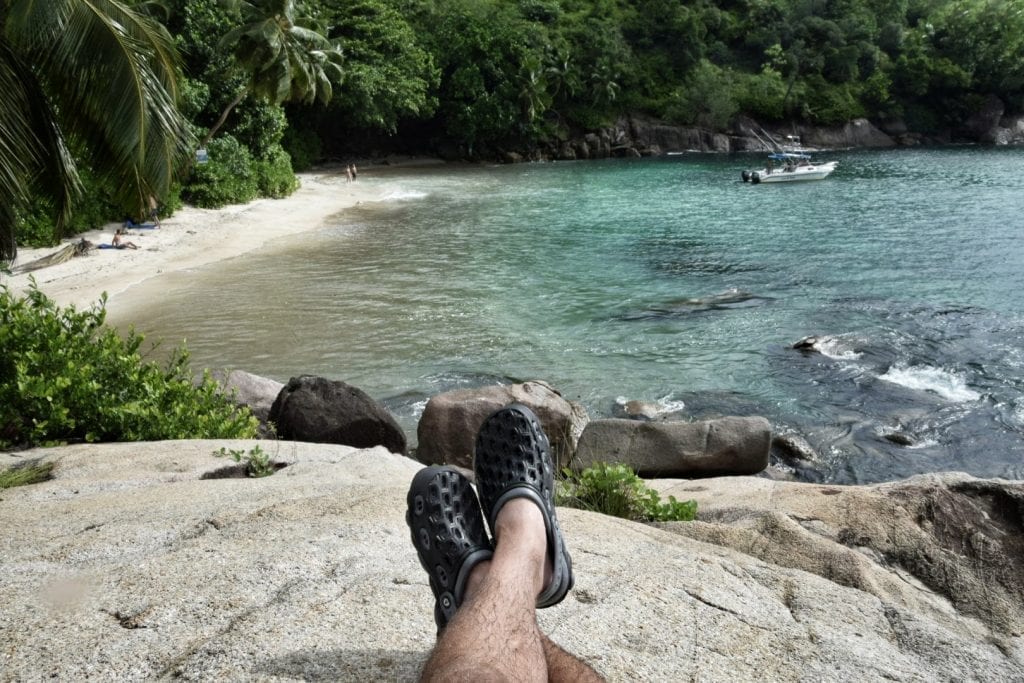 What to Pack when Hiking to Anse Major
Sunscreen
Hat or Visor
Hiking Shoes
Water (at least 1L per person)
Swim Suit
Snorkel and Mask
Towel
Spare T-shirt
---
Conclusion
Anse Major is a beautiful tropical beach worth visiting, be sure to hike at least one way because that's the highlight of it. Don't expect good snorkeling though.
Stay in touch while we get lost! Follow us on Social Media