The best bike tours in Singapore. Cycling around the Lion City, Pulau Ubin, and more
10 amazing Singapore bike tours and vacation rides for beginners and pros
Visiting the Lion City and thinking of a bike ride? In this article, we'll showcase the best Singapore bike tours for cycling enthusiasts. Add some cycling to your vacation in Singapore, you won't regret it!
Bicycle tours in Singapore Packages are considered to be the best way to explore the varied landscapes as well as get loads of insights about the diverse and rich cultural heritage.
Bicycling down the beautifully landscaped roads might seem to be a tough task when you hear it but it is something that would just put forward a whole new perception about traveling.
Singapore is home to some of the fascinating routes that riders can take during their expedition. You will pass through a number of cities and collect memories of culture, native lifestyle, rich culinary experience, and whatnot.
You just need a bicycle, a bottle of water, and loads of adrenaline rush to push through the magical alleyways.
Pass through the iconic landmarks of the city like the Marina Bay when the moon and stars play their magic and the city is free from all its hustle.
Travel through the post office and city hall learning more about their past significance from the well-experienced tourist guides accompanying you.
When you are exhausted, stop for a bit and take out your lenses to capture the iconic Gardens by the Bay, Merlion Statue, Singapore Flier, and the popular Grand Prix F1 Pit to name just a few photo-worthy locations.
Disclosure: Some of our articles contain affiliate links. This comes at no additional cost for you and helps us keep this website up and running. (as Amazon Associates we earn commission from qualifying purchases)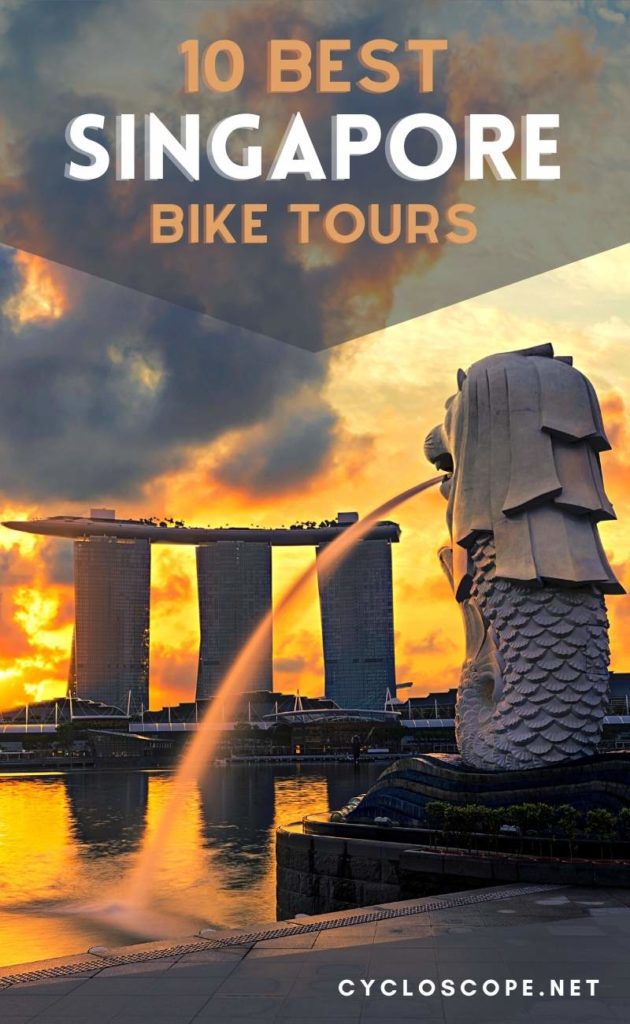 10 Best Bike Tours in Singapore – Compared!
Let's dive into our selection of the best cycling tours in Singapore. We selected a few half-day and full-day bike trips, involving food, nature, historical sights, and the most modern features of Singapore – a bit for every taste.
1. Lion City Bike Tour
The Lion City Bike Tour allows you to discover Lion City's picturesque back alleys and cultural landmarks with our Lion City Bike Tour.
While riding through the wonderful city you are able to interact with the urban environment considerably more on a bike.
This bicycle tour will take you to places that aren't typical tourist attractions. Moreover, a great deal of unknown tales define our city.
You'll be led around the most attractive and interesting features of the city, understanding its own rich history. As well as how something became one of the most multicultural and amicable nations in the world. Don't forget your bike camera, though, that there will be plenty of fantastic photo chances.
2. Historical Singapore Bike Tour
A bike tour is the best method to understand how a city works as a whole. On this intriguing half-day tour, you will bike 12 miles of flat terrain to get a feel for Singapore and learn about the city's fascinating history.
Visit landmarks like the post office and City Hall from the colonial era as you stroll along the Singapore River and bike Marina Bay.
Enjoy regional treats and beverages at a typical coffee shop along the road.
3. Marina Bay Night Cycling Tour
Nighttime is when Marina Bay really shines. Experience the Bay and much much more on our guided nighttime bike trip.
Bike past the Riverfront, the Marina Bay Sands, the Singapore Ferris wheels, the tall, neon-lit "Super Trees" at Gardens on the Bay, and much more.
A bike helmet, raincoat, and refreshments are included with every bike.
4. Singapore Bike & Bites Food Tour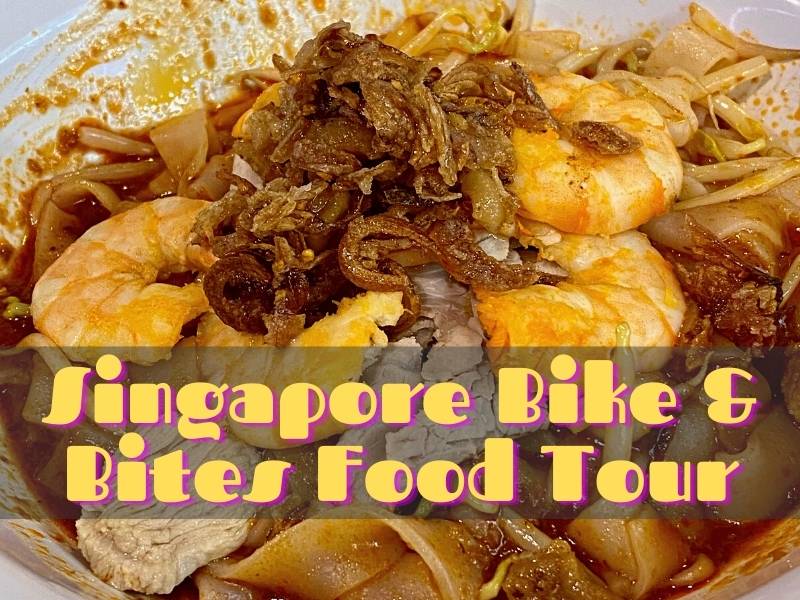 A guided tour that offers a thorough introduction and is perfect for first-time tourists, combining Singapore's rich culture with its gastronomy.
While focusing on Singapore's culinary scene, a guide will ensure you try the best and most peculiar specialties and visit food stalls you may otherwise have missed, exploring by bicycle saves the trouble of parking and allows you to see much more sites than you would on foot.
5. Scenic Singapore Bike Tour
Take a guided bike tour to see the major attractions in the Marina Bay area of Singapore. On authorized walking and cycling paths, bicycle along the Singapore River and the Marina Bay Promenade.
With planned photo stops, take in sites like the Singapore Flyer, Gardens by the Bay, Grand Prix F1 Pit, and the renowned Merlion Statue, while also learning more about Singapore's history and culture from your guide.
6. Pulau Ubin Bike Tour
Tired of the urban jungle? Try this half-day guided bike tour, and discover Pulau Ubin, a natural island northeast of mainland Singapore.
Meet your guide in the early hours in Singapore to board the boat over to Pulau Ubin. Here a network of gorgeous and well-maintained cycling trails.
Explore the area by cycling by small towns, fruit orchards, mangroves, wetlands, and more while taking a few quick treks to views and attractions. Criss-cross the hills, and ride past abandoned granite quarries and traditional villages.
From your guide, learn more about the island's natural history and gain a fresh admiration for one of Singapore's most diverse ecosystems.
7. Singapore Food and Bike Tour
The Singapore Food and Bike Tour takes you off the usual tourist road and lets you travel to the finest local food area "Katong / Joo Chiat".
This is going to be a leisurely ride between mouth-watering meal stops and photo hops with colorful two-stories shophouses and terraced houses with beautiful façades, detailed designs, and ceramic tiles.
8. Full-Day Bike & Food Tour of Singapore
This all-day bike-and-cuisine trip is perfect if you don't have much time but still want to see everything.
Experience the sights while riding a bike, snap photographs of the major sights, and discover Singapore's fascinating past.
After lunch, spend an afternoon discovering this exciting location by walking around the streets with your guide.
Most well-known sights and recognizable landmarks may be seen in about four hours if you devote the morning to cycling around the city.
Roll alongside the Singapore River, Visit Tiong Bahru, and hear stories about local life from your professional guide.
After finishing the bike half of the tour, you'll get an hour to unwind in the Singaporean sun before continuing on foot.
9. Nostalgic Bike and Bite
While enjoying the best Singapore cuisine available, the Bike and Bite culinary tour takes you to the city's hidden secrets and landmarks.
Even for those who wish to take a vacation from the urban jungle and obtain a peek of what Singapore was like when it developed into the contemporary city it is today.
On the Nostalgic Bike and Bite tour, you will visit Katong & Joo Chiat, the island's most iconic area, and get loads of insights into the rich Peranakan historical tradition that can still be found in this East Coast enclave's timeless treasures.
The area's distinctive pre-war architecture, which includes colorful two-story small shops and terraced houses with decorative facades, detailed designs, and ceramic tiles, significantly shapes the area's identity.
Additionally, it's one of the top gourmet locations in the nation, beloved by many Singaporeans. Throughout the trip, you will be riding between food stands and sampling small portions of various ethnic foods.
10. Trails Of Tan Ah Huat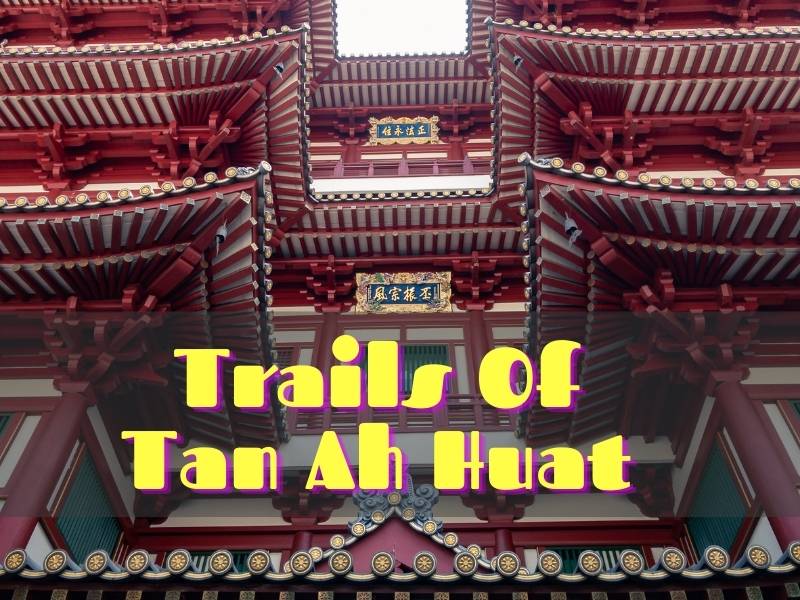 In the 1920s, immigrants seeking to earn their fortunes arrived in Singapore, including the mythical Tan Ah Huat. On this acclaimed trip, ride the roads as your dedicated guide tells his story.
Taking this tour, you will be passing by the Singapore River where you can learn more about the tea estates and traditional funeral practices, Raffles Hotel Arcade, Chinatown gangsters, and more. On the way, pause at a standard coffee shop for a beverage and a snack.
It is a matter of fact that Singapore is not only a bustling metropolis but a wholesome country with iconic landmarks and varied experiences that certainly need a visit. So, it's time to gear up and take a ride down the enthralling landscaped roads with your pals on a journey towards exploring all that's not explored and traveling on the paths that have not been discovered.
Stay in touch while we get lost! Follow us on Social Media