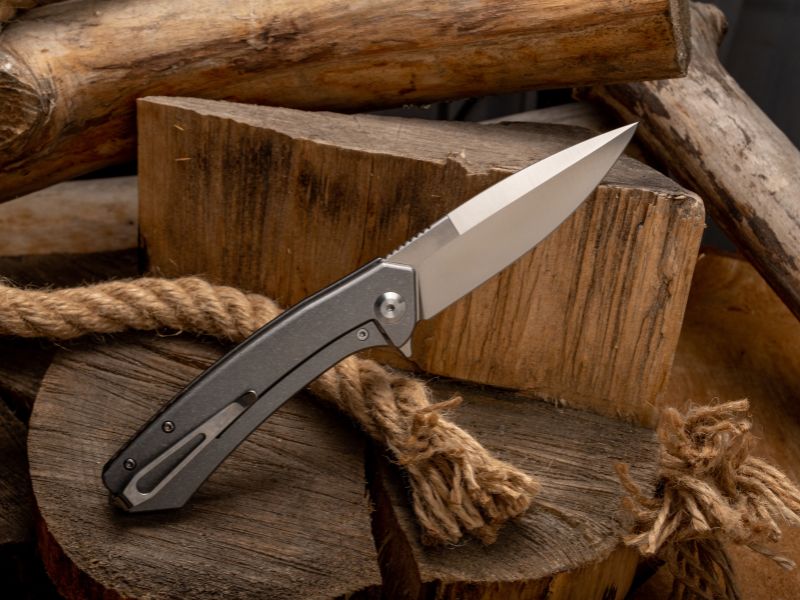 The Best Knives For Bikepacking – Lightweight, Compact + Multiple Uses. One of the most important pieces of gear to have with you during your adventures.
Bikepacking, the art of packing gear on your bicycle and setting out on an adventure, has grown in popularity in recent years. Whether you're a seasoned cyclist or new to the world of bikepacking, having the right gear is essential to ensure a comfortable and safe trip. One of the most important pieces of gear to consider is a good knife.
From preparing meals to repairing gear, a reliable knife is a versatile tool that can make a big difference on a bikepacking trip. In this article, we'll explore some of the best knives for bikepacking, highlighting key features and benefits to help you choose the right one for your next adventure.
If you want to bring a knife, it should be small and sharp, yet the blade must be long enough to cut through twigs and vines. You can choose from a few types of knives according to their features. Let's take a look.
EDC Knives
Disclosure: Some of our articles contain affiliate links. This comes at no additional cost for you and helps us keep this website up and running. (as Amazon Associates we earn commission from qualifying purchases)
If you've been looking at outdoor gear, you might have come across EDC knives. EDC stands for "every-day-carry," and these tools are designed to be consistently carried because they're both functional and convenient.
EDC knives are versatile tools you can use anywhere, as they are lightweight, compact, and have multiple uses. Their small size makes them easy to conceal and access for various purposes.
You can carry EDC knives in your backpack, pocket, or bikepacking bag. Their small size makes them space-savers and enables them to fit among your other survival gear. When packing knives, it's essential to consider the knife laws in your area, as the allowed size will vary according to state and country laws.
For example, in Colorado, you can own a pocketknife or any other knife with blades no longer than three and a half inches. In Connecticut, you cannot carry an automatic knife with an edge longer than one and a half inches.
Typically, you can carry blades shorter than two and a half inches, although EDC blades can be as long as three inches, with handles reaching four to seven inches.
Tactical Smart Wallet
There are various smartly designed knives, and they come in the most prominent forms. The tactical smart wallet is a uniquely designed money organizer with a few extra features, like a blade you can remove from the money clip.
In some cases, tactical smart wallets are not made for money but to carry your EDC tools. They come in leather sheath pocket organizers to hold your pocketknife and tactical pen or stash some cash in one of the compartments.
Other tactical smart wallets can hold credit cards and feature a toolkit-like appearance that fits in the palm of your hand. It has a survival kit that contains a tiny pocketknife, mini compass, paracord, screwdriver, whistle, and flash drive. You can also fit the equipment inside your pocket and bring it along with your bikepacking if needed.
A flash drive can store digital copies of your passport and medical records in addition to extra photos of your trip.
Multitools
Multitools are also good options for your bikepacking trip because they are designed to hold various tools in one device. Like the EDC knife, they are compact and durable but tend to be heavier due to their multiple tools. However, a multitool includes a blade, tweezers, toothpicks, folding scissors, screwdrivers, and more.
A multitool opens up a world of possibilities in problem-solving during bikepacking. If you need something cut, use scissors or a knife. If you need something to adjust your bike, use the screwdriver. Multitools can present various answers for your needs as you travel by bicycle for an ultra-distance cycling event. The Swiss Army knife, for example, has multiple tools that can help you in different situations and is popular worldwide.
The multitool is also a favorite when camping out because of its versatile functionality. Some equipped with bottle openers can open a beer bottle as you settle into the wilderness. You can also start a fire with it by producing tinder from dry twigs.
It may also have a carabiner that will allow you to attach it to your backpack. You can use wire cutters and needle-nose pliers at home to fix things around the house. If the multitool is this useful, consider it for your bikepacking trip.
Pocketknives
Pocket knives have been around for over 2000 years and have only improved. You can have one with a single blade or multiple blades; they are foldable, so you can carry them in your pocket. These knives are also multipurpose and a must-have in your gear bag. From camping to home improvement to self-defense, a pocketknife is a reliable tool for your bikepacking.
Pocket knives also have different edges. Some have a plain but sharp edge, while others are serrated. Those who want pocket knives will need to consider what kind of blade edges they want. These blade edges have advantages, such as plain edges that are better for cleaner push cuts that give the user more control. You can also learn how to sharpen a pocketknife instead of returning it to the manufacturer.
Partially serrated pocket knives have a combination blade of plain and serrated edges. They can benefit you from clean cuts and rigorous cutting for tougher materials. Fully serrated pocket knives have serrated edges, making them more suitable for cutting stronger materials. They are more robust than the plain blade because the serrated edges use the pressure you apply to cut through thicker materials.
These are just a few types of knives that you can bring along on your cycling trip. These knives can help during emergencies when you're on the road. It is best to be prepared and bring one along.
Conclusion
The best knives for bikepacking are EDC knives, tactical smart wallets, multitools, and pocket knives. EDC knives are small and compact and are easy to conceal. Owning one means you must be responsible and follow the rules of your state and country regarding the knives you want to carry.
Tactical smart wallets help keep your money safe, and you can also carry small knives and survival tools. Multitools are not just knives but also have various tools. You can use them at home or take them outdoors because of the many tools they have.
Finally, pocket knives are foldable knives with plain, partially, or fully serrated edges that can help cut tough materials. Carrying any of these knives can be helpful when bikepacking and camping out to help you work and keep you safe.
Stay in touch while we get lost! Follow us on Social Media