Cycling Oman & UAE
1100 km bike touring route from Dubai, UAE to Muscat, Oman. Bikepacking alongside the Gulf of Oman to Ras Al Jinz, Turtle Beach, and the Omani coast town Sur
Bicycle touring with Chris Fritze
This bikepacking route takes you from Dubai, UAE to Muscat, Oman and then alongside the Gulf of Oman to Ras Al Jinz the Turtle Beach and finishes in the Omani coast town Sur.
Along the way you can find the impressive forts in Bahla and in the oasis town Nizwa as well as the Bimmah Sinkhole which are totally worth to visit.
A cycle touring route that gives you the opportunity to experience the beauty and solitude of the Emirates and Oman's desert in which you most likely will have to deal with heavy headwinds.
Since the southeastern part of Oman is very mountainy, some people also call it "Switzerland of the Arabic peninsula".
Steep mountain roads with slopes of 16% and above while the sun is burning down on you will challenge you on this leg of this route.
However, you'll also have the chance experience the kindness and hospitality of the local people – especially in Oman. Be prepared to get invited for coffee and dates at any time.
Essentials
Passport, credit card, camera, sunscreen
challenges
Heavy headwinds in the desert, burning sun and high temperatures, steep mountain roads
You can find supermarkets or at least small shops in every town. The prices in the UAE are higher than in most parts of the world. It's a bit cheaper in Oman.
You can find "water refill stations" at most petrol stations or mosques. Sometimes even in the neighborhoods. So you don't have to worry to run out of water.
For sure try the different kind of dates. They're delicious and a great energy source. Also have some Omani coffee but don't drink too much of it. It's strong and can cause you sleepless nights.
Disclosure: Some of our articles contain affiliate links. This comes at no additional cost for you and helps us keep this website up and running. (as Amazon Associates we earn commission from qualifying purchases)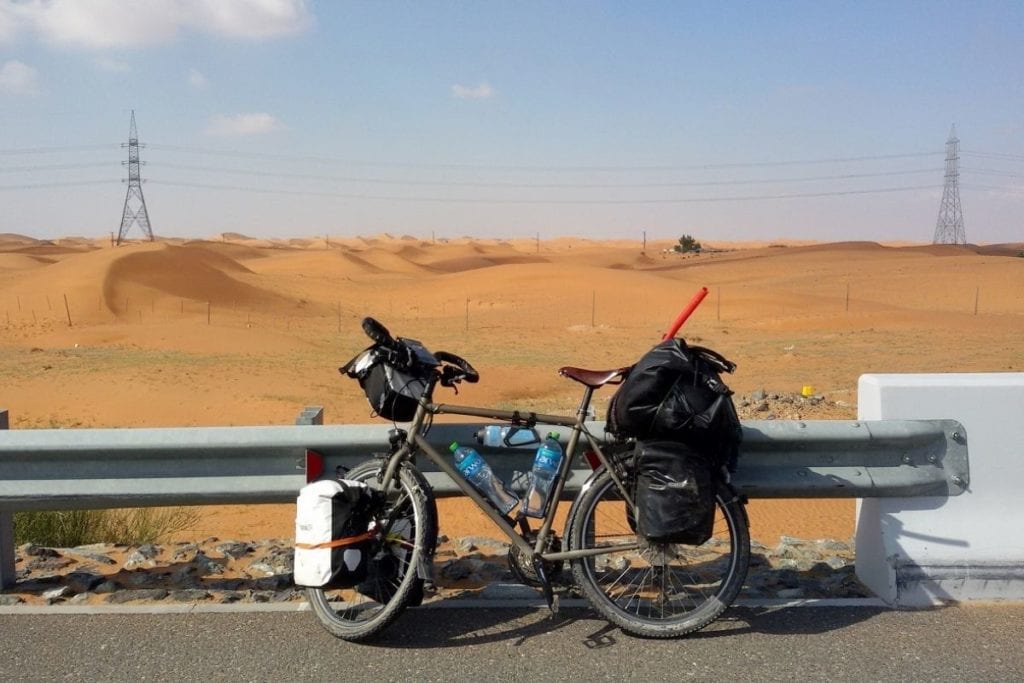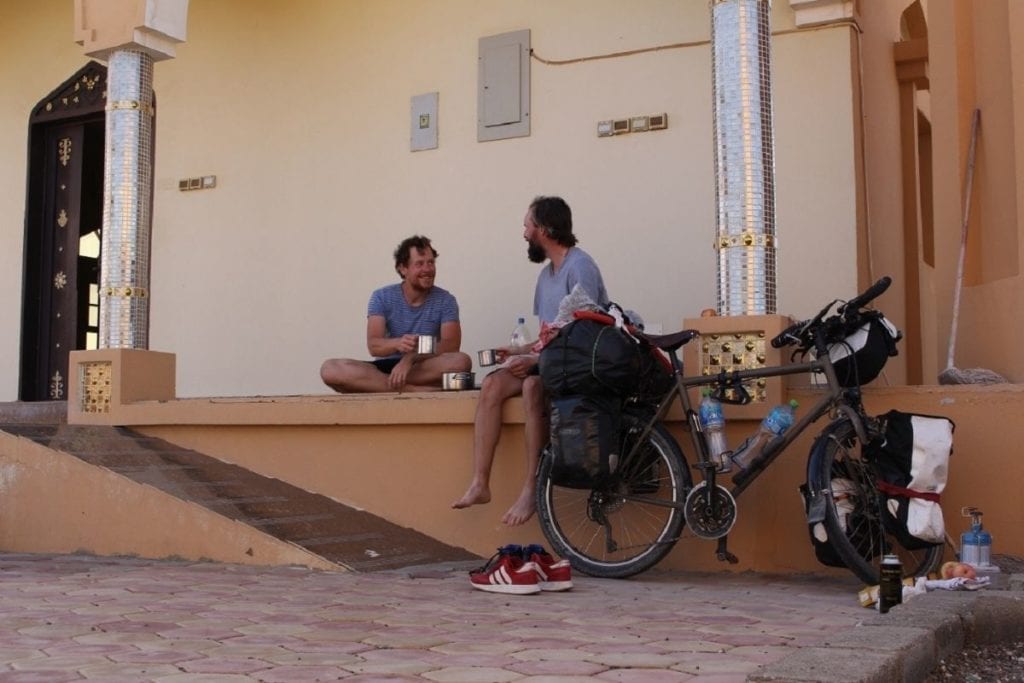 If you decide to visit and camp at Ras al Jinz (Turtle Beach) make sure not to pitch your tent on the beach or too close to it. It's a nature reserve.
A reserve guard will for sure come at some point and kindly ask you to move somewhere else.
There's a sign on the beach telling you that you're not allowed to camp there but there's no hint where you're allowed to do so. You'll be fine if you stay about one kilometer away from it.
THINGS TO SEE ALONG THE ROUTE
Burj Khalifa in Dubai, UAE
The desert cycle path outside of Dubai, UAE – probably one of the best cycle paths in the world (incl. free locker rooms and showers)
Bahla Fort, Oman
Nizwa Fort, Oman
Sultan Qaboos Grand Mosque in Muscat, Oman
Bimmah Sinkhole, Oman
Ras al Jinz (Turtle Beach), Oman – if you get up very early and you're lucky, then you might see the turtles
Many camel herds aside of the road
Check also

> Bikepacking Oman and UAE
> Bikepacking the BC Trail in Canada
> Cycling the Pyrenees coast to coast
> Cycling Inland Kochi – Shikoku, Japan
> Bikepacking Guinea Conakry and Guinea Bissau
> Cycling around the Isle of Skye
Stay in touch while we get lost! Follow us on Social Media