Visit the best tourist attractions with this two weeks itinerary of Georgia
Things to do and places to visit in this gorgeous European Country
Compiled by 10 top travel bloggers
Georgia (which the Georgian call Sakartvelo) is an incredible country, there are more things to do, places to see, natural attractions, cultural wonders, and landscapes diversity in such a tiny country than in any other place in the world of a comparable area.
In this travel guide of Georgia, we'll try to sum the best things to do and places to visit for a hypothetic two-weeks Georgia itinerary. We compiled this article with the help of 8 top travel bloggers from all around the globe to give the readers a first-hand view of all the best places to visit in Georgia.
4 things to know about Georgia
1 – Traveling Sakartvelo will make the visitor feel like being teleported to different areas of the planet, in just 20km the landscape and climate can go from desertic to alpine, to subtropical, to a bare plateau, to the Mediterranean.
2 – Georgia is a former Soviet Republic which has been at loggerheads with Russia since its independence, some of its territories (Abkazhia and South Ossetia) are disputed, with their declaration of independence being supported by the Russian Government. Although basically all Georgian speak Russian, many of them would refuse to do so.
3 – The vast majority of Georgian people are Christian Orthodox, many Georgians are very religious and would make the sign of the cross three times when they pass in front of a church.
4 – Many Georgian like gold teeth, you'll see people with a full gold mouth… mostly, but not only, among the oldest generations.
Getting around in Georgia
Georgia has a decent railway network that will bring you to the major cities. The most common means of transportation though are still the marshrutkas, privately-owned minibusses that cover literally all the Georgian territory. Marshrutkas are very cheap but beware that the drivers are often quite crazy.
Hitchhiking is pretty common, like in all former Soviet Republics, just wave a car or a minibus and they'll pick you up, bare in mind though that usually a small fee is expected by the driver, agree on that in advance to avoid surprises.
---
Basic information to travel Georgia
Visa Policy of Georgia: Georgia is visa-free for one year for citizens of 63 countries plus all EU countries.
Land Area: 69,700 km2 (26,900 sq mi) (119th)
Population: 3,718,200
Highest Point: Mt. Shkhara – 5,201 m (17,060 ft)
Languages: Georgian (the Georgian language is written with its own unique alphabet). Russian is spoken almost by every Georgian, even though many people don't like to speak it)
Currency: Georgian Lari (GEL). 1 GEL = 0.40USD – 0.34€
Time Zone: UTC+4
Country Code: +995
---
A suggested flexible two-weeks travel itinerary of Georgia
Disclosure: Some of our articles contain affiliate links. This comes at no additional cost for you and helps us keep this website up and running. (as Amazon Associates we earn commission from qualifying purchases)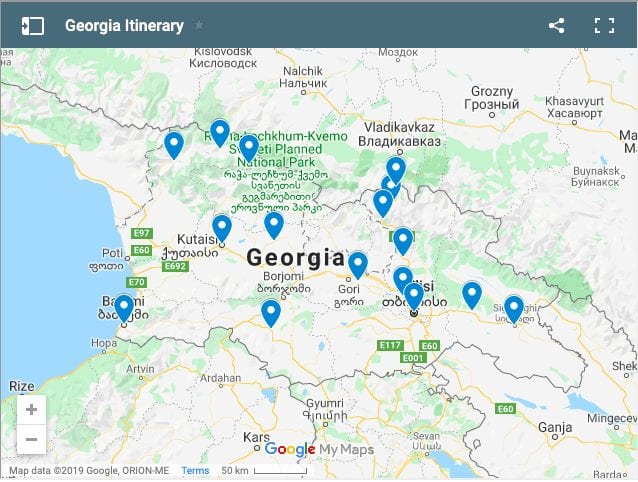 Although it's more likely that you'll enter and exit Georgia from Tbilisi, in this suggested Georgia itinerary e advice to start from Batumi, so to draw a more coherent line between the main tourist attractions of Georgia and reduce the travel time to the minimum. Of course, this is just an outline, hope it helps you design the ideal itinerary for your tastes and available time.
1 night in Batumi
1 night in Mestia with a stop in Khaishi
1 night in Ushghli
1/s nights in Kutaisi and visit to Chiatura
2 nights in Borjomi and visit to Vardzia
1 in Mtskheta
1 night in Gori with a visit to Uplistshike
2/3 nights in Kazbegi, driving the military road and stopping by the Ananuri Fortress on the first day
hiking Kazbegi the 2nd day
1 night in Gudauri, doing the wine tour during the daytime
1 night in Signaghi
2 nights in Tbilisi
---
Best things to do and places to visit in Georgia
Batumi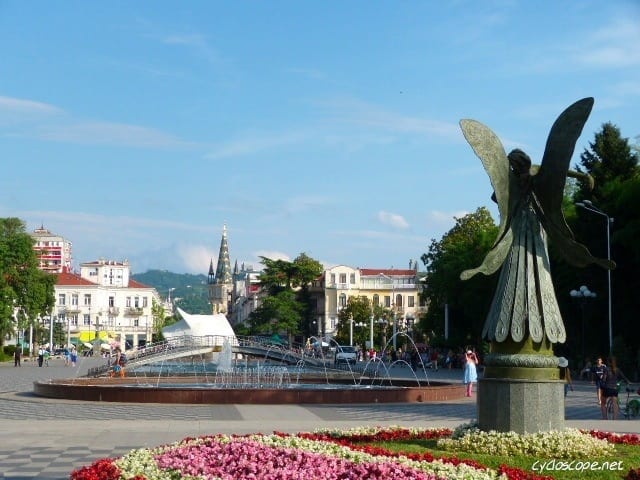 The first adjective that comes to mind when trying to describe Batumi is "weird". This Black Sea coastal city is the second largest in Georgia and by far the most unique, a mix between futuristic and decadent.
There's a Ferris wheel inside a skyscraper, odd sculptures everywhere, building with strange roofs and windows. The boardwalk is long and the cobble beach is crowded with people during the sunny and hot summer days.
Another nice tourist attraction is the vast and beautiful Batumi Botanical Garden, consisting of nine floristic sectors over 108 hectares, divided per region: Caucasian humid subtropics, East Asia, New Zealand, South America, the Himalayas, Mexico, Australia, and of the Mediterranean. The garden collection comprises 2037 taxonomic units of woody plants, including 104 of Caucasian origin.
Overall, Batumi is a really interesting place, absolutely worth including in a Georgia Itinerary. If you want to know more you can read the report of our trip to Batumi.
Check the best places to stay in Batumi
Tbilisi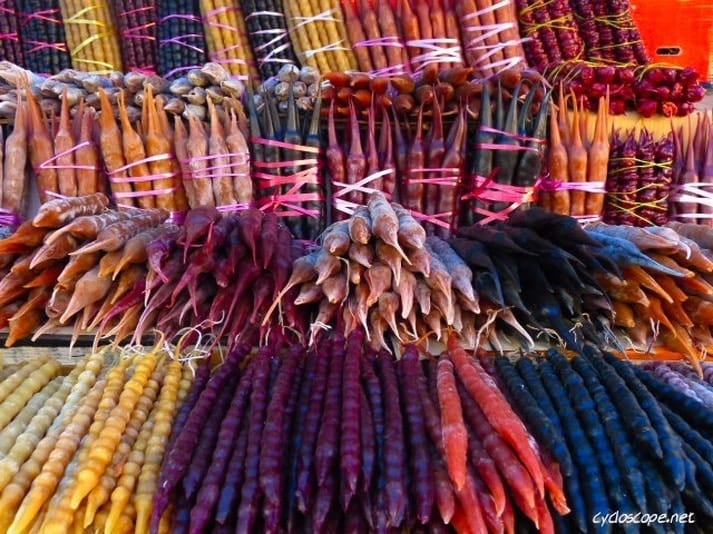 Tbilisi, the capital city of Georgia since the 6th century, is a city dominated by cars. Crosswalks and traffic lights do not exist. The only way to cross the road is underground passages. Always full of people, little shops, beggars, musicians, and street vendors, they are a very lively characteristic of Tbilisi.
Crossed by the river Kura which reminds us of the Tiber, with its tall stone banks of an ancient look, the city has a very Southern-European atmosphere and a lively nightlife.
Unless you are traveling to Georgia overland from a neighboring country, it is most likely that your travel itinerary will start (and maybe also end) here, and despite the chaos generated by the busy traffic, Tbilisi remains one of our favorite cities in the world.
In our opinion, the best thing to do in every city is walking around randomly, get a bit lost, while always being careful of where you step. Where to stay in Tbilisi is totally up to you. We stayed in a very nice family home in a beautiful neighborhood called Sololaki, which is very similar to some cities in southern Italy.
Besides its most obvious tourist attractions, Tbilisi's beauty lies in its hundred little unknown churches, its small markets, tiny little restaurants where to get the best meals of your life.
We planned our visit to Tbilisi in July, to be able to see the Artgene Festival, a very interesting week-long event of traditional Georgian music.
Another place we absolutely advice seeing is the tiny bistro Vino Underground, run by a consortium of organic-wine makers who produce some of the best wines in the world with the traditional Georgian technique.
Check the best places to stay in Tbilisi
Mestia and Ushguli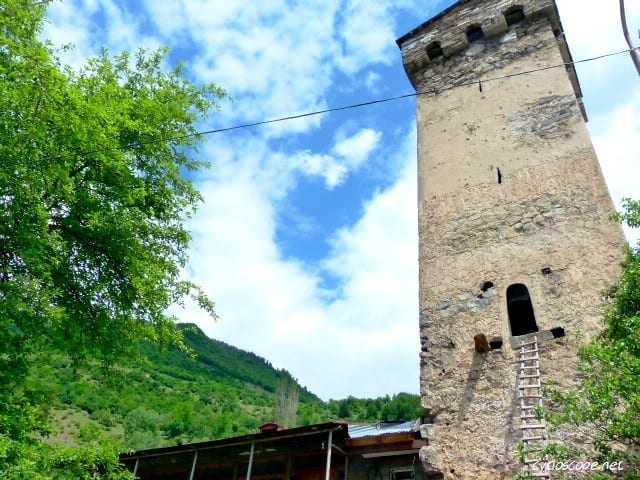 Mestia and Ushguli are tow incredibly characteristic towns located in the Upper Svaneti region in the western part of the Greater Caucasus. The Svaneti region is so unique that it has been listed as World Heritage by UNESCO.
Inhabited by Svan people, this mountainous region features a peculiar culture and architecture. The villages are dotted by the lushnukor towers, the traditional houses of the Svan people. On the ground floor, livestock is stored, while the family lives on the upper floor, reachable only by a wooden ladder. The ladder can be withdrawn inside the house in case of undesired visitors, making thus the dwelling very difficult to attack.
The scenery is breathtaking… All around the steep ridges of verdant forests, striped by clear streams that descend vertical, almost like waterfalls, the highest peaks are covered with snow, the cows are everywhere.
How sublime must this view had been, only a few decades ago! But tourism has not affected but superficially the charm of this ancestral settlement, the towers are dozens, dominating the village while highlighting its ancient fame of invincible.
A visit to the museum of Svani culture in Mestia, a branch of the national ethnographic museum helps giving a prospective of this though and proud people's history. There is a collection of icons of superb workmanship from the ninth to the nineteenth century. St. George skewering Diocleziano (in dragon form or in the form of Diocletian) is the absolute protagonist. And the weapons: rifles of a meter and a half, knives, and swords that are pieces of art. Musical instruments, clothing, jewelry and much more.
Once out if the Museum, Mestia appears in a different light, almost as if a time machine not yet set up shows the Mestia of older times, superimposed on that of today, both as blurry as in a mirage.
Mestia is accessible by minibus from the city of Zugdidi, while getting to Ushguli requires hiring a driver and can be expensive for the budget traveler. But the etting of Ushguli is even more impressive and totally worth to be included in any itinerary of Georgia.
Khaishi and Enguri Dam
This is a truly off-the-beaten-path destination in Georgia but really worth a stop if you can make it. The Enguri Dam is the largest concrete-arch-dam in the world outside of China end encloses the spectacular and huge Enguri reservoir. The landscape is idyllic but not everything that looks good is actually so.
To built this dam, hectares and hectares of forest were flooded and thousands of people resettled, but a new project is undergoing that will flood even more of this beautiful area, including the Svan village of Khaishi.
Khaish is a small and picturesque village on the road to Mestia, there is a school, a typical Svan cemetery, a small and old churc, some wooden houses.
Visiting this place will give you a real glimpse of untouched Svaneti and you'll help the local people by spending some of your money in a village that was made even poorer than it already was by the dam threat.
The impressive thing is that the project of the new dam involves the flooding of the whole village, including the church and the cemetery. So people should not only abandon their homes but also their dead relatives.
Khaish and the Enguri area are best visited using your own means of transportation. Read more about Khaishi and its sad story.
---
Mtskheta
Mtskheta is the former capital of Georgia and one of the three Georgian site listed by UNESCO as world heritage. Located at the confluence of the Aragvi and Mtkvari Rivers, about 20km west of Tbilisi in Central Georgia, Mtskheta is easily reachable by marshrutka (minibus) from Gori and Tbilisi (Tbilisi's Didube market) itself. The main attractions in town are the Jvari Monastery, the Svetitstkhoveli Cathedral, and the Samtavro Monastery.
Mtskheta was the ancient capital of Kartli, the East Georgian Kingdom from the 3rd century BC to the 5th century AD, and was also the location where Christianity was proclaimed as the official religion of Georgia in 337. To date, it still remains the headquarters of the Georgian Orthodox and Apostolic Church, a place of great religious importance.
For its suggestive landscape, a 500msl plateau, the rich history and unique architecture, Mtskheta is an absolute must for every Georgian itinerary. You can learn more by reading the report of our trip to Mtskheta.
Check the best places to stay in Mtskheta
Uplistshike
Another must-see attraction in Georgia is certainly Uplistsikhe, literally "Lord's Fortress", a town carved in the rock of a suggestive cliff which is a concentrate of Georgian history.
The place was founded in the late Bronze Age, around 1000 BC, and continued to be inhabited officially until the 13th century AD, when the Mongols pillaged it. It was anyway used as a shelter until very recently, first by people fleeing invaders and then by poor locals who couldn't afford a home.
Between the 6th century BC and the 11th century AD, Uplistsikhe was one of the most important political and religious centers of pre-Christian Kartli, one of the predecessors of the Georgian state, apparently a sun-goddess was worshipped here. In the 10th century, a stone basilica was built atop the town. A very ancient Georgian style wine cellar proves the ancestral origin of Georgian Wine.
Uplistshike is only 14km east of Gori, the birthplace of Josif Stalin, unfortunately there seem to be no public transportation options available, so you'll have to hire a cab driver (agree on the price in advance) or find a bicycle.
Georgian wine is apparently the oldest in the world and some of the best wines are to be found here. Georgia as a stunning variety of endemic grapes, more than one-hundred, and after the crisis due to the recent Russian embargo, the wine market is now booming.
Among the things that make Georgian wine special, is the ancient traditional technique of vinification, that includes ageing the wine in clay amphoras buried underground, instead of the classic wooden or steel barrels. The huge diversity of the Georgian landscape, the traditional techniques, and the care of the winemakers ensure some Georgian wines a place among the best in the world.
Although wine is made everywhere in the country, the wine region of excellence in Georgia is Kakheti. In the area near Manavi, some of the most talented winemakers have their vineyards, small producers who really love their product.
A wine-tasting-tour is an absolute must thing to do in Georgia. You can book a private tour from Tbilisi or contact Vino Underground if you're after organic wines.
Drive the Military Road by Corinne Vail of Reflections Enroute
Contribute by Reflections en Route
When we visited Georgia, it was spring and in most places throughout the country had the trees showing off their shiny new green leaves and all kinds of flowers popping up. So, were we surprised when we rented a car and started heading up the Military Road.
It gradually climbed and climbed, and as it did spring hadn't come to those places yet. In fact, much of the landscape was still covered with snow. The outside temperature was pleasant, around 70 degrees, so there was not much need of a jacket. It was perfect road-tripping weather.
The Military Road had its beginnings as far back as the Greeks, being an economic as well as strategic conduit from the southern part of the country all the way to the north. Today most of the traffic is carrying goods between Armenia, Georgia, and Russia.
We went far enough north to wave to the folks across the Russian border. On the way it passes through many towns and hamlets, on a road that varied from being in great shape to having stretches with potholes as large around as our car.
It was a thrilling ride. We stopped off at a few points, ate lunch in a ski town, ate some fantastic khinkali, and even crossed the highest pass, Jvari, with an elevation of 2,379 meters. The entire time we were wow-ed by the views.
Renting a car in Tbilisi is quite easy, as is the actual driving as long as a few potholes don't bother you. It's a little over 200 kilometers to the border and back, so it takes all day. The day we went there were plenty of locals doing exactly the same thing. It's one of those driving experiences that will stick with you for a lifetime!
Kazbegi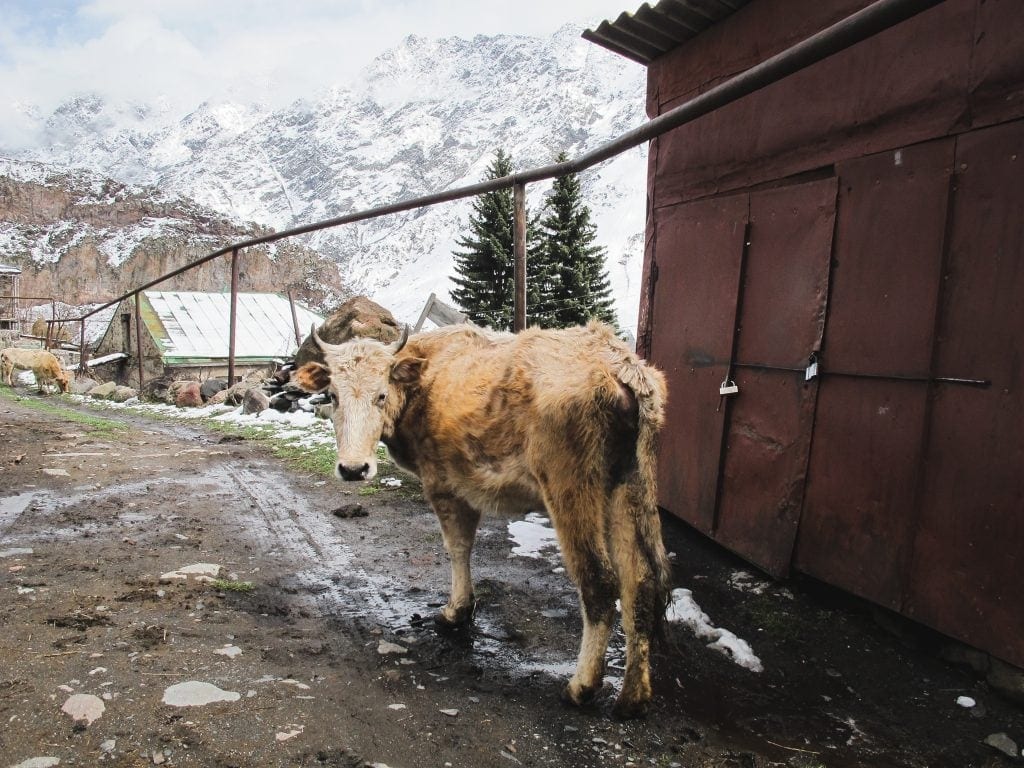 Contribute by Megan Starr
Kazbegi, or Stepantsminda, is one of the highlights of a trip to Georgia and I highly recommend everyone visiting the country to head north to this city on the Russian border.
Kazbegi can easily be reached via marshrutka from Tbilisi and the ride will take you along the dramatic Georgia Military Highway, which was one of the most intense drives of my life! The views are spectacular and the drive really is an adventure in itself.
Once in Kazbegi, you will see Mount Kazbegi, or Mkinvartsveri, which is the third highest mountain in all of Georgia.  Interestingly, people underestimate the Caucasus. The mountains are incredibly tall and breathtaking; they are larger than the Alps!
The highlight of this area, for most travelers, is Gergeti Trinity Church, a church so perfectly situated on top of a mountain. You can hike up to it and the views are spectacular… if you make it. I didn't know what I was getting into when I visited and wore flip-flops for the hike… in April. Needless to say, knee-deep snow was awaiting me and I got to hang out in the city instead, which isn't a bad consolation prize.
In the city, you will find small cafes and restaurants, accommodation ranging from budget to luxury, and even a historic museum called Stepantsminda Historical Museum, a place housing archeological finds, religious relics, and local art. Nature and beauty don't end in Stepantsminda, however.
There are waterfalls, parks, valleys, and peaks nearby just waiting for someone to hike them and enjoy their views. Kazbegi is a can't-miss place in Georgia for nature lovers and those wanting to see some of the best scenery in Georgia.
Gelati monastery and Kutaisi
Contribute by Travels of a Bookpacker
Of all the monasteries in Georgia, Gelati Monastery impressed us the most. Located at 20-minute minibus ride from Kutaisi it sits in a gorgeously scenic setting with views over rolling hills and forests.
The exterior was under restoration when we were there and has been for quite some time. But the interior is the real spectacle. Intricately painted murals adorn every space and there is a giant mosaic creating the centerpiece of the church.
The monastery is a UNESCO world heritage site, it was founded in 1106 and was one of the first monasteries in Georgia. It is still in use today by local churchgoers but there are also many tour groups visiting. Because of this, it is best to go first thing in the morning. Entrance to the monastery is free and women need to cover their heads and shoulders.
From Gelati, you can also catch a minivan or walk to the nearby Motsameta Monastery for some incredible views and to see a wedding or two. Kutaisi makes the perfect base for this day trip and is a cute town to spend a couple of days. There are some great cafes and restaurants for delicious Georgian food and a couple of sights to visit in the city such as the market hall, cathedral and central fountain.
Chiatura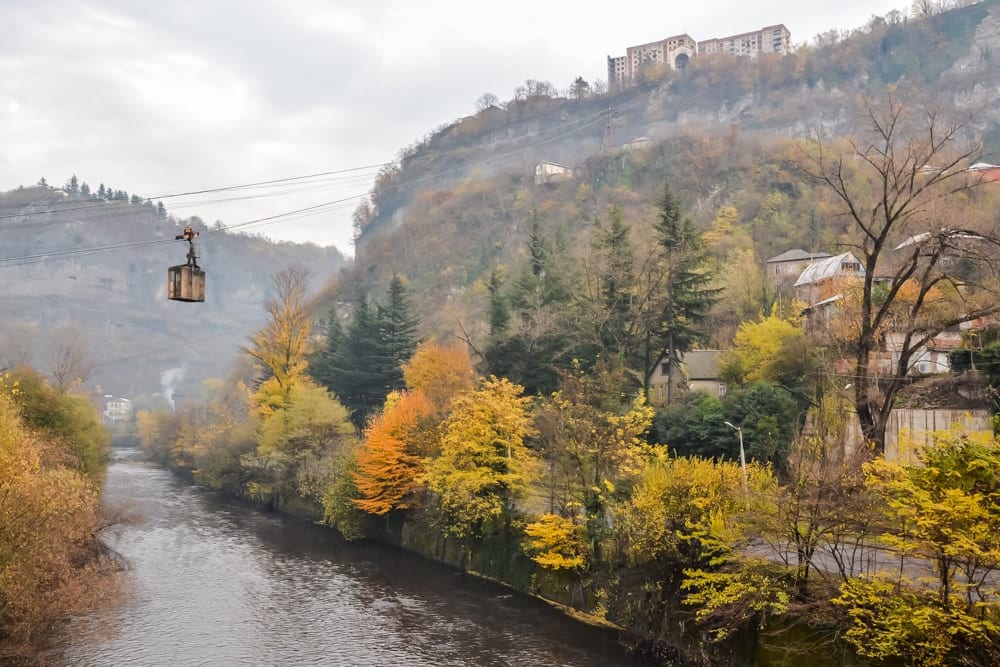 Contribute by Kamila Napora from MyWanderlust.pl
Only the biggest fans of quirky places have heard about Chiatura, Georgia. This mining town is located in central Georgia, not too far away from Kutaisi, and is known for its spectacular location and unique public transport system. The best way to get from one point of Chiatura to another is to use one of the many cable cars – but only if you have nerves of steel.
The cable cars opened in the 1950s and most of them haven't gone through any major renovations since then – you can clearly see it anyway as they are in a rather poor condition. But some of them are still working and are the main way of transportation for locals who want to get from the center to upper parts of town (or in the reverse direction).
During my visit in autumn 2016 the main cable car, next to the train station, with cars leaving in three different directions, was going through the reconstructions and hopefully is or will be in operation again.
The two cable cars I managed to ride (with the station next to the river and a mosaic of Lenin and Stalin on the building) were free of charge and riding them was such a thrilling and unforgettable experience.
While you are in Chiatura you should also visit the nearby Katskhi pillar. This 40 meters high monolith is famous for the small monastery that is located on top, too bad it's impossible to visit it. But the pillar itself looks spectacular! If you can't visit it you can still see the Katskhi pillar from the bus – when you depart from Chiatura sit on the right side and few minutes along the journey you will see it.
I visited Chiatura as a day trip from Kutaisi. I was told there is a direct marshrutka at 10 am but when I got to the bus station it turned out I need to change in Zestafoni. It was still easy and I was very well taken care of.
On the way back I was lucky to find the direct marshrutka all the way to Kutaisi. Apparently, you can go to Chiatura with public transport for a day from Tbilisi too but it will be a long day!
Ananuri Fortress
Contribute by Nate from TravelLemming
The beautiful Ananuri fortress dates to the 13th century, when the castle was constructed by the Aragvi dynasty as part of an effort to take control of a key road through the area.
Though ownership changed hands several times, the site continued to be built up and was used through the 19th century. Its stunning architecture includes two churches, a large castle, and several amazing watchtowers (one of which you can climb inside to the top).
Perhaps as interesting as the history and architecture of Ananuri, however, is its incredible natural setting against the Aragvi river and an adjoining reservoir. The river's tranquil water and the surrounding majestic mountains make for a photogenic backdrop for the fortress complex.
The Ananuri fortress is located about 70 kilometers north of Tbilisi. If you've got your own wheels, it makes for an easy day trip or can be combined with a trip to Kazbegi.
It is also possible to visit as part of any number of packaged tours which are on offer in Old Town Tbilisi, and which will typically include it as a stop along with other attractions. For the best views of the complex, consider walking a short distance away (or brave it up the nearby hillside to get the best angle for your photograph).
Surprisingly, the site does not have a visitor fee and is still free to enter. In front of the fortress complex, you'll find public restrooms for a small fee, some souvenir stalls, and a few basic food vendors. You're also likely to encounter vendors seeking to photograph you in traditional wear for a small fee.
A visit to the Ananuri fortress is a wonderful addition to any itinerary through Georgia. You just may feel like you've stepped back in time, or stepped onto the set of Game of Thrones!
Signaghi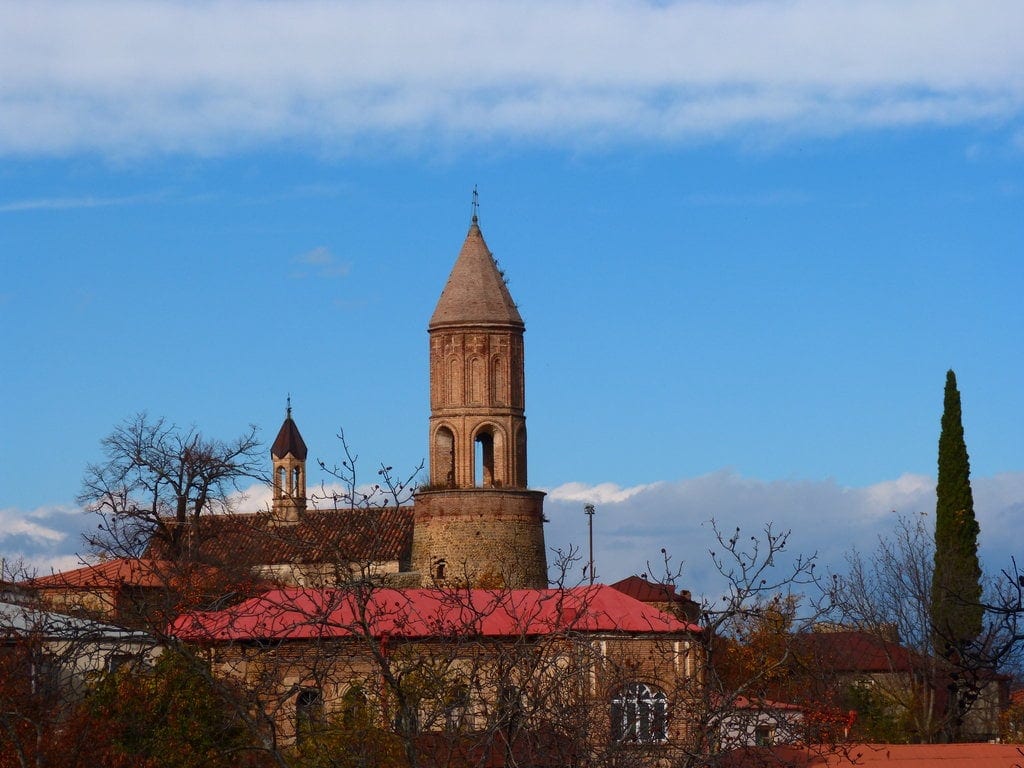 Contribute by TheHotFlashPacker
Signaghi (or Signagi) is one of my favorite small towns in Georgia. Signaghi is located in the southeast part of the country, not far from Russia and Azerbaijan. It's a medieval walled city on the top of a hill, with views of the Caucasus mountains that make the border with Russia.
As it's the center of the wine region, there are opportunities to sample and drink some of the great Georgian wine such as Saperavi. The best activities in town include visiting the Orthodox church and strolling the cobblestone streets. You can also access the city way and hike the steep sides.
When I visited there was a small café on the wall where you could purchase drinks and enjoy the view. Another fun trip is the 3km ride or hike to visit the Bodbe Monastery. The best place to stay in town is one of the private homestays where you can have a home-cooked meal.
Borjomi and Vardzia
Borjomi is a southern resort town, famous for its warm and fizzy restorative mineral waters, a perfect final sport for a Georgian itinerary if you want to treat yourself a bit in a SPA. Besides the many SPA facilities, there are two amazing places to see near Borjomi, the Borjomi-Kharagauli National Park and the ancient town of Vardzia.
The Borjomi-Kharagauli National Park is one of the largest national parks in Georgia and a great attraction for hikers and outdoor lovers in general, for its astonishing landscape.
Vardzia is a rock-cut bronze-age city, similar to Uplistshike but much bigger, with over 400 rooms, 13 churches, 25 wine cellars, a bakery and a forge all spread over 19 levels.
Paragliding Gudauri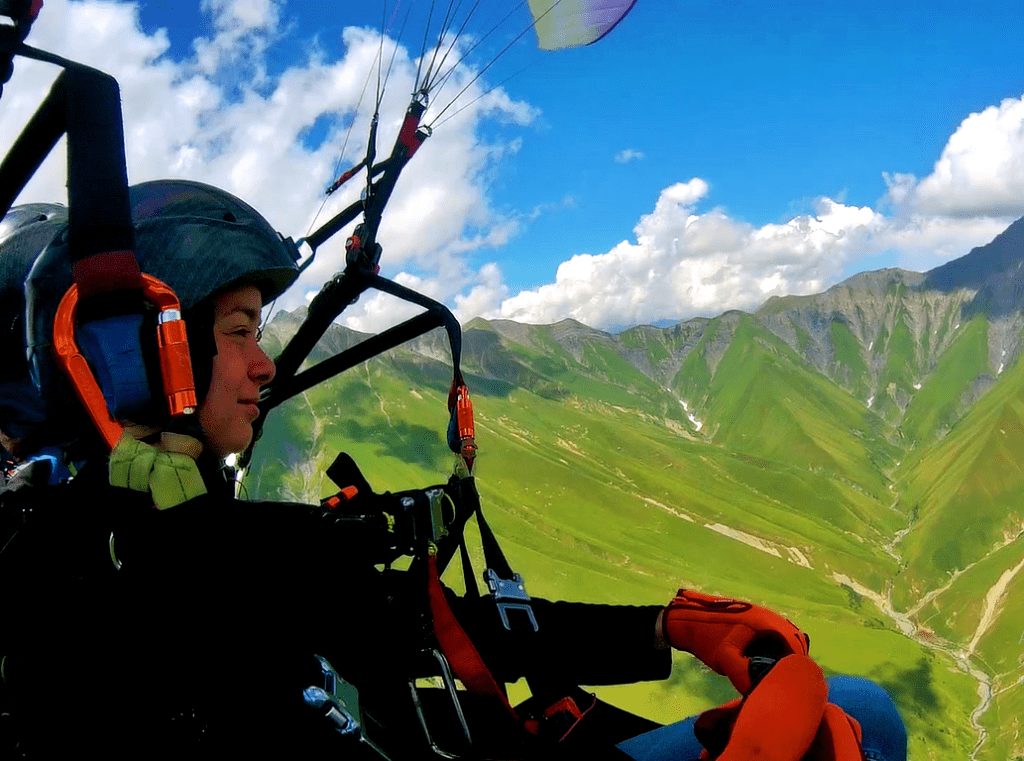 If you ended up reading this post is likely that you're planning a trip to Georgia – great! Ever since I visited Georgia for the first time last year, I cannot wait to go back. I can easily say that Georgia is one of my top favorite (and the most beautiful) countries.
While I was exploring Georgia, there are two things I did that I absolutely loved – hiking the Gergeti Glacier in Kazbegi and paragliding Gudauri.
Paragliding in Gudauri is so far one of my most memorable travel experiences – flying for about one hour over the gorgeous Caucasus scenery is something that cannot be simply described but one should see with his own eyes.
So, if you're planning a trip to Georgia, I'd say that you should definitely include the paragliding on your list of things to do in the country. It doesn't even matter when are you planning to go as they are flying all year round.
Contribute by Bilyana from Owl Over The World
---
Taste the amazing Georgian Cusine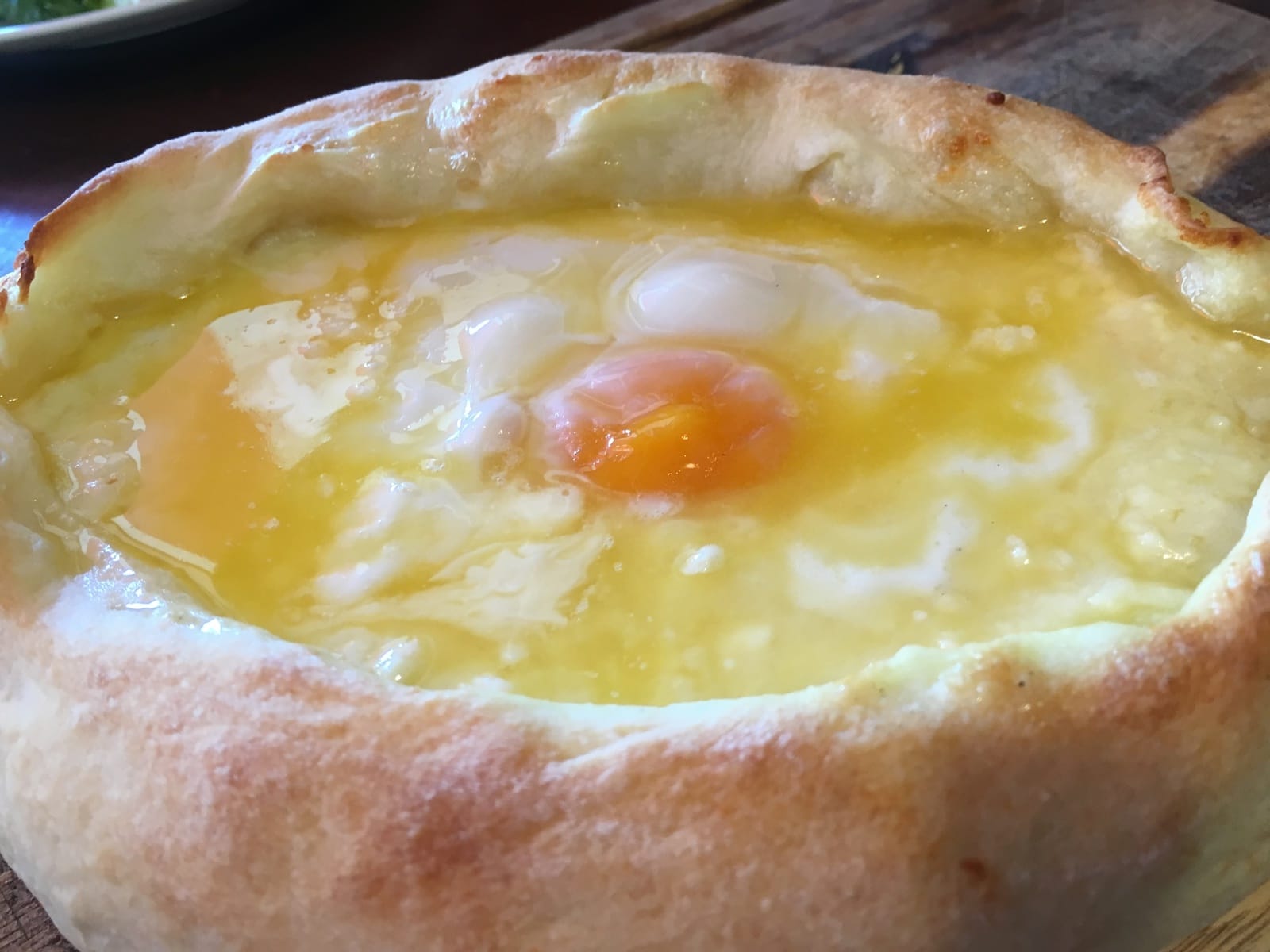 Contribute by Sarah Carter, ASocialNomad
One of the major treats in travelling to Georgia is the food. The cuisine of this country is a reflection of those who've both travelled through and conquered this Caucasus country. In seeking the best Georgian food you'll find fresh fruit, vegetables and an Asian influence in the using of pickling. There are hints of Persia, next door Azerbaijan and Russia. Here are just 4 highlights of Georgian food to get your mouth watering.
The highlight of the Georgian kitchen has to be their cheese bread or Khachapuri. Khachapuri literally means cheese bread. It's a flatbread of leavened dough filled with cheese. And the most famous of Georgia's cheesy bread is the Adjaruli (or sometimes Ameruli) Khachapuri. A delicious boat-shaped dough container of melting cheese. Just before it's served, an egg is popped in along with a slab of butter to ensure your carb and fat consumption for the day is seriously exceeded. It's an amazing culinary experience. Here's a recipe for the Khachapuri Adjaruli if you want to try making it yourself. 
An equally filling, but potentially more healthy Georgian dish is Lobio – a tasty clay pot of slow cooked kidney beans. After cooking the beans are slightly mashed with onions, coriander, vinegar, and chillies. Not in your food coma yet? This will send you there in the most delicious of ways.
You'll also find nuts, especially walnuts throughout Georgia's cuisine. Satsivi, is a heavy walnut sauce that's used in many dishes and salads, the most famous of which is Badrijai Nigvzit (Rolls of Eggplant stuffed with Walnuts). Long thin slices of aubergine (or eggplant) are cooked until soft, the satsivi walnut sauce is then spread on them and they're rolled up. The mix of walnuts, blue fenugreek and vinegar is an amazingly Moorish taste.
Wrapping up the highlights of the Georgia kitchen is Churchkhela – a traditional Georgina sweet. Churchkhela looks like a long peapod or sausage. Nuts of all sorts, but traditionally walnuts are threaded onto a string and dipped into a mix of grape juice, flour, and honey. After each layer is dried, they're dipped again and again. They're great for energy when hiking and have even been taken to war by the Georgian army!
Georgian food is freshly made, moorishly tasty and never to be forgotten, a true highlight of the country.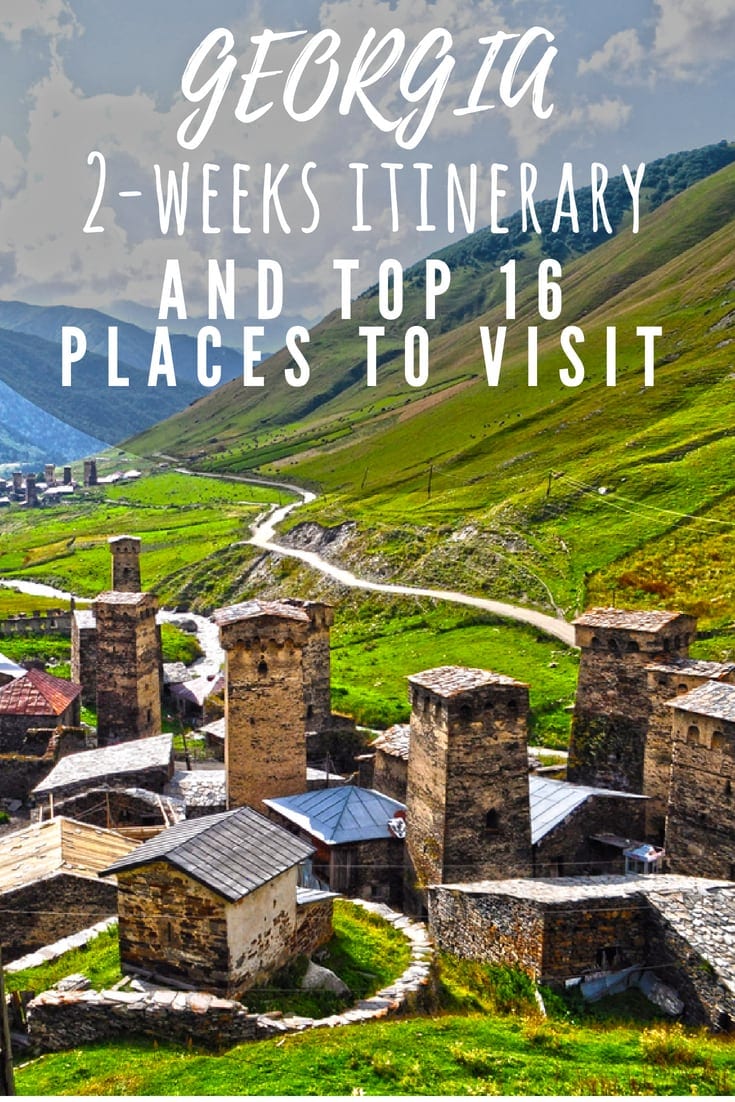 Stay in touch while we get lost! Follow us on Social Media