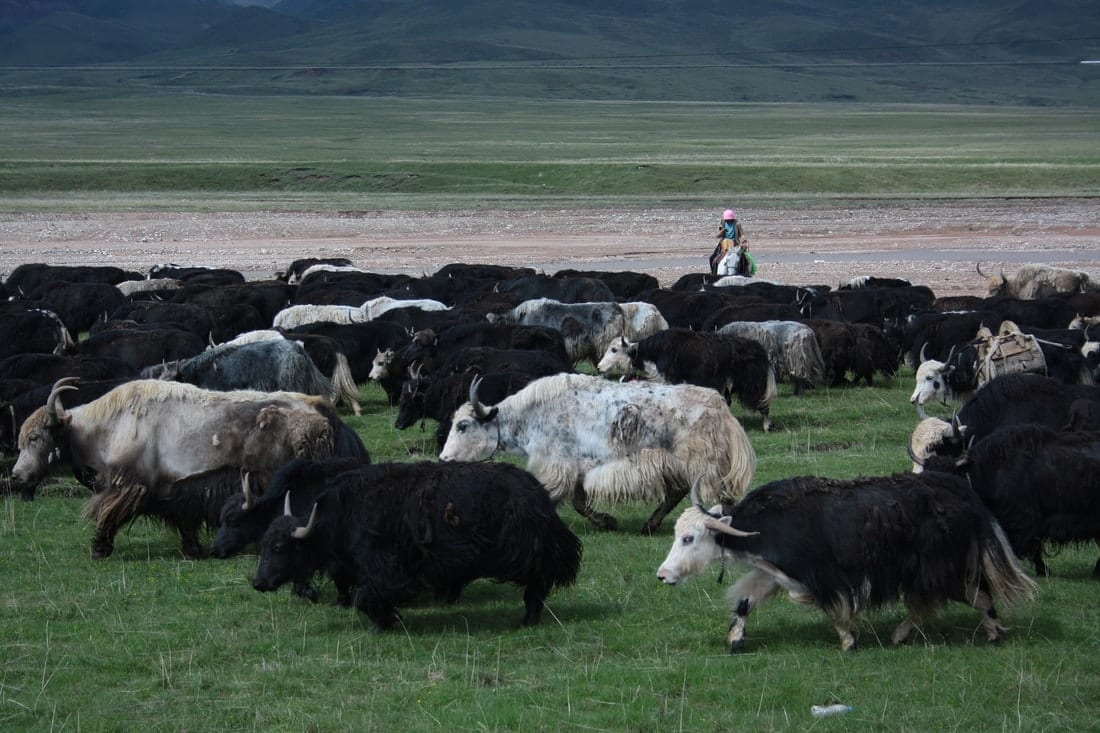 Cycling in Qinghai, China. Our bicycle tour through the Tibetan Plateau in China.
At first, the road is lined with trees and shade then, there are willows. There's always a latent stench of garbage, we don't know where it comes from. We take a track that makes us leave the main road and cross two villages between cultivated fields.
Here grow every possible centimeter, no house has a garden, grain comes up to the front door, there is only one small concrete path that leads from the front door to the street. We stop to buy water and a canned beans soup in the village of Uubo where there are a beautiful temple and a beautiful stupa.
Because of the crops everywhere find a campsite is not easy, we find a little space between corn and rice behind a house that doesn't look inhabited. We are at an altitude of 1850 meters. We eat the soup of beans and canned vegetables, it is not bad but sweetish.
We woke up at 6 a.m. when a guy in a car with microphone passes repeating a litany, our today alarm clock. The true alarm instead comes shortly after, two old women standing in front of the tent. One of them starts to cut the grass with a sickle while the others are watching us.
There's also a guy with a 3 wheel scooter which instead ignores us completely. The only problem is that with the lady standing there we cannot pee.
We dismantle the tent and we go to look for a place to have breakfast. It's 7:40 am, we never started so early in our lives.
Ah, before leaving Daniele takes a sip of the water that we bought yesterday. But it is not water! It's some unidentified and disgusting super-alcoholic. We give it to the guy who ignores us.
Disclosure: Some of our articles contain affiliate links. This comes at no additional cost for you and helps us keep this website up and running. (as Amazon Associates we earn commission from qualifying purchases)
After breakfast, we hit the road again, we encounter the first little altar and stupas in the middle of a wheat field. Buddhist bucolic romance. We arrive in another village in the fields, Sanbao, no temples here.
A policeman wants to take a photo with us and it ends up we have to take one with all those present, we'll get used to taking pictures with locals in China. We ask where we can find a clothes shop.
We would like to buy something warm because we will be between 3,000 and 4,000 meters in the next few days and we are not very well equipped.
The policeman, who speaks a little English, tells us that we can find stores in the next town, Minle. OpenStreetMap doesn't even know it, must be a city built in recent days.
After about fifteen kilometers we get there, just before the town we find a jacket and a long-sleeved shirt, abandoned by somebody and we take them, half the shopping is done.
There was also men's red underwear but we decide we can survive without. Minle is another town out of nowhere, with many new buildings and even more under construction.
There are huge posters showing how beautiful this city will be in the future, and how convenient it is to buy an apartment here. But probably most of those buildings will remain deserted. Again the dark face of Chinese real estate speculation.
We go to eat in town. Even here we don't hear many people speaking Chinese, mostly we meet Tibetans, Mongols (Tu), and Hui Muslims. We eat noodles (lamian) with beef (which I give to Daniel), a house specialty. Very good, Daniele said to be the best until now. It is nice to see the kitchen and the preparation of handmade spaghetti.
We pay very little, around 3 euros, including tea with yak milk. This is one of the places where the workers go, indeed it is full of people dressed in work suits. We enter a shopping center looking for a jacket but the prices are crazy and indeed it is desert.
At least in the bathroom, there is a giant kettle, often find those in front of the toilets of places like this, we can fill our water bottles. We then enter a small shop in front of the mall, identical to those of Chinese clothing found in Italy.
They have some typical peasant jackets, stuffed with sheep's wool, but only for women, we anyway buy two for around 18 euro. And since obviously, Daniele looks very funny with a woman's jacket with fancy red flowers we take a picture together.
Talking about the road, despite an altitude of 2000 meters the fields do not diminish. The landscape is bewitching, the fields go up to where the ground is not too steep, and then rocky peaks start, towering the plateau with snow-capped tops. Carpet deforestation anyway, very few trees remaining.
Fields end only when we arrive at an altitude of 2800 meters, to make room for pastures. Here there is a vantage point where a Tibetan lady has a booth offering a specialty never seen until now.
Takes a batter like that of French crepe and cooks it on the plaster, then add an egg, spreads it well, then the hot sauce and another dark sauce, then a leaf of lettuce and two fried dumplings, and finally rolls up the whole.
Very good. We also buy some hard-boiled egg, a boiled egg costs 2 yuan and 8 yuan the above Tibetan thing.
A few hundred meters after we meet the river and stop to pitch the tent, it's chilly. On the other side, we see the first tents of nomadic shepherds with their flocks of sheep. With our new jackets from rural Chinese, we do not feel very cold at night.
We wake up early enough but we struggle to get up because without the sun beating on the tent you could sleep all day. But in the end, we just get up and face the climb that will take us to 3800 meters altitude.
We meet once a group of local cyclists, ten, coming from the opposite side, then downhill. They have brand new bicycles and two cars following them, I think to bring them back in the evening. Always organized the Chinese.
We talk a lot but we do not understand anything except that they want to get a myriad of pictures with us and make us compliments to have taken out the garbage (they see it hanging on the bike) and not to have tossed it around.
Meanwhile, they smoke and they throw the butts on the ground.
Greeted the cyclo-Sundays friends the real climb begins, even if it's chilly we sweat and melt. After a few kilometers, we see the first yak, as you can expect them, very hairy and with very large horns.
Of course, there are tents of nomads close to them. Here are mostly Tibetan, Mongolian, and Tu.
The tents in which they live are not like the yurts but are "normal" tents. Some large tents are used only as kitchens powered by dry poop. Those are not decorated like the Kyrgyz ones, no elaborated felt's shirdaks.
Only some are white and have color patterning embroidered, they are without heating. Perhaps they are used for prayer or for some ritual/social purpose.
The landscape around us is wonderful, on our side the river along with us. The road is constant uphill but the slope does not change, there are no snags.
We meet a nice temple embedded in rock. Literally, the rock is inside the temple that was built around. People passing by car stop to leave a bid or a prayer. The prayers are colored scarf with something written on it (Lung Ta), tied to the temples, trees, poles, a bit everywhere.
In short, despite the Chinese government, the Buddha is still quite famous. The last kilometers before the pass is a little tiring and Elena goes pushing.
For the first time, a Chinese (which was definitely a Tibetan) with the van stops and asks if I (Elena) want a leg up to the pass (I think). Missing about six kilometers to the next village, Obo.
I tell him that it's okay until Obo but we do not understand each other, I believe he's going somewhere else. Eventually, he goes. China is the only country so far where people didn't offer anything. No vodka, no coffee, no tea.
I don't know, maybe they are afraid to get in touch with Western bad capitalists, at least in this part of China. We think right now about these things because we didn't have breakfast, just a bit of biscuit and honey.
From 2800 to 3700 meters is about 30 kilometers, passing from Gansu into Qinghai. No places to eat. We get on top of the pass at 5 pm, there are many colorful Tibetan flags. It's June 21st and there are 8 degrees. I found a pair of work gloves on the street, useful to shelter your hands in the downhill.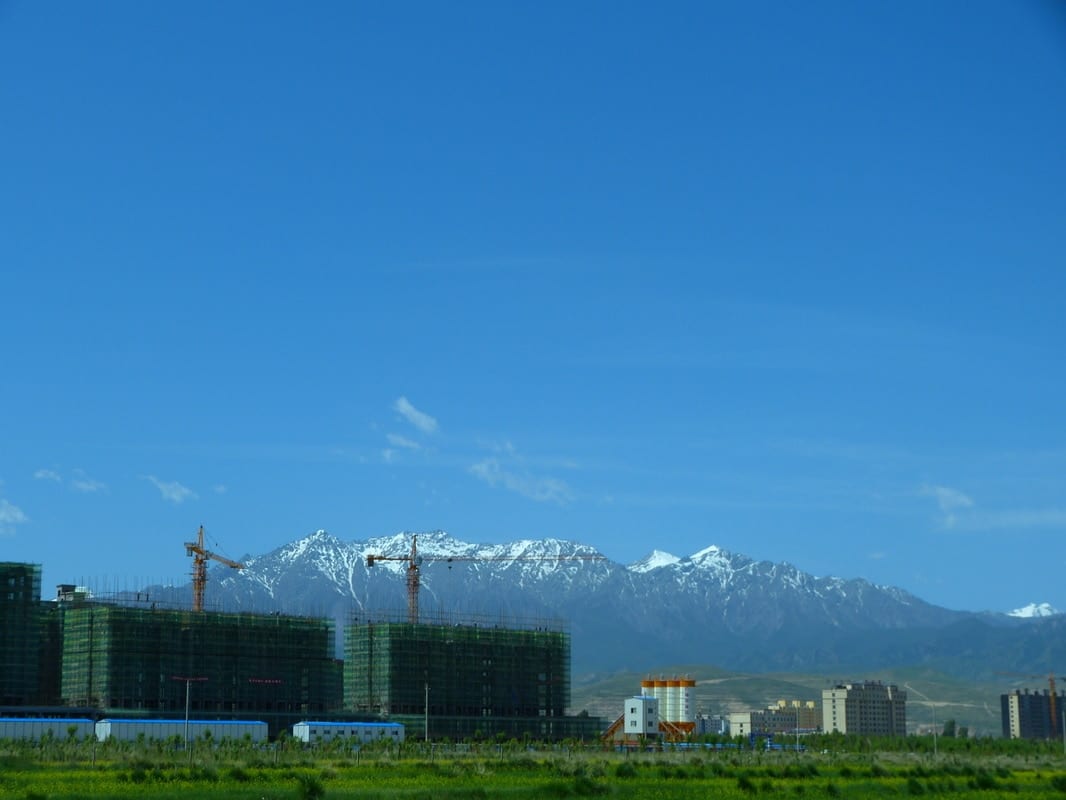 Wonderful downhill, we come to the village of Obo, located at 3400 meters and finally eat our noodles in broth, cheaper ones which usually cost 7 yuan (1 euro).
Managers are Muslims, the cook prepares the handmade lamian before us, again very good. The broth is made of several vegetables, chives, and small pieces of meat.
Leaving the restaurant, we note that in this town there are many Muslims, there is also the mosque. The village is large and like everywhere they are building large apartment blocks, who knows for whom. In short, we are at 3400 meters.
Let another ten kilometers, restart the fenced pastures for yaks and sheep. We stop to camp by the river, where the land is not fenced. We are still at 3400 meters and tomorrow we expect another pass.
Rains, fortunately, we have eaten and we should not cook. We eat only yogurt, melon, and biscuits in the tent in the warmth.
Also, thanks to the farmer lady jackets. Upon awakening we begin to climb again, the weather is not of the best, an occasional drop of rain but that's ok, we know it could be much worse. The next pass, at 3700 meters, offers a fantastic view.
And then it goes down for like 40 kilometers until another very nice village located before the last climb that will take us to the last pass at about 4000 meters.
We stopped to eat about six kilometers before in a restaurant decorated with a lot of Buddhist things. We eat new things, noodles topped with thick green chives and chili sauce that is served separately and "panzerotti" stuffed and fried. Also filled with chives. While we eat comes downpour that ends just when we finish eating.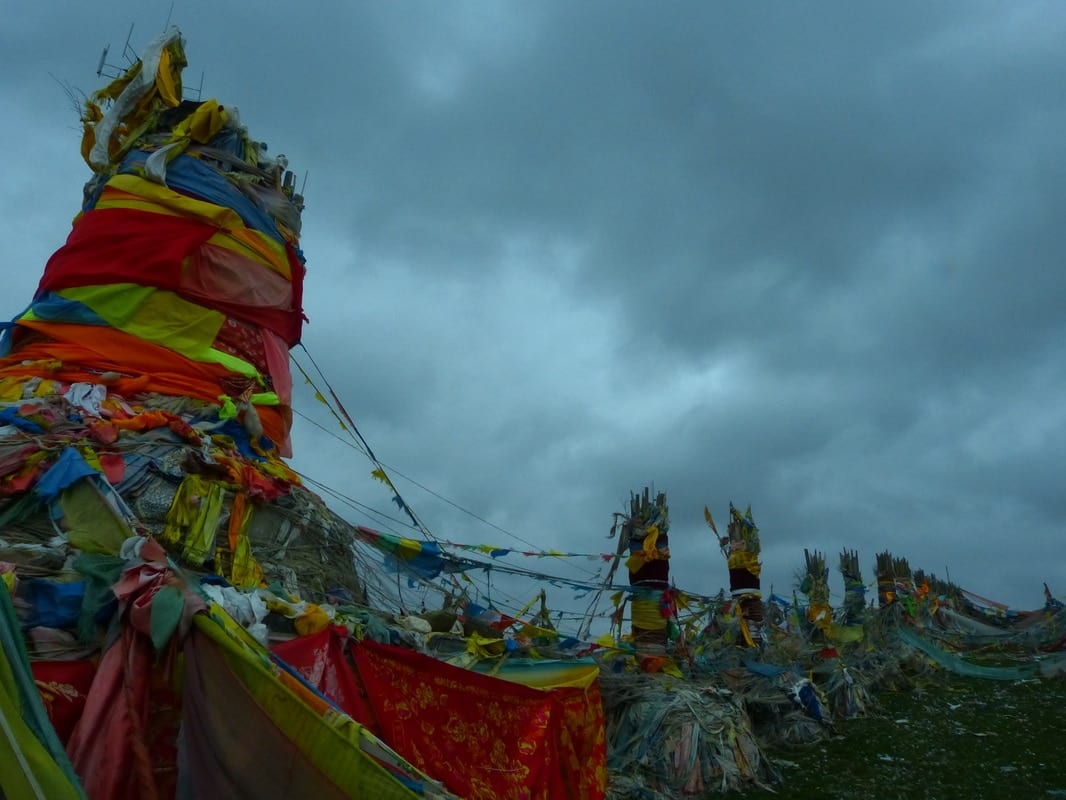 Daniele has a bit of a cold while I'm bloody tired, it could be the altitude. The guys at the restaurant also had rooms and try to sell us one. It is clear that the daughter of the manager consults his father to know what price she has to shoot. They decide to shoot 120 yuan. Ok, they shot too high, we go.
The center of the village is very nice, all the houses have a large veranda. We stop to buy boiled eggs and we go to sleep at the foot of the climb that we will face tomorrow. We also finally sighted the rodent of the steppes even though we're not exactly on the steppes.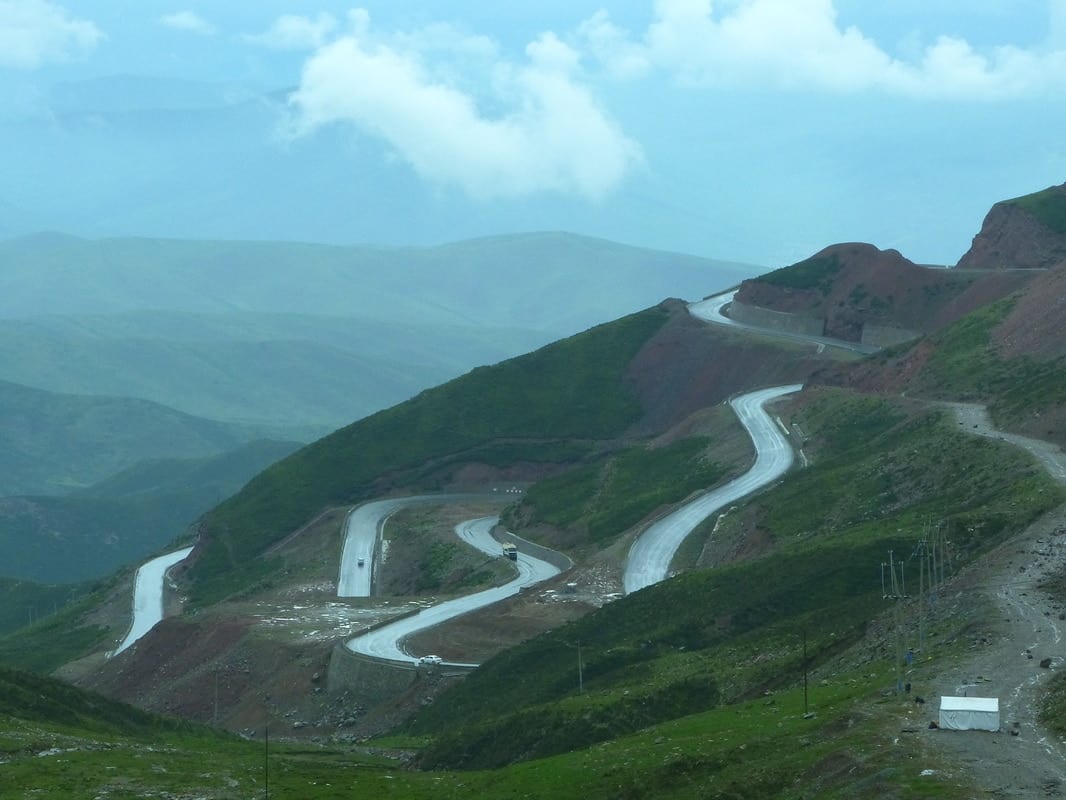 Upon awakening rains. After the first 2 kilometers of normal ascent, the road makes a 90° bend and becomes steep. We expect 12 km of suffering. It takes to us five hours. Well, it takes me five hours because Daniele was already at the pass a while before.
Not that it was an impossible climb but obviously three days of the continuous rise I have weakened the legs and the steady rain today did not help.
At around half the ascent, there's a viewpoint where some stands sell a dozen different types of dried yak meat, the man is very friendly and Daniele could taste it all while waiting for me for about one hour.
In the last part then the road was a serpentine, a view that from below psychologically impressed. Daniele rode a little my bike as I climbed on foot. That duffer. However soaked wet and quite tired we got there and finally comes the downhill, all the way to Xining!
The first 16km is a steep descent, the kind that you have to keep the brakes constantly pressed if you want to get down to 60 per hour. On this side of the pass, the mountains are even more beautiful, much greener.
After the steep downhill, the descent continues but less intense, like riding a scooter at 20km per hour. We can enjoy the scenery and the beautiful river that flows alongside.
Some guys down the road trying to sell us something we do not understand what it is (we found out later it was the miracolus "caterpillar fungus").
Again, these "minorities" are several. Of course to call them minorities is a bit strange. No Chinese at all here. Here the Chinese (Han) are the minority.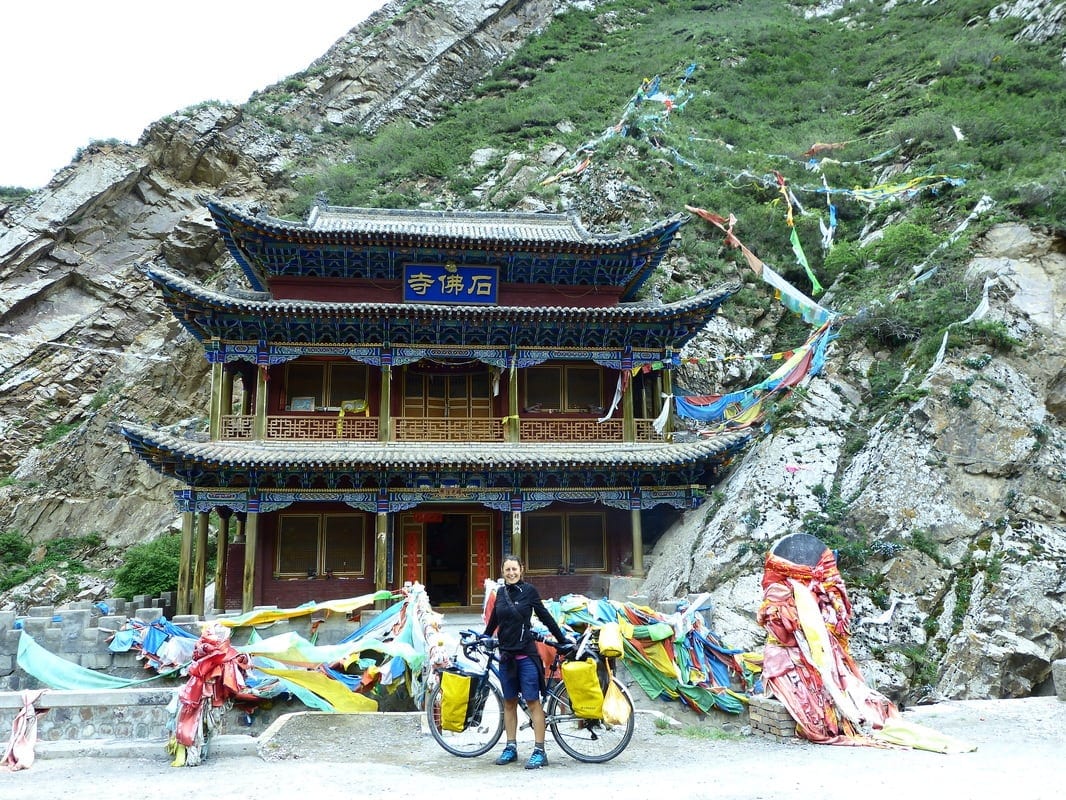 We arrive at a beautiful lake created by a dam where we meet a guy in a car who wants to accompany us at all costs in Xining. But we just do not want, this road is beautiful and we want to ride. We do not know what we would have regretted not having accepted the move.
In the end, we take a picture together and we say goodbye. A few minutes later downpour, we stop to put the tent sheltered under a few trees along a riverbank. Rain stops and we take this opportunity to wash in the river.
We spread our clothes hoping they'll dry overnight. When we wake up the sun is about to emerge from the mountain behind our heads, we haven't seen it for the past week. Old men come to look at us curiously.
Strangely they not remain standing there for a long time. We start late, at about 11, but with things dry, no small feat. After a little I get a puncture, or rather the tube had broken.
The villages along the road are nice and also the surrounding countryside. It begins again to be no more than corner-free crops. We stopped to eat some good lamian in the broth along the way.
A day just fine except that on our way in the city of Datong, 30 kilometers before what was to be our destination, Xining. In the next post our adventures with the Chinese police.
Stay in touch while we get lost! Follow us on Social Media