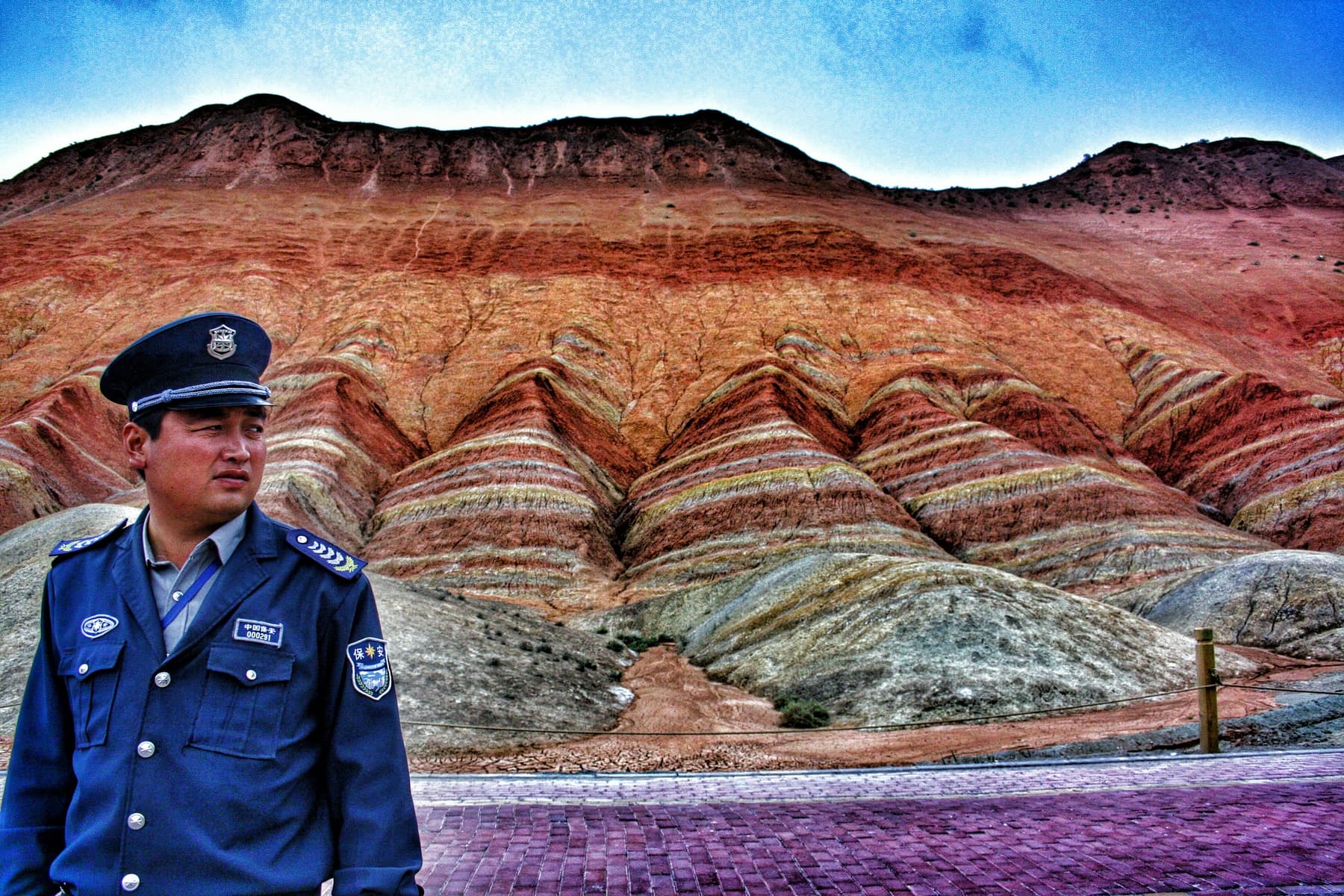 Zhangye and the Rainbow Mountains of China are among the most incredible places we've ever been. Besides the ubeliavable Danxia Shan (the Rainbow Mountains indeed), thera are a lot of things to do in Zhangye! We stayed 3 days and we didn't even see a half of what's around.
Its mind-blowing Colorful Mountains (Danxia Shan)* and stunning sleeping Buddha really left a deep mark in our memories, but also the city of Zhangye is pleasant and full of interesting attractions. In this blog travel guide, we'll try to give you all the info you may need to enjoy Zhangye and the Rainbow Mountains of China, plus a personal account of our experience.
We came here as part of our troubled bicycle trip in Western China, although we covered the boring stretches between these oases in the desert using public transportations.
China Rainbow Mountains in a Nutshell
Disclosure: Some of our articles contain affiliate links. This comes at no additional cost for you and helps us keep this website up and running. (as Amazon Associates we earn commission from qualifying purchases)
Area: 322 km2 (124 sq mi)
Established: December 27, 2005 (as provincial geopark)
Geological Age: 24 million years
2019 Entry Price: 74 yuan (54 yuan entrance fee + 20 yuan mandatory shuttle bus)
Getting There: Fly or High-Speed Train to Zhangye + bus or taxi do Danxia National Geopark
Zhangye Danxia National Geopark
Neglected from the major touristic routes in China (wasn't even mentioned in the Lonely Planet before), the Rainbow Mountains of Zhangye have finally reached the deserved worldwide fame in recent years, with millions of tourists visiting now every year.
Although now a bit crowded, the Danxia National Geopark is a geological landmark that will live you drooling, visiting it is an experience you'll never regret and never forget.
About 540 million years ago, most of Gansu and the whole Taklamakan Desert was underwater. Like it happened with most mountains in the world, tectonic plate collision folded the land and lifted it above sea level.
During the subsequent geological eras, rivers deposited rocks, mud, and soil containing different amounts of ferrous salt who gave the layers different colors. From red to purple, and yellow and green and gray… a proper rainbow!
Those layers though, were not visible until other geological events and the arrival of new rivers eroded the valley, forming this incredibly beautiful and fragile landform.
Facts about Zhangye Landform in China
The word Danxia means "the rosy clouds"
Zhangye Danxia Landform Geological Park is also known as Zhangye Danxia, Zhangye Danxia Geopark, Zhangye Danxia Landform, Landform of Zhangye, Rainbow Mountains and Zhangye Danxia Wonders (Chinese like to give many names to places)
Mentioned in the Quran
The Rainbow Mountains of China are Featured in the videogame Sid Mayer's Civilization VI as one of the natural marvels of the world
The Danxia Geopark has two separated areas: the Binggou Area ("Ice Ravine") and the Qicai area ("Seven Colors") – Qicai is the colorful area, while Binggou features some weird rock pinnacles
In 2014, 100 million yuan was invested to improve the facilities in the Binggou area
Zhangye Travel Guide
Zhangye itself is a comparatively small city (for Chinese standards – only 260 thousand) in the western province of Gansu, situated between the ultra-popular tourist destinations of Xi'an and Dunhuang.
So, if those two cities are in your travel plan, you absolutely have no excuse for skipping Zhangye, a place that should be included in any China Highlight list.
Zhangye, previously spelled Changyeh or known as Kanchow, is a prefecture-level city in central Gansu Province in the People's Republic of China. It borders Inner Mongolia on the north and Qinghai in the south.
Population: 1.2 million (2010) – 260.000 in the urban area
Area: 42,000 km2 (16,000 sq mi)
Climate: Cold desert – from -16 °C in January to 39 °C in July
Ethnic Groups: 26 (Han, Hui, Yugur, and Tibetans being majoritary)
How to get to Zhangye National Geopark
Zhangye is located along the main connection artery between Eastern and Western China. Both the high-speed train from Xi'an to Urumqi and the G30 highway cross the city of Zhangye.
This is the axle of the Silk Route itinerary in China, the way that brings you to some of the most important historical sites of China, like the former capital of Xi'an (residence of the Terracotta Army), the Mogao Caves in Dunhuang, the westernmost stretch of the Great Wall of China in Jiayuguan, the oasis town of Turpan… and I could go on for a while.
You could combine some or all of these sites in a single trip, optimizing your itinerary you'll actually find out that's not so hard nor time-consuming to reach Zhangye and the Rainbow Mountains.
From Xi'an you can take the direct train to Zhangye, your options are:
bullet train (about 7.5 hours)
air conditioning express train (about 13 hours)
fast train (about 15 hours).
If you're coming this way, you should consider a stop in Xining, the capital city of Qinghai region, with its Tibetan culture and marvelous surrounding mountains (be careful not to get arrested though).
From Shangai, Beijing or any other far-away Chinese location you should definitely fly. Zhangye has a pretty busy airport and you should be able to find a cheap deal.
When it comes to flights our pick, since already several years, has always been Kiwi.com. It is, in our opinion, the best search engine for flights by a long shot.
Kiwi has a very flexible search function – you can, for example, select several departure locations or a variable geographical radius, and then check for flights to a wide region (like Eastern Asia for example) or even to "everywhere".
You can then compare the best deals, combining the various options of departure and arrival.
Also the dates are super-flexible, Kiwi allows you to select entire months or even longer periods of time, and then select a trip duration (the interval between the departure and the return flight) which is also flexible!
You could, for example, search for flights from "Italy+Austria+Switzerland" to "Southeast Asia" between "June 6" and "September 24" with a duration of "24/32 days", what other flight engine gives you that?
Through Kiwi.com you can also check the fees for luggage and sports equipment (ie. bicycles).
As you might know, our traveling style is a bit different, we reached Zhangye on a bike… well not really… this is our story:
21st June

There are dispensers of boiling water to cook instant noodles or make tea, just like in Kazakhstan. A funny thing is that the train crew trying to sell rubbish all along the trip, set for nail care, lighters, bright toys… we haven't seen anyone buying anything…

There are dispensers of boiling water to cook instant noodles or make tea, just like in Kazakhstan. A funny thing is that the train crew trying to sell rubbish all along the trip, set for nail care, lighters, bright toys… we haven't seen anyone buying anything…

Through the window we see the only desert, so now I'm sure, the famous Hexi Corridor, the road that goes from Turpan all the way to Lanzhou (across Dunhuang, Jiayuguan and indeed Zhangye), this mythological stretch of Gobi desert across the so-called Silk Road, is just a bare, ugly, polluted expanse of grey rock.

Tough way for the merchants centuries ago, and tough still for the wandering touring cyclist. And the Qilian Mountains, that should at least provide some distraction for the eyes, are not visible from here.
How to get from Zhangye City to the Rainbow Mountains
From the west station ("xi zhan") you can take a public bus for 10 yuan each. It takes about 1 hour, at 14:30 we finally get in, the ticket costs 40 yuan plus 20 for the bus which is, of course, mandatory. The bus brings you from an observation point to the next one. You cannot go on foot.
The day is covered thankfully, otherwise we would have died baked on the steep stairs, one of those is about 600 steps. The mountains are really beautiful and very colorful, but in the beginning we have the impression that pictures on the internet were a bit touched up (I admit some of ours are too), until we get almost to the end of the path where the colors become psychedelic and the separation between each layer of rock is very sharp, from gray to blue to purple and then yellow and brown. This place should seriously be included in every travel itinerary of China!
Let's go back to town, hopping on what appears to be the last bus at 6 PM, we're really happy to have seen this place, one of the most bewildering things of our whole trip so far.
A bit of a background

Upon awakening, we are looking for a bus to see the colorful mountains about 40 kilometers from the city: Danxia Shan. Many famous tourist guides didn't even mention this unique natural marvel, we hate travel guides.

We wanted to take the bus to avoid going back and forth but it gets more complicated than we thought, in retrospect, we would have done faster by bicycle. If you speak Chinese, however, it's easy to get the information. We go to the tourist information center. In China, you often meet people speaking a bit of English but at the Tourist Information Centers is guaranteed that they'll not speak a single word.
Zhangye hotel and restaurant: Food in Zhangye
At 16:45 we arrive in Zhangye. Leave the station and go to the office to retrieve the bike shipments, just outside the entrance of the station, in the same building. We must give 4 yuan to the chick that gives us the bikes but without a receipt, if this was a bribe then it was a 50 cents one.
We head for the center that is 7-8 kilometers from the station and go ask prices at various hotels/hostels in the city. We also find the youth hostel but apparently, it does no longer exist. It starts to rain a lot harder and we can finally find a place for 120 yuan, not cheap for this part of China, but the usual hassle of hotels not accepting foreigners here is quite a mess.
The room is beautiful and spotless with a huge shower. We go to eat at a place nearby that has the menu with photos and prices, for us an indispensable thing.
Finally, we eat the eggplant that often we saw and we had not yet tried, fried and delicious.
We also take for the first time the Mafu tofu (we had already eaten but not in China). Delicious too, less spicy than we expected. Here in Western China, they are quite heavy with chili. But the fried eggplant, we would have eaten 10 more portions.
If you go to China ask for those, are called "jian zi qie", I'm sure you'll be delighted.
We are in a nice area of the town, with wooden houses in old Chinese style, probably modern reconstructions, lots of little places to eat here. The small restaurants are easily recognizable because in 90% of cases have curtains made up of green plastic stripes.
Of course, the chic ones do not have those. Today, potatoes with chunks of vegetables (such as leek). Served in a pot with fire below. Violent spiciness.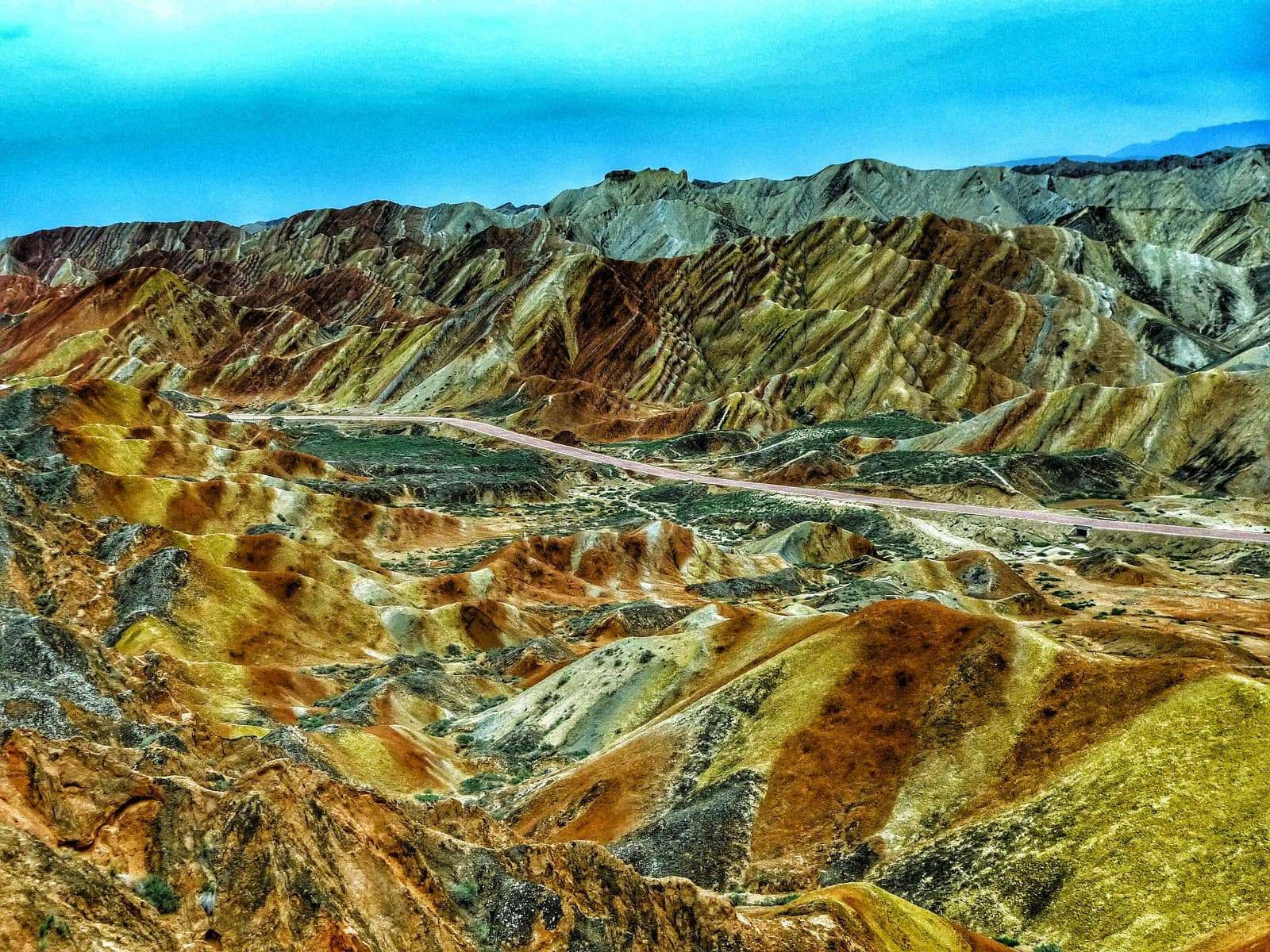 Danxia Shan: Rainbow Mountains
Zhangye is indeed a very pleasant city with many interesting things to see nearby, we'll try to check at least a couple, since everything has an entry fee in China, and it's never cheap.
Back in Zhangye, we go buy some strange fruit to taste. A sort of mini-melon (golden dragon melon?) and then a purple fruit that looks like a small apple (Mangosteen), when we open it we discover that inside is white and the part to be eaten is very small compared to the fruit. These are small white things resembling garlic cloves. Like no known flavor, is good.
Let's watch a bit of singing talent show at the Chinese television and go to bed. These are the same all over the world, more less. There is the story of a railroad worker who sings very well and is very proud to work with the Chinese railways but he misses his mother and homemade dumplings and so "surprise", enters the mother with a big pot of ravioli and everybody eats while crying!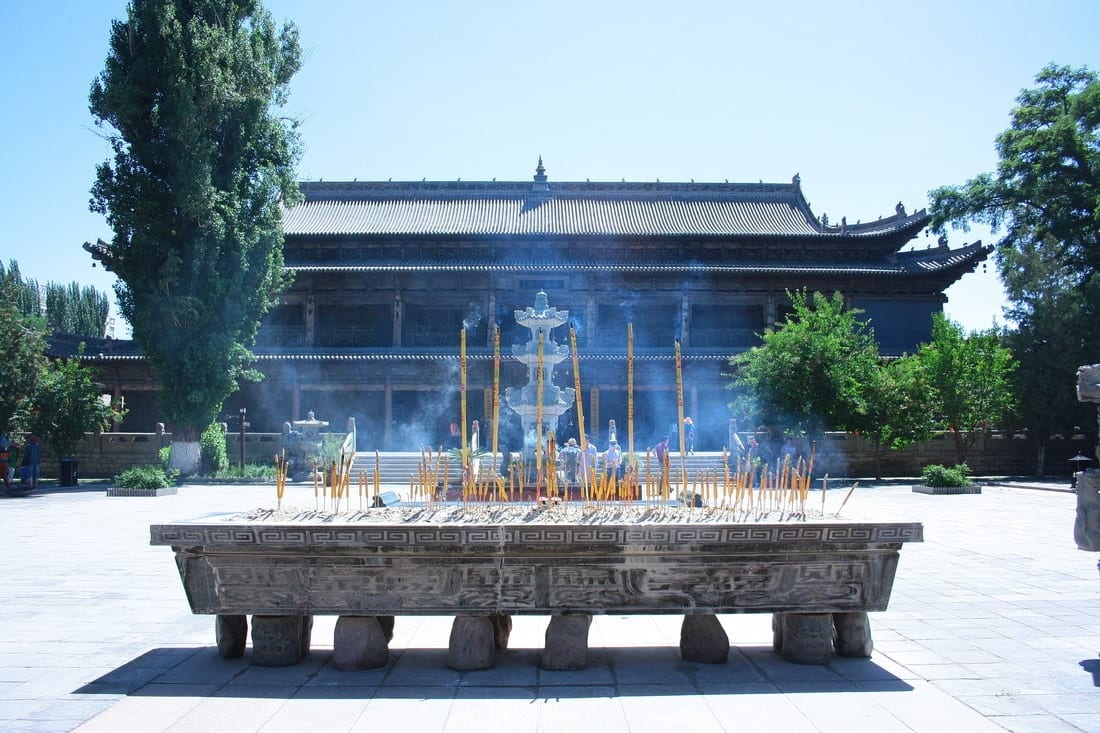 Before leaving Zhangye we decide to visit the Buddhist temple, Dafo temple (40 yuan), which to our surprise really deserved. The same famous tour guide said that isn't anything special. Never trust the guides.
There are several temple building as well as a high stupa, the main one, containing the China's largest reclining (sleeping) Buddha, was started around 1000AD, and is a perfectly preserved impressive wooden structure. The Buddha itself has the internal structure of wood and is covered with clay and painted in gold, 36 meters long and 7 meters high.
He seems to live, has very expressive eyes, striking. It's surrounded by 18 Saintly Warriors, 10 meters high. There is also a museum of ancient scriptures, also perfectly preserved. Nice is also the temple with thousands of golden Buddha and the wall drawings that depict a lot of monsters, a recently made temple but done very well.
Outside the temple, in the nice square, there's a bunch of musician playing Chinese music, just practicing, we stop and listen.
We go eat some jidan chao fan (rice with egg, resembles what in Chinese restaurants in Europe is called "Cantonese rice"). Very nice after days of spicy food, and then we finally start cycling, headed to the region of Qinghai.
We'll arrive in Xining crossing the Qilian Mountain and reaching 4000 msl. In Xining we should be able to extend the visa for another month. It can be extended in every city of China (at the office called PSB, public security bureau) but the extension of another 30 days starts from when the request is made so you have to do it when the current visa is due to expire.
Rainbow Mountain China vs Peru
Where are the rainbow mountains in China located? Where is the Zhangye Danxia located at in China?  What are the rainbow mountains made of? How did the Rainbow Mountains in China form? What does Danxia mean? What is the best season to visit Danxia Geopark?
Follow our bicycle adventures
Stay in touch while we get lost! Follow us on Social Media