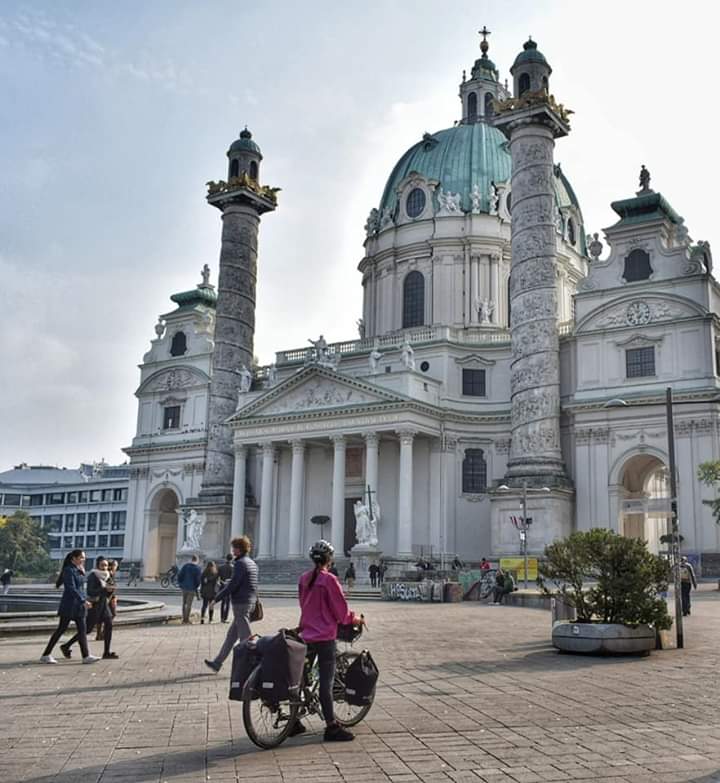 Cycle Touring in Austria – The best routes and trails from Cycling Holidays to Bikepacking Adventures
When you begin the process of planning your unique cycle tour or selecting a pre-existing route, there are usually a few prerequisites that every avid cyclist has on their wish list.
Good roads tend to be high up on this list so that you're not forever dealing with potholes or people driving around blind corners on the wrong side of the road.
Delicious food and drinks are also important so that the process of refueling before the next stage of your tour is an enjoyable one.
Lastly, it is always nice to be treated to some beautiful landscapes and cultural highlights.
Wrapping all these aspects together perfectly is the country of Austria, which is undoubtedly best explored in a pair of padded cycling shorts.
Here are some tips for places to visit when you come to make your cycling tour of this land of mountains, lakes, and Mozart.
Check also
Where to start your cycle tour in Austria. Fly to Vienna or Graz? Either works!
Disclosure: Some of our articles contain affiliate links. This comes at no additional cost for you and helps us keep this website up and running. (as Amazon Associates we earn commission from qualifying purchases)
The two main hubs that people choose to fly into are Graz and Vienna. Depending on which side of the country you want your tour to start on, both are ideal launch pads.
Being the capital, Vienna is a vibrant city whose wide streets and relaxed atmosphere give it the feel of a town. In summer, the square in front of the Wiener Rathaus always has food stands and cinema screenings to enjoy.
Meanwhile, a little towards the city's outskirts you can find dedicated cycle paths along the Donauinsel as well as the winding roads to the city's north which are lined by vineyards producing some of the best white wine you are likely to taste anywhere.
At night, the city's old Jewish quarter and the Gürtel are where late-night parties are to be found, while music venues and packed card rooms are available near the U3 Erdberg underground station.
You can even cycle the city's inner ring road after dark if you so wish, as it is reserved to the cyclists and skaters belonging to Critical Mass a few days each month.
Graz, by contrast, is focused mainly around the Schlossberg hill that looks out over the city.
There are fewer opportunities to tour the town on your bike due to its cobbles and narrow streets, but it is still worth visiting the Kunsthaus and Arnold Schwarzenegger museum.
New to cycle touring? Check our Bicycle Touring 101 directory!
Lakes, Lakes, and More Lakes
Once you have had your fill of Austrian urban centers, it's time to go and check the reason why the country is famous among the cycling fraternity: beautiful lakeside and mountain-flanked rides.
The best ones are found at Hallstatt and Velden, the latter also a great place to stop over if you enjoy gaming.
While the country's bigger lakes are stunning, some of the real gems are the smaller bodies of water lying in wait at the end of perfect country lanes, including the emerald-colored Grüner See and the beautifully warm Wörthersee.
Austria is great for a Tandem trip, check The 11 Best Tandem Bikes for all budgets
Cycle the Danube all the Way North to Germany or Down into Slovakia
Part of the beauty of Austria is that it shares borders with no less than nine other countries, meaning that there is nothing stopping you from hopping from one country to another whenever you feel like it.
A great way to do this is by following the Danube river north to Germany or south to Slovakia.
Along the way to the north, there are also some major highlights to point out, such as the stunning towns and villages that dot the Wachau region.
Purpose-built cycle paths perfectly compliment regular roads here, to produce the ideal destination for a day or two's worth of touring.
Check Also

.Danube Cycle Trail: the ultimate guide
Cycling in Salzburg – Visit the Home of Mozart
Salzburg is one place that any Austrian cycle tour should take in, with its fairy-tale style architecture, lavish concert halls, and all the history that comes with being the home of legendary composer Wolfgang Amadeus Mozart.
As well as going to see the very house that the great man grew up in, you should also pay a visit to the cathedral, Hellbrunn Castle, and check out the views from Hohensalzburg Castle which keeps an eye on the Old Town streets below. Salzburg is definitely one of the most beautiful cities in Austria!
Treat Your Aching Muscles to an Austrian Spa
When your tour is done and you can cycle no more, it really is worth checking into one of Austria's world-renowned spa complexes, which will pamper your group to the core.
Although 5-star spa hotels and complexes can be found hidden away in virtually all corners of the country, perhaps the biggest grouping of them is near the towns of Villach and Klagenfurt.
Establishments like Hotel Die Post and Das Ronacher offer everything from hot stone massages to soothing saltwater soaks and mud baths.
How to take a train with your bike in Austria
Another great thing about cycling in Austria is that there is never a need for you to worry about ending your tour near to one of the major airports.
This is because the Austrian train system is second to none, with virtually all trains have carriages specially designed for carrying large quantities of bikes.
So, once you can soak no more in your 5-star spa, in the foothills of Villach or Klagenfurt, simply hop on a world-class train that will take you to the doorstep of Vienna International Airport, ready for your homeward voyage.
Cycling in Austria, a bit more info
Austria is really a gem of a country, not just for its mesmerising alpine landscapes, but also for its great food, gorgeous architectural heritage, and very friendly people.
Although the north doesn't offer much in term of landscapes, it still makes for one of the most popular bike holiday rides in Europe, the Danube River Cycling Path. Which is always an easy and entertaining solution for beginners.
The best bike rides in Austria though, are without a doubt in the alpine range.
There are some of the toughest climbs you can ever ride in Europe in this beautiful mountains, great challenges also for pro cyclists.
Passing through the Alps anyway, doesn't necessarily require to be the fittest cyclist. There are a few routes that are perfectly suitable for intermediate riders.
Beautiful valley roads, which involve some climb but can easily managed by almost anyone.
Easy Cycling Holidays in Austria
Cross Alps Bike Route for Intermediate
Advanced Mountain Passes to Ride in Austria
Timmelsjoch
Rettenbachferner
Großglockner
Kitzbüheler Horn
Stay in touch while we get lost! Follow us on Social Media