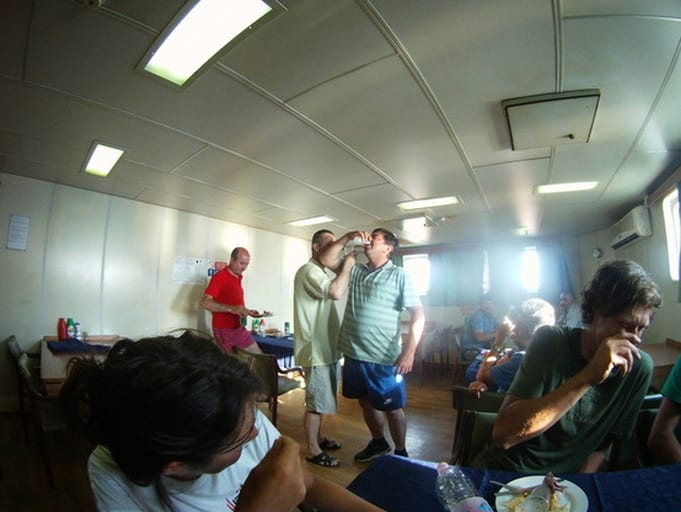 Crossing the Black Sea by Ferry. The incredible adventures on a three-day ferry crossing with the weirdest people in the world.
Black Sea Ferries – 2019 update
Information upon boats crossing the Black Sea has always been pretty nebulous. Companies and routes appear and disappear without any notice, schedules are non-existent and, when there are any, they often aren't respected.
Ferries from Varna to Poti seem to go every two weeks, they are operated by different companies, often selling tickets for the same ship at different prices, be aware.
As far as we know there's no way to book in advance. Tickets must be made at the port, just before the departure (see our account below).
Boats allegedly depart all year round, but we've heard of various reports of people seeing their ferry canceled in the winter months, because of bad weather.
Some information may be found on Caravanistan or on Navbul's website. Navbul is one of the companies operating the Varna – Batumi (Poti) ferry line.
The passenger ticket price is around 100€, and bicycles should be free. However, we paid 80€ while the Germans who made the ticket just 2 minutes before us paid 130€. They paid in Leva (Bulgarian currency) though everybody said they only accept Euros or Dollars. This just to make it clear how every information you might get about this ferries, even a recent first hand one, may not be 100% relied upon.
Disclosure: Some of our articles contain affiliate links. This comes at no additional cost for you and helps us keep this website up and running. (as Amazon Associates we earn commission from qualifying purchases)
Getting to the Port of Varna
We leave from Kiril's villa, where we would have happily stayed waiting for the swimming pool.
This time, however, we take the right path and in just over an hour we are back in Varna. We buy something from the Pekara (bakery) before heading to the elusive port of Beloslav, where the ship to Georgia is supposed to sail from.
While we eat we're approached by a Frenchman, Daniel, who should've taken the ferry to Georgia two weeks ago (the boat leaves every two weeks).
Once he arrived at the port to make the ticket, however, he was told that they only accept Euros or Dollars while he only had Leva. They also do not accept cards, so the poor Daniel went to the ATM but the cost of the ticket exceeded the maximum withdrawable per day. In conclusion, bye-bye ferry.
And now he's in Varna for 15 days, awaiting the next ferry, that should be tomorrow. The tickets, as we were told on the phone, are available only a few hours before the boarding.
Too bad no one has told us that the departure port is 20 kilometers from Varna and that you can only pay in Euros, luckily we met Daniel! He's a 60-something-years-old dude with long gray hairs and a funny mood, he's going to Armenia with his car, to find his Eldorado, he says. He wants to move there for good, even though he hadn't been there before.
The road to Beloslav is quiet, only towards the end, there is a slope that kills me. We arrive at the "harbor", which is basically a parking lot where there is a dozen trucks, some cars, and the caretaker. In front of us, docked in the canal leading to the Black Sea, the ferry, actually a cargo ship that has had its days. But at least it's there, it's already something!
We ask the caretaker if we can pitch our tent in the meadow near there and he says there is no problem. We meet Daniel again, he's feeding a stray dog with whom he just became friend with. Well, let's go to bed early hoping that tomorrow the ship is still there and that there are no more surprises.
How to buy the ticket
At 7:00 we wake up, we should "set sail" at 9.00. At 8:30 am we head towards the "ticket office", that I don't know how to describe. It's a building that looks abandoned by at least twenty years, on its side, there is another block that was once a bar/souvenir dealer. Now there is no longer even a floor, only stray dogs and brave plants. A wreck sign reminds us that this is the port of Varna.
Finally, at 9.00 (departure time, in theory) a guy shows up to open the door of the building, we ask if we can purchase the tickets and he tells us we arrived too early, we shall come back not before 1:00 pm! Okay!
The wait is long, we get to play cards while we see the truck drivers rebounding from one building to another without understanding what they need to do. They are all visibly taken aback by the situation. Above all everybody speaks only Bulgarian and the poor truck drivers do not understand anything (we too of course). Nothing left but to laugh about it. Daniel manages to buy the ticket, but we don't. The guy tells us that we have all day… and it's true, we find out that the ship will leave tomorrow!
But we can all happily board today and we will also have dinner. Hurray! We're hungry, five hours waiting here, no food at all, and no places to buy some in the neighborhood. Daniele and Daniel take a ride to the nearby village to buy something.
Around 3 pm, two German guys on bicycles arrive, I don't understand what are they doing here at this hour. We were told that the ship would have left this morning at 9:00! But they were told the ship would be leaving this evening at 19.00. I tell them about the further delay and the currency problems.
One of the guys goes to the office to meet the sympathetic ticket man. The other tells me they set off from Frankfurt, the 5th of May, just like us, and are riding our very same route!
In any case, after a few minutes, the guy comes out with the tickets, and paid for them in Leva! Ok, keep calm. I try for the umpteenth time at the office and finally I can have my ticket. It is only a receipt and I pay about 50€ less than the Germans, I don't know why and it is pointless to wonder.
Daniele and Daniel are back, and we all can board the ship together. And we got beers! The crew gives us cabins for two, we are alone, a big relief. In total, we are fifteen passengers, the five of us "tourists" and ten truck drivers.
At 7 pm we're summoned for dinner, fried potatoes, tomatoes, cucumbers and meatballs, I say that I'm a vegetarian and I got some cheese. We thought worse, the dishes are already prepared, the quality is not great but it is not that bad either (as we had read in various travel reports on the Internet). We have to sit still for four days, we don't need so much energy.
We go to the TV room where we watch the first matches of the World Cup before going to bed, tomorrow morning at 10:00 we'll leave! We hope.
About the ferry
At 10:00 am, obviously, not moving at all. The ship though is better than what we expected, the cabins are well maintained, there is a private bathroom with a shower, the water is warm, there is a window and we have 3 meals a day. But the TV does not work during the crossing so no more football games.
The crew calls us at 11:30 for lunch (a bit too early for us) and while we eat, finally the ship starts moving. Doing very little noise, as opposed to what we thought.
The Azeri weirdos
As I leave the cab, I get in front of a short guy with a t-shirt of Italy, shorts of Italy, and flip-flops of Italy. Impressive, how we didn't notice him before? We go out on the deck wondering from where he popped out, we think it could be really Italian, but we hope not.
On the bridge we meet him again, it's with another funny guy, who looks like the brother of Super Mario, Luigi. We find out that they are from Azerbaijan but one of them is a big fan of Italy… and three times judo world champion (he shows us the pictures to prove that), the mysteries of life. In any case, they want to offer us vodka (it's noon).
It's forbidden to bring alcohol on the ship, but no one seems to notice or care about. At the end we accept. Come on in their cabin that is more "luxurious" than ours, they also have the television. We get a bit of vodka, the Italy's fan only drinks ron, but the other guy gulps down almost a bottle in a sip.
He shows us a video of a Natasha (prostitute) who he called at the hotel when he was in Varna, then some naked girls in a discotheque, very interesting.
Then he almost gets into a real fight with Daniel (the French) when he says that Nagorno-Karabakh belongs to Armenia. Never say that to an Azeri, never. By the way, too much vodka, too many Natasha, is enough for us, we go in our cab to rest.
After dinner (I eat fried cheese and the others something that apparently tastes like something in between chicken and fish) we go in the TV lounge where Luigi (also called Stalin because of his mustache) begin to put-on a DVD after another in search of naked women. We give up and go to sleep.
Fear and Loathing on the ship!
We wake up early, here if you don't come in time they close the dining room and no more din-dins! It a little like a jail, but with a pretty and a nice sea around. And most importantly, lasts only four days. We see dolphins, here there are so many! They follow the ship and perform some nice choreographies.
At lunchtime, delirium. We are already at the table when here he comes, Luigi/Stalin completely drunk. He waves his vodka bottle and starts a singing show.
He then sits at his table next to ours, with a full glass of vodka, which promptly he guzzle to the last drop, and then a second and a third one. After about ten minutes of the show he wants to force me to drink vodka, then kisses me very close to the lips.
The situation degenerates a bit, he swigs a whole bottle of Vodka. Here comes the waiter/bartender of the ship (I think the passenger officer or something like that) that scolds him, but he's by the time completely gone.
The judo champion who is there with him plays dumb, maybe a little ashamed, or maybe he's used to. So in the end, Daniele gets angry, Daniel gets angry, everybody gets angry! Poor Stalin… But today he drank too much, now he goes to take a nap and maybe at dinner he will be better.
The afternoon continues quiet, calm blue sea, dolphins. At 17:30 it's time for dinner, strange sausages with melted cheese inside. The German guys are horrified. At the end, being vegetarian saved me, I get some less ambiguous slices of cheese.
New destination, Poti
Description of the passengers. The two of us, the two German cyclists (both more than 200cm tall), the french Daniel who thinks he'll find his Eldorado in Armenia, passionate about Jesus and the Gospels and tired of the West, full of people intellectually impoverished. And these are the "tourists".
Then there is a very nice Romanian truck driver, who speaks a little English and carries a load of cigarettes to Yerevan, a slightly dangerous job.
He tells us that in Italy some people tried to push the truck off the road to rob him, he doesn't give a fuck, he says, "if they let me go safe, I'm ready to give keys and truck". All truckers agree on the fact that Italy is a dangerous place.
Then there is a Polish truck driver with its cargo of about twenty cows (he is not at robbery risk), is a bit worried due to the delay because he only has food for 3 days, and then there is a cow that should give birth within a week.
He made friends with another truck driver, a Georgian giant that always wear suspenders (sometimes with nothing underneath). Then there are the two Azeris, and two Armenians with gold teeth. Needless to say, I'm the only woman on the ship.
The Polish truck driver tells us that we will not get to Batumi, but Poti, about 70 miles north. Just like that, change of destination. At 1:00 am police will come on board for passport control. Finally, we see the lights of the harbor in the distance, the moon is huge and beautiful and we hear the sound of dolphins jumping in the water. Try to get some sleep before the police come.
Check our video about the Black Sea Ferry Crossing
Video is still available in Italian only

Interested in a trip to Georgia? You can read these articles:

Georgia: itinerary, what to do and thing to see
Here all our articles about Georgia
Follow Us
Stay in touch while we get lost! Follow us on Social Media