10 best bike rain cover for cold weather & rain protection
Cheap, heavy-duty, travel, road bike, MTB, large covers for 1, 2 (double), 3, 4 bikes
Protecting a bicycle is essential, especially if you don't possess a shed or garage. A reliable and durable bicycle cover can maintain cleanliness and shininess by providing protective layers against storms, rain, and heat.
Experts aver that the best way you can extend your bike lifespan is by covering it when not in use, especially in the cold weather of the winter.
The best waterproof bicycle covers will protect your road bike or MTB, or even both of them together (in the case of double or 3/4 bike covers) from its wheels to the saddle and handlebar.
Even when cycle touring, carrying a bike rain cover can be worth it unless you'll want to share the space of your tent with your bike.
Should you want a bicycle to remain dry whenever you're not riding, it is best to invest in a bicycle rain cover.
Let's look at the best bicycle covers for 2023. Shall we?
The best Bicycle Covers in a Nutshell
Disclosure: Some of our articles contain affiliate links. This comes at no additional cost for you and helps us keep this website up and running. (as Amazon Associates we earn commission from qualifying purchases)
How we compile our gear guides: during the almost 10 years of cycloscope.net our team personally tested dozens of similar pieces of gear. For what we can't test personally, we involve other people in the cycling community to give their feedback and opinion about gear they have used. Our decade-long experience in bicycle touring enables us to find the key cons and pros of every product we mention.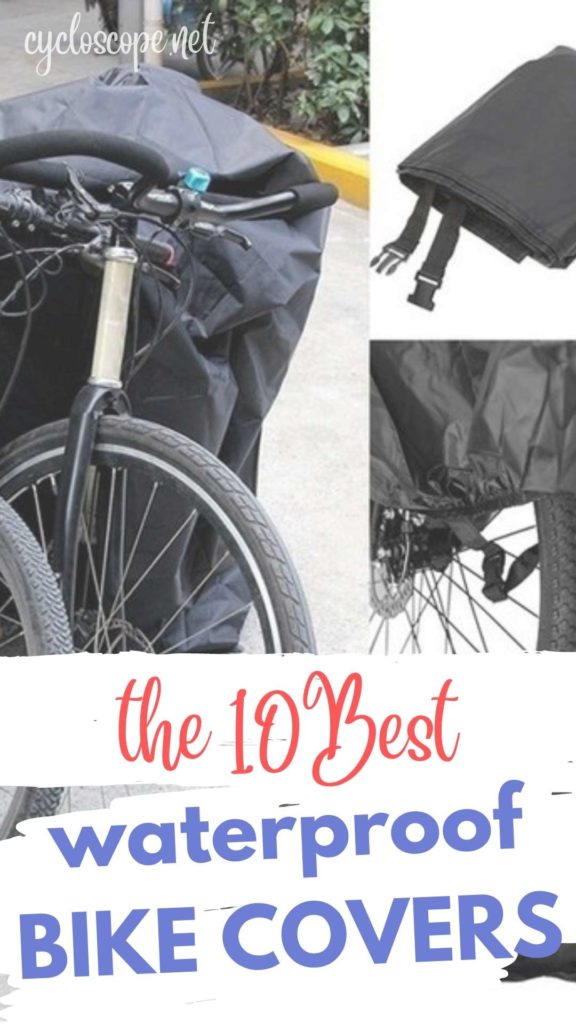 The 10 Best Waterproof Bike Covers
1. MayBron Gear Bike Cover
Most versatile and convenient bike cover
Starting off the list is the MayBron Gear Bike cover which is amongst the best moisture-proof bicycle covers you can find on the market.
Curated from top-notch protection materials and durable fabric, MayBron will protect an entire bike. It's effortless to take off and put on.
Use Velcro straps and elastic fittings to tighten it. Removing it is also instantaneous. MayBron is a large bike cover that is versatile because it can effectively cover up to two bikes.
The elastic can stretch this cover over the whole bike to prevent it from car splashes and rain.
2. YardStash Bicycle Cover XL
best outdoor bike cover for large bikes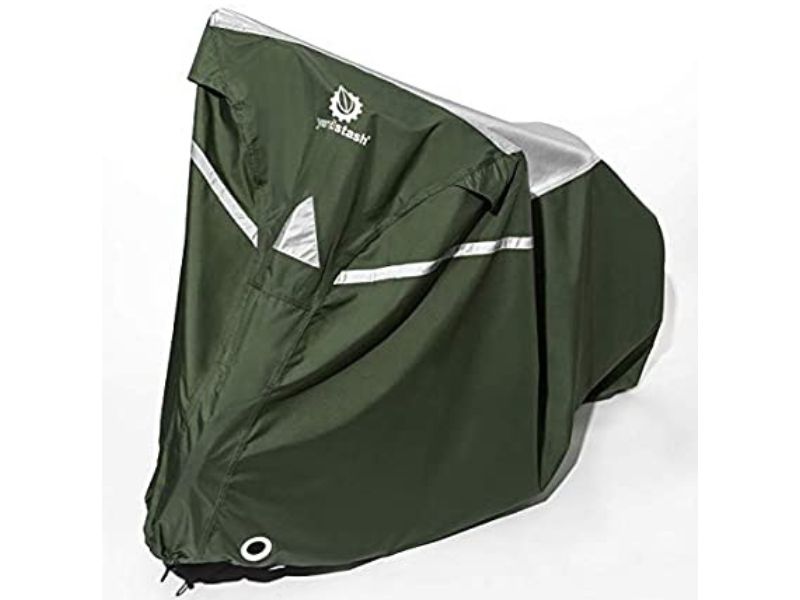 Another reliable brand that's stern on quality, reliability, and functionality is YardStash. The YardStash bicycle cover is also designated to fit any bike size regardless of its width or length.
In addition, it possesses a security feature that keeps your bike cover fastened during snowy or rainy periods. It is top-rated for travel use or during any other outdoor excursion activities to protect your bicycle.
Curated from UV 210D polyester and shielded coating, this cover will protect your bike from rain, cold, and heat.
Featuring a complimentary bag, which you can use to transport and store the cover. It is also foldable to a very compact size, so you needn't worry about tearing and wearing the fabric.
3. Ohuhu Outdoor Bike Cover
best budget lock bike rain cover
Ohuhu is amongst the best and most durable bicycle covers on the market. It can cover large road bikes and mountain bikes.
Apart from water, it can protect your bike from anything else that could damage it. Even bright sunlight can't penetrate via the sturdy thick UV material. It is also built with top-notch 210T nylon that makes it denser and yet so durable.
There's an additional buckle underneath this cover with designated locked holes meant for slipping your bike into a lock-in. Safety is highly guaranteed and you can never find your bicycle missing regardless of where you left it. 
4. Pro Bike Cover
best winter bike cover for weather protection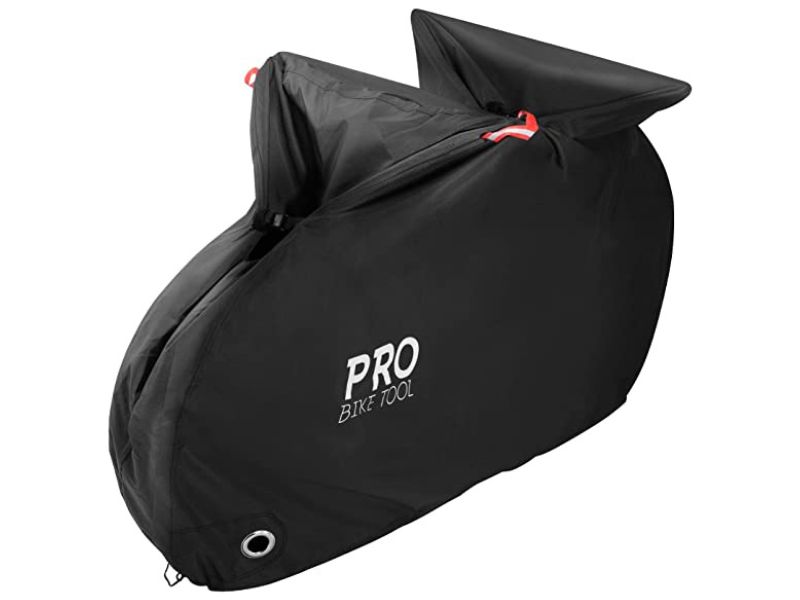 Several bicycle magazines have accorded the Pro Bike cover as one of the best winter covers for all types of bicycles, from MTB to road to large touring bikes – no matter the make and size.
It's built to safeguard and sustain your bicycle in all weather conditions, courtesy of the patented stitch technologies.
This technology also keeps the cover's seams shut. Besides, it's easy to secure the lock onto a bike using several front holes. Strap the cover using your bike's locks.
If you want a cover that can go beyond serving tight fit, security, and safety, then the Pro Bike cover is an excellent choice.
5. Puroma Bike Cover
best UV protection bike cover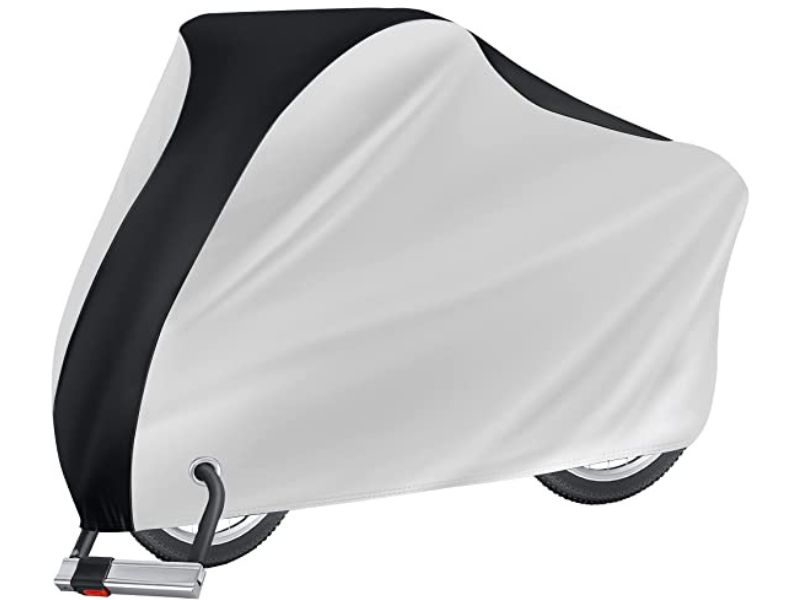 Puroma can help increase the lifespan of your bike, exceeding the expectation of what a typical cover could do.
It's curated from waterproof polyester, which possesses UV and PU coating to effectively safeguard your bike from sun, dust, and dirt damage.
Ideally, the UV proofing goes up to the 50 percentile. This is to imply that your bike is protected by 50% from hazardous UV rays when you use this cover.
The bike cover remains intact even on windy days. It possesses double-stitched plastic hems that offer a snug fit after combining with peculiarly designated buckles.
6. TeamObsidian Bike Cover
great heavy-duty bike cover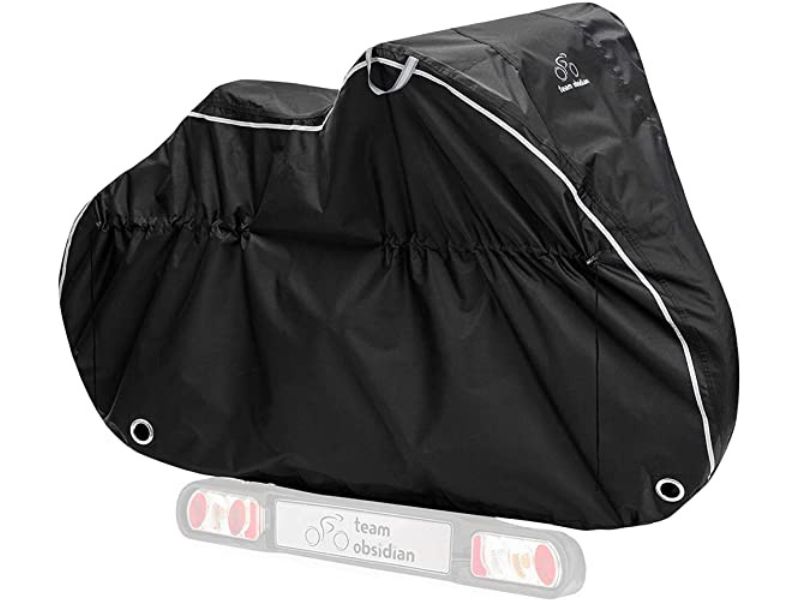 This bike cover by TeamObsidian is one of the best waterproof bike covers on the market.
First of all, it comes with two years of warranty, so if your cover gets damaged, you can easily replace it.
Apart from that, the unique, thrilling features and quality render this cover the best fit in this list. It's curated from heavy-duty rainproof and waterproof materials that keep your bike protected in the worst weather conditions.
In addition, this material offers UV protection to keep bicycles from the adverse effects of sunlight. It's also compatible with a vast array of bicycle models: it can securely cover beach cruisers, city, electric, and BMX bikes. 
7. EUGO Bike Cover for 2 or 3 Bikes
best bike cover for two or three bikes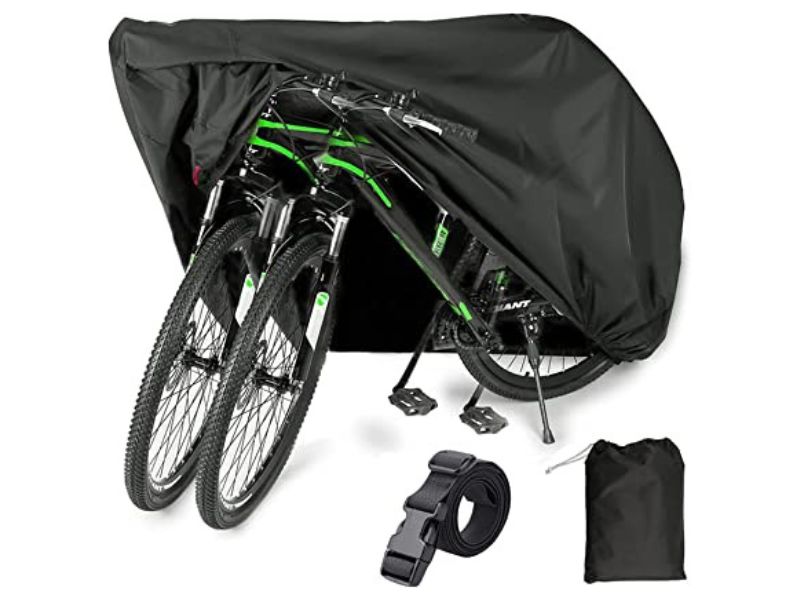 Moving on swiftly, we have the EUGO cover that can easily cover up to three bikes simultaneously.
You can be confident in EUGO's quality thanks to the 210D oxford fabric materials that feature PU and waterproof coating. Also, the EUGO cover will protect your bike from dust and UV rays even in windy conditions.
With an elastic front, the cover will remain intact hence giving it extra protection. The bike cover possesses duo lock holes on the wheel area for securing and safeguarding your bike from theft. 
8. ATCG L Outdoor Bike Cover
best travel bike cover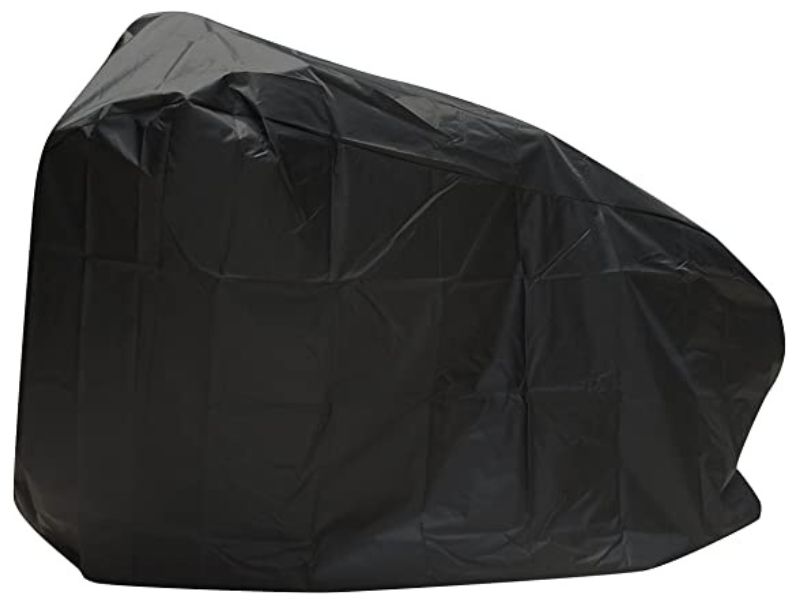 ATCG Bike cover features a sturdy storage bag. Thus you can store it easily when you're not using it.
Featuring a 190T nylon that's durable and waterproof, you're assured of an extended-lasting bike cover. Plus, this cover protects your bike from scratches, theft, rain, dust as well as sunshine.
Given the durability and versatility of this cover, it can work on a vast plethora of bicycle models and usages. You can never go wrong with this bicycle cover!
9. Anglink 29 Inch Waterproof Bike Cover
cheap but great value bike cover
Anglink Cover is designated to fit bike wheels that even have 29″ sizes. The cover is additionally curated from 210D oxford materials that are sturdy and tolerate all outdoor elements.
Needless to aver, your bicycle will be protected from rain and even car splashes. It's also enhanced using heat seams and double stitching.
All bicycle types and models can use this cover because it is efficient and effective. The cover is so affordable yet works amazingly like other top-notch cover materials.
10. Kotivie Lockable Foldable Waterproof Bicycle Cover
best double bicycle cover for safety
Last but not least, we have the Kotivie lockable and foldable cover that's made from long-lasting and top-notch polyester material.
The Kotivie cover boasts full-coverage performance and admirable protection courtesy of the heavy-duty materials.
It can't be blown away by the wind because it has a wind-resistant designation that's enhanced by eyelets, adjustable straps, eyelets, and two buckles for tying and locking.
It is also large enough that it can cover up to 4 bikes at the same time. What more could you ask for?
How to Choose The Best Waterproof Bike Cover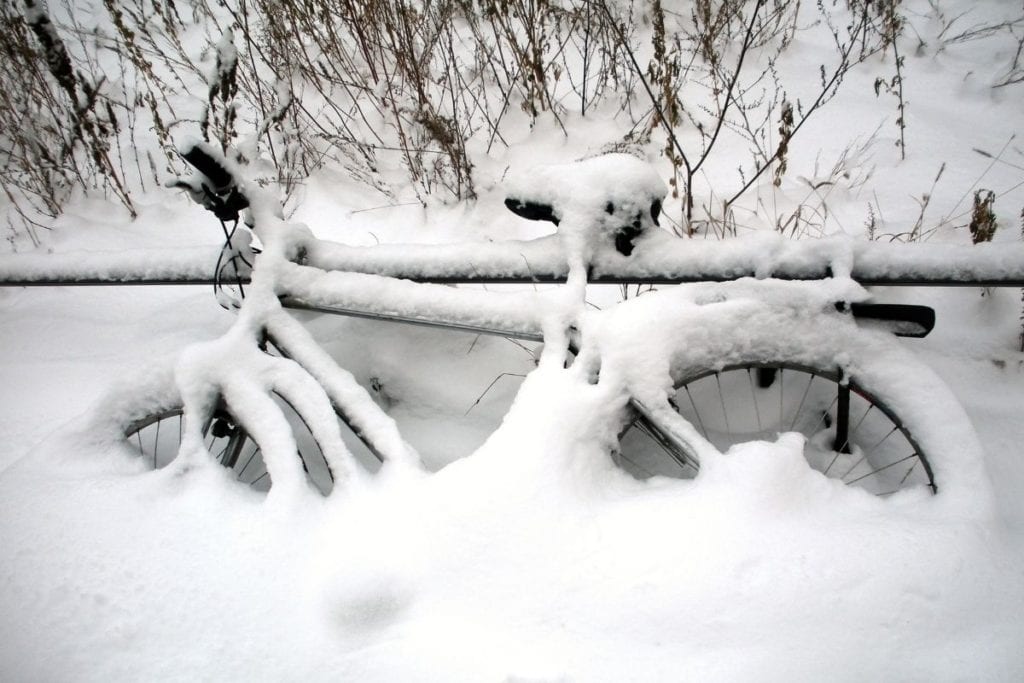 Having discussed the best waterproof covers on the market in 2023, let's look at what you need to consider when choosing the best waterproof cover.
Materials
The cover material needs to be UV resistant, waterproof, durable, thick, and quality to mitigate various elements from destroying your bicycle. Oxford materials are highly reliable to make such covers.
Dimensions
Dimensions of a cover will help you know what size of bikes it can effectively cover. You should also see the dimension of your bike to help you choose the size of your cover. The dimensions should be sufficiently effective to cover the entire cycle such that you don't struggle to stretch it.
Lock holes
Apart from covering your bike to prevent it from dangerous elements, the cover of your choice also needs to secure your bike from petty theft. Front locks on a cover can effectively do this whenever you're away from your bike.
Bottom elastic hem
 A bottom elastic hem will help cover your bike down to avoid damage.  
FAQs About Bike Covers
Conclusion
A bike will serve you long if it is well-protected and safeguarded from various elements and theft. That's why you need a waterproof bicycle cover that can shield your bike.
That said, we hope you enjoyed the review and the guide. Don't forget to share the article with your biking enthusiasts who'd appreciate the review. Good luck in choosing the best waterproof bicycle cover.
Which material is best for bike cover?
A bicycle cover needs to be UV resistant, waterproof, and durable, to mitigate the effects of the elements. 100% polyester materials like those used in tarps and camping tents are waterproof and abrasion-resistant and could be considered the best for bike covers.
How can I cover my bike outside?
Many people think a roof or a shed is enough to protect your bike. But humidity and elements will wear it out anyway in the long run. The best way to protect your bike outside is to use a rainproof bike cover.
Stay in touch while we get lost! Follow us on Social Media