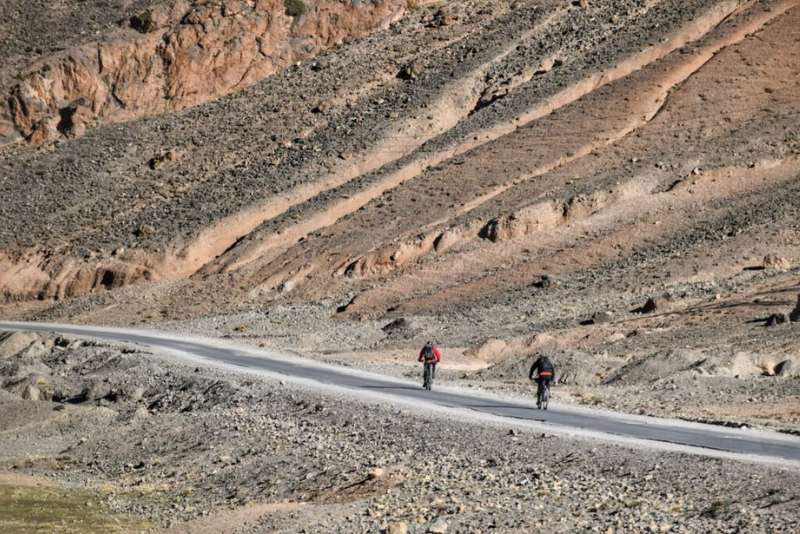 Do I need cycling insurance? A thorough guide on insurance policies for bike riders
Nearly 130,000 cyclist accidents occur in the U.S. each year. While this number may appear small compared to the total number of cyclists in the country, estimated to be over 50 million, it's crucial to remember that bicyclists are particularly vulnerable when on the road. Typically, whether you ride for fun or competition, you may lack physical protection, which can increase the risk of injury in the event of a collision. 
You should take the necessary precautions to ensure safety, including following traffic laws, wearing a helmet, and using lights and reflectors when riding at night. However, having adequate insurance coverage can provide protection and cushion you financially should an accident occur. Just like you would shop for insurance between jobs, it's important to look around and find a cover that suits your needs. 
Here's a comprehensive insurance guide for cyclists.
Why You Need Insurance
Insurance for cyclists is not a legal requirement; however, it may have multiple advantages.
Financial compensation in case of theft and damage
Insurance gives you peace of mind that you're financially protected in case of theft or damage of your bike, accessories, or gear. It means that if you lose your bike to theft or it's damaged, you can file a claim with your carrier and get compensated for the loss. It can save you time and money by paying for costly repairs or replacements.
An insurance cover may also extend to your accessories, including helmets, lights, and locks, especially if you've invested significantly in these items.
Liability protection
Liability insurance covers the cost incurred if you're found at fault of injuring someone else or damaging their property. The coverage may extend to paying their medical bills or compensating them for lost wages due to the accident.
Medical coverage
Insurance is vital for cyclists because accidents can happen and result in costly medical expenses. Injuries can range from minor bruises to internal injuries, broken bones, and head trauma.
Without insurance, these expenses can dramatically pile up and become financially devastating. Insurance can also help cover the cost of rehabilitation after an accident.
Types Of Insurance Coverages Available For Cyclists
Home insurance is probably the most common coverage for insurance bikes. The idea behind this is noble because keeping everything under one package can save you some money. However, it's also possible to take out other insurance packages to bump up your coverage.
Here are several types of insurance coverage available for cyclists, including:
Accidental Death and Dismemberment (AD&D) insurance
This type of coverage provides financial coverage in the event of accidental death or loss of arms and legs while cycling. Depending on the policy, it may also cover other types of injuries, such as loss of speech or sight.
In most cases, this coverage is an optional policy that you can add to your bicycle insurance policy and may pay a lump sum benefit to beneficiaries. It's essential to keep in mind that this coverage may not cover death or injuries due to natural causes and may have exclusions.
Liability Insurance
Navigating unfamiliar paths when cycling for leisure or sports can be challenging for any rider. But, having an added layer of protection can provide peace of mind and allow you to focus on the journey ahead instead of worrying about tedious court battles or urgent medical expenses.
As mentioned earlier, liability insurance provides coverage if you're responsible for causing bodily harm or property damage when cycling. It also covers legal representation fees as well as third-party damages. Ensure you research your state's provision to understand the thresholds or limits.
Liability insurance covers two areas: property damage liability and bodily injury liability. Whereas property damage covers damages to other people's properties, bodily liability compensates medical insurance and lost wages incurred by third parties due to an accident you caused.
It's important to remember that liability coverage does not cover damages or expenses incurred for an accident that you're not liable for.
Personal Accident Cover
This type of coverage for cyclists provides financial compensation for medical costs due to accidents.
Some policies may provide additional coverage for accidents while cycling on-road or off-road. Also, others may only provide coverage for on-road accidents and those that occur during competitive sports or organized cycling events.
Medical Payments Insurance
This type of insurance covers medical costs incurred due to a cycling accident regardless of who is at fault. As noted earlier, the main advantage of getting insurance is to cover medical expenses in the event of an accident. This coverage is important, especially if you don't have health insurance.
Medical payment protection helps pay medical costs such as physical therapy, hospital status, and doctor visits, which can be costly. It may also cover the costs of medical treatment, including evacuation costs.
Some health insurance policies may only cover some medical expenses. Notably, the extent of coverage may vary depending on the type of policy and insurance provided. Some policies may have restrictions on coverage, whereas others may not have any limitations. You should read the fine print to understand the exclusion and coverage.
Personal Injury Protection (PIP)
Personal injury protection (PIP), also known as "no-fault", is an auto insurance coverage that covers medical costs and, in most cases, lost income due to an accident. Whereas PIP is typically intended for motor vehicles, some states may have this coverage for cyclists and pedestrians hit by a vehicle. It'd be best to check with your carrier and the state regulation to determine if PIP insurance is available for cyclists in your city or state.
Comprehensive Coverage
Comprehensive coverage ensures you and your bike stay protected from potential injury and damage. The advantage of this type of insurance is that it covers a wide range of bike-related accidents or damages, including medical expenses and replacing a stolen bike or accessories.
Coverage can also extend to non-collision events such as damage from falling objects, vandalism, or natural disasters like earthquakes and floods. Comprehensive coverage is optional, but you can add it to your bicycle insurance policy.
For instance, if your bike is stolen, financial compensation may include the cost of buying a new bike. Also, if the bike is damaged due to natural disasters, the policy may cover the cost of replacement or repairs. It may have a deductible or out-of-pocket expenses, which you must pay when making a claim. Sometimes, it may be included in your homeowners' insurance policy.
Usually, the policy may vary depending on the insurer, and coverage may have limits on certain treatments or maximum payouts.
Collision Coverage
This type of coverage for cyclists protects from property damage claims and medical expenses due to accidents. Sometimes this coverage may come in the form of an add-on policy or rider to another policy, such as renters or homeowners insurance. It can also be offered as a stand-alone plan.
It typically covers the cost of repairs or replacement of your bicycle in case of an accident, regardless of who is at fault. It can be useful if the other party has no insurance coverage or doesn't have sufficient coverage.
Collision coverages may cover damage to your bike due to a collision with a vehicle or if you hit a pothole.
Tailored Policies For Riders
Some insurance providers may have policies that are tailored to riders. Such policies may provide coverage for unique risks, such as repairs and replacements in case of accident or theft.
For instance, rider-owned liability insurance is ideal if you have club membership for cyclists. The policy may cover legal defense costs if a lawsuit arises from accidents or injuries during a club-sponsored activity or ride.
Cycling travel insurance is a tailored policy worth considering as a cyclist. If you intend to hire a bike and cycle around, your standard health coverage may provide financial protection should an accident happen. However, you'll need to level up your coverage for anything extreme. Most insurance providers may upgrade your coverage depending on the assumed risk level.
For example, a comprehensive cover may be ideal if you use your bike for cycling downhill during a race. Be sure to avoid underselling your riding activity when taking out a cover.
Wrap Up
Cycling can be a fun way to move around, but this fun activity comes with some risks. An accident can happen, and you wouldn't want to be caught without having adequate insurance coverage. Even if you have safety equipment, you shouldn't take any chances by foregoing insurance.
Taking out insurance coverage provides financial protection and protects your wallet from taking the hit of costly expenses should an accident occur. It's a good idea to check with your carrier to understand the specifics of the policy, including exclusions and limits. Like most policies, the extent of coverage may depend on the insurer.
So, it's important to conduct thorough research before choosing any insurance policy as a cyclist. The information in this guide will help you navigate these important waters, for sure!
Stay in touch while we get lost! Follow us on Social Media