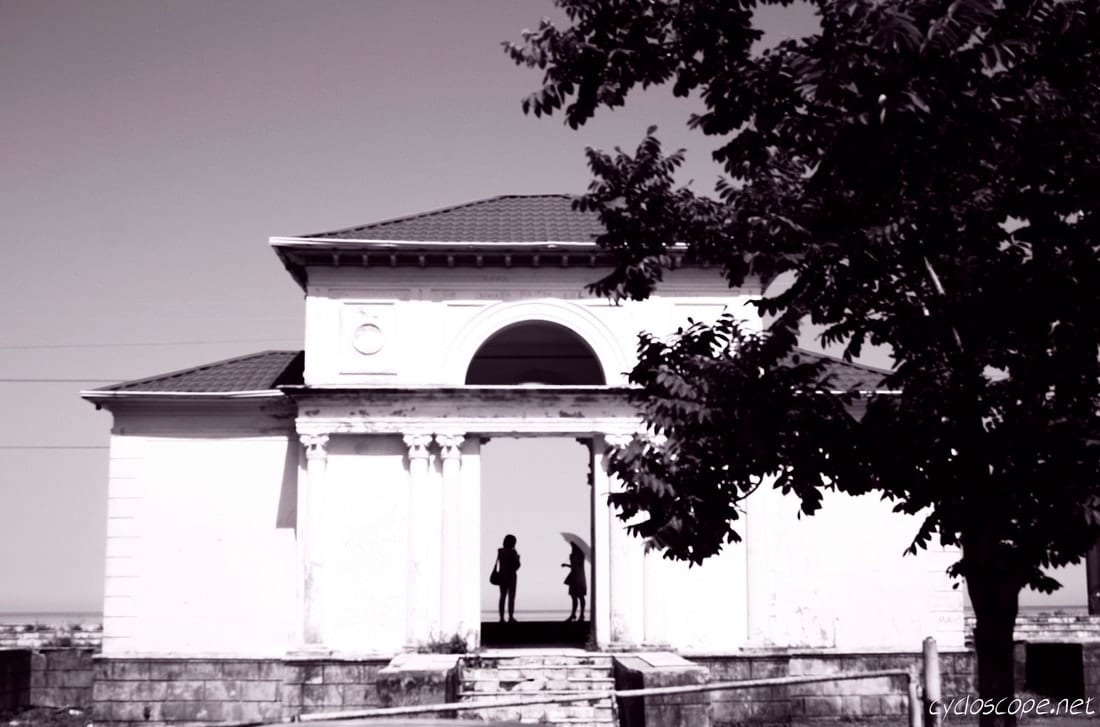 Our bicycle trip in Georgia begins. Camping in the Batumi Botanical Garden, following the Black Sea, being stalked by police. Cycling adventures in Adjara.
A visit to the odd city of Batumi and its world-famous botanical garden, a failed Azeri Visa, and other stuff.
Is Georgia corrupted or you're just dumb?
A few minutes to 5 am and we're ready to get off the ship. Well, not really so ready. Since we should've arrived in Batumi but instead we're in Poti, we decide to accept a lift in Daniel's car, we'll ride this 70km later. The plan is to get a visa for Azerbaijan in Batumi, which should be faster than in Tbilisi.
We get in the car and go to the police checkpoint, where everyone takes a look at our passports. In theory, they should just check the stamp we got on the ship a few hours ago.
Everything looks okay, but the guy of the port jumps in the car with us, and leads us to another police station, they all look again at the passports, then to another police station and again they all check our documents.
We finally leave the harbor, but the guy is still in our car. He "accompanies" us up the road to Batumi and then asks us a hundred euros because he says, he has given this money to the police to let us pass. Sound suspicious.
We straight tell him to fuck off and get off our car before we call our embassies, and he just gives up right away and gets off the car, not even try to haggle a bit! Let's say you still have to learn a lot about the "job" dude!
Disclosure: Some of our articles contain affiliate links. This comes at no additional cost for you and helps us keep this website up and running. (as Amazon Associates we earn commission from qualifying purchases)
We get rid of the port and head to Batumi, but first, looking for something to eat. Daniel would like a croissant but I see it hard… Anyway, everything is closed because it's too early.
To our right is the sea, there appear to be good beaches and pine forests, the vegetation is very different, subtropical. To our left, there are mountains covered with ferns.
Shortly before Batumi, there is a fairly steep climb that I would definitely have done pushing the bike, we are surrounded by bamboo and terraces, looks like Ruanda.
But we cannot see that much landscape, people drive like crazy and honking continuously, to greet, to insult, or just to play, so that, in the end, it loses any meaning.
We stop to eat something, find a bakery and take something very good, is a square of dough stuffed with cheese, freshly baked. Hooray Georgia! We also try the coffee, Georgian coffee is similar to the Turkish one but stronger and shorter.
Camping Batumi Botanical Garden
We ask the people around if there is a camping in the area, but nobody seems to know what camping is like. Our GPS says there is one about ten km back, where we had seen the bamboo forest.
Daniel gives us a lift, and so we go. In fact, after about ten km, on the left, there is a road with a sign that points out the botanical garden. We can camp inside the botanical garden for 30 lari, about 12 euros.
Perfect, we just want to sleep. We say goodbye to Daniel, wishing him to find his Eldorado in Armenia. In the botanical garden, we're shown where to pitch the tent, a nice spot in the shade of large trees and close to the beach. This is not a campground though, there are no showers but the park's public toilets.
We leave the bikes and let's go find a place to eat, which of course is on the other side of the park, so we take the opportunity to visit it. Batumi Botanical Garden is really beautiful and well maintained. Thanks to the local climate there are plants from all over the world.
Just out from the garden there is a restaurant where we eat our first Acharuli Khachapuri, a filled bread in the shape of a boat, stuffed with melting cheese, butter, and egg. We'll never forget this moment.
On a zombie pace, we visit the nearby beach, accessible directly from the Botanical Garden, the sea is not very good, there is a little dirt but we are close to the city so maybe this is the reason, we hope to find better places.
Batumi
As soon as we wake up we go for a bath, today the water of the Black Sea is crystal clear. We head to the Azerbaijan consulate in Batumi, where we find out that from July 1st this year, they no longer issue visas and we have to go to Tbilisi.
A bit depressed we finally go for a tour of the city. The first adjective that comes to mind when trying to describe Batumi is "weird". This coastal city is the second largest in Georgia and by far the most unique, a mix between futuristic and decadent.
There's a Ferris wheel inside a skyscraper, odd sculptures everywhere, building with strange roofs and windows. The boardwalk is long and the cobble beach is crowded with people. It's a sunny, hot day.
Overall, Batumi is a really interesting place, absolutely worth seeing. But we'll find out soon that almost everything in Georgia is worth a visit.
Back to our "camp", we argue with the guard at the entrance, he didn't let us in, does not seem to know that there is a campsite within the park. Let's say that the organization is a bit rough.
Anyway, tomorrow we leave here and go back to Poti and then reach the Svaneti region.
---
Bicycle touring Georgia, along the Black Sea
Batumi – Grigoleti
We cycle out the weird Batumi, after a few kilometers there is a quite violent climb, thankfully short, the one we'd seen from the car on the way to here.
Then is a ride along the sea for several flat kilometers, stopping to eat the usual khachapuri along the way. Parts of the road facing the sea are very nice, when a leaving the cost the road becomes a bit boring.
We stop to camp a few kilometers from Poti, in what probably was once a beach frequented by people, now only a few dogs and cows go-to drink at the nearby river. There are some abandoned houses, and boats, and a lawn where we put the tent.
Stalked by the Georgian Police
Grigoleti – Zugdidi
Temperature is about 40 degrees Celsius. The road today is quite flat. We quickly cross the city of Poti, which looks quite ugly from a superficial observation, and stop to eat fried eggplant with walnut sauce in the only restaurant within 30km. Georgia is a culinary paradise!
There is a Dutch-style headwind today, at least it keeps us from melting in the sun. We engage the first gear, after some kilometers the road turns north while the wind also changes to orient in the direction exactly opposite to ours.
About ten kilometers from Zugdidi we see a beautiful river with low water and we stop for a swim, the water is very warm but refreshing.
We would like to stop and sleep there but we don't have food, so we go in search of it, while also looking for a bar where to watch the match of the Italian football team, but we find neither the one nor the other. Must necessarily go to Zugdidi, the big city… in fact 50,000.
Arriving in town we begin our search for a room, while a police car starts to follow us. They ask us something we do not understand, we ignore them. When we stop they also stop a few meters back, if we turn right they turn right too, and if we turn left they do the same. In short, a full-blown stalking.
Finally, we arrive in a street where there are two small hotels, ask the price, which is the same, about 16€, no competition, and choose the one where we can put the bike in the courtyard. In the meantime, the police are always out there waiting, we don't know what for. We imagine they want money but it seems odd, they cannot ask for money in broad daylight, can they?
Eventually, just after checking in, they come in and speak with the owner, we imagine they want a bribe from him for having "brought" us to his hotel. From the tone we understand that he must have fucked them off, just tells us "no problem"… well, mystery.
Anyway, we arrive in perfect time to see Italy losing with Costa Rica.
Route map
Unfortunately, we've mysteriously lost our GPX track for this route. So it would be an inaccurate google-map route for once. Sorry.
Follow Us
Stay in touch while we get lost! Follow us on Social Media