Bicycle touring Bulgaria, cycling quickly through the north of the country to reach Varna, one the Black Sea. We'll wait for a ship to bring us from Bulgaria to Georgia. After the intense trip in Romania, it's time for some relaxation… even though there's still room for a misadventure.
This article is part of our Cycling Routes directory
Cycle Touring in Bulgaria
Vlasin – Tsarkaloyan
After twenty kilometers of wheat fields, we get back to the Danube! It's the border with Bulgaria, the bridge is quite busy and is located in the "city" of Giurgiu. On the other side, there's Ruse, nothing special, a fairly large city. We notice immediately that there are no dogs, must have been all on the other side of the river.
We stop to buy some food and leave the city, after a few miles slightly uphill: the nothingness. Just corn and bean fields. We see no towns, not even in the distance, and the weird thing is that you do not see even a tractor working in those thirty kilometers of the countryside. It seems that the workers in the fields have to do a long way to get there. from where we don't know.
However, the road is very beautiful, up and down between these peaceful hills. After about thirty kilometers, we reach a village (the only one) where we stop to eat. Dark threatening clouds loom over us and we hear the thunders getting closer. We decide to pitch the tent between some trees along the road and, of course, the storm that looked so imminent never comes. Only a few drops of water. But now we are here and we fall asleep in the company of the usual nocturnal wild boar.
Cycling from Tsarkaloyan – Kvmtnits
Disclosure: Some of our articles contain affiliate links. This comes at no additional cost for you and helps us keep this website up and running. (as Amazon Associates we earn commission from qualifying purchases)
This morning the weather looks better, we move towards Razgrad, which here is considered a big city. In fact, it is the only center in several kilometers, is a cute little town full of fountains, restaurants, a church. and a few mosques.
Upon leaving the city, the weather gets worst and in one hour it starts to rain, we stop to sleep along the way. There are a few trees between the sown fields but it is a perfect shelter, aside from the garbage. Human beings are like that, just find a niche, a little isolated, and use it to abandon whatever, in this case even a cow's head (now only the skull). And tomorrow we'll go to Varna.
---
Cycling to the Black Sea
Varna
We arrive in Varna. The road was the usual succession of cultivated fields and then finally in the distance we see the Black Sea. Varna is a lively city with some youth night-life, nice historical center, and a big seaside park.
Here we meet Niki (short for Nicolina) whom we contacted through Couchsurfing. In her house, there is also a Romanian girl, Alina, who is traveling alone by bicycle to reach Jakarta where she would spend a year studying Indonesian art. Here's her blog.
Let's go have a beer at the beach, finally, we reached the Black Sea! We spend a nice weekend in Varna before heading to a village about twenty km from here where we will be hosted in a villa overlooking the sea, all for free (again thanks to Couchsurfing)!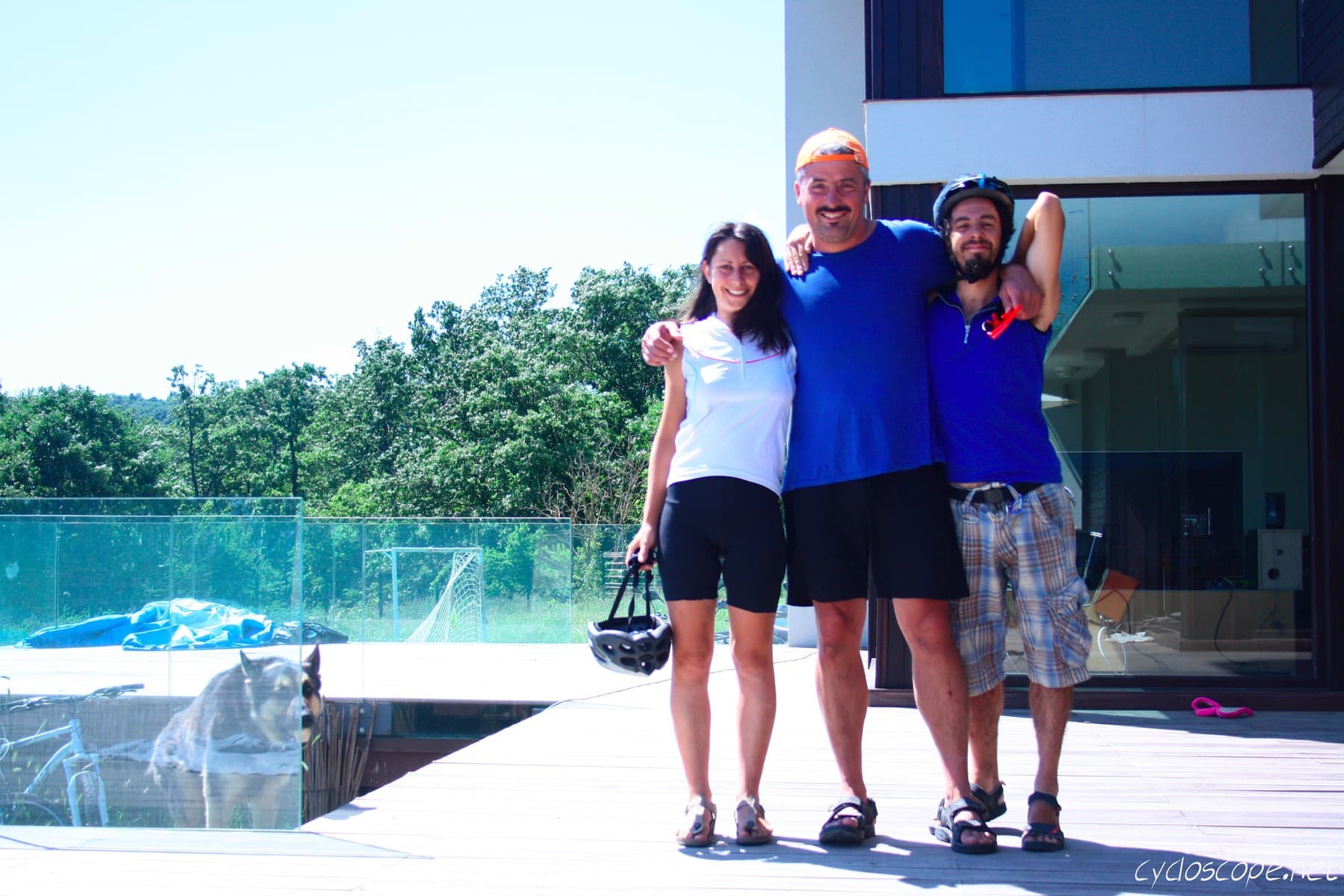 Going on holiday is harder than expected
Varna-Osenovo
We set off to Osenovo, about twenty km to the north, we stop to take a swim, the water is beautiful and very warm, just what we desired every day for the last one month! We didn't expect the Black Sea to be so pristine. Then it happens what is not supposed to happen. Wrong road and we find ourselves in a path through the woods that seems endless. It's a very narrow and steep walking path, full of vegetation, no way to pedal this. We are even forced to take the panniers off the bikes and walk all our gear in separate moves, quite a nightmare.
We arrive at Osenovo completely twisted and covered by mud at 8:00 pm, Kiril come to fetch us with his quad bike and cook us dinner. The house is really a villa, beautiful! There're him, a ten-year-old boy, and a really huge dog, a German shepherd. Kiril is Belarus and his wife Uzbek, the villa is divided into three apartments, they are building a swimming pool with no chemicals, using natural stones as filters for the water.
We spend here three days of complete relaxation, waiting for the ferry from Bulgaria to Georgia, which goes once every two weeks. We cook several dinners for us and our hosts, the most notable of which is a parmigiana.
Let's go to the sea by quad, the only way if you do not have a jeep! The road is a dirt bumpy, muddy mess, but we're not cycling it so… just a lot of fun!
Follow Us
Stay in touch while we get lost! Follow us on Social Media