An adventurous bicycle trip in Romania. The 6th country of our trip. Cycle touring from Drobeta Turnu Severin to Brezoi.
An adventurous bicycle trip in Romania. After cycling along the Danube river in Serbia, we reach the border with the 6th country of our trip. Cycle touring from Drobeta Turnu Severin to Brezoi. Meeting the Romani community of Valea Lui Stan.
Cycling into Romania from Serbia
22 ° stage: Donji Milanovac – Putinei
We keep on following the Danube. Today's quite hot but the road is shaded by the trees to our right.
The climbs, of course, are ALWAYS in the sun. After twenty kilometers of just woods and river, we stop to eat the usual bread and cheese in a so-called "picnic area". In addition to truck drivers also some cyclists stop here, they are also heavily loaded.
There's a woman with a trailer containing a child of six and a half months and a man who rides a tandem bike that is recumbent in the front, with the older son, I think about four years old. Despite those who say that when you have children you can't do anything anymore.
They are going to Macedonia and Greece, they also free camp in the woods. For the first time, we see cyclists with more stuff than us. The kids are always smiling and look very happy.
We go, there are some tunnels with no light, but not too long. Everybody told us to be careful with traffic and trucks, but a truck every five minutes can not be considered traffic for an Italian.
Then there is a slope rather challenging, that I readily affront on feet. Finally, we arrive at the border with Romania. Although we are really sorry to leave Serbia. We would have liked to stay longer and see other places. Beautiful nature, great people, good beer!
Instead, we are here on the bridge that separates us from the European Union, and we have to wait. There are machines working to remove all the garbage that came after the flood from the river, there is a dam and all the junk is stuck there.
Cycle touring in Romania
After the border we are in Romania. Our encounter with this new country can be summarized as: traffic, traffic and traffic! We're no more used to this! And dogs! Around or dead along the way.
After about ten kilometers we arrive at Drobeta Turnu Severin, a fairly large town, and also beautiful. There are many parks and green areas. But bad atmosphere. Too many "fashionable" people, they ignore us, somebody laughs. In short, we want to get away fast, we already miss Serbia.
We leave the city, after a quite reptilian industrial complex, there are hills and we sleep there, in the sheep pasture. Industrial chimneys in the background. Bucolic landscape and post-modernism.
Until now we can say that the only good thing in Romania is the absence of mosquitoes.
Endless columns and dinosaur eggs
At 8 am there are already 36°C. Super!
The departure is a tough climb, after 6 km I just want a bus to take me to Targu Jiu. Needless to say, I climb walking. We stop to eat an ice cream and try again. Fortunately, the downhill begins soon and then the plains, but not for long. We stop to eat at Motru. It's raining, thankfully, temperature dropped from 40 to 20 degrees and even other ascents are faced much better. The last 20 kilometers are flat.
We arrive in Targu Jiu, birthplace of the famous sculptor Brancusi. Just arrived in town we stop at a bar to ask if there is internet connection. There isn't, but instead there is a little girl of about six who sings traditional music. From the outside, we could hear the voice but just could not figure out it came from a little girl of six years old. Let's see the "endless column", a famous sculpture by Brancusi situated in in a city park.
Then we find a small room and we are quite lucky. The guy who works there is also a web designer so he has a super-mega-fast connection that allows us to upload all videos and photos made so far. Back up done! The guy was very nice, has a cousin who lives in Randazzo (Catania) so we will give him some contacts for when he'll go to see him, maybe he will do a non-touristy tour of Sicily.
Targu – Jiu Horezu
Today the weather is not great. Good. When there are climbs a cloudy sky is always better than a sunny one.
The weather forecast said it was supposed to rain all day, but nothing, not even a drop. Along the way we stopped at a little bar where we meet a few nice people. Practically the first since we are in Romania.
We start again, always paying attention to the dogs, which are everywhere here. It is not clear if they are someone's or not. The gates are almost always open. However, changes little. Dogs don't like cyclists very much. There is only one Scoppio! If you stop and look at them they stop to aim at your ankles and just bark against you. Daniele shouts at them in Sicilian and it seems to work. But when there are more than two of them, it's a little scary.We arrive at a nice little place to stay.
Also in Romania there is no lack of woods, we are within a national park. We sleep near what they seem, and certainly are, giant fossilized dinosaur eggs. Even though the sign says that it's naturally cemented sand dating back six million years ago. They always try to hide the truth.
Horezu – Valea Lui Stan
Under the usual rain, we head to Valea Lui Stan where we should film the first part of our Romanian reportage, but of all the associations we have tried to contact, those who allegedly deal with the Roma minority, not a single one replied, so we'll just go there and see what happens.
While cycling along the Alt river, that in this area runs through the mountains, forming a nice canyon, a car coming from the opposite direction attempts a hazardous overtaking, so that it shaves my bicycle at a few millimeters from turning me into a meatball! He did not really see me. I thought I'd be dead for that few seconds that seem to last a lifetime.
We stop for a beer at Brezoi, near Valea Lui Stan, where the headquarters of the ghost associations should be, we look for their addresses but even this way we find nothing. The town is deserted.
Houses are different from the ones seen so far, we're not far from the Carpathian, the place already has some mountainous feeling. And there is the radio broadcast everywhere. I mean the same radio station, chosen by who knows whom, maybe the mayor in person, is broadcasted from loudspeakers all over the town. Why?
After four more kilometers, we arrive at Valea Lui Stan, just a few houses along the river. A few children, some young boys, and the usual horse-drawn carriages. It's almost dark, we can't stop now.
As if we are camping beginners, we set up the tent between the road and the river, tomorrow we will be here and we will see how the situation and the people are.
The Roma community of Valea Lui Stan
This morning I found another four-leaf clover, third of the trip. I don't look for them, but as I walk, I often see them. I have seen this close to the river where we slept. A very nice river, shallow and clear, but icy. Too bad the surrounding lawn is being used as a dumping ground.
A few cars and and carts pass by. All ignore us even if we sleep almost two hundred meters from the "center of town" which is a bar with no sign in front of a school, in which lawn five or six horses are parked.
We decide to go for a coffee and see what the situation is. After the bar, there is a dirt road on the right that our GPS suggest to being the true center of the village. Just around the corner, two boys and a man who could be sixty or forty years old, tell us not to go there because there are just gipsy there and that is dangerous… even though it's clear that also they are Roma, they don't want to admit it.
Let's go to the bar for a coffee and, as we imagined, within a couple of minutes a lot of people arrive. No one speaks English. But somehow we understand each other. Romanian and Italian are very similar.
We left our tent along the river and walked out with bikes and, of course, all the bags. A couple of guys talk to each other in the ear, they are thinking of a way to trick us somehow, a little too loud and obvious to be successful though.
We have the deepest kind of conversation with the villagers, they say that Daniele is definitely impotent because at our age we should have at least six children. We propose the exchange of bike with two horses, but no way, we'll have to pedal.
Eventually, as it became clear, we can't make the documentary without having a local contact. We are alone and surrounded by twenty people, it just doesn't seem appropriate to pull out the cameras. A man with a number tattooed on his arm (it so much reminds of nazi lagers) gives us a beer. After spending a couple of hours at the bar, having rolled cigarettes for all and offered some beer (actually all to the drunk of the village, Florin) we decide to go take down the tent and start over.
While dismantling the tent another guy comes, we met him at the bar, he's albino, 22 years old, he was previously complaining to be unable to find a wife (here is already considered to be doomed as a single for the rest of his life) and is called Florin too. He tells us that we should not stay another night there, otherwise some other people of the village will steal us everything. He says that there is the "mafia" even though his concept of mafia is very vague.
Earlier, however, a black BMW with Bulgarian license plate and dark glasses, pulled over at the bar. A guy came out and began to give away money to the people. That indeed has some mafia flavour. Anyway, there we go, thanks to Florin who warned us, even if anyone would've realized already.
Bicycle Touring Romania, our route from the Serbian border to Brezoi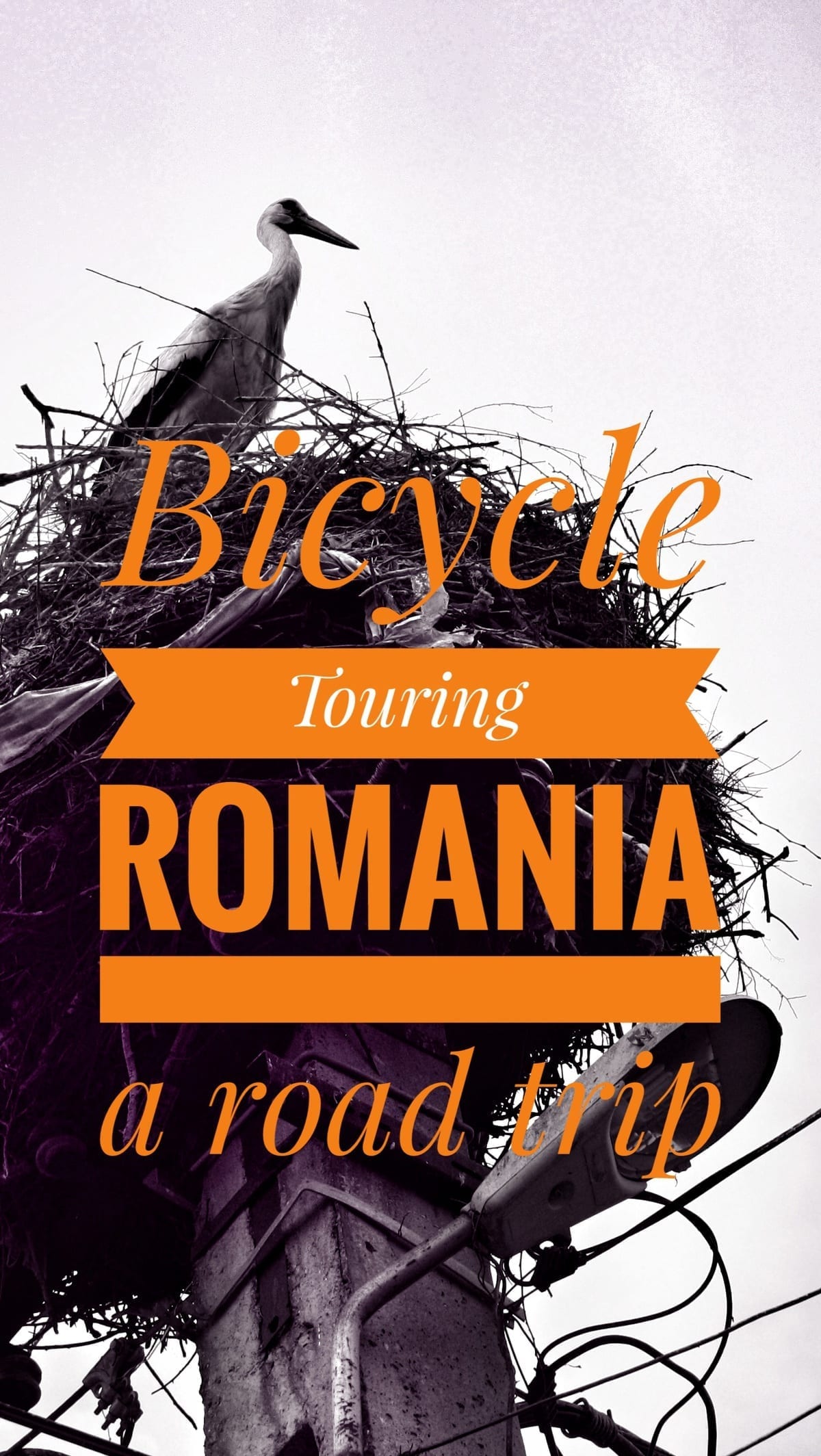 Follow Us
Stay in touch while we get lost! Follow us on Social Media