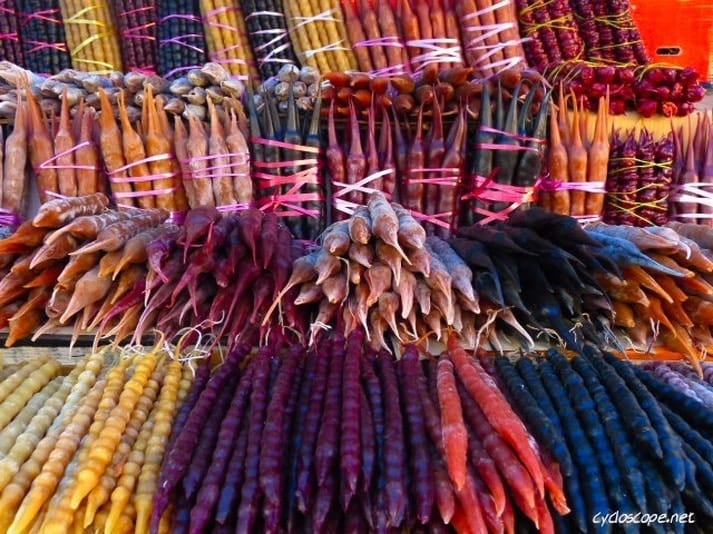 Cycling to Tbilisi, our bicycle touring adventure in Georgia continues.
After visiting Svaneti, hearing the sad story of Kaishi and admiring the ancestral beauty of Mestia, we ride towards the capital city of Sakart Velo. A city of odd fascination where we taste for the first time the real traditional Georgian wine.
Out of Svaneti
Stalked by the police again
We leave Kaishi from the same road we came through, the only one. It's nice to pass by the Enguri reservoir again. A few kilometers more and we reach the lowlands of Megrelia (Samegrelo), with their adorable wooden houses with huge verandas and porches.
Somewhere here our friend the GPS tells us to turn left. We obey. And immediately a police car there begins to stalk, it's the second time in less than two weeks in Georgia. They drive past us a few hundred meters, then stop and depart again as soon as we pass them. And so on, for hours.
In the meantime, it's raining and we're struggling with a climb that never ends. At one point the road becomes an expanse of stones. Here if you mess up with the roads there's no escape, you expect the gravel, only the main roads are paved.
The stalker cops are still behind us. Every now they stop and ask us where are we going, it seems they want to give us a lift, but we don't know the fee for this particular taxi.
Rather than trust these guys we'll prefer to walk up to Tbilisi. At the end of a very rocky slope, they stop following us. It does not seem real. They had been following for 40 kilometers! That is almost all day.
We arrive in a rather ugly village on the side of a river and we stop to buy bread and cheese. We would like to sleep near the river, it's late, we're tired and wet. But guess who's arriving? The cops!
A new province, new shadowing. They ask us where are we going (again), we tell a city on the road, which is too far to be reached today, but we prefer not to say we'll free camp. We leave and, needless to say, they begin to follow us too.
It 's almost dark, we stop in a pasture near the river, cops or not. And so the kilometers of shadowing becomes 60. It starts to rain again. We assemble the tent just in time.
After a little there comes a car, here they are again, it is a nightmare! And then the absurd thing is that we do not understand what they want from us. Walking around in the pasture where we pitched the tent and go away.
But the weirdest thing happens after about half an hour when they come back again. This time, with their wives and children! Show them the tent (we stay inside), we hear children saying "hello, hello." Mystery.
Then, they go. But during the night they return a couple more times. They do a spin and go, flashing us with the car lights. Could they be our bodyguards?
To Tbilisi – Kafka's stories and crazy drivers
We leave, no more bodyguards. We have no idea what they wanted, maybe nothing. Maybe they are bored and following us was an alternative way to spend the day. The road is rolling up and down. Here the houses look quite poor. We are in still in Samegrelo.
Let's go get something to eat, we sit with some men, who obviously like us because we are compatriots of Celentano. When we go to pay we realize they have already paid for everything!
The road is a long and busy strip of asphalt. Flat. We arrive in Kutaisi, the third biggest city in Georgia, which looks quite ugly to us. Elena is not feeling great after all the rain we took yesterday, so we try to find a train to Tbilisi.
After a Kafkian arguing with a backcombed ticket woman about the bicycles, we give up. Soviet times are not completely gone here.
Disclosure: Some of our articles contain affiliate links. This comes at no additional cost for you and helps us keep this website up and running. (as Amazon Associates we earn commission from qualifying purchases)
But there comes a proposal that we can not refuse, a marshrutka will lead us to Tbilisi, for the same price of the train. With a little hard work (Daniele almost loses a fingernail) we load the bike in the four sits bottom of the Ford Transit, and the bags in the small trunk. Here we go!
The driver shoots, blaring Georgian and Russian disco music. He drives like a crazy. Overtakes all, even when there is no space. And he doesn't make the sign of the cross, not even once, a shame for a Georgian! The first half of the road is beautiful, we thought it was boring, we regret a lot to don't cycle here.
After passing through a tunnel we find ourselves in Ruanda again, the vegetation is incredibly lush: bamboo, ferns, and lianas. We're now in the region of Imereti. Along the road, artisans sell beautiful clay pottery.
The last 100km though, is on an ugly highway, the landscape is barren again, more like the Anatolian plateau here.
One of the most incredible things about Georgia is how the landscape can change so rapidly from completely opposite kinds. In one hundred kilometers you could go from the subtropical jungle, through the flat and fertile plains, up the alpine peaks of Caucasus, and then on an arid plateau. Georgian says that Sakart Velo (the Georgian name of Georgia) has all the climates in the world. And it's almost true.
We arrive in Tbilisi at 10 pm, the driver leaves us in a place full of taxis, but far from the center. The other passengers are complaining but he is adamant. He was probably in a deal with cab drivers.
Anyway, as soon as we get down a tropical storm begins! We seek refuge with the taxi drivers. Eventually one of them wants to accompany us in a nearby hotel, we agree the price (including the room) and accept, around 20USD. Why not trust a taxi driver without an eye?
The hotel is close, there is no sign outside, is a love hotel, it's run by a lady who's grim but sympathetic. Tomorrow we'll go to the embassy of Azerbaijan and look for another place to sleep.
Things to do and see in Tbilisi
Tbilisi is a city dominated by cars. Crosswalks and traffic lights do not exist. The only way to cross the road is underground passages. Always full of people, little shops, beggars, musicians, and street vendors, they are a very lively characteristic of Tbilisi.
Interesting, just not very bike-friendly. Somehow we manage to cross the road (3 lanes on one side and 3 on the other) and we do ten kilometers straight ahead. To our left the river Kura. It reminds us of the Tiber, with its tall stone banks of an ancient look.
We arrive at the embassy shortly before closing time. The visa for Azerbaijan should be ready in three days. We hope. We go in search of a place to sleep.
In front of a fruit and vegetable shop there is a sign that says "hostel tobacco", but it's full. Maybe we should've read about where to stay in Tbilisi beforehand. The guy in the fruit and vegetables does some phone calls, and there comes a lady who takes us to a guest house.
It is a very nice family home in a beautiful neighborhood called Sololaki, which is very similar to some cities in southern Italy.
We're welcomed by a lady who speaks only Russian, she calls the son and we talk to him, he's very kind. We take a walk in Sololaki, full of narrow alleys with clothes hung drying above the road, a very colorful old neighborhood.
Back home we meet our hosts, they are all very nice, we drink the wine and chacha (undrinkable for me, has been 60°). I would say that a glass is enough (while Daniele would like the second one), but certainly works well as a digestive!
After a super breakfast prepared by Aboviani's grandmother's, we go to pay the visa at the Bank of Azerbaijan, there we meet David, a South African who is traveling the world with his old Land Rover since four years.
In the afternoon, we meet Dato from Green Alternative for the interview about Khudoni Dam project. He had many interesting things to say and we'll publish the full interview soon on our YouTube channel.
Let's go for a walk around the city, we won't bother you with the best things to do in Tbilisi since there are already plenty of these articles around.
In our opinion, the best thing to do in every city is walking around randomly, get a bit lost, while always being careful of where you step.
Tbilisi's beauty lies in its hundred little unknown churches, its small markets, tiny little restaurants where to get the best meals of your life.
Vino Underground, traditional organic Georgian Wine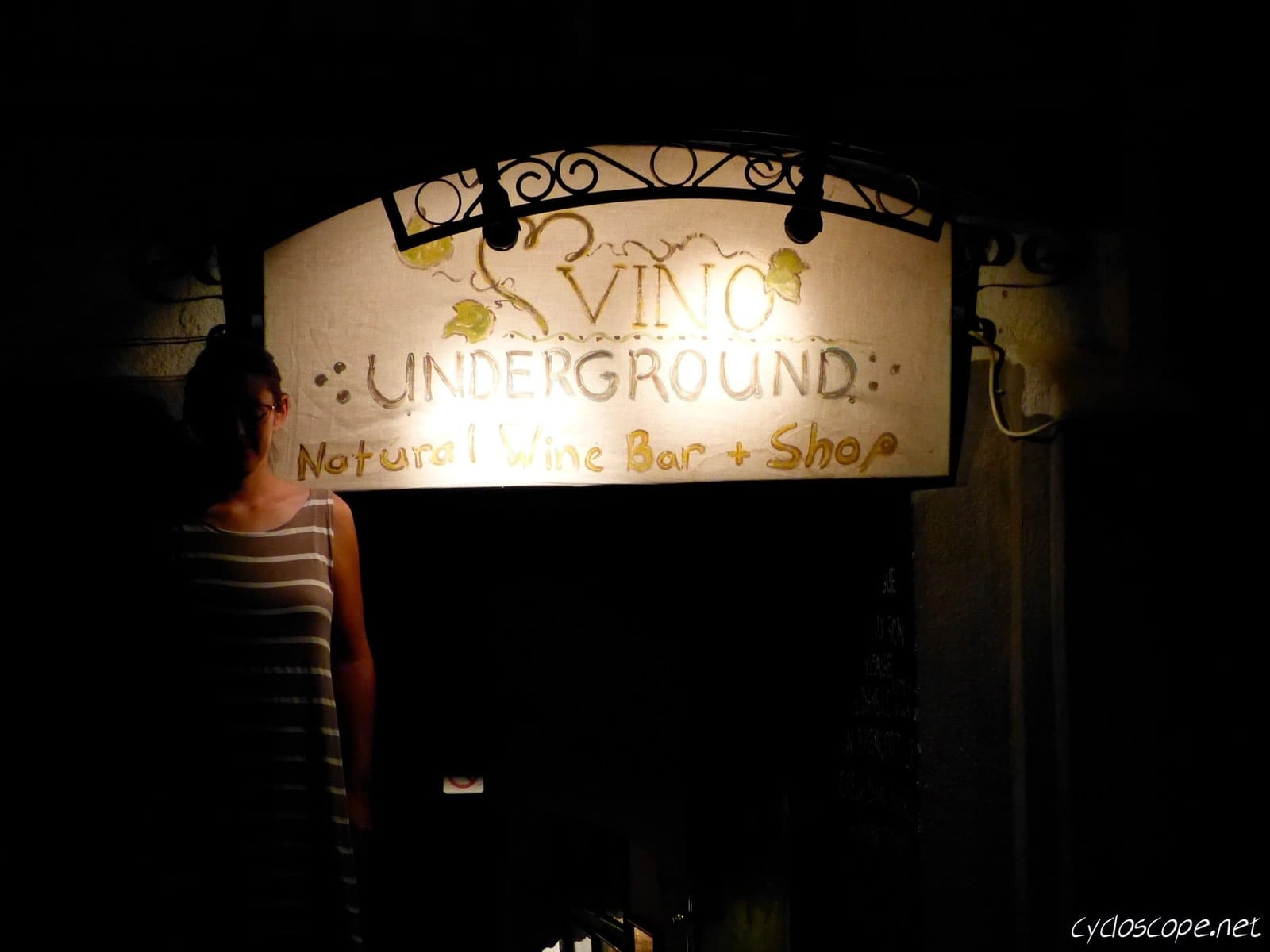 Today we visit Vino Underground, a nice little place where they sell and do tastes of delicious Georgian wines made in Qvevri, clay amphorae buried underground, used instead of barrels.
This is the traditional Georgian winemaking technique, that will be the topic of another of our reportages. Georgian wine is probably the oldest wine in the world, according to archeological evidence.
Here works Ramaz, local manager of the Slow Food garrison, and winemaker from Imereti. In addition to the wine (a beautiful msvane made by Ramaz) we also enjoy a very tasty ham (lori) and a very good selection of cheeses, especially the dry ricotta.
We interview Ramaz about the history of Georgian wine, the recent struggle caused by the Russian embargo on Georgian products, and the activity of the winemakers' consortium created with the help of SlowFood.
He also gives us some contacts for our wine tour in Kakheti, members of the consortium that have accepted to welcome us in their homes and vineyards. Needless to say, we can't wait.
Follow Us
Stay in touch while we get lost! Follow us on Social Media